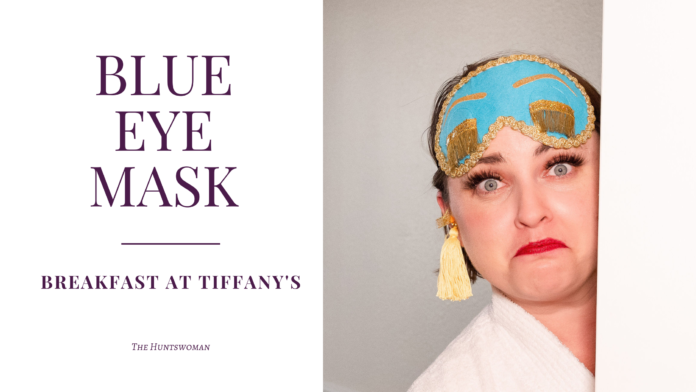 Hey there! This post contains affiliate links.  Using my links means I earn a commission, which helps me create more rad content.  More on affiliates here.
Oh heyyyyy babe! I've been having a blast going through my photo archives (pretending to organize them, but am I really?!?!?), and I came across these fun photos that I took in the ~Breakfast at Tiffany's~ eye mask!
Cough, I took these photos in 2022!
But, far be it from me to spare you these, uh, interesting faces I made with these photos!
Note: I'm trying to post more ~personal posts~ to my blog, so if you like this kind of content – let me know!! It can be scary to get out of your comfort zone!!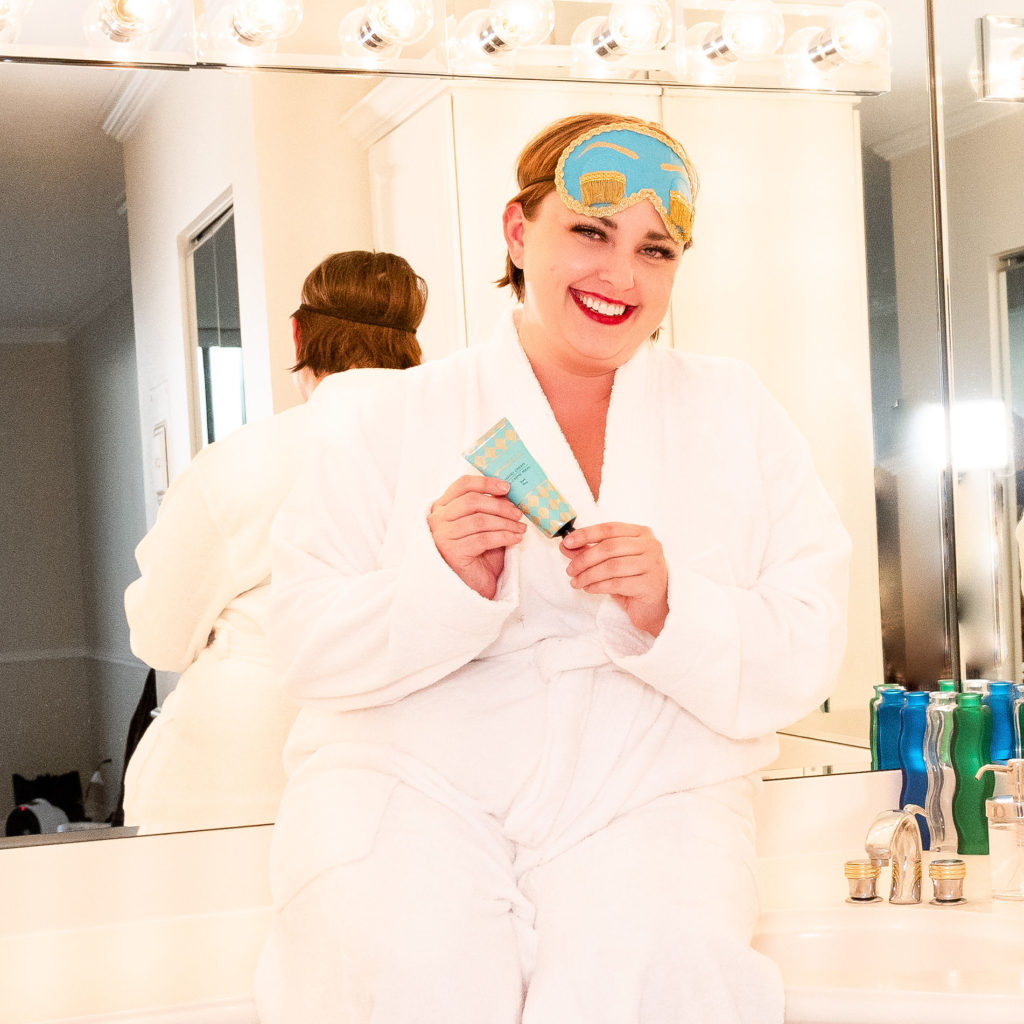 DIY Halloween Costume – Audrey Hepburn Eye Mask
So, fun fact, I actually created these photos NOT as an easy plus size DIY Halloween costume, but rather as part of a partnership with a brand called Spongelle (this post is NOT sponsored by them, TBC!). You can see in the photo above that this lotion was light blue, and I thought it would be fun to take inspiration from Holly Golightly's morning routine, and do a fun sort of GRWM.
I ended up going with different photos for this partnership, but you KNOW I got the shot!
These photos were taken by Angie Petersen in Salt lake City, at my bestie's Elisabeth apartment (that we both dearly loved)! We'll laugh about that apartment for years to come, because it was in a building with a lot of Mormon officials // retirees, as it was super close to the Salt Lake Temple. We did… not fit in. Lol.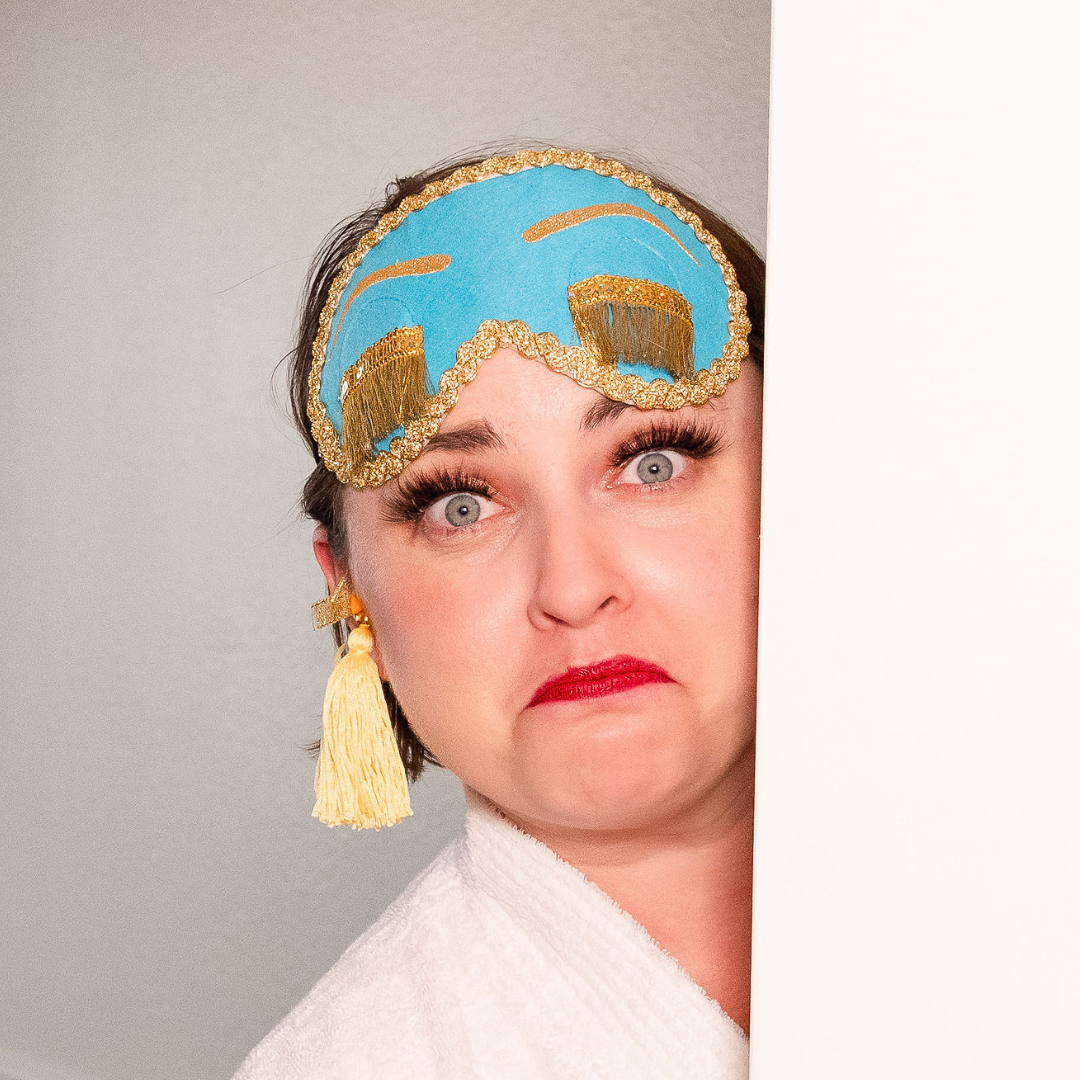 Breakfast at Tiffany's
I actually didn't know that much about Breakfast at Tiffany's, including Holly Golightly and Truman Capote, until my BFF Kaitlin O, held her annual birthday party for Truman Capote! Here, you can see me as a BLONDE (wild right?!),
This is why in the post (where I shared these photos on my Instagram), I included a selfie of Kaitlin and I at Red Butte Gardens, when she visited me from NYC in Utah this last summer.
It just didn't seem right to post anything Audrey-related, without noting the IMMENSE amount of knowledge I've gained from Kaitlin due to her love of Truman Capote.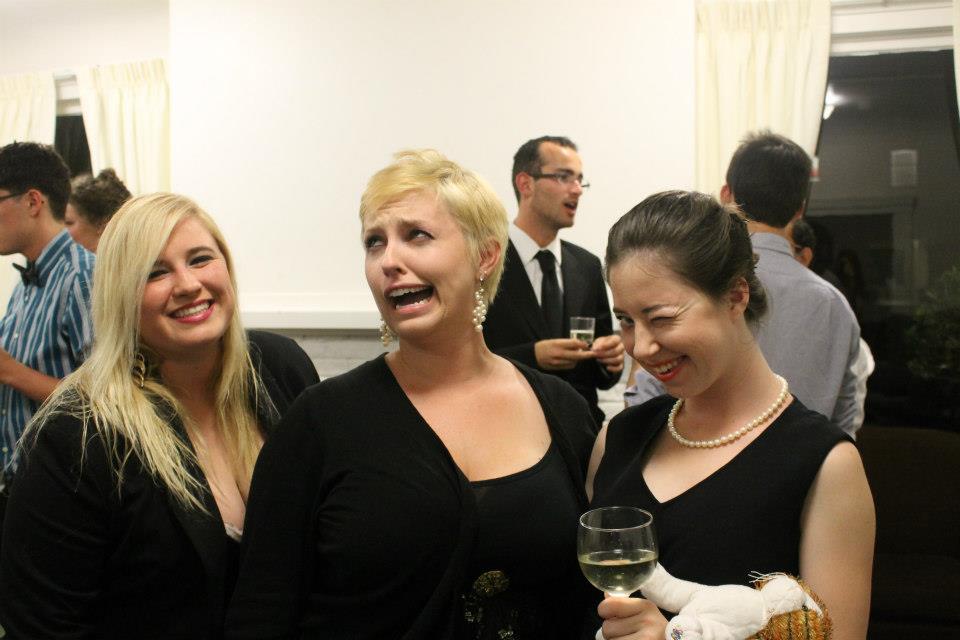 Review of the Audrey Hepburn // Holly Golightly Eye Mask
OK so let's talk about this eye mask! This is DEF a costume piece, note an eye mask one would actually wear to bed, imho. The mask was made out of a sort of… felt fabric. The ear plugs were super fun, but I feel like they'd get ripped out of my ears if I actually… slept in them.
But, all in all a super fun and easy plus size diy costume, becauseeeee you can snag this mask on Amazon, grab a white robe — and if you want to be extra, like Holly and me, you can snag some VA VA VOOM false lashes!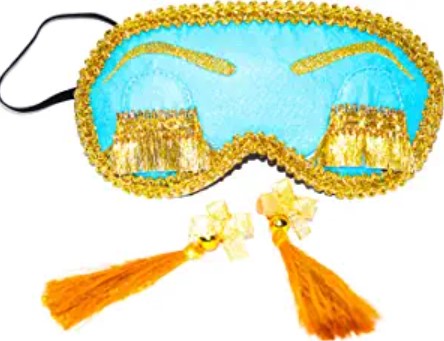 More Behind the Scenes Posts
Do you enjoy blog posts like this one? Here are a few more "Behind the Scenes" posts about past photoshoots!
Let's Connect!!
If you want to stay up-to-date on plus size fashion blog posts, I recommend joining me on your favorite social media platform (Instagram or Tiktok).
More of an email kind of person? Subscribe here!