Hey there! This post contains affiliate links.  Using my links means I earn a commission, which helps me create more rad content.  More on affiliates here.
Hello cutie!
I've started getting a LOT of DMs on Instagram, asking me, "Where do I find beautiful plus size wedding dresses?"
And, honey, if you're looking to invest in a beautiful and unique plus size wedding dress – I have RECS.
I've shared my faves below! Drop me a line if there's a brand I should add.
[Heads up! This post was originally published in 2018, and was last updated on January 15, 2023. I've done my best to share accurate and up-to-date information, but you will want to be sure to double check all info!]
1. Unique Plus Size Wedding Dresses from Hannah Caroline Couture | Unique Wedding Dresses Start at $499
First up on this list of unique plus size wedding dresses, we're starting with a plus size wedding brand tat makes CUSTOM wedding gowns.
Founded by Hannah Nodskov in 2012, Hannah Caroline Couture is THE place to go for brides who want something a little different. If you're looking for a unique plus size wedding dress – Hannah can help you make it HAPPEN!
Hannah has a line of custom plus size wedding gowns (including black plus size wedding gowns!!), and she also does custom wedding gown design and work for her clients. With HCC, you can design your own wedding dress – choosing silhouette, color, style, etc. [I did an editorial photoshoot in Hannah Caroline Couture, which you can check out here!]
All plus size wedding dresses are handmade by Hannah and her team in the USA [Nebraska, to be exact!]
Sizing: Hannah Caroline Couture makes plus size wedding dresses in every size. There is no limit on their size chart!
Check out their unique plus size wedding gowns here!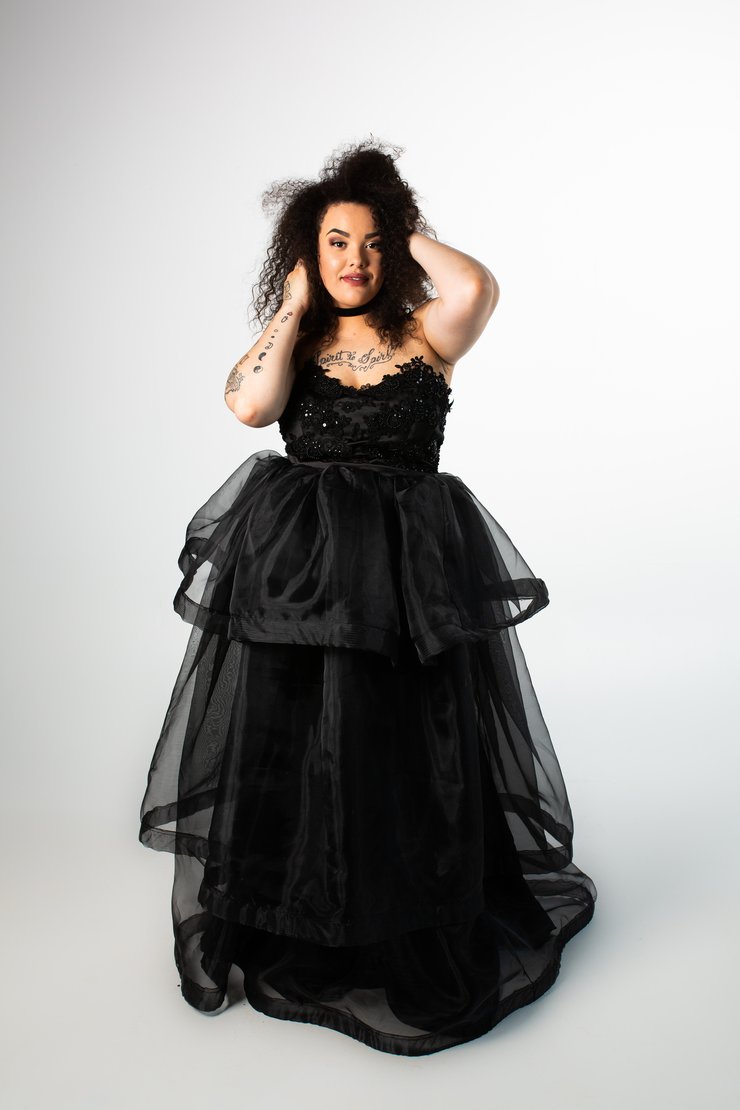 2. Unique Plus Size Wedding Dresses from Eloquii | Unique Plus Size Wedding Dresses Start at $199
Eloquii just recently released their plus size wedding dress collection for 2022, and I am OBSESSED!
The Eloquii bridal collection mixes together classic bridal gown silhouettes with distinctly modern touches. I feel that the Eloquii designers and Creative Director dreamed up of a collection for the plus size bride who plans on wearing MULTIPLE dresses over the course of her wedding day (or wedding weekend, as the case may be)! They also have planned for various wedding events, including bachelorette parties and bridal showers! I just love that!
Shop plus size wedding dresses here!
I've shared a few of my fave Eloquii plus size bridal pieces below!
3. Unique Plus Size Wedding Dresses from Kiyonna Clothing | Starting at $198
Looking for a unique plus size wedding dress?
If you're looking for plus size lace, grecian or column-style wedding gowns – Kiyonna is IT! Kiyonna also has styles appropriate for more conservative or modest plus size brides, with sleeves that are part of the garment – not slapped on afterwards!
[Fun fact – if you're looking for a wedding gown with sleeves, it's much better to purchase a gown with sleeves sewn in. Adding sleeves is a whole engineering process to a sleeveless plus size wedding gown – and I would know because I'm a fashion designer! – and alterations can cost as much, or more, than the dress!]
Sizing: Up to a size 30/32
I think the plus size wedding dress below would be PERFECT for a beach wedding.
Shop unique plus size wedding gowns at Kiyonna here!
Helloooo, lace! This green plus size floral wedding gown from Tonena is STUNNING. Also available in gray, white and black, this gown is perfect for an outdoor or nature-themed wedding ceremony.
Sizing: Message Designer for sizing
From the maker: "This long wedding gown in green color is made of unique embroidered fabric with tiny flowers, and butterflies, has long sleeves, V neckline! I individually approach each customer's desire and needs in order to make their dream dress fit flawlessly."
Shop unique plus size fairytale wedding dresses here!
Also from Tonena is this lovely lace gown with embroidery:
4. Unique Plus Size Wedding Dresses from Anna Skoblikova
Are you looking for a unique plus size blush pink wedding dress? They're difficult to find, but Anna Skoblikova sells this beautiful plus size gown in pink on etsy.
Sizing: Up to a 3XL, or a 5XL in some wedding dresses
Also from Anna Skoblikova is this lovely gray wedding dress! From the brand: "Our studio offers the designing and sewing of exclusive wedding and evening dresses with handmade elements."
I also love this lavender and lace dress, that is available in plus size:
Next up on this roundup of fun and unique plus size wedding dresses for curvy brides, we have this plus size wedding gown with a fun bright aqua blue skirt!
Pink is also available – as well as "Cappuccino"!
Sizing: Up to 110 cm waist measurement, which is about 44 inches
Shop this unique plus size wedding gown here!
David's Bridal has a incredible selection of plus size wedding dresses online, and they showcase their stunning designs on plus size models!
I LOVE IT HERE!
Sizing: Up to a size 24, with some plus size wedding gowns in a size 30
Below, I've shared some of my favorite plus size wedding dresses from David's Bridal!
Click here to shop all their unique plus size wedding dress options!
Looking for a bold corseted dress in jewel tones to get married in? KMK Designs, based in Minneapolis, MN, has you covered! This beautiful plum plus size gown will make a STATEMENT. (And yes, the corset is a true corset – boning and all!)
KMK Designs makes their clothing in a variety of sizes! They also have some super fun plus size cosplay costumes.
Sizing: Message designer for size range
Shop unique plus size wedding dresses and costumes here!
If you're into plus size ball gowns or a mermaid wedding dress, Azazie is your new BFF. Many of their dresses have a deeper V, with the needed straps to support brides with bigger busts. The detailing on Azazie gowns is exquisite, and these unique wedding dresses really stand out.
Sizing: Azazie

is also the MOST inclusive line (without customization) that I've found, going up to a size 30 or 63″ bust!
Shop AZAZIE unique plus size wedding gowns here!
If you're looking for a plus size gown with black lace, City Chic USA has just the thing. This dress is printed satin with tulle overlay, with the nude under layer catching the light beautifully.
Sizing: City Chic makes plus size wedding dresses in up to a size 24.
Shop plus size unique wedding dresses at City Chic HERE!
Y'all, is there ANYTHING ModCloth can't do? They have both vintage-inspired, boho and super mod plus size wedding dresses, in almost every length! I love the high neckline on this wedding dress, with the fun silhouette!
Shop fun and modern plus size wedding dresses here!
<<Looking for a photographer for your special day? Check out this list of 20+ photographers who love plus size brides.>>
Looking for a 1920's or plus size flapper dress? Unique Vintage has the perfect wedding dress for you! Great for a bride who loves Art Deco and champagne! If you do decide to go with a 1920's theme for your wedding, be sure to hire a hair and MUA who now how to finger curls and doe eyed looks happen! This is a specialty skill.
Another flapper and Downton Abbey inspired line is Gatsby Lady on etsy. This plus size green dress is hand embellished with glass beads and is made wih stretch lining so you can dance the night away. A variety of colors are available!
Sizing: This line goes up to a US 24.
This vintage 1940's inspired plus size gown is perfect for an plus size bride who loves to rock a va va voom look! I love that the mermaid tail starts at the knee, which makes it easier to walk in.
This dress is also available in gold or green and is sewn with your specific measurements.
Sizing: Message designer for details
Sometimes a bride wants to be unique, but is still after that classic bridal silhouette!
I found this gown on Amazon that has **16** different accent colors to choose from!
Ivory & Black
Ivory & Burgundy
Ivory & Purple
Ivory & Navy
Ivory & Green
Ivory & Red
Ivory & Red
Ivory & Rose Red (looks more pink, tbh)
Ivory & Royal Blue
White & Black
White & Burgundy
White & Green
White & Navy
White & Teal
White & Purple
White & Red
White & Rose Red
White & Royal Blue
Sizing: This dress is available in up to a size 26, which for this brand is a 48 inch waist.
Shop this dress here!
Nerecina is based in Los Angeles, CA, founded by Jenine Nerecina. The line offers unique and beautiful plus size wedding dresses, ethically made, that can be customized (or totally custom made). I love how Nerecina makes sexy plus size wedding gowns that are so UNIQUE! And can we talk about those feathers?!?!? OMGGGG!
JIBRI is one of my fave plus indie designers, and they have some AMAZE plus size wedding jumpsuits and dresses. I am such a fan of JIBRI's signature draping, and this wedding dress has POCKETS. These pieces are made in Atlanta, Georgia.
Sizing: JIBRI pieces come in up to a 4X.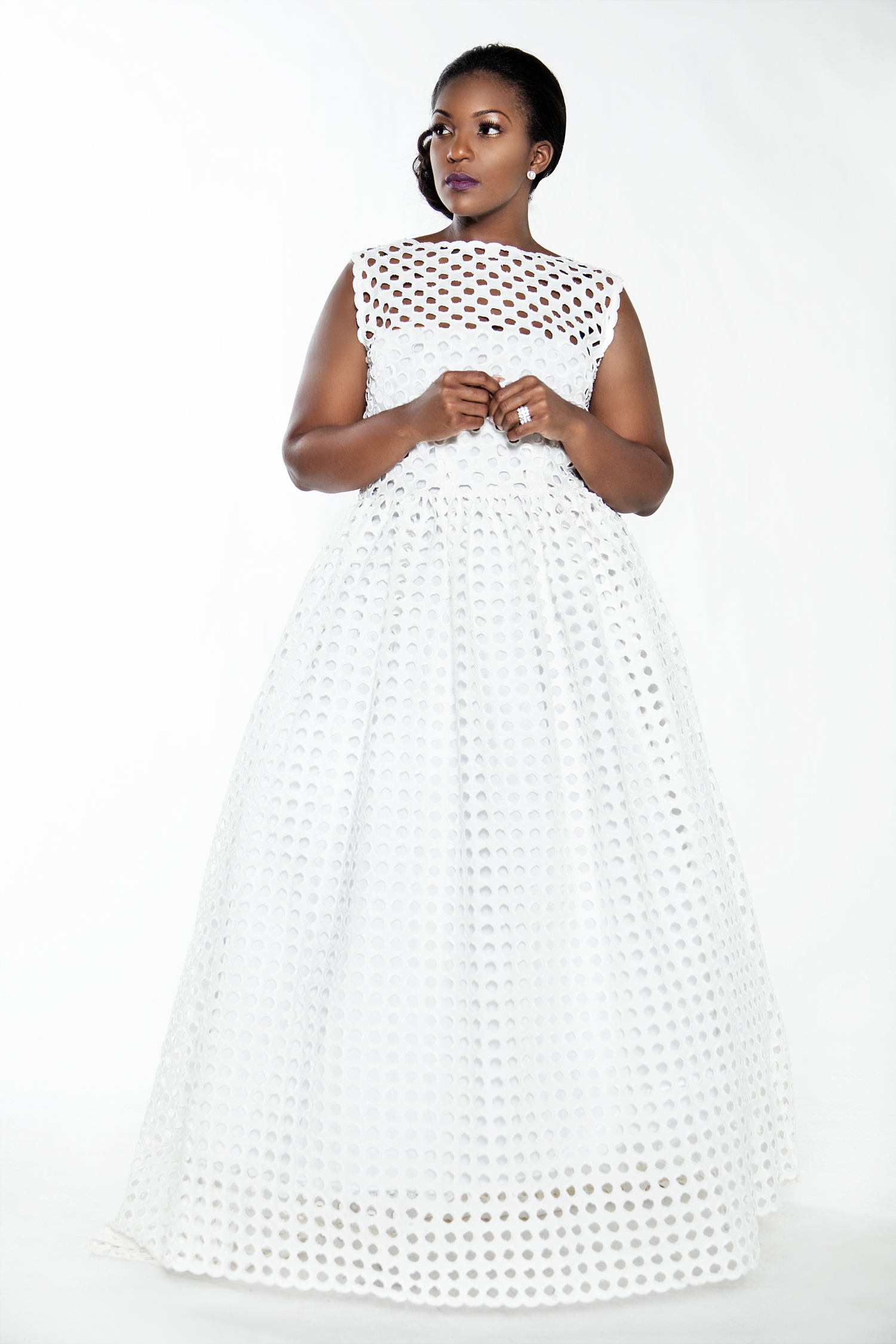 Atlanta-based designer, Ashontay Hubbard, creates beautiful form hugging dresses. Brides view CO as a one-stop shop, ordering custom gowns for bridesmaids, mother-of-the-bride/groom and, of course, a wedding dress!
Sizing: Custom sizing used – message designer for details
A'Shontay also outfits entire bridal *parties*, including bridesmaids, mothers of the groom/bride, etc etc.

I don't think of ASOS as a place to buy plus size wedding dresses – and boy, am I wrong! This mod floor length plus size wedding dress is giving me 1970's flower power vibes!
Check out all the details on this plus size wedding dress here!
Martin Thornburg offers a fresh and modern take to classic "fairytale" princess dresses. The brand can be found in retail stores across the USA, and you can use their store locator to find one close to you.
If you can't decide between fit and flare and a full skirt? Martin Thornburg has this eye catching svelte dress – and the outer skirt is removable.
More Helpful Plus Size Wedding Roundups!
Want more plus size fashion + wedding content? Be sure to subscribe to The Huntswoman Newsletter.
Join VIP!
Want more content like this? Then I recommend joining my fashion-focused email list is here! If you want to stay up-to-date on posts from The Huntswoman, I recommend joining me on your favorite social media platform (Facebook, Instagram or Twitter).
Finally, my business and career email list HERE!!
I have two email lists because folks have different interests! For lovers of this post, I recommend joining both lists and following me on Twitter, where I share a lot of blogger tips and info!