Hey there! This post contains affiliate links.  Using my links means I earn a commission, which helps me create more rad content.  More on affiliates here.
On today's blog post, I'm sharing a list of outfit ideas for plus size folks who are looking for masculine clothing, androgynous outfits or who identify as butch!
Masculine of Center, Androgynous & Butch Plus Size Outfits
I've wanted to put this round up of plus size masculine of center outfits together for a while, but something stopped me:
Using words to describe gender is complicated.
And, what the heck do we even mean by "masculine clothing" anyways? Like, clothing has no gender.
Le duh.
Buuuut, people are using these terms to find resources
That said, I *know* that folks are looking for specific style lines and silhouettes when we talk about "masculine plus size fashion."
I know folks are looking for these clothing items, because they often message me on Instagram asking for outfit ideas and brands to check out. I've put together this post as a sort of stylist, sharing plus size outfit ideas and options that some folks may gravitate to. I don't expect every human to want to purchase every outfit on this list. <3
(I also wrote blog post HERE with a round up of brands that make plus size masculine clothing for androgynous and butch folks!)
If you're typing those words into Google, it's because you're probably looking for plus size clothing that is gender affirming. Generally, folks are looking for:
Clothing that doesn't "nip in" at the waist
Plus size masculine button down shirts
Plus size masculine or butch clothing in patterns we typically find in the "men's" section
Plus size blazers or suit jackets that look "more masculine"
Plus Size Masculine Clothing
SO, because of this, I have put together this list of outfit ideas (with LINKS) for plus size folks who are looking for androgynous, masculine, butch, etc, clothing styles.
I am *NOT* saying that I have the definition for these words, or what these identities mean to their respective communities.
Rather, I hope that this round up of plus size outfit ideas gives folks ideas – and, well, honestly helps you feel seen.
You deserve clothing that you feel amazing in.
You deserve clothing that affirms your identity.
You deserve to play with fashion.
Ok, let's get started:
WAIT ONE MORE QUICK NOTE! (Ok, 2 Notes)
A lot of these looks are styled with accessories that may not fit your gender identity or needs. Because of this, I encourage you to look at these images and focus on the clothing. <3
Secondly, this blog post was written with folks who grew up shopping (and being forced to shop) in the "women's section." These folks often find it difficult to find gender affirming clothing.
Ok, now we can for realsies get started:
Ok, so not all "masculine" fashion needs to reference men. That said, this 3 piece suit from Eloquii is FIRE!
The vest could be worn with a tee for a casual outfit, and that blazer can be used in a bunch of different outfits!
Love it!
Shop this plus size masculine outfit here.
When I first found these more masculine button down shirts at Torrid, I thought to myself, "Someone on the design staff is definitely ~in the rainbow family~!"
These plus size button down shirts have a straight cut, meaning they don't nip in at the waist. I love that they're often found in bright prints and the fabric is usually lightweight.
Torrid has a few of these kind of shirts available on their website. If you find a shirt that's sold out, then I recommend checking Poshmark!
Shop plus size masculine button downs HERE!
There's this weird idea that "androgynous plus size fashion" means that folks don't like color.
Definitely not the case!!
I love puffer coats for folks who are looking to dress androgynously, because they eschew specific style lines. I also love that this coat takes up SPACE!
Snag this plus size androgynous coat HERE.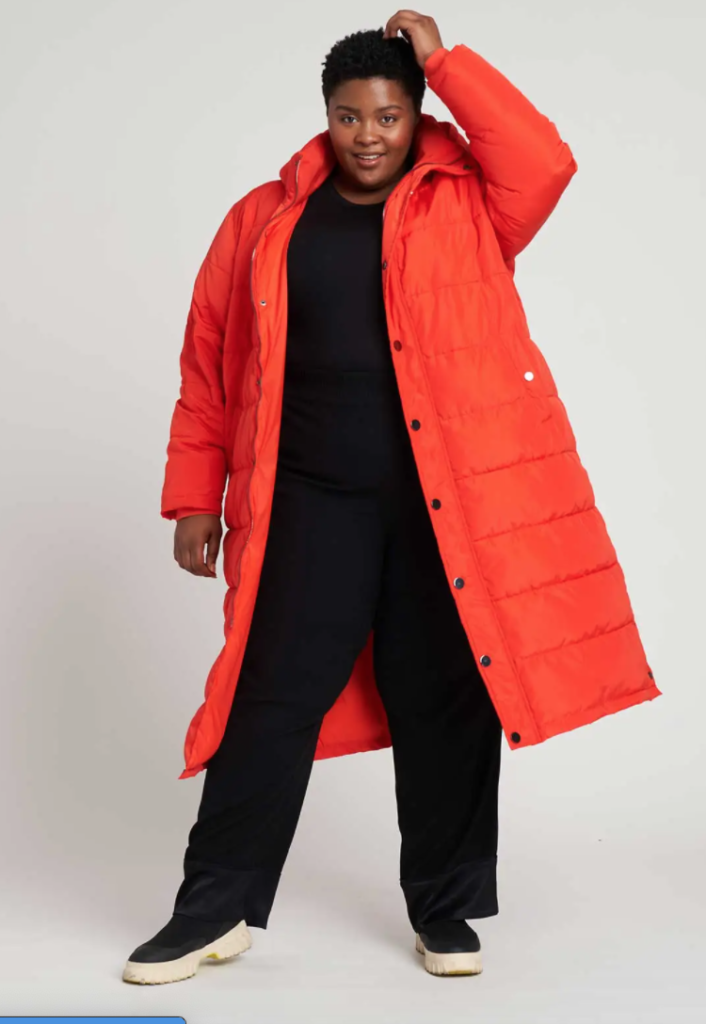 Next up on our list of masculine plus size outfit ideas is this button down tunic from Universal Standard.
This plus size button down tunic is made of flowy sheer fabric, and it can be tied or styled to be more "masculine" or feminine! This tunic is available in 4 colors and comes in up to a size 40.
Check out this plus size androgynous outfit here!
Sometimes, you just want a good plus size vest or plus size blazer – HECK, a plus size suit.
Unfortunately, most "off the rack" suits from the Big & Tall section don't fit. SO, I recommend checking out Kirrin Finch.
They offer a variety of masculine of center outfits and looks for the dapper person, and this suit is FIRE.
Shop plus size butch suits and vests HERE!
This plus size jumpsuit def gives me androgynous vibes!
This plus size androgynous outfit is available in up to a size 40 HERE!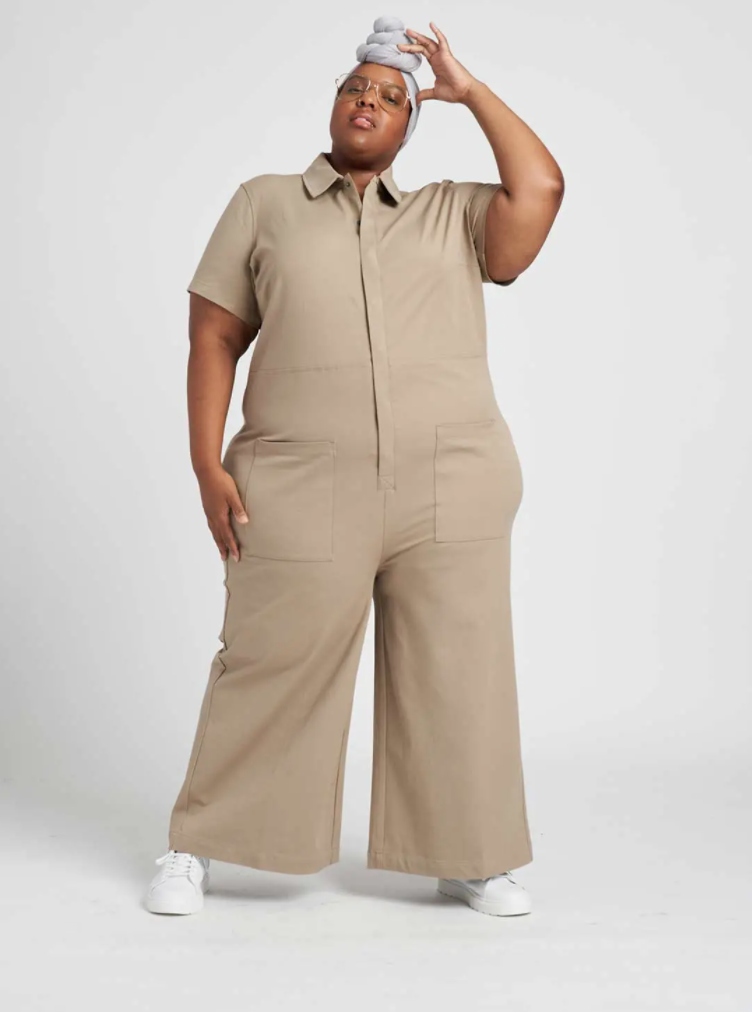 And we're back with some COLOR! This plus size t-shirt is from the men's section, and I love how the brand styled it with acid wash joggers!
This plus size butch shirt comes in up to a 6XL, and (at time of writing) is in stock in up to a 3XL!
Snag this plus size butch outfit HERE!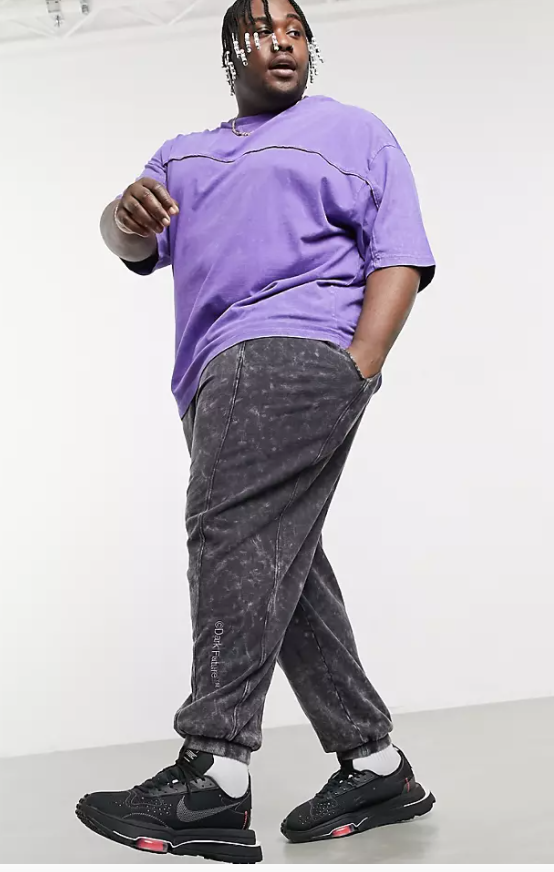 #8 Plus Size Androgynous Outfit: Plus Size Button Down from Lane Bryant
Remember our button downs from #1? Sometimes, Lane Bryant also carries them!
This yellow striped plus size button down is super fun, and I can picture it being worn with white converse or Keds (or Birkenstocks, lol).
Shop this plus size masculine outfit HERE!
#9 Plus Size Masculine of Center Work Suit: Plus Size Suit from Bindle & Keep ($25)
Bindle & Keep is a favorite for plus size wedding suits, and they also have great business suit options for androgynous, butch, masculine of center, etc folks!
From the brand: "We all know what it's like to search for clothing. In the retail landscape, we're often forced to make compromises that make us feel uncomfortable with our clothing and too often ourselves. We welcome our clients to the custom landscape where suits are more than clothing; they're an accurate expression of who we are. Whether you've worn suits for years or never at all, you'll be in good hands."
Shop masculine and suits for butch folks HERE!
#10 Plus Size Masculine Cut Button Down Shirt – Duluth Trading
Duluth Trading is a great brand for folks who are looking for a more "straight up an down" silhouette.
These floral print button down shirts are pretty popular, and this plus size button down shirt comes in a variety of prints!
Shop here.
#11 Plus Size Masculine of Center Outfit: Denim Shorts with Nautical Stripe Tee
This is a favorite outfit for one of my besties who identifies as gender non-binary! This look is from Universal Standard, and they've styled it with converse.
Snag these denim shorts HERE!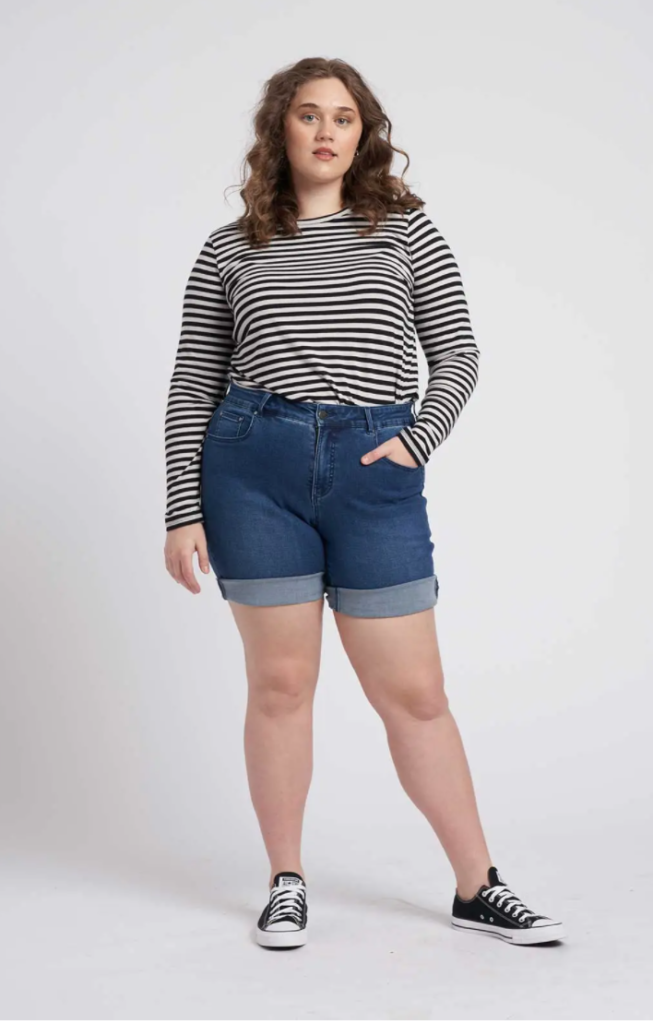 #12 Plus Size Masculine of Center Outfit: Whimsical Plus Size Set from ASOS
Every once in a while, the plus size men's section at ASOS will have really fun and whimsical clothing.
If you're looking to add a bit of whimsy or cottagecore in your closet, but you're not up for a gingham dress, this set is PERFECT!
Shop this plus size androgynous outfit HERE!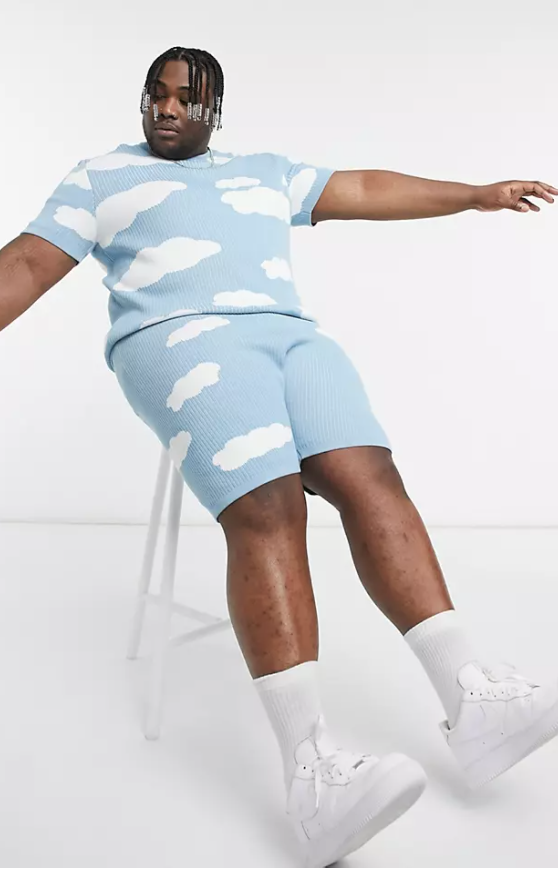 We love a romper! SHEIN has a great selection of plus size rompers and playsuits.
When looking through the website, be sure to check the measurements on each specific clothing item, as measurements change with each clothing item.
I'd style this orange romper with a white t-shirt, and pair it with slides or birkenstocks.
Shop this plus size androgynous outfit HERE!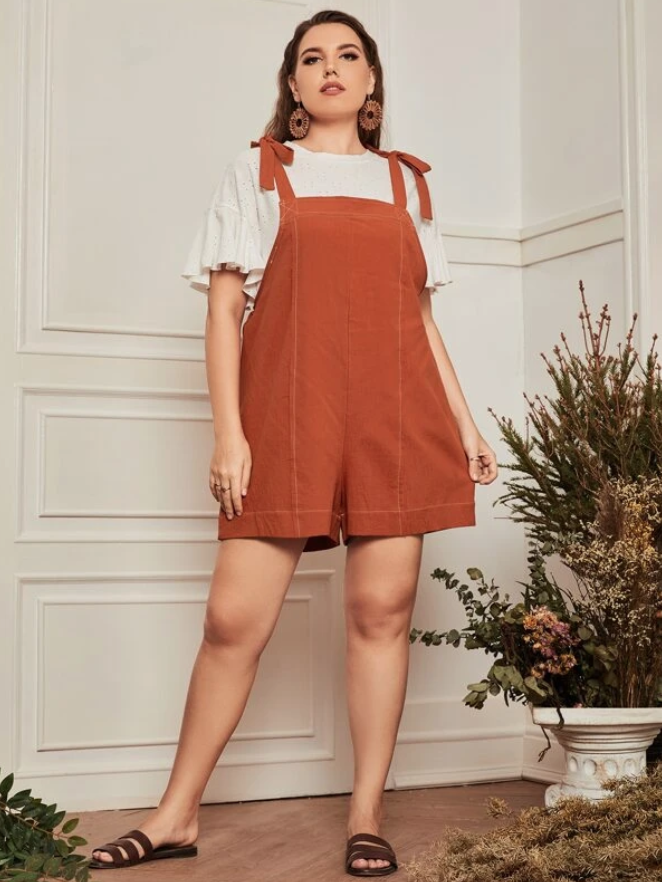 Ok, so if you're looking for a plus size blazer or more "boxy" cut, a great search term to use is "one button blazer" or "longline" blazer.
This navy blazer from Eloquii could be a great work option!
Shop this masculine plus size blazer HERE.
Next up on our romper selection is this androgynous plus. size outfit in GREEN!
This playsuit is available in sizes that fit up to a 48.5 inch waist. Not into the creme tie at the waist? Tie it loose or remove it!
Shop this plus size masculine of center outfit HERE!
Next up on our list is denim button down shirts! I love the details on this plus size "Dad" shirt from ASOS, it's giving me some fun late 20th century vibesssss.
Snag this plus size button down HERE!
We love a 3 piece suit, am I right?! I am obsessed with this plus size suit in a "men's cut" from ASOS!
Shop this look HERE!
This plus size romper doesn't have stretch, making it similar to almost… coveralls (ie coveralls that professionals like mechanics use.)
One can tie the belt loosel (or not at all) for a different silhouette.
I own this romper in a 4XL, and I'm a size 22 in Torrid jeans and a 2X in their tops!
Snag this plus size androgynous outfit HERE.
If you're trying to avoid fast fashion, then I definitely recommend checking out the jumpsuits at Big Bud Press!
From the brand: "Each size can accommodate a range of body types so please consult our size chart below before ordering or email us with any sizing questions you may have! The desired fit for our jumpsuit is tight– you will have difficulty sitting and zipping it up on initial wears and it will break in with time. If you want it to be larger from the start, you'll need to size up!"
Shop this jumpsuit HERE.
#19 Plus Size Masculine Outfit: Alice Alexander Co
A slow fashion option, Alice Alexander Co is based on the East Coast in the United States, and makes clothing past their listed size chart.
Here are some options from their latest drop:
Ok, so this suit is photographed in such a way that it may not look super appealing.
BUT this plus size suit comes in up to a size 32, and I would recommend sizing up for a less "fitted" look.
Jessica London has a variety of prints (this suit comes in 3 plaids), as well as other suits in different colors.
Shop this plus size suit HERE.
CoEdition is one of my fave plus size fashion retailers, offering a bunch of different brands on their website.
This plus size longline blazer has a more masculine cut, and is available in up to a size 26!
Shop this masculine plus size blazer here.
Tamara Malas is an independent and luxury brand (my interview with the founder HERE). I love these wide leg pants and how the brand combines masculine and feminine fabrics, colors and silhouettes.
Check out Tamara Malas HERE.
More Masculine Plus Size Fashion Resources
But wait, there's more! Check out these blog posts:
Reviews to your inbox!
Every week, i send out an email with the very best plus size fashion posts, along with helpful blog posts about growing your career! Subscribe here.