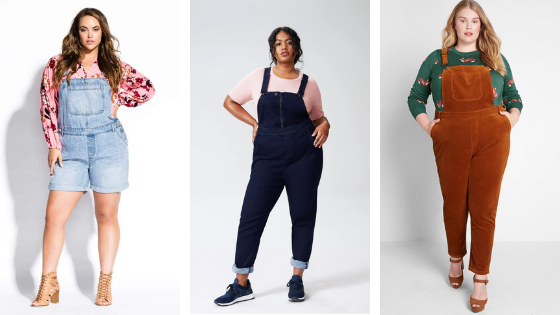 Hey there! This post contains affiliate links.  Using my links means I earn a commission, which helps me create more rad content.  More on affiliates here.
One of the MOST SEARCHED FOR items of clothing is plus size overalls. If you look online, a lot of brands list plus size overalls – but they stop at like a size 14.
I wish brands wouldn't advertise this nonsense!
Below, I've put together a roundup on where to find plus size overalls, and I've started with the brands that offer the most sizes. That way we can prioritize spending our lovely $$$$ on brands that support the most plus size babes!
[Heads up! This post uses affiliate links, and you help me earn $$ when you use my links. More on affiliate links here!]
Brand #1: Universal Standard – Up to a Size 40!
Probably the brand that is most well-known for its overalls is Universal Standard. My bestie Suma Jane Dark (size 28) loves this brand, and they look so cute in their US overalls!
The "Olivia Denim Overalls" come in a dark blue jean wash as well as black. Available in sizes 4XXS to 4XXL (around a size 38-40), these are the most size inclusive overalls on the market!
They also have a fun zipper in the front and a unique back, making this pair of overalls much more fashion forward!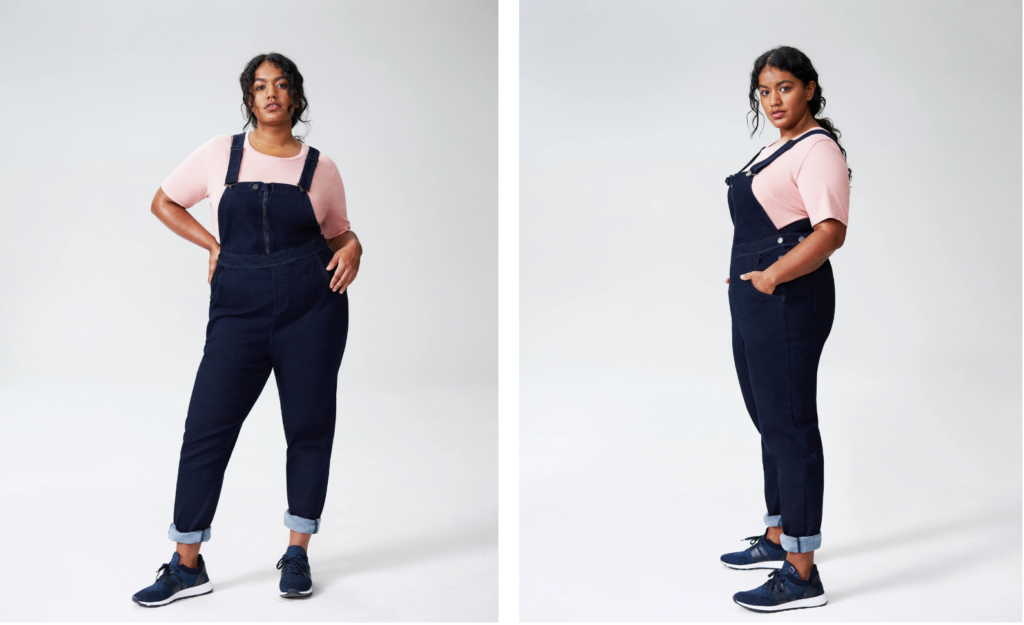 Brand #2: Torrid – Variety of Washes in Up to a 6X
Torrid is one of my favorite plus size brands (the staff at my local Torrid all know me by name, lol), and I love that they have plus size overalls in a variety of washes at any given time.
From a dark wash, to distressed look to black denim to flared overalls – Torrid has it all! They also have a great size selection, going up to a 6X!
Their overalls also have a good amount of stretch, which is definitely needed! I carry a good amount of my weight in my belly, and Torrid overalls have space for my bellow and are very comfy.
They usually only have overalls online, FYI!
Shop Torrid overalls here.
Brand #3: Plus Size Linen Overalls from Copper Union
I love this indie brand so much I published an interview with the founder, Claire Doody! This independent brand is based in Portland, OR, and its business model uses ethical and sustainable manufacturing practices.
This pair of linen overalls is relaxed and comfy – perfect for babes who love the style lines of overalls, but aren't huge fans of denim.
Claire offers up to a size 6 on her website, and she also offers additional sizes at no cost to the buyer!
Shop the Esther Overalls here.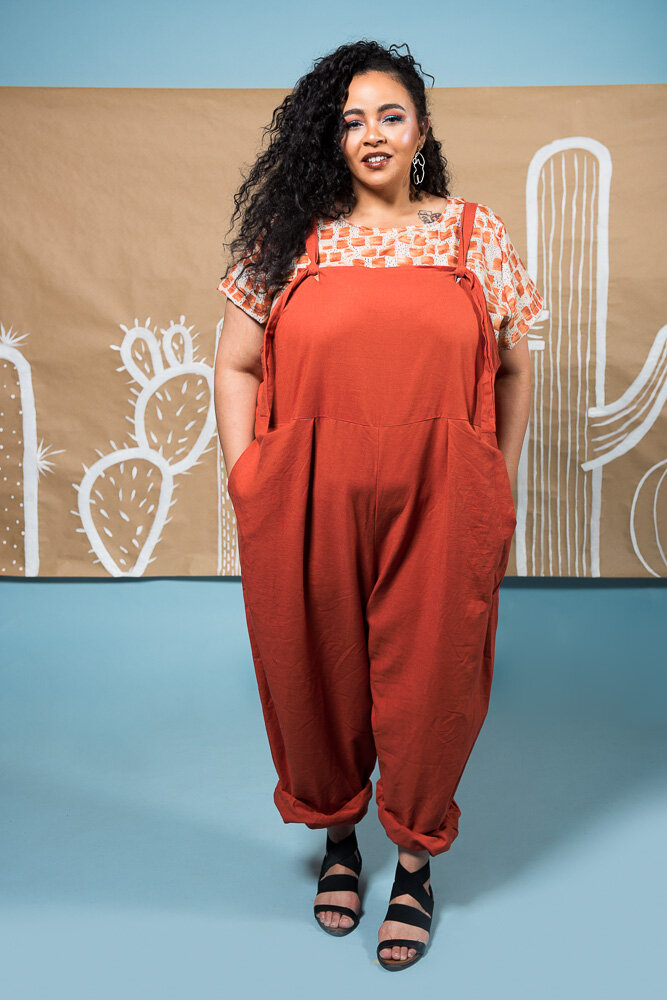 Brand #4: ASOS – Plus Size Overalls & Overall Dresses/Jumpers
ASOS sometimes offers plus size overalls, but at time of publishing they're sold out!
You can get a similar look with plus size overall dresses! ASOS offers them in a variety of fabrics, going up to a US 24. Overall dresses are a great option for babes with long torsos (or long legs!) who usually have issues wearing off the rack jumpsuits or rompers.
Shop ASOS overall dresses here.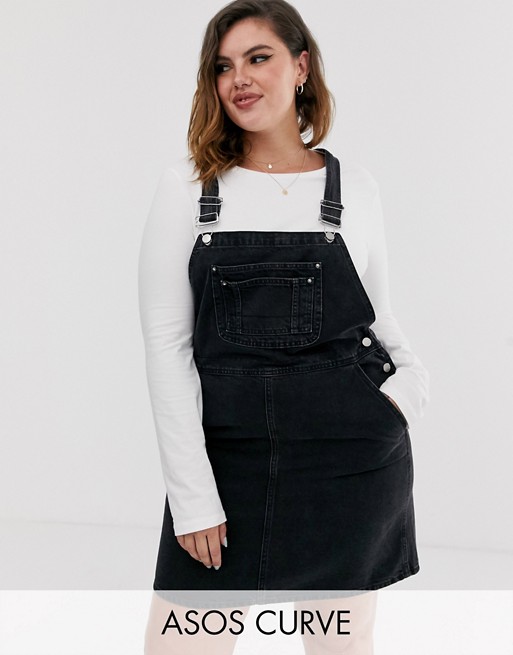 Brand #5: Plus Size Overalls from SimplyBe
SimplyBe has a lot of jumpsuits made out of chambray (basically a lighter version of denim), but I wouldn't call them **overalls**, ya know?
Luckily, the brand does have plus size overalls. I love the tie detail on this pair! The brand offers up to a size 26, but the overalls I've found stop at around a 22.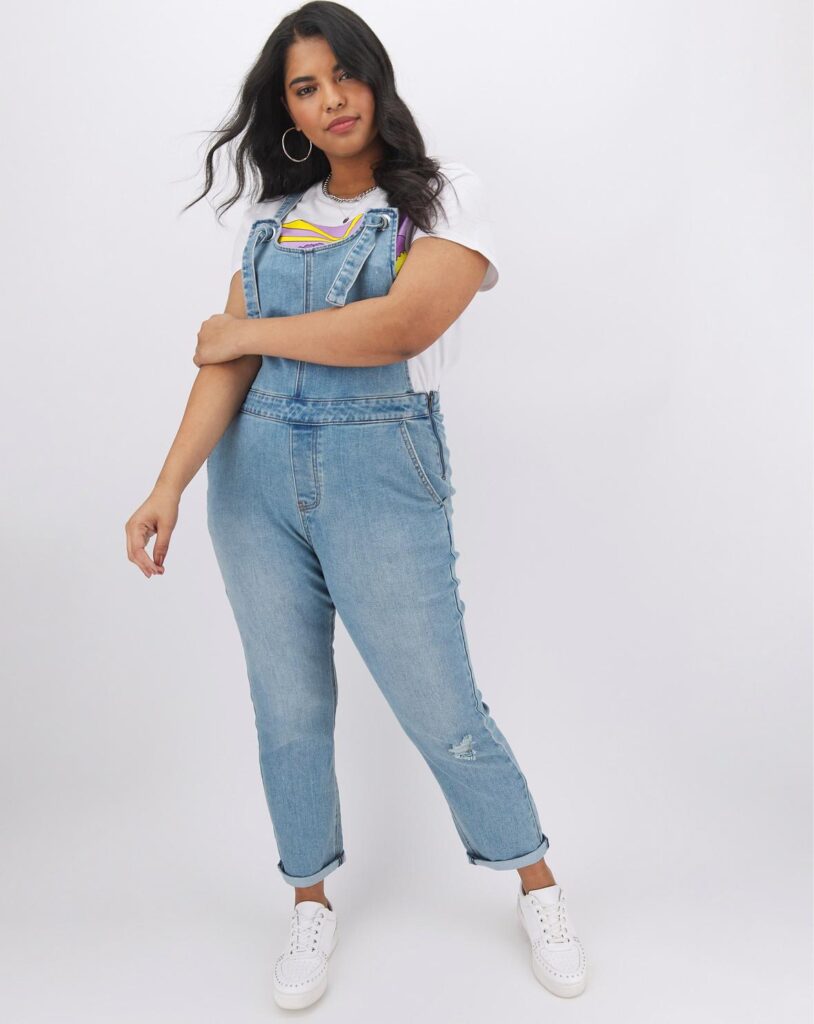 Brand #6: Plus Size Overalls from Unique Vintage
I love Unique Vintage, and I had a blast reviewing their plus size flapper dresses! I love the sweetheard neckline on their "Plus Size Denim Blue Jean Sweetheart Ellie Overalls."
This pair of plus size overalls is great for the babe who loves the look of overalls, but wants a more defined waist (check out that almost corset-like stitch line!!).
Unique Vintage offers this pair in up to a 5X.
Shop here!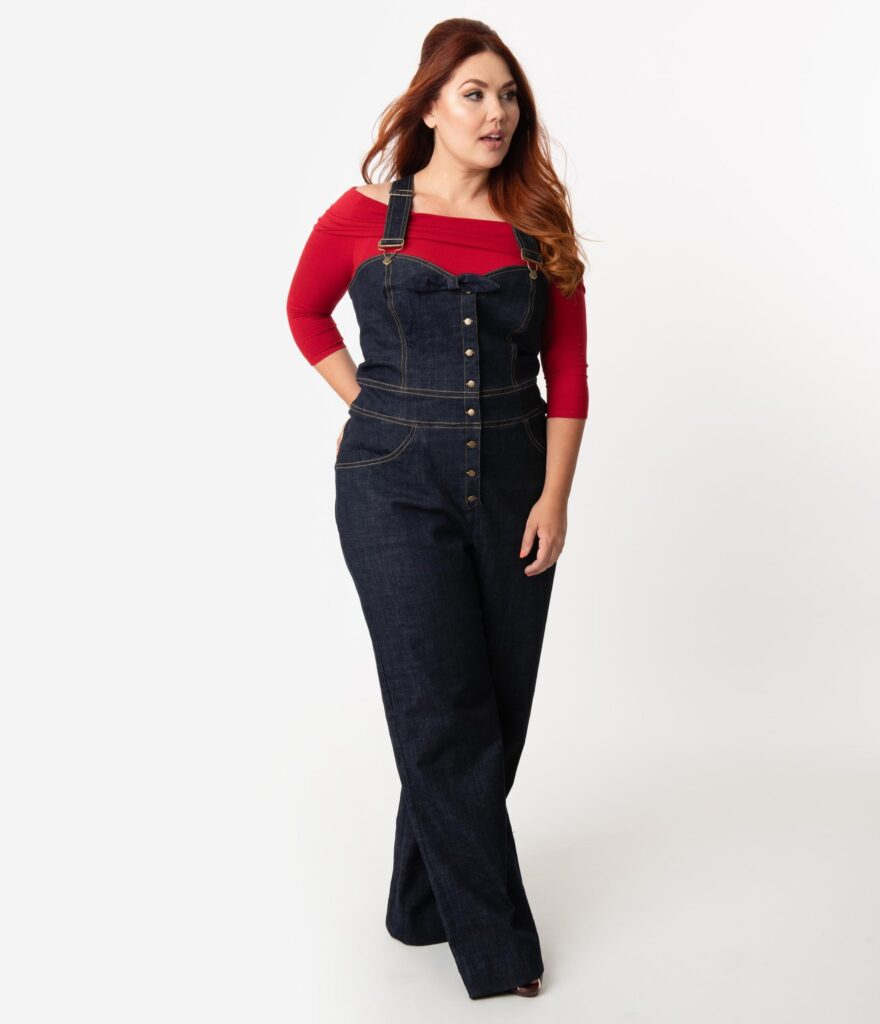 Brand #7: Plus Size Overalls City Chic
I always shop City Chic on CoEdition, a plus size fashion marketplace, because I'm able to purchase from more brands without paying more in shipping fees.
City Chic has a variety of plus size overalls, with most of their selection being shorts and jumpers! They do offer full figure overalls that are full pants, in a distressed denim!
City Chic offers plus size overalls in up to a size 24.
Shop City Chic overalls here.
Brand #8: SLINK Jeans – Olive Green Overalls
I've never tried SLINK Jeans, but I've had my eye on them! I would recommend purchasing from SLINK on CoEdition, a plus size fashion marketplace, as they offer overalls from other brands (making it easier to try on options at home!).
SLINK offers plus size overalls in a variety of washes, and I love this Olive Green look! Available in up to a size 22.
Shop here!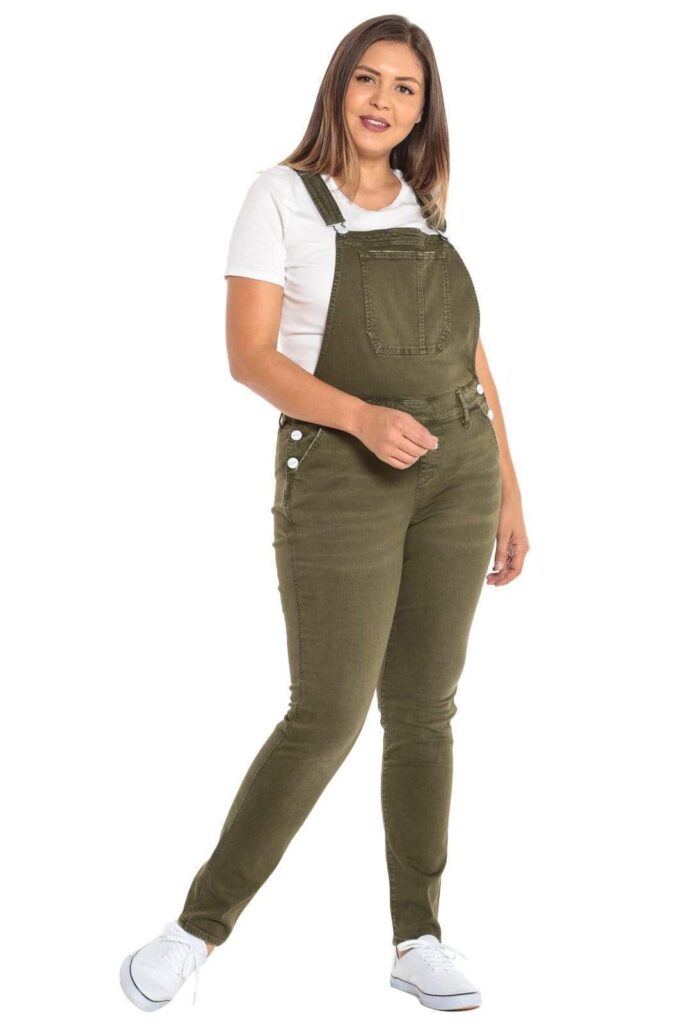 Brand #9: Plus Size Overalls from Ashley Stewart
Ashley Stewart is known for having stretch plus size jeans that hug your curves, and they've taken that same design aesthetic for their plus size overalls!
The brand offers this pair of overalls in a light-medium wash. Be sure to check your measurements against the size chart before ordering!
Shop here.
Brand #10: High End Luxury Overalls from 11 Honoré | APIECE APART
11 Honoré is the premiere shopping destination for plus size women who love high quality and luxury items. The Carmen Denim Overall ($395) designed by APIECE APART features princess seaming and deep pockets.
I particularly like the wide leg cut on the pant legs, making this a more versatile piece that can go from a weekend trip to Martha's Vineyard to a more casual office look for Summer Fridays!
This look is available in up to a size 20, and 11 Honoré does advise sizing up!
Shop here.
Brand #11: Plus Size Overalls in Corduroy from ModCloth
Already have a few pairs of denim overalls in your wardrobe, but want more overall options? ModCloth has come through with these corduroy overalls in Ginger and Dark Green.
Available in up to a 4X, these colors are perfect for fall!
Shop here.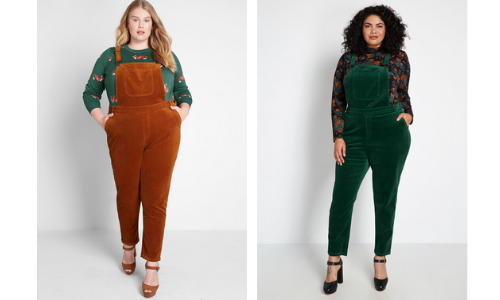 More Helpful Plus Size Fashion Roundups
Looking for new plus size brands to try? Here are 5 other plus size shopping guides to make plus size shopping more fun!
Be sure to bookmark your favorite posts, so they're there for you when you're ready to shop! 🙂 <3
Stay in Touch for More Product Reviews!
If you want to stay up-to-date on my reviews, I recommend joining me on your favorite social media platform (Facebook, Instagram or Twitter).
More of an email kind of person? Subscribe here!
[FTC Notice: This post contains affiliate links, meaning I earn a small commission if you purchase a product through my link. Affiliates help me write more great content, and I only endorse products I truly love.]