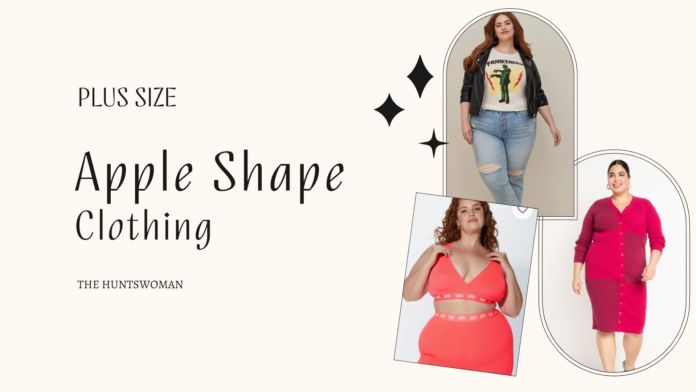 Hey there! This post contains affiliate links.  Using my links means I earn a commission, which helps me create more rad content.  More on affiliates here.
Hi there! Today on my blog, I'm sharing all my best tips and details on where to shop for plus size apple shaped clothing!
I recently did a TikTok series on my experience shopping for plus size apple shape clothing over the last 7 or 8 years, and I was so stoked by the response! I love connecting with my readers and fans all over the internet, and it was so cool to see people's reactions to this info in the comments.
This post is about where I shop for plus size apple shaped clothing.
Okay, SOOOOO! Before I get into sharing all the tips and advice I have on where the heck to shop for plus size clothing as an apple shape person, I want to give you a bit more context!
It's always helpful to know a bit about the random person giving you advice, so you can decide what advice will work for you
My details:
I'm an H cup
I have a long torso and short legs (which really impacts my rec on where to shop for rompers)
I'm 5'4″
I'm a size 24 // about 274 pounds (my size does fluctuate, so if you join me on social media, please be aware of that, my love!!!)
Okay, without further ado, let's get into where to shop for plus size clothes as an apple shaped person.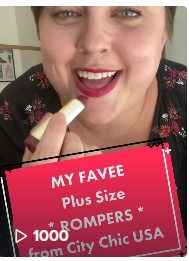 Okay, so first up on my list of where to shop for plus size apple shape clothing is City Chic! I gazed LONGINGLY at this brand from across the internet (lol) for YEARS, before being like, "Eff it, I'm gonna try this brand out!"
Details:
Sizes 12 to 24 (or XS to XXXL, per their chart)
Based in Australia
Particularly at City Chic, I love love love LURVEEEEE their plsu size rompers (and also jumpsuits, by default). I really think this brand designs for plus size apple shaped babes, who carry our weight in our respective bellies!
I also really like their dresses, and I am really impressed with the quality of their clothing1
Shop City Chic plus size apple shaped clothing HERE!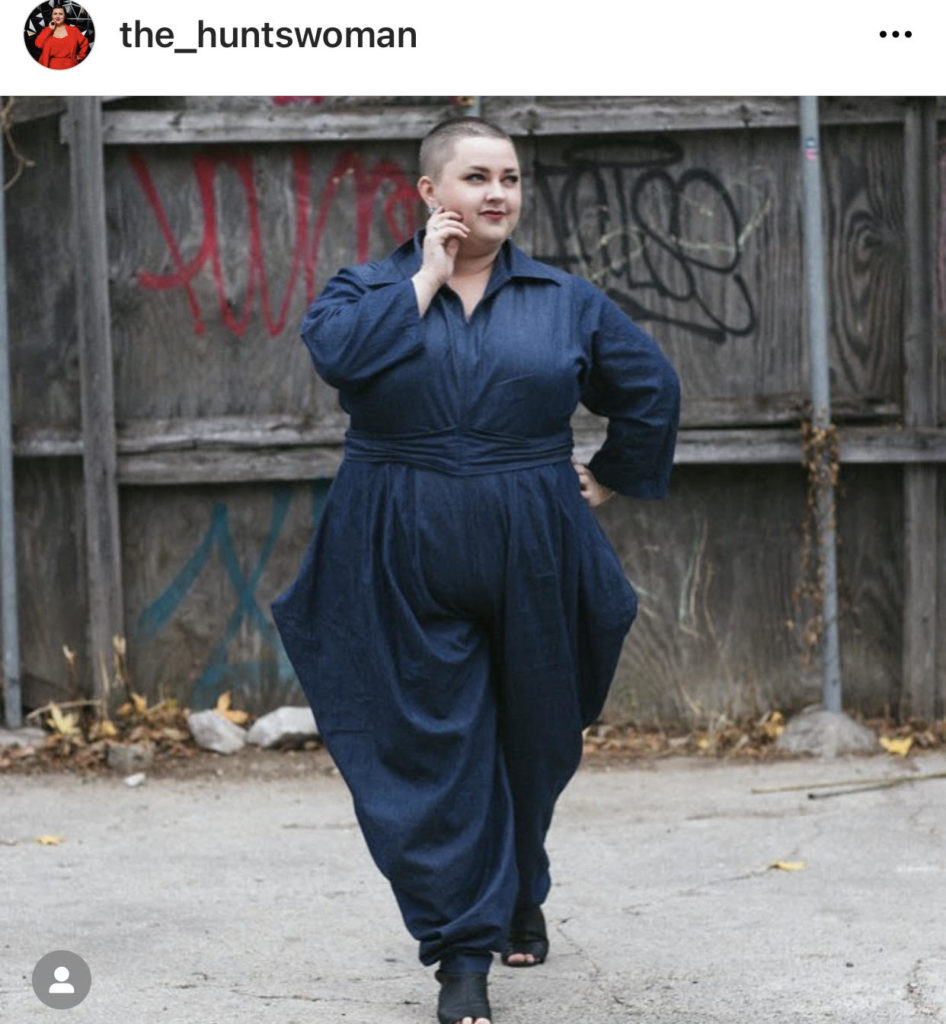 Ok, so if you have been hanging out with me, The Huntswoman, online for a HOT MINUTE, then you know I am such a fan girl for JIBRI.
JIBRI is a Black-owned brand, founded by Jasmine Elder, and I really thing this brand CELEBRATES apple shape bodies and pear shaped babes. They're so great!
Details:
This is also a higher end brand who makes their pieces in the USA (Atlanta, Georgia), to be specific!
Shop plus size apple shape clothing at JIBRi here!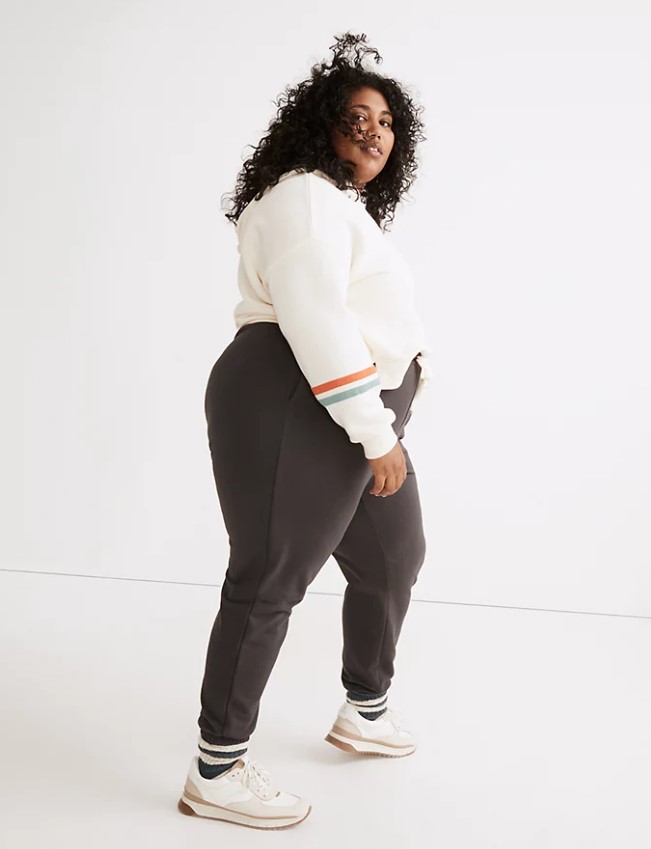 Ok, so Madewell is a fave of plus size fashion bloggers who are apple shaped! I actually haven't tried the brand IRL (yet!!!! stay tuned!!) and they've got this sort of neutral-denim-cool-girl vibe. Think relaxed jeans, tees, etc. They've also been expanding into plus size workwear, which is super exciting for plus size apple shape babes like you and me!! <3
Details:
Madewell is also one of the only brands I've found that consistently carries plus sizes in-store, which is rad!!
Shop plus size apple shape clothing HERE!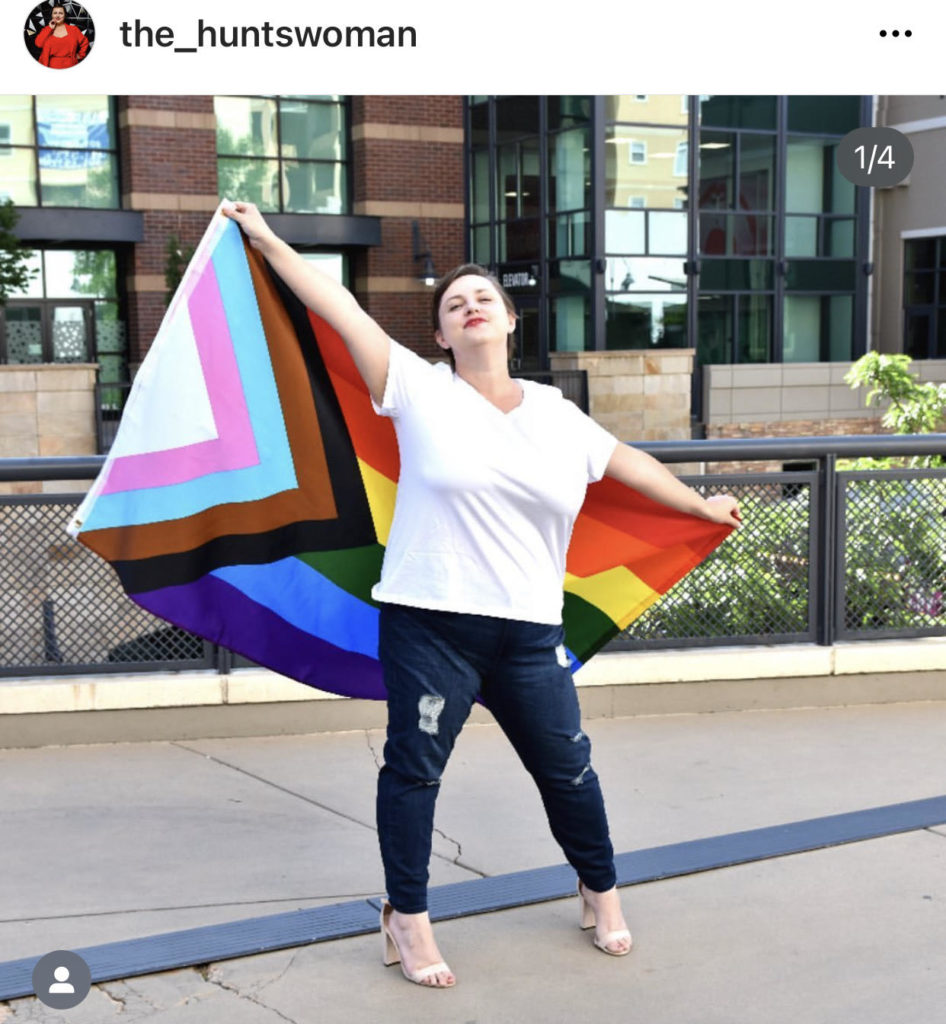 OK SO!!! Next up on my guide to shopping as a plus size apple shaped babe, we have the Isadora jeans from Dia & Co! Y'all, I freaking LOVE these jeans so much (so much1!!), and I wore this pair for like two years before they finally gave out, lol.
They're stretch and comfy and a really great everyday jean!
Shop these plus size jeans for apple shapes here!
Next up, we have a 2-for-1 deal! Lol, okay not really. If you're looking for more sustainably made plus size clothing for apple shaped babes, I love that! If this is you, I definitely recommend checking out Tamara Malas (a super trendy apple shape clothing brand) and LOUD Bodies, an ethically made fashion company that goes up to a 10X!!
These brands are also both owned by women, which is so rad!!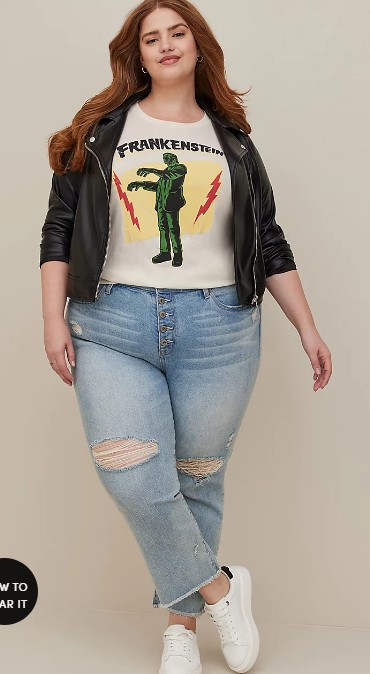 Ok, I know we allll know who Torrid is! Lol, they are a staple in my own wardrobe. But did you know that Torrid has a HUGE online selection — way more than what's available in-store for plus size apple shaped babes!
I love love LURRRRVE Torrid graphic tees (I've done a fair amount of TikToks and Reels OOTDs and GWRMs with them), and I love them because they're LONG!!!
It is so super helpful for me to have plus size graphic tees that work well for my own apple shape, as the tee doesn't stop awkwardly on my belly.
Shop plus size graphic tees for apple shapes here!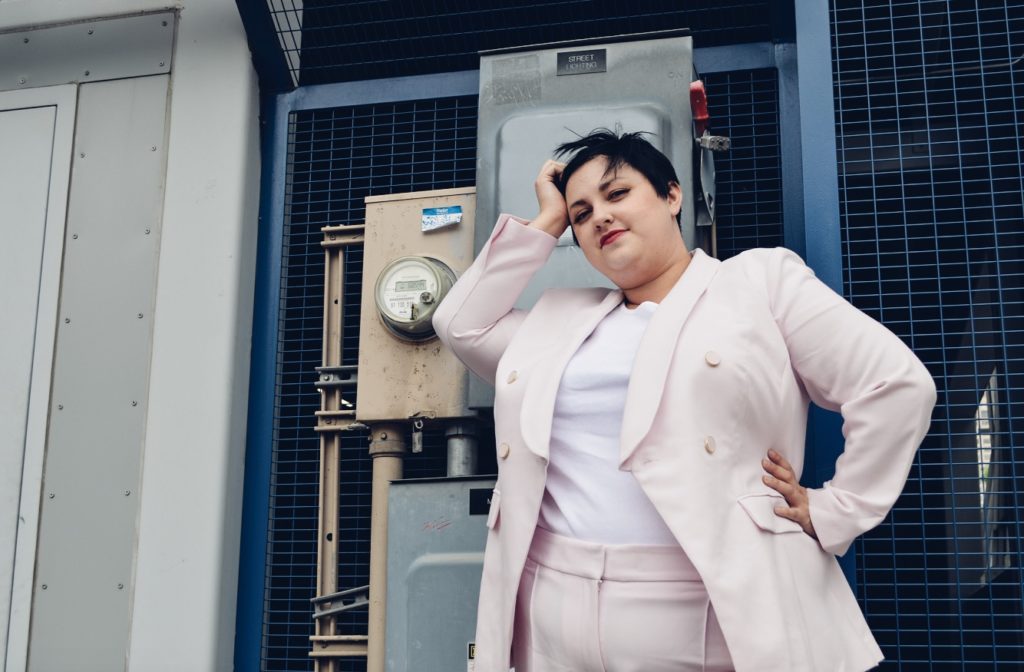 Ok, next up let's talk about where I get my blazers as a plus size apple shape babe!
I love getting my blazers from Lane Bryant, buuuuut I usually get them online from the brand! I find they have so much more in-store! (The blazer pictured actually is from an in-store purchase, but you get me!)
Details:
Up to a size 30/32, with some styles available in up to a 40
Shop plus size blazers for apple shapes here!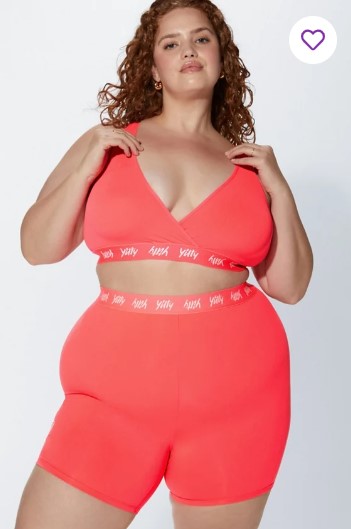 Ok, so I haven't had a chance to film myself in plus size bike shorts from Yitty yet for a review, but I'm working on it!! I originally was kind of skeptical of YItty, because I hadn't tried Fabletics and I was (real talk) worried that people would talk Yitty up because they loveeee Lizzo.
I mean, same, honeslty!
But then I was visiting my BFF 5ever Kate in Boston, and she got a SECOND order delivered while I was there. Kate has **VERY** discerning tastes (she's like my own influencer lol), and she told me how much she loves Yitty.
So I placed on order on the spot, lol. I got both bike shorts and matching tops in a 3, and I wish I had sized up on the tops (I was in between ish sizes on the size chart).
REGARDLESS, I am such a fan of these bike shorts! I wear them under dresses (And sometimes rompers!!) to avoid chafing!
Shop plus size bike shorts for apple shapes here!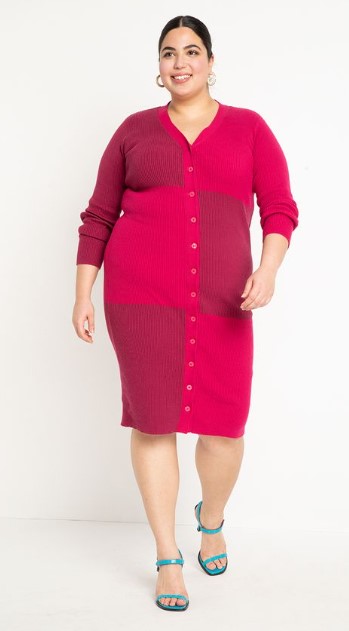 Ok, so I love Eloquii and I am a RIDE OR DIE for them! I think they're a great brand for plus size apple shape babes, buuuuut if you're short (like me) you're gonna have to either shop only in petites or head to your tailor.
My tailor and I are BFFs, so it's all good. I recently bought a plus size blazer shorts set that I LOVE!
Shop apple shape plus size clothing HERE!
This post was about where I shop for plus size apple shaped clothing.
What to Read Next –>
Okay, my fellow apple shaped babe!! Here are a few other blog posts and guides I've written from my own experience on where to shop as a plus size apple shaped babe!
Join VIP & Let's Connect!!
Ok, babe!! There's my guide to shopping for plus size clothes as an apple shape babe. It was kind of funny writing this, because all of my reviews are for apple shaped people – because I, myself, am apple shape!
Lol.
Anyways1. If you'd like to stay in-the-know about said reviews, you can join my email list here, or hang with me on Instagram and TikTok!