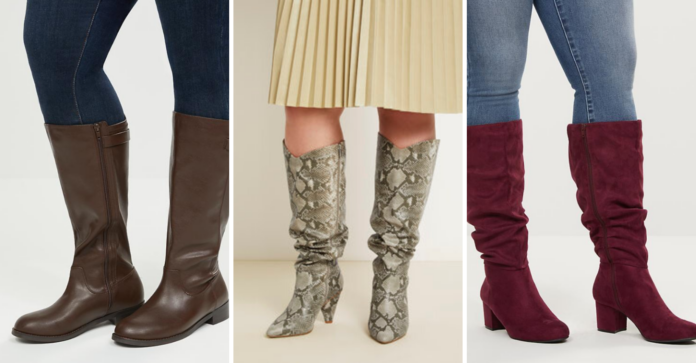 Hey there! This post contains affiliate links.  Using my links means I earn a commission, which helps me create more rad content.  More on affiliates here.
Can I tell you a secret?
From 2016 – 2018, I stopped wearing knee high boots. And I stopped wearing them because I was embarrassed about having bigger calves. The thought of trying boots on and the zipper not going up? Horrifying.
Then, this year, I went to Torrid on Black Friday and I decided to try on some boots. And I left with 5 pairs!
I'm back, baby!
[Heads up! This post uses affiliate links, and you help me earn $$ when you use my links. More on affiliate links here!]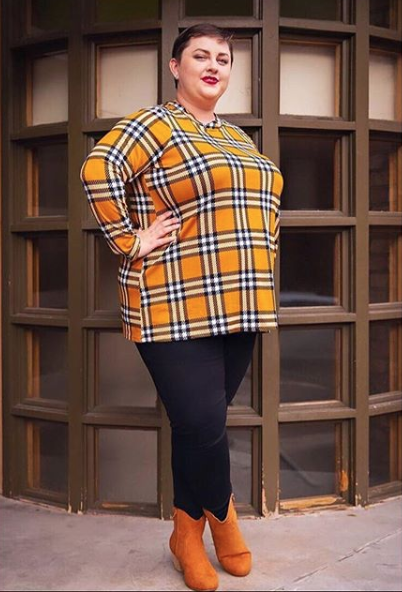 Where to Buy Wide Calf & Wide Width Boots
My winter wardrobe is SO MUCH MORE FREAKING FUN now that I have added boots to it! I want other plus size babes to have the same fun dressing that I do, so I've shared this round up of plus size boots.
Because I know that price is important, I"ve noted where pricing starts for the average pair. In my experience boots that go for less than $70 don't last for more than a season.
Alright, let's do this roundup!!
<script src="//www.anrdoezrs.net/am/8743546/include/allCj/impressions/page/am.js"></script>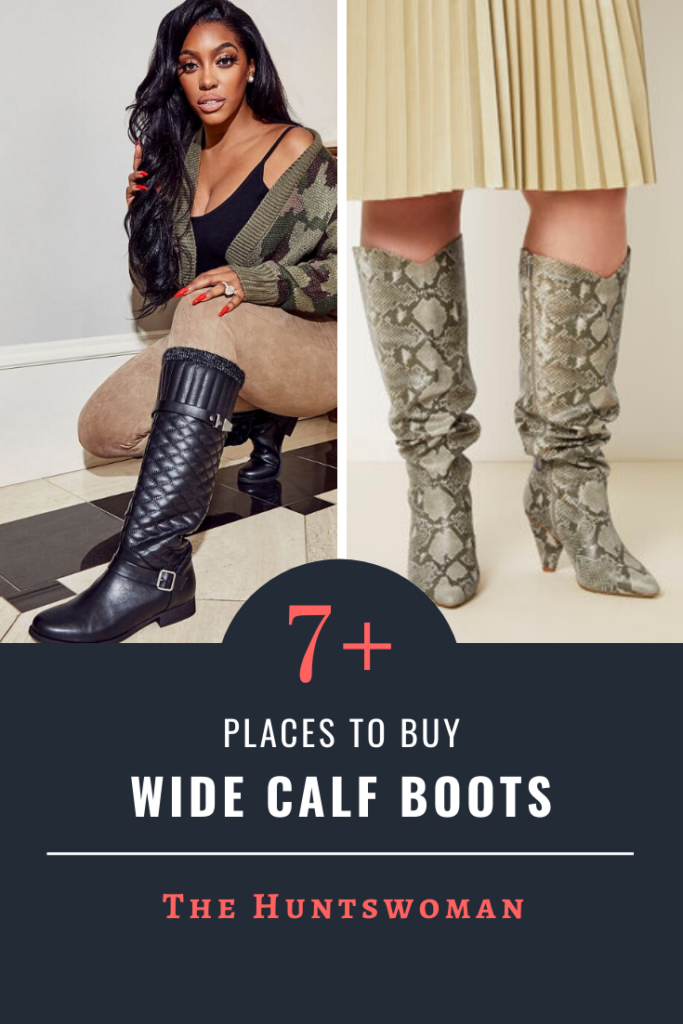 But WAIT! What is Your Calf Measurement?
Most of these companies sell wide calf and wide width boots online, aaaaand you'll want to know what your calf measurement is. Grab a tape measurer to get your measurement. This one is on Amazon for $2.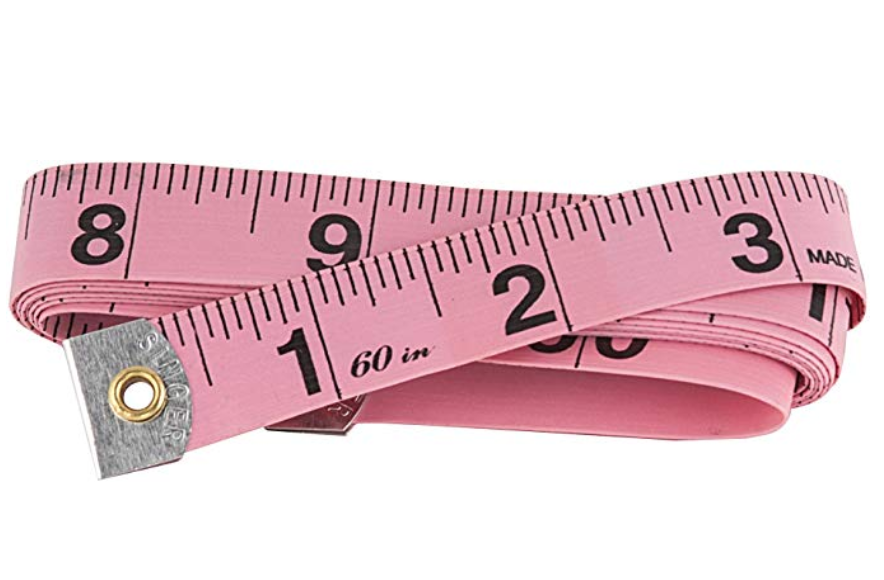 If you don't have a tape measurer handy, grab a piece of string, use that and then compare to a yardstick or ruler. Bam! Measurement acquired.
Torrid Wide Calf Boots & Booties (Up to ~20″ Calf)
I love Torrid boots, and I especially love how they offer 2 different calf widths on their site!
Torrid sorts their wide width boots by height (short, midi and tall), as well. They have faux leather, suede and even hardcore snow boots for winter sports! Torrid has half sizes, and they go up to a size 13. Tall boots start at around $75 USD.
Shop wide width boots here.
#2: No Heel Wide Calf Boots from Lane Bryant (Up to 18 inches)
To be honest, I didn't know that Lane Bryant even *offered* shoes until I saw an online return at the checkout register!
I love Lane Bryant (I did a whole photoshoot featuring their business suits), so I was stoked to find out that they offered wide width boots and shoes.
LB offers boots in fun colors, as well as flat boots with no heel (super important for daywear!)
Lane Bryant offers up to a size 12W, with a calf measurement of 18″.
Shop here.
#3: Unique & Statement Making Wide Width Boots from Eloquii
Eloquii is the go-to place for plus size babes who want to stand out and make a STATEMENT. If you're looking for a pair of boots that are the perfect for Instagram, Eloquii has your back!
Eloquii offers boots up to a size 13 wide, and their boot start at around $120 USD. They're boots go up to a 19″ calf! Their wide width boots are"designed to be 30% wider than average width,"
Shop here.
#4: Fashionable Wide Calf Boots from Maurices
Helloooooo, Maurices! I recently just placed an order for wide width boots from the brand, with their lovely 2-day shipping!
But let's talk about their wide calf offering. They go up to a size 11, and list 5 widths to choose from. The calf width goes up to 22 inches!
Shop here.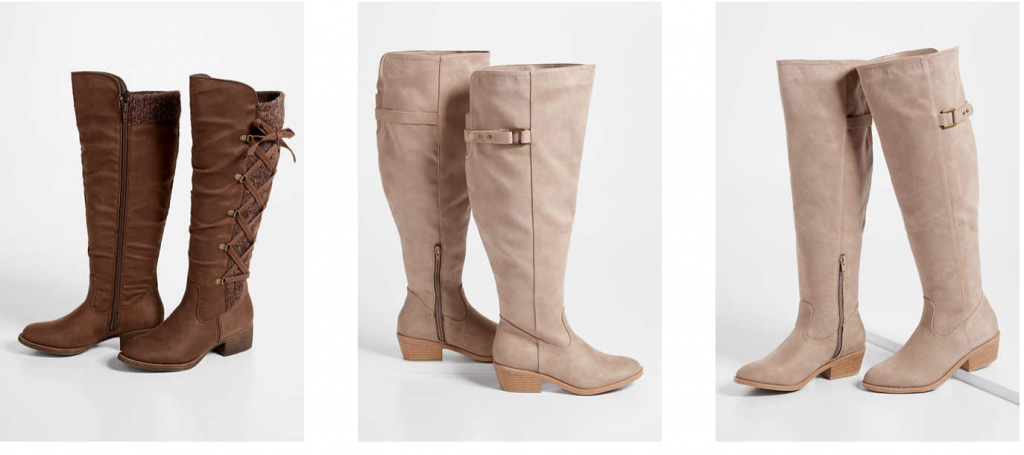 #5: Wide Calf Boots from Part & Parcel
Part & Parcel is a new plus size startup, and I've reviewed their business model as well as their white business suit. The brand got its start in offering boots for wide calves, at multiple measurements!
The brand offers two types of wide width boots, for around $190 USD a pair. You can get boots in 20″, 22″ and 24″.
Shop here.
#6: Wide Calf Boots from Woman Within (19 inches)
I keep waiting for Woman Within to go viral, because I feel like it's SUCH a popular plus size brand – but many babes don't know about it!!
The brand offers Wide and Extra-Wide Calf boots. After Torrid, I think they have the largest selection! They go up to a size 12, and just under 20 inches in width. Boots start at around $100 USD.
Shop here.
#7: Wide Calf Boots from Amazon
Ohhh, Amazon! How I love thee! I've never ordered wide width boots from Amazon, but these options do have me intrigued. Pricing starts at around $50.
The customer reviews put these boots at a calf width of about 22 inches, but I couldn't find info in the description from the manufacturer.
Shop here.
#8: Wide Calf Boots from Just Fab
Just Fab uses a subscription model, wherein you're charged a certain amount every month and pick your item(s). It's a great budget hack for those wanting to curb their online spending – only buy from JustFab, and keep your credit card in your wallet.
They offer wide width boots that go up to around 17.5″ and a size 12. I don't see a combination for wide width shoes (like, your actual feet) AND wide width calves – so this is a great option for someone who doesn't have wide feet but has wide calves.
Shop here.
Want More Plus Size Fashion Tips?
I love finding the best fashion and lifestyle products, and delivering the best tips to my readers! If you want to stay in-the-know, be sure to subscribe to The Huntswoman email list! No spam, pinky promise!
[FTC Notice: This post contains affiliate links, meaning I earn a small commission if you purchase a product through my link. Affiliates help me write more great content, and I only endorse products I truly love.]