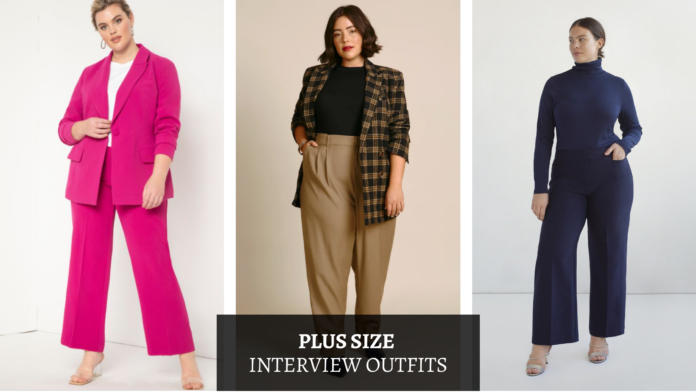 Hey there! This post contains affiliate links.  Using my links means I earn a commission, which helps me create more rad content.  More on affiliates here.
Did you just land a job interview? CONGRATULATIONS! Getting an interview takes a lot of work, and I hope you're proud of youself.
Now, what are you going to WEAR?!
Interview Outfits – Plus Size
I have been getting LOTS of questions from career coaching clients along the lines of, "What should I, a plus size person, wear to a job interview?! What are some interview outfits in plus size?!"
Shopping as a plus size person can be frustrating! So below, I've shared tips on what to think about, as well as 7 interview outfits in plus size!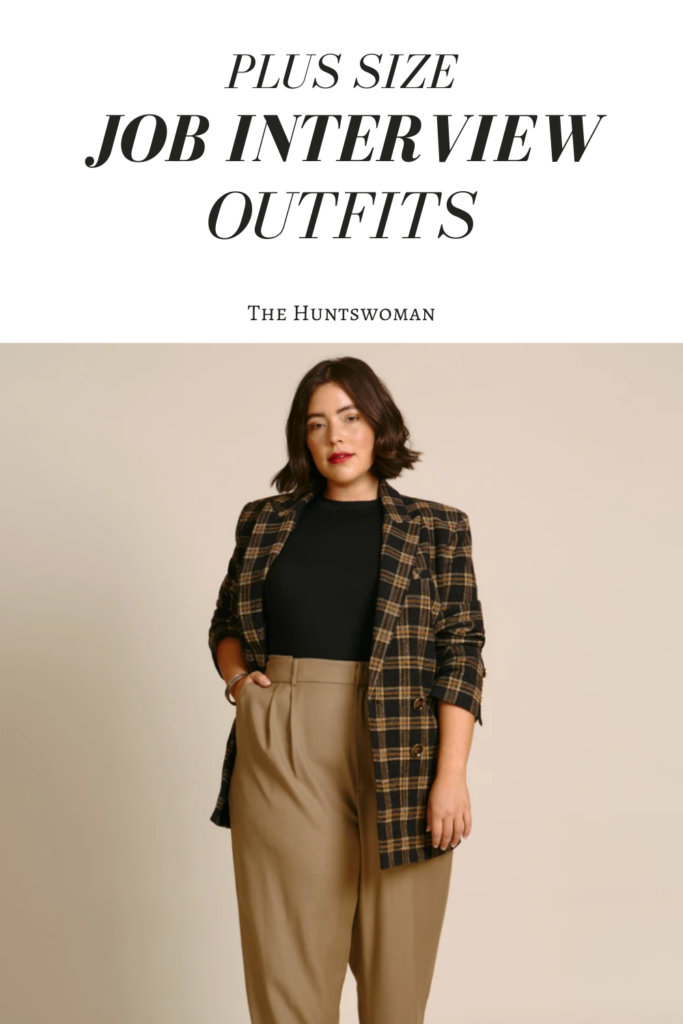 Interview Clothes for Plus Size – 4 Tips!
Before we jump into outfit ideas, let's take a step back. An interview outfit for a job in a law firm is probablyyyy going o be a bit different than an interview outfit for a job at an organic farming company.
So, here are 3 tips to help you decide what will be most appropriate:
Think of a really well-dressed person who works in the industry you're interviewing for. What colors do they wear? What fabrics? Do they wear jewelry?
Poke around the internet, and see if you can find group photos of employees on LinkedIn or the company about page. What are they wearing?
What kind of clothing makes you feel confident and fearless? What kind of clothing do you hate? Remember to choose clothing that makes you *feel* good!!
The tailor is your BFF! Plus size interview clothes are not going to fit beautifully off of the rack. Spend an extra $20 – $50, and get your outfit tailored. Seriously. Makes SUCH a difference.
Remember that we COMMUNICATE with fashion. We visually tell other people what's up with our clothes. Be purposeful in your dress, and I think you'll smash your job interview!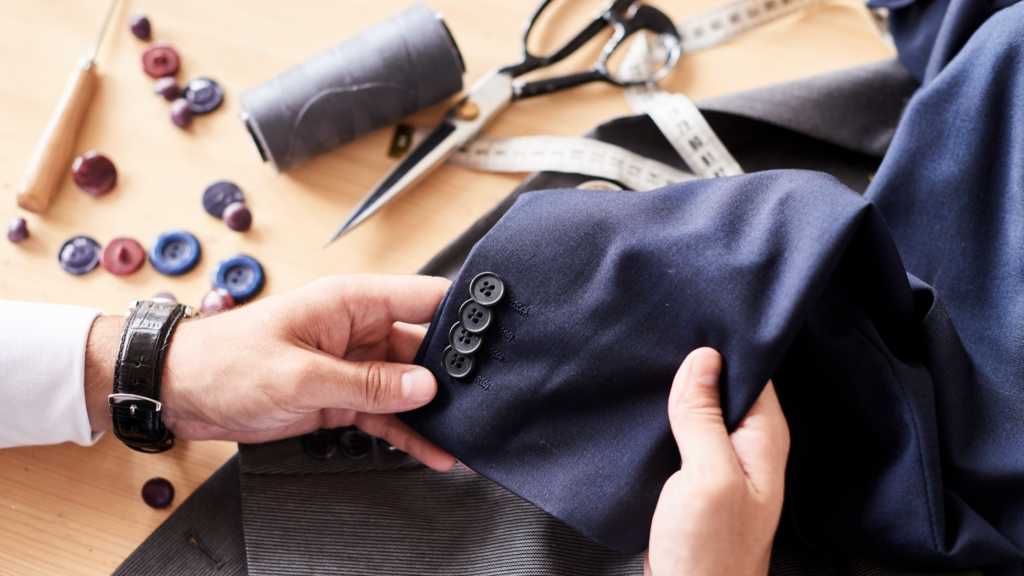 The "Plus Size Power Suit" in a two (or three!) piece suit in a statement color. The point of this plus size interview outfit is to OWN. THE. ROOM.
Note that a true power suit is going to be in red, pink, or an attention grabbing color. A solid navy suit is NOT a power suit.
This is a GREAT interview outfit for someone in a creative industry, or someone who has a creative/marketing job at a company. Wearing the power suit communicates that you are not afraid of attention, and that you're ready to step up and own your work!
Shop plus size power suits at Eloquii HERE!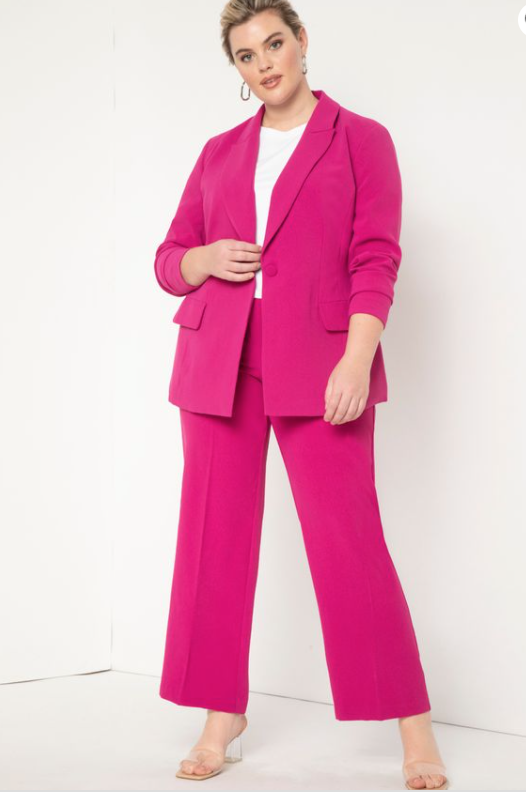 If you love a blazer, but you're not into loud colors – may I suggest this Veronica Beard blazer? This plus size plaid tailored jacket "has a chic silhouette with luxe textured fabric and sleek peak labels that give this jacket a preppy but cool vibe."
This plus size interview outfit communicates a quiet confidence and chic sophistication – and it's MEMORABLE. I can see someone wearing this to an interview for a tech startup or operations position.
To avoid coming across as frumptastic, note how the brand has styled this blazer with a high waist trouser and tucked in black shirt. i'd pair with minimalist gold jewelry and heels to finish the look!
Shop this interview outfit for plus sizes HERE!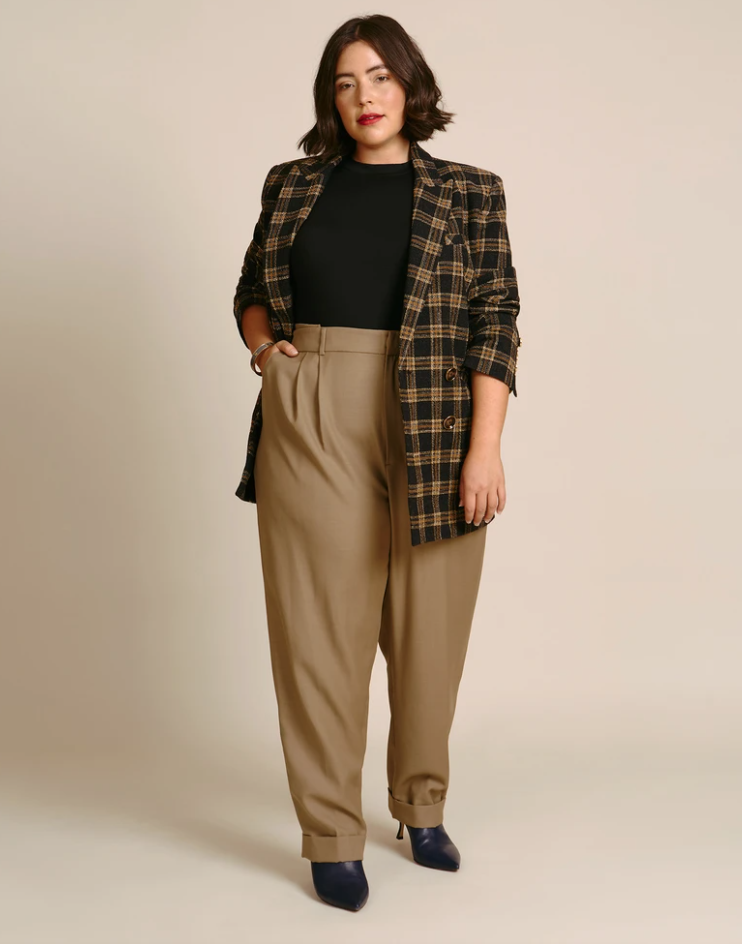 Next up on our tour of interview outfits for plus size professionals is this lovely button down shirt with a tie! A button down blouse can be pretty boring, and this color + the tie add a bit more visual interest.
I can see someone wearing this to an interview more conservative company, but one where no one wears a tie to work! This plus size interview outfit is modern business professional.
Pair this plus size top with black ankle trousers and heels, add on a few accessories and BAM! There's a fabulous plus size interview outfit. Note that this outfit looks classy because of where the pants hit on the ankle. One wants well fitting pants that are tailored to hit above the ankle bone!!
Shop this plus size interview outfit here.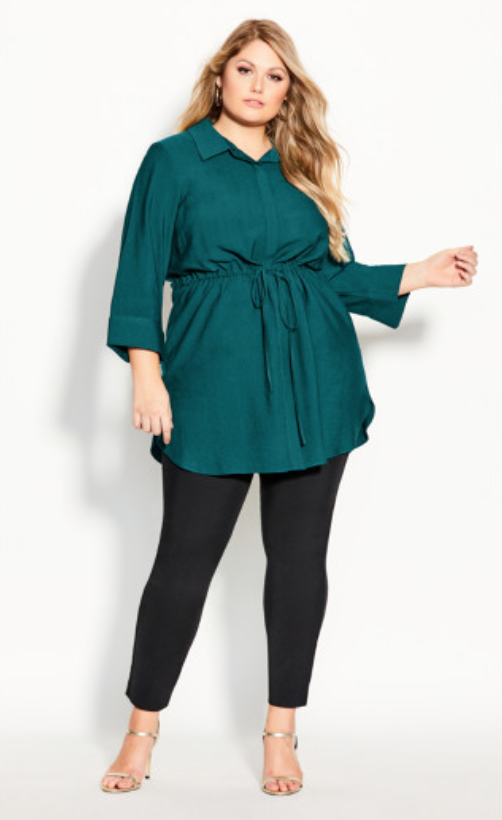 This next plus size interview outfit comes from plus size luxury brand, HENNING. The company is known for their clean lines, attention to detail and chic looks that stand out – and look sharp.
This outfit is monochromatic (one of my favorite fashion trends atm), and fits beautifully! When trying this for yourself, make sure the sleeves hit your hand between your bottom and mid thumb joint (see the hand in the pocket?), and that the pants are a few inches off of the ground.
Remember, the tailor is our BFF for workwear!
Shop this interview look for plus size HERE.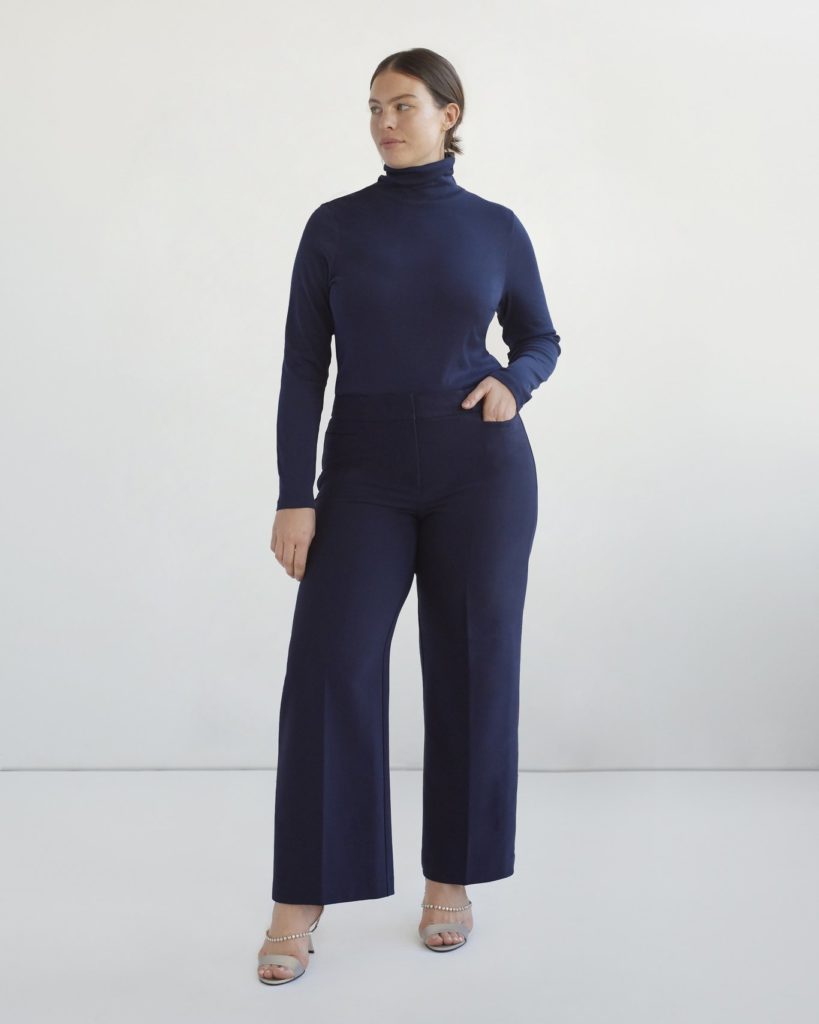 Okay, we've covered plus size interview outfit ideas that include suits, chic blazers, trousers and tailored pieces.
Next up on the agenda is a….
TIE NECK BLOUSE!! (Bow is optional, lol.)
A tie neck blouse can be an incredibly versatile plus size workwear piece. You can dress it up with slacks or wide leg trousers – or pair with jeans for a more casual (but still super professional) look.
Worried about buttons gaping? Buy a blouse to fit your largest measurement and have it tailored (see? Tailors ROCK!) to fit you perfectly.
Shop this plus size interview outfit HERE!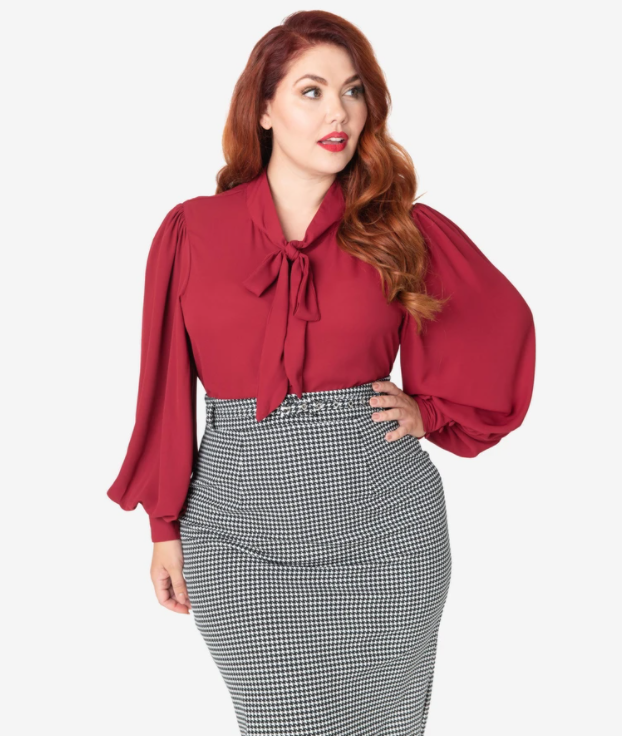 We've had a lot of statement tops with trousers in this roundup of interview outfits for plus size babes! But what if we added –
a statement SKIRT?!
I love a statement skirt (this one comes in 10+ colors and patterns), paired with a black or solid color top. I am really not a proponent of wearing ALL BLACK to an interview, because you don't really stand out (unless you put on a BOLD lipstick and chunky jewelry).
A black top can be a godsend for plus size professionals who worry about coffee spills (ie me), and the statement skirt adds interest and texture. I'd style this plus size interview outfit with short pointed toe booties or heels! NO BALLET FLATS!!
This statement skirt is made out of neoprene, a thick fabric that isn't as likely to wrinkle!
Shop this interview look for plus sizes HERE!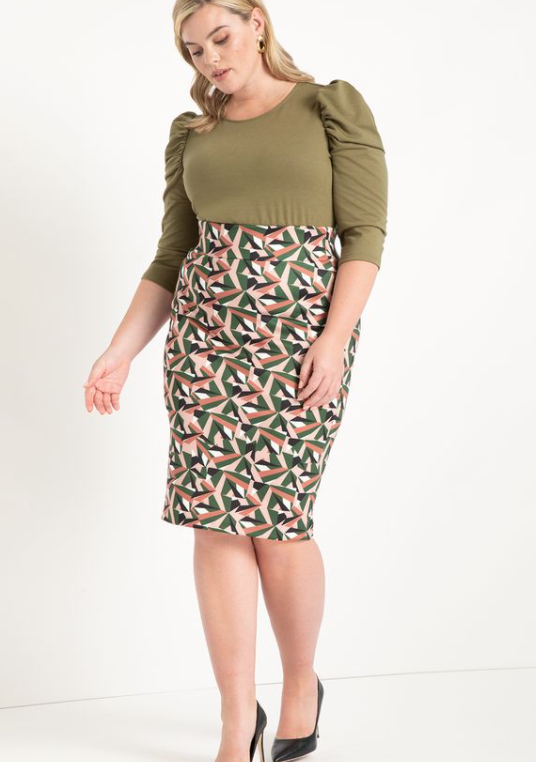 #7 Interview Outfit in Plus Size – JIBRI Jumpsuit
JIBRI is one of my favorite plus size brands, and they make GORGEOUS plus size jumpsuits. Their iconic silhouette is available in a variety of fabrics and colors, and this is a great piece if you're going into an interview with a bunch of fashion minded folks!
I'd pair the jumpsuit with a pointed toe boot or a block heel, add earrings and then walk with confidence!
Shop this plus size interview outfit here!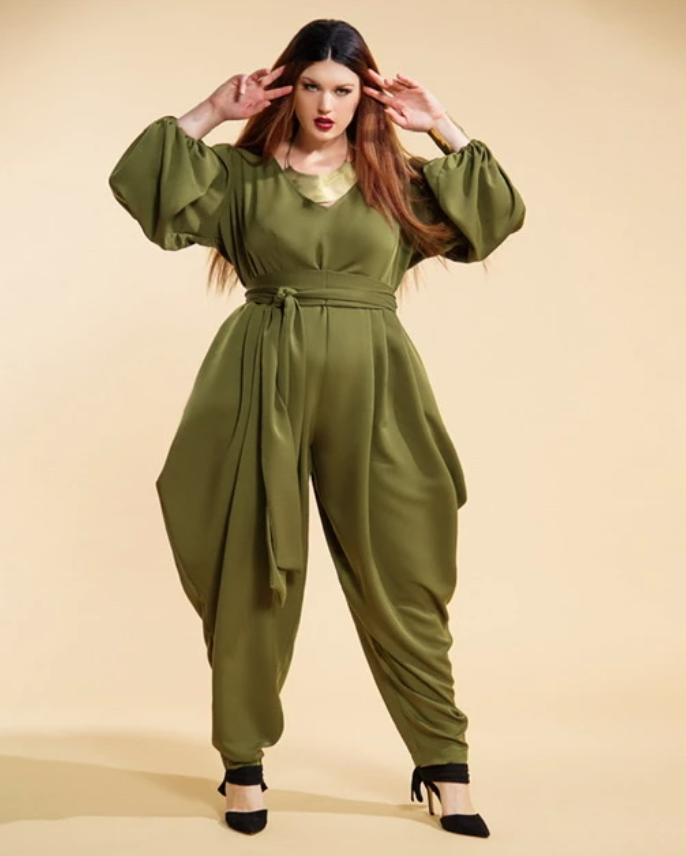 Bonus – Job Interview Checklist
Now that you've got the outfit for your job interview, is time to finish preparation. Check out this blog post with a checklist on what you need to do + research before your job.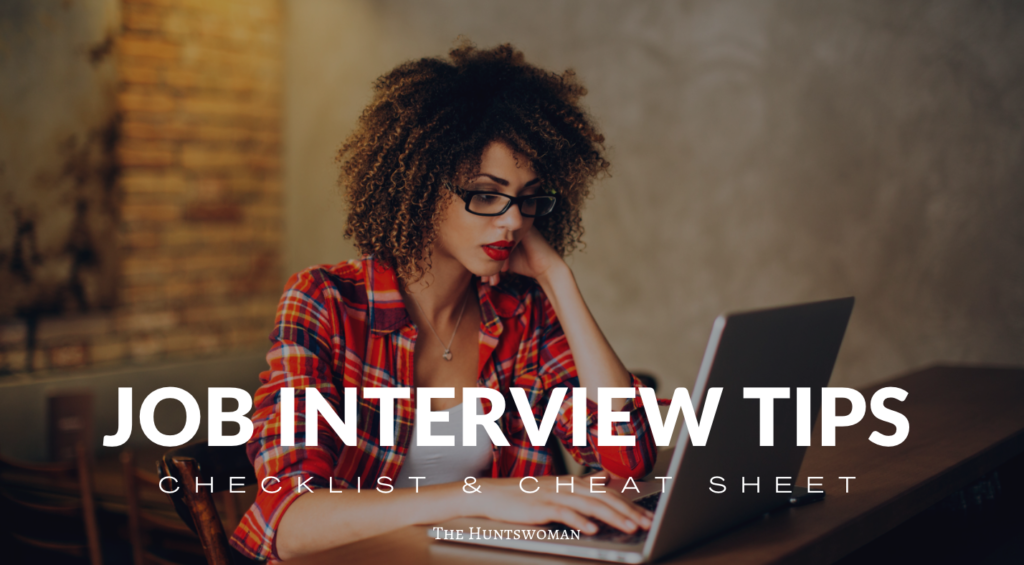 Need Job Interview Help?
Need job interview help? Feel totally lost when it comes to interviewing for a job you want? I offer interview sessions as a career coach, where I help clients prepare! We go over company research, practice specific interview questions and create planned responses to tough questions! More information is HERE!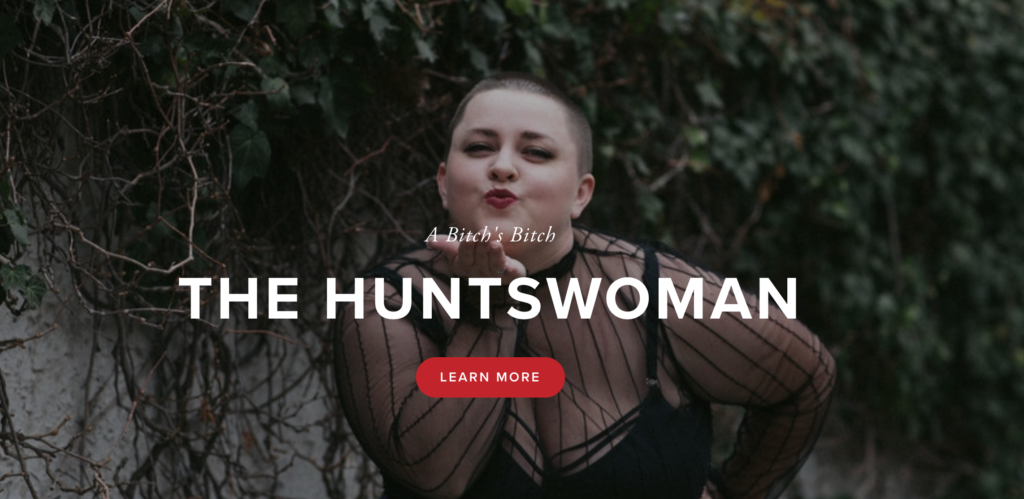 More Tips for Growing Your Career!
If you found this blog post helpful, then I bet you would also learn a lot from these blog posts:
Even MORE Resources?!?!
I'm excited to be sharing more learnings about job interviewing – and having fun with it – in 2020!. Be sure to subscribe to my newsletter so you don't miss out!