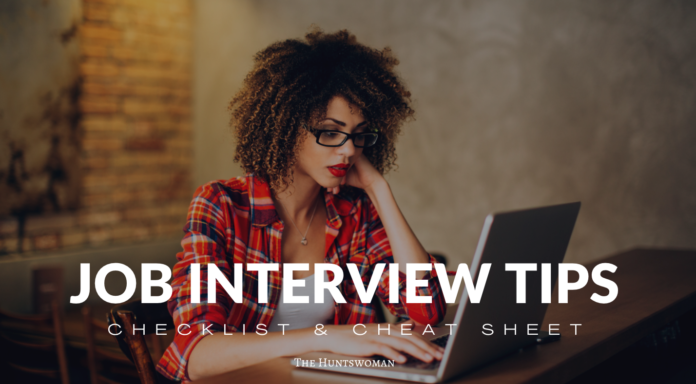 Hey there! This post contains affiliate links.  Using my links means I earn a commission, which helps me create more rad content.  More on affiliates here.
If you've landed on this blog post, congrats! It means that you've snagged an interview – or you're very close to snagging one. In this blog post, I share my top 7 job interview tips, including a helpful cheat sheet so you can be a bit more prepared and organized!
[Background: I'm a career coach, and these are job interview tips I share with my clients! Check out my work as a career coach HERE!]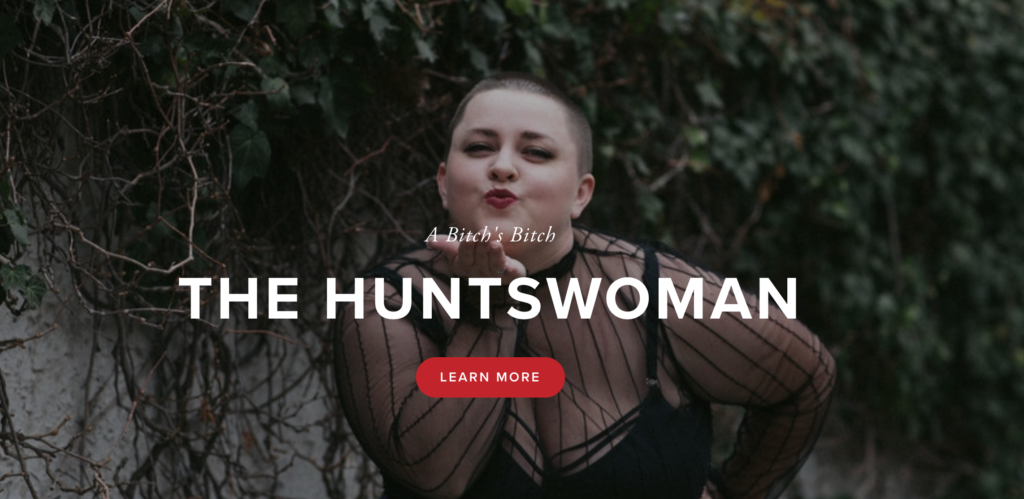 Job Interview Tips
When it comes to gaining professional skills, I am *SHOCKED* at the amount of googling and self-education people do. There is so much that goes into professional development, and a lot of people I encounter don't know that growing your career is something that you work on on a weekly and daily basis.
Put bluntly, you're already ahead of the pack by doing the pre-work!
Alright, with that out of the way, let's jump into my top 7 interview tips: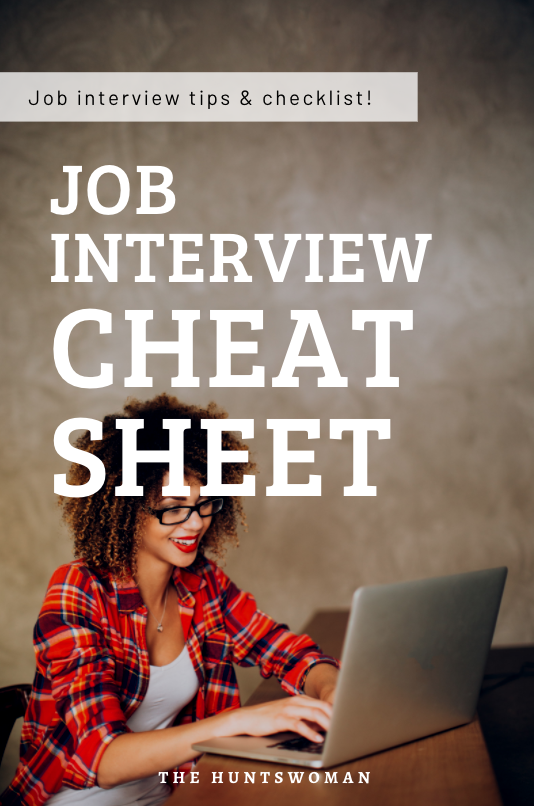 Job Interview Tips #1: Questions to Ask Pre-Interview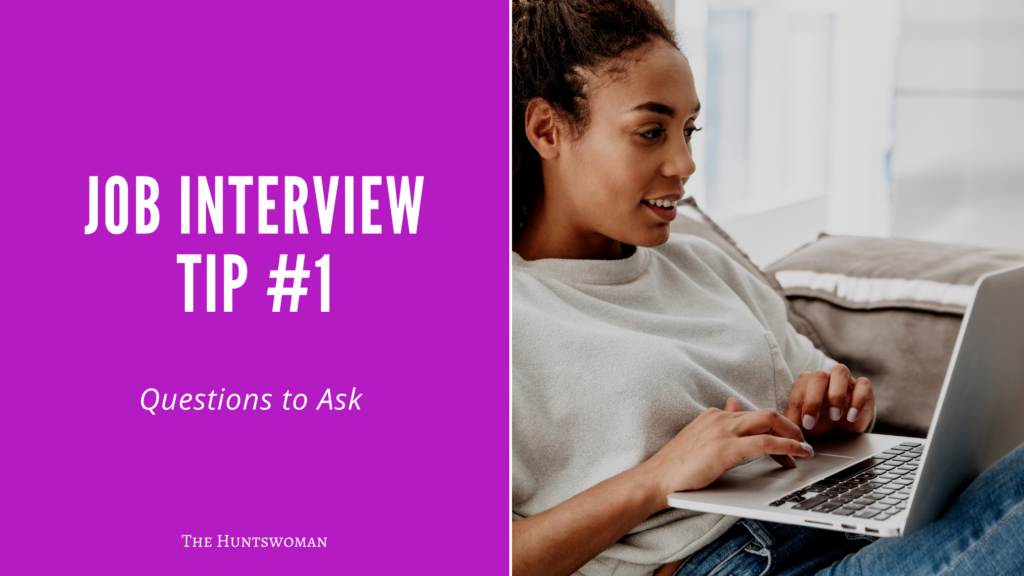 When you're invited for a job interview, typically someone from the organization will reach out and ask for your availability. When replying to this email, I would also ask:
What are the name(s) of interviewer(s)?
What's the typical daily dress code of people at the company? Put another way, what level of "dressiness" do you see at the office on this team?
Is there anything additional I should prepare for the interview?
These questions will help you get the info you need for the interview! We'll go into each of these sections below, and you'll want to get this information ASAP!
Job Interview Tips #2: Research The Company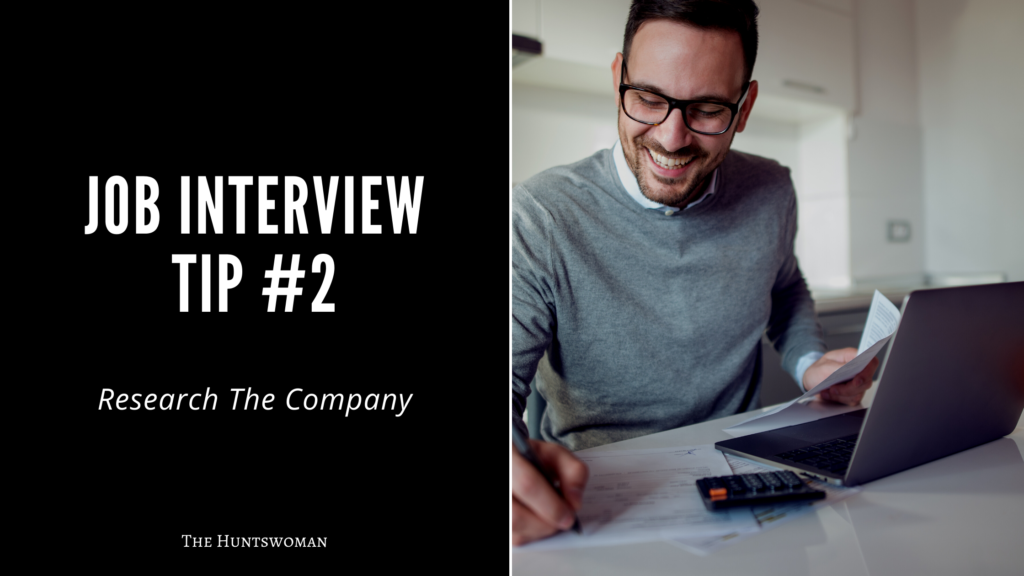 This seems like a bit of an obvious job interview tip, but don't skim this! I've told many clients this, and one day a client ask, "Okay, but what specific things should I look up?" I realized that clients needed a specific series of questions to look up, so:
Who is the founder of the company / organization? Look up their bio and a picture of them.
What products or services does the company offer? What do you think of them? (If you don't have an opinion, keep researching until you do!)
What major marketing campaigns has the company/organization done in the past few years?
Check google news for articles or updates about the company.
Look up the company's mission statement. What do you like about it?
These are common job interview questions a candidate (that's you!) will be asked in an interview. Be sure you know how to answer them! It is SUPER obvious when a candidate hasn't done their research. And, if you haven't done basic research before a job interview, it communicates to a potential employer that you're not that interested.
Job Interview Tips #3: Research The **People** Interviewing You!!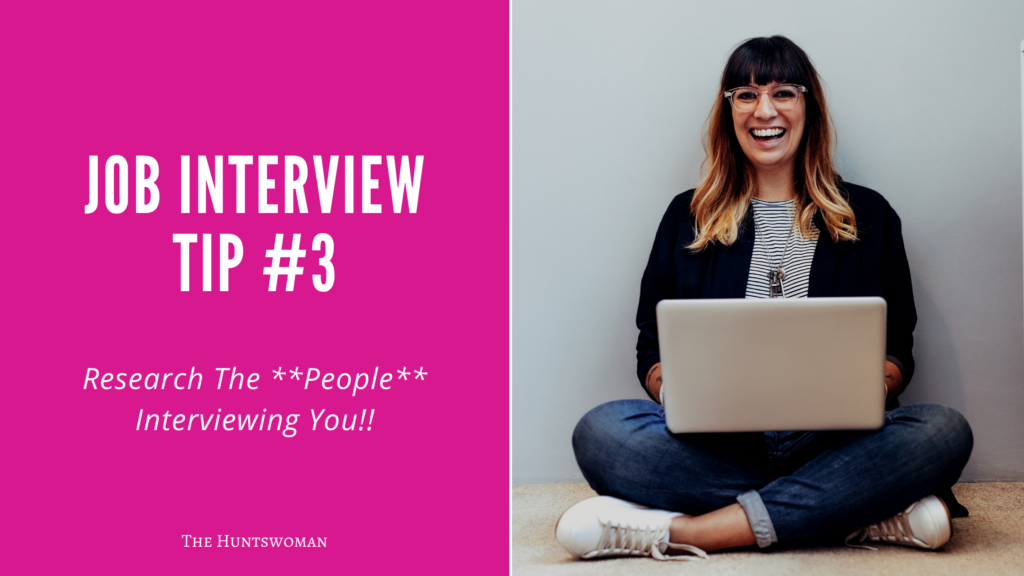 It's not enough to research the company! You must also research the people who will be interviewing you. Generally, this information will be shared with you via email or phone when the interview is scheduled. Be sure to ask for the first and last names of interviewer(s).
Now, be prepared to answer these questions for each interviewer:
How long has the interviewer been working at the organization?
What is their job?
What is their background or professional experience?
Can you find information about their hobbies or likes via social media?
I recommend checking LinkedIn first for this information, and then branching out to social media. Sometimes, you won't find much – and that's okay!
Special Note: Be sure to be logged in to LinkedIn when doing this research. We want the person interviewing you to see that you have looked them up!!
Job Interview Tips #4: Preparing for an Interview on Zoom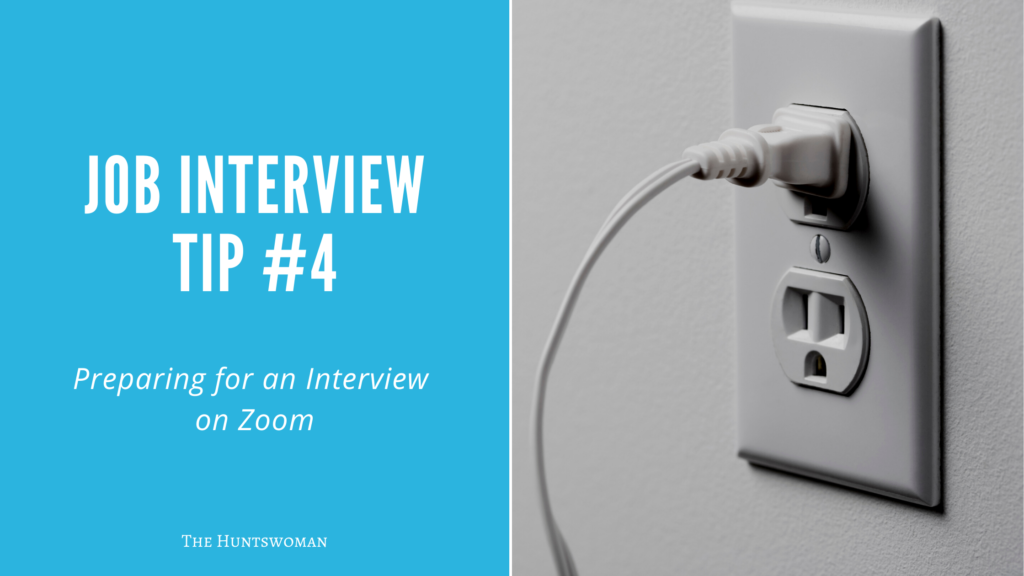 In 2021, we're seeing most (if not all) interviews take place on Zoom. Figuring out how to prepare for a Zoom interview requires a bit more preparation, so let's dig in!
First, you're going to want to be sure to have a nice background. Don't use the fake Zoom backdrops, as they can be buggy. You want to be positioned a few feet in front of a wall, with natural light.
Give some visual interest (maybe a painting or a bookshelf), but above all else avoid having the whole room behind you. You may have to rearrange some furniture, so get to it!
Second, you're going to want to let everyone in your household know what time the interview is at. Give everyone as much warning as possible, and then give them an hour and 10 minute warning. This lets them know now to play loud music or walk around in their bathrobe!
If you have pets, try to have them over at a neighbor's, in their crates/carriers, or outside. A dog barking at a delivery person can make you feel self-conscious and lose your train of thought.
Third, you're going to want to be sure to update the Zoom software on your laptop and phone the morning before your interview. I would have a backup laptop (maybe someone's in your house) ready to go if the speakers or video on your device don't work! Make sure you have charging cables plugged in.
On Zoom, you have to be given permission to "Join" the call, so I would have the zoom link up and going ~15 minutes before the interview. Don't click on the link 2 minutes before the interview is supposed to start.
Job Interview Tips #5: Prepare Examples Using The Job Description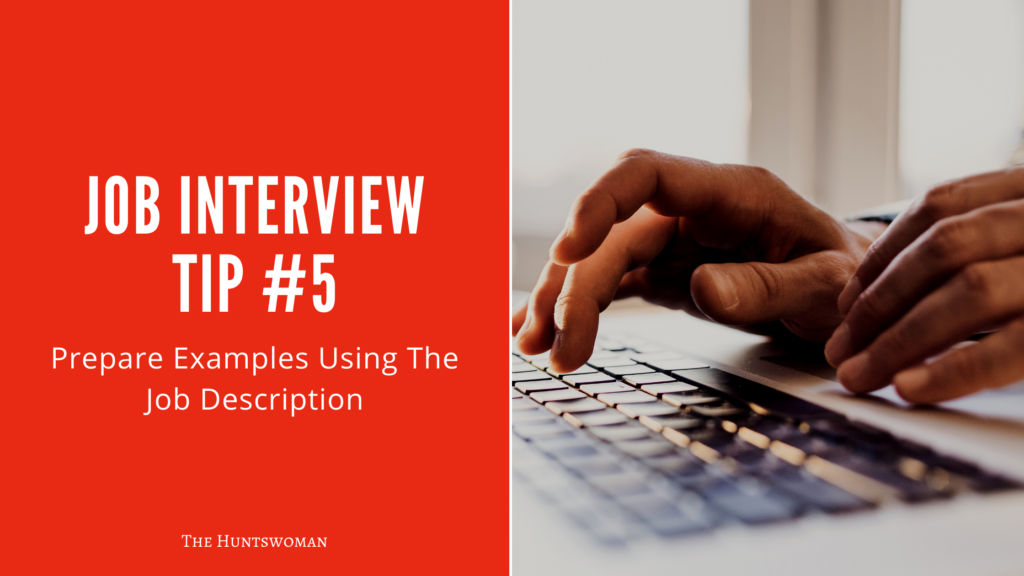 Okay, so this next one is one of my favorite job interview tips to give to my career coaching clients! Before the interview, take the job duties of the job posting and paste them into a document. Then, go through each bullet point and try to come up with an example of when you did that // how you would go about doing it.
It's okay if you don't have experience doing everything on the job posting! That is expected!! We don't want to apply for jobs where we have all of the qualifications, because that means we're overqualified!
For example, let's say someone applied for a job with the qualification or job duty: "Communicate customer needs and advocate for customers across departments."
Then, the applicant would make note of how they've done this in the past! For example, maybe they have worked out customer issues by working with operations and engineering to fix a bug in software. Or, maybe they had to coordinate with their employer's warehouse fulfillment team to ship out replacement product.
The applicant would note these in the doc, and, if possible, also jot down notes of a specific instance where they did this. Ie "Last year, one of our biggest clients kept having an issue with the software we provided. They were really frustrated and threatened to terminate the contract. I called engineering directly to get a patch made for the client. I then worked with the billing team to give them a credit for the two months following the issue, to apologize for the issue. The issue was resolved once I took ownership, and the client stayed with the company."
Job Interview Tips #6: Remember, an Interview is Two-Sided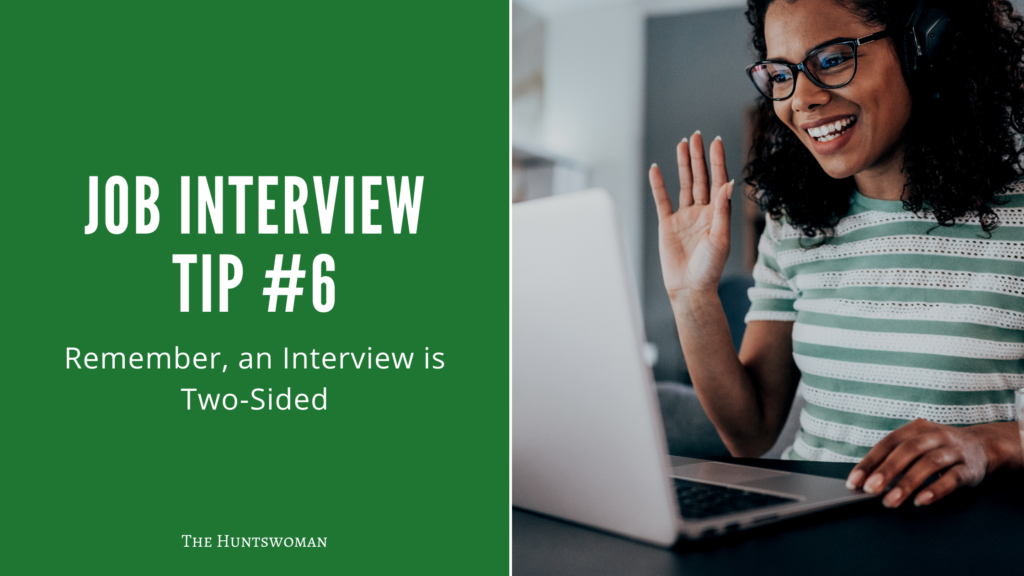 What things are important to you in your new job? What past issues have you had with a manager or employer that you want to avoid?
Make a list of qualities you want and ask about them. It may not be relevant to ask these questions in the first interview if you're going to have more than one. But have these at the ready! Some examples:
How do you share critique or negative feedback with an employee? How do you like to receive critique or negative feedback?
What kind of things does the organization do to encourage relationship building and rapport between team members and staff?
What type of diversity training programs does HR offer employees?
Asking these questions now will help you eliminate organizations that aren't a fit! And, if asking questions like this makes the interviewer get all blustery and rude, then that's a sign, too!
Job Interview Tips #7: Plan for Imperfection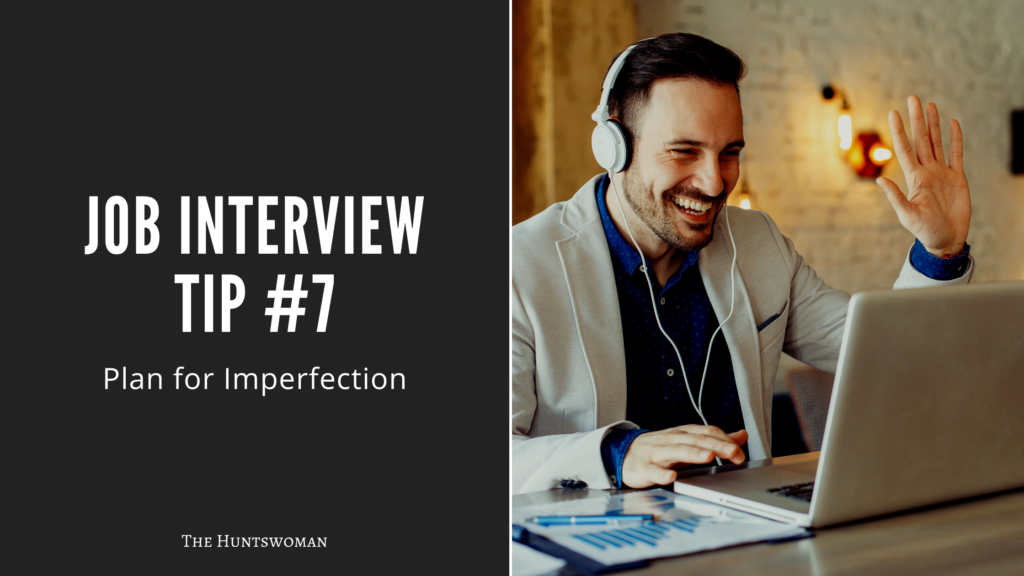 There is no list of job interview tips that will 100% prepare your for everything that will happen! Sometimes, you'll mess up an interview question. Or the WiFi will cut out while on the call. Or a host of other issues pop up.
To avoid these issues, make sure to:
Rephrase the interview question back to the interview, so you make sure you understand it.
Give yourself permission to say, "Well, that was an issue/mistake! Let's jump back to where we were…"
"Oh, I'm sorry. I misunderstood you. Let's try that again."
Show that you're flexible to things ~going wrong~ in the interview! Things happen, and we can adapt and be flexible.
Need Job Interview Help?
Need job interview help? Feel totally lost when it comes to interviewing for a job you want? I offer interview sessions as a career coach, where I help clients prepare! We go over company research, practice specific interview questions and create planned responses to tough questions! More information is HERE!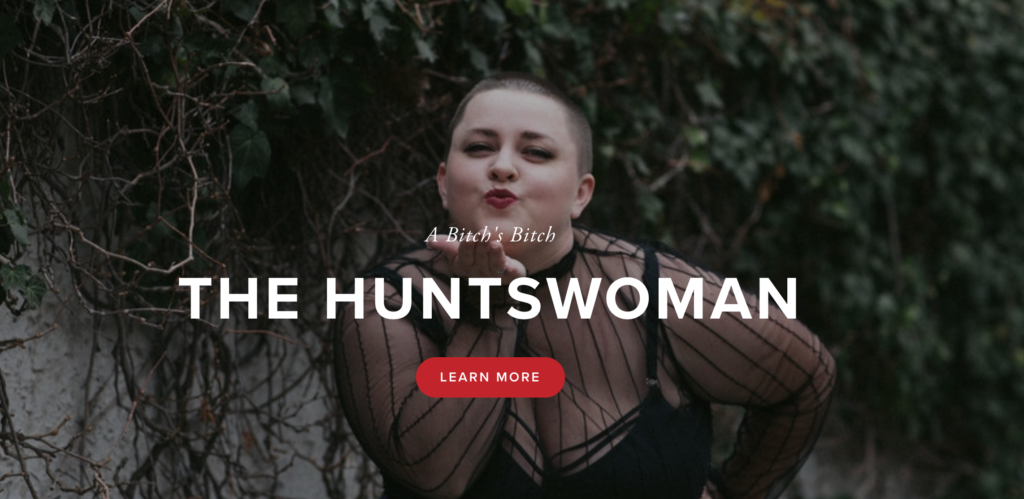 More Tips for Growing Your Career!
If you found this blog post helpful, then I bet you would also learn a lot from these blog posts:
More Job Interview Tips in 2021!
I'm excited to be sharing more learnings about job interviewing – and having fun with it – in 2020!. Be sure to subscribe to my newsletter so you don't miss out!