Hey there! This post contains affiliate links.  Using my links means I earn a commission, which helps me create more rad content.  More on affiliates here.
2020 has been…. a year, let's just say. In the midst of everything that has been going on, I have really enjoyed reading romance novels on my Kindle Unlimited.
And, if you're like me, you're not into searching forever to find a fun plus size romance to sit down with, so I've created this post for my fellow readers who are googling things like:
Plus Size Romance Authors
2020 Plus Size Romance Books on Kindle Unlimited
Romance Books with Plus Size or Curvy Heroine
I got you!
(Note: This post was originally published on September 22, 2020. It was updated July 15, 2021.)
Kindle Unlimited – Perfect for the Plus Size Romance Fan
It's like Netflix for books, and authors get paid by pages read – not book sales, incentivizing them to write fun books. (Put another way, we don't have to worry about authors NOT making money on this platform – they do!)
I've always loved reading, and I can read a LOT of books in a week – especially if I don't have other things I can go and do! I like reading through Kindle Unlimited, because I pay a flat $9.99 a month, and I get access to millions of books – mostly self=published.
And, you don't need a kindle device – if you have a smartphone, then you can download the Kindle app!
Check out Kindle Unlimited HERE!
Romance Books with Plus Size Heroines
I was a little skeptical of the quality of self-published romance novels, but I've actually found that self-published authors are often more, well, with it when it comes to depth of characters, gender and sexuality, pronouns, etc.
Below, I've shared some plus size romance novels I've enjoyed, as well as recommendations from other romance novel fans.
Note on Feminism & Desires
Note: Not all the books listed in this blog post are, shall we say, paragons of feminism or modern politics. And that's okay! I think that romance novels give us the ability to explore our desires and politics in a space with little to no judgement.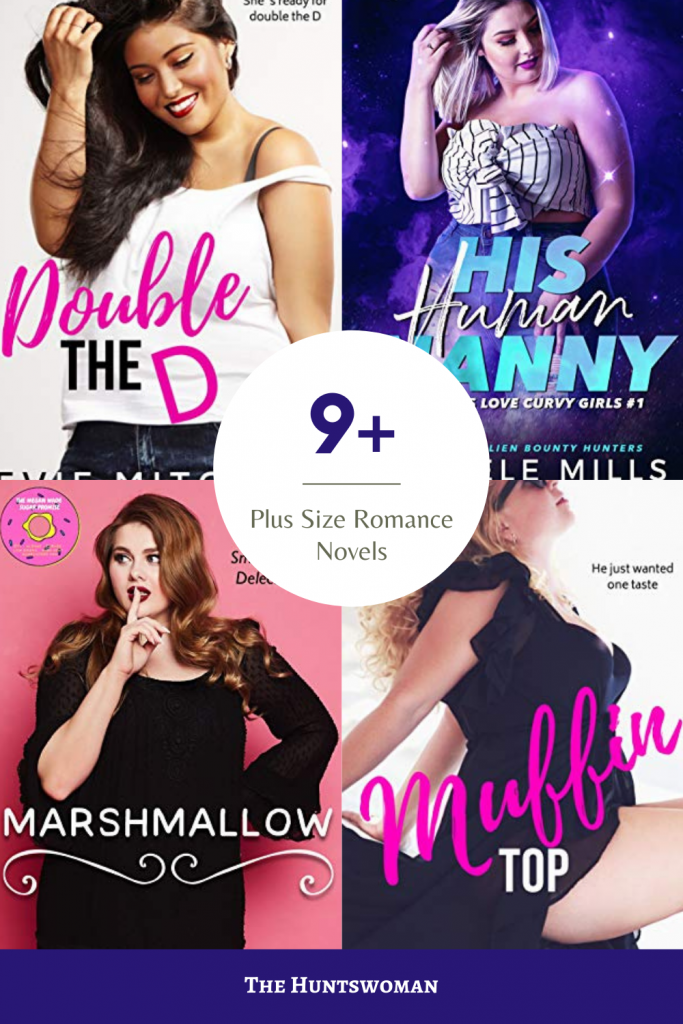 Contemporary Romance Books with a Plus Size Heroine
Below, I've shared a list of plus size romance novels that are more contemporary or "everyday" romances.
After publishing this post in 2020, I got a LOT of messages with recommendations for other romance novels with plus size chracters.
My bestie, Kaitlin Olson, recommended a few authors including Talia Hibbert. I love her covers, and these are definitely on my to-read list!
"The Prince's Trap" was the first book to catch my attention.
Check out this book HERE!
Next up on our updated list of plus size romance books with a plus size lead are books from Olivia Dade!
Like #1, Olivia Dade was a rec from my bestie, Kaitlin Olson. "All the Feels" caught my attention first! What a freakin' cute cover!
From the description: "Enter Lauren Clegg, the former ER therapist hired to keep him in line. Compared to her previous work, watching over handsome but impulsive Alex shouldn't be especially difficult. But the more time they spend together, the harder it gets to keep her professional remove and her heart intact, especially when she discovers the reasons behind his recklessness…not to mention his Cupid fanfiction habit."
Check out this book here!
This is another recommendation (can you tell my "To-Read" list is super long?!) from a friend.
i love the cover, and the basic synopsis is that a plus size fashion blogger goes on a show very similar to "The Bachelor"!
From the description: "Bea Schumacher is a devastatingly stylish plus-size fashion blogger who has amazing friends, a devoted family, legions of Insta followers—and a massively broken heart. Like the rest of America, Bea indulges in her weekly obsession: the hit reality show Main Squeeze. The fantasy dates! The kiss-off rejections! The surprising amount of guys named Chad! But Bea is sick and tired of the lack of body diversity on the show. Since when is being a size zero a prerequisite for getting engaged on television?"

Snag this plus size romance here.
#4 Plus Size Romance: Thunder Thighs: BBW Romance (Capricorn Cove Book 1)
At 58 pages, this is more of a novella than novel – but that's perfect for some readers who just want to check out from the world for a bit! Main characters are Ella and Gunnar, who after a chance encounter, have a steamyyyyy romance. Mwhahaha!
Check it out HERE!
Also, fun factoid! This book is part of a series:
#5 Plus Size Romance: Curves For The Prince: High Heat BBW Royalty Romance (Curvy Girl For The Alpha Book 1)
I guess we could put "plus size romance with a prince" in its own category, and I will if I find enough to fill the list, lol! This is another short read, at 75 pages.
This plus size romance book uses the classic royalty trope (and we loveeeee tropes in romance!) telling the love story of Sophia and Nicholas. Sophia ended up in Nicholas' country thanks to a humiliating experience back home, so if you're into vulnerable plus size heroines – this is the book for you!
Snag this plus size romance novel here.
And, wouldn't you know it, plus size romance author, Lexie Dean, has turned this into a series!
It's time for the bodyguard tropeeeee! This fun plus size romance stars Angelina as the plus size heroine, and her bodyguard, Gray.
Uh huh, we DEF know where this one is going!
Sngat this 174 page romance novel HERE!
And, because the romance gods continue to shine down upon us, Aidy Ward has a plus size romance series:
This was a fun read, as it tells the story of a plus size blogger/influencer named Marsha, who took a cruel childhood nickname to build a brand around. We love to see it!
This is a quick read, at 72 pages.
Check it out here!
This plus size romance novel was recommended to me from a friend, and I haven't had a chance to read it yet!
From the description: "Minerva Dobbs knows that happily-ever-after is a fairy tale, especially with a man who asked her to dinner to win a bet, even if he is gorgeous and successful Calvin Morrisey. Cal knows commitment is impossible, especially with a woman as cranky as Min Dobbs, even if she does wear great shoes and keep him on his toes. When they say good-bye at the end of their evening, they cut their losses and agree never to see each other again."
Snag this plus size romance HERE!
Alien & Science Fiction Romance – Plus Size Heroines
Okayyyyy, now it's time to enter the world of space travel, fated mates and all sorts of fun! Alien & Science Fiction romance is one of my fave genres to read, combining my love of space travel with steamy scenes. Ahem.
My friend Sparrow recommended this plus size romance, saying, "May I humbly recommend Vessel of Starfire by A. C. Waetcher? It's Sci-fi/fantasy new adult. (And not once in the entire series is her body size written as a hinderance or obstacle, I love it.)"
Check out this plus size romance HERE!
This plus size romance book is a quick read at 75 pages, and it's super fun! Michelle Mills has built a wholeee sci-fi universe with different aliens and planets (and romance genres), building up a huge backlist
This plus size romance novel tells the story of Riley, who entered into what she THOUGHT was an employment contract – more like indentured servitude.
Long story short, she ends up taking a contract to be a nanny for a guy who looks like a devil (horns, red, etc), combining a load of romance tropes!
Check it out here!
And, because Michelle Mills understands the need to spend the weekend reading plus size romance novels, she has a series about plus size and curvy heroines falling in love with aliens:
Most science fiction//alien romance novels take place in outer space or on an alien planet, but Tiffany Roberts, author of this plus size romance novel, decided to keep things on earth.
This plus size romance novel tells the story of Zoey, who just broke up with her mega-jerk boyfriend, and Rendash, an alien who crash landed on earth and escaped a scientific laboratory.
Not that things weren't interesting enough, Rendash has 4 arms!
Read the plus size romance novel here.
#12 Plus Size Alien Romance Novel: Rescued by the Dragorian: A SciFi Plus Size Alien Abduction Romance
A common theme (trope?) in sci-fi and alien romance novels is abduction. Either the alien-lover-dude abducting his ~Fated Mate~ or saving her after she's been abducted from the bad guys.
I'm more of a fan of the latter, TBH, and this plus size romance book falls into it. Combining dragons, outer space, magic and technology, this is a fun read. I also appreciate how there is a larger story arc (human rights, anyone?) connecting the books in this series.
Read more, here!
I haven't read this plus size romance book (first in a plus size alien romance series), but I have a feeling I'm going to love it!
From the description: "Molly didn't count on being abducted by hot aliens with a broken ship. And they're on the run! Because their ship is broken and she was in the wrong place at the wrong time. Then she meets Kran. 
He's hot, and he wears a kilt. Which is confusing because although he looks human, he's a little bit purple. Are the Scottish race descended from aliens? Or is he a purple human?
The whole crew is purple, kilt wearing, and hot.
Read more, here!
Boss Romance Novels – Plus Size Heroines
Onwards to our next romance category, curvy romance in the office!
This plus size romance novel is alllll about Makenzie Mayfair, a plus size woman who decides to leave her husband, get a job and get her life back!
She's a confident and fun heroine (no self-deprecation to be found), and I really enjoyed this book!
From the description: "I, Makenzie Mayfair, am leaving my husband. This is my chance to begin again, to rip my backbone out and yell, "I've found it." It may take time, it may take new friends, a job and even a jerk of a boss who is annoyingly handsome, but I will get there.
I'm determined to be who I want to be, and plan to have a whole heap of fun along the way."
Check this plus size romance novel out here!
This plus size romance novel was recommended to me after I first published this list, and I am INTRIGUED!
From the description: "After breaking off her engagement with Hollywood actor Miles Storm, Rebecca is ready for a change of scenery in her life and in her bed. So when the opportunity to work for StoneHaven Publishing, one of New York City's most respectable publishing empires presents itself, Rebecca doesn't hesitate moving to the Big Apple. Convinced she can show the owner of StoneHaven Publishing that she has the "right stuff," Rebecca agrees to a six month trial as the personal assistant to the owner's playboy son, Nicholas StoneHaven. This is her big chance. If she can just get through these six months without strangling Nicholas with his Armani tie, she'll be okay – easier said than done. Nicholas is the last person Rebecca thought she'd find herself pining for, especially when he hits every category under her list. "
Snag this romance novel with a plus size main character here!
Want More Plus Size Fashion Media Recs & Fashion?
If you want to stay up-to-date on my fashion roundups, I recommend joining me on your favorite social media platform (Facebook, Instagram or Twitter).
More of an email kind of person?  Subscribe here!