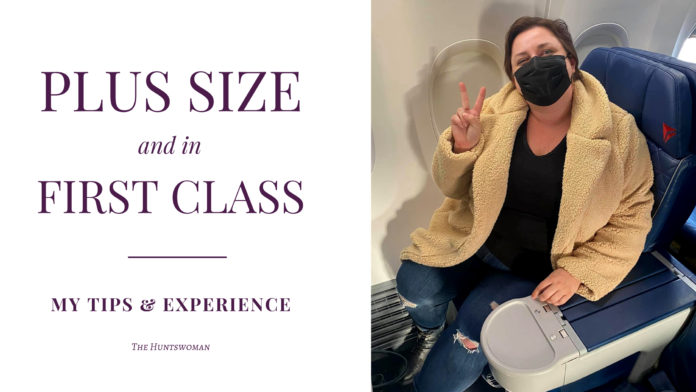 Hey there! This post contains affiliate links.  Using my links means I earn a commission, which helps me create more rad content.  More on affiliates here.
In today's blog post, I'm going to talk about flying first class as a plus size person on an airplane. In recent months, I've learned a LOT of plus size folks just avoid travel and airlines altogether, because they're so incredibly nervous about flying on an airplane.
I 100% understand this, so this post marks my first in a series about flying in an airplane as a plus size person, specifically talking about seats and comfort.
This post is all about flying first class as a plus size person.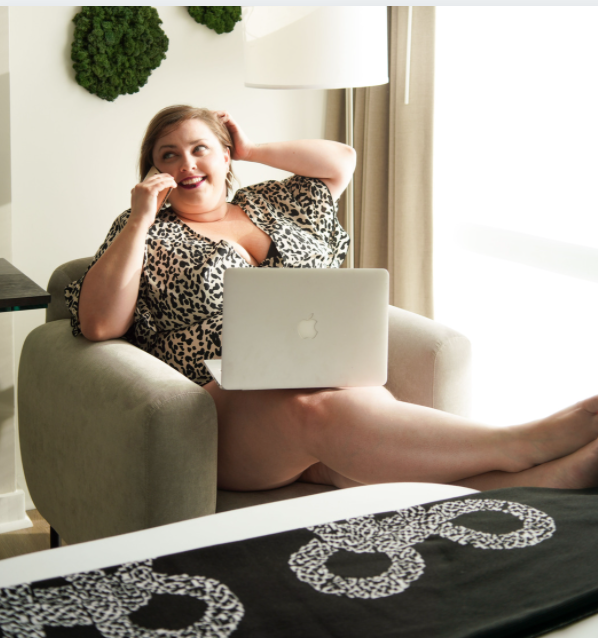 Now, you may have stumbled across my guide and tips for plus size air travel through a Google search, so I want to share a bit about me before we go further:
Currently, I'm a size 24 (280 pounds and 5'4″)
I am a HUGE traveler, and I get on a plane around 1x a month
I've traveled using a LOT of different airlines
I'm single at time of publishing, with no kids, so my guides don't factor in family travel
I own multiple businesses, including this here blog you're on! <3 My flights are often business expenses that can be written off in part on my business taxes
In other posts I'll talk about the seat size and selection when flying in Main Cabin, but in THIS blog post, I want to specifically talk about how flying first class has made a huge and MARVELOUS difference in my travel experience!
I took my first First Class flight out to DC in 2021, and omg it was a game changer. Like a lot of plus size people, I had felt uncomfortable and self-conscious when flying in Main Cabin. I made sure to always get an aisle seat or window seat, and I always asked for my seatbelt extender before getting to my seat. (I flag down the flight attendant when stopping onto the plane, as they're usually stored at the very front.)
Like a lot of plus size people, I had felt uncomfortable and self-conscious when flying in Main Cabin.
My goal with this blog post is to let folks know of my own experiences, as well as to crowdsource tips. You can always reach out to me via Instagram DM or email if you have thoughts or tips I missed!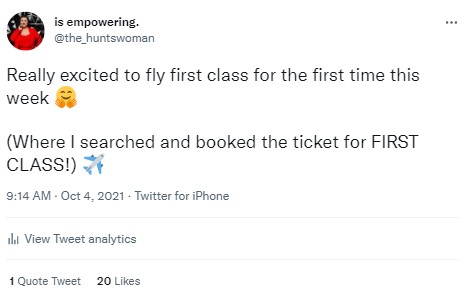 A Note on Finances & Accessibility
I am very well-aware of the barriers to, well, life that plus size and fat people face, specifically when it comes to income. I am literally a career coach and have plus size and fat identified clients — I know the bias is REAL.
In this blog post, my goal is not to gloss over those lived experiences — it is to provide my own tips, cheat codes and hacks to help more plus size folks fly First Class!
This week, I got back from a flight to Seattle, WA! I actually went on a bit of trip, flying to San Jose, then New York City (JFK airport) then to Seattle, WA, then back home! Those were all flights in Main Cabin, and let me tell you — once you've flown first class, it's hard to go back!
I switch between first class and Main Cabin, so below I've shared tips on how to upgrade to first class, why I think it's worth it to shell out for a ticket if you can, etc.

Note: This blog post was originally an email that I sent to my subscribers in July 2022! I've added a bit of info to it, but I usually don'[t copy my emails over to my blog! To get the best tips and info in your inbox, be sure to subscribe HERE!
Pre-Work: Not All First Class Cabins Look the Same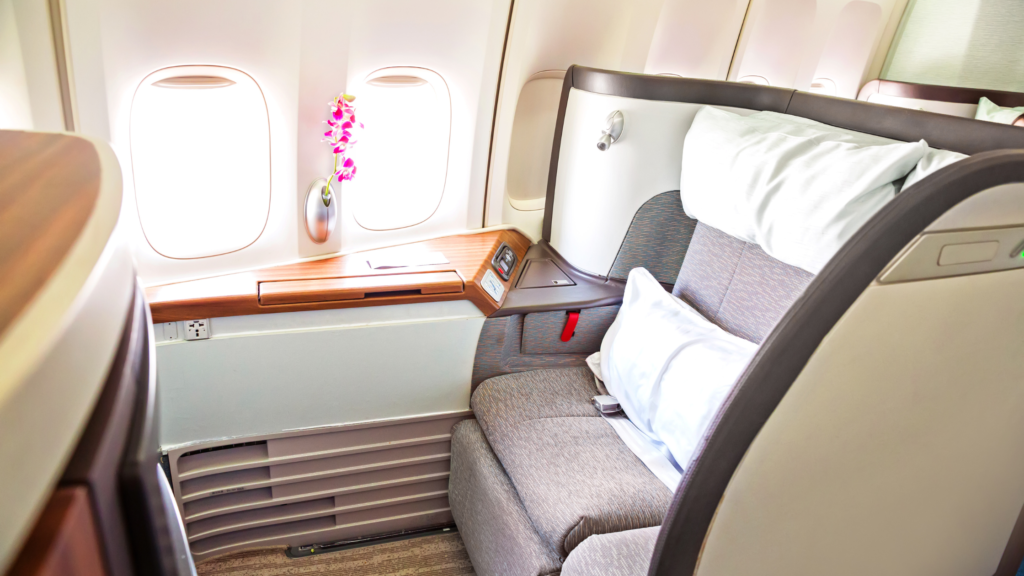 When you say "fly first class" people get this mental image of a very GLAMOROUS experience. And, while I love a GLAMOROUS experience, the seats and situation are going to look pretty different based on both the airline you fly and the size of the plane.
If you're expecting to be in one of those little "lie down cocoons," ones where you feel like Naomi Campbell will be sitting next to you, well….
That's not always what they look like!
Generally, I've found for domestic flights that the first class seats just look like expanded and comfier versions of the main cabin. If you're looking for one of those cocoons – or if you also watch a LOT of Air Emirates content on TikTok – you're going to need to do some research before booking, or just call the airline.
Hot Tip: Your First Class Experience will be heavily impacted by the airline you fly, the size of the plane, etc.
Tip #1 for Flying First Class as a Plus Size Person: Southwest Does Have a "Passenger of Size" Policy
Ok, so before I dive into why I love flying first class as a plus size person, I first wanted to give you a heads up on the Southwest "Passenger of Size" policy.

Basically, you book 2 tickets for your trip (so, you'd book a total of 4 seats for a roundtrip), and then you use the Passenger of Size program to get a refund — only paying for 1 seat both ways. Say for example I was booking a flight to Miami, and I wanted to use their Passenger of Size policy. I would book 2 seats for the flight out and 2 seats back, following the instructions given. Southwest doesn't have assigned seats, so I would put my bag next to me in the middle seat and tell folks it's taken.

I personally have never used this program, but I've heard great things! I really appreciate that Southwest offers this!

But I don't use it.

Why?

After experiencing a 30 hour layover in the STL airport last summer (St Louis airport), and getting no support from Southwest – we broke up! 🙁 I'd been a HUGE Southwest fan prior to this, and I only flew Southwest. But that experience was SO awful, I'm no longer their #1 fan. I was stranded in a city I knew NO ONE on a layover from Hades, and Southwest left me out to dry.
But this is a great option for folks who want to save their dollars for when they GET somewhere, so you can use this policy! I don't know how long the refund takes to hit, so be sure to do a further analysis on this.
Tip #2 Flying First Class as a Plus Size Person: Flying First Class on Delta
Last summer, I took my first flight in first class, and holy WOW was it amazeballs! (Can I say "amazeballs" in an blog post??? I just did!)

I flew first class to visit Washington D.C., which is a 4 hour flight from Salt Lake City (where I currently live)! I'm a size 24 or a Torrid 2/3, and it was SUCH A GAMECHANGER to have more space. I didn't feel stressed the whole flight, and I deplaned with a LOT more energy than I usually have.
Let me say that again, because I really want to underscore this: I DEPLANED WITH ENERGY.
Usually, when I get off of a plane, I am FRIED, baby. I need a bathroom, snack and a nap. Going from the airport to an ACTIVITY? Honey, please! That is not happening.
But flying first class meant I had more than enough room — and it showed me just how much STRESS I was carrying in my body while flying.
Usually, when I fly I deplane and I am POOPED. I am DONEZO for the day! Flying first class meant that I deplaned and still had a butt ton of energy. (Am I allowed to say "butt ton"? Who knows?! I'm gonna say it!) I went to dinner and an event after getting out of the airport, which NEVER HAPPENS TO ME!

I could also use the lap tray in the First Class, which was super helpful. I also got a ton of work done on my laptop, so the extra fee was def worth it! As a business owner, I know that if I can pay for convenience so I can be more productive – it's worth it!
Flying first class buys me more time, because I have far more energy when I land!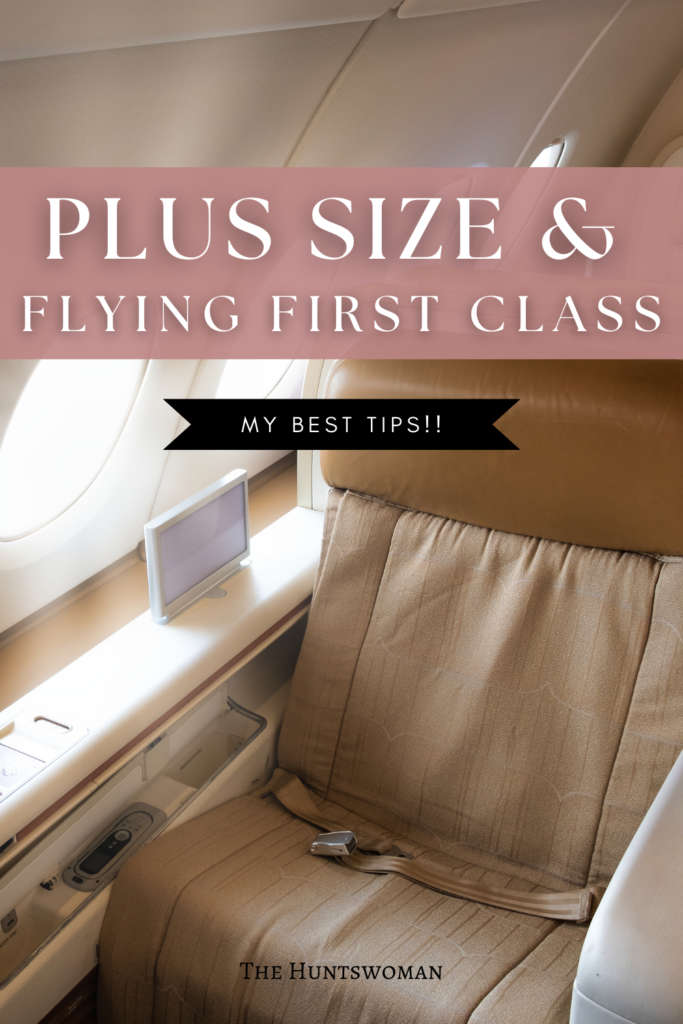 Tip #3 Flying First Class as a Plus Sizer Person: Paying for First Class
Ok, so we'd all fly first class if all things were equal — but they're not! Flying first class is extra $$$$, so how do we go about doing this without hurting our respective budgets?
Here are a few tips:
When booking your flight, LOOK at the fare difference for Main Cabin and First Class. I was shocked to see the difference is often $80 to $100, which actually works for my budget! Seriously! I've now trained myself to always CHECK when booking! .
Use a travel credit card for everyday purchases. I haven't been able to use this tip (my credit score is stuck at like 680, ugh), but this is a great tip! If you're responsible with your credit card, you can put all your monthly purchases on it and pay it off EACH MONTH. Doing this on a travel credit card (folks seem to like CHASE Sapphire and Capital One), means you earn travel points from stuff you were going to buy anyways. I try to avoid using a debit card, choosing instead to rack up points via my Visa! You can then use this money to upgrade your ticket!
Book a Seat Upgrade Later: Sometimes, I'll play a sort of game of chicken with an airline. I'll book Main Cabin, and keep an eye on the first class availability. If there are more than 4 seats ish available, then I'll wait to upgrade. Before a flight, I'll sometimes get a last minute offer to upgrade to first class at a discount! There's no rhyme or reason to this, so I've actually just started booking first class
Sign up for Perks: Almost every airline has a points program (not connected to a credit card!) where you earn miles just for flying. I make sure to ALWAYS use my frequent flyer number when traveling. On my recent trip back from Portland in summer 2022, I paid for my first class upgrade using my Delta Sky Miles!
Scott's Cheap Flights: This rad AF website has a free or "freemium" version, as well as two other levels. This is a great option for folks who don't have fixed dates, but are planning a trip. You can sign up for the Elite Plan that includes business and first class deals on fares! I've paid for their Premium plan, and it is worth it — usually paying for itself if you book one flight!
Payment Plans via Affirm: Real talk, I've been experimenting with using Affirm in 2022, and I LOVE IT! As a business owner, cashflow can get a bit wonky — and I actually just booked a first class return trip from Montego Bay, Jamaica, using Affirm! You can pay off your purchase in installments or in chunks! I really love their app – it's super easy. I also bought my emerald green velvet couch using Affirm!
When it comes to flying first class, there are ways to get creative! I have also just bought the ticket, because it's worth it to me!
Happy Flying!
This post was all about flying first class as a plus size person.
I hope that my blog post gave you some ideas on how to fly first class as a plus size person! If you like this kind of blog post, be sure to subscribe to my email list HERE!
More Travel Posts
I love to travel, so below I've shared other travel guides and posts I've written, that I think you'll like!
Join VIP!
Want more content like this? Then I recommend joining my fashion-focused email list is here! If you want to stay up-to-date on posts from The Huntswoman, I recommend joining me on your favorite social media platform (Facebook, Instagram or Twitter).
Finally, my business and career email list HERE!!
I have two email lists because folks have different interests! For lovers of this post, I recommend joining both lists and following me on Twitter, where I share a lot of blogger tips and info!