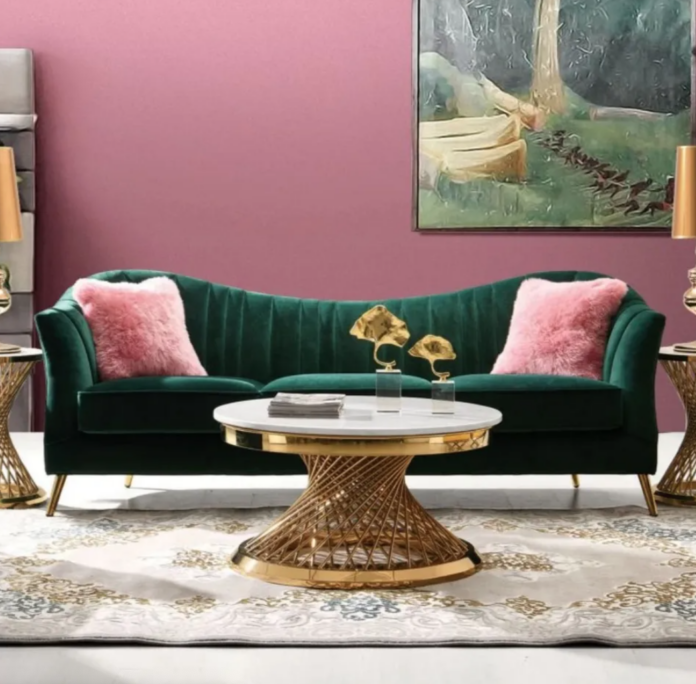 Hey there! This post contains affiliate links.  Using my links means I earn a commission, which helps me create more rad content.  More on affiliates here.
One of the things I've been doing during self-quarantine is look for house goods, in preparation for my big move!
This has meant a lot of pinterest boards, and I also have a handy spreadsheet I'm using to keep estimate moving costs. I'm going to be furnishing a whole ENTIRE place for myself, so it's important to have those numbers.
[Heads up! This post uses affiliate links, and you help me earn $$ when you use my links. More on affiliate links here!]
That way, I can, you know, manifest that money!
Today's blog post is a research roundup of emerald green tufted couches. I figure if I'm going to do a bunch of research on couches and choosing one, other people on the internet should benefit!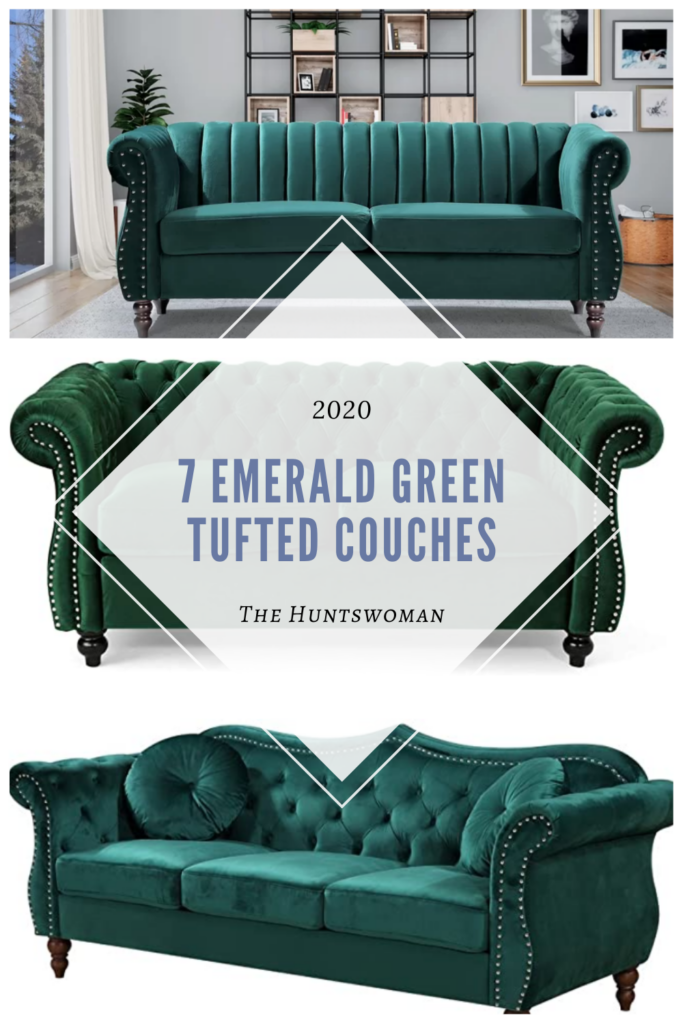 The image that started it all!!
While looking at potential home decor options, I have found that I leann towards a combo of chrome and NOLA maximalism.
It's a thing. I've decided it!
THIS image is the one that made me go, "i want THAT!"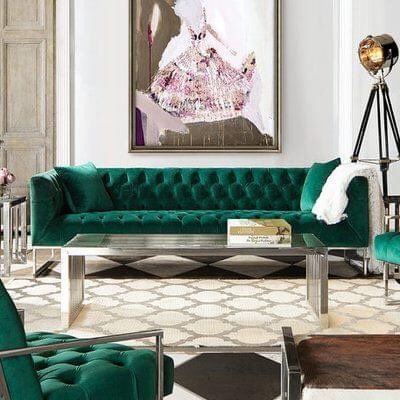 I love the painting and te tripod-sculpture thingy on the right. I love that table. I love the chrome and wall colors.
Not a super big fan of the carpet, but I'm overlooking that, lol!
SO! Now let's look at couches:
Real Quick – What is "Tufted"?
"tufted" is the upholstery effect when you have a full surface, and a button or something else has been stuck in it.
Buying Furniture Online?
I'm not super stoked at the thought of buying a couch sight unseen (how will I know if it's COMFY?!?!?!), so I'll be searching the internet for reviews as well!
Sofa Option #1: Container Furniture Direct Anna1 Sofa, Green ($749 USD)
Okay, so this sofa is on Amazon for $749.99 USD. It's 34″ x 79.5″ x 34″, of 3′ x 6.5′ x 3′ ish. I really love the point at the center front of it, and I like the silver "rail heads" (those round metallic things on the arms and upper edge.
Buuuuuuut I'm not a fan of the 3.4 out of 5 star overall review. Different reviewers shared that it's "great for shorties" (hi, me!) but more than a few point out that it's more of a show piece and they don't actually, you know, sit on it..
Check out this sofa here!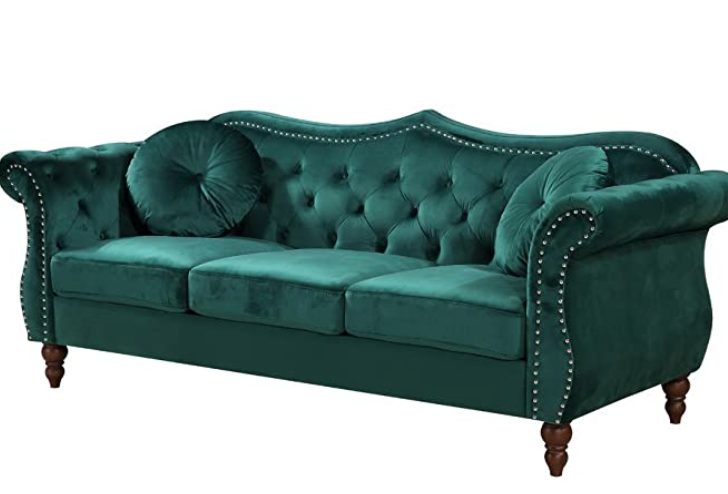 Sofa Option #2: Christopher Knight Home 306028 Karen Traditional Chesterfield Loveseat Sofa ($399 USD)
Okay, so this emerald green tufted sofa is about a foot shorter than #1, measuring at 61.75 x 33.75 x 27.75. It evokes a different era (more early 20th century than the Victorian-esque one above), but I still like it!
Also, because it's shorter it may work better with an armchair or other seating. Reviewers give it an average of 4 stars, noting that it's more compact and lower to the ground than other sofas. IT's also about 30 pounds lighter than #1!
This couch also ships free via Prime shipping, which is a bonus!
See more details and shop this couch here! Want it a bit more long? Get the same version with 3 cushions here!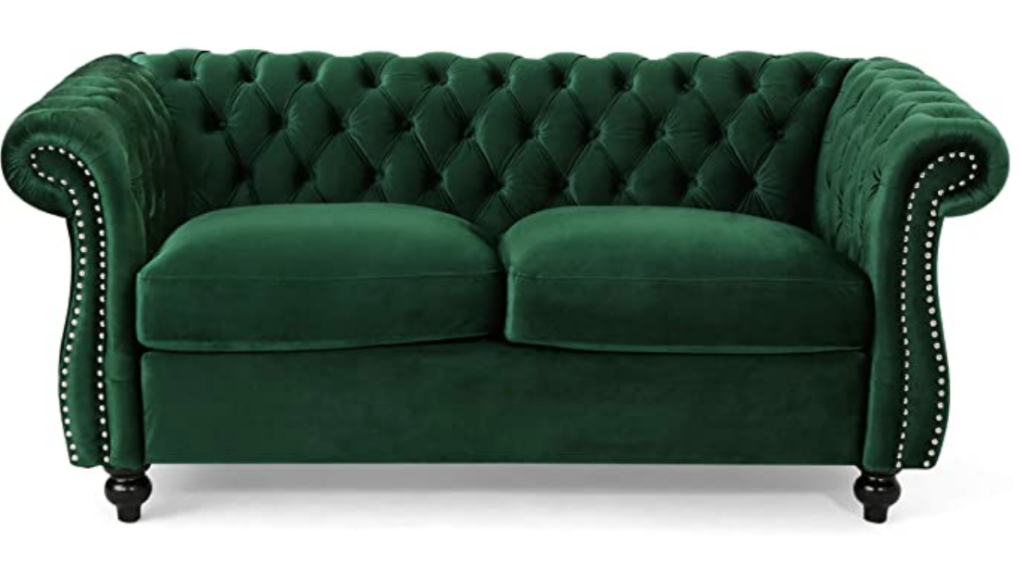 Sofa Option #3: Da Vinci Right Hand Facing Sectional Sofa ($1,281.97 USD)
Okay, so I'm NOT a "mid-century modern" kind of person, but I've added this one to the list in case YOU are! This isn't too MCM, it's a nice combo of different design aesthetics.
You can get this sectional as either left or right facing, and there's also a club chair! It measures at 67.5 x 100.75 x 30 inches, making it about a foot longer than #1, and 2 feet longer than #2!
Shop here!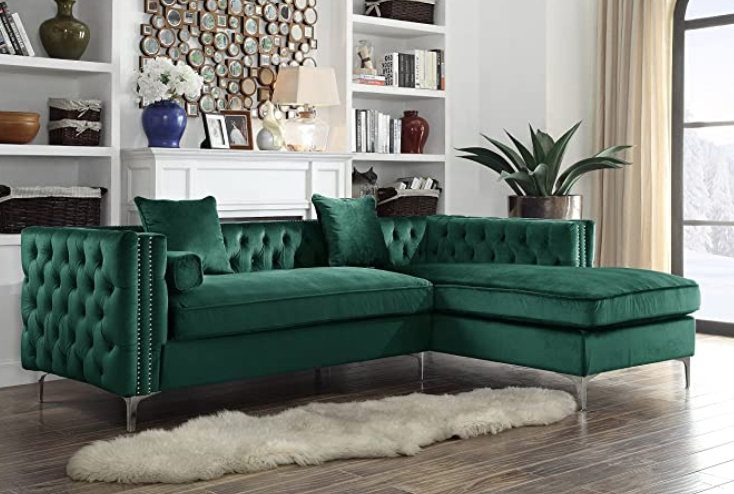 Sofa Option #4: Crawford Tufted Emerald Green Sofa ($1,199 USD)
Remember how I just told you I wasn't a huge "mid-century modern" person? Well, turns out that that couch from my inspo image is pretty dang mid-century modern!
This couch is 89″W x 33″D x 28″H, making it pretty similar in size to #1! And there are also some snazzy armchairs available.
Is this the one?! Do I need to admit I am partial to mid-century modern?! Stay tuned!
Also fun factoid: This couch is $1,599 on Amazon and $1,199 on this Interior Gallerie. This could be due to a shipping issue, but be sure you know what you're buying!
Shop here.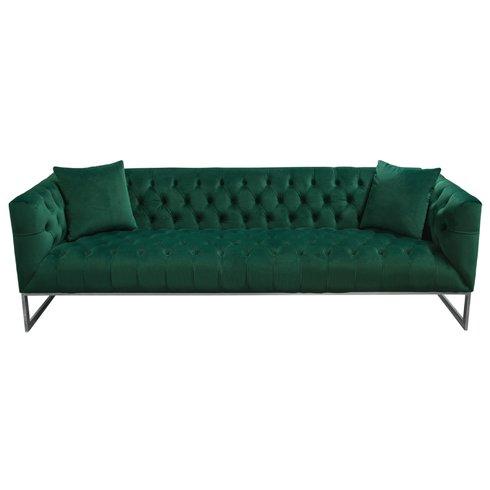 Sofa Option #5: Capri Velvet Chesterfield 60.4″ Rolled Arms Sofa ($579.99)
Popping into a new aesthetic is this emerald green velvet sofa from Wayfair! It's 30.7" H x 76.4" W x 30.7" D, making it pretty similar to #1 and #4.
This style of tufting is called "channel tufting," and it is pretty fun! I think I prefer the rail head look, though? It has a 4.4 review, with negative reviews focusing on damaged packaging.
Check out this sofa here.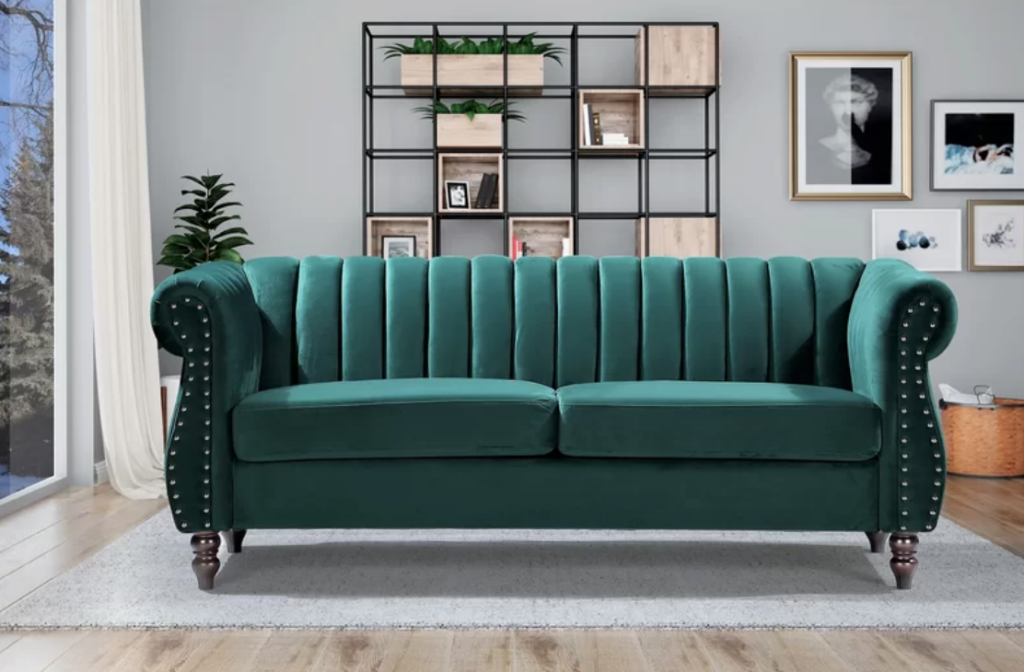 Sofa Option #6: Hay Needle Sofa Ava Velvet Sofa ($1,599 USD)
Y'all, when I saw this photo I was like, "OMG THAT TOP CURVE!!!" Then I clicked over and was crushed ot see it's out of stock.
I love the fun curved lines on this sofa, making it an organic yet modern sofa.
The sofa isn't available on Hay Needle, but I did find a listing on this site? That said, turns out this is 92″ long, making it the largest on the list. (Not a bad thing, just something to note!)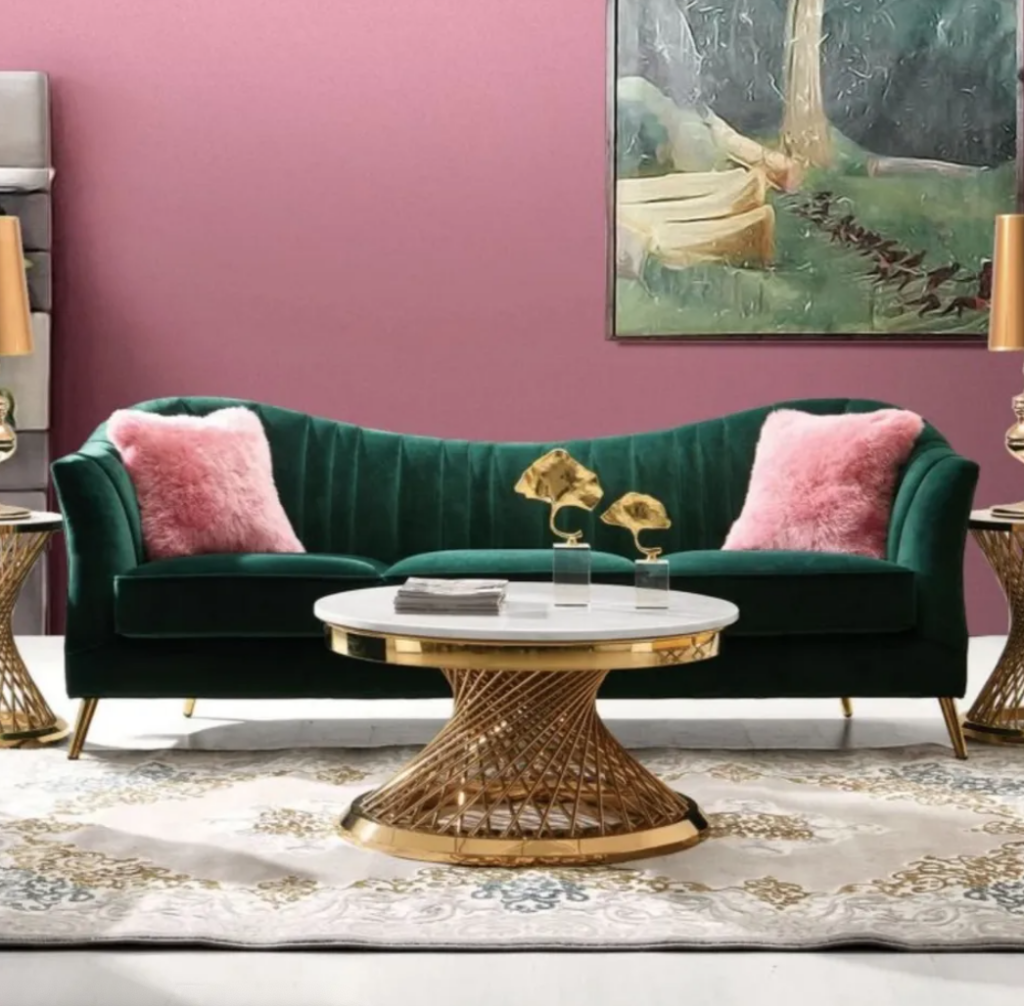 Also, not to get too excited, but loved these end tables on the same site, Appliance Connection. Should I just order the lot and call it a day?
You'll remember above where I said I loved the chrome + velvet combo. I think we're getting somewhere!!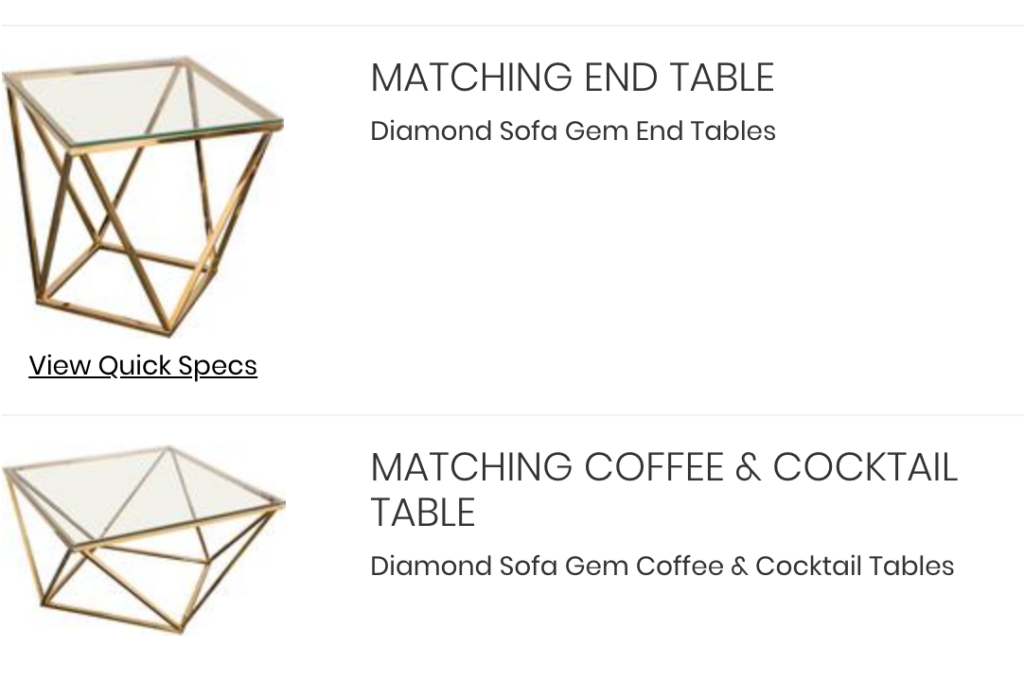 Sofa Option #7: Hillam Velvet 87″ Rolled Arm Sofa from Joss & Main ($800 USD)
I had never heard of Joss & Main before, and it looks to be a pretty cool website! I'm pretty sure I want to stick with a tufted couch, but I am intrigued by this emerald green sofa.
Shop here.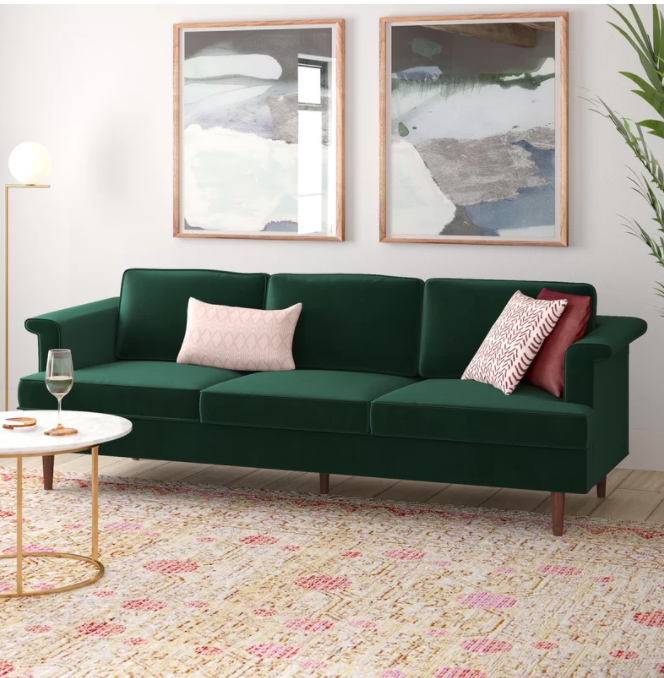 The Home Decor Hunt Continues!
I'll keep updating this post as I find options, and I'd LOVE (really truly) any recommendations you can throw my way. I want a sturdy piece of furniture that's comfy and stylish. This will be the first couch I *EVER* buy, and I need all the help I can get!!
Want More Home Decor Updates & Listicles?
If you want to stay up-to-date on posts from The Huntswoman, I recommend joining me on your favorite social media platform (Facebook, Instagram or Twitter).
More of an email kind of person? Subscribe here!
[FTC Notice: This post contains affiliate links, meaning I earn a small commission if you purchase a product through my link. Affiliates help me write more great content, and I only endorse products I truly love.]