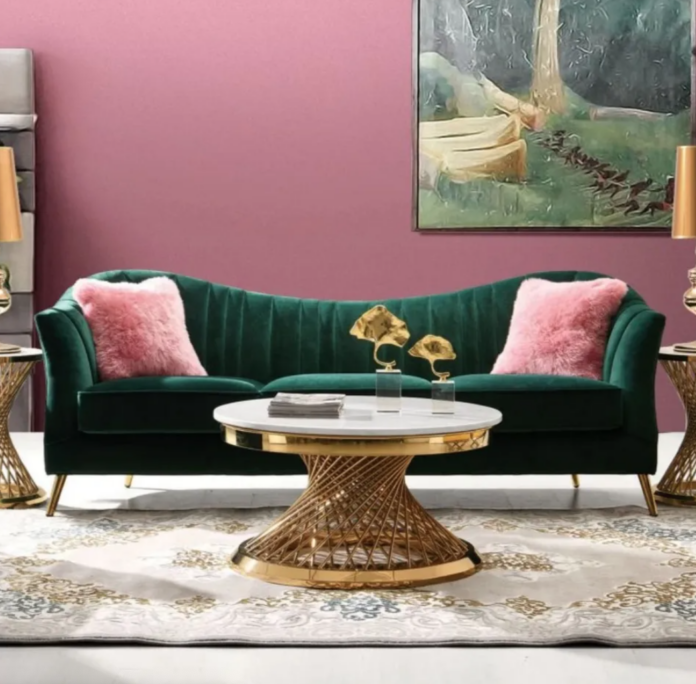 Hey there! This post contains affiliate links.  Using my links means I earn a commission, which helps me create more rad content.  More on affiliates here.
Are you looking for a tufted green couch? Then you're in the right spot!! One of the things I've been doing during self-quarantine is look for house goods, in preparation for my big move!
This has meant a lot of pinterest boards, and I also have a handy spreadsheet I'm using to keep estimate moving costs. I'm going to be furnishing a whole ENTIRE place for myself, so it's important to have those numbers.
That way, I can, you know, manifest that money!
Today's blog post is a research roundup of emerald green tufted couches. I figure if I'm going to do a bunch of research on couches and choosing one, other people on the internet should benefit!
Note: This blog post was last updated on May 12, 2022. While I do my best to keep my posts updated, information changes! Please be sure to check all info with the brand before purchasing!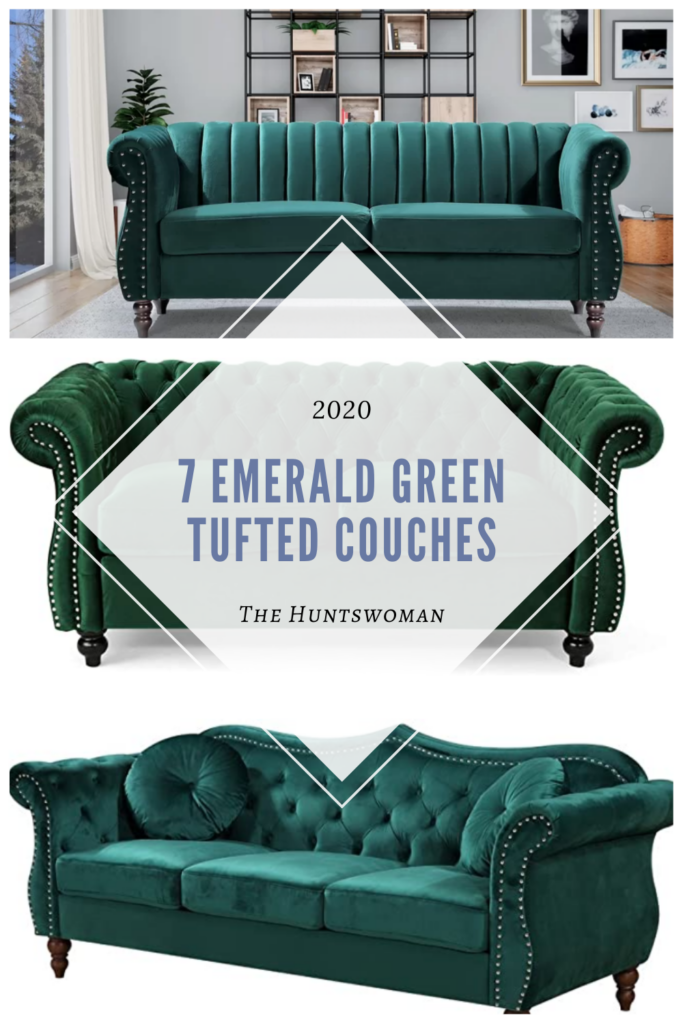 The image that started it all!!
While looking at potential home decor options, I have found that I leann towards a combo of chrome and NOLA maximalism.
It's a thing. I've decided it!
THIS image is the one that made me go, "i want THAT!"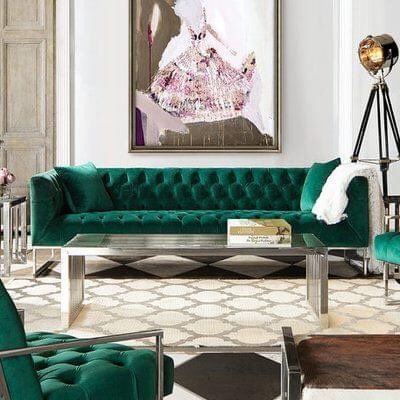 I love the painting and te tripod-sculpture thingy on the right. I love that table. I love the chrome and wall colors.
Not a super big fan of the carpet, but I'm overlooking that, lol!
SO! Now let's look at couches:
Real Quick – What is "Tufted"?
"tufted" is the upholstery effect when you have a full surface, and a button or something else has been stuck in it.
Buying Furniture Online?
I'm not super stoked at the thought of buying a couch sight unseen (how will I know if it's COMFY?!?!?!), so I'll be searching the internet for reviews as well!
Okay, so this green tufted sofa is what I ended up going with! is the one I ended up buying!. It's  34″ x 79.5″ x 34″, of 3′ x 6.5′ x 3′ ish. I really love the point at the center front of it, and I like the silver "rail heads" (those round metallic things on the arms and upper edge.
Buuuuuuut I'm not a fan of the 3.4 out of 5 star overall review. Different reviewers shared that it's "great for shorties" (hi, me!) but more than a few point out that it's more of a show piece and they don't actually, you know, sit on it..
Check out this tufted green sofa here!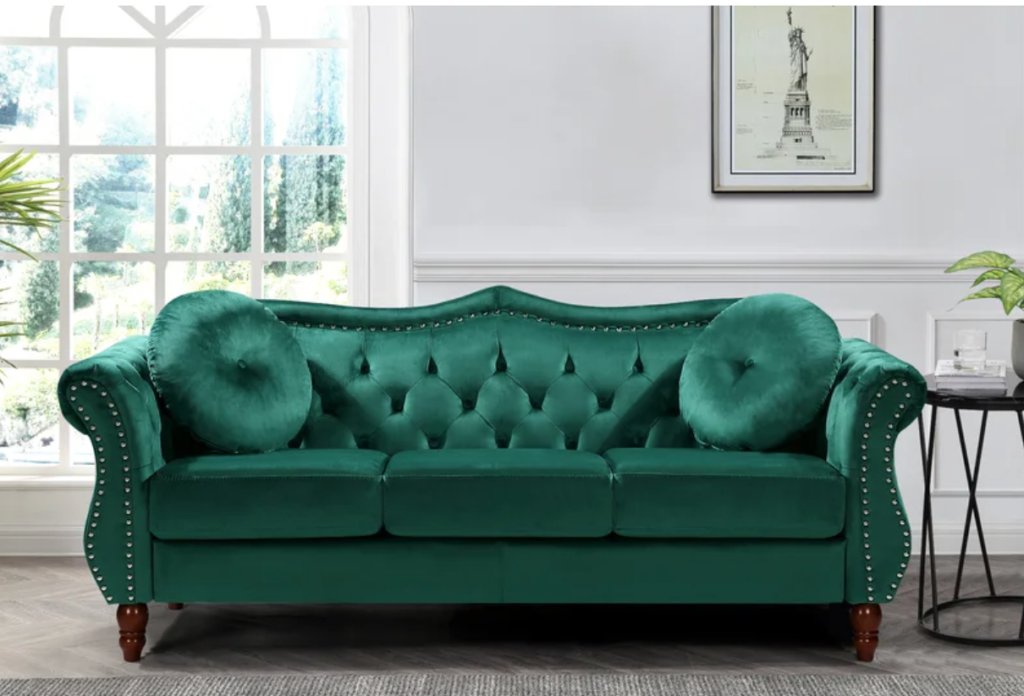 Okay, so this emerald green tufted sofa is about a foot shorter than #1, measuring at 61.75 x 33.75 x 27.75. It evokes a different era (more early 20th century than the Victorian-esque one above), but I still like it!
Also, because it's shorter it may work better with an armchair or other seating. Reviewers give it an average of 4 stars, noting that it's more compact and lower to the ground than other sofas. Want it a bit more long? Get the same version with 3 cushions here!
See more details and shop this green emerald loveseat here!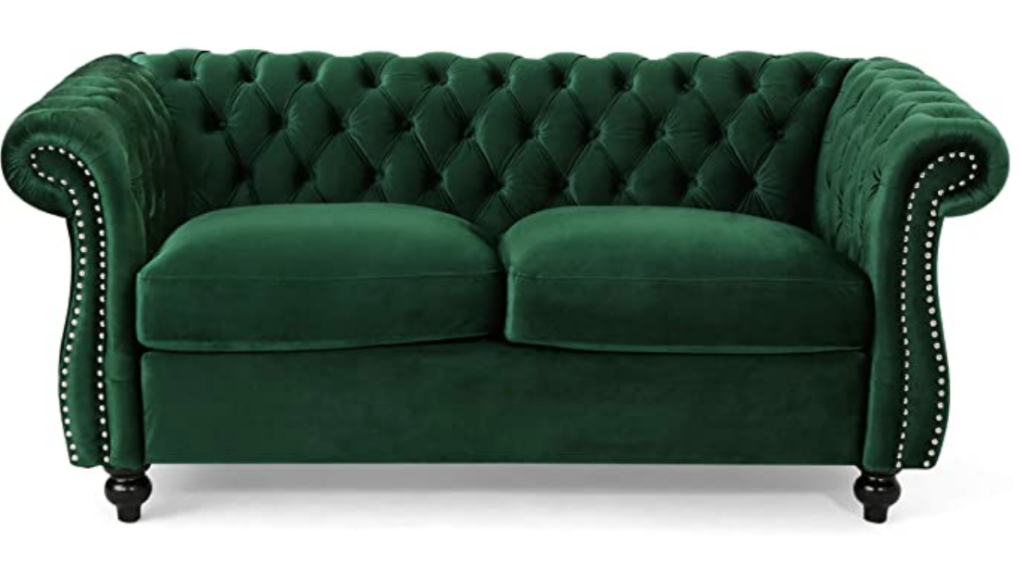 Okay, so I'm NOT a "mid-century modern" kind of person, but I've added this one to the list in case YOU are! This isn't too MCM, it's a nice combo of different design aesthetics.
Check the product description for measurements, as this is two pieces!
Shop this tufted green velvet sectional couch here!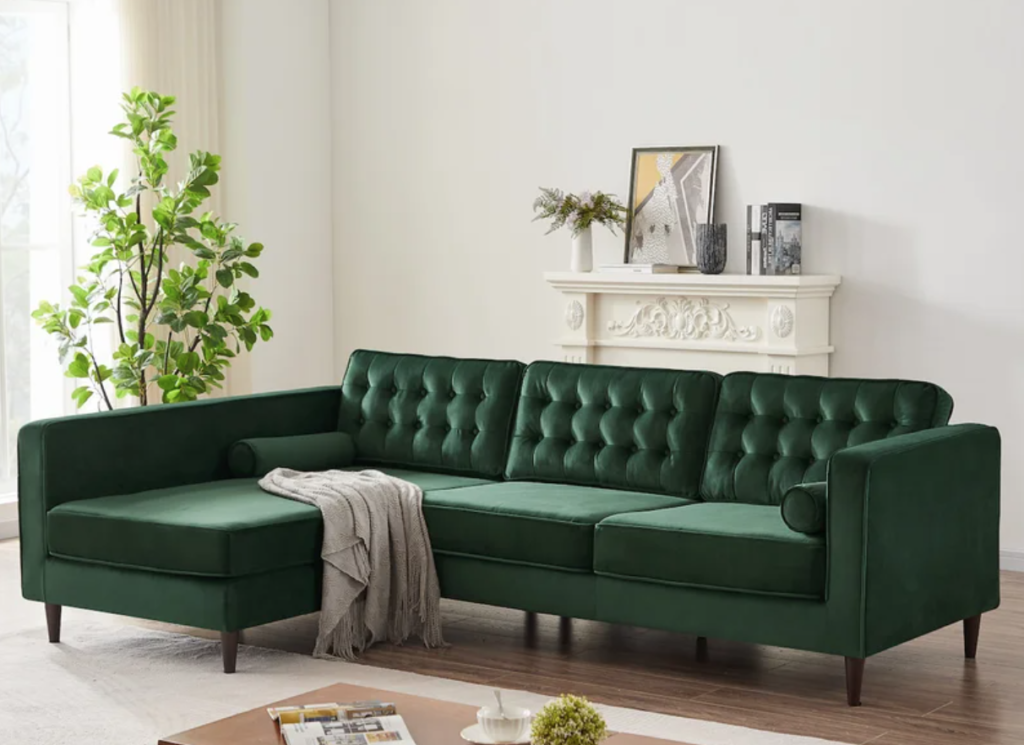 Remember how I just told you I wasn't a huge "mid-century modern" person? Well, turns out that that couch from my inspo image is pretty dang mid-century modern! It's not tufted, but I still like it!
I love the gold detailing on this couch!
Get more info on this velvet green sofa here.
Popping into a new aesthetic is this emerald green velvet sofa from Wayfair! It's 30.7" H x 76.4" W x 30.7" D. It's not tufted, but I still like it!
This style of tufting is called "channel tufting," and it is pretty fun! I think I prefer the rail head look, though? It has a 4.4 review, with negative reviews focusing on damaged packaging.
Check out this green velvet sofa here.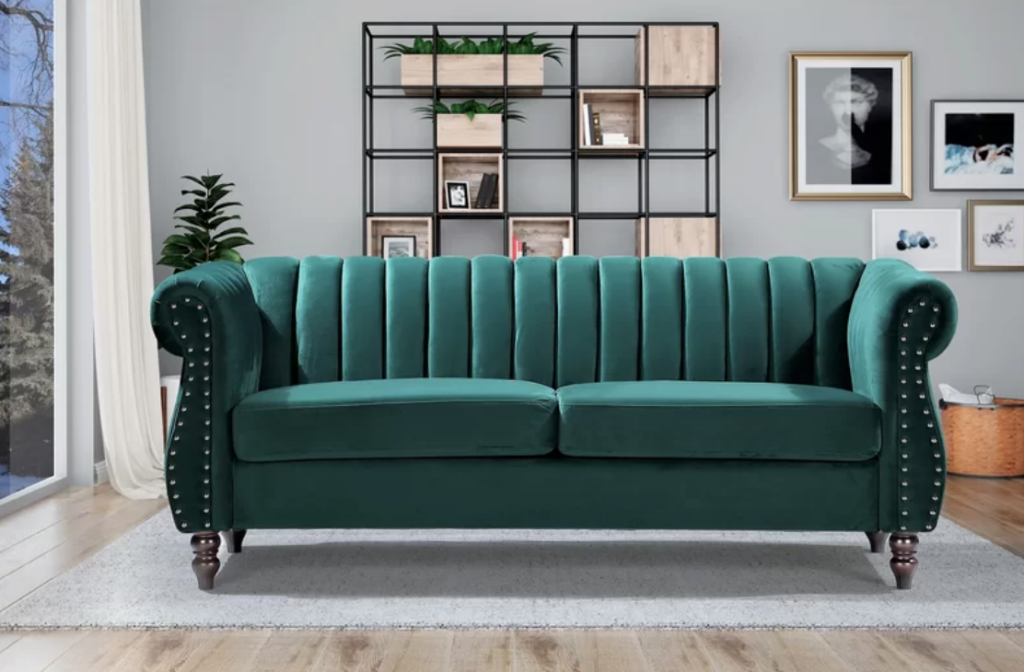 #6 Unique Green Velvet Sofa: Hay Needle Sofa Ava Velvet Sofa
Y'all, when I saw this photo I was like, "OMG THAT TOP CURVE!!!" Then I clicked over and was crushed ot see it's out of stock. It's not tufted, but I still like it!
I love the fun curved lines on this sofa, making it an organic yet modern sofa.
The sofa isn't available on Hay Needle, but I did find a listing on this site? That said, turns out this is 92″ long, making it the largest on the list. (Not a bad thing, just something to note!)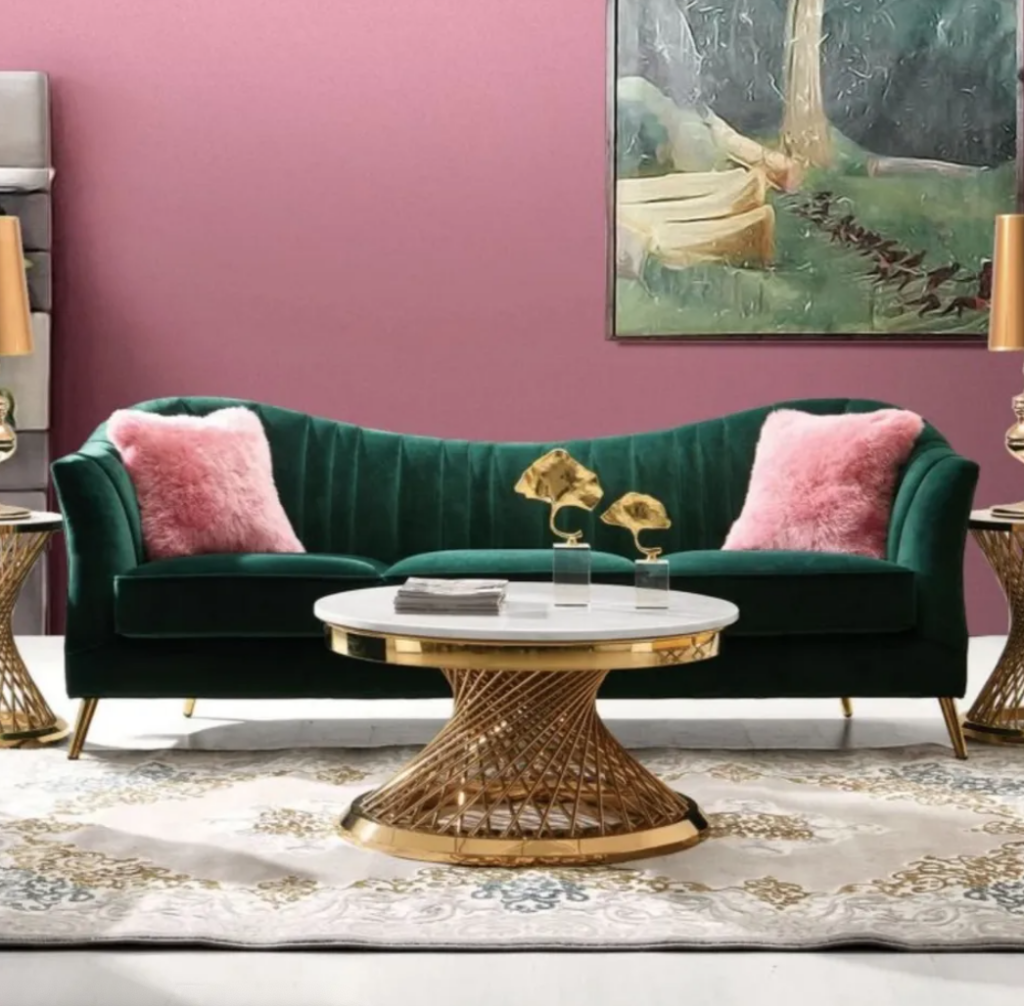 Also, not to get too excited, but loved these end tables on the same site, Appliance Connection. Should I just order the lot and call it a day?
You'll remember above where I said I loved the chrome + velvet combo. I think we're getting somewhere!!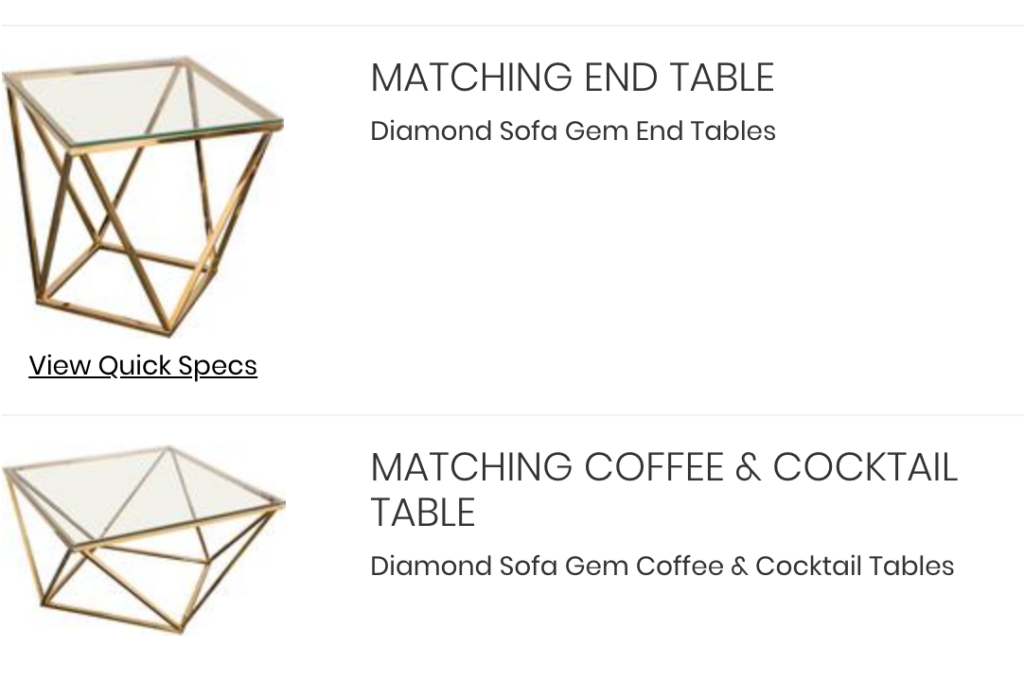 #7 Green Velvet Sofa: Delp 85" Velvet Square Arm Sofa with Reversible Cushions
How fun is this smodern take on a tufted sofa? I love the cylindrical cushions!
Shop this green velvet couch here.
The Home Decor Hunt Continues!
I'll keep updating this post as I find options, and I'd LOVE (really truly) any recommendations you can throw my way. I want a sturdy piece of furniture that's comfy and stylish. This will be the first couch I *EVER* buy, and I need all the help I can get!!
What to read next —>
I'm learning a TON decorating my first apartment, and here are a few other guides I've written for you to check out!
Want More Home Decor Updates & Listicles?
If you want to stay up-to-date on posts from The Huntswoman, I recommend joining me on your favorite social media platform (Facebook, Instagram or Twitter).
More of an email kind of person?  Subscribe here!