Hey there! This post contains affiliate links.  Using my links means I earn a commission, which helps me create more rad content.  More on affiliates here.
As you may have seen in other posts, Twitter is my favorite social media platform for networking. I've met so many brilliant fashion creators and bloggers on the platform, and I probably wouldn't have found them if it weren't for the platform.
One of those brilliant creators is Airdrie Makim, the founder and head designer of Joolz Fashion. Based in Melbourne Australia, the brand designs and manufactures plus size dresses, swimsuits, workout clothes, mens button up shirts, tops, leggings and and and…
[Heads up! This post uses affiliate links, and you help me earn $$ when you use my links. More on affiliate links here!]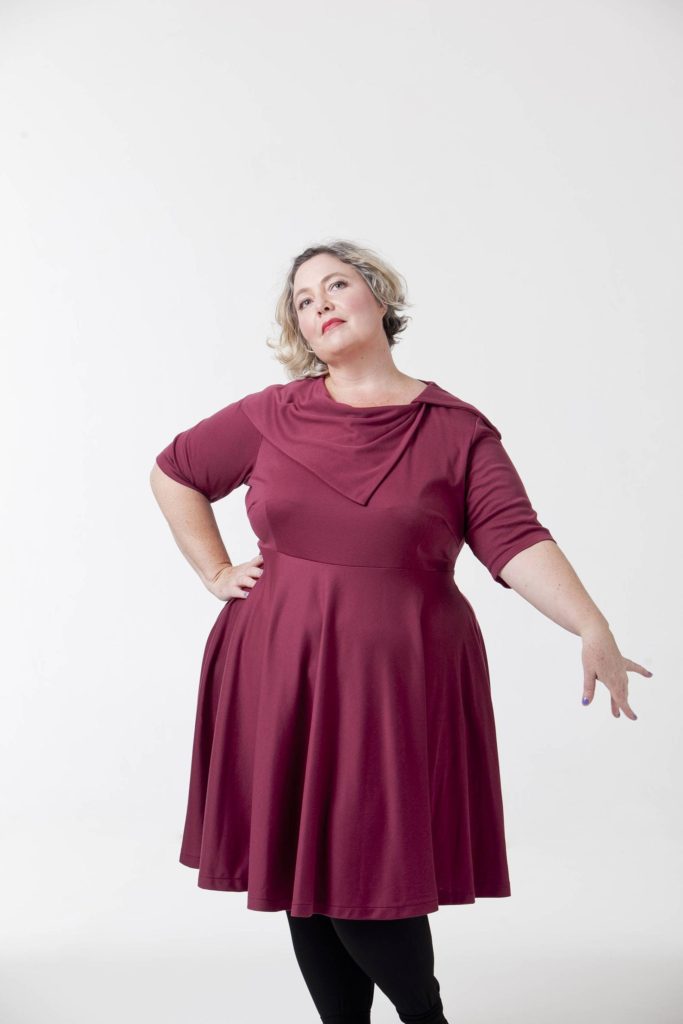 You get the point. The brand uses a "made to order" model, meaning that Joolz and her team cut/sew pieces when an order comes in. This helps cut down on waste, as she doesn't have unused stock sitting around going unused!
Joolz Fashion offers a LOT of plus size clothing options, and goes past a size 30. She offers more sizes than big box retailers like Eloquii, Lane Bryant, Torrid, etc. (Be sure to check the correct column, and avoid mixing up "CM" and "IN"!)

Shipping Plus Size Clothes to Australia
I often hear from plus size babes in Australia like @IAmDaniAdriana how hard it is to get plus size clothes shipped to Australia, because shipping can be expensive – and it can take up to 6 weeks to get your dang clothes! There aren't many plus brands based in Australia, so Joolz Fashion is serving a true need!
Joolz Fashion also ships to the USA, Canada, etc etc, for around $15 USD. And, thanks to the AUFTA Fair Trade Agreement, your items will most likely not have customs or import duties.
Wanting to learn more about this fabulous brand, I reached out to Airdre for an interview. Below, she explains why she offers so many sizes, her inspiration and what running Joolz Fashion is like!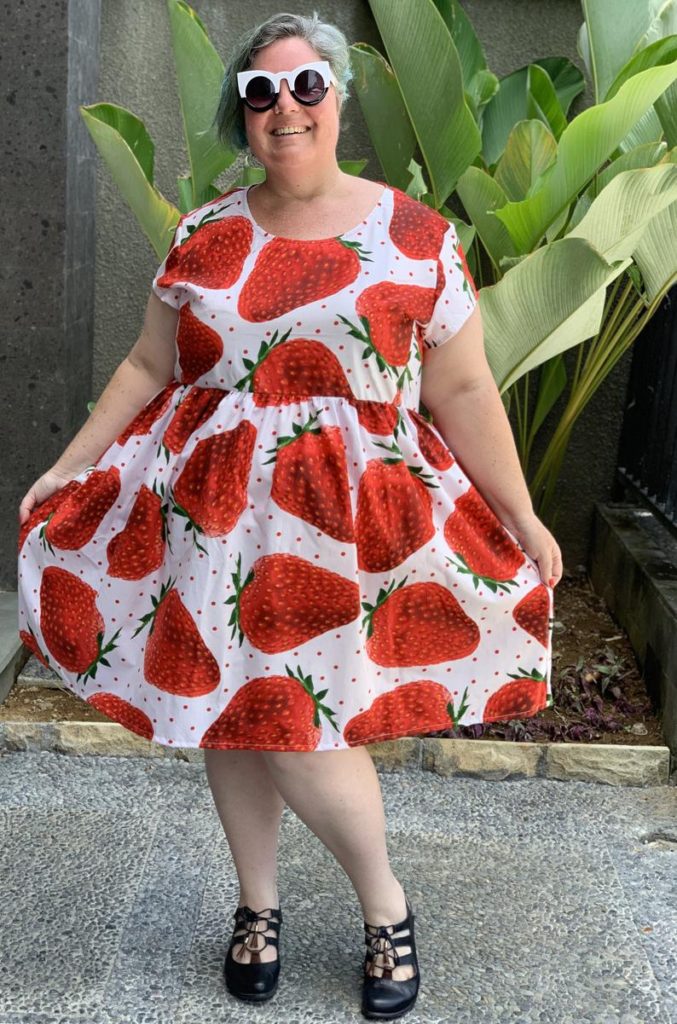 BH: Okay, so real talk. I thought your first name was "Joolz"! Do you get that a lot?
AM: I answer to "Joolz" because so many people think the label is my first name, and call me Joolz. I'm so used to it, it has been happening for 11 years now, if you call me Joolz I truly don't mind!

BH: I totally get that! So when did you decide to open your own line? How did you get started?

AM: I had a jewelry label & worked as a fashion stylist for years, then I was approached by a fashion designer to work with her on her label. During my time with that label, I was approached by a couple of other people to start fashion labels. But in the end I took my own label & morphed it from jewelry into fashion. For years I had been saying "someone needs to make this in plus size!" – I ended up going ahead and doing exactly that.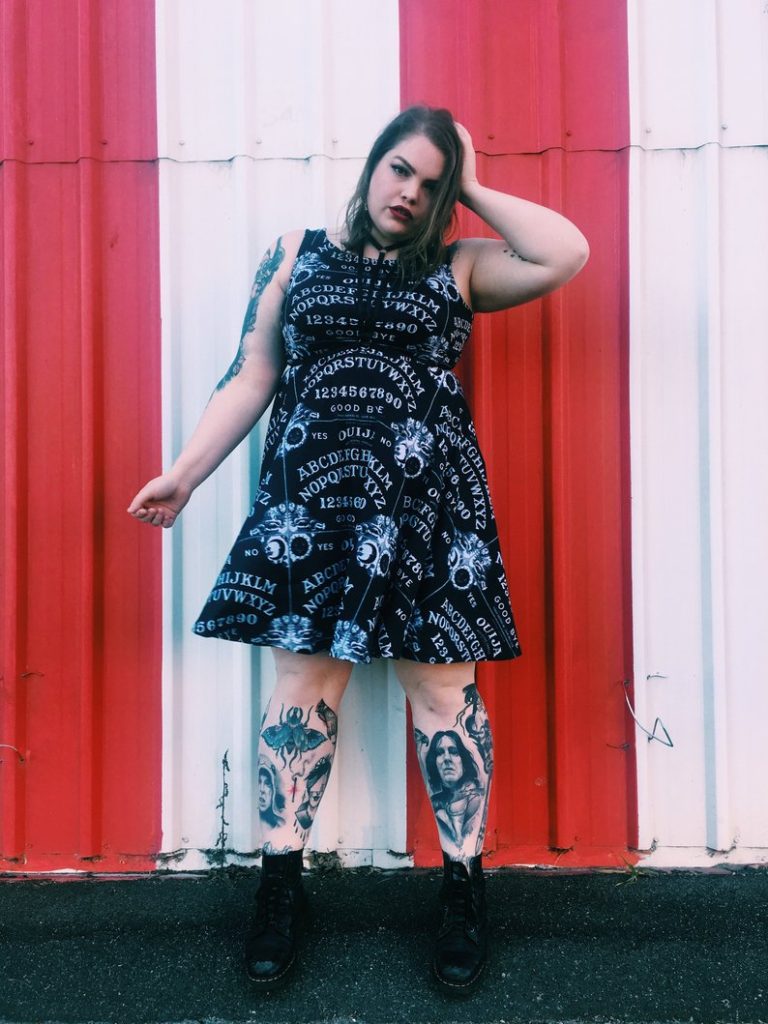 BH: That's fascinating! I totally know that feeling of looking at a clothing item and being like, "Why doesn't this come in plus?!" Did you receive a formal fashion education? If so, where? Do you feel that education prepared you for what you're doing now?
AM: No formal fashion education. All learnt through work experience. I did go to university once upon a time – I graduated with a Bachelor of Arts majoring in Sociology. Haha, so useful to me right now. Often wish I'd done Graphic Design or something instead.

BH: You offer an INCREDIBLE size range. Why is offering such a broad range of sizes important to you?

AM: I feel very strongly that fashion should be size inclusive. If someone asks me to make something in their size, you bet I make it.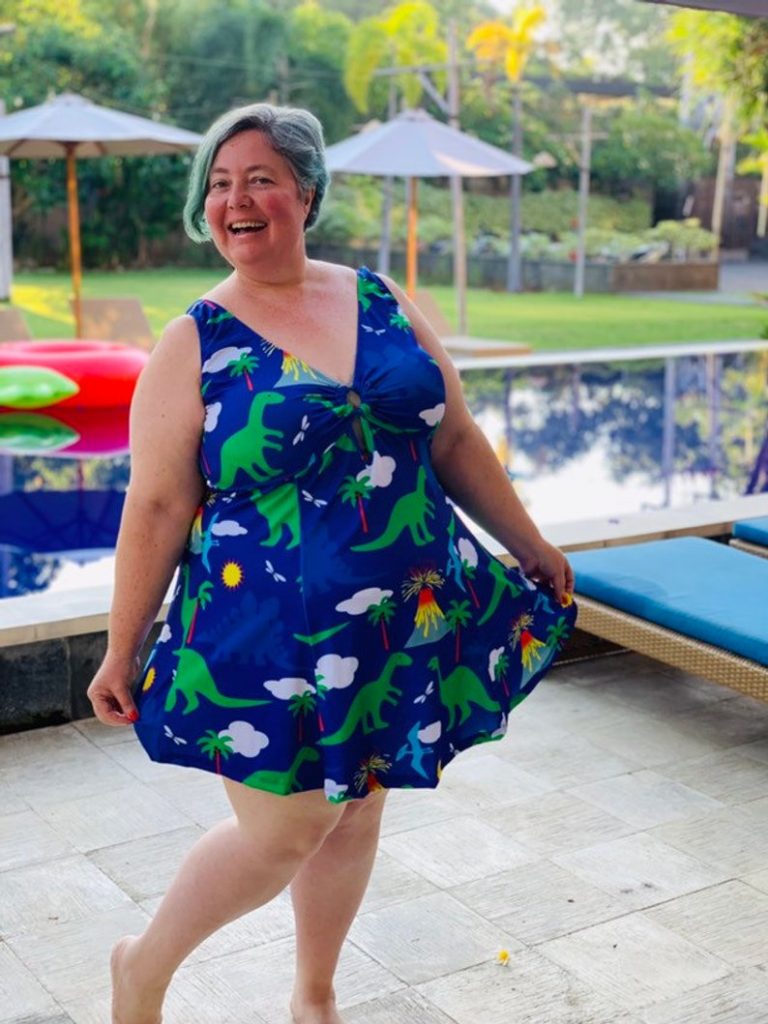 BH: I wish more brands took that approach! I also appreciate that you ask customers if they'd like alterations done on garments. Some people want larger sleeves, longer/shorter, etc. You're like a plus size boutique + tailor in one!
Next question, which I'm sure you get all of the time! Who models your clothing? What do you look for in a model?
AM: Local (ie Melbourne) plus size beauties have been models for me in the past, and I often model it myself out of necessity – social media is such an image-hungry platform.
I look for people who exude fun, friendly energy. Size-wise, 22 is my preference for my model's size because that's the size that my samples are made in. A lot of plus size labels make their samples in a size 16, but that's still pretty small in my opinion. I want women who are my size to know what my clothes look like on a body like theirs.
BH: YES! When a brand only shows a size 14/16, I get pretty frustrated. You're going to sell the sizes around your model size, so it's smart to show a larger body! Lots of plus babes aren't a size 16, after all.
Looking at your clothes, I love the color and style lines. What inspires your color and fabric choices?

AM: I love wearing colour. I love fun prints. I smile when I see others wearing something bold, something fun, something fabulous. So that's what I design. I like working with a range of fabrics, however my fabric choices are limited when it comes to my own prints, eg the Carnivorous Plants and the Golden Girls, because those can only be printed on certain types of fabrics.
I've been looking for a printer who can print my designs on to cotton for two years now. They are hard to find!
"Life is a great big canvas, and you should throw all the paint on it you can." – Danny Kaye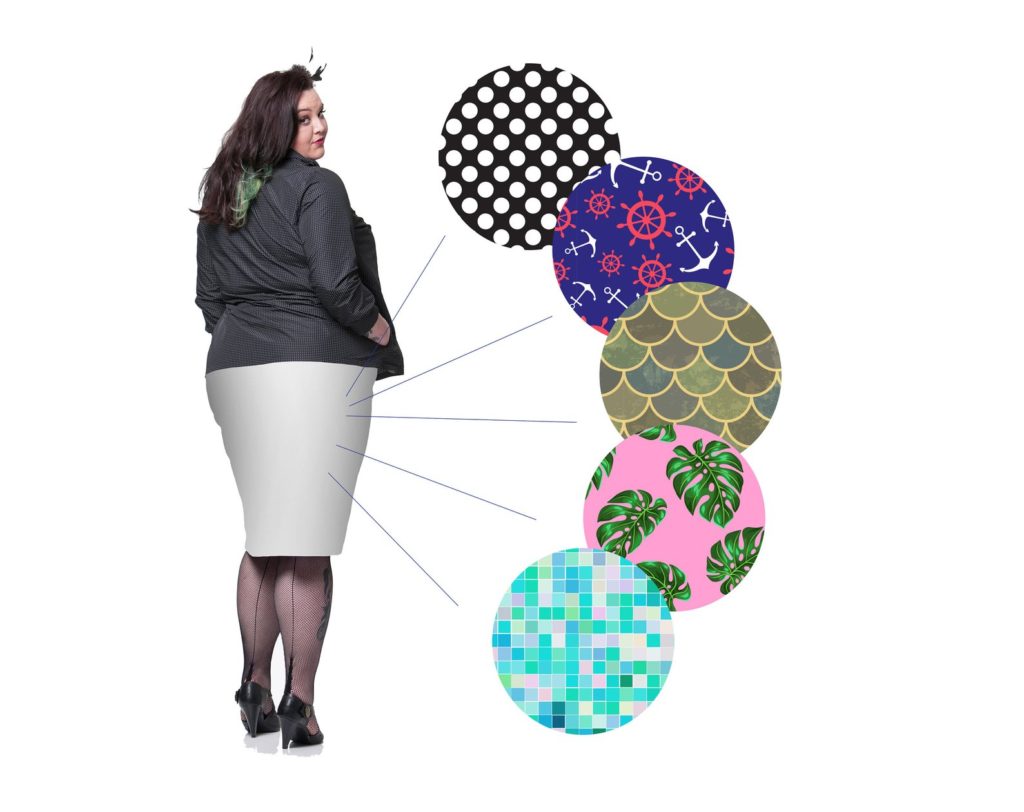 BH: Finding fabric printers can be tough! I'll be sure to send you some links I've found, maybe it will help!
Who is your "girl"? What type of person do you design for? Where do you see them wearing your clothes?
AM: They are pretty smart, my people. They don't mind being a bit different because they know all the truly ace & interesting people are. They wear my clothes to work, to cons, out partying, to games night with their friends, they wear them traveling all over the world.
I get such a buzz seeing pictures of my designs being worn out and about. One of my more exciting moments this year is when a customer sent me a picture of her wearing my Tentacles Dress standing next to Jason Momoa.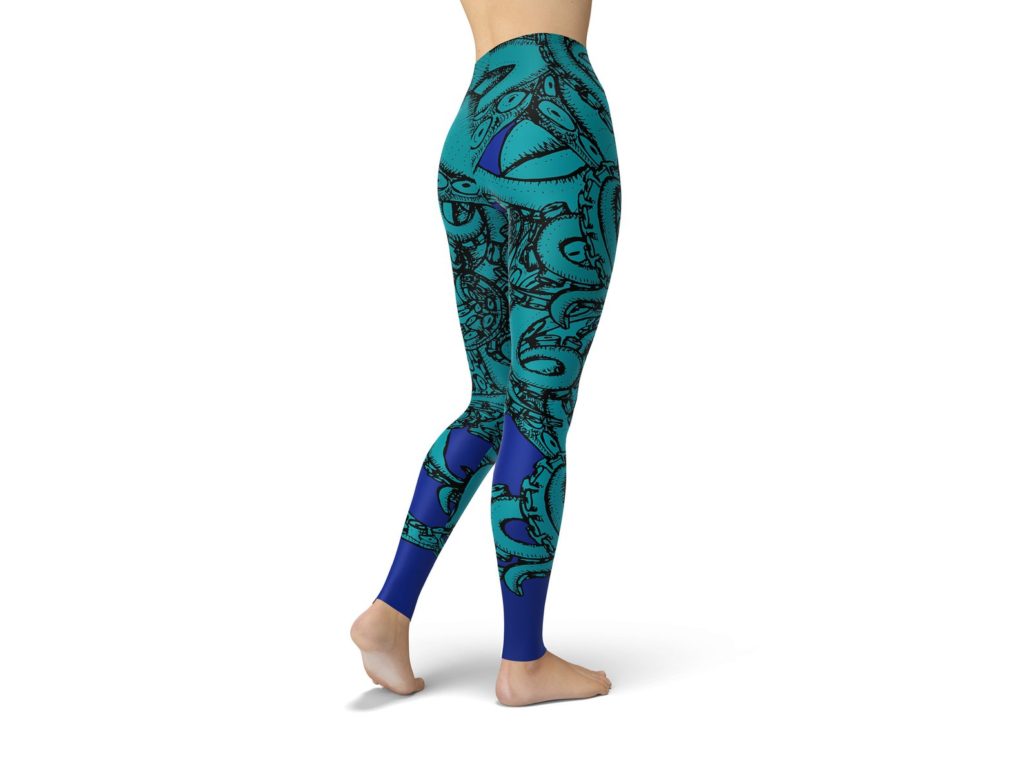 BH: HELLOOO, Jason! I feel like your clothes can be worn in a variety of settings and make a statement.
I'm sure you get a lot of thank you notes and words of appreciation from customers. Can you think of one particular instance, where feedback from a customer has touched your heart?
AM: Yes I do get some really beautiful notes. If I may share one that I found very touching, here it is (I have her permission to share this):
"I wanted to say thank you for the beautiful clothes you make. I thought & physically felt, "Now this is actually made for my body by someone who understands it!" when I was trying on the tights. Today I was out in the beautiful light blue ones with dragonflies & had the revelation that I rarely expressed myself through bold, bright prints until now. It brought me such joy, so thank you again. I look forward to building my courage muscles in living more colorfully."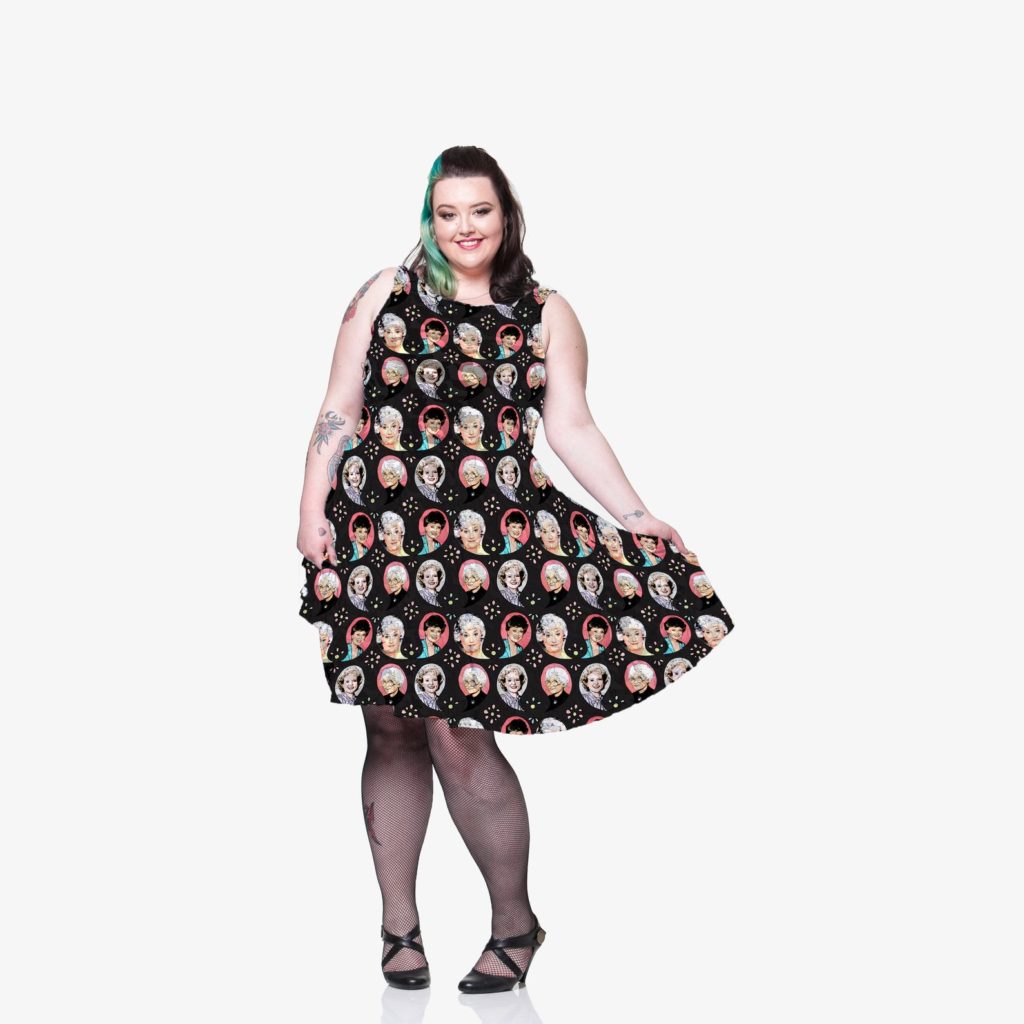 BH: Wow, I really love that. You can really tell when you put on a garment whether or not the designer understand how plus size bodies are built!
Last question: Anything else you want readers to know? (You can talk about supporting indie designers, or other info you'd like to share with potential customers!).
AM: Yes! I am a pear shape, and I design for my shape because I was always frustrated by having to tailor everything I bought off the rack – because my hips are two sizes bigger than my bust, I'd have all these awful gaping tops on dresses, unless I tailored them.
It's worth knowing that if you are a pear shape, my dresses & tops accommodate for that extra room needed in the hips, without gaping like crazy up top. So many people talk about how amazing the fit is, when they try on one of my dresses – it's because we simply aren't used to anyone designing for our shape.
Thank you so much for the interview, Airdrie! If you're interested in perusing her designs at Joolz Fashion, her pieces are listed on Etsy! Be sure to click around to see all of the fun fabrics and color options!
Note: Blog posts on The Huntswoman often use affiliate links. If you purchase an item using my link, I may earn a small commission. I only review products I genuinely love, and your use of my links helps me create more fab content!