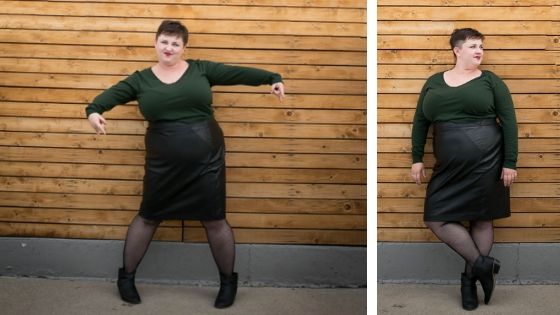 Hey there! This post contains affiliate links.  Using my links means I earn a commission, which helps me create more rad content.  More on affiliates here.
Listen, I love a plus size leather (faux leather!) skirt! They are so versatile and fun to dress up or down. You can style them with t-shirts, or go full on Business HBIC with a blouse and heels for the office! (Okay, that's more Ad Agency than Finance Firm, but you get me.)
[Heads up! This post uses affiliate links, and you help me earn $$ when using my links. More on affiliate links here!]
Today, I wanted to share where to buy a plus size skirt (mini skirt, midi skirt, skater skirt, pencil skirt, etc), as well as some photos of me rocking a plus size pleather skirt!
Let's get started!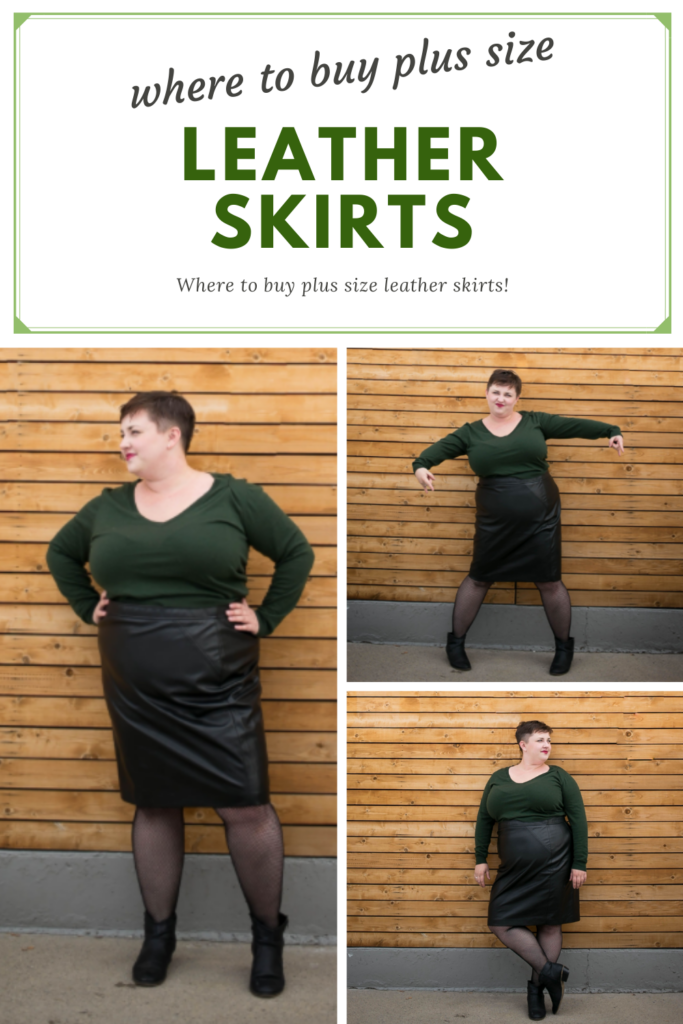 Okay, Eloquii is kind of the reigning Supreme when it comes to faux leather plus size pieces. They've got jumpsuits, trousers, skirts, dresses, etc etc! Eloquii goes up to a US Size 30.
This plus size leather trumpet skirt (like a longer skater skirt) is gorgeous, and I love that it comes in green and black!
Details here!
This plus size midi leather red wrap skirt is DIVINE, and is such a fun statement piece. You could pair it with a variety of print or solid tops!
Details here!
Last, but never least, is a plus size pencil skirt from Eloquii! This skirt hits the model just below the knee, and it will likely be more of a midi skirt on shorter babes!
Details here!
Brand #2: Plus Size Mini Leather Skirt from ASOS Curve
Next up on our listicle is this plus size faux leather mini skirt from ASOS Curve! This skirt is $34 USD, and it comes in up to a size US 26!
Shop faux leather plus size skrits here.
But wait! There's more! ASOS Curve also has this fabulous faux leather skirt in fire engine red, as well as this black plus size midi skirt!
Brand #3: Plus Size Mini Leather Skirt from Torrid
We love grunge chic, and I'm a big fan of this plus size leather skirt from Torrid that has ZIPPERS!
Torrid goes up to size 6X, and the Torrid team recommends sizing. up in this one!
Brand #4: Plus Size Leather Pencil Skirt from CoEdition
I love that CoEdition lists a variety of plus size brands on their website, making it super easy to discover new lines!
This plus size leather skirt from Maree Pour Toi is a new take on the classic pencil skirt, adding in some ruching for more visual interest!
This skirt is available in up to a size 24! Details here.
The brand also has plus size leather skirts in red, baby blue and and olive green! I love the side gathering detail on this design.
Check details here!
Brand #6: Plus Size Real Leather Skirt from All67
Sometimes, you just want the luxury of a real leather skirt! You can snag this real leather pencil skirt from All67, by way of CoEdition!
Shop here.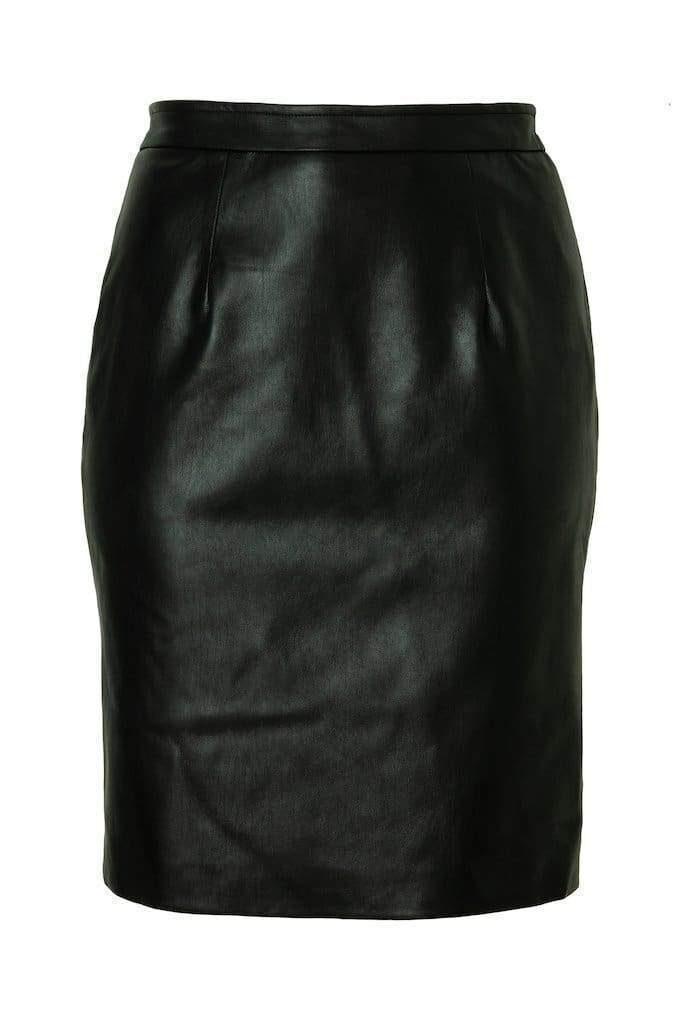 Brand #7: Plus Size Leather Midi Skirt from Woman Within – Jessica London
how fun is this longer a-line midi skirt from woman Within? It goes up to a size 28W!
Shop here!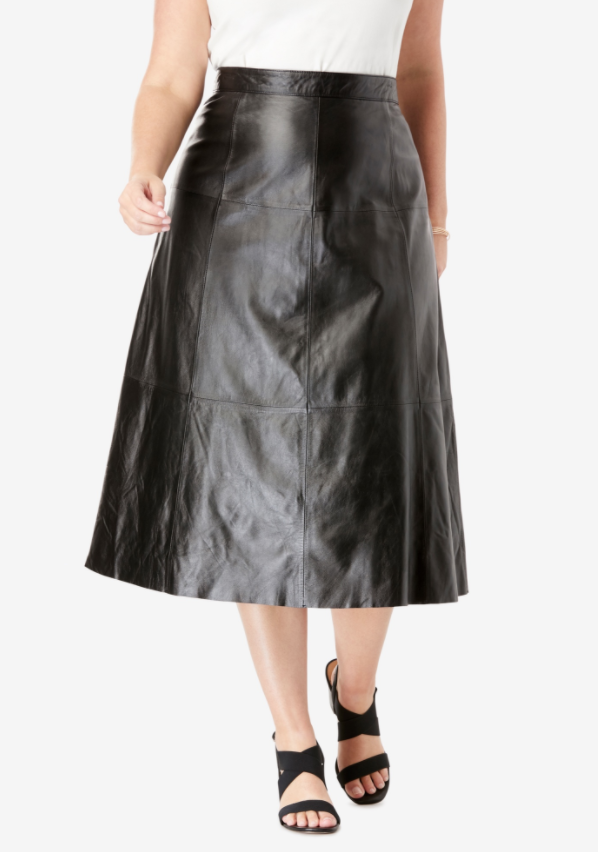 Plus Size Faux Leather Skirt Look Book
I really like playing with textures, so I paired the slick plus size leather skirt (RIP DressBarn) with a dark green knit sweater. I love a high waisted skirt, so I tucked my shirt in!
Embrace that belly outline!
I'm also wearing fishnets with flat boots. This is a great fall commuting look. Stylish, but I can also get around town easily!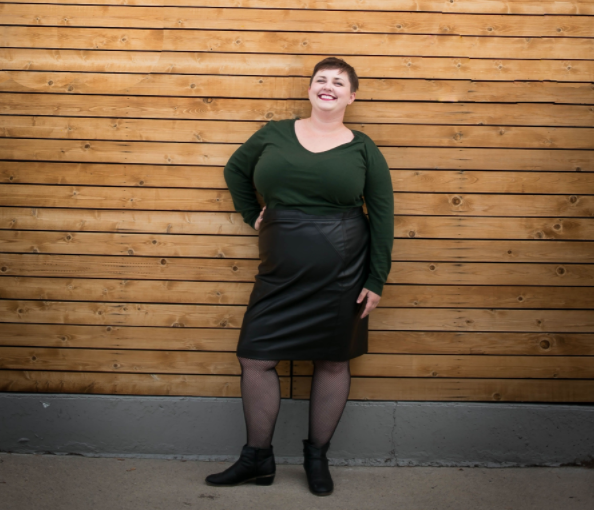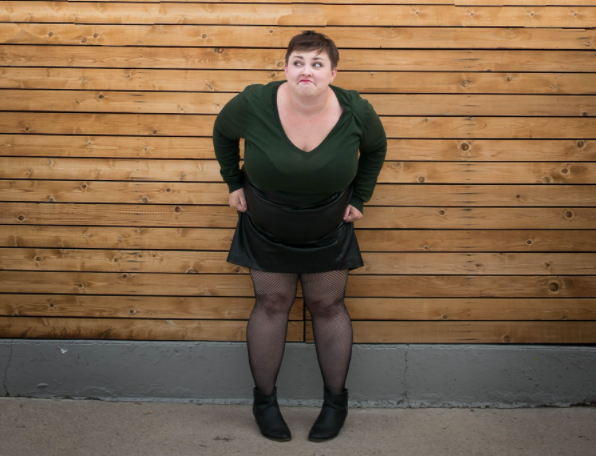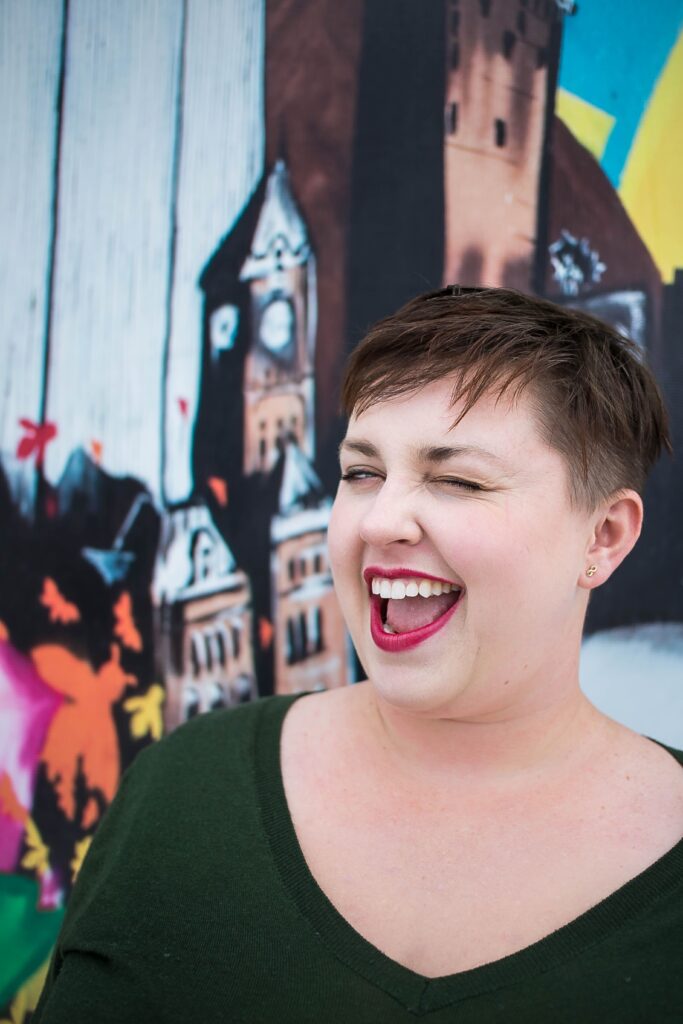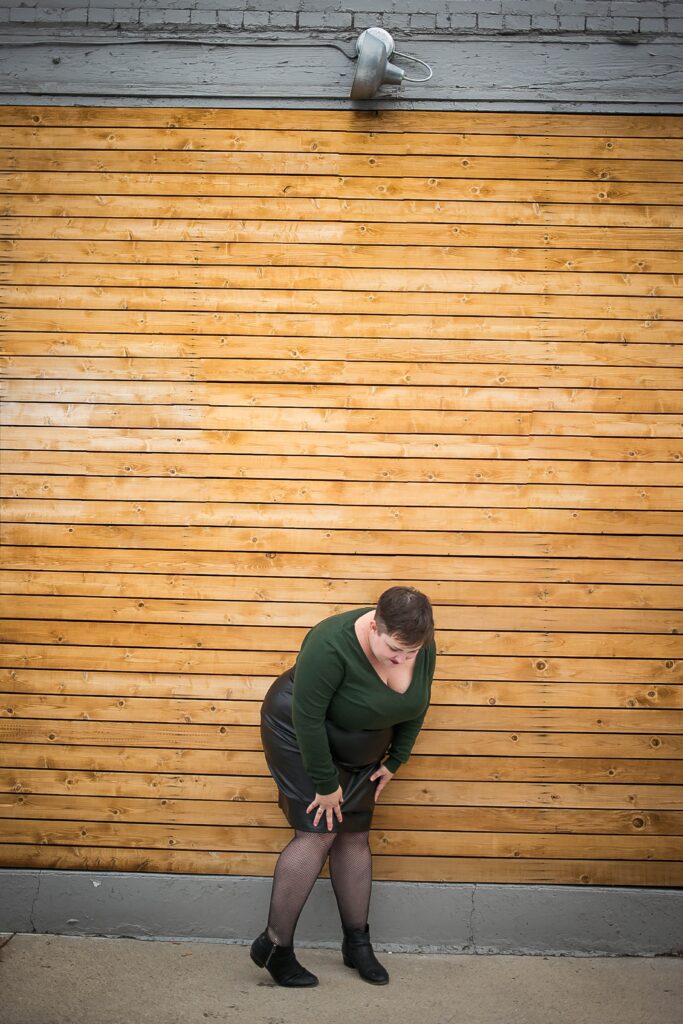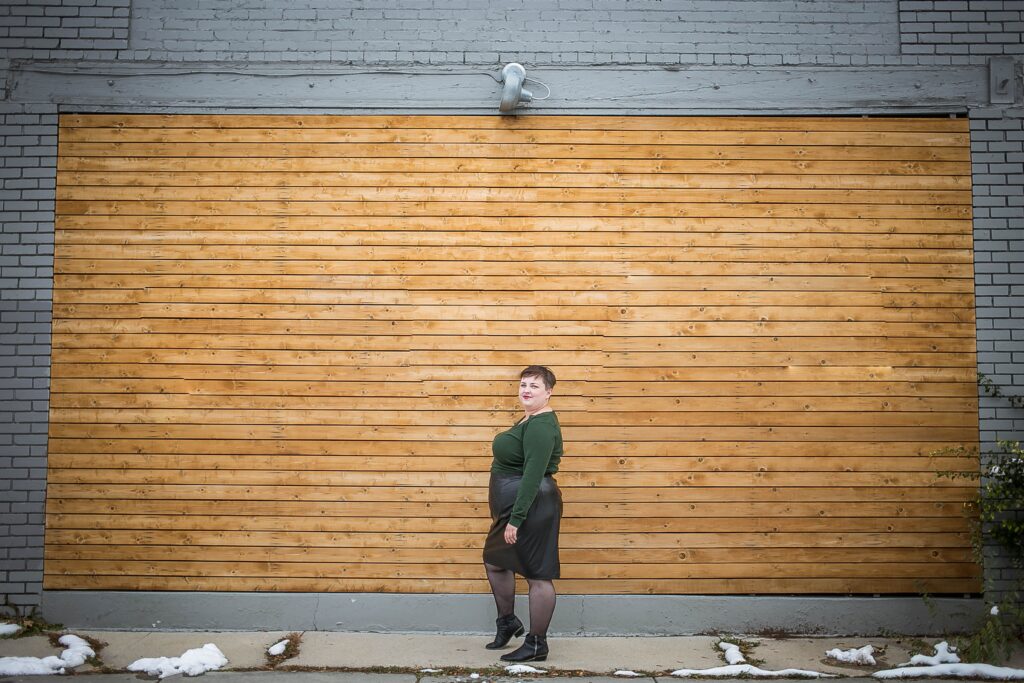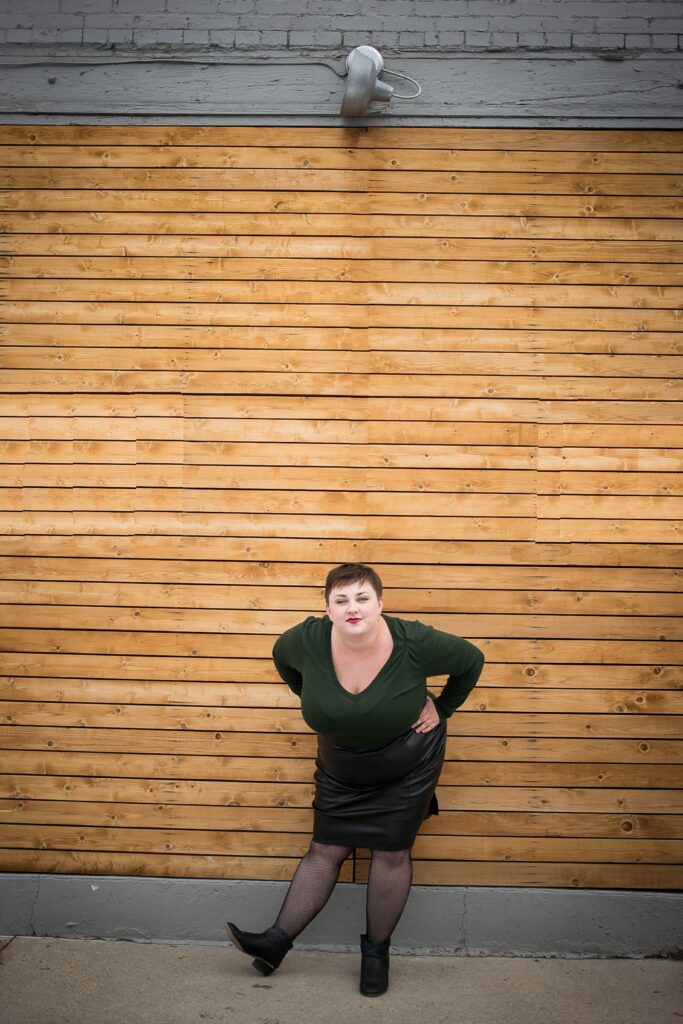 More Plus Size Fashion Reviews
If you want to stay up-to-date on plus size fashion blog posts, I recommend joining me on your favorite social media platform (Facebook, Instagram or Twitter).
More of an email kind of person? Subscribe here!
[FTC Notice: This post contains affiliate links, meaning I earn a small commission if you purchase a product through my link. Affiliates help me write more great content, and I only endorse products I truly love.]