Hey there! This post contains affiliate links.  Using my links means I earn a commission, which helps me create more rad content.  More on affiliates here.
Hello and hi! Today on my fashion blog, I am sharing ideas for over 21 different plus size festival outfits – with info on what brands to shop! Whether you're headed to a multi-day festival or hanging out for the day, these plus size festival outfits are fun, trendy – and will look super cute on The Gram!
This blog is all about plus size festival outfits!
[Note: This blog post was first published on July 14, 2021. It was last updated August 9, 2023. While I do my best to keep my posts up-to-date, brands do update things quickly! Be sure to check sizing, shipping timelines, sizing and all relevant purchasing info with the brand before buying!!]
When it comes to plus size festival outfits, it's important to remember that you are HOTTTT! Babe, you are FIREEEE! Own the space and rock what you want to wear.
This roundup is a mix of BRIGHT and BOLD festival outfits, as well as more boho chic outfits for a more laid back music festival. Scroll all the way through to see all of the outfits!
Before we get going, here are 3 of my top tips for finding the PERFECT plus size festival outfits:
Tip #1: Go for breathable fabrics like cotton and mesh!
Tip #2: Festivals can get chilly at night! I like to walk around during the day in looks that show more skin, ahem, and then pack a big oversized denim jacket or shrug with fringe to wear at night!
Tip #3: Break in your shoes! Do NOT wear new (or new-ish!) shoes to a music festival!
Okay, let's get started!
Okay, first up on our roundup of where to shop for plus size music festival outfits is Prism Kisses! They have full-on ensembles featuring body chains, sparkly shrugs and 2 piece sets. This look is such a fabulous plus size coachella outfit!!
Sizing: Pieces are made in Medford, Oregon, and the brand goes up to a 53″ hip size.
From the brand: "One of a kind plus size body chain, embellished with purple and silver metallic iridescent sequins and blue rhinestones. Adjustable at the neck. This item is meant to fit a size 3x (model in photo is a 3X) but is very forgiving so can accommodate one size up or down. Lobster claw closure at the neck."
Shop this plus size festival look HERE!
How fun is this maximalist plus size fashion brand?! I am so stoked that Fringe+Co carries plus size tinsel and plus size fringe jackets for music festivals! This brand is based in New Orleans, and they REALLY know how to bring the party for music festivals!
Sizing: The brand goes up to a XXXL. I couldn't find a specific size chart, and the brand says an XXXL is "around size 20-24"
About: "Fringe + Co is a lot of things, and all of them are sparkly. We're a brand, a community, a lifestyle, and a state of mind, all on a mission to bring more joy, fun, and pizazz to everyday life. We believe in wearable FUN—whether it's sporting a t-shirt with gold sequin sleeves to the grocery store or throwing on a vibrant party wrap for a picnic in the park. By spreading the sparkle, Fringe has built a community of people who want to shine, have a good time, and just be themselves—all, of course, while draped in glitter."
Shop plus size festival wear here!
Below, I've shared a couple easy breezy plus size festival outfits from Amazon! Both of these plus size music festival outfit ideas come in BUNCH of other colors!! Click the images for more details!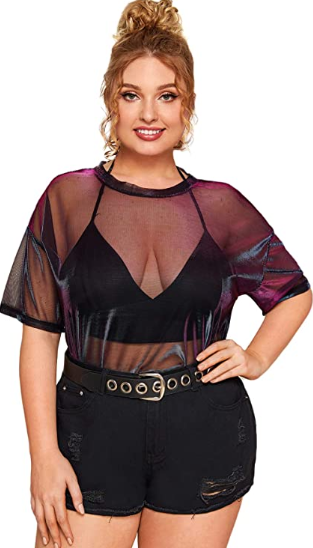 Second on my guide to plus size music festival outfits is Boohoo USA! This brand has a variety of plus size shorts, plus size sets and other super fun plus size fashion items for plus size festivals like Burning Man!
Sizing: Boohoo carries up to a size 24!
Shop plus size festival outfits here!
Next up on our list for plus size festival outfit ideas is ASOS! The brand has both bright, bold and LOUD festival outfits that could be seen at Burning Man – as well as more chilled flowy looks.
ASOS doesn't have a page for plus size festival outfits, but can check out all of their plus size options here!
I found a BUNCH of options at ASOS, so I've listed them below:
#6: Plus Size Festival Outfits from Asoph
Ok, so real talk, I had never heard of Asoph before researching outfits for this post! The brand has a stellar collection of on-trend plus size clothing, from plus size bell bottoms to plus size fun sets!
If you're looking for a plus size outfit for a country music festival, then you are in luck! Avenue has these super cute bohemian dresses , and they're available in up to a size 32!
I would style these plus size festival look with a hat and boots!
Shop this plus size festival outfit HERE!
Eloquii has really amped up their plus size festival outfit offerings!
Shop Eloquii plus size music festival outfits here!
Looking for a plus size sequin shrug to wear to a music festival! This plus size shiny sequin shrug from Konan is available in up to a 5X!
From the brand: "Unlike other fast fashion companies, our tailoring process is high quality handmade ; we take out all the sequins inside the stitches of the piece so it wont spike your skin and bother you, thanks to this process there is no need for lining which would otherwise make you sweat."
Shop this plus size festival look here!
Looking for plus size bohemian looks for a music festival? What a 70's inspired plus size outfit? LuvMeMore is THE place to go!
This plus size fashion brand has a LOT of options, from plus size skirt + crop top sets to dresses and fun flowy plus size tops!
The brand goes up to a size 28/30.
Shop plus size festival outfits here!
Unique Vintage has so many rad vintage outfits (my full roundup of plus size vintage brands HERE), and I knew I had to include a few pieces from them for my roundup!
They go up to a 4X or size 24!
Shop plus size festival outfits here!
Zelie for She is based in Los Angeles [plus size guide to shopping for plus size clothes in LA here!], and is Black owned!
Here are some of my favorite plus size festival looks from the brand!
Another plus size festival outfit perfect for a bluegrass or country festival is this dress from City Chic!
From the brand: "Love your curves in the dreamy City of Angel Maxi Dress. With a delicately laced hemline and embroidered details, this bohemian-inspired maxi dress is sure to be a wardrobe winner. Flaunt your free spirit by styling with tan sandals and statement earrings."
It's available in up to a size 24, and it's available in black, bronze and white. I love how they've styled it with a hat and vest!
Snag this plus size festival outfit here!
Plus Size Music Festival Accessory – Plus Size Fanny Pack
If you're headed to a festival, concert or fun summer event – be sure to have your plus size fanny pack at the ready!!! A fanny pack makes it easier to enjoy the scene, without worrying about where you'll put down your purse!
I wrote a roundup with some of my fave plus size fanny packs here!
This blog was all about plus size festival outfits!
More Helpful Plus Size Fashion Roundups
Looking for new plus size brands to try? Here are 5 other plus size shopping guides to make plus size shopping more fun!
Be sure to bookmark your favorite posts, so they're there for you when you're ready to shop! 🙂 <3
Sign Up for More Plus Size Fashion Recommendations!
If you want to stay up-to-date on my reviews, I recommend joining me on your favorite social media platform (Facebook, Instagram or Twitter).
More of an email kind of person? Subscribe here!