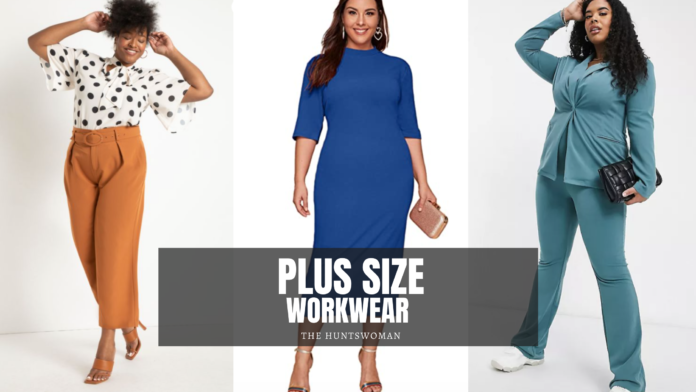 Hey there! This post contains affiliate links.  Using my links means I earn a commission, which helps me create more rad content.  More on affiliates here.
Are you looking for professional plus size clothing, but can't figure out where the heck to find it? Finding plus size workwear that isn't boxy or ill-fitting is a challenge, so today on the blog I am sharing my favorite brands that make professional clothes for the plus size business professional!
This post is all about plus size workwear brands.
[Note: This post was originally published on July 23, 2021. It was last updated April 22, 2022.]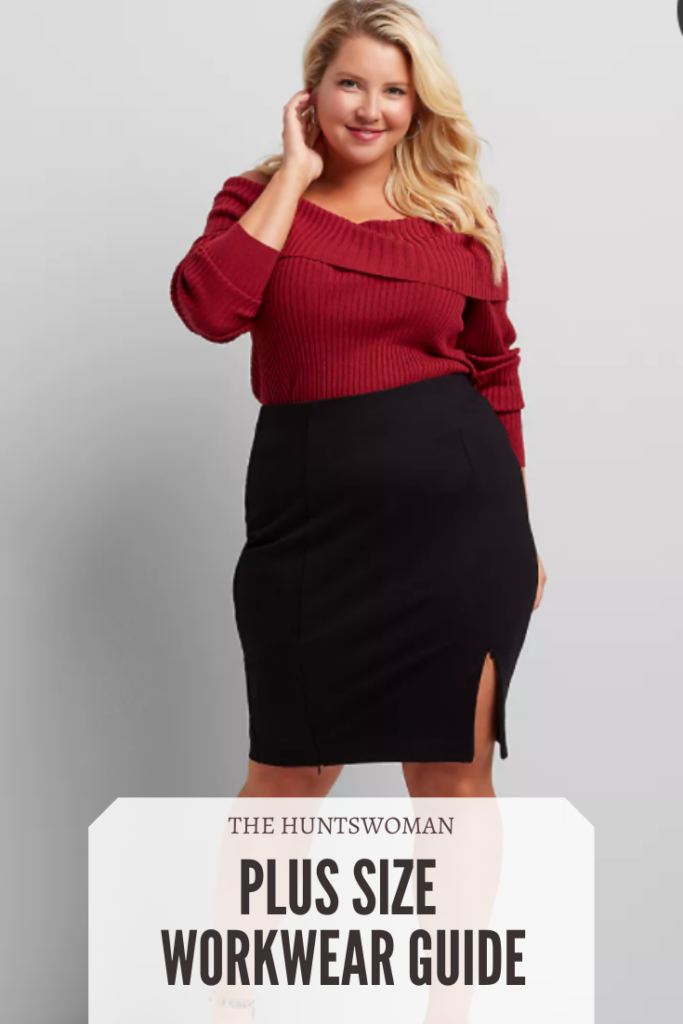 Fun fact: No brand is going to fit your body perfectly. If you're looking to look like BIG BUCKS when you walk into the conference room or office, it is critical that you get a tailor to adjust pant hems, your plus size professional dresses and skirt hems!
"Dressing for the job you want" is a common piece of advice, and a tailor is CRITICAL to looking like a million bucks! Almost all clothing is mass manufactured these days, which means it's not going to fit you just right. A good tailor can make a $200 suit look like $2,000!
Alright, let's get started with the roundup of plus size workwear!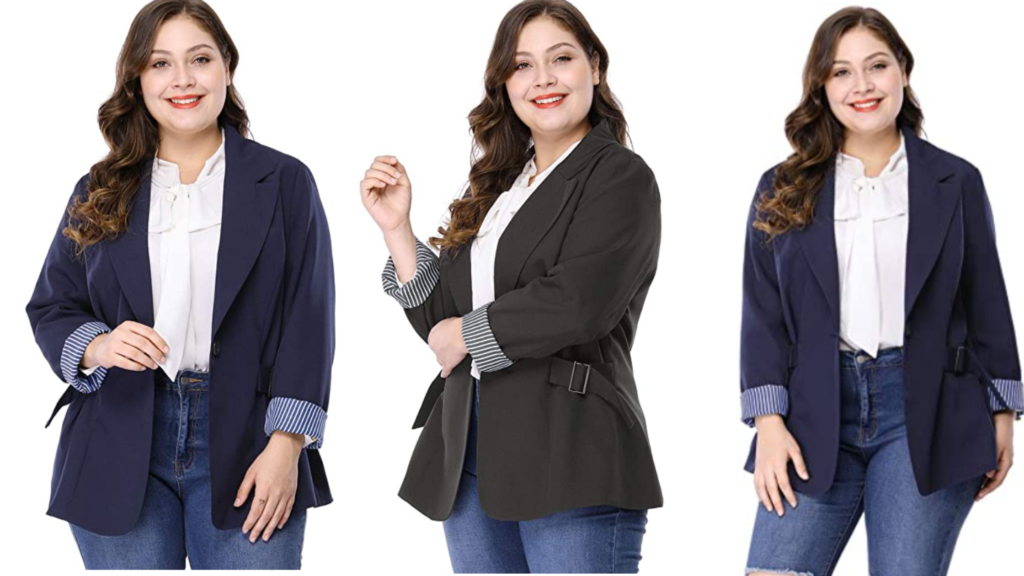 First up on our list is Amazon! This Agnes Orinda plus size blazer is super cute, and I'd pair this with dark jeans or black trousers for a great plus size business outfit!
Measurements:
This plus size workwear brand offers sizes up to the following measurements:
Up to a 55 inch bust
Up to a 53.5 inch waist
This plus size blazer is fully lined, and I love the contrast stripe cuff!
Add this plus size blazer to your cart HERE!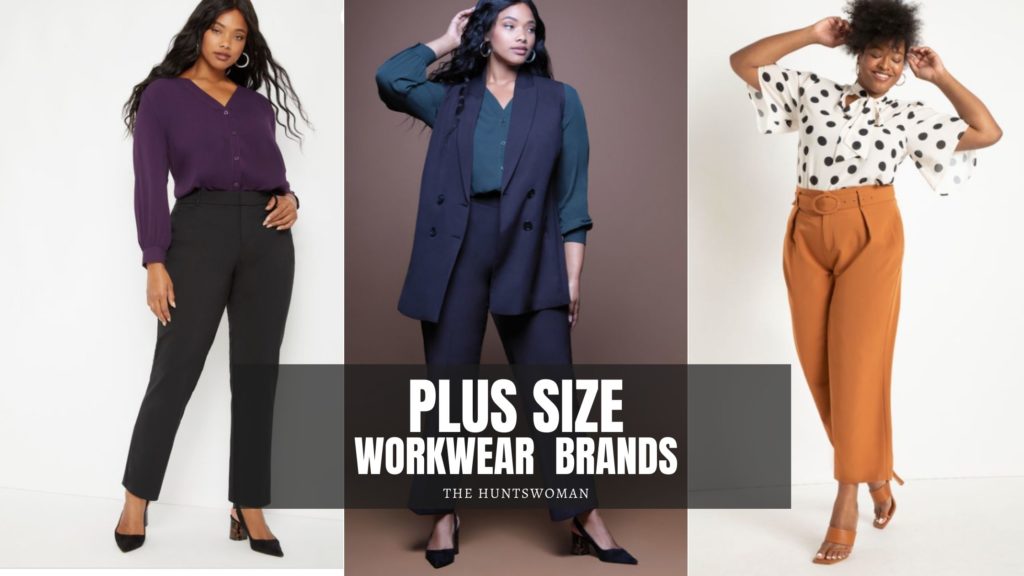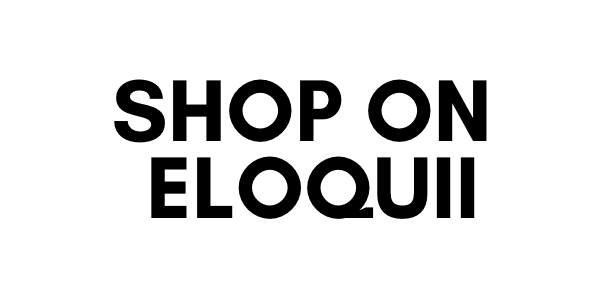 Next up on my list of where to shop for plus size workwear clothing is Eloquii! This brand is a staple for many plus size professionals, and they are famous for this plus size business slacks – the Kady Pant!
Eloquii has great solid color plus size professional wardrobe staples, as well as fashion forward pieces for those who want to get compliments on their super cute new plus size business suit at the office!
Measurements:
Eloquii makes plus size workwear clothing in up to a size 28/30! Here are the measurements:
Fits up to a 61 inch bust
Fits up to 53 inch natural waist
Fits up to 62 inch hips
Shop plus size workwear at Eloquii HERE!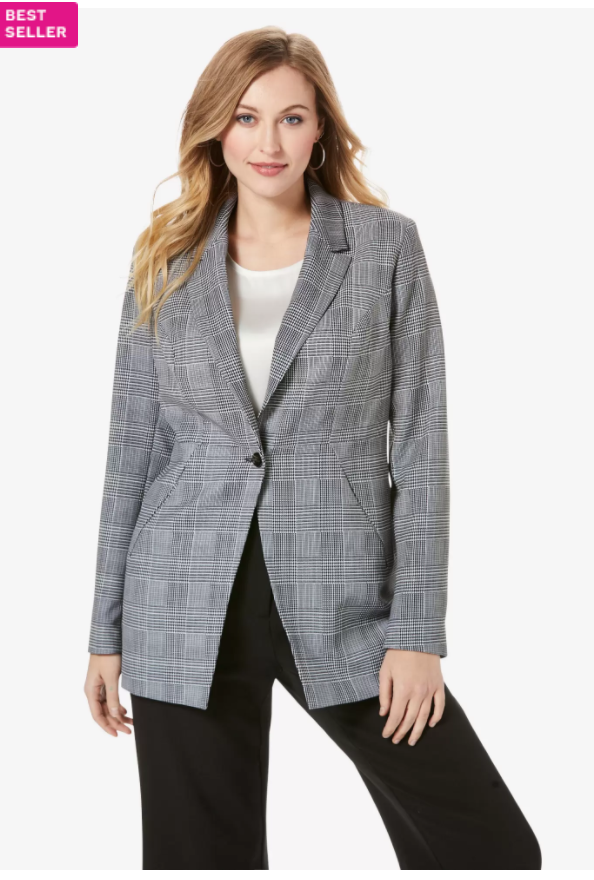 Woman Within is one of those secret plus size brands that a lot of plus size business professionals don't seem to know about! This is such a bummer, as Woman Within offers one of the most size inclusive charts in plus size clothing.
The plus size workwear brand lists sizes in up to a size 42/44, and the options dwindle significantly after a size 30 or size 32.
Here are some of my fave looks:
Measurements:
Up to a 67 inch bust
Up to a 61 inch waist
Up to a 69 inch hip
Shop plus size workwear at Woman Within HERE!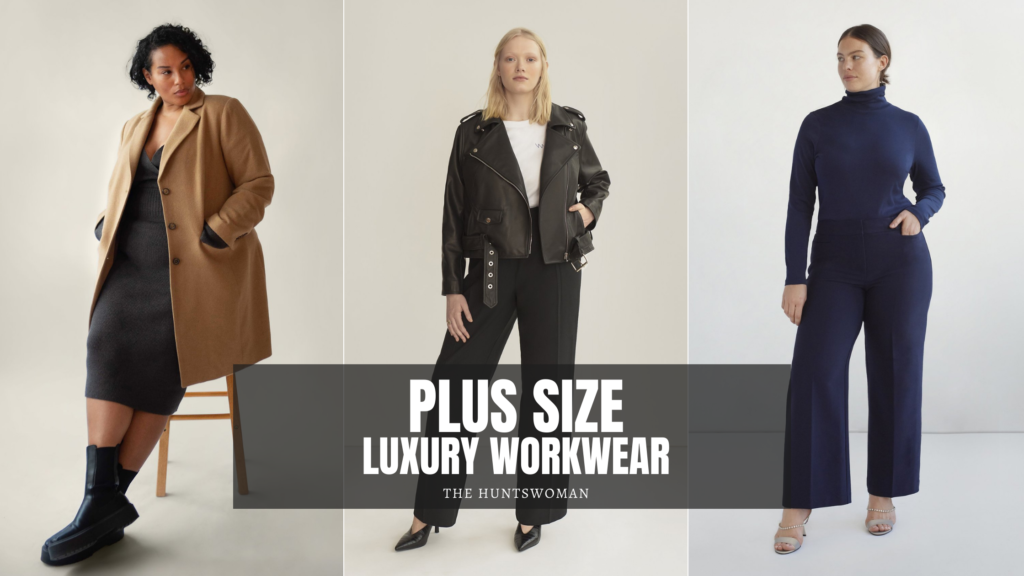 I am all about investing in high quality pieces, especially plus size workwear pieces that are wardrobe staples!
HENNING is famous for its clean lines and silhouettes, and is woman-owned! The plus size professional clothing brand's motto is, "Clothing raised to your level."
From the brand: "At Henning we believe that luxury shouldn't stop at a size 12. And since plus-size women are still widely excluded from that realm, our founder, former fashion editor Lauren Chan, is taking matters into her own hands. Here, we're ethically building a collection of luxury plus-size staples—like tailored blazers and classic coats—and we're not making any compromises on quality, craftsmanship, or design. Click below to read a letter from Lauren, written just for you."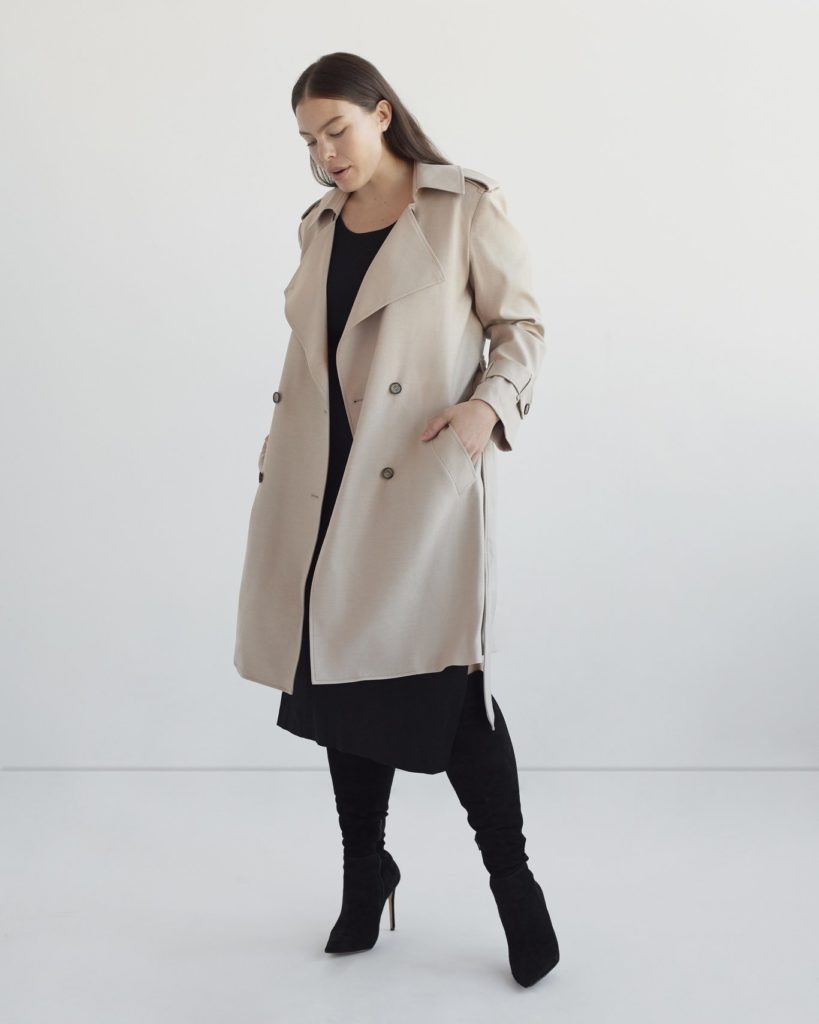 Pictured:
Measurements
Up to a 53 inch bust
Up to a 46 inch waist
Up to a 53 inch hip
Shop plus size workwear at HENNING here!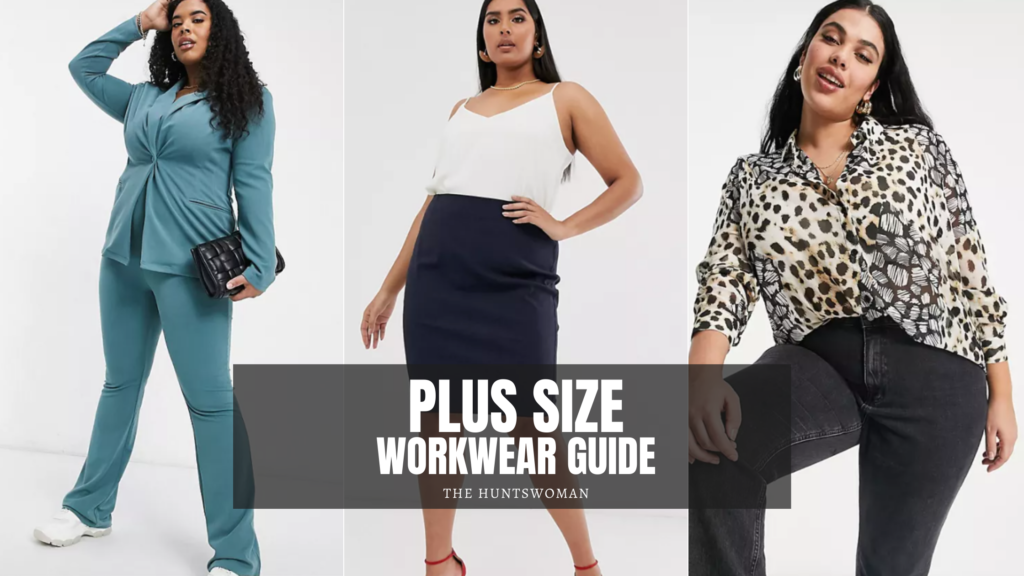 ASOS is a favorite brand for plus size bloggers (like moi!), and I love that they have such a range of options for different styles and needs of plus size professionals.
ASOS is based in the United Kingdom, and the brand carries most of its ASOS Curve pieces in up to a size 24. I really love their plus size business suits!
The brand doesn't have a size chart listed (ugh), so check the measurements on each piece!
Pictured:
Shop plus size workwear HERE from ASOS!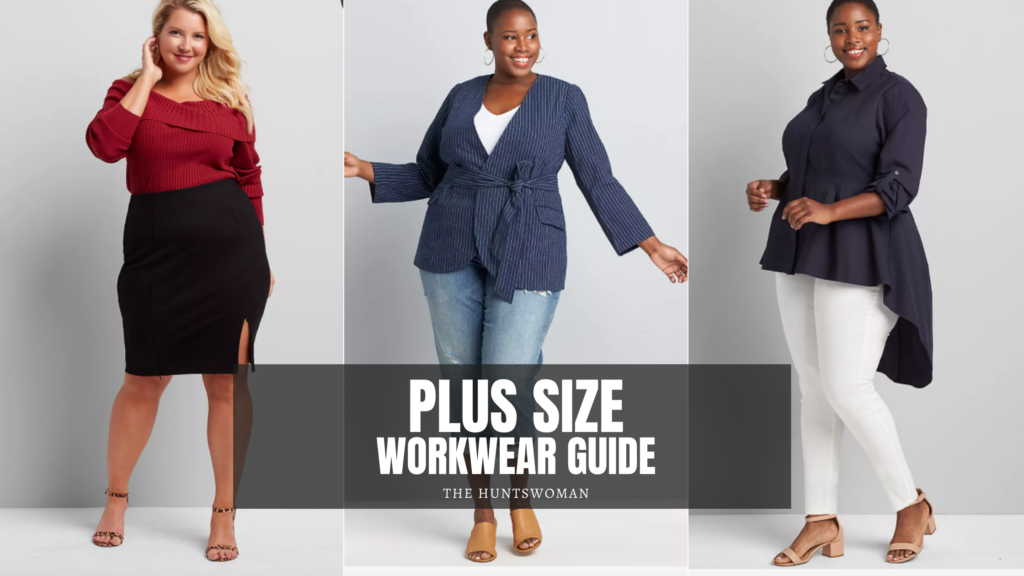 Next up is Lane Bryant! I freaking love plus size workwear from Lane Bryant, because their slacks, blazers, etc have STRETCH! There is nothing worse than having to constantly tug at and adjust your clothing!
Hot Shopping Tip: I've learned when shopping Lane Bryant to look online and then have my selected plus size workwear pieces shipped to the store. The offering online for plus size business clothing is MUCH better than what I've seen in-store.
I try on my pieces in=store, and then I return what doesn't work! Boom! No need to go to the post office to ship a return, and shipping to a Lane Bryant store is free!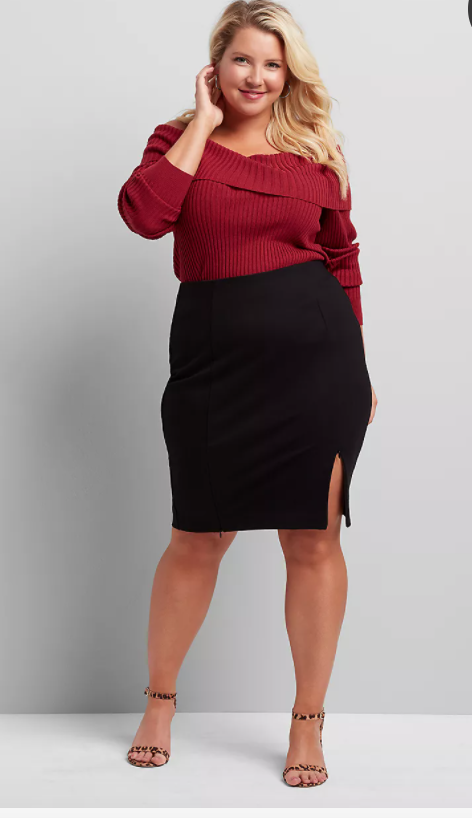 Lane Bryant has a good variety of plus size workwear options, from solid color navy and black plus size blazers to jumpsuits with a bit more color! I really love their plus size work slacks, as they have stretchy waistbands! These are much easier to sit in!!
Measurements
Lane Bryant advertises going up to a size 40, but I couldn't find any workwear pieces I liked beyond a size 32.
Up to a 60 inch bust (size 32)
Up to a 54 inch waist (size 32)
Up to a 64.5 inch low hip (size 32)
Shop Lane Bryant plus size workwear HERE!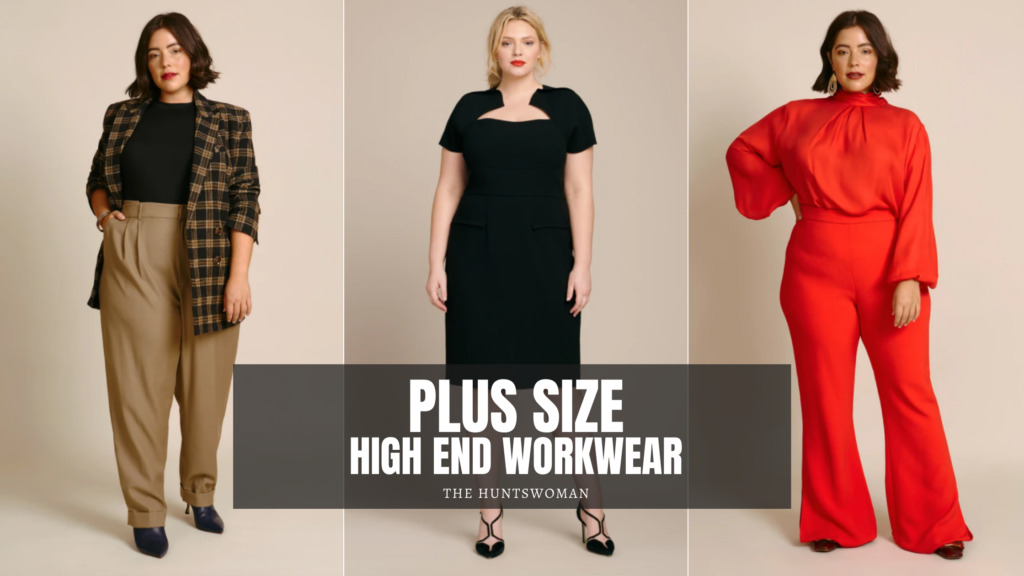 Are you looking for luxury and high end designer pieces for your plus size business wardrobe? 11 Honore is a fashion company that partners with famous designers to bring their pieces to plus size customers.
When shopping the brand, I recommend emailing their stylist team, so that you can get the best fit! The team is extremely knowledgable!
Measurements
Each designer has different measurements, and these are the measurements for the 11Honore line:
Up to a 56 inch bust
Up to a 50 inch waist
Up to a 60 inch hip
Shop high end plus size workwear here.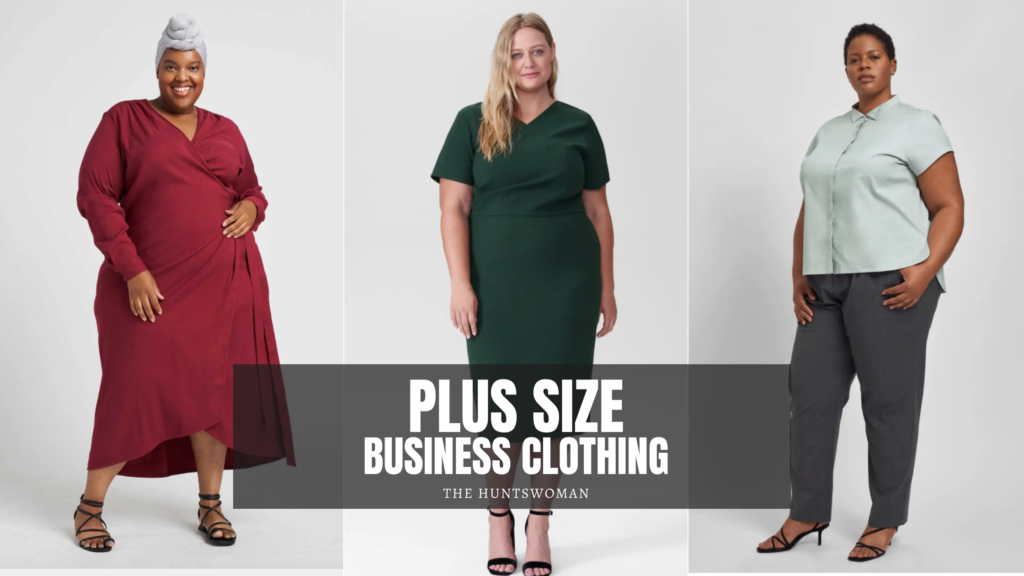 Universal Standard is a great plus size workwear brand, especially if you love a more minimalist aesthetic.
The brand has a very solid of plus size professional clothing, from workwear tops, plus size blazers, plus size professional dresses, slacks, etc!
From the brand: "Sharp, sophisticated workwear styles that will take your 9 – 5 to a 10. These promotion-worthy business clothes are so versatile, they'll take you from 9 AM conference calls to 9 PM drinks."
Measurements
Up to a 75 inch bust
Up to a 70 inch waist
Up to a 80 inch hip
Shop plus size workwear HERE!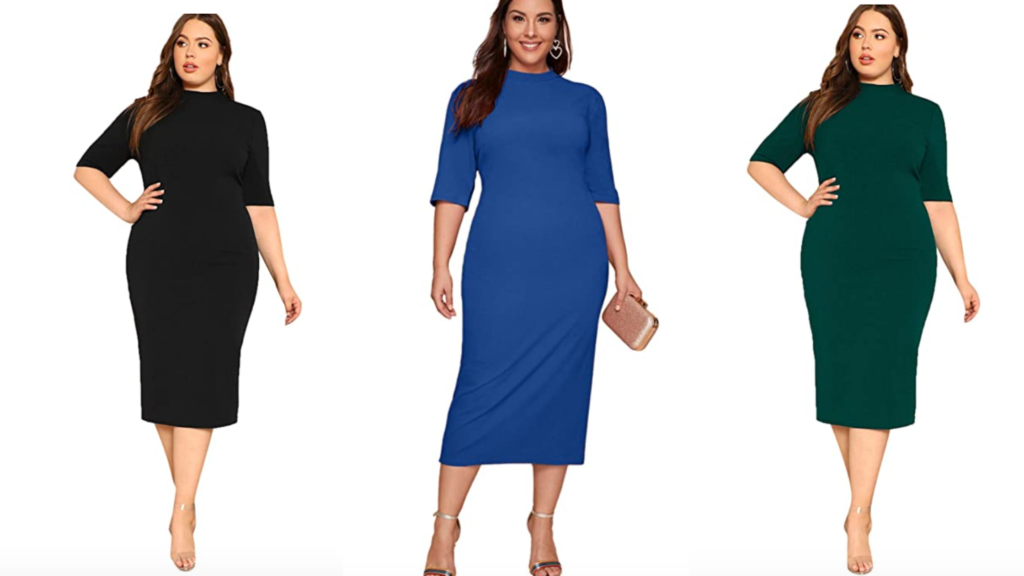 Next up on our list is a plus size workwear staple that I think everyone needs! This plus size professional dress hugs curves and showing your personal style, while also being a fit for more conservative work environments with its high neckline.
This plus size business dress is available in 10 colors, including: Black, Wine Red, Red Floral, Brown, Dark Purple, Dark Forest Green, Nude Blush, Blue, White Plaid and a candy apple red!
Measurements…?
This plus size professional workwear outfit is available in up to a 5X, but the size chart stops at a 3X…? I would take a look at the reviews (there's quite a few) and see what size people who have a similar weight purchased!
Snag this dress HERE!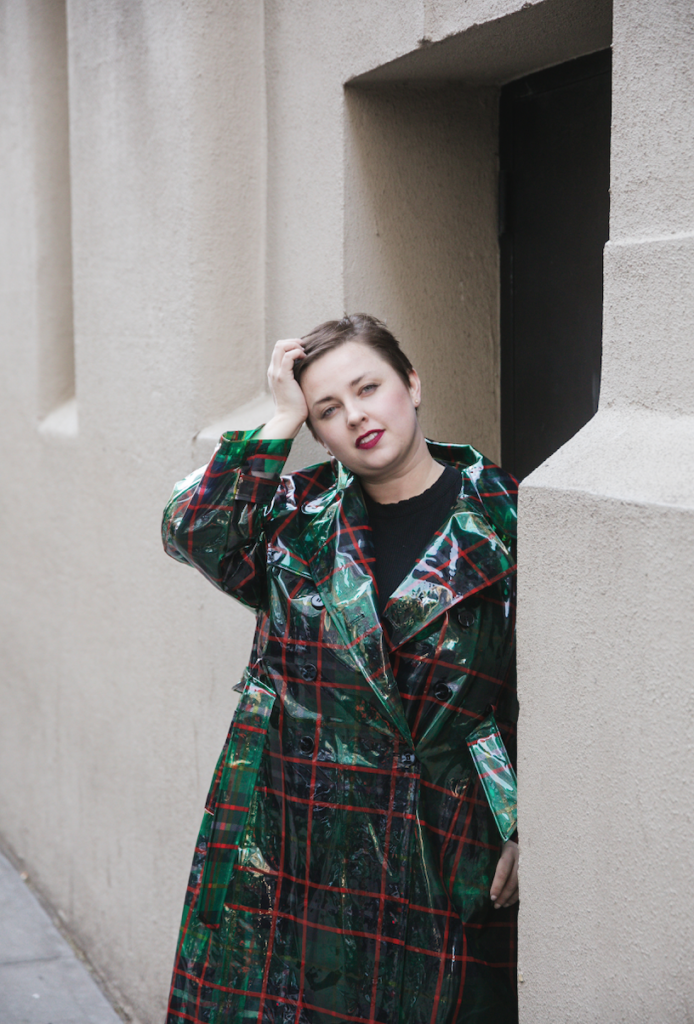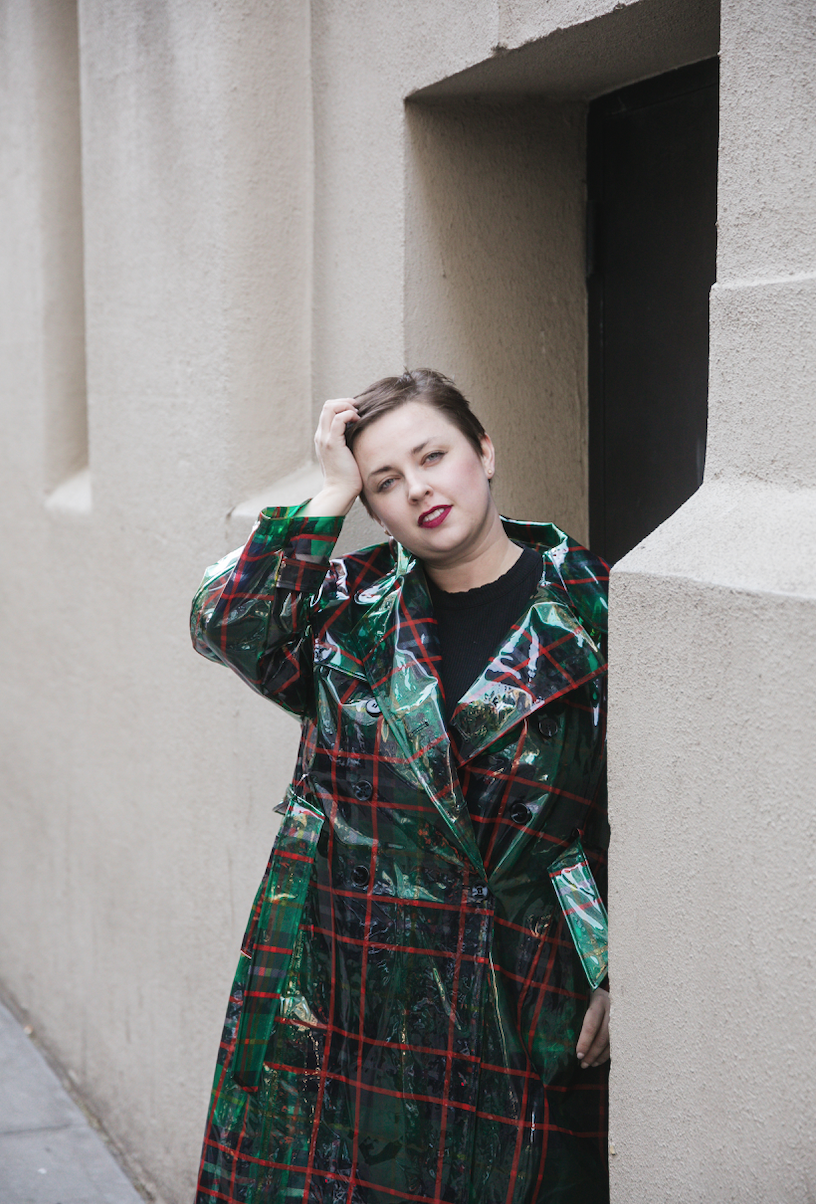 If you feel OVERWHELMED with options and brands, then may I suggest getting a Nuuly subscription?
The Nuuly subscription service is one of my favorite plus size subscription boxes (my full review HERE), and the company carries a lot of plus size workwear brands.
Unfortunately, most of the pieces in the plus size section aren't shown on plus size models – which is a huge bummer. Hopefully the Nuuly team sees this review and fixes this issue.
Nuuly makes it easy to try new brands, and. if you love something you can buy it at a discount! How cool is that?!
Check it out HERE!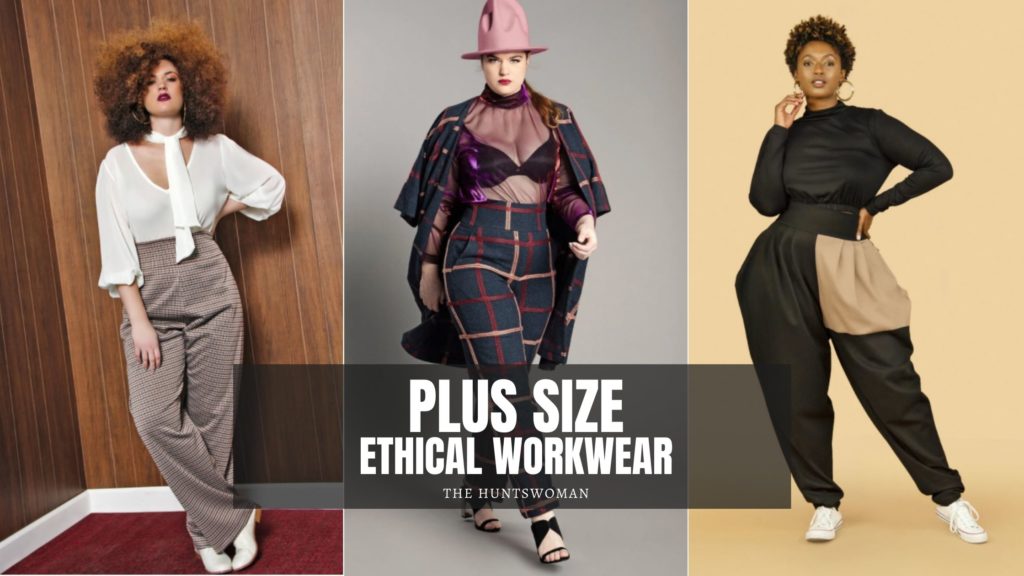 I wanted to be sure to include indie brands, and JIBRI is one of my fave ethical brands that has a really fabulous plus size workwear offering! Their jumpsuits and plus size pencil pants are AMAZING.
Measurements
Up to a 54 inch bust
Up to a 48 inch waist
Up to a 64 inch hip
From the brand: "Jasmine Elder is an American fashion designer and the creator of the plus size contemporary women's label, JIBRI. JIBRI is dedicated to creating garments for the fashion-conscious curvy woman (size 10-28).Jasmine grew up in Atlanta and has lived in both NY and London as a student. She was introduced to garment construction by her teenage friend and mentor, Jibri Mann when she was in high school. The line was aptly named after him in 2006. Garments from the collections were first made available in 2009.JIBRI has been seen in Lucky, Marie Claire, Bust, Cosmopolitan, Essence, Harper's Bazaar & Vanity Fair."
Shop ethically made plus size business clothing at JIBRI here!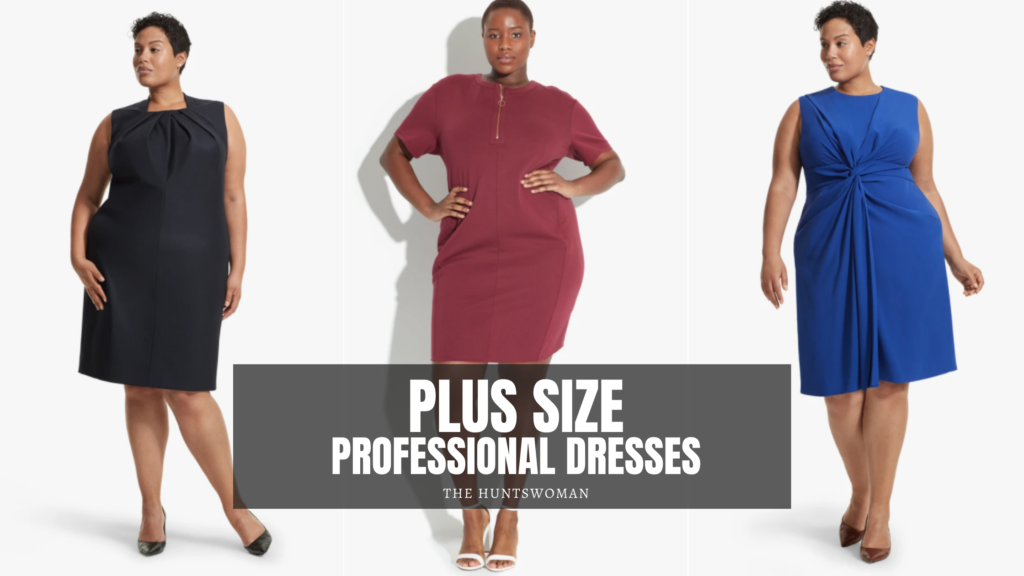 Dia & Co is both a subscription box company and a regular plus size retailer. I love their selection of plus size professional dresses!
Measurements:
Up to a 64 inch bust
Up to a 56.5 inch waist
up to. a 66 inch hip
Dia & Co carries a good number of brands, so be sure to check the size chart for each piece, as the hart changes between brands!
Shop plus size workwear at Dia HERE!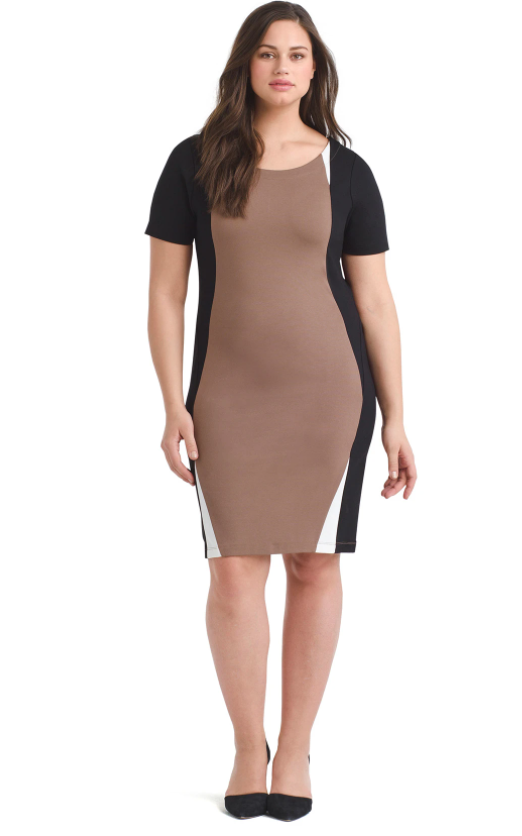 If you live in a big metropolitan area like San Francisco or on the East Coast, having limited closet space may be an issue! I love the GwynnieBee subscription model, because it enables you to expand your closet – without having to get super creative with storage!
Shop plus size workwear at GB here!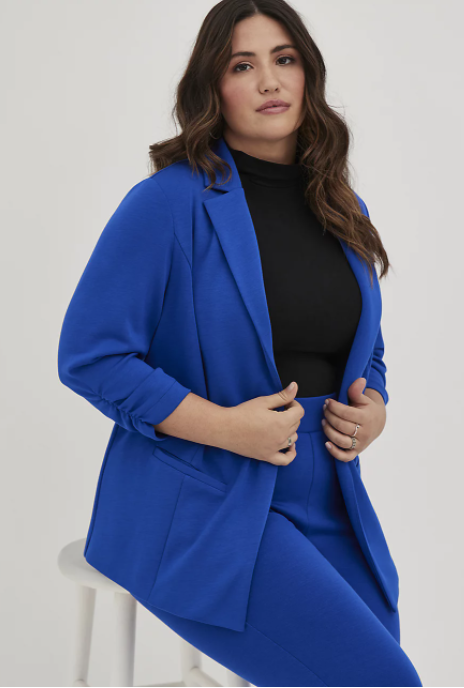 Last on this list, but never in my heart is Torrid! The brand has a good selection of more casual plus size workwear options, going up to a size 6 or size 30.
I find the selection online to be a lot better than in-store, so I recomend ordering a bunch of things online – and then trying them on in-store. I like to do this, because I still get the in-store experience, and I know I will be able. to try on pieces in my size!
Shop plus size workwear from Torrid here!
24 More Plus Size Workwear Brands to Shop
I have to hop on a work call [fitting, no?], so here's a list of 24 MORE plus size brands that sell plus size workwear:
I have to jump on a work call, so here are 15 more plus size workwear brands to check out!
This post was all about plus size workwear brands.
Read This Next! Plus Size Workwear Posts —>
Want more inspiration for your plus size workwear wardrobe? Check out these blog posts that I wrote, just for you!
Sign up for fashion updates and news!
Want a personal shopper to help you find the best plus size deals and info? Well then, step right up! Sign up for my email list HERE to get the plus size fashion options. Click HERE to join!