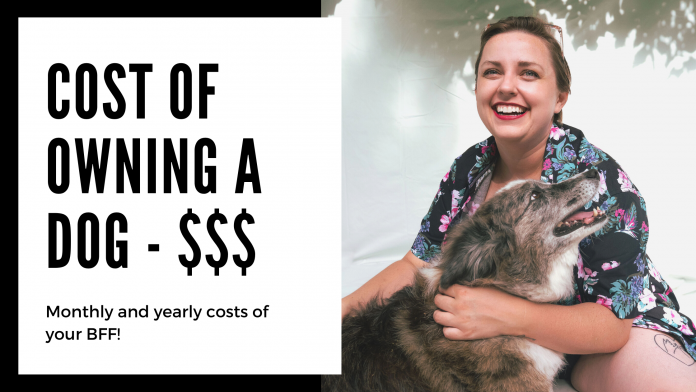 Hey there! This post contains affiliate links.  Using my links means I earn a commission, which helps me create more rad content.  More on affiliates here.
Wondering how much it will cost you to adopt or have a dog? Curious about what that's going to do to your budget?
Then this post is for you!
In the past year, I've gotten really into learning about personal finance and money. I've also gotten SUPER into costing out how much it would cost to live my dream life (more on that in a few weeks), and in this ~whole journey~ I've started chatting more with my readers (ie, you!) about money!
"How much do dog owners pay a month for their dog's care?"
I'm a big fan of money (hi, ily, money!), and in the course of planning out my life – I've found that there are… knowledge gaps out there on the internet. As I've talked about researching different things (my dream house, car, etc), I've had readers pop in with questions for ME! One such question?
"How much does it cost to take care of a dog?" or "How much do dog owners pay a month for their dog's care?"
Ask Readers – Costs of Dog Care
Ask Readers – Costs of Dog Care
I knew the answer would vary a LOT by dog breed, so I asked folks on my Facebook page, "How much do you spend on dog care?"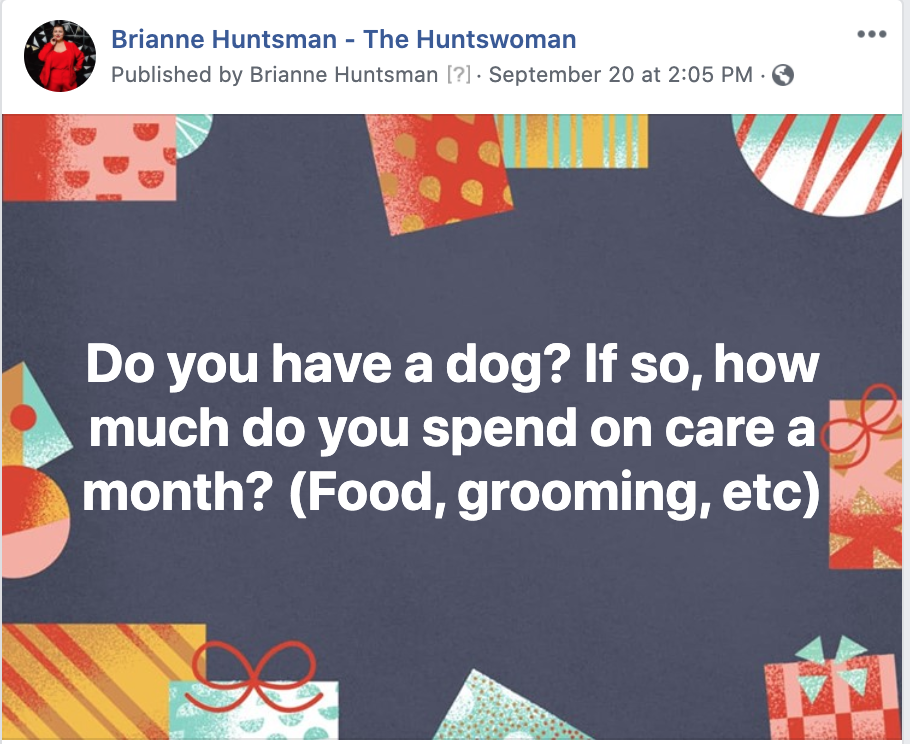 I got a lot of interesting answers (be sure to head over there to read all of them), and here are a few highlights:
Cost of Dog Grooming: "Groomer and dog owner here. I can tell you most people do not consider grooming costs! Will cost between $30+ depending on the breed (coat type, at home care) a month to $100+!"
Cost of Dog Dental Care: "$20/month on high quality food and treats, groom him myself for $0, and vet is usually around $100/yr for vaccines and check up, but this year add $900 for dental care. And if I see something extra I want to get him I do, but that probably averages out to $30/year."
Cost of Dog Food: "I purposely got a small dog to reduce food costs. I spend $60 a month on food and treats, including CBD treats for her anxiety. I also spend $40 a month on pet insurance. I spend about $200 every six-12 months on shots and vet visits. That's it."
Average Monthly Cost of Having a Dog – From Readers
From talking with folks on the internet, the average cost of a dog seems to be between $150 and $225. Averaging vet bills, food, pet insurance, and toys, this range pops up!
Now, of course this is an average. Some readers had their doggos get treated for broken bones or other issues, which definitely raised the monthly expenses! One reader shared that she puts $75 a month in a "Doggie Savings Account," to plan for big surgeries or expenses that aren't routine.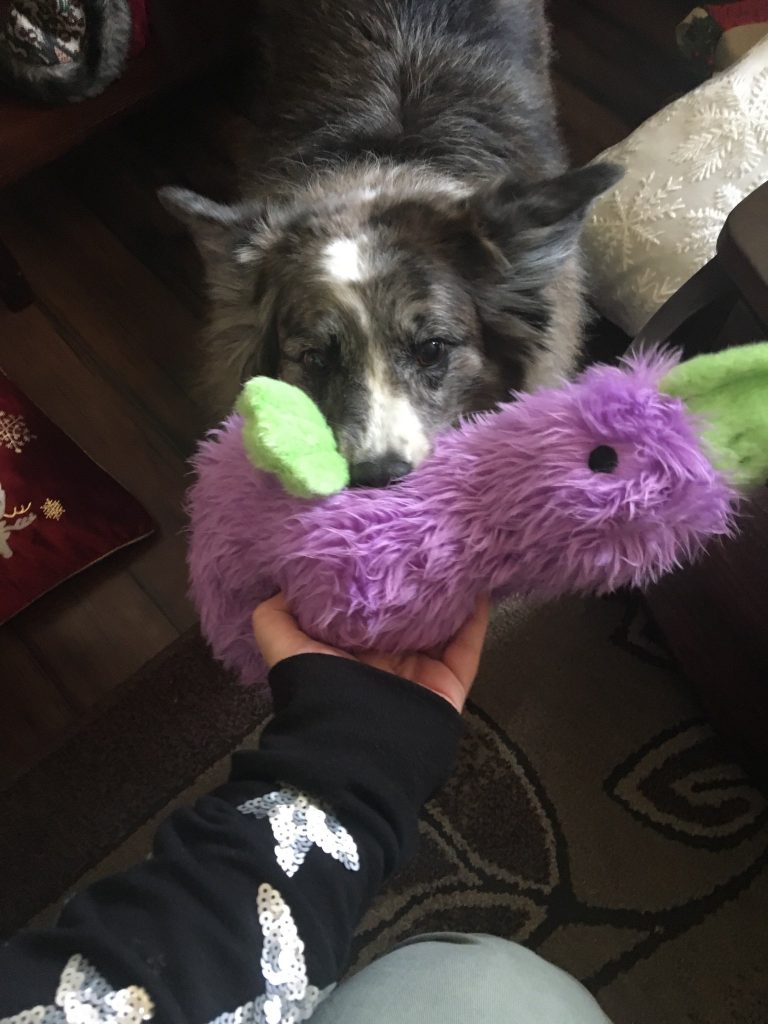 Budgeting for a Dog: The Cost of Boarding a Dog is a Big Variable!!
Interestingly, a big gap in the expenses for one's fur child is the cost of BOARDING. For folks who have neighbors or friends who can watch a dog, is was no problem. For other people, who (like me!) don't leave their dog with friends/family, this cost shows up much more – and is also dependent on how much one travels!
This summer, we redid our kitchen which meant boarding Lena at our local PetSmart during the dav for about 2 weeks. When all was said and done, this was about $500. Doggie Day Camp ftw!
<<Want to learn more about how my family adopted Lena? Check out this post! >>
Dog Age is a BIG Factor on Monthly Dog Care Expenses
From chatting with folks in my Instagram DMs, it became apparent that age was a big factor when paying for a dog!! Puppies and older dogs tend to have more expenses each month, as puppies need vaccines and toys to chew on – and older dogs tend to get health issues.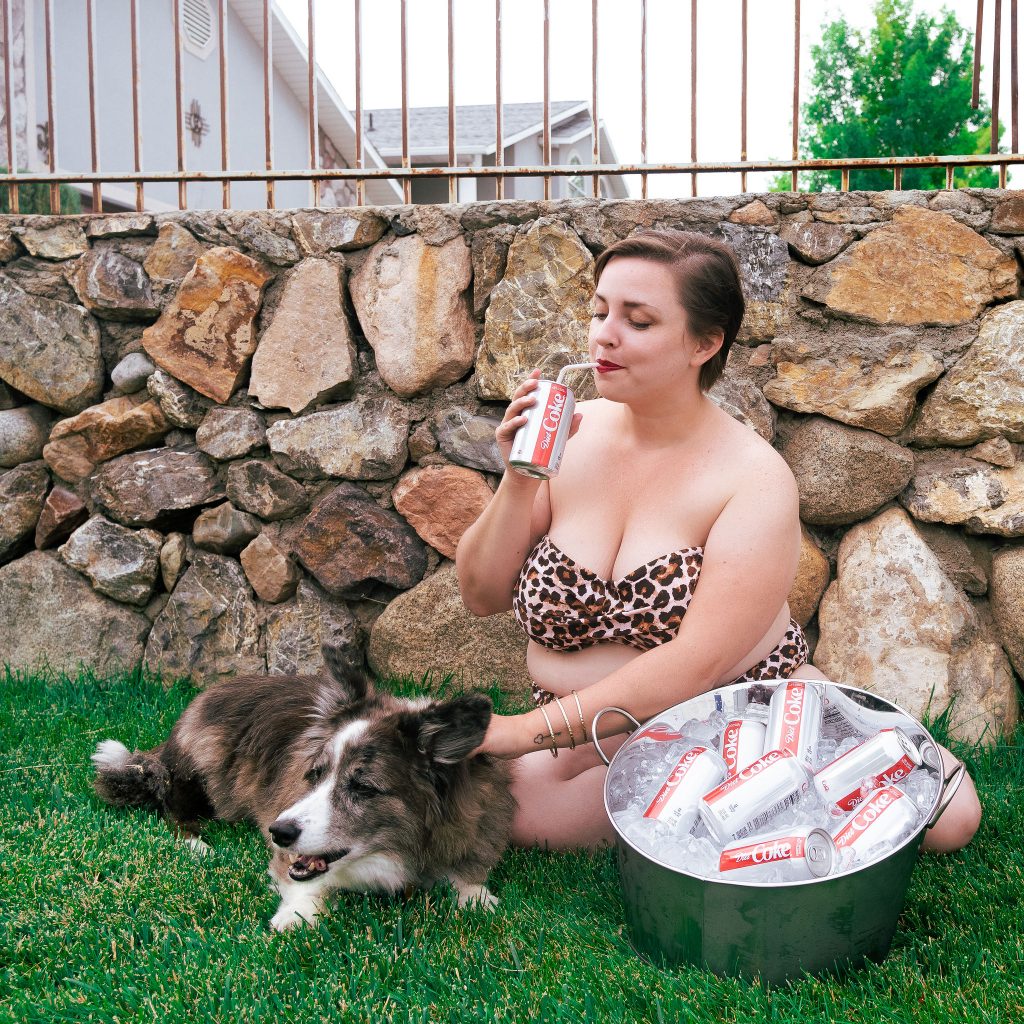 Dog Expenses Depend on Other Factors Like: Size, Breed & Coat
The other three factors one wants to be sure to consider are: Size of dog, Breed, and their Coat.
Larger dogs tend to eat more (makes sense!), and some larger dog breeds can have chronic health conditions that mean more vet visits. Groomers tend to charge by size of the dog + their coat type, so doggos with thicker coats or longer hair cost more at the groomers!
The Cost of Caring for *My* Dog, Lena! She's a Corgi Mix!
Lena is honestly the star of my Instagram Story (I know y'all love seeing her cute face there), and I thought one of the best ways to answer the question, "How much does a dog cost?" would be to do a deep dive with Lena! She's worth every dang penny (she's a bit spoiled, ahem), and I hope this will help you in figuring out the monthly costs of having a dog!
Here's a breakdown of the monthly costs for caring for Lena:
Pet Insurance: $50.95
Dog Food: $80
Toys & Treats: $10
Grooming: $120
Adding these typical dog care expenses up, Lena's budget is $235.95 – or $250, if we round!
<< Want more posts like this? Join my email list here, and my fashion email list here! >>
Pet Insurance FTW!! Alternatively, "Should I Get Pet Insurance for My Dog?"
We have pet health insurance for Lena through Banfield Pet Hospital, and they have an office in our local PetSmart. This makes caring for Lena wayyyyy easier, because we can get a dog checkup and grooming appointment in one day – or have her groomed if she's being boarded while we're on vacation!
Banfield Special Care – Dog Insurance Plan
Lena has the highest level of pet insurance, the "Special Care" plan from Banfield. This includes:
Comprehensive physical exam (2x a year)
Routinely recommended vaccinations
Diagnostic testing including ear swab, bloodwork and heartworm/lyme/ehrlichia/anaplasma
Fecal exam (2x) and deworming (2x)
Unlimited Office Visits
Dental cleaning including pre-anesthetic blood testing, monitoring throughout the procedure and recovery
Urine Testing (2x)
Preventative X-rays (3 views)
Additional diagnostic testing including eye pressure (2x) and electrocardiogram (2x)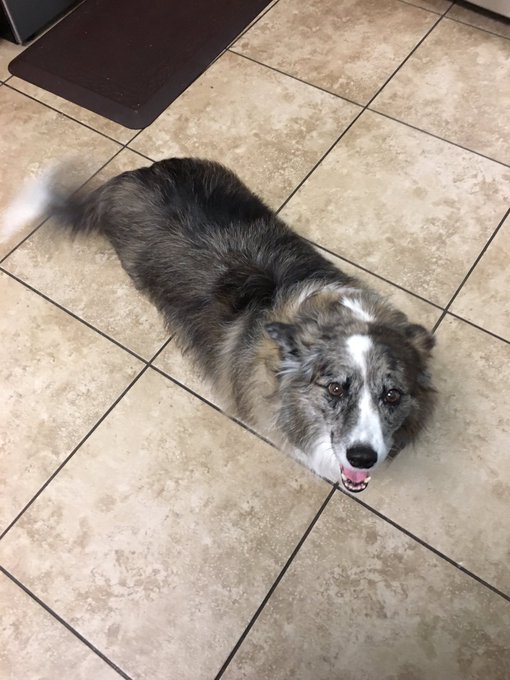 Is Dog Health Insurance Worth It?
From talking with my parents (Lena is our family dog), they shared that they think pet insurance is totally worth it. "It's nice to have the cost spread out over the year, and I like that we don't pay for office visits," shared my mom. "Lena also gets anxious at the vet, so we have her put under for teeth cleanings."
Banfield also has plans for puppies and a variety of other plans, and you can view them here!
Health Issue: Kidney Stones & Special Dog Food
Lena has had to get surgery for kidney stones (no fun!), and she also has to be on a specific brand of food to help prevent them. Because of her kidney stones, we rarely give her treats or "People Food."
Dog Grooming Costs – Monthly $120
I actually had to call up PetSmart to get this number, because I wasn't sure. Lena gets the "full treatment," which includes bathing, paw care, furminator (for super fluffy dogs that shed) and a few other add-ons for about $80. Add on getting her teeth brushed and nails grinded, and we're at about $90 – $100.
We always tip our groomers 20%, so the end monthly cost is $120. Because Lena has SO MUCH fur (she's very fluffy, lol) it's absolutely worth it to pay a groomer over doing it ourselves. Grooming her would probably take a full Saturday, lol!
Boarding Costs – Going on Vacation!
We love to travel, and Lena does… not. Lol. So she gets to go to the PetSmart pet hotel when we do!
There are a few options, and we opt for overnight boarding + Doggie Day Camp + a pumpkin Kong treat. This ends up being approximately $65 a day. We get Lena a private suite for her overnight stays, because she tends to be high strung and not react well to lots of dogs barking!
Prepping for Doggie Surgery!!
As I shared above, Lena has needed surgery. She's had a couple of procedures, ranging in price from $1,000 to $3,000 after insurance. We have a "Lena Account," where we put money automatically every month to cover these expenses.
Average Yearly Cost of Having a Dog – Lena, Specifically | $6,196.77
Okay, so let's do a little thought experiment. Let's say that we end up boarding a total of 21 days a year (three 1-week vacations), a conservative estimate, tbh! Let's also say she has to get 1 surgery a year, at $2,000.
That's a yearly cost of $6,196.77, which is a monthly cost of $516.40. If you're into financial planning like I am, that means paying $250 a month for regular costs, and then putting aside about $270 a month (ish) in an account for boarding and surgery expenses.
Budgeting for Your Canine Companion!
Your monthly expenses will vary of course, and I hope this blog post helps you do the necessary planning to adopt the doggo of your dreams!
Love seeing posts that break down costs like this? Join my email list,  by clicking here!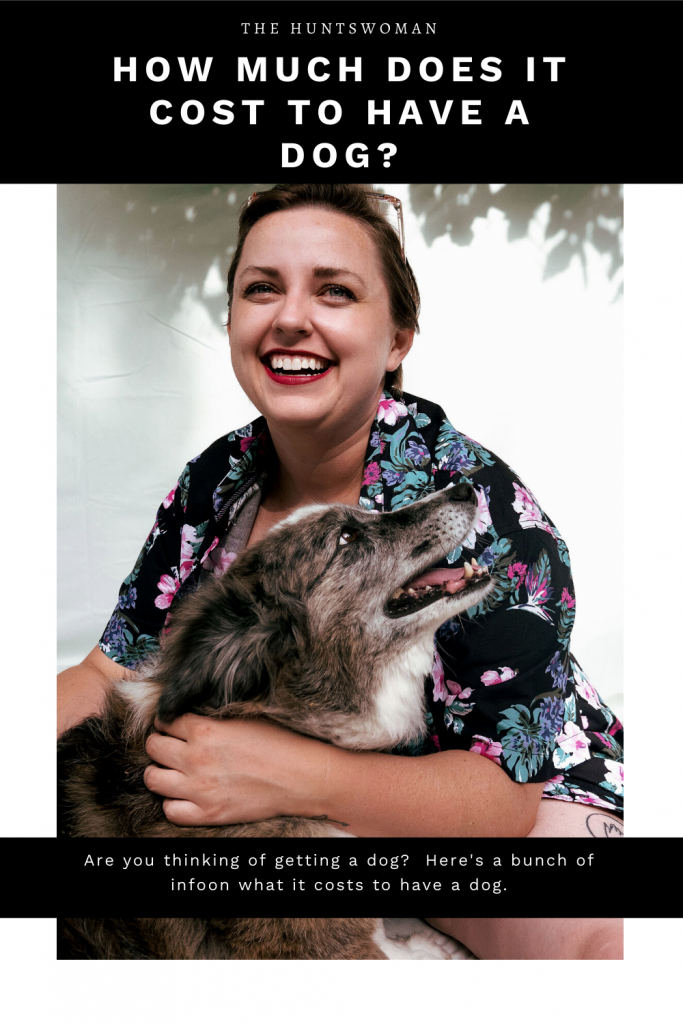 Extra Helpful Posts
Did you learn a lot from this post? Here are a few others that readers love:
Let's Hang Out!
If you made it to this blog post, chances are we hang out somewhere on the internet. But if this is your first time on The Huntswoman, I invite you to stick around! If you love fiery business takes on Twitter, and if you loveee fashion then come hang out on Instagram.
If you're a planner, we definitely need to hang out on Pinterest!
More of an email kind of person? Subscribe to my fashion-focused email list here, and/or my business focused email list here!