Hey there! This post contains affiliate links.  Using my links means I earn a commission, which helps me create more rad content.  More on affiliates here.
Looking for a plus size review of the "League of their Own" baseball Halloween costume? Then you're in the right place!!
I have been wanting this Halloween costume for literal YEARS, as the movie, "A League of Their Own" is a bit of a Queer Canon Movie Classic.
Finding plus size Halloween costumes can be pretty tough, as brands that do offer plus size Halloween costumes often DON'T show them on plus size models. Face palm.
This blog post is all about League of Their Own plus size Dottie costume!
Update: This Halloween costume has been seeing some extra love because of the new TV series on Amazon! I freaking LOVE THAT! As a queer woman, I chose this costume a few years ago because I grew up watching the queer coded and iconic movie. I haven't sat down to watch the new series YET – but I will soon, and I'll be sharing my thoughts on Twitter, ofc! Xoxo, Brianne.
This blog post was first published on October 20, 2020. It was last updated on July 25, 2023!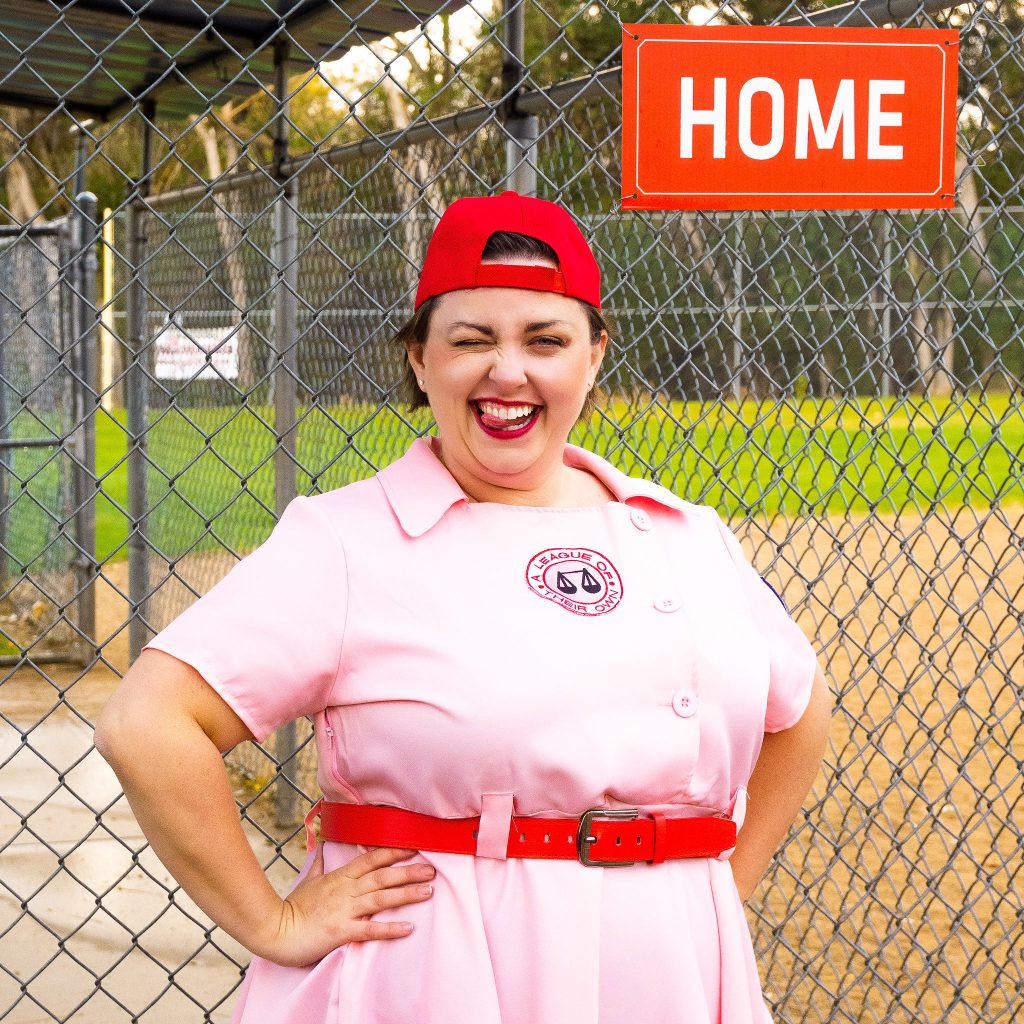 To try to help these brands out, I sent HalloweenCostumes.com an email, and asked for a few plus size costumes to review! They sent me 3 (woo hoo!), and I'm excited to review the first of them today on the blog!
Snag this curvy Halloween costume by clicking HERE!
Fun Fact: I'm Terrible at Softball // Baseball
So, fun factoid about me: I grew up playing softball, and I was TERRIBLE. My mom was an all-state softball gal, and she really wanted her kids to be into SPORTS. Playing softball, I had some of the most embarrassing moments of my life – and more than few injuries that resulted in me hanging out at instacare or the ER.
Eventually, my mom saw the light and put me in theater camp, WHERE I BELONGED! Lol.
So, I'm endlessly tickled about reviewing this ladies baseball costume – because it's super cute, references LGBT media, aaaand it's funny because I suck at sports!
Plus Size Halloween Costume Review: A League of Their Own Rockford Peaches
Okay, now that we've got the background squared away – let's discuss the fit and flare of this costume!
Plus Size Costume & Measurements – League of their Own Costume Available in Up to a 8X!!
HalloweenCostumes.com does a GREAT job of sharing super specific size charts and measurements, making it easy to shop for plus size Halloween costumes on the website.
I snagged the plus size Rockford Peach costume in a 3X, with a Bust measurement of 48 inches and a waist measurement of 42 inches. Reading the size chart, I should've ordered a 2X. I'm used to size charts not being correct, so I wanted a bit of wiggle room! Now, I know (and you know!!) that the size chart is accurate.
I'm 5'4″, and the costume hit about 3 inches above my knees. I definitely recommend wearing some tap shorts or other shorts underneath!
Snag this fun costume by clicking HERE!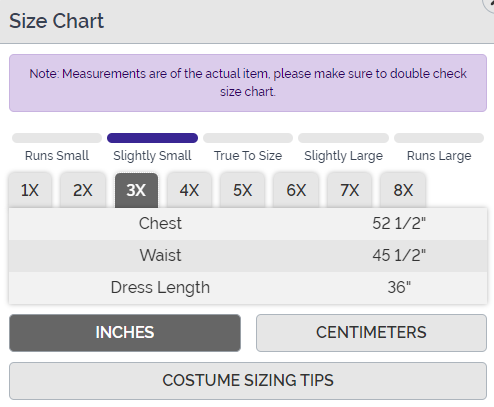 Plus Size League of Their Own Dottie Plus Size Costume – Accessories Review
Okay, let's talk about the accessories and components of this costume!
The costume comes with:
Dress or baseball uniform
Hat
Red Belt
Red Socks
I have a big head, and the hat fit great! I had to push the socks down a little bit in my shoes, as they would've stretched to about mid-thigh on me! (Great news for tall plus size babes!!)
The belt fit well (I put it on the 3rd notch).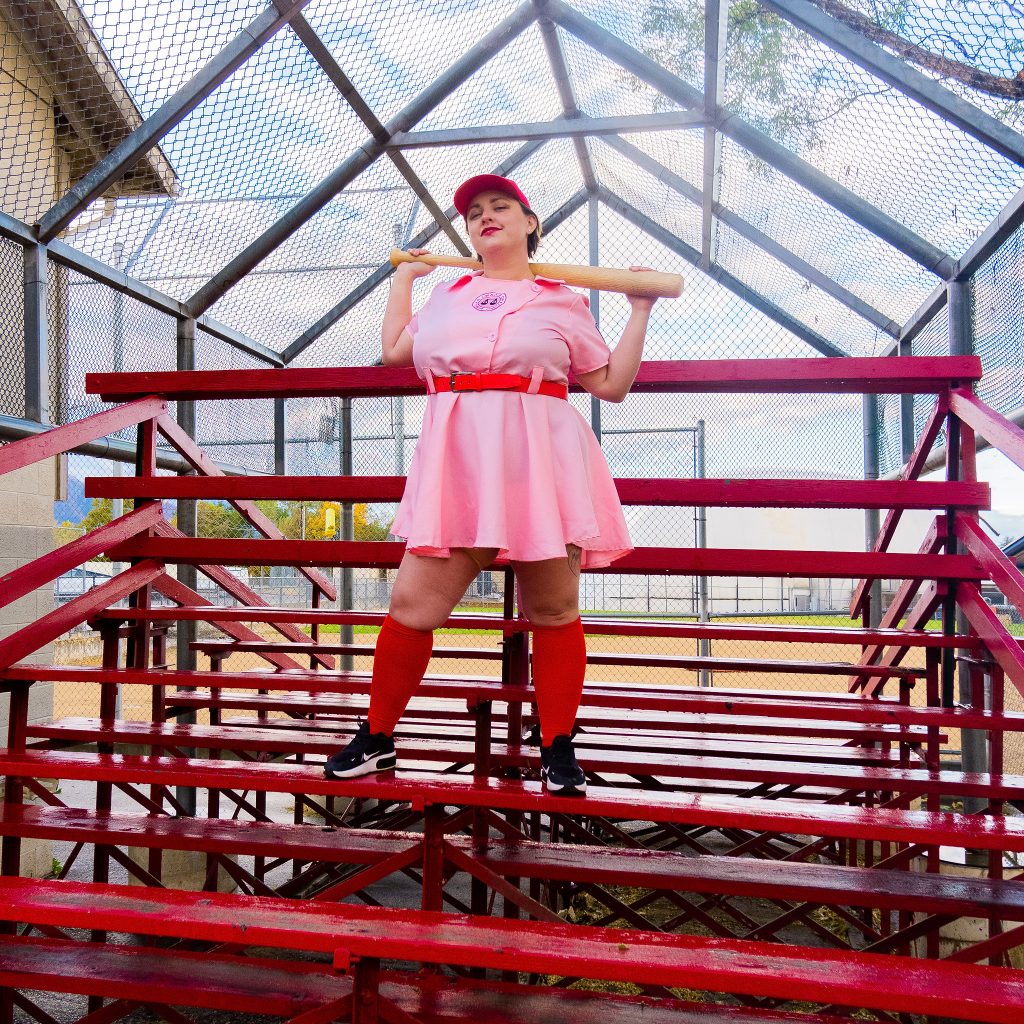 Extra Accessory: Baseball Bat
HalloweenCostumes.com was kind enough to send me a fake plastic baseball bat, which I had lots of fun taking pictures with! I paired the costume with a pair of black Nike shoes.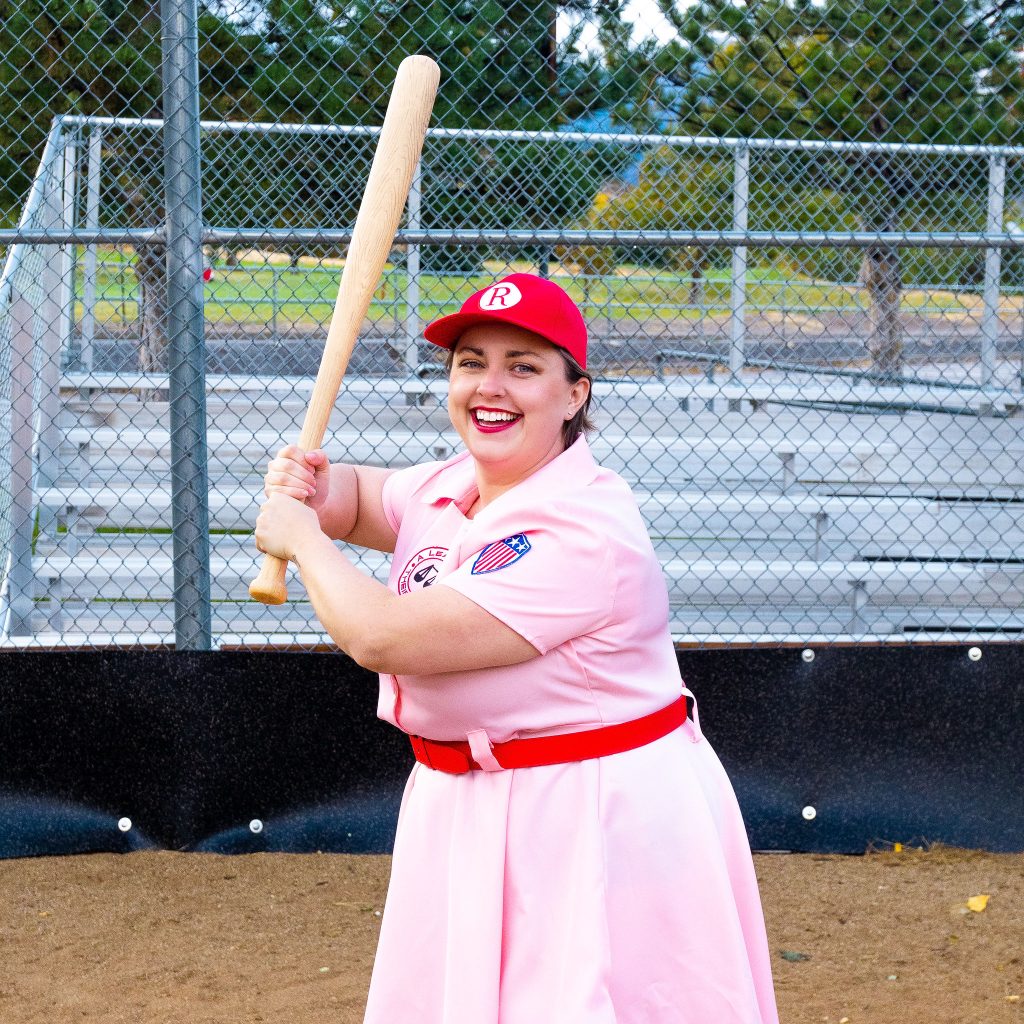 Fun Photoshoot – Plus Size Model in Halloween Costume
I scouted a few different baseball parks for a plus size Halloween photoshoot, eventually deciding on this one in Salt Lake City, Utah! I liked the red signage and how it photographed with the red accessories in the costume!
Photographer is Angela Petersen, and all rights are reserved for these photos, copyright 2020!
Snag this fun Halloween costume by clicking HERE!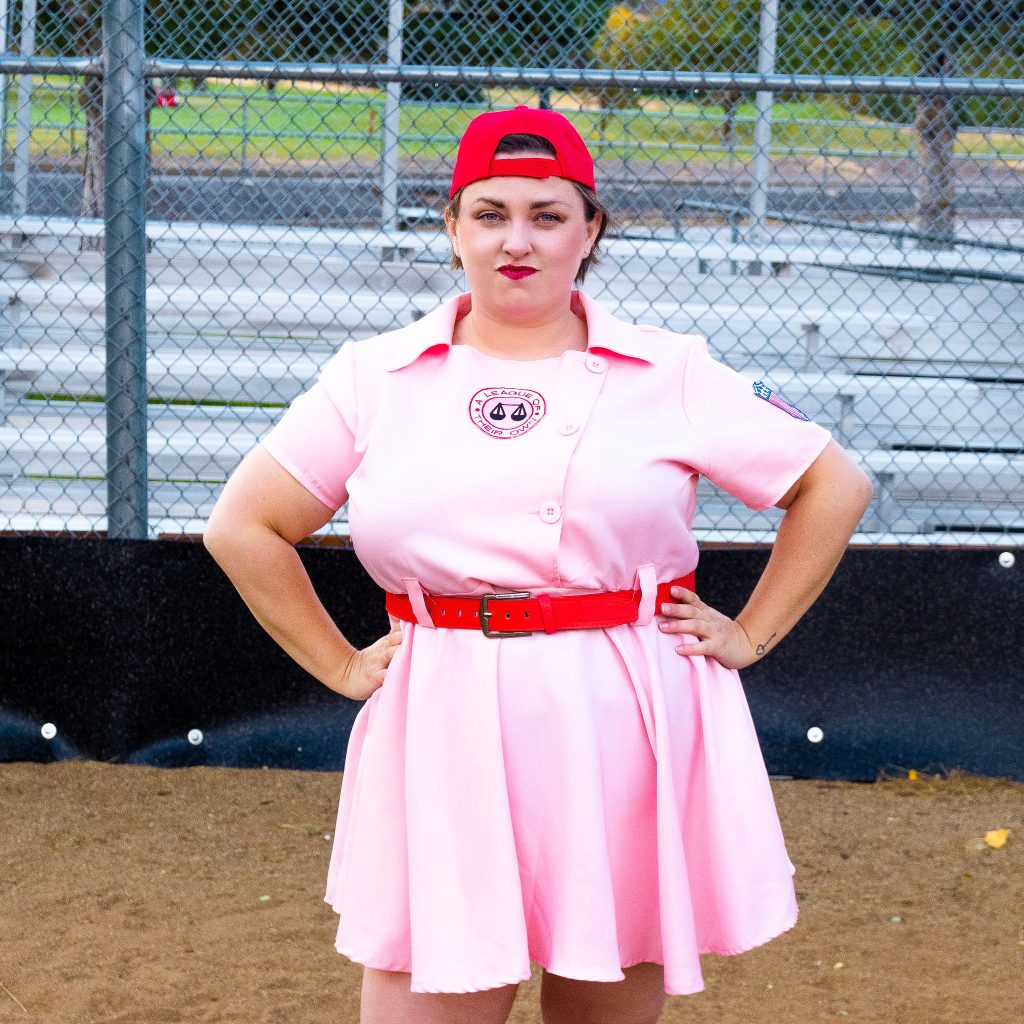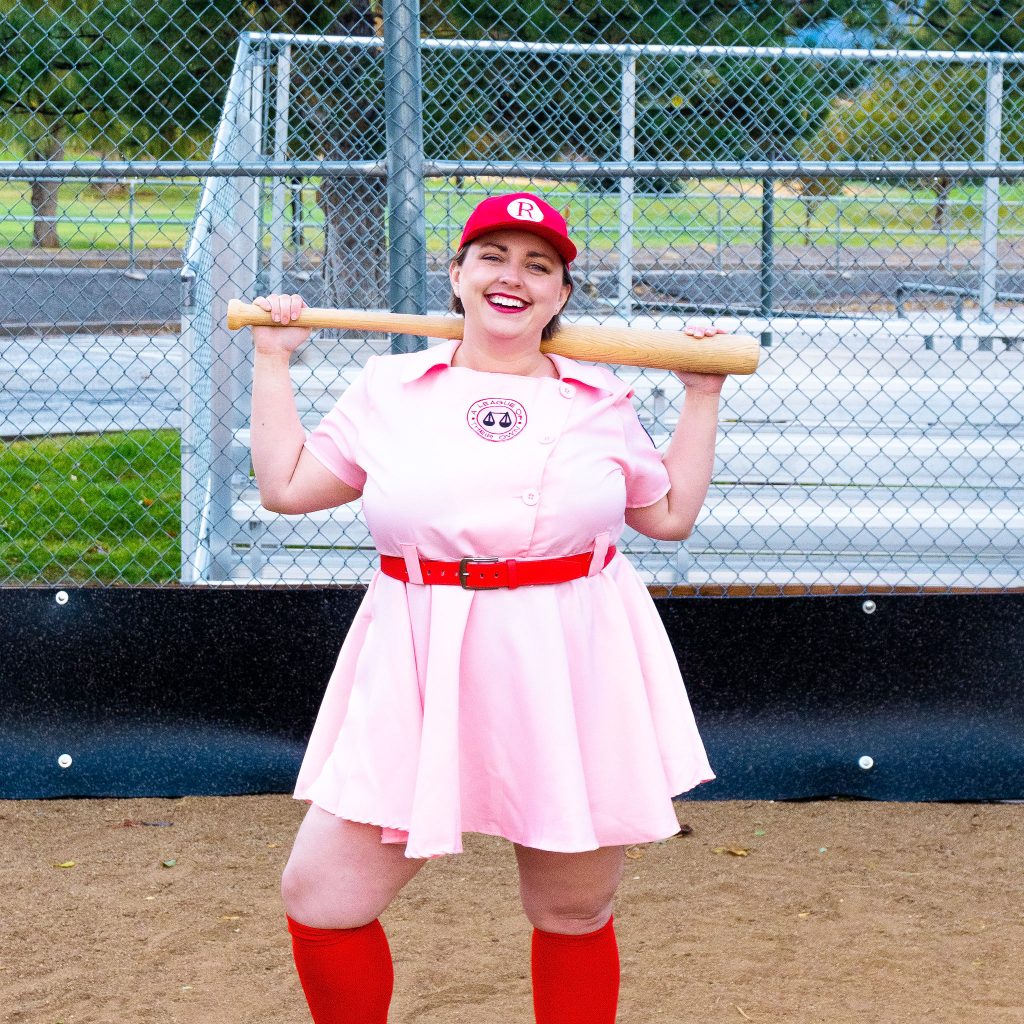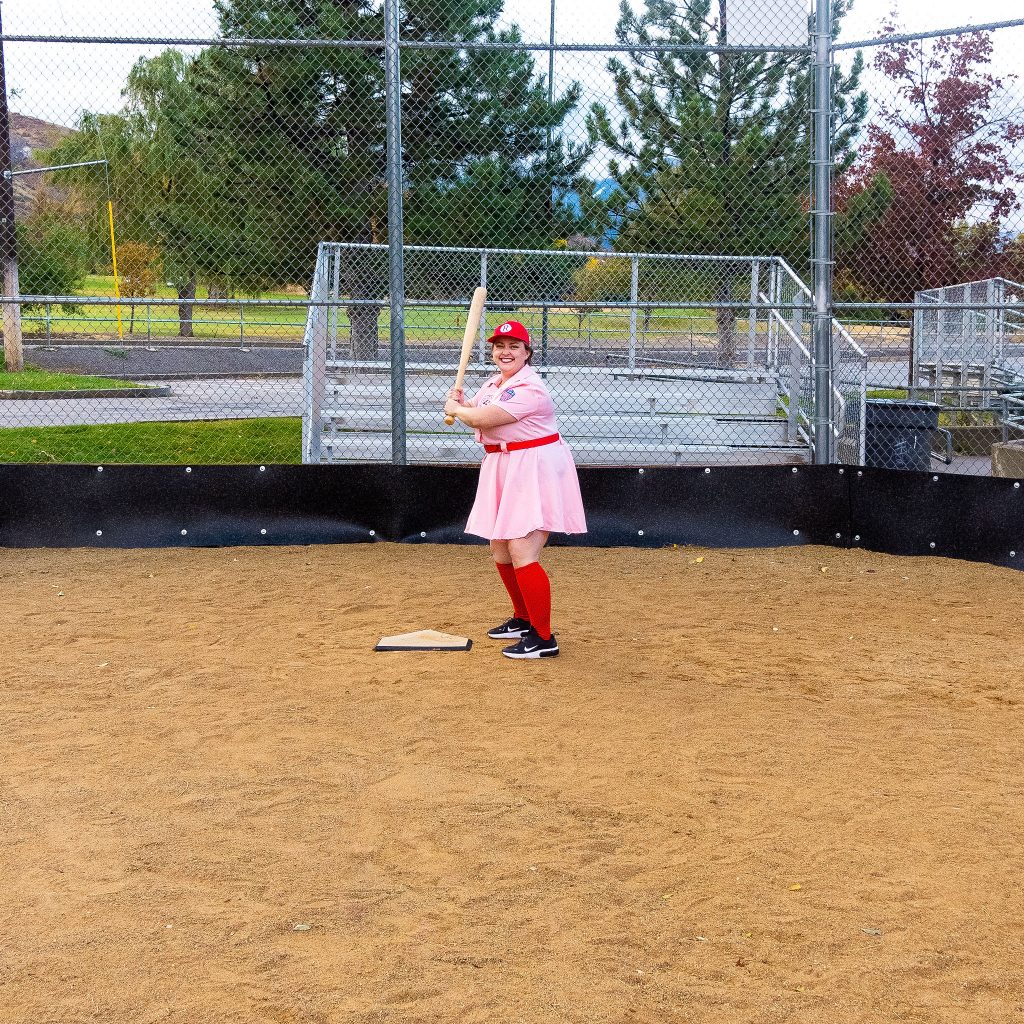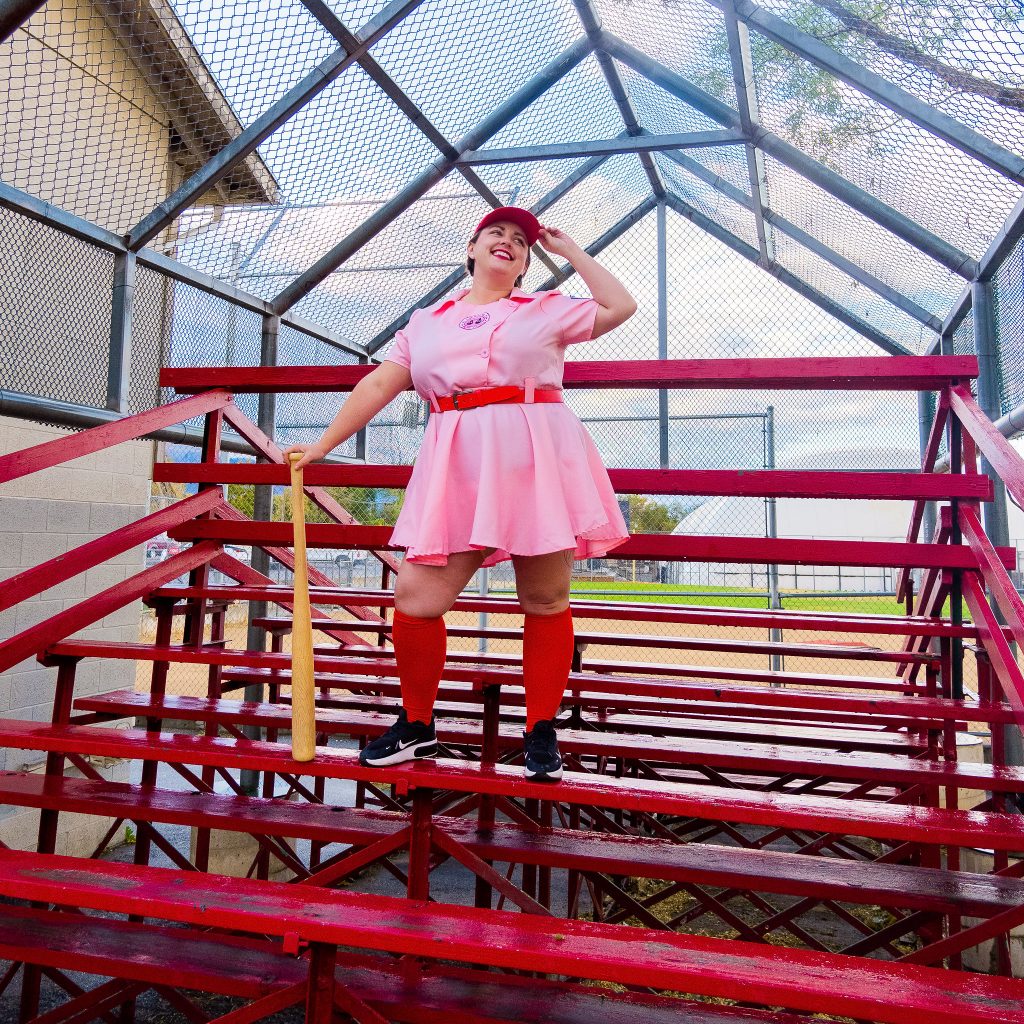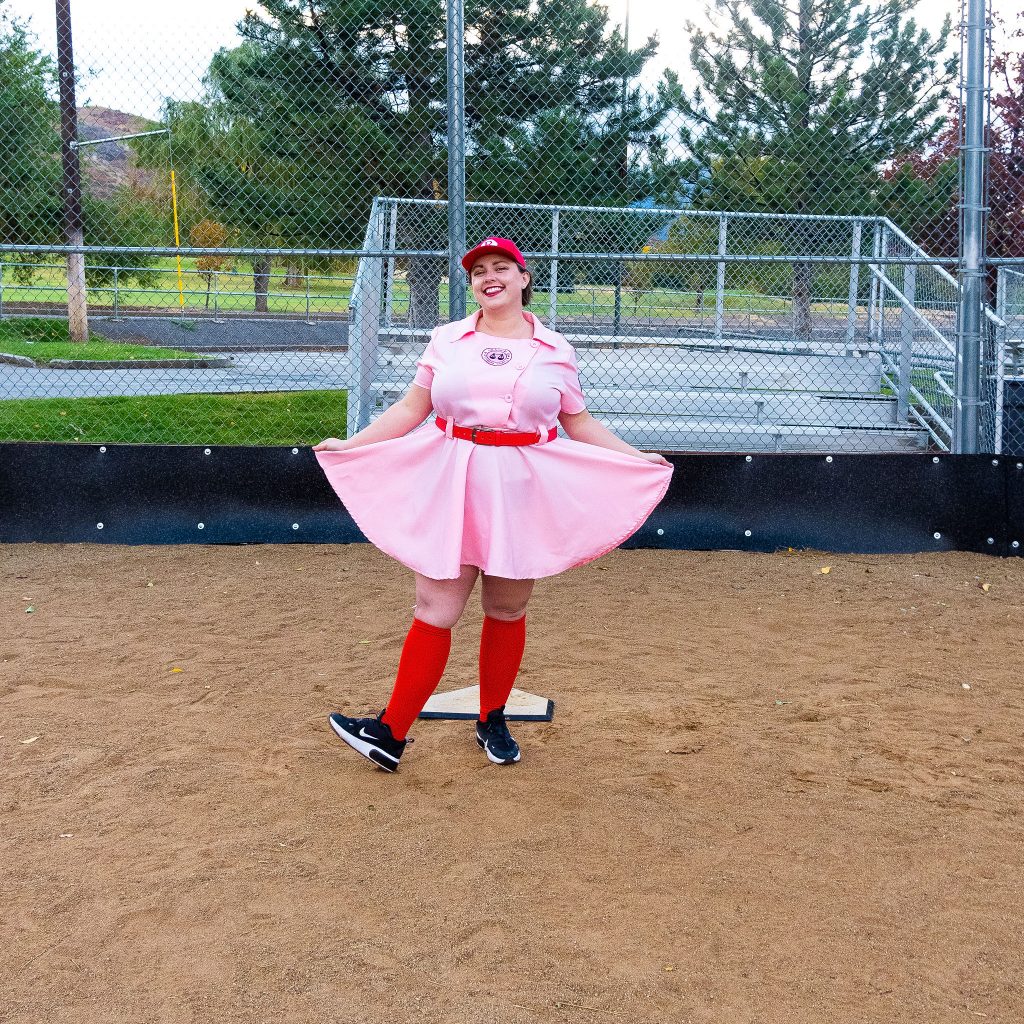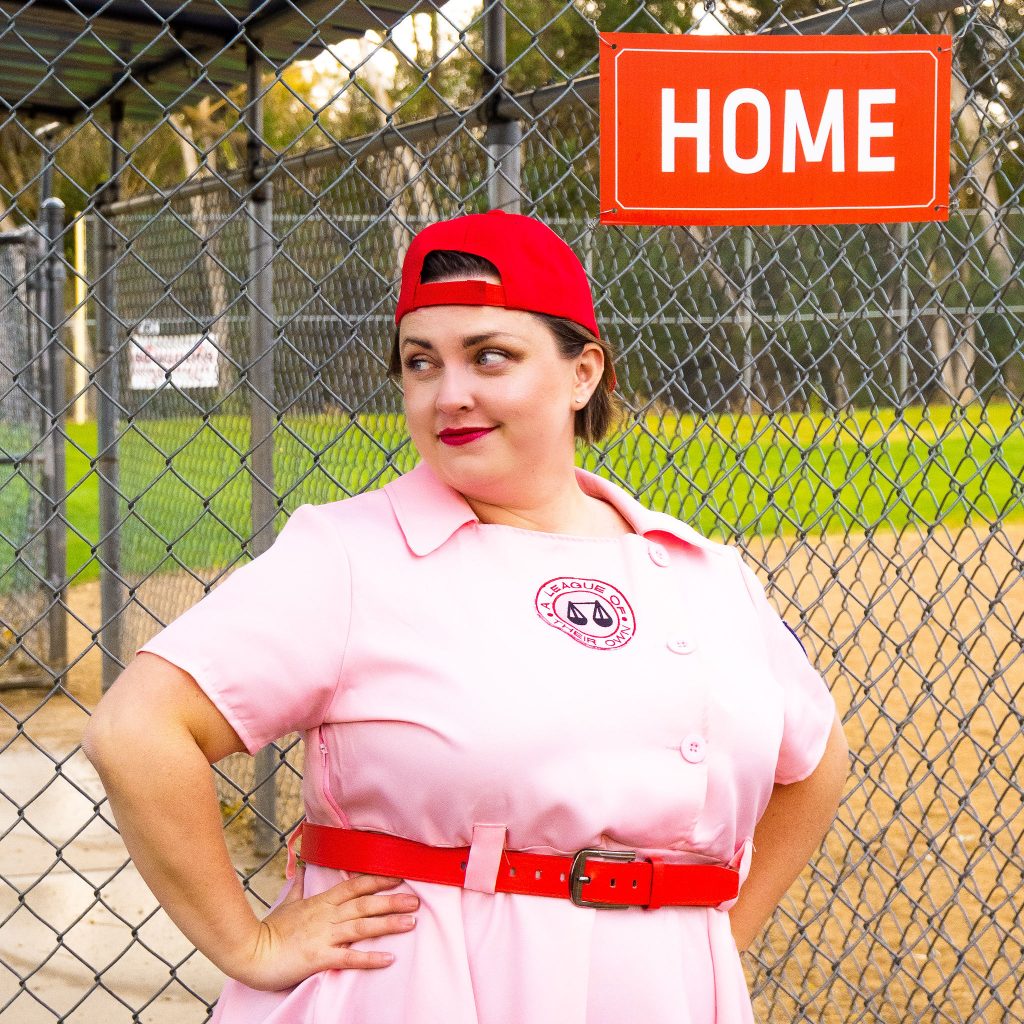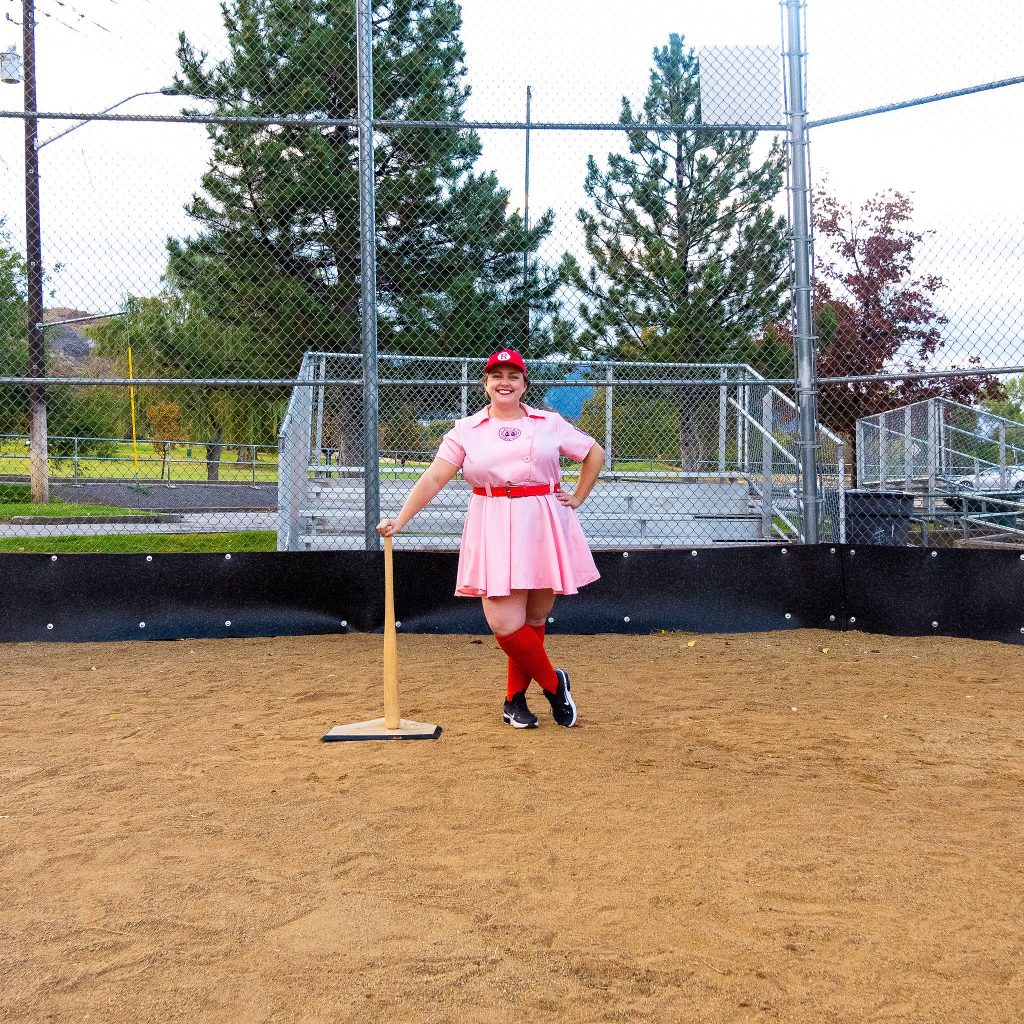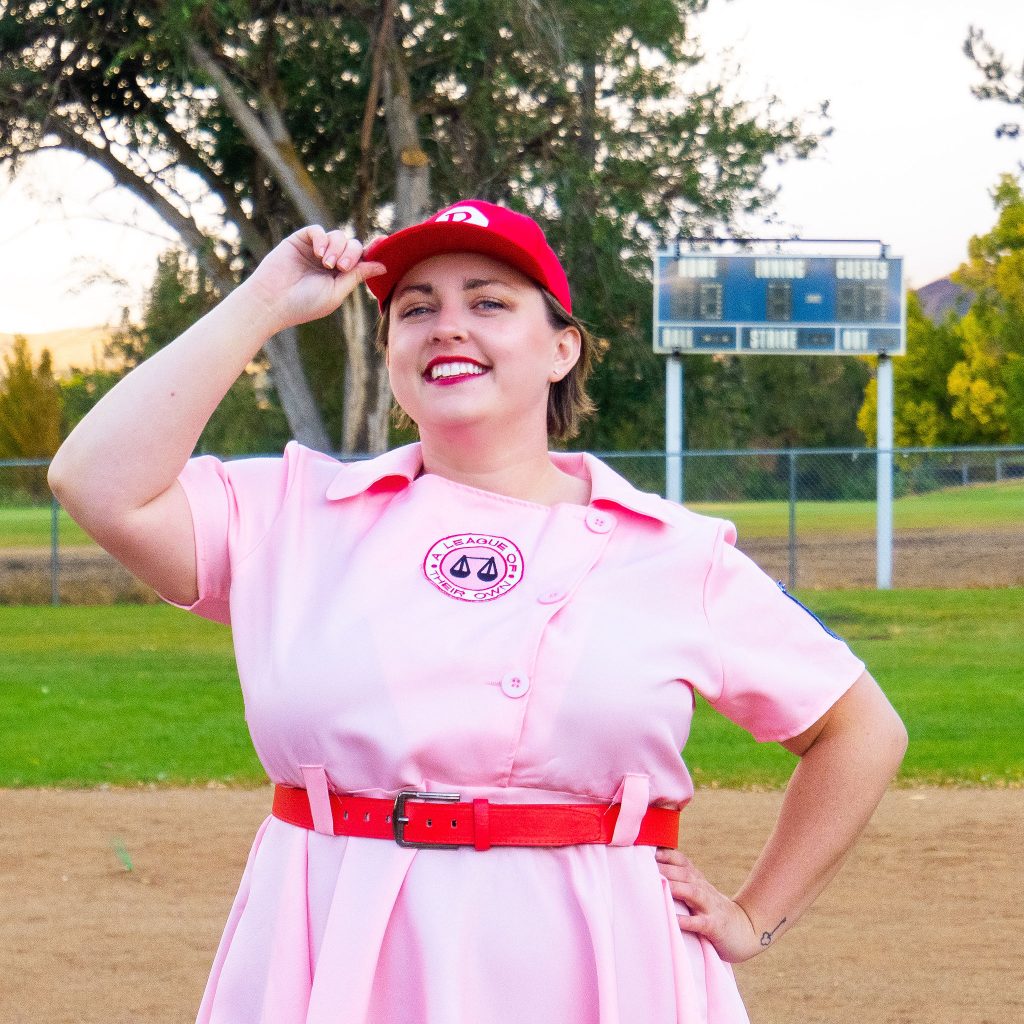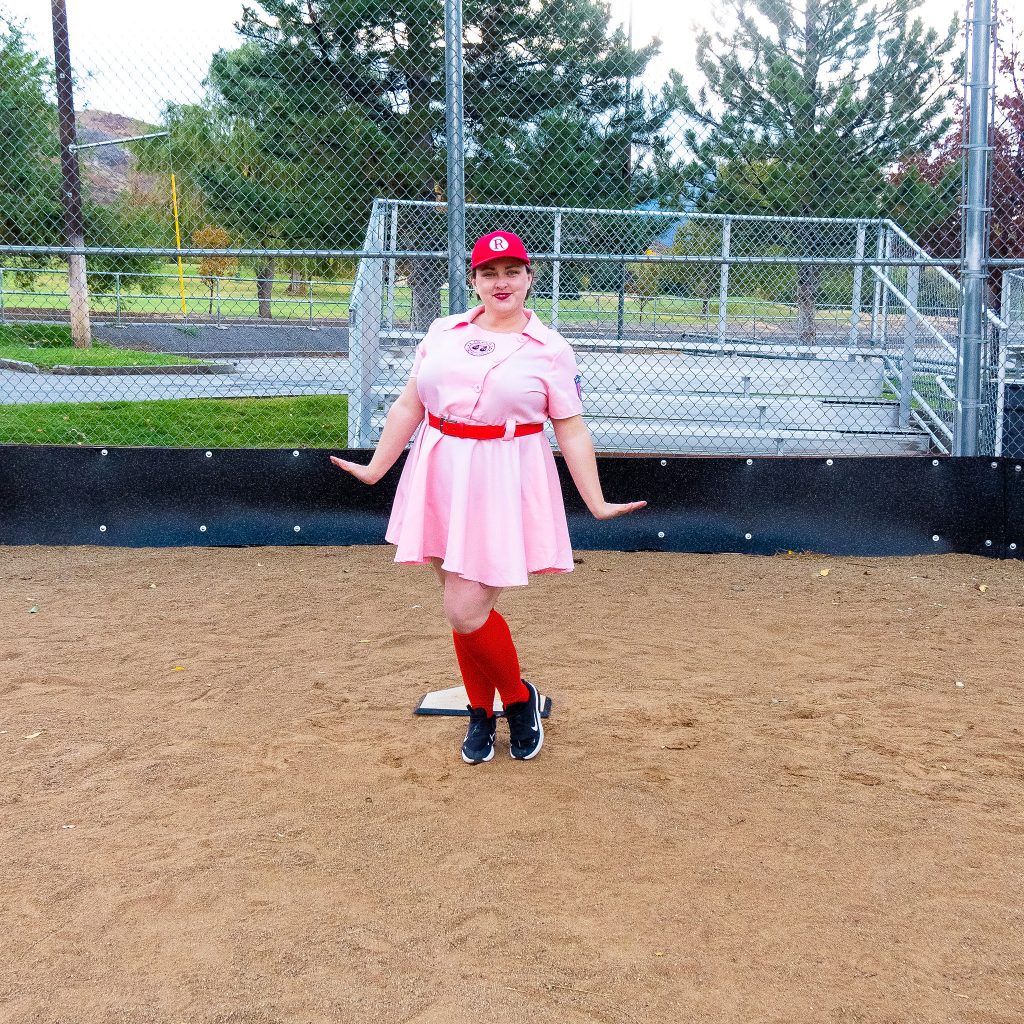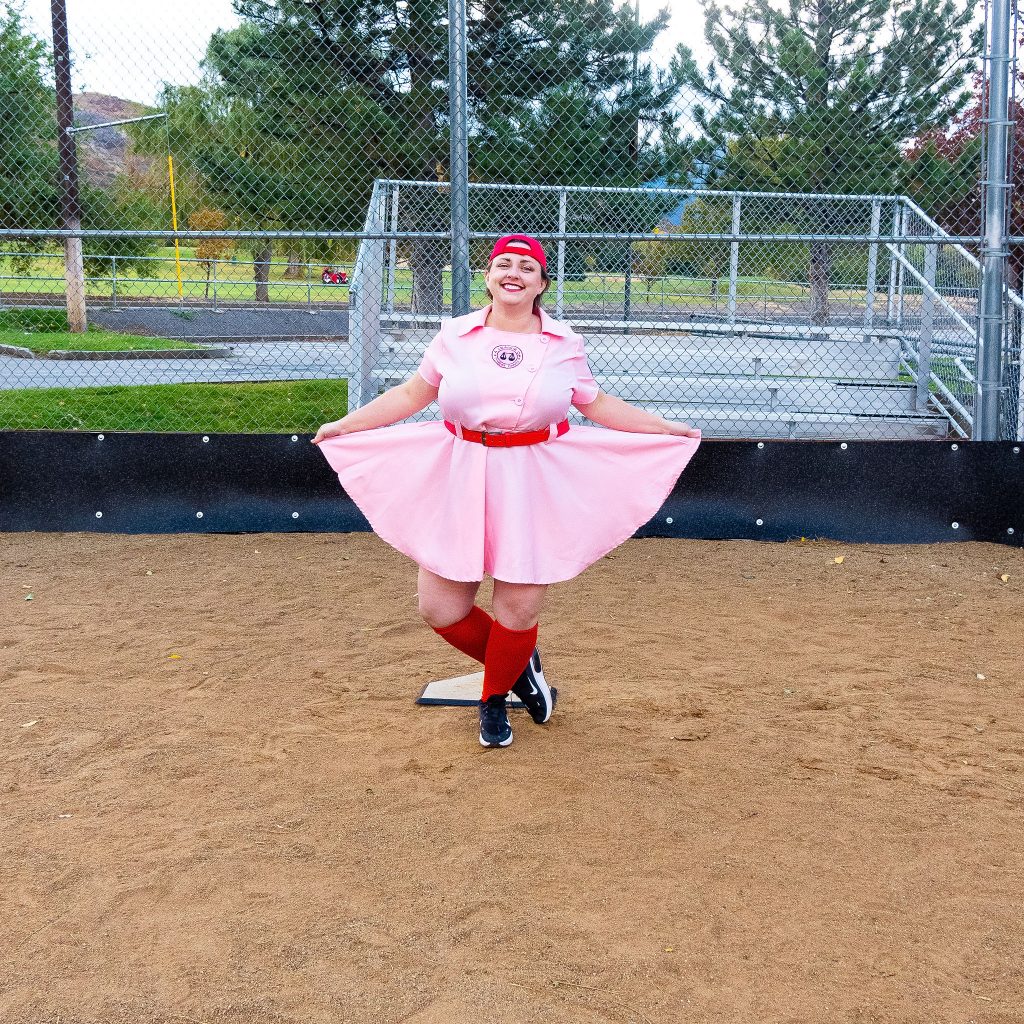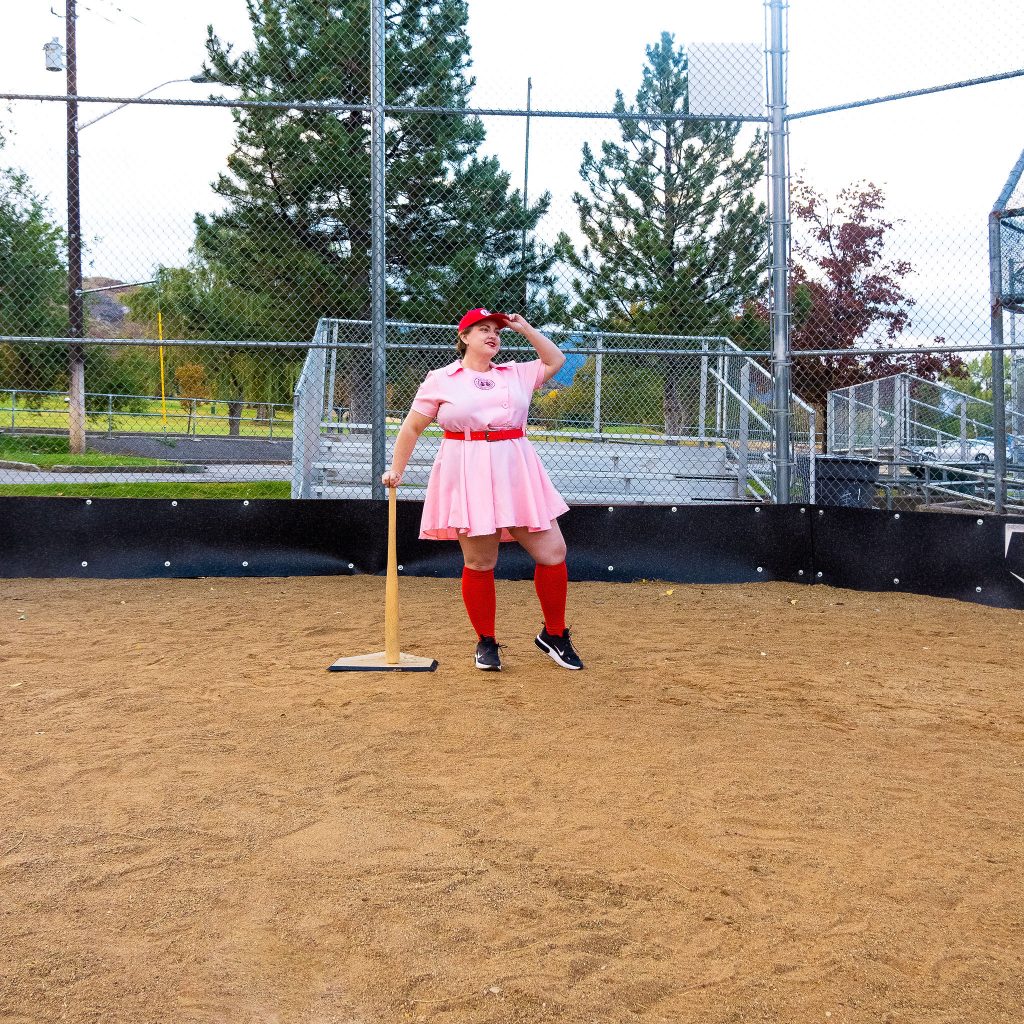 This blog post was all about League of Their Own plus size Dottie costume!
More Plus Size Halloween Costumes!!
I loveeee plus size Halloween costumes, and I have a few other roundups that you will love!
Love seeing posts that break down costs like this? Join my email list, by clicking here!
Plus Fashion Tips Every Week?!
If you want to stay up-to-date on my fashion roundups, I recommend joining me on your favorite social media platform (Facebook, Instagram or TikTok).
More of an email kind of person? Subscribe here!