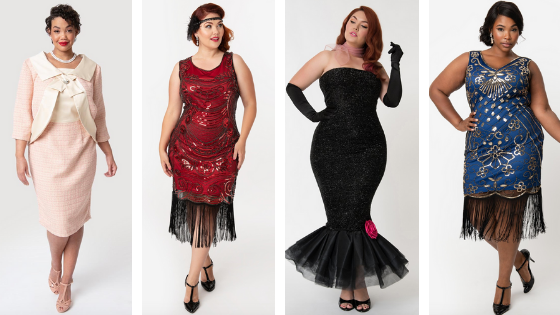 Finding fun plus size Halloween costumes, from plus size pirates to witches to something more modern – can be hard. Most shops that spring up this time of year only go to a size XL (or 14/16).
Not to worry!
Below, I've shared 11 of my favorite brands that have plus size Halloween costumes, both racier and modest.
#1: Plus Size Flapper Dresses from Unique Vintage
Looking for a plus size flapper or 1920's dress? Or a rockabilly or vintage-inspired Halloween costume? They have a collaboration with Barbie as well.
Unique Vintage has fun styles, available in up to a 4X.
Shop here.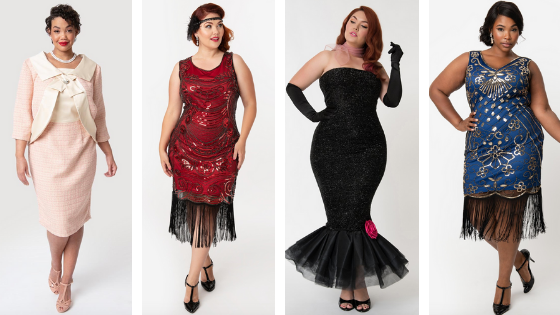 #2: Plus Size Disney Halloween Costumes from Torrid
Wow, Torrid has really brought the selection of plus size Halloween costumes this year! From classic plus size costumes like witches and pirates, to niche Marvel and Disney costumes! I really loved the Wonder Woman gear.
Torrid is BY FAR the most size inclusive brand, going up to a size 30 or 6X.
Shop here.
#3: Steampunk Halloween Costumes from Hips & Curves
I talked about Hips & Curves in my roundup on plus size lingerie, and they truly BRING IT for plus size Halloween costumes – specifically period pieces and plus size costumes.
Love the steampunk hats and goggles, that go beautifully with plus size corsets and period wear inspired by the Victorian era.
Most pieces are available in up to a 4X!
Shop here.
#4: Bright Costumes from Pretty Little Thing
Okay, to be totally transparent – I have never tried pieces from Pretty Little Thing. That said, the brand does have quite the selection of plus costumes. The size chart goes up to a 24, but most pieces stop at around a size 20.
Shop here.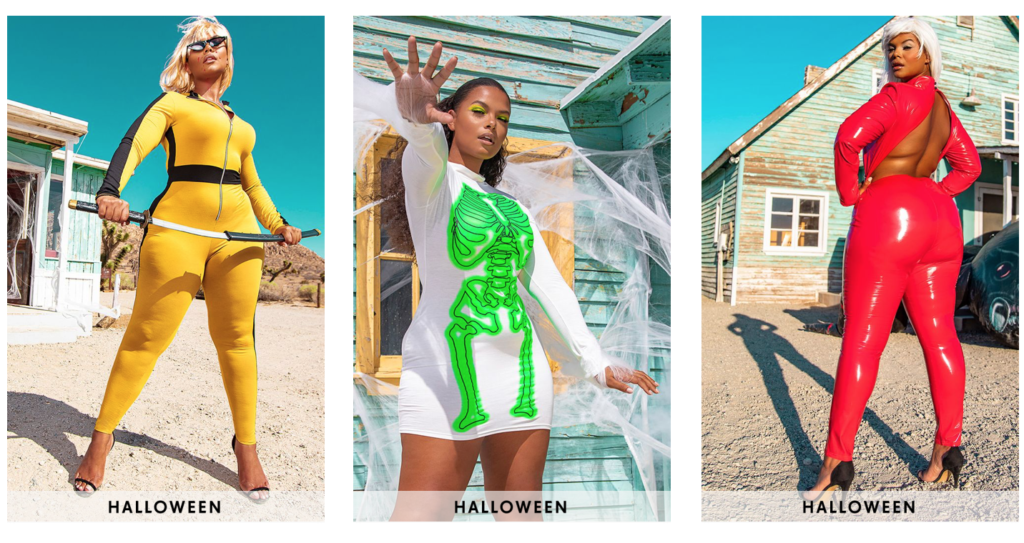 #5: Outlander & Marvel Plus Size Halloween Costumes from Hot Topic
OKAYYYYYYYYYYY, Hot Topic! I watched all of Outlander over a weekend this summer, and DANG that show is fire. The Outlander inspired plus size costumes from Hot Topic are so fun – and there are other costumes from the brand.
Sizes vary, with most pieces offered in up to a 3X!
Shop here!
#6: Plus Size Halloween Costumes from Amazon
Shopping for curvy or plus size Halloween costumes on Amazon can be a bit of a pain, because the size charts differ a LOT. That said, if you need a costume within 2 business days, this is a great place to go.
A lot of the costumes are more risqué (ooo la la!), but there are more modest costumes that you can wear out Trick or Treating!
Shop here.
#7: Bold Plus Size Costumes from Ashley Stewart
I didn't know that Ashley Stewart offered plus size Halloween costumes, until I was researching brands for this blog post. They have a variety of costume options (showing a range of cleavage), and I think the Unicorn costume is especially fun.
Most pieces go up to a 3X, and you can shop here!
#8: Fun Curvy Halloween Costumes from Etsy
I wrote a whole blog post on plus size cosplay costumes here, and a good portion of that listicle is from makers on Etsy!
Silver Leaf Costumes on Etsy has steel boned corsets that are perfect for those who want to invest in a higher end costume, and I am obsessed with Katasha Costumes version of the iconic white gown Christine wears in Labyrinth.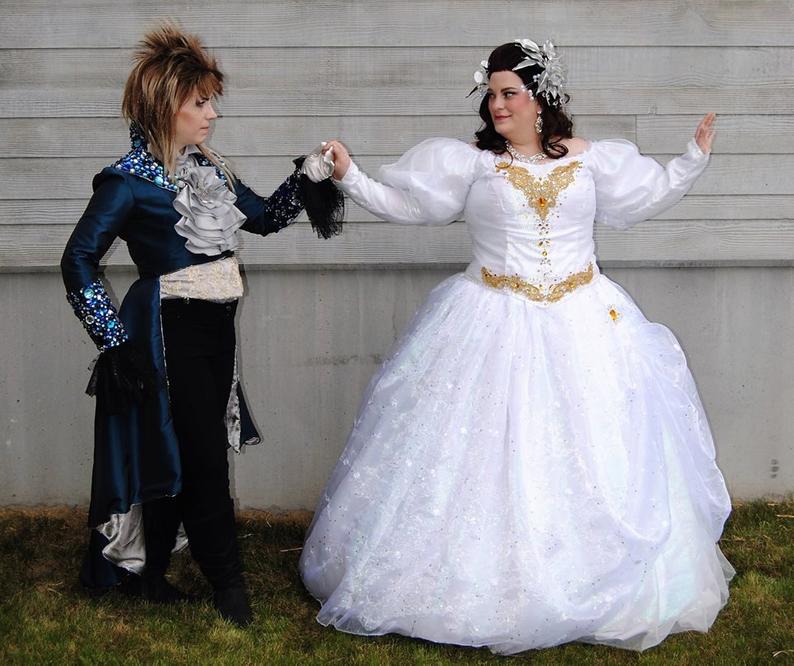 #9: Sexy Halloween Costumes from Yandy
Known for their lingerie, Yandy also has plus size Halloween costumes! From a devil to an angel, these costumes are great for clubbing and fun house parties. Most pieces are available in up to a 4X, with some available in up to a 6X!
Shop here.
#10: Fun & Flirty Costumes from HalloweenCostumes.com
A staple in the online hunt for all Halloween Costumes, this company has a veritable warehouse of plus size and curvy costumes. Most options stop at around a size 22 or 3X.
Shop here.
#11: A Broad Selection from Party City
With a similar selection as HalloweenCostumes.com, I do find that Party City has more accessories and prop options! They have super cute plus sizee bee and ladybug costumes, along with a lot of other options. This brand also has costumes that go up to around a size 20 or 22, or a 3X.
Shop here.
#12: Classic Plus Size Costumes from Target
While perusing the Halloween decor aisle at Target, I've passed by the costume options – but I've never really investigated them.
Target has a LOT of plus size Halloween costumes, from Luigi (a la MarioKart) to saloon girls to Grecian goddesses. Costumes go up to a 3X.
Shop here.
#13: Statement Making Costumes from Fashion to Figure
This brand has a few plus size costumes that are, shall we say, pop culture inspired. I love their take on the "Cruella de Ville" costume (called "The Devilish Diva"). Costumes go up to a 3X.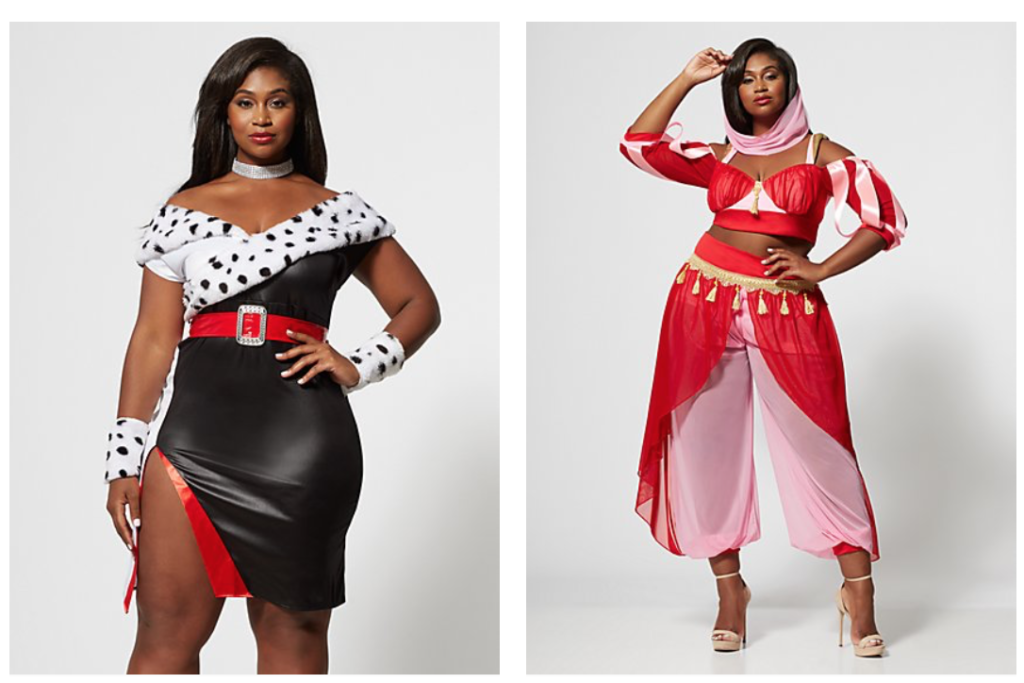 Who Will You Be for Halloween?
I haven't quite decided who I want to be for Halloween, there's just so many choices! Drop you costume pick in the comments below:
FTC Notice: This post utilizes affiliate links, and I do earn a small commission if you use links from this post to purchase! These commissions help me create more fabulous content, and I thank you for your support!