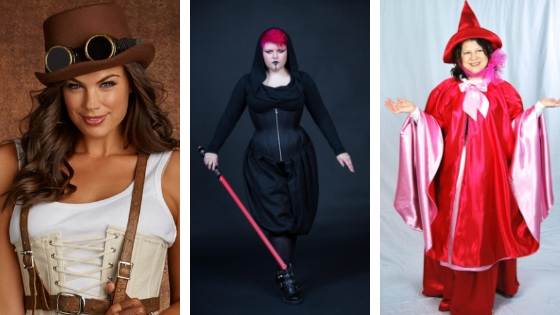 Hey there! This post contains affiliate links.  Using my links means I earn a commission, which helps me create more rad content.  More on affiliates here.
I have a confession. I'm a big ol' nerd.
I grew up watching Xena, Hercules, Buffy, Stargate SG-1, and a myriad of other nerdy shows. In 7th grade, someone made fun of people who watch Star Trek, and I have never been more confused in my life. "Who wouldn't want to watch a show about people exploring the universe?!?!" I thought to myself.
[Heads up! This post uses affiliate links, and you help me earn $$ when you use my links. More on affiliate links here!]
Fast forward to 2019, and nerdom has really exploded, thanks in part, to the proliferation (and adoption) of "cons."
What the heck is a "con"?
A "con" is a shortening of "conference," for all things nerdy. There's debate around the etymology of the word (hello, we're nerds), but some folks think that the word has been adopted after one of the biggest cons, "Comic Con" in San Diego.
Dressing Up as Your Favorite Character
And at said "cons," people dress up as their favorite superhero or character. While some folks stick with dressing like well-known and beloved characters, others go superrrr niche.
Some people only dress as characters they look like, but most people (imo) dress as their version of the character. This allows for more diverse representation than what the studios put out into the world, cough cough.
Finding Plus Size Cosplay Outfits
And since a majority of women are over a size 14, many of the cosplayers you see at cons are plus size!
The problem is that many of the "out of the box" cosplay options stop at like an XL, or a size 10/12, so plus size babes who cosplay have to get a liiiittle more creative and do more digging. Which kinda sucks, tbh.
SO, I have compiled this here list of seamstress and designer cosplay resources, as well as brands to check out for ready-to-wear cosplay options.
If I miss a brand, please drop me a line and I'll be sure to add them!
#1. Plus Size Cosplay – KMK Designs
KMK Designs is one of my favorite plus size costumers, as the brand shows a variety of bodies on their etsy. KMK Designs has a really rad Star Wars inspired "Dark Jedi" look, plus size Mario cosplay looks, steampunk options, golden goddesses, and period clothing.
Shop here.
#2: Plus Size Fairy Godmother (Cinderella Inspired)
Fairy Godmother for Hire is a lovely etsy shop located in Burlington, Connecticut, that makes "costumes for princesses and fairy godmothers of all ages." The brand specializes in capes as costumes, enabling them to fit a variety of sizes.
This costume ($200+) inspired by Sleeping Beauty is super cute, the hat really finishes the look!
Shop here.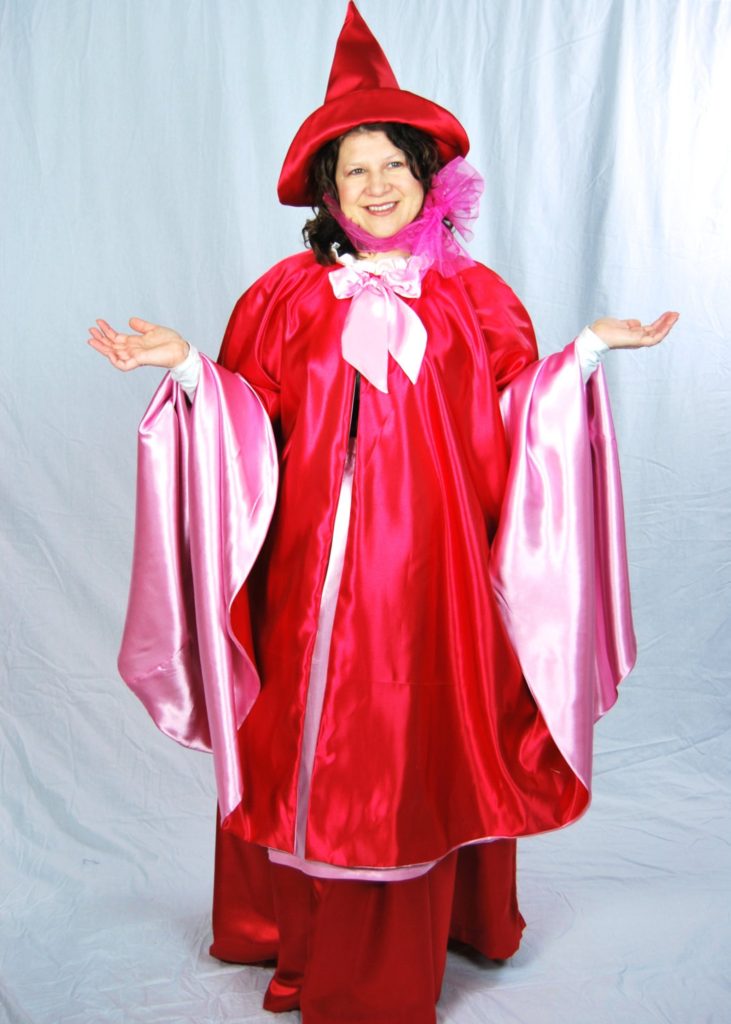 #3: Plus Size Sailor Moon Cosplay
This is SUCH a popular topic that I wrote a whole post on where to find plus size Sailor Moon Cosplay!
This cosplay shop doesn't have photos of a plus size model in their costumes – but they do offer custom sizing and orders.
Check out the Sailor Moon costume by clicking here.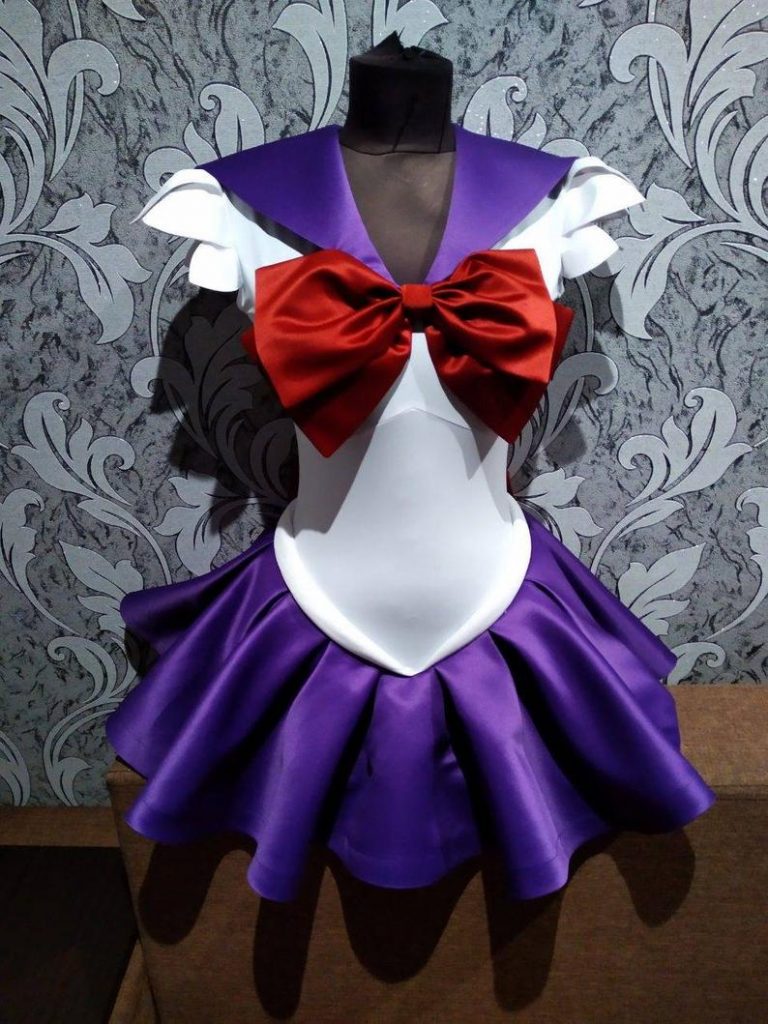 #4: Hips & Curves – Steampunk!
Hips & Curves is going to be your first stop for any corsetry or steampunk looks. The plus size lingerie brand has a whole selection of hoop skirts and options for a plus size lady who loves Firefly or steampunk!
Shop here!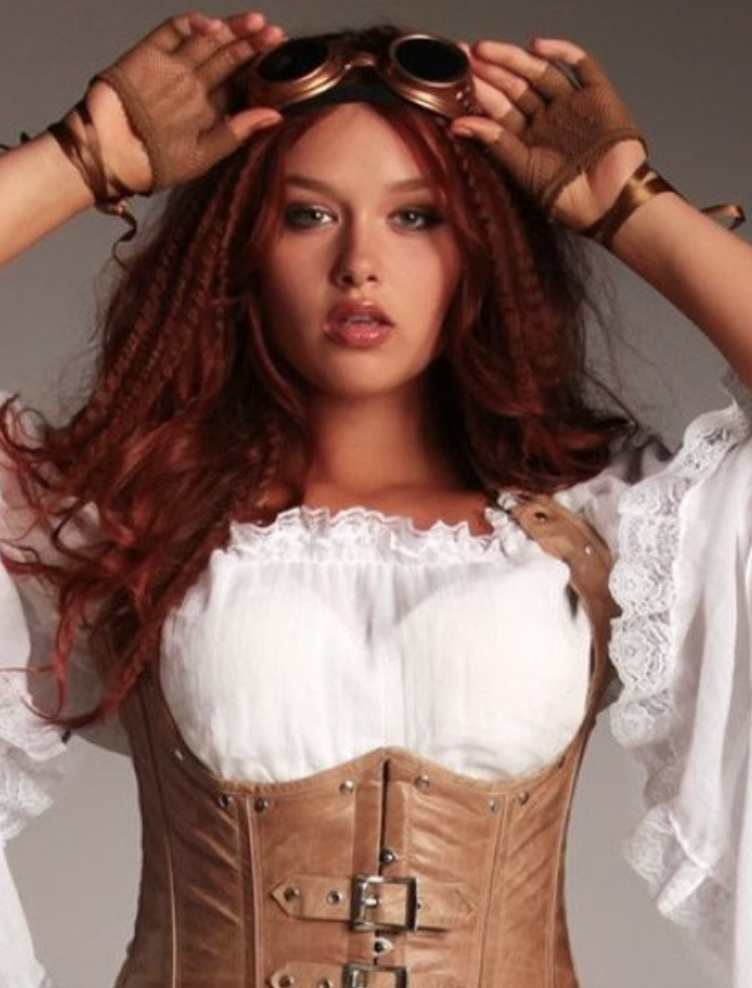 #5: Hot Topic – All the Cosplay!
Hot Topic is #1 place for costumes reimagined as everday clothing, as well as quite the selection of plus size cosplay and Halloween costumes. Their selection changes a LOT, so if you see something on the site that's no longer in your size I'd recommend setting up a Google Alert to learn when it's listed on etsy or Poshmark!
Hot Topic has options for plus size Harry Potter looks (cardigans and min-skirts FTW), as well as licensed reproductions for Disney princesses (love the plus size Meg costume!!), Dr. Who, Outlander, etc etc.
Shop plus size cosplay here.
Known for plus size lolita looks, IchigoBlack is a popular plus size costumer on etsy!
Shop plus size size cosplay here!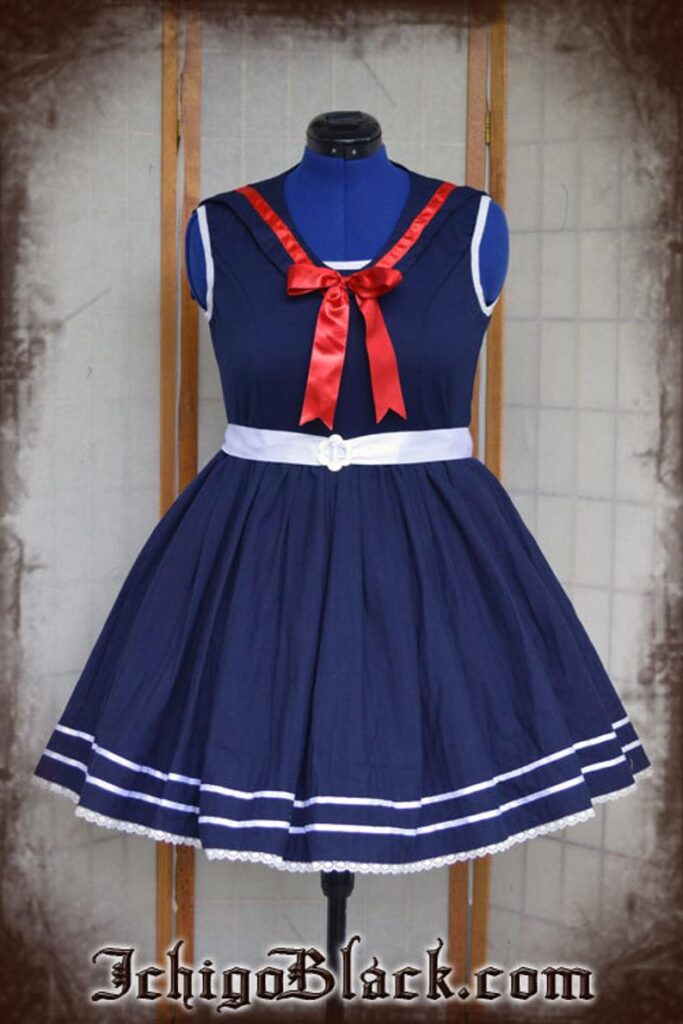 Wow wow omg! If you're looking for a costumer who tackles complicated cosplay, then Nicole Letersky of Kaktasha Costumes if your go-to costumer!
I cannot get over this plus size Labyrinth costume!
Shop plus size costumes HERE!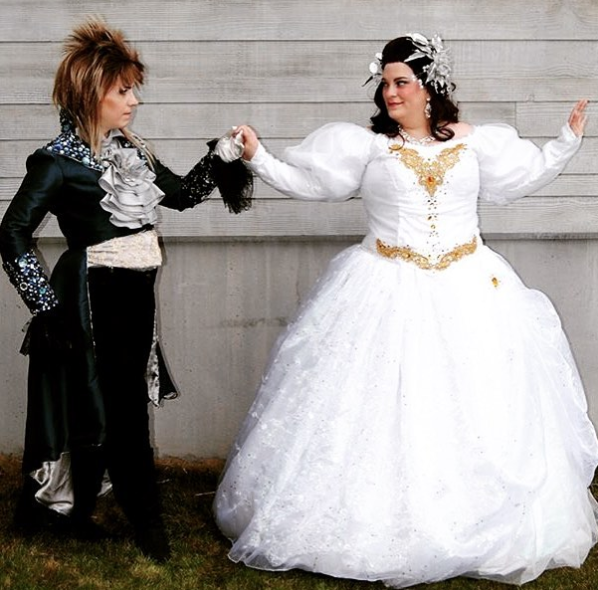 I didn't find a lot of options when it came to plus size Star Trek looks, but this "Star Trek Skant" is super fun! (FYI: A "Skant" is a short dress, and was used as a Starfleet uniform.) This plus size Star Trek cosplay dress ($125 for plus) is available in red, yellow or blue.
Shop plus size cosplay here.
#8: Plus Size Cosplay from Torrid
Cons happen all year, but Torrid really only breaks out cosplay and costuming options at Halloween – or when they do a merchandising deal with a big movie. Their Fangirl section is pretty rad if you're looking for plus size t-shirts that advertise comics, bands and movies!
Shop plus size cosplay costumes here.
#9: Plus Size Cosplay from The Geek Garden – Marvel & DC
This brand is located in Cleveland, Ohio, and has plus size Stark Trek, Harlequin, Doctor Who inspired pieces. These pieces are more fun interpretations of the look (like this plus size "Police Box" dress) than reproductions. I thought this plus size X-Men Rogue dress ($83 USD+) was pretty fun!
Shop plus size cosplay costumes here.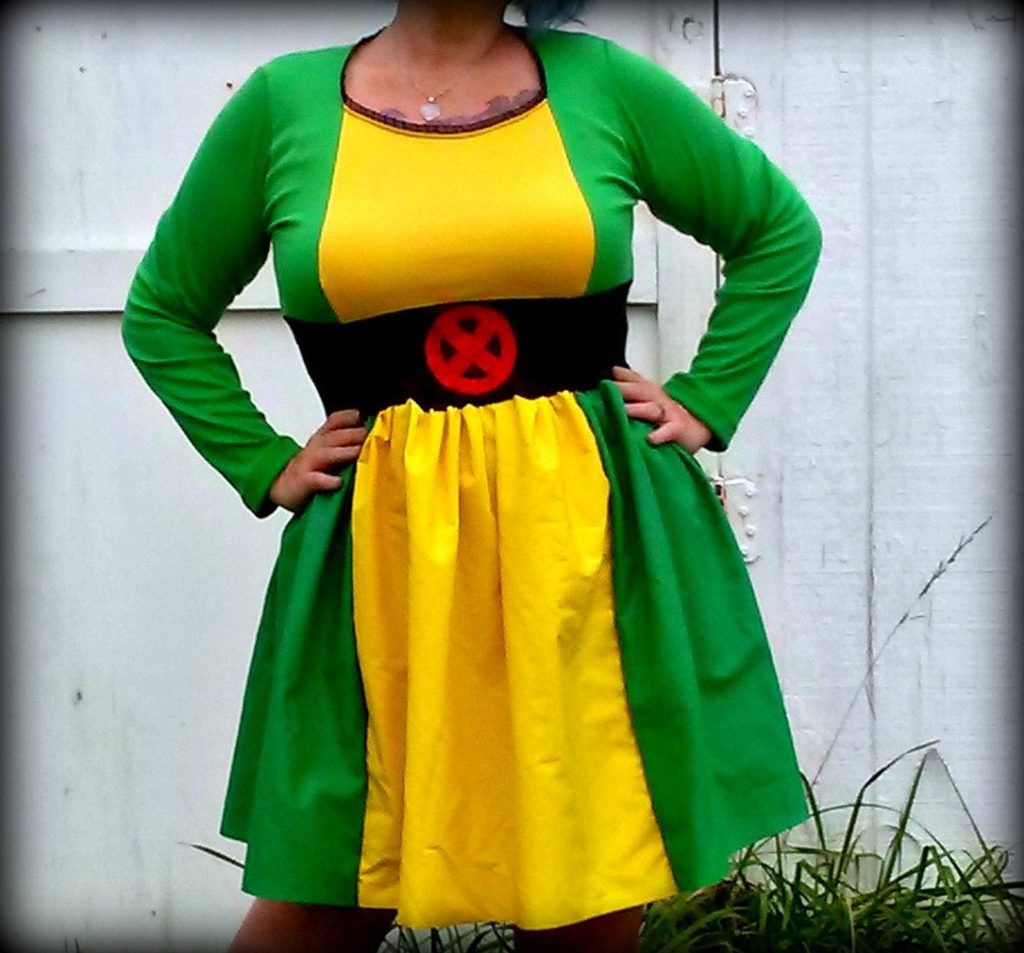 Pinup Girl Clothing has a variety of period inspired outfits perfect for plus size cosplay, but these striped pieces really captured my imagination for a plus size Beetlejuice cosplay outfit. If you're looking for cosplay ideas, I definitely recommend clicking around this site!
Shop here.
Based in Nevada, Cuttlefish Customs specializes in "geek and nerd culture" costumes and fashion. Founder Kelsey Rogers is able to accommodate diverse sizes and niche characters. Send her a DM on Instagram for more info or a quote.
Costumers Who Design for Plus – But Don't Have Photos?
While researching for this blog post, I emailed about a dozen different companies who showed up variations of the Google search, "Custom cosplay for plus sizes." Some of those companies are up above, aaaaand some of them aren't.
Here's why:
A good amount number of costumers and cosplay professionals replied, but none of them (to date) were able to send me photos of a plus size model or customer wearing their work.
But Does the Company REALLY Design for Plus?
….. How is a plus size customer supposed to commission a piece when we don't know if a company can actually design for plus – or just thinks they can? (Check out my post on designing for plus sizes if you're curious about how designing for plus bodies is different.)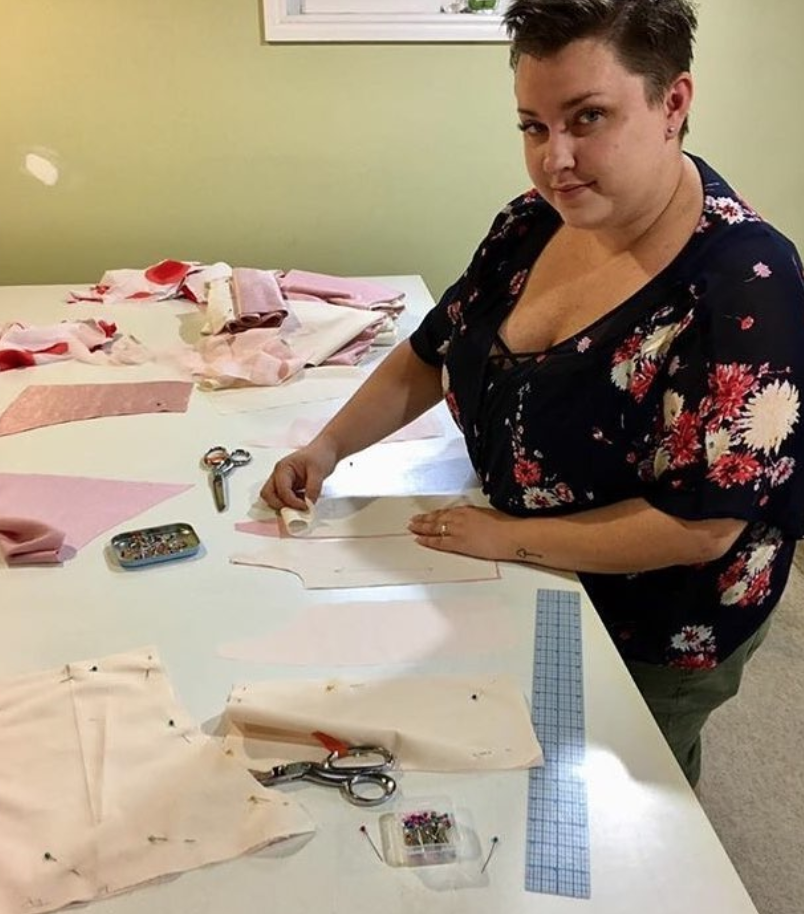 It can be a bit of a Catch-22. The designers don't create a look because no plus size person has commissioned one, and no plus size person commissions one because the brand doesn't show their size range.
"We Offer Plus – But Don't Have Photos…"
SO, with that preamble, here is a list of cosplay professionals who have responded that they do offer plus sizes, but weren't able to provide photos. I'm definitely not trying to shame any companies, I just want you (the reader and potential customer) to be educated! Be sure to ask specific questions about experience, fit and what happens if a company creates a garment that doesn't fit well!!
Be sure to get a contract and read it thoroughly when working on a custom piece.
More Plus Size Costume Resources!
I love LOVEEE plus size cosplay and costumes, so here are a few more helpful posts!
What Resources Do You Need?
Would you like to see more blog posts about cosplay fashion? Looking for specific fashion resources? Sound off in the comments!
Want more plus size fashion + nerdery content? Be sure to subscribe to The Huntswoman Newsletter.
[FTC Notice: This post contains affiliate links, meaning I earn a small commission if you purchase a product through my link. Affiliates help me write more great content, and I only endorse products I truly love.]