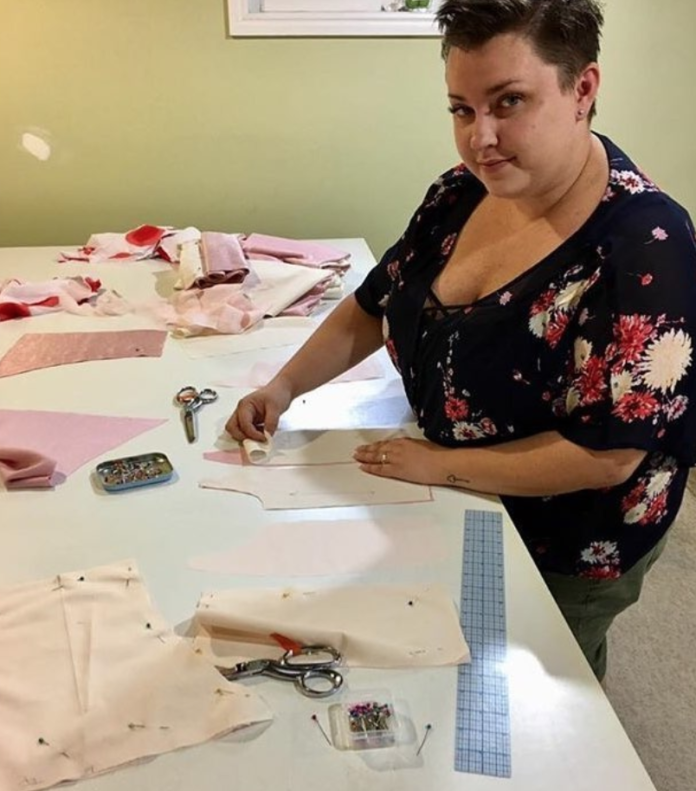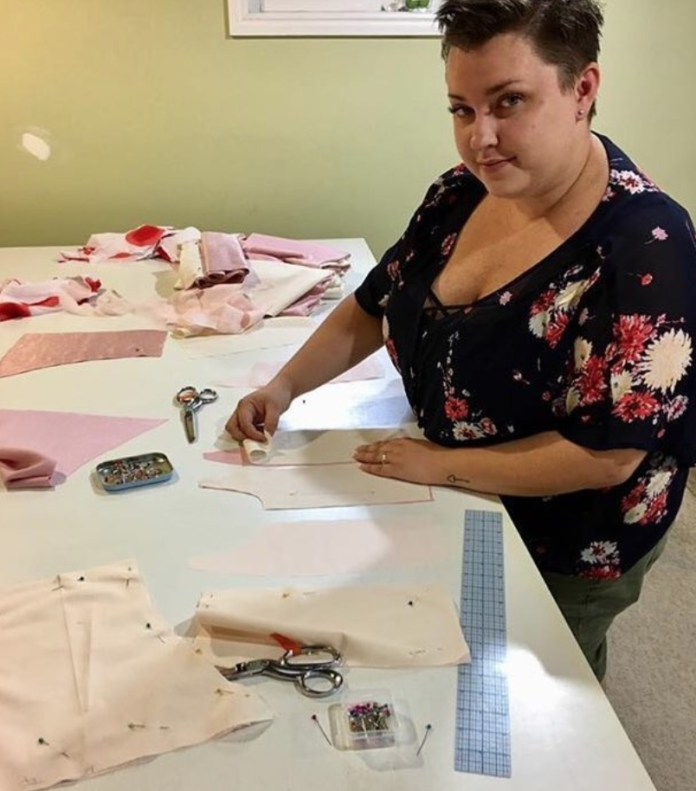 Hey there! This post contains affiliate links.  Using my links means I earn a commission, which helps me create more rad content.  More on affiliates here.
Okay, plus size friend.  Pull up a chair, because we need to have a talk.
This isn't an easy conversation to have, but it's important to me to be honest with you:
Designing for plus sizes is a LOT different than designing for "straight sizes."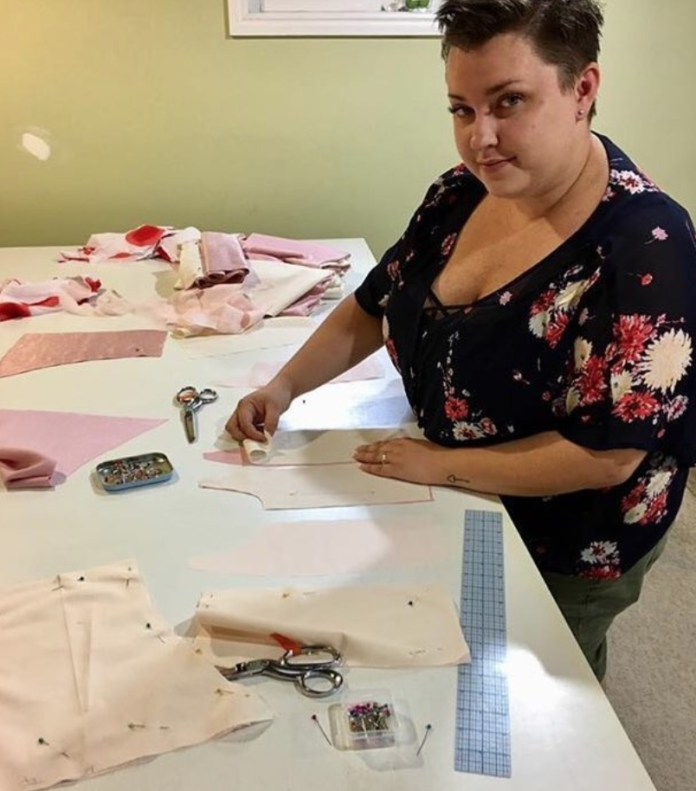 Challenges of Designing Plus Size Clothing
Notice, I didn't say "designing for plus sizes is HARDER than designing for straight sizes."  It's not more difficult, but it is a skill that isn't commonly understood or taught.
So, to put another way: Many fashion designers find it difficult or impossible to design for plus sizes, because designing for plus size bodies takes specific skills – which often aren't taught!
I want to explore how designing for plus sizes is different, so you have a bit more background on why some designers struggle to design for plus.  Not to offer an excuse for those designers (hell no), but to provide perspective on why it may take a well-meaning brand a while to get their patterns correct.
This post will have a good amount of "fashion vocab words," and I've defined everything so we're alllll on the same page.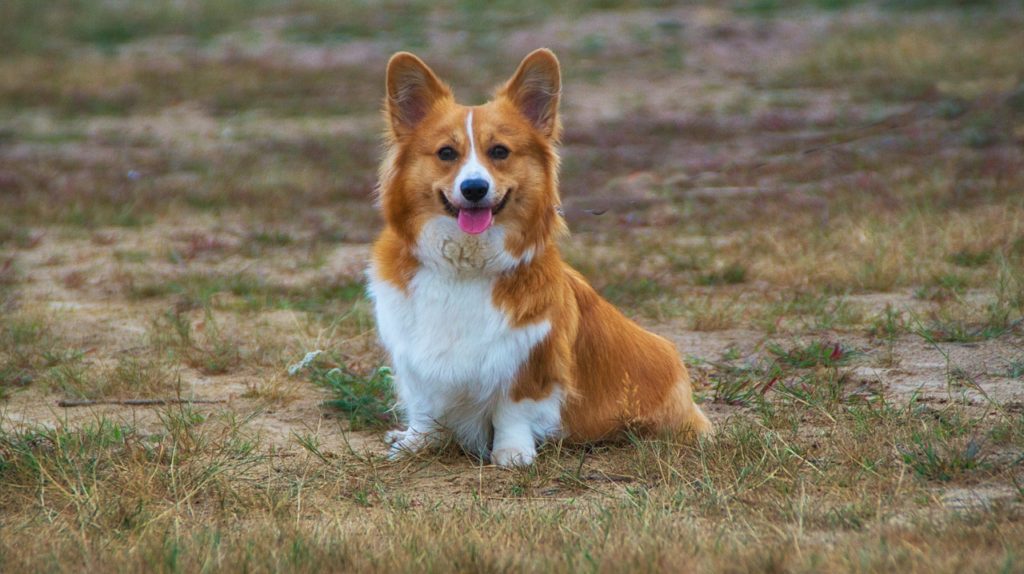 <<If you'd like to keep in touch, be sure to subscribe to my weekly newsletter, so you'll stay up-to-date on new brands and plus size fashion content! >>
#1 Plus Size Design Challenge: Learning to  Grading Patterns for Plus Sizes
Okay, so when you're designing the pattern for a garment, you "grade" to increase sizes.  No, I'm not talking about giving someone a B+!  "Grading" is adding fabric at the seams to allow for bigger sizes.
Most designers will draft (from scratch) a size 8, and then add .1-1 inches around certain areas to make bigger sizes.  It kind of ends of looking like a topographical map.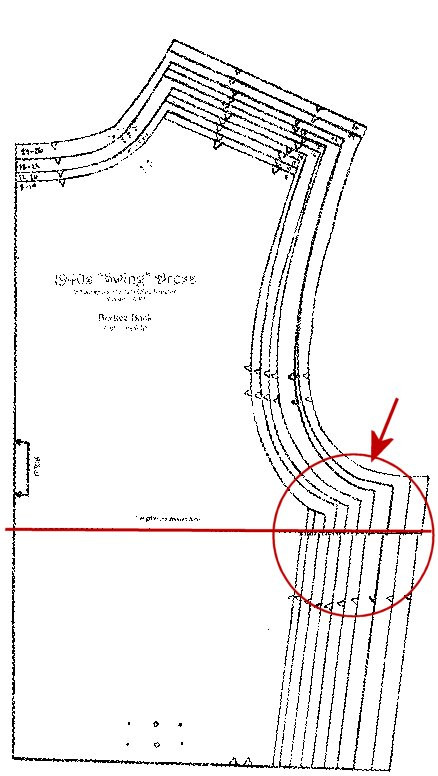 At a certain point, you can't keep "grading up."  Have you ever tried a cute fitted dress on, only to realize it fit like a garbage bag?  It's because the designer tried to "grade up" from a size 8 to plus sizes.
Didn't work, THANK YOU, NEXT.
The grading ratio changes as you move up sizes.  While you may add 1/2″ to the armhole for sizes 4-10, that goes out the window for plus sizes.  Our bodies don't expand at a linear rate!  Said in a non-geektastic way, you can't keep adding the same measurement for all sizes!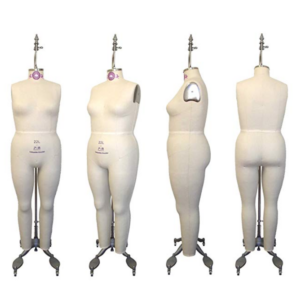 Designers have to draft additional base patterns (generally around a 14) to create plus.  Each pattern can be graded up or down 3-4 sizes.  So, if someone wants to go up to a size 30 – they've likely drafted (from scratch) 3 patterns.
That is TIME CONSUMING.  It is EXPENSIVE.  If a brand hasn't expanded to your size yet, it may be because they haven't perfected the fit.
KEY TAKE AWAY:  Simply saying, "Well, the designer just needs to add more fabric!" is incorrect, my darling.  It's wayyyyy more complicated than that.  We're dealing with a whole architectural engineering situation here.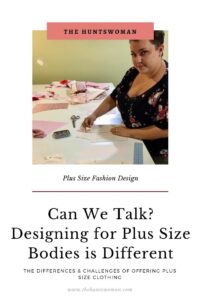 Related Plus Size Fashion Challenge #1b. DIY Patterning
"Pattern making" is where a designer creates a pattern.  This can be done in a myraid of ways, generally in flat paper or draping fabric onto a dress form.
If you've ever watched an episode of Project Runway, then you've seen the designer get out a roll of paper to make patterns.
i've taken 4 pattern making classes, in different parts of the world.  3 of those pattern making classes didn't even mention plus sizes.  The last one kind of did, but it only worked because I used my body/measurements for fittings.
Figuring out how to alter the fit of the crotch when *you're* the one wearing the pants is a trip, let me tell you.
Most designers have to teach themselves how to pattern, and it's trial and error.  There are experts in plus size pattern making that you can hire, and classes on Craftsy to learn from, but the level of instruction does not match classes for straight sizes.
"Pattern Maker" is a whole job in a clothing company, and knowing how to draft patterns in plus sizes is a sought-after skillset.
Hot tip!  If you're looking to learn more about creating plus size clothing patterns, I'd start with this plus size patterning online course from Craftsy. The course focuses on commercial patterns and is a great intro, for newbies and fashion professionals.
Plus Size Fashion Design Challenge #2.  Where do you carry your weight? 
Another not-so-fun conversation we have to have is that plus size people carry their weight in different areas.  I roll my eyes when people say, "I'm apple shaped!" but there IS truth there.
Designing for a plus size person who carries their weight in their lower stomach vs their cute butt and thighs is DIFFERENT.  I'm on pattern draft #11 for a size 30 jumpsuit where the model carries her weight in her stomach.  If I had decided to hire someone who carried her weight in her hips it would be much easier.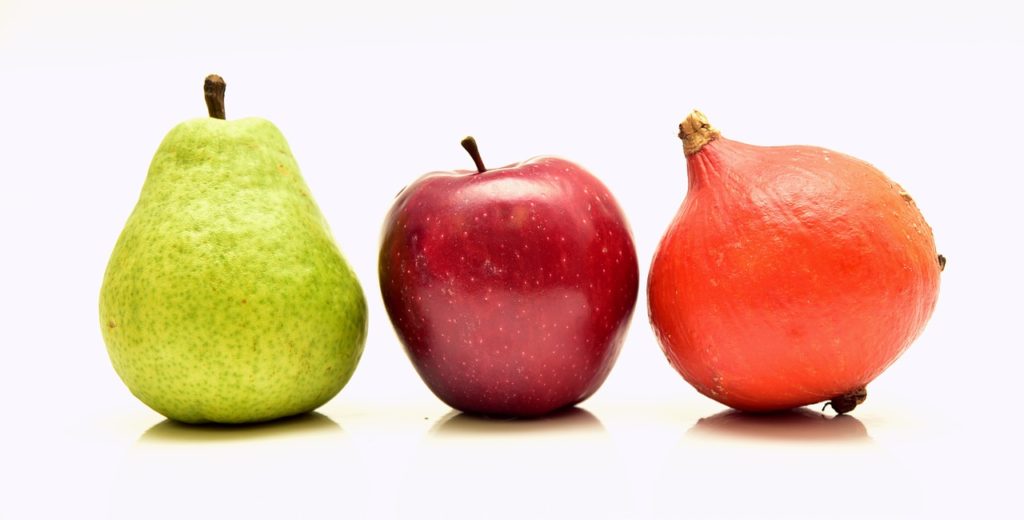 The patterns for plus size bodies look WAYYYYY different than patterns for straight sizes.  Adding extra room for tummies, upper arms, larger calves, etc, takes multiple fit sessions.  Aaaand added into that is the number of shapes to design for, and it's going to take a while to sort out.
KEY TAKE AWAY: Body diversity can make designing for plus more challenging.
Plus Size Fashion Design Challenge #3.  4-Way Stretch for Days
The body shape dilemma is why a LOT of designers create pieces in stretch fabric.  If a designer doesn't do this, they'll have to deal with negative feedback from the plus market, because they designed their collection for one body type (ie "pear shaped") and shoppers from other body types don't fit well in their clothes.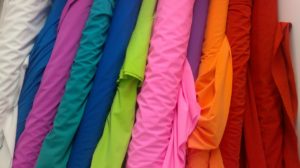 EXTRA TAKE AWAY: If a piece of clothing doesn't fit you well, it's not because your body is "wrong."  The designer likely designed for a different shape.  I recommend following a few plus size bloggers (if you're short and apple shaped, come join me on insta!) who have a similar body shape, and checking out the brands and pieces they recommend.
Plus Size Design Cheat Code:  Why the Cold Shoulder?
A fun factoid about design for plus sizes is the ubiquitous cold shoulder.  This is an easy trick for designers/manufacturers, because the hole allows for different sizes of upper arms.  If more bodies can fit into your clothing piece, you get more sales!!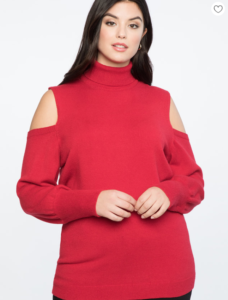 Plus Size Fashion Design Challenge #4.  Water Retention and Fit Models
Our bodies are made up of mostly water, and the exact percentage is debatable.  The bigger the body the more water in the body – which leads to changes in body measurements.
Most brands hire "fit models," professionals whose job is stay the same measurements for test fittings. It's hard to test a garment on a changing body.  However, in my experience, plus size bodies are prone to more fluctuation, making it more difficult to maintain accuracy in fit tests.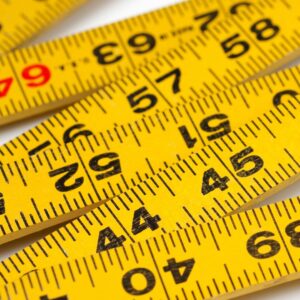 Yes, there are plus size dress forms that designers can use.  Most of those on the market assume an "idealized form," where the waist is the smallest part of the form.
SO.  Where does that leave us?
I am *NOT* saying we shouldn't expect designers to make plus sizes.  We're 67% of the goddamn population.  We have money!  We want to buy stuff!
Room for Grace & Understanding
However, what I *am* saying is that it's okay to give designers a bit of grace.  If they say they're working on adding sizes, believe them.  But if they ignore your queries (either in-store or on social media) take your fat money and buy things elsewhere.
I often wonder if luxury brands would move to expand into plus sizes if we stopped buying their accessories, like purses and scarves.
What designer do you wish would expand to plus?  Let me know in the comments!  (Maybe they'll see this!)
If you're a designer looking to expand to plus sizes, check out this post.  If you're a fed up plus size babe who wants to learn how to sew your own clothes, check out this post!
What to Read Next —>
Are you looking for more plus size fashion design tips and resources?  Here are a BUNCH of blog posts to read, that I wrote specifically for folks looking to learn how to design, make, and sew clothing for plus size bodies:
If you'd like to keep in touch, be sure to subscribe to my weekly newsletter, so you'll stay up-to-date on new brands and plus size fashion content!