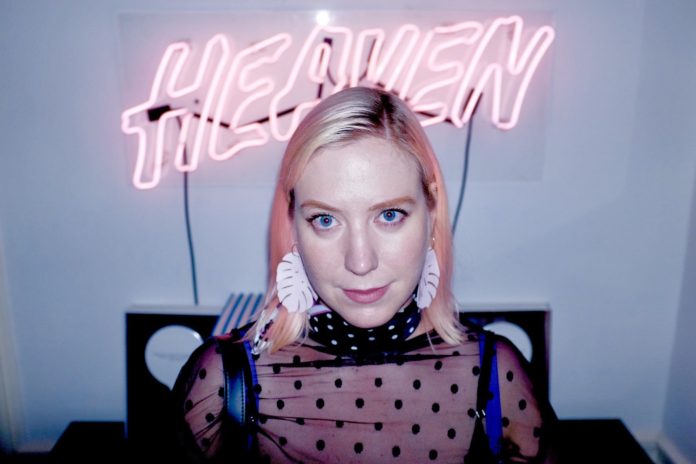 Hey there! This post contains affiliate links.  Using my links means I earn a commission, which helps me create more rad content.  More on affiliates here.
I'm pretty stoked to share this interview with Kat Eves of The Style Ethic. Kat is a fashion stylist who focuses on plus sizes, specifically plus size AND ethical options, and she has a personal aesthetic that I am *obsessed* with.
Kat has had quite a career thus far, and looking at her social posts I found myself wondering, "How did she GET here? What does a day in the life for Kat look like?"
And, most importantly, "Where is Kat going?"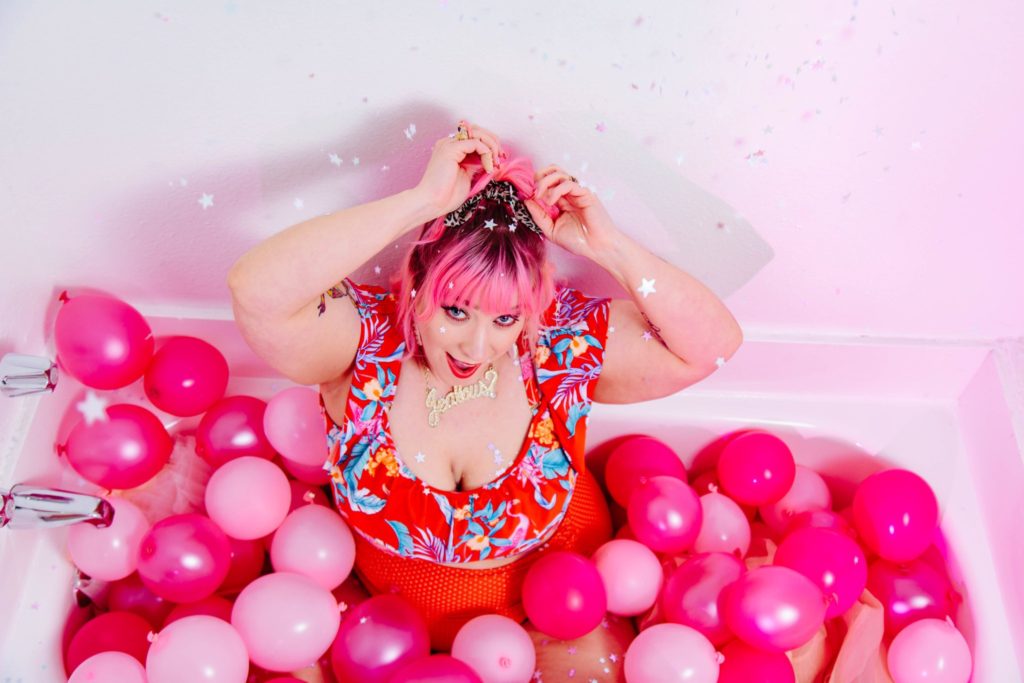 Kat was kind enough to get on the phone with me for an interview, which I've shared below. While it's fun to share a highlight reel, I'm more interested in getting gritty with creatives, and really exploring "How did you do this?" to help other creatives on their journey.
You can follow Kat on Instagram, Twitter and Facebook.
[Note: Many of the photos in this interview were shot by Rob Eves, Kat's husband and creative partner. You can view more of his work here.]

BH: Okay, first question — and I'm sure one of the most popular questions you get: Did you go to school for fashion styling?
KE: I didn't go to school for fashion – I knew my parents would not be happy if I did. Getting an art degree is expensive! I got my degree in writing, because I figured I could work in marketing and publicity.
After school, I worked in book publishing for a number of years. I did pretty well at that, but my soul wasn't getting fed. I decided that I was going to try to take those skills and use them to break into the fashion industry.
BH: Ooooo this is where it gets good. Getting a job or a gig in a new industry is tough, because people want experience to give you experience, ya know? How did you start doing the work?
KE: Yep, you know it. I didn't have a career trail or internships, so I started to blog on Instagram. I started an account called FashionPenPals with my friend, Nina. We would share our own fashion stories and talk about body acceptance, and encourage followers to submit. I think we had a following of around 2,000 people by the time I moved on to my own thing, which wasn't a lot, but it was enough to get me started in a new field.
That Instagram profile alone was enough to get me in the door with brands. It was a body of work that had engagement from real people. IG was still kind of new. You didn't have to have a huge following, just an interesting presence.
Now, I share mostly on my Instagram, which functions the same way. I share candid and editorial shots, both of me and my clients.
While all of that was happening, I started working as a stylist — without realizing what I was doing!
BH: Wait, pause! You've gotta share more about this part of your journey. How did you start styling people?
KE: My friends would literally ask me to "bring them fashion." I would go shopping with friends, then friends of friends (and then friends of friends of friends) helping them build their wardrobe.
One of my favorite stories to tell is from an old friend. He had nothing but a pack of white t-shirts and stained khaki shorts with holes in them. He came to me, and said, "I like this girl. I want to impress her, and my clothes aren't helping. My budget is X, can you help me?" I took him to a variety of stores, focusing on vintage stores like Buffalo Exchange, etc, I sat with him and talked about colors, style lines and fabrics. He ate it up.
Fast forward, and he married the girl. She was my maid of honor at my wedding.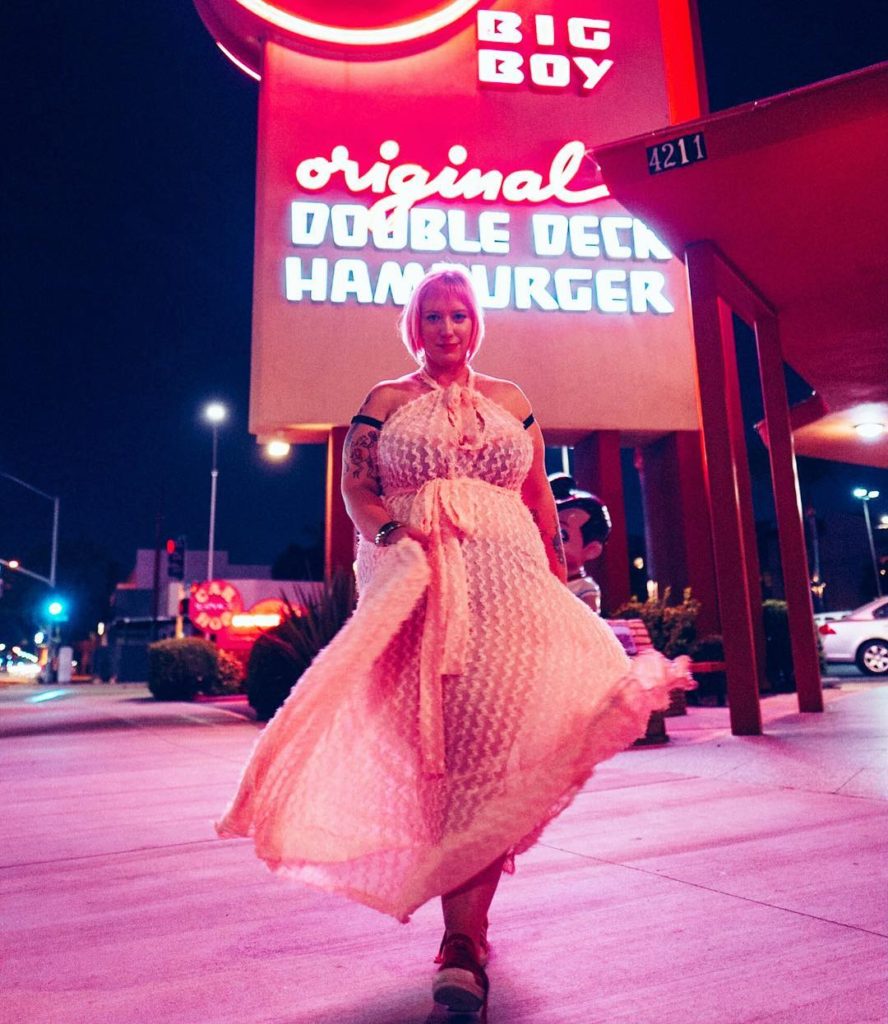 BH: So how did you go from styling friends to celebrities? That seems like quite the jump!
KE: Honestly, word of mouth and just doing good work. My friend (who was my maid of honor) had a friend who had been cast on Sons of Anarchy. She gave him my info after he showed up for a red carpet event in a sweater vest.
One of his main challenges was shopping in "Big & Tall" (mens plus sizes). Finding cool clothes in this size range was hard! I never want to see another "husky" polo shirt.
I connected with Bruce of Chubstr, who introduced me to other fashion clients. It's really about showing up and doing the best work you can, and getting referred to other people. I ended up leaving my book publishing job to go work for a fashion startup he introduced me to.
BH: Okay, but all of this was happening in San Francisco, correct? And you're in Los Angeles — when did you move? Did you decide to move for fashion stylist jobs?
KE: We moved a couple of years ago, because living in the Bay Area had been really stressful. No amount of salary increase felt enough to cover rent increases. People in my creative community were having the same problem, and we all left at the same time. It was a sort of "creative exodus."
My husband, Rob, and I chose Los Angeles, because Rob is photographer. I realized, "I'm in my 30's. It's now or never."
An opportunity came up with Rebecca Loebe, a singer/songwriter, to work on a music video. It was my first official stylist gig, and while shopping I met another stylist at the mall. She took me under her wing and mentored me.
Since then, I've done a lot! I've styled for commercials and ads (including a Google Pixel commercial), for red carpet events, etc. And I've gotten to travel a LOT.
Model: Casey King Photographer: Rob Eves Stylist: Kat Eves Wearing: Unicorn Tears Vintage & Dazzles vintage earrings
BH: Since then, you've grown quite the career as a stylist! I've particularly enjoyed seeing you post clients working the red carpet. What is styling the red carpet like?
KE: For myself, I'm often working with plus size actresses and models. Options are currently pretty limited for red carpet looks. I try to get as creative as I can, usually working with independent designers. Styling Dulcé Sloan I've worked with Kristi Siedow-Thompson and Matthew Paul Robinson. For the Emmy's, I worked with Rene' Tyler on a custom dress.
For the red carpet, you don't want to wear something you'd buy at a mall, which is why I end up partnering with indie designers.
BH: Oof, it makes me sad to see plus babes wearing RTW when other actresses are in couture and custom pieces.
Working with indie designers seems to go hand-in-hand with your advocacy work in the sustainable fashion space, as many indie's are leading the charge. How did you become active in that space?
KE: As I worked for different brands, I became more aware of manufacturing processes. There is a massive amount of slave and unethical labor in fashion. Depending on who you cite, fashion is second to either oil or agriculture when it comes to pollution.
"Ethical" fashion looks at both an environmental and labor perspective. Just because something is "made in the USA" doesn't mean it's made ethically. I had a wake up call when I learned how much of a problem sweatshops are in my own backyard in LA.
The level of exploitation that workers experience in the US should be something we're talking about. It's very hard to get information from big brands like Fashion Nova or Forever 21, because they exist on a fast fashion scale. Ethical manufacturing just isn't possible at the fast fashion price point.
Relatedly, if there are people making minimum wage at these companies manufacturing in the US – there is no state in the US where making minimum wage is a living wage. As customers we have to question the brands we support with our money.
Additionally, from an industry perspective — ethical fashion is safest. Fashion is super competitive, and it's really hard on the people working behind the scenes, many of whom don't get paid on time or work livable hours. It's a dirty industry, but when I get to work with people interested in ethical fashion — it's a breath of fresh air. We care about doing the right thing.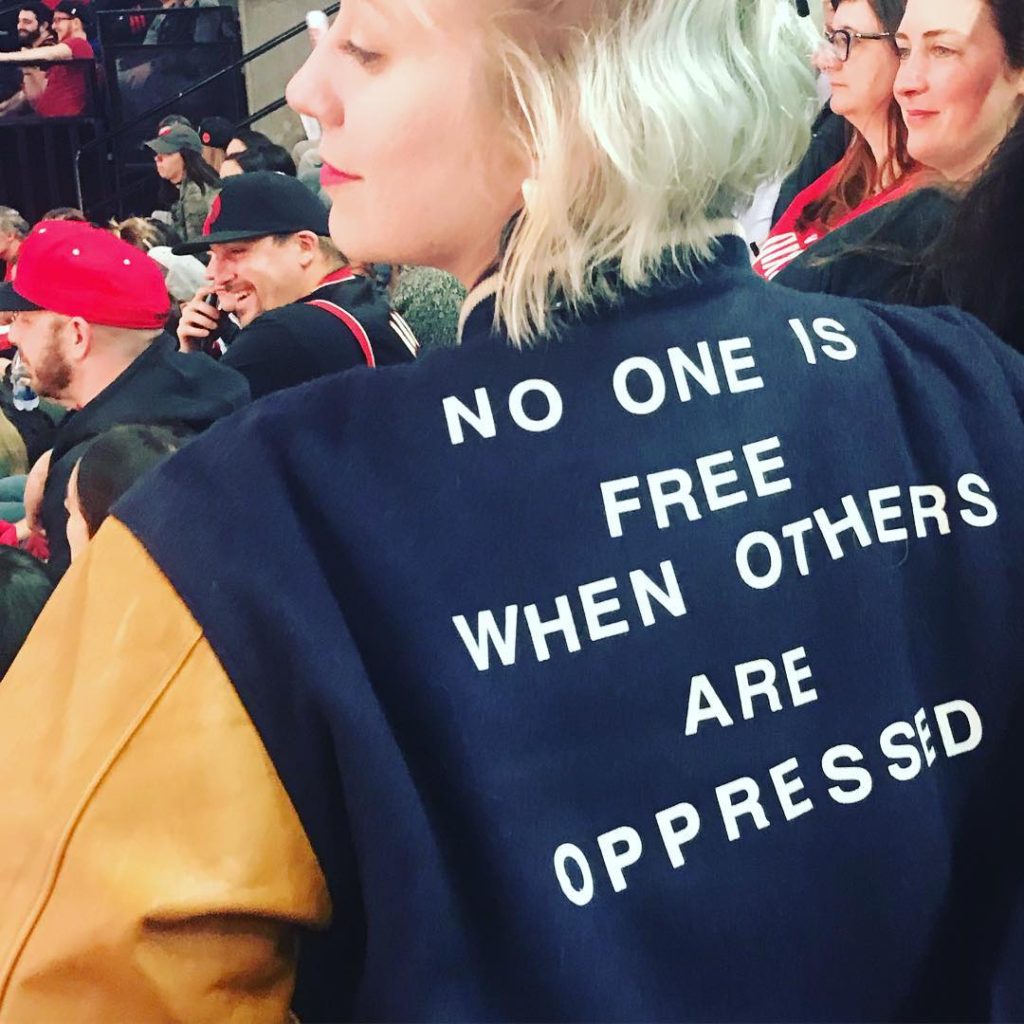 BH: Yes, I've learned a lot from you about ethical fashion, but the space has its own issues. Can you discuss those?
KE: The ethical fashion space is not size inclusive. Working with plus size women and big and tall men, I can't promote brands that aren't size inclusive on a regular basis. My niche within a niche is pushing and promoting other ethical brands into expanding their size ranges.
If over 60% of the US population is plus size, why isn't ethical fashion space paying attention to them? If you truly want to be ethical you have to offer inclusive sizing.
In the last couple of years, I've seen the number of ethical plus size brands continue to grow. I think there is a real opportunity for plus size people to purchase from those brands. I am hearing about brands wanting to make that leap, and I'm here to make that happen. I never get upset if people show up with questions. Ask me! I want to let you know about these brands!
BH: I've seen you consulting with some brands on expanding their sizing as well as ethical production. What brands would you love to work with?
I would love to see brands like Everlane finally expand into full plus size, not baby plus size. I'd love to see them go up to a US 26 or 28.
I see folks asking Everlane about expanding their sizes on social media. Everlane (and other brands) will have a canned response, "We'd love to work with plus size customers." They release whole other product lines outside of clothing, and it feels like lip service at a certain point.
Either you're offering plus or you're not.
<< Curious as to what fashion brands have to do to expand their size range? Check out this post!!>>
BH: Love this. Any not-so-glamorous insights to share? Stuff you didn't expect?
KE: What has worked for me is being open to meeting people and taking opportunities as they come. Failure has been a big part of me learning what kind of stylist I am. I've worked on projects where I didn't get paid on time or ever, where I went in and thought it was one thing – and it was totally different.
I've learned a lot of hard lessons, and I've learned quite a bit about contracts. Now, I have a clear understanding of the direction I'm heading and what I want to get out of it.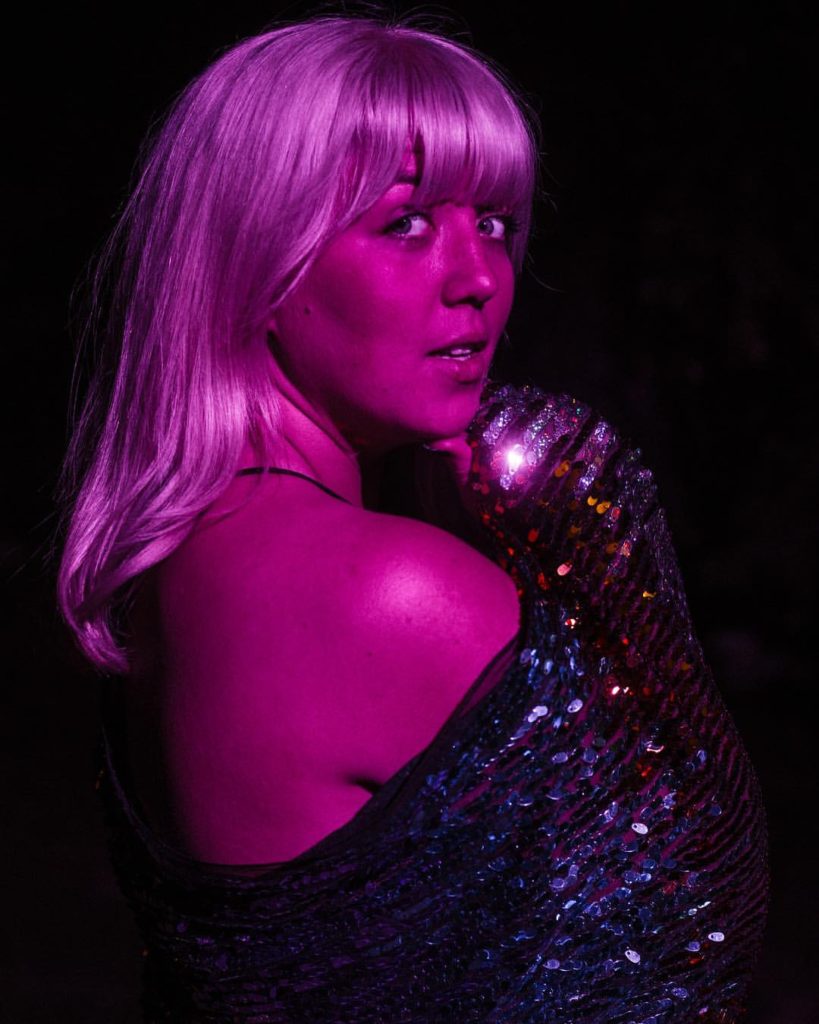 BH: Okay, here we go! What is that direction? Where are you going?
KE: What makes me happy in styling is getting the opportunity to shed light on brands doing the work. Some of that happens through styling, and some of that is my background in marketing and publicity. I'm now consulting with 2 different fashion brands on sustainability and ethics, and I would like to add additional clients.
Getting an art degree is expensive! I decided I was going to use whatever gifts I had to break into fashion. When you're going to college, your parents don't want to get a fashion degree. A writing degree is something I can use in a marketing dept.
I'm also pitching a makeover pilot for TV that focuses on using fashion for expression – not shaming people for wearing the "wrong" thing.
I can't wait to see where Kat goes. If you're interested in learning more about ethical fashion, be sure to join her on Instagram, Twitter and Facebook!
Want to stay in-the-know about other badass creatives? Be sure to subscribe to The Huntswoman Newsletter.