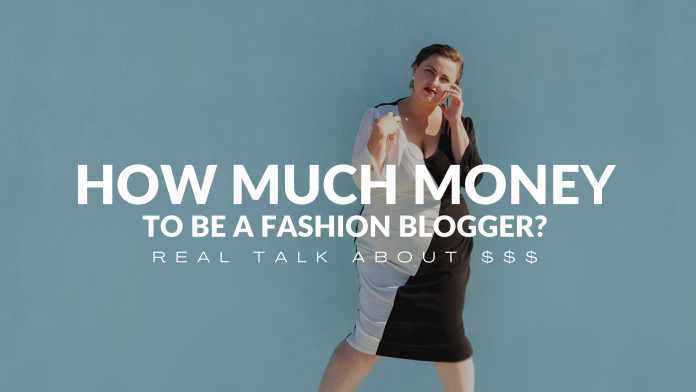 Hey there! This post contains affiliate links.  Using my links means I earn a commission, which helps me create more rad content.  More on affiliates here.
Recently, I was chatting with my friend, Sarah Conley of Rascal Honey, in the DMs on Twitter. We were talking about photoshoots (my favorite topic), and I mentioned that I was posting to Instagram every day – and how it was tiring, but I was also learning a TON!
"I would love to know what that costs!" shared Sarah, who is always down to make money and talk about money. "I'd love to see a blog post on that."
I immediately LOVED the idea, which led to this post.
In this post, I'll answer questions like:
How much do fashion bloggers spend on clothes?
How much do fashion bloggers spend on photographers?
How much do website services and blog hosting fees add up to be?
How do fashion bloggers make money?
How can I get started as a fashion influencer or blogger?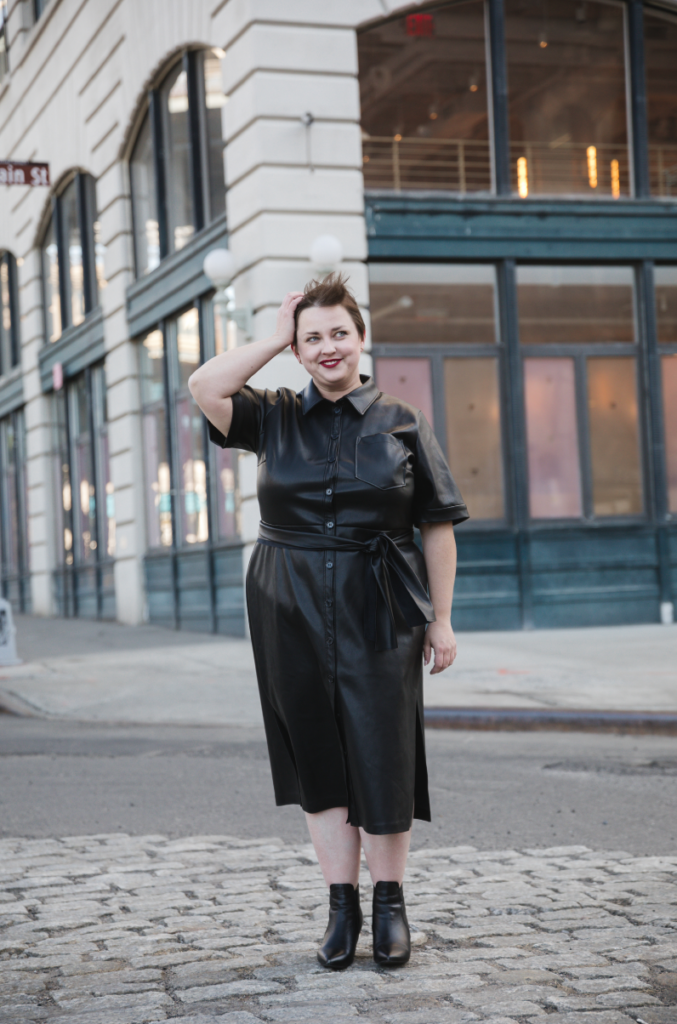 Fashion Blogging & Consumerism
I have been working to buy clothing more from plus size resale shops like Plus BKLYN and Fat Fancy. An issue bloggers have with buying resale clothing is that we can't review the pieces for affiliate revenue. I've shared some thoughts on that below, as well as a few subscription boxes I'm going to test out.
Want to Learn to Become an Influencer?
I'll be releasing this eBook (approx 20,000 words) with my learnings and tips later this month! Be sure to check it out if you want to avoid making some of the costly mistakes I made on my way to becoming a fashion blogger!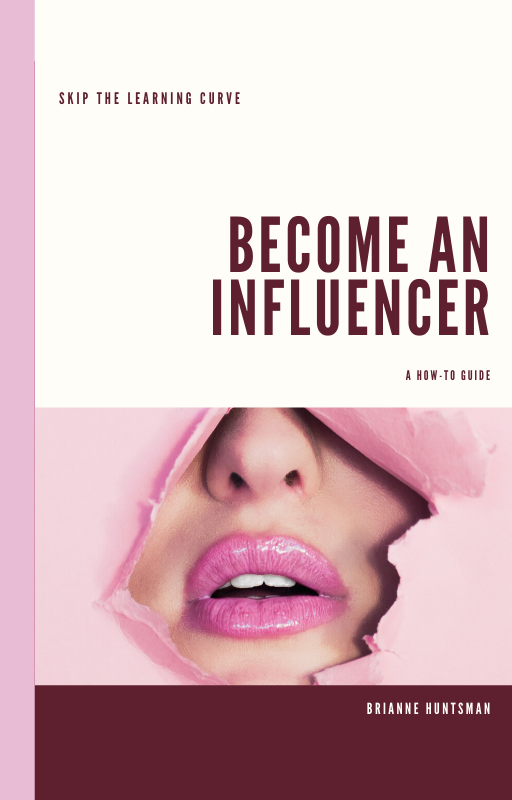 Budgeting: Number of Outfits Posted a Month?
Okay, so the first thing to note is that on my Instagram feed, I actually post 3 images of 1 outfit. So, 30-31 days of posts is actually 10-11 outfits.
Some bloggers only photograph an outfit once in a certain environment, and other bloggers will photograph an outfit 1x and then rephotograph it a few months later.
$849.64 on Clothing for August
Below, i've shared the outfits I posted to my Instagram, acting as if I purchased ALL of these items for August shoots.
I've put an asterisk ** next to clothing pieces that were bought pre-March, so you can see how I tend to collect items and well, sit on them, until I have a shoot. Half the outfits included clothing pieces purchased at the beginning of the year. Dia&Co gifted me the pants listed in #10, but other than that, none of this was gifted. (Torrid, call me, pls!)
Outfits Photographed in August:
Red Swimsuit from Amazon (Link to Shop): $30
Resale "Caution" Blue Dress from Plus Bklyn: $30 **
Striped Bikini from Target & Pink Pool Float: $80
Black Pleather Eloquii Dress (Link to Shop): $110 **
Loud Bodies Pink Satin Dress: $98.80 **
Floral Crown: $75 **
Pineapple Floatie: $34
Pink Zebra Suit from ASOS: $33.50 **
T-Shirt for Selfie: $13
Fall Blazer from Lane Bryant & Dia&Co Jeans: $34.90
Red Gown with Cheese Puffs: $20.45
Mint Blue Dress from ASOS: $27 **
Cowgirl Outfit From Torrid: $96
Plaid Skirt (ASOS) + White V-Neck: $18 **
Black Leather Jacket + White V-Neck (already included) + Acid Wash Jeans + Boots: $120 **
Black Bikini from Amazon (Link): $28.99
It's important to note, that I'm not spending $849.64 each month on clothes. This month had a lot of swimsuits, and I didn't have swimsuits that fit!
(Note: I did not return any of this clothing after shooing in it.)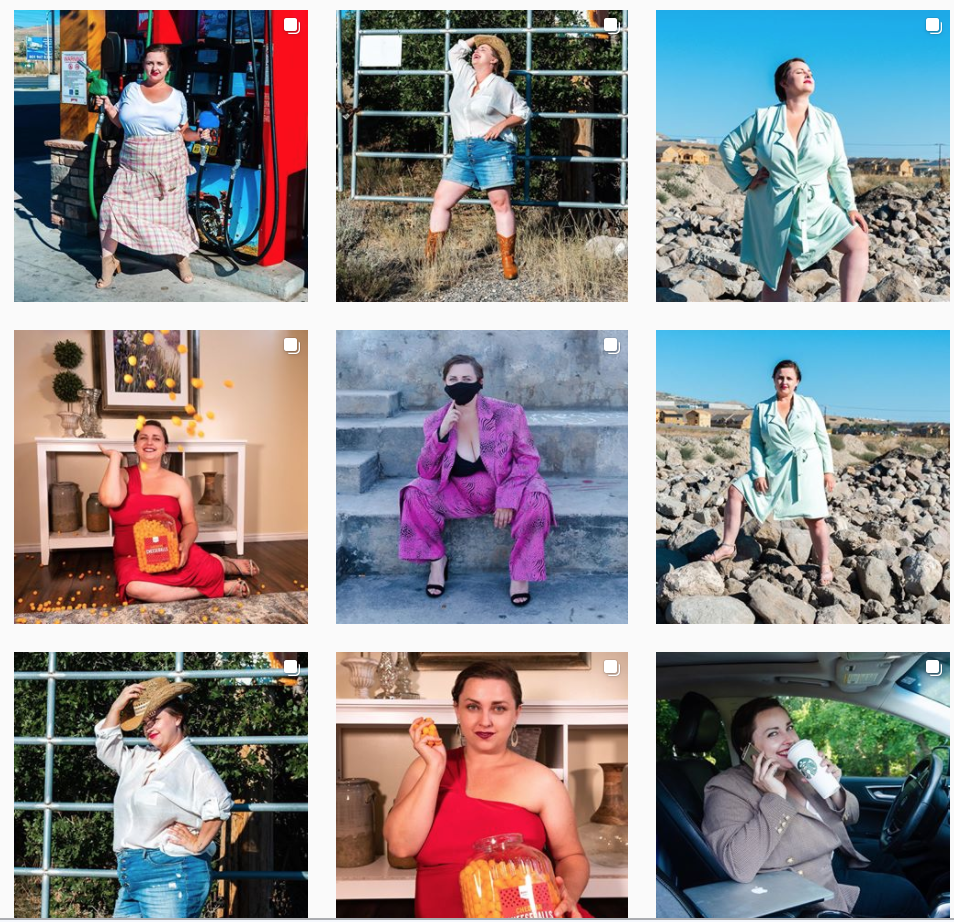 Photographers – $750 // Usually $650
Some bloggers are SUPER lucky, and they're married to their photographer. I am not, and this is something that I pay for!
For 3 photoshoots, I paid $650 for final images and shoot time. I also shared photos (Black Eloquii dress) from a session I did with Lydia Hudgens in January, so if we add the cost of just shooting that dress, then the total cost for photogs is about $750.
Most of my shoots are with Angela Petersen, of Visuals by Gie!
Web Hosting – Agathon at $90/month
My blog is hosted on Agathon, and I pay $90 a month for it.
Website Registration – $40 a year or $3.33 a month
I use GoDaddy, and I pay $40 a year for privacy protection and my URL.
Software – $42.48
Email Marketing: I use MailChimp (detailed review and tutorial HERE), and I pay $14.99 a month.
Canva: For Pinterest graphics and blog graphics, I pay a monthly fee to Canva of $12.50.
Tailwind: I use Tailwind for Pinterest marketing, which is $14.99 a month.
Social Media Ads – $0
I didn't run social media ads in August, and I usually budget $100.
Total: $1,745.45
There it is!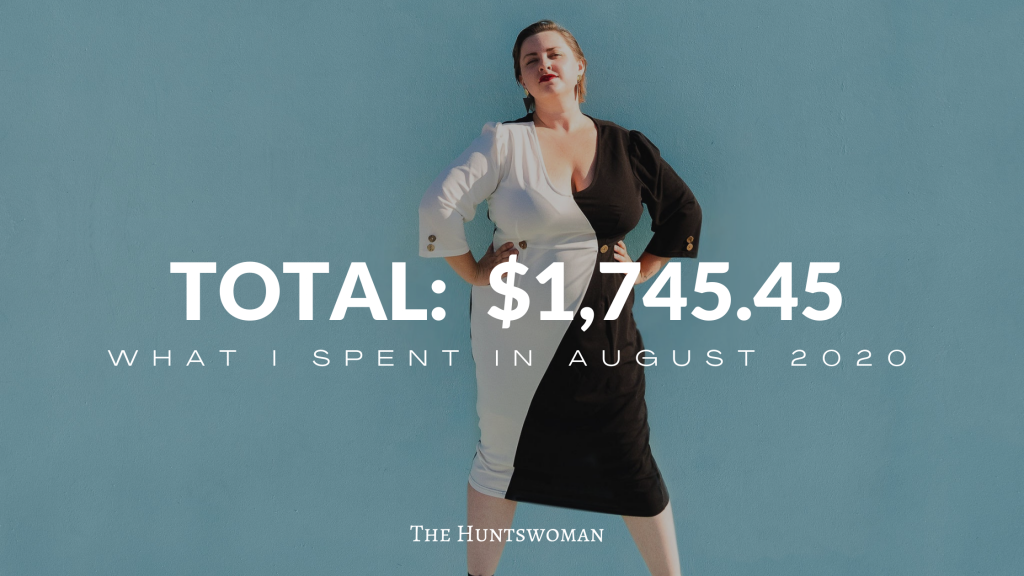 Extra Stuff – Should I Count This?
Equipment: Laptop & Phone are used for my job and life, sooooo I'm not counting this.
Cost of travel and gas: I didn't travel very far for these shoots, so meh, not worried about this.
You Do NOT Need to Spend $1800+ on Fashion Blogging
To be CLEAR, I am not suggesting what folks should spend – or what other people spend. I'm blogging mostly about mass market fashion, and I loathe thrifting. I'm not shopping only at high end brands, so some folks spend wayyyy more than me!
Tips for Beginners:
Bluetooth Remote: A lot of folks also use a bluetooth remote and self-timer for a lot of their photoshoots (more on that here), and I'd encourage you to DIY it before hiring a photographer.
Subscription Boxes: I would've spent a LOT less if I had used a plus size fashion subscription box!
Figure out a way to monetize your blog beyond brand sponsorships and affiliates. I have a sneaking suspicion I make quite a bit more $$$ than other bloggers, because I also promote my online marketing classes and consulting services.
Most bloggers start by reviewing clothes already in their closet, and pre-COVID, I would often pull from the closets of my blogger friends.
Making Money & Supporting High End/ Independent Brands
Honestly, I a lot of the clothing I purchase is to review and then make affiliate commissions. There's a WHOLEEE conversation to be had about the relationship between high end//independent brands and fashion bloggers. I'd love to work with you and include you in reviews, so if you'd like to collaborate – email me!
Extra Real Talk: Spousal Support, Family Money & Unemployment Income
Building a blog takes a lot of work. I often tell people, "Professional publishers are basically CEO of a magazine. We're writing content, using social media marketing, pitching advertisers managing affiliates, trend forecasting, etc."
Because blogging is a business, I think we (bloggers as a whole) need to be better about sharing what's going on behind the scenes (hence this post). I know a lot of bloggers have openly discussed things like:
A spouse or partner taking care of the bills and investing in the blogger platform
A blogger being able to focus on his/her/their blog full-time, due to losing a job and having unemployment income
Having familial money or support, in the form of direct payments, a trustfund, etc.
NONE of these reasons make a blogger "BAD" or less worthy of having a platform! BUTTTTT, if you're building your blog while working a FT job, it's important to only compare yourself to you – and focus on building a publishing and photoshoot cadence that works for you!

How I Make Money
Unlike a lot of fashion bloggers, I make a majority of my income from affiliate links, ads on my site and brand consulting. Oh! I also run classes for my readers! (More on this here.)
I have been increasing the number of brand partnerships I do, now that brands that I actually want to work with are ready to work with me! Before, I was getting a lot of, well, brands I wouldn't recommend. I also waited to do brand partnerships until I could charge enough to make it worth my time.
Put another way, I focused on affiliate income before brand partnerships.
if you're a blogger trying to figure out how to make money from your blog, let's book a one-off consult! Info here.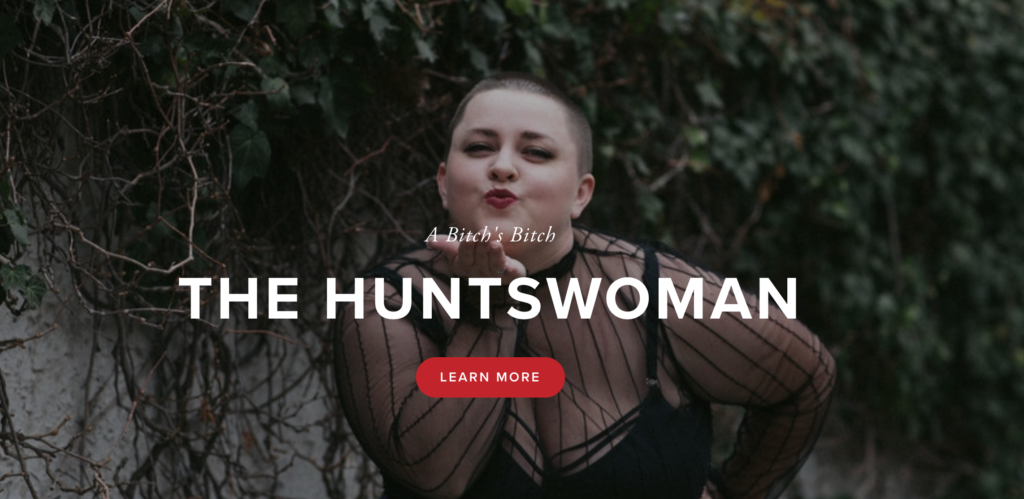 Luxury Fashion & Ethical Fashion
One of my goals for the remaining part of 2020 is to invest in and review 1-2 high-quality pieces from 11 Honore a month, as well as indie or ethical plus size fashion brands that make plus size clothes!
This will increase my monthly spending, and I'm gearing up to make that commitment. I love this Thistle Poplin dress from Azeeza: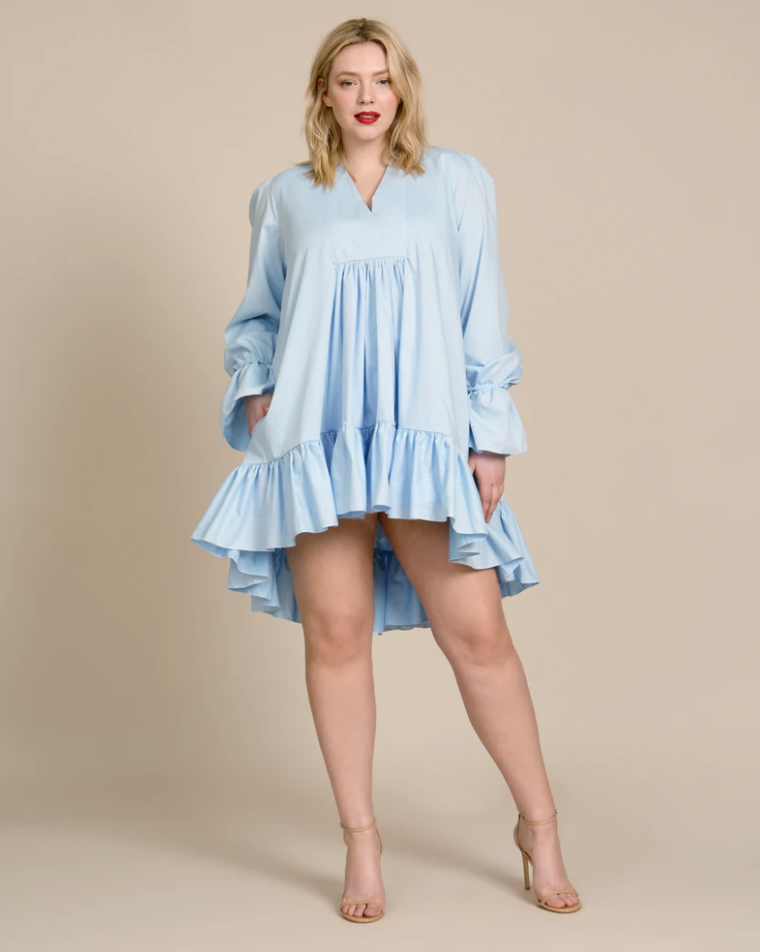 Fashion Subscription Boxes
I have tested using fashion subscription services in the past for Instagram content. I've reviewed the subscription services here. I really loved using Nuuly, but I decided to cancel after seeing that they don't have an affiliate program AND they don't post plus size people to their Instagram feed.
i'm not about supporting companies that don't support me!
I also want to start using fashion subscription boxes more to be more environmentally conscious, and I will also be photographing my plus size suits throughout the year!
I'm very intrigued by the new Eloquii subscription box, so stay tuned!!

What to Read Next
Any Questions?
Do you have questions about my math or other expenses I may have missed? LMk in the comments or by DM'ing me on Instagram!
Let's Connect!
If you want to stay up-to-date on my reviews, I recommend joining me on your favorite social media platform (Facebook, Instagram or Twitter).
More of an email kind of person?  Subscribe to my fashion-focused email list here, and/or my business focused email list here!