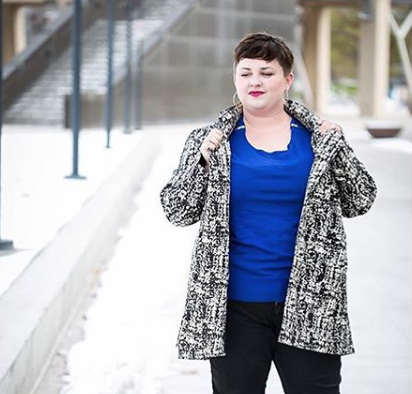 Hey there! This post contains affiliate links.  Using my links means I earn a commission, which helps me create more rad content.  More on affiliates here.
Today on the blog, I'm sharing my top tips and a system for how to sell your clothes on Instagram – and make money!!
As a blogger, I have a LOT of clothes. (Like, closets full of clothing!) I've recently been trying various plus size subscription services to cut down on the amount of fashion I buy, but i still have a LOT of clothes.
I've tried various ways to sell my plus size clothes online (shops like Poshmark, consignment, etc), and I've made the most money using a closet sale on Instagram. I thought it would be fun to share tips on how to sell clothes on Instagram for other folks who are trying this for the first time!
[Heads up! This post was originally posted in February of 2020, and I have updated it in February 2021!]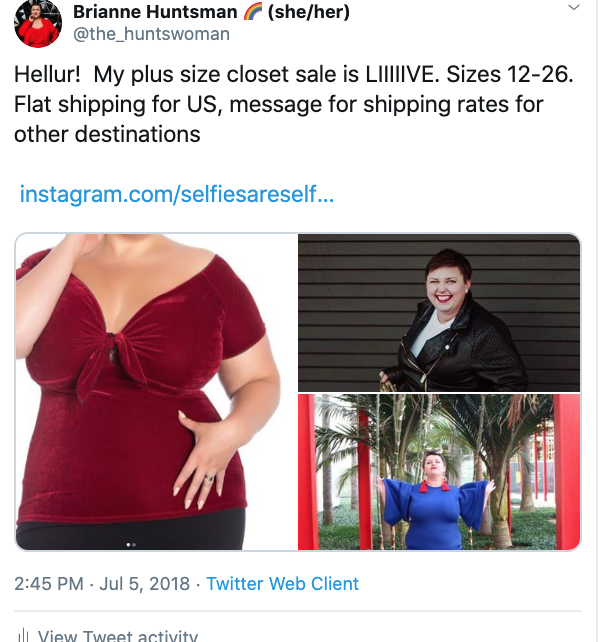 Guide | How to Sell Your Clothes on Instagram
There are various websites out there that you can sell clothes on, and the highest ROI I have found is to sell clothes via a second Instagram account.
It's also WAYYY more work than resale websites.
I did this in 2018, and I made about $1,000 selling pretty new and not-worn plus size clothes. Then, I did this again in 2020 and made close to $1,000.
Here's where we're going in this post:
Pros and Cons of Selling Your Clothes on Instagram
Calendaring for Selling Your Clothes on Instagram
Tips for Running an Instagram Closet Sale
BEWARE: SHIPPING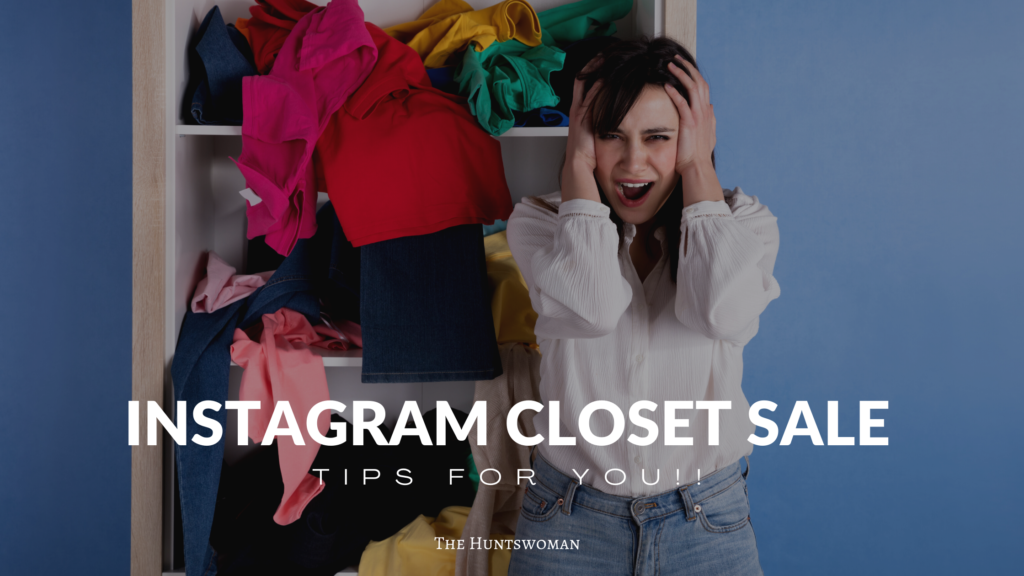 Pros of Selling Clothes on Instagram
There are a few things to consider, but here are my top reasons why IG sold better than other platform:
No need to sign up for a new platform! You can direct your readers to the secondary IG account when the sale opens, and then put it on private when you're done selling.
You develop a more personal relationship with your readers! You're sending them to an account YOU RUN
They can ask questions, and you'll get notifications when you're on IG anyways!
You don't lose $$$ to extra fees that websites charge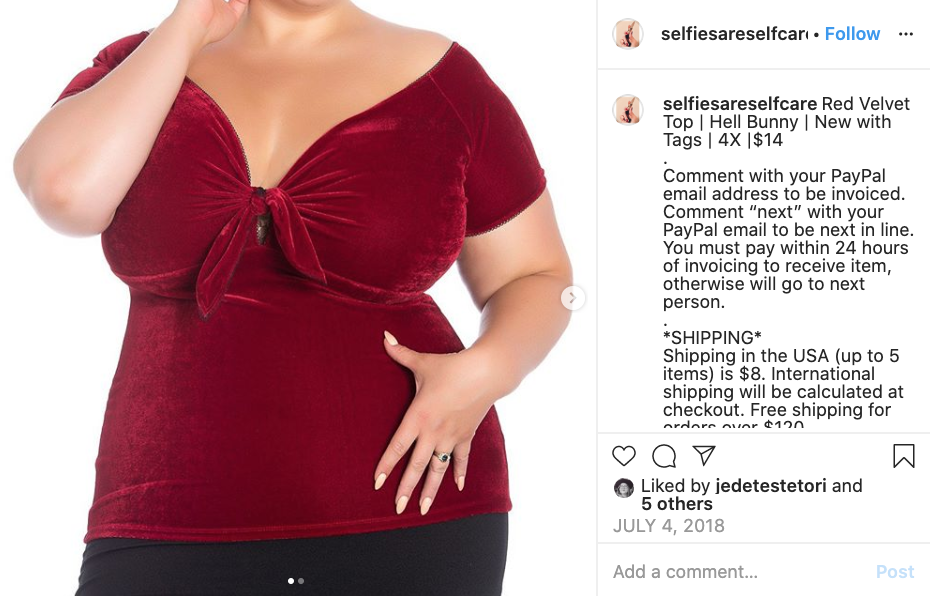 Cons of Selling Clothes on Instagram
An Instagram Closet Sale is WAYYYYY more work than selling your clothes on Poshmark or through a resale shop.
SHIPPING costs! I'll share more on this in a minute, but I have really screwed myself over with shipping!
You have to send and track invoices
You have to make shipping labels
You have to monitor unpaid invoices and re-list items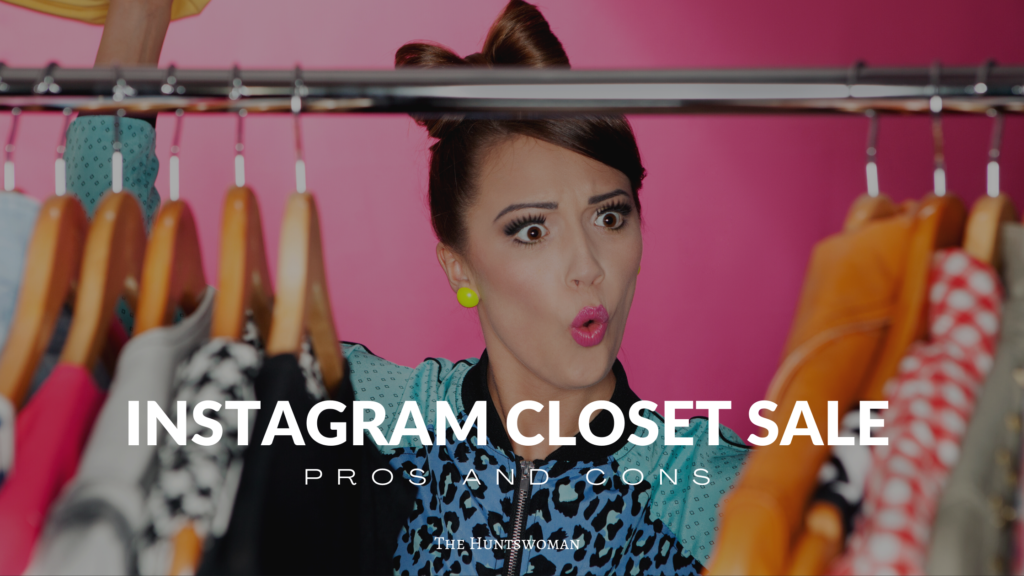 SCHEDULE – Planning Your Instagram Closet Sale
Gather all the clothes you want to sell over a few weeks
Launder/wash all of them at the same time!
Inspect clothing for tears and stains. If you wouldn't buy it at a thrift store, don't sell it!
Photograph clothes all at once!
Upload photos and descriptions (you can do pricing research on a website like Poshmark)
Launch sale on a Sunday, and post teasers throughout the process to get your readers excited!
I invoiced via PayPal to track everything. Some folks use Venmo or another payment processor
7 Tips for Selling Clothes on an Instagram Closet Sale
That said, there are ways to streamline the process. Here are some things I've learned:
Use the same caption organization for all pieces selling. Share size, brand, wear/tear and how shipping works. Instruct people to claim an item with a PayPal email address!
Set shipping at $20 USD for up to 3 items. This is a priority flat rate box. Stipulate that you'll charge more $$$ for shipping outside of the USA.
It is SUPER helpful to stipulate that you'll invoice separately for shipping. I have lost SO MUCH money, because I tried to offer like "$10" for shipping. Don't do that. Shipping like 5-6 pieces costs around $40, minimum.
Instruct people to comment "next!" if they want to be next in in case the original buyer doesn't come through. Instruct people to leave their PayPal email addresses in the comments.
Stipulate that people have 24 hours to pay an invoice before it goes to the next person.
Educate your buyers as to when all items will ship. I recommend setting the closet sale to be a specific # of days, and then you ship everything at once.
Use photos of you wearing the clothes, ideally! If not, take photos of the item hanging up, and take detail shots.

Setting Up Your Instagram Closet Sale Account
When it comes to holding a closet sale on Instagram, I recommend making a second account that references your main account. It makes it easier to post images of clothing, and if you plan on having closet sales in the future – you have an account to do so!
You can make an IG account specifically for your closet sale, and add "ClosetSale" to your regular username. I sent out the link to my closet sale to my email list first, as I want subscribers to be my .VIPs!
From there I shared on personal channels, and then I blasted the link across social media.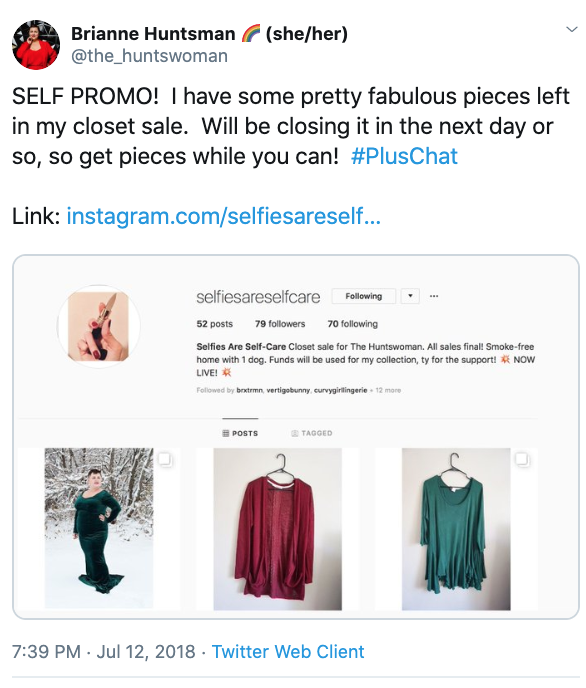 CAUTION: Calculating Shipping for an Instagram Closet Sale
I've talked about this above, but my top mistake/lesson was calculating shipping. I was worried if I charged too much for shipping then no one would buy my clothes on Instagram.
What happened?
I lost a lot of money shipping big boxes of clothes. I would recommend only offering a flat rate for shipping for 1-2 pieces, and then quote shipping based on weight.
Also, this is where it may make more sense to use Poshmark or Mercari – because they calculate shipping and make it super straight forward.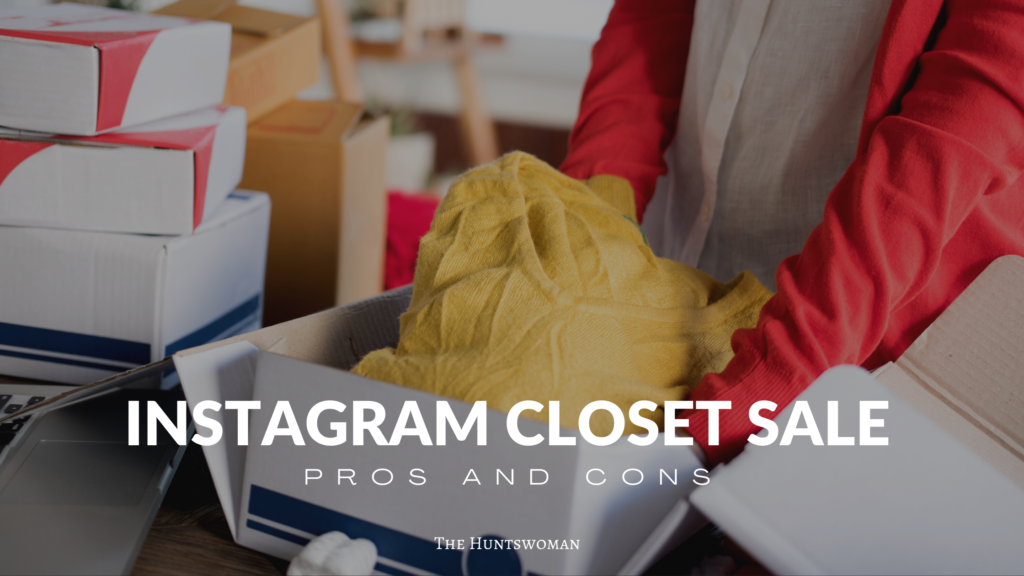 More Helpful Blog Posts
Questions?
I think I've shared just about everything, but if you still have questions lmk in the comments below! <3
Keep in Touch for More Plus Size Reviews!
If you want to stay up-to-date on my reviews, I recommend joining me on your favorite social media platform (Facebook, Instagram or Twitter).
More of an email kind of person? Subscribe here!
[FTC Notice: This post contains affiliate links, meaning I earn a small commission if you purchase a product through my link. Affiliates help me write more great content, and I only endorse products I truly love.]