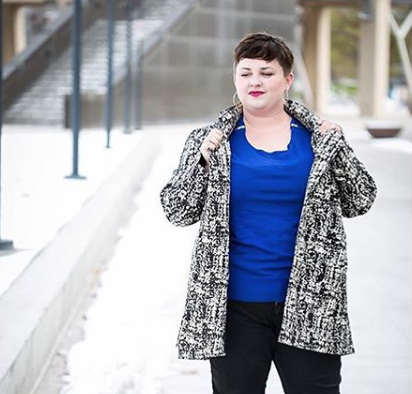 Hey there! This post contains affiliate links.  Using my links means I earn a commission, which helps me create more rad content.  More on affiliates here.
Today on the blog, I'm sharing my top tips and my system for how to sell your clothes on Instagram – and make money!!
Before. we get started – !'m Brianne – a plus size fashion blogger and designer. As a blogger, I have a LOT of clothes. (Like, closets full of clothing!), buying and being gifted lots of clothing pieces to review, moel, etc. I've recently been trying various plus size subscription services to cut down on the amount of fashion I buy, but i still have a LOT of clothes.
I've tried various ways to sell my plus size clothes online (shops like Poshmark, consignment, etc), and I've made the most revenue using a closet sale on Instagram – but not the most profit ]money I was left with after expenses.]. I thought it would be fun to share tips on how to sell clothes on Instagram for other folks who are trying this for the first time!
[Heads up! This post was originally posted in February of 2020, and I have updated it in April 2022! Pleases note that I'm not making any guarantee of success selling your clothes on Instagram! Rather, i'm sharing my experience! If there are tips in this post I've missed or info you'd like to share, please feel free to drop me a line!]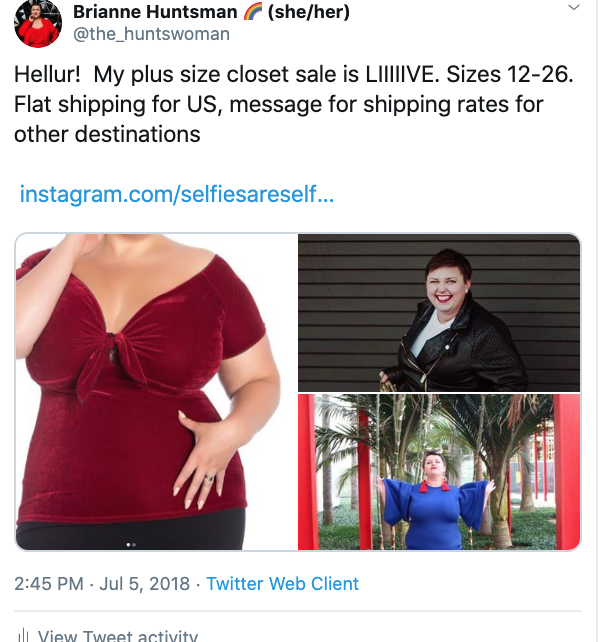 Guide | How to Sell Your Clothes on Instagram
There are various websites out there that you can sell clothes on, and the highest ROI I have found is to sell clothes via a second Instagram account.
Buuut, selling your clothes on Instagram is also WAYYY more work than resale websites – and a few mistakes can cost you a lot of money.
I did this in 2018, and I made about $1,000 selling pretty new and not-worn plus size clothes. Then, I did this again in 2020 and made close to $1,000.
Disclaimer: There are legal and tax considerations that come with selling your clothes online, and this post doesn't go into that! I'm neither a legal nor financial advisor. SOOOOO I recommend doing your research and consulting with your legal and financial experts! The info in this post is NOT legal or financial advice. The info is this post is shared for entertainment and to help give you an idea of how much work is involved here.
A HUGE CAVEAT & NOTE
SOOOOOO, I originally wrote this post for fashion bloggers, influencers and those with a good size social media following. Since then, a lot of folks have found this post useful [who aren't influencers or folks with a lot of followers on social media]. I've gone back and addd this section, so we're all on the same page!
BUUUT a key thing to note here is that I already have eyeballs. In 2020, I think I had over 15,000 Instagram followers. This meant I had people I could market my closet sale to.
If you don't have an engaged audience, or you're not already pretty active on Instagram – it can be hard to sell clothes there. It's the online equivalent of opening up a shop that no one knows exists and isn't in a good location – you may not make any money!– 
Ok, now that we've talked about that, let's move on!
Here's where we're going in this post:
Pros and Cons of Selling Your Clothes on Instagram
Calendaring for Selling Your Clothes on Instagram
Tips for Running an Instagram Closet Sale
BEWARE: SHIPPING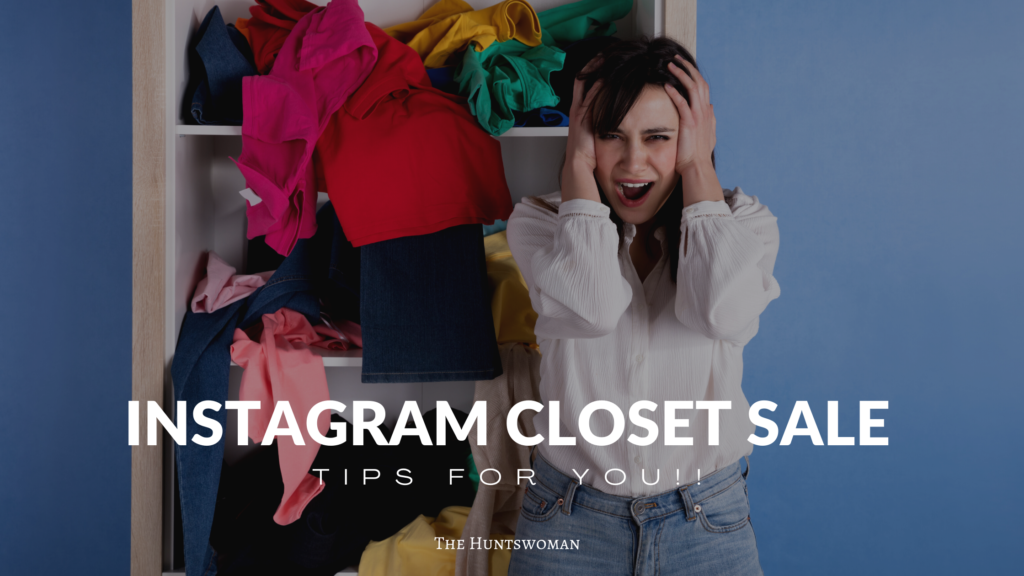 Pros of Selling Clothes on Instagram
There are a few things to consider, but here are my top reasons why selling your clothes on Instagram could be better than other platforms:
No need to sign up for a new platform! You can direct your followers to the secondary IG account when the sale opens, and then put it on private when you're done selling.
You develop a more personal relationship with your followers! You're sending them to an account YOU RUN
They can ask questions, and you'll get notifications when you're on IG anyways!
You don't lose $$$ to extra fees that websites charge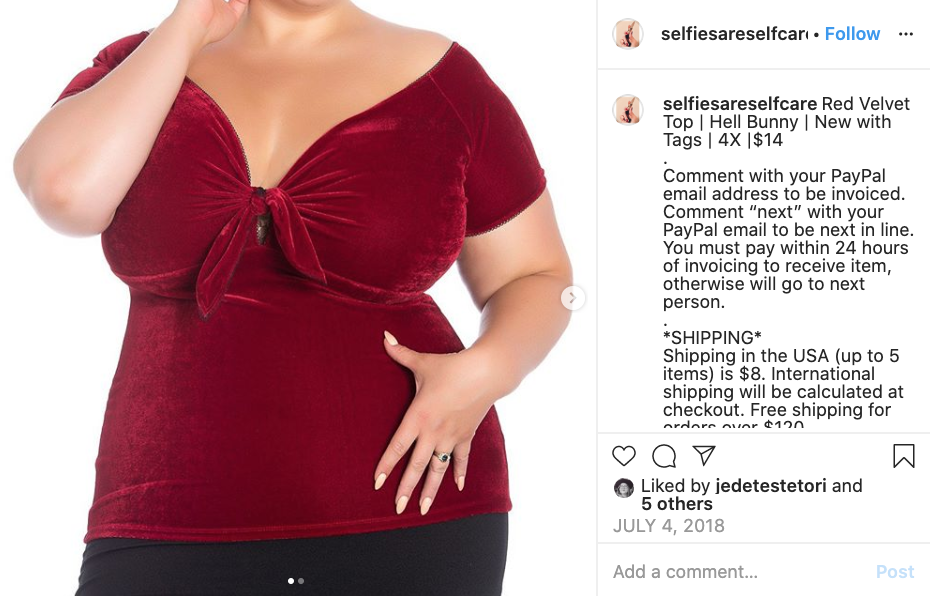 Cons of Selling Clothes on Instagram
An Instagram Closet Sale is WAYYYYY more work than selling your clothes on Poshmark or through a resale shop. There's a lot more backend work when you DIY it.
Here's a list of extra work:
SHIPPING costs! I'll share more on this in a minute, but I have really screwed myself over with shipping!
You have to send and track invoices, making sure people have paid
You have to make shipping labels, they're not automatically generated like on Poshmark
You have to monitor unpaid invoices and re-list items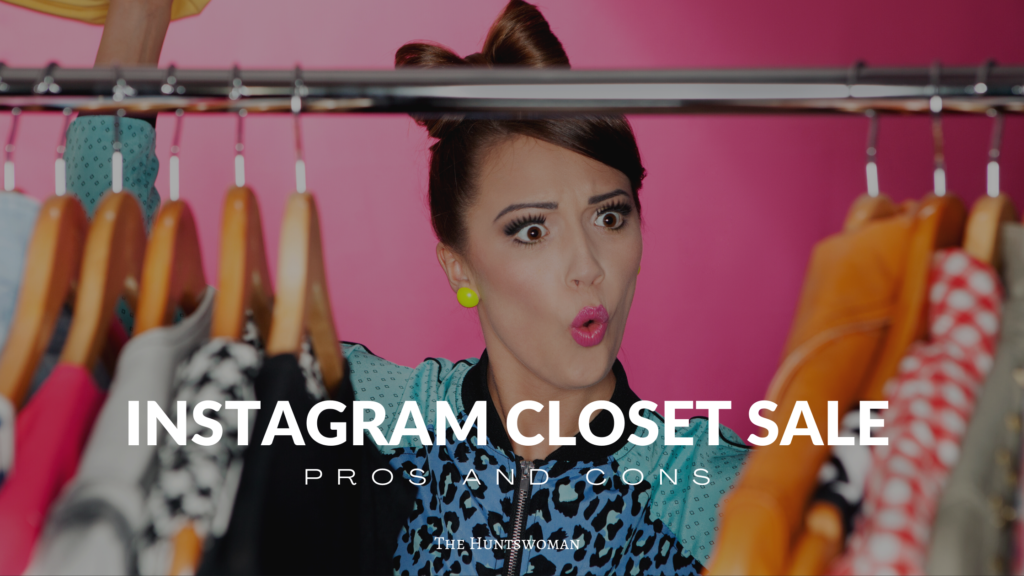 SCHEDULE – Planning Your Instagram Closet Sale
Ok, so now that we've talked about the pros and cons of selling your clothes on Instagram, I wanted to share my calendar or order of operations for planning your Instagram closet sale.
For me, I found it was easiest to have my Instagram Closet Sale open for a set amount of time [ex: 1 week]. Having a "store" open for too long means people don't feel an urgency to buy, and it ends up being a regular stressor. Having fixed start and end dates makes things easier, in my opinion.
Steps to Plan a instagram Closet Sale
Gather all the clothes you want to sell over a few weeks
Launder/wash all of them at the same time! Keep this laundry separate from your other laundry!! I literally took the laundered sale items and put them in my home office, to avoid confusion.
Inspect clothing for tears and stains. If you wouldn't buy it at a thrift store, don't sell it!
Photograph clothes all at once! [I put a thumbtack into the wall and hung a hanger off of it, putting clothes on and off the hanger.]
Upload photos and descriptions (you can do pricing research on a website like Poshmark, if you like, seeing what other folks sold it for.)
Launch sale on a Sunday, and post teasers throughout the process on your main account to get your readers excited!
I invoiced via PayPal to track everything. Some folks use Venmo or another payment processor
7+ Tips for Selling Clothes on an Instagram Closet Sale
That said, there are ways to streamline the process. Here are some things I've learned:
Create a separate Instagram account – not your regular IG account – to sell clothes. Some bloggers don't do this, choosing to just sell clothes via their IG Story. Then, the week before your sale, you promote the new IG Sale account via your IG Story, [maybe a Reel?], etc, on your main account.
Use the same caption organization for all pieces selling. Share size, brand, wear/tear and how shipping works. Instruct people to claim an item with a PayPal email address! [Scroll up for an example of my captions – I'm sure I'm missing something tho!]
Set shipping at $30 USD for up to 3 items. This is a priority flat rate box. Stipulate that you'll charge more $$$ for shipping outside of the USA.
It is SUPER helpful to stipulate that you'll invoice separately for shipping. I have lost SO MUCH money, because I tried to offer like $10 for shipping. Don't do that. Shipping like 5-6 pieces costs around $40, minimum.
Instruct people to comment "next!" if they want to be next in in case the original buyer doesn't come through. Instruct people to leave their PayPal email addresses in the comments.
Stipulate that people have 24 hours to pay an invoice before it goes to the next person.
Educate your buyers as to when all items will ship. I recommend setting the closet sale to be a specific # of days, and then you ship everything at once.
Use photos of you wearing the clothes, ideally! If not, take photos of the item hanging up, and take detail shots. If you have past photos in the clothes, use those!

Setting Up Your Instagram Closet Sale Account
When it comes to holding a closet sale on Instagram, I recommend making a second account that references your main account [see Tip #1, above]. It makes it easier to post images of clothing, and if you plan on having closet sales in the future – you have an account to do so!
You can make an IG account specifically for your closet sale, and add "ClosetSale" to your regular username. I sent out the link to my closet sale to my email list first, as I want subscribers to be my .VIPs!
From there I shared on personal channels, and then I blasted the link across social media.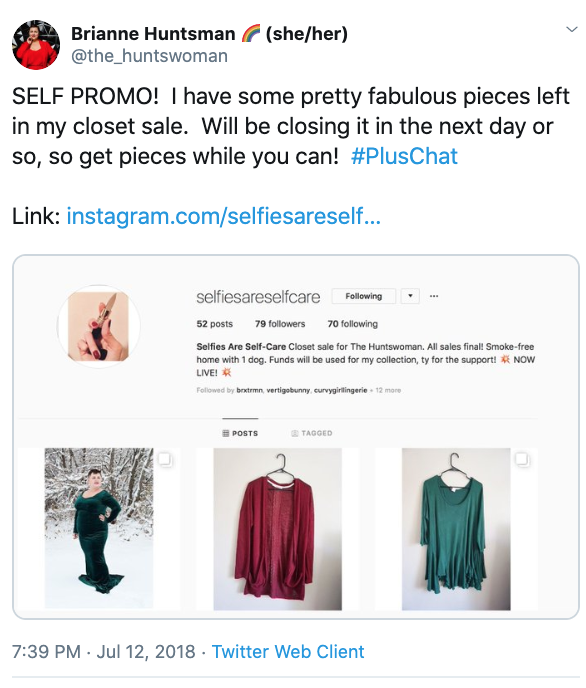 CAUTION: Calculating Shipping for an Instagram Closet Sale
I've talked about this above, but my top mistake/lesson was miscalculating shipping. I was worried if I charged too much for shipping then no one would buy my clothes on Instagram.
What happened?
I lost a lot of money shipping big boxes of clothes. Like, there some shipments I basically *lost* money on – the shipping cost was pretty equal to the cost of goods sold, meaning I didn't make money.
FML, right?!
I would recommend only offering a flat rate for shipping for 1-2 pieces, and then quote shipping based on weight.
This can confuse people, as many people are used to not paying a shipping fee [they're used to Amazon Prime], or not having to pay shipping if they spend over $50 or $100.
Here's the thing though – companies who offer free shipping have made it part of their business model, absorbing that cost elsewhere. But you and I are people – not companies – and shipping can get expensive FAST.
Shipping can get expensive FAST
Also, this is where it may make more sense to use Poshmark or Mercari – because they calculate shipping and make it super straight forward.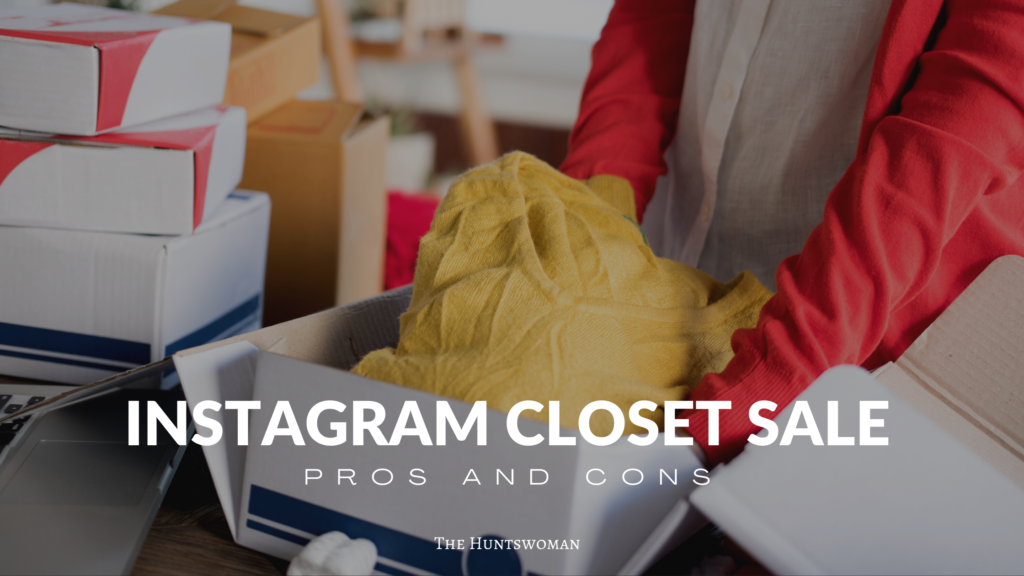 Final Thoughts – Is an Instagram Closet Sale Worth the TIME?
Okay, so I wish I had tracked how much time it took me to do a lot of the backend and setup stuff for my Instagram Closet Sale.
Because it took a LOT of time an brainwork – time and brainwork that probably could've been used elsewhere and resulted in me making more money. [I'm a business and career coach, have other businesses, etc.]
Since 2020, I haven't done an IG closet sale. I've found the time isn't worth it for me, because if I look at the money I made I'm not making my hourly rate that I make in my business.
Now, some bloggers and influencers do closet sales as a way to connect wit their fans, which I love! But I just don't need to do them often enough for it to be a point of connection. I've also been working on not buying clothes [subscription memberships for the win]
SO, TLDR – here are a few things to think on:
Would I be better off donating my clothes and making money by reducing my tax bill? [Talk to your accountant for this one!]
Would I be better off joining up with other people with a similar style and doing a joint closet sale?
Would I be better off consigning my clothes to a resale shop in my area?
Test for the Future – Selling Clothing on Facebook Marketplace?
Ok, so I'm currently furnishing my first apartment [writing loads of blog posts on it, list of those HERE], and something I've wondered about is using Facebook Marketplace to advertise a local closet sale – like a yard sale.
Specifically, I imagine this might be a strategy that does well for me, if I promoted a plus size closet sale on FB Marketplace – because there are so few plus size stores people can shop IRL.
I haven't tested this though! I wonder if doing this would be easier than Instagram. One wouldn't need to take photos of each item individually, I think. Taking photo of 5-7 items in a shot would work? IDK. This idea needs some fleshing out. It appeal to me, because you can put on FB Marketplace that it's pickup only [no shipping fees to pay!!] – and you could make the sale 1-day?
There are safety considerations of course [sharing your address on the internet can be risky], so I'd endeavor to do it somewhere I don't live. Which raises logistic issues!
More Helpful Blog Posts
I hope you found this post elpful! Feel free to share it with a friend!
Questions?
I think I've shared just about everything, but if you still have questions lmk in the comments below! <3
Keep in Touch for More Plus Size Reviews!
If you want to stay up-to-date on my reviews, I recommend joining me on your favorite social media platform (Facebook, Instagram or Twitter).
More of an email kind of person?  Subscribe here!