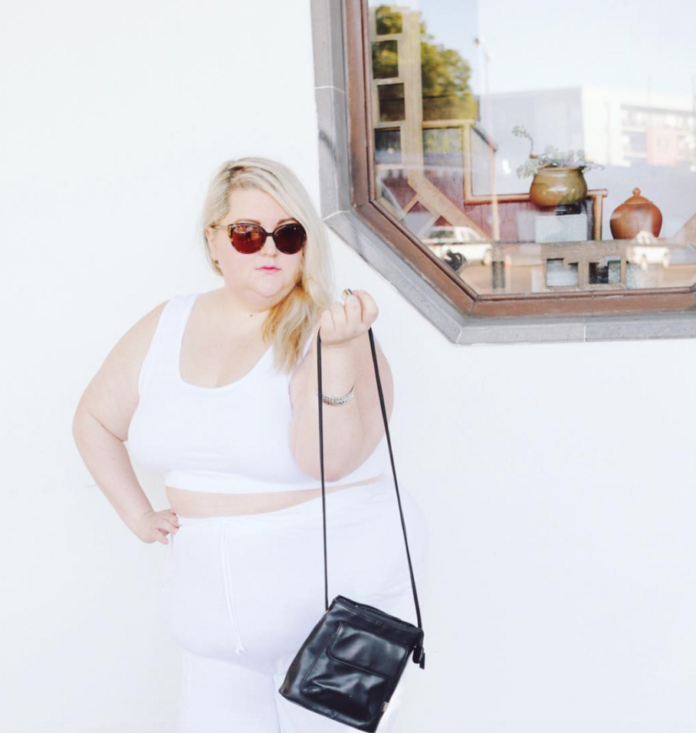 Hey there! This post contains affiliate links.  Using my links means I earn a commission, which helps me create more rad content.  More on affiliates here.
It feels like the media/press recycle the "same old" influential [non-white cis men] creatives. So, instead of just complaining about this (which I'm super good at!), I decided to begin highlighting some of my favorite creative business babes!
Suma Jane Dark is a plus size fashion blogger and body positive photographer (specializing in boudoir!) from Portland, who is currently traveling the country, bringing body positive boudoir to the masses.
She's an internet friend turned IRL friend, and I'm stoked to have her as the second business babe in this series. This blog post will be especially helpful for the folks reading who want to be full-time creatives, so share this post with one of those folks! I wrote more about my Suma//boudoir experience here, and my friend Morgan wrote about her experience with Suma//boudoir here.
1. I know you've been a professional photographer for years — so when did the switch to boudoir happen?
Until a few years ago, I would follow the paying photography jobs – honestly, I would figure out what services folks were willing to pay for and brand myself accordingly. I started doing baby photos, weddings, and lots of family photos.
Through the course of doing that I worked for a boudoir studio in Portland. I had done experimental nude stuff and pinup stuff, but I hadn't done true boudoir. Working with women and seeing how moved they were and getting emails and things like that. It just gave me some clarity about what I really like about my job.
And I decided to stop doing the stuff I don't enjoy.
Saying no to baby portraits and weddings felt really good. I've enjoyed doing it, but moving forward I don't want to do it! It was a release, and now I can focus on what I do want to do. It wasn't scary at all, because I knew what was coming. "Feast and famine" is totally a part of being self-employed, so I plan accordingly.
2. How is your boudoir photography unique?
One of the things that's driven me up the wall about the body positive movement is that we're supposed to only have photos taken of us that are like "documentary style." there's no fantasy or fun. And we're all like #ScrewFlattering etc., but I grew up reading Vanity Fair and Vogue and I'd love to see all kinds of bodies shown in that glamorous style. We deserve that too.
A lot of people want that experience and we never get to see that. I want to provide that. Why do thin women only get to see themselves that way?
Boudoir is nice, because people are crafting their ideal image. Their superpowers and unique image. I love how people come in and talk about what they value about themselves, and then we design how they want to be portrayed.
3. Congrats on opening your own studio!  How does it feel?
It feels amazing!  It's a totally curated space, and we've done things like reinforce furniture and offer accessibility options to make sure everyone can get an amazing photoshoot.
4. Is Boudoir a one-time thing?
We have a really high returning ratio, at least 50% of people end up rebooking and in Portland where I have a physical studio it's 80%. We even had a client in Sacramento rebook to come the next day at 7am.
People get really into it, directing their ultimate form portraits for themselves. I'm always saying, "Selfies of Your Ultimate Form."
[Note: I guess I'm not surprised that people rebook, I've just booked my second shoot… I REGRET NOTHING.]
When someone says, "I want to be in naked in a bathtub eating cookies! I'm calling Suma." I want to be that person, that photographer that people think of, to bring all of their "out there" desires to life.
5. Do folks have their own zany shoot in mind?
People are pretty shy about what they want, and my job is to break them out of that shell. If you can think of it I can shoot it. I've had clients who wanted to be naked with costumes made of spaghetti, and we did it. We can definitely do it.
7. Have you ever thought of doing a book?
It's definitely one of my goals. I've been keeping a folder on my computer with photos. I'd also like to do a couple dedicated months for a book. But I'd so love to do that, because there are so many good photos that have come out of "Ultimate Form" portraits, and the world would love to see that.
8. You just bought a van right? To travel cross country to do boudoir? How the heck did that happen?
I've been asking the Universe to help me find the perfect van that I could afford for over a year, and it's been a weird adventure of meeting folks in parking lots. I've been saving up and I had a little bit put aside, so I was searching for a mythical creature — a cheap van that doesn't need work.
The guy didn't have a phone number! He's an artist who lives in New Mexico half the year and we hit it it off! It was meant to be!
9. I have this picture of you bringing goddess-like and editorial boudoir photography to everyone, driving off into the sunset. SO. Where are you headed next? How can folks reach you?
I'm coming to LA and Salt Lake City, and later this summer I'm hitting Austin — maybe Dallas if there is enough interest. I'm going to do the northern belt (NYC, Columbus, possibly Kansas City or Denver). If people are interested, they should contact me through Facebook or Instagram. Honestly, anywhere folks can get a group of 10 people who want me to come, I'll do it.
I don't shoot cisgender straight men, unless they're with a partner, but everyone else is welcome!

10. What would you say to folks who are afraid or nervous at the thought of a shoot, but really want to do it?
It's normal to be afraid! It's outside of the realm of what folks do in their daily lives. Fear shows you that you care about the decisions you're making. But, there's literally nothing to be afraid of, and I'll walk you through everything. I'll have poses, and you don't even have to pick outfits — if you send your size and what you like, I'll help you find it. The shoot is honestly a lot like a sleepover — it's a mini party where we have so much fun.
11. Alright, here's The Big Question: What advice do you have to young creatives?
This is probably an unpopular opinion, you should take whatever you can in the beginning. It doesn't have to be what you love, get a job that will give you a good check. Use that check to buy really good equipment and get setup.
Use that check to buy really good equipment and get setup.
You can learn a lot from jobs that suck. I had a terrible photography job with an awful company, but I learned so much from it that still benefits me today. And I wouldn't be as versatile as I am.
Take whatever job you can in that field, and one day you'll wake up, know that you're done and think "I'd rather get hit by a bus than work here". When you have that moment, you'll have built up your equipment and supplies and nest egg, and say "BYE". You never have to look back.
Also, real talk, I have lived out of my car! I have seen this so much in photography, there's this huge "Don't work unless they're paying what you're worth" but in the beginning you're not going to get paid what you're worth. Sometimes you have to take an unpaid or low paying gig if you meet the right people, or share your card at an event. You have to let people see it before they'll pay for it.
[…] in the beginning you're not going to get paid what you're worth.
No one is going to care how good you are until you have built the body of work that shows how good you are.
It's exploitative and awful, but you have to play a game. People are tight with their money, you have to show them the experience behind what you're asking for.
Build the body of work, then charge.
If you have to sleep in your car, because you can't get a room where you have a gig, then sleep in your car! I've done it. It's not glamorous, but you've got to make it happen.
ALSO. Ignore all the cisgender men.
They are not there to support you, for the most part. Do what you know, do what you want to do. Seek out people who are like you, who are doing what you want to be doing. Those are the people whose advice and experience you should be taking note of. Those are the people who will really help you. You can follow their body of work and you can learn from observing.
Cis men are the #1 naysayers of people trying to do anything different.