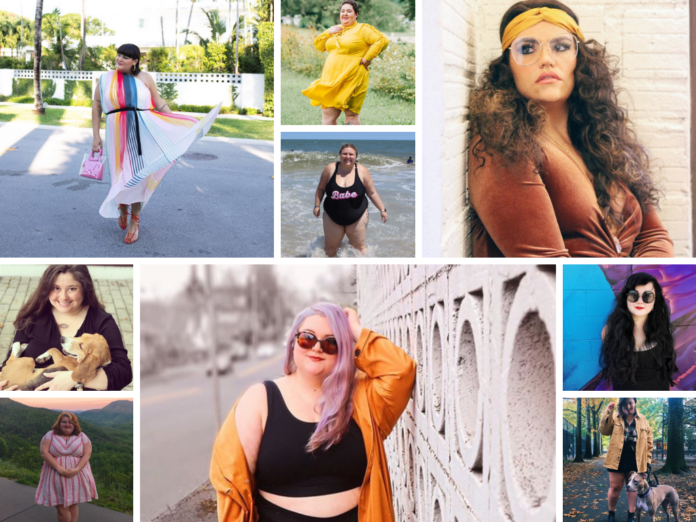 Hey there! This post contains affiliate links.  Using my links means I earn a commission, which helps me create more rad content.  More on affiliates here.
Given the political climate, I wanted to celebrate the Jewish creators that I know and follow.  Growing up Mormon, I knew exactly 0 Jewish people (even though Mormons are actually a body of people that form an unofficial fan club of Jews & Judaism – because they're the OG chosen people 😉 ).
One of the best ways to create a better world is by celebrating diverse creatives!  So without further ado, here are some of my favorite Jewish plus size bloggers and creatives:
1. Suma Jane Dark
Have you noticed that I talk about Suma ALL THE DANG TIME?  Of course you have.  And I will continue to do so!  Suma is a plus size blogger in the PNW, and regularly drops Yiddish words in conversation.  I love hearing her stories about growing up as a Jewish person in the American South.
2. Nikki G
Nikki is a plus size actress, singer and model who is HQ'd in Atlanta, Georgia.  Nikki regularly talks about her experience as a Latina and Jewish woman.  Her Instagram Stories often show her switching from Spanish to English, and I love it!
3. Chaya Milchtein  
Chaya is a queer and jewish blogger who currently lives in Wisconsin.  She was raised in the Chasidic branch of Judaism, eventually leaving to practice her faith in her own way.  Chaya regularly hosts Shabbat dinners for the queer community (Jewish and non-Jewish folks welcome) at her home.
4. Nicolette Mason
One of everyone's faves, Nicolette often talks about her Jewish identity + culture on Twitter and her Instagram Story.  Her perspectives and insights are incredibly valuable, so be sure to join on her Twitter!
5. Vanessa Friedman
Vanessa is a queer femme writer and "jewitch," whose Instagram Story regularly makes me do a spit take from laughing.  She's written over 200 articles for Autostraddle, and you should probably read all of them.
6. KJ
KJ is a genderqueer and body positive blogger, who calls Pennsylvania home.  They also blog about chronic illness and #SpoonieLife on ChronicallyKarli.
7. Beckah Sheeler
I met Beckah on the internet (honestly, where I meet all of my friends).  She's a Shopify developer and is working on her own jewelry startup (not yet launched, so shhhh).  Beckah is a loving person, who knows how to share some humorous zingers.
Beckah also told me the yiddish word for "plus size," "curvy" or "fat" is zaftig.  From Beckah:  "It has a connotation of both "plump" or "curvaceous" or "fat" and is used pretty interchangeably."
8.  Emily Gottschaulk
Emily is an internet friend, who owns (re)purpose jewelry, a company that donates a portion of all jewelry sales to worth nonprofits around the world.  Emily makes each piece by hand, and I have one of her pieces (and love it, ofc).
9. Ingrid Rachel
Can we talk about how Rachel's hair makes me want to go blonde?  She's a pinup goddess, and one of the founders of Big Bride Club (a site that celebrates all things plus size bridal), and calls Pittsburgh home.
10.  Ashley M. Seruya
I met Ashley at a meetup hosted by plus BKLYN, and I instantly took to her warm energy.  She's a social worker and virtual business manager, based out of New York City.
On being Jewish, Ashley shared, "Being Jewish means approaching life with curiosity and nuance. It's understanding that we will always have more questions than answers—and that that's okay. It's empathy and deep connectedness. It's viewing the world in a profoundly unique way that couldn't be anything other than Jewish."
I know I missed bloggers and creatives that SHOULD be on this list, so please comment below if you have any suggestions.  :*
If you'd like to keep in touch, be sure to subscribe to weekly my newsletter, so you'll stay up-to-date on new reviews and fun plus size fashion content!