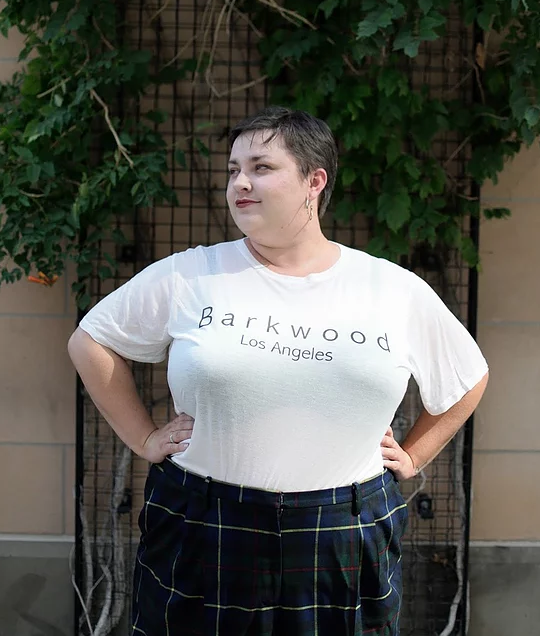 Hey there! This post contains affiliate links.  Using my links means I earn a commission, which helps me create more rad content.  More on affiliates here.
Over the last few years, there has been an enormous increase in the plus size clothing offering.  Brands have sold out of fashion forward clothing overnight, and existing brands have extended their size offerings (not always with great success).
Despite moving forward, there is still a decided lack in contemporary and high end plus size clothing – especially past a size 20.  A combination of toxic beauty ideals, as well as a real shortage of pattern makers and designers who know how to design for a plus size body has created a sort of brick wall in plus size fashion.
Plus size women want high end clothing.  But it feels like we've been asking for it for years, to no avail.
Enter Barkwood Clothing.  
Look at those SEAMS!! I am *OBSESSED*
When I first came across Barkwood Clothing online, and I immediately thought, "HOW HAVE I NOT HEARD OF THIS BRAND?"  I am constantly reading and sharing thoughts on plus size brands, and I have a real interest in luxury and high end fashion.  I couldn't believe that I had never heard of Barkwood Clothing!  Looking at the exacting cutlines and use of fabrics, I would've thought A-Listers would be wearing Barkwood Clothing years ago!!
Barkwood Clothing is also size inclusive, running from a size US 0 to 30.  I carry most of my weight in my stomach area, and finding trousers has been futile.   The fabric is beautiful, and the crotch fits so well (which never happens).  I'm rocking the Plaid Trouser ($195).
Honestly, prepare me for my corner office.  I'm ready.  (Pants)
I popped into the contact form on the Barkwood Clothing website, furiously typing and sharing any and all resources I thought would be helpful.  That email led to a collaboration with Barkwood Clothing, and I'm excited to announce that I'll be joining Barkwood Clothing as a brand ambassador at TCFStyle Expo this weekend, in Atlanta, Georgia!
I'll be in the Barkwood Clothing booth at the conference, as well as rocking H2T Barkwood Clothing on the "Building Community" panel I'm speaking on!
Can you imagine stomping your way through life in these PANTS??
About Barkwood Clothing
The Barkwood Clothing team, headed by founder Charniece White, has been quietly working away at garments for 2 years.  Headquartered in Los Angeles (where all pieces are ethically made), creating "exclusively inclusive" clothing.
Having attended design school in Atlanta, Georgia, Charniece White moved to Los Angeles to better understand why clothing that is made doesn't fit – and how to make it better.
Says Charniece White in an interview on TCFStyle Expo, "Barkwood aims to fill the hole left by high-end contemporary brands that have basically said clothes are only for a small percentage of people that have unrealistic body goals. We want to eat that stereotype up like biscuits and gravy on a Sunday."
 I'm HERE FOR THAT.
Love love the plaid dress.  Plus babes in large prints!!
I'll be reviewing a few more pieces on my blog, as well as sharing all the BTS goodness you could ever want this weekend on my Instagram!
Barkwood Clothing is beginning a meteoric rise, and I can't wait to see it happen.  Plus babes, high end and statement making fashion is HERE.
Be sure to join Barkwood Clothing on Instagram and Facebook, to stay up-to-date on all the goodness they'll be sharing.  
This post is a paid collaboration with Barkwood Clothing.  Real talk, I only work with brands and products that I really believe in. 
Loved this post?  Here's what to read next!
Join VIP – More Hot Fashion Takes
If you want to stay up-to-date on fashion blog posts, I recommend joining me on your favorite social media platform (
Instagram
,
TikTok
&
Twitter
). More of an email kind of person?  Subscribe to my fashion-focused email list
here
, and/or my business focused email list
here
!