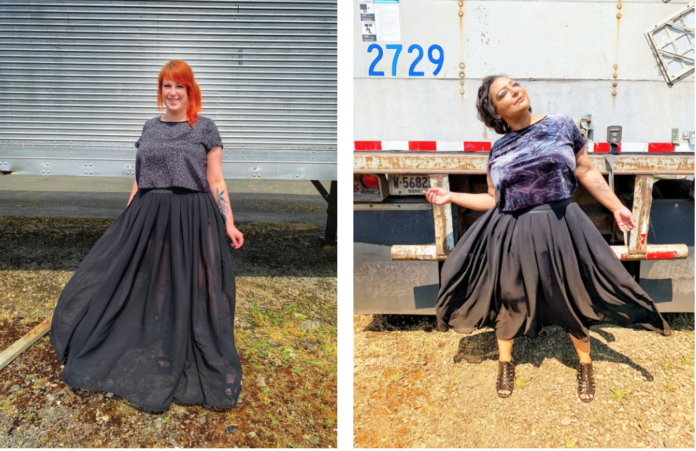 Hey there! This post contains affiliate links.  Using my links means I earn a commission, which helps me create more rad content.  More on affiliates here.
I first found Copper Union when I was hunting around the internet for plus size fashion that had something to say. Love me some wardrobe staples, but sometimes a gal wants to dress like a beautiful butterfly, ya know?
Copper Union has been on hiatus until today (more on that in a moment), and I sat down with designer and co-founder, Claire Doody, to talk about the newly released pieces, her business model (and sustainable practices), as well as how excited she is to be back making fabulous clothes for plus size fashionistas.
Claire is based in Portland, Oregon. She regularly shows collections across the West Coast, and I'm so excited to be sharing her work with you today!
BH: Okay, first of all – can we have a "nerd alert" moment? I love that your brand name is "Copper Union" because its acronym, "CU," is the symbol for copper on the periodic table!
CD: That's why I did it! I was also 29 when I launched Copper Union, and the atomic number for copper is 29.
BH: Wow, okay, I wasn't ready for this LEVEL of numerology. Love it! Okay, let's talk about your new pieces! Let's start with the skirts – what's new?!
CD: Today I launched the Dark Moon midi and maxi skirts, which feature wide waistbands for comfort, pleating for some drama and are also made out of sheer material. Perfect for summer when you want to bare your legs, but you can also put a slip underneath if you'd like.
The midi skirt sold FAST, so I'm taking pre-orders. I'm really excited about the response these pieces are getting.
BH: Love the pleating. You also launched crop tops today, which I am SUPERRRR excited about. The crop tops go a couple of inches below the bust, which is a cut I have really been wanting. How did you design these?
CD: The crop tops were designed with a variety of bodies in mind. They look really great on people with larger busts or chests, but they also look fabulous on people who are smaller on top. People of all genders will rock these.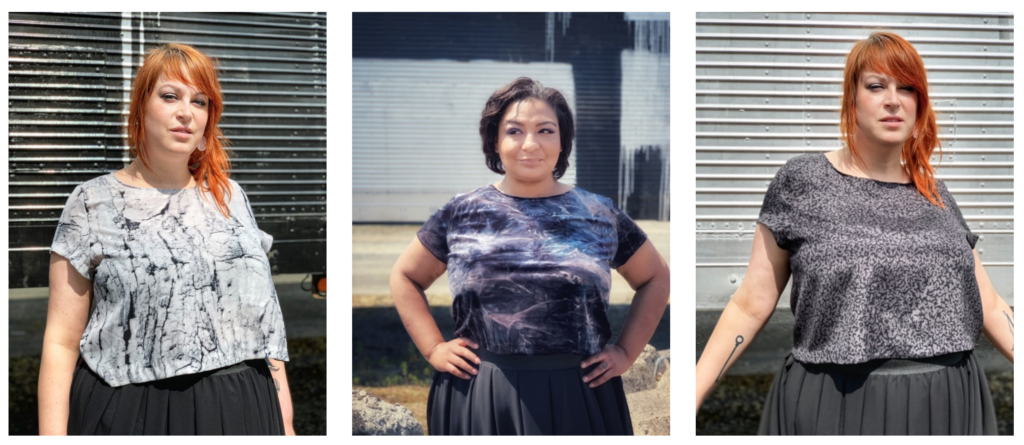 BH: These are great! I just bought the crop top in the unicorn print!
CD: Thank you for your support! Indie fashion is absolutely driven and supported by the plus size community. Copper Union would be a dream without people sharing the site on social media and purchasing.
The best way to support indie fashion is to buy it, and second to that is sharing it (links and social pages). Consumers have a lot of power, and recommendations go a long way!
BH: TRUTH. Now, let's talk about how you're changing up your business model. You used to release full collections –and now you're shifting to "drops." Can you talk a little bit about that decision?
CD: As a designer, I used to think there was one way to do things – designing full collections, generally 1-2 a year. After I went on hiatus for cancer treatment, I realized that I was limiting my creativity to certain times of the year.
The "Drop Model," where I release a few pieces at a time, allows me to create all year. I have more flexibility in what I create, creating really unique pieces in limited quantities. I also don't have to carry as much inventory – when the pieces are gone, they're gone!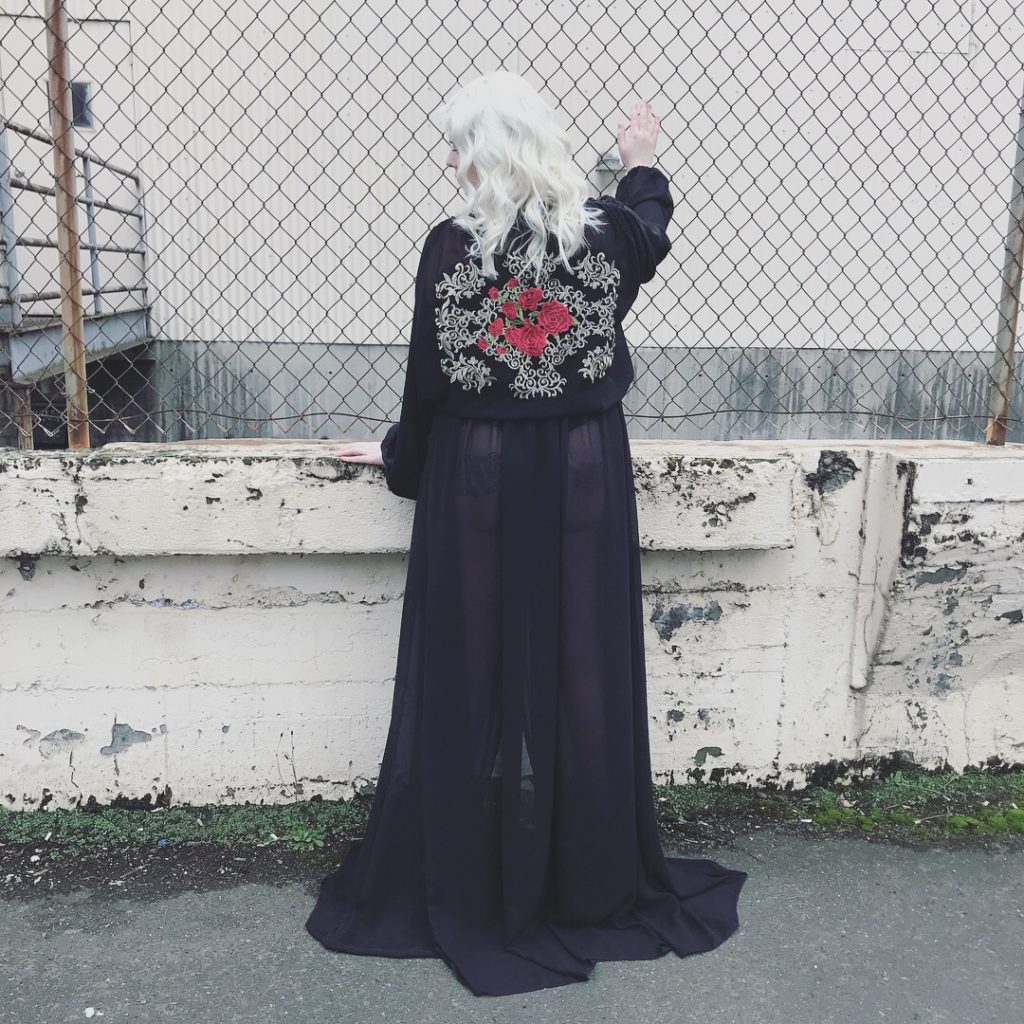 I will have staple pieces for the brand, and I think this new model is honestly more fun for everyone!
This model also is more sustainable (environmentally wise), as I can buy end of bolt fabric or remnants. I'm not stuck trying to find 100+ yards of a specific material.
BH: I think that's really smart. I also love that the pieces are all made locally in Portland, Oregon.
CD: Yes, it's important to me that people feel good about where their clothes come from. My team and I make the pieces locally in Portland. I'm also able to make custom pieces for clients, as my studio also functions as a showroom.
BH: Okay, time to get a little deep, are you ready?
CD: Oh, I'm ready!
BH: The brand has been on hiatus this year, after you received a cancer diagnosis. You kicked butt through treatments, and now you're back. What was it like to re-enter the studio space?
CD: Fighting cancer was incredibly difficult, no shock there. It was exhausting, and I found myself frustrated that I wanted to create on a daily basis – but I was just so incredibly drained.
When I first re-entered my studio space, I had these big plans for amazing pieces I wanted to create, specifically a really amazing jacket.
After many iterations, the jacket just SUCKED. IT was everything that's wrong with plus size fashion, and I was really upset about it. Talking to a friend about it, she said, "Claire, you're not going to pick up where you left off. You have to build up to it."
Thinking on her words, I went back to my design archives and looked through my designs. There were a few one-off designs that I wanted to produce and sell, but wasn't able to.
One of those pieces is the crop top, and I'm excited to share more this summer.
BH: Thank you for sharing this, I think a lot of creatives will relate to the need to be gentle with oneself. Anything else we should know?
CD: Two things:
I can make the pieces on the site in literally any size. The size chart goes up to a 5X, because there's only so many numbers I can put in a chart. If you email me your measurements, I am happy to make these pieces in your size.
I am excited to bring back KNOCK OUT, a fashion event for the plus size and fat community in Portland. You can find more details here, and this year is going to be the best yet. It's a fashion show and opportunity to independent plus size designers from around the country. Details here.
Do you love independent plus size designers?! Be sure to share this post, so other people can learn about Copper Union.
You can shop Copper Union designs here.
Want to stay in-the-know on new plus size brands? Be sure to subscribe to The Huntswoman Newsletter.