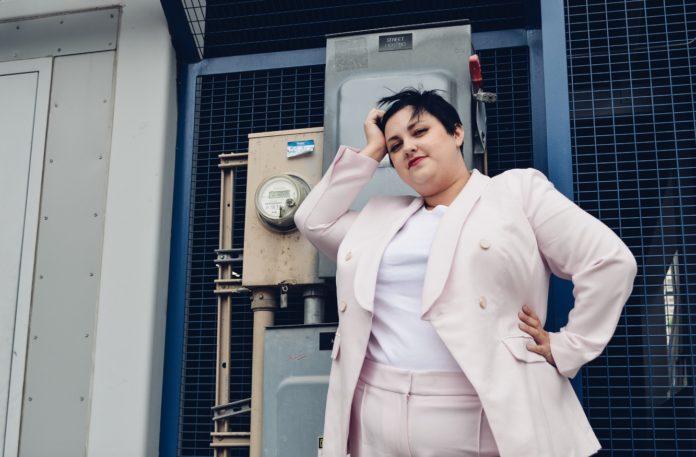 Hey there! This post contains affiliate links.  Using my links means I earn a commission, which helps me create more rad content.  More on affiliates here.
I love a good business suit. A two piece (or even three piece!) suit makes me feel like a powerful boss, who's showing up to take names and get deals DONE.
And if you're looking for a plus size business suit, we have OPTIONS. No longer are we relegated to weird boxy cuts in navy and black. Nope! We have full on color and patterned ensembles, two of which I'm excited to share with you today.
[Heads up! This post uses affiliate links, and you help me earn $$ when you use my links. More on affiliate links here!]
Lane Bryant Plus Size Business Suits
I tried the "Bryant Blazer" and trousers, along with the linen single button blazer and crop pants. (If you're looking for a list of brands that offer plus size suits and blazers, head over here.)
This suit makes it clear you're here to step out of the box. Some women try to join the Boy's Club, but this suit makes it clear you're here to make your OWN club.
This pants+blazer combo would be great for headshots or personal branding, and it will also be a conversation starter for networking events. I like to wear something a little more bold when I go into a new situation, so people can compliment my outfit as a way to introduce themselves.
Wearing a bright color signals that you are open to meeting new people!
This pink plus size blazer fit my shoulders perfectly, and I paired this with a white t-shirt, but you could definitely pair with a white blazer or other top. I love a double breasted look, and this piece also has a clear interior button that you can use to keep everything secure and where it's supposed to go! (A concern for bustier babes like myself.)
It also has some stretch, making it great if you're on a work trip or commuting. I had full range of motion in this, lol. AND it is machine washable – no need to schlep to the dry cleaner's.
My bust is 54″, and I'm rocking a size 24.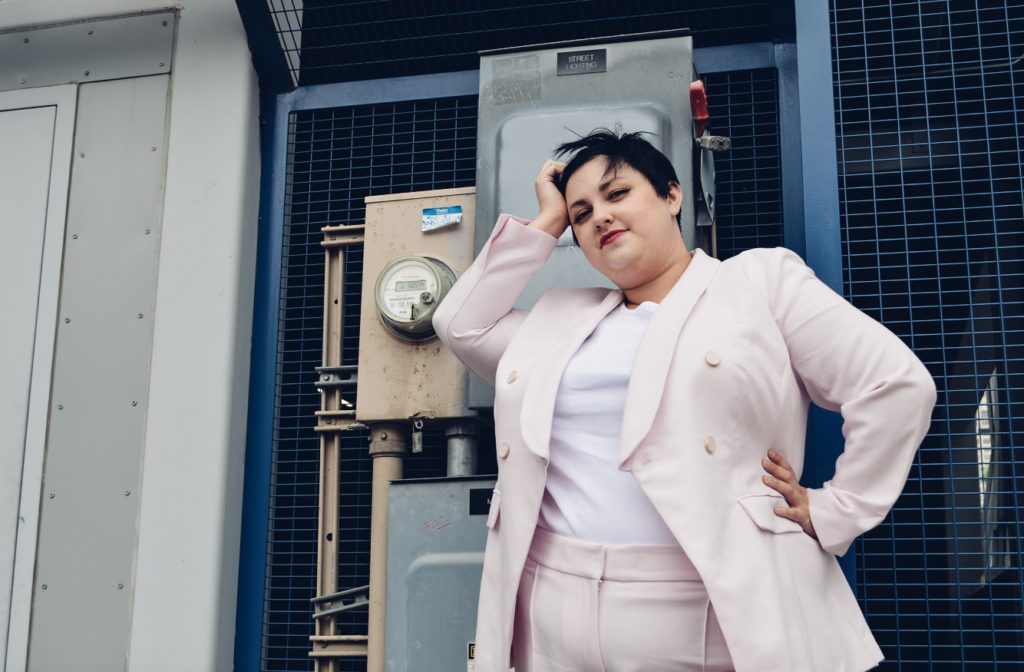 Listen, I love wide leg pants. I love strutting in them and feeling them "swish," and these pants are fabulous (but actually)! The high waist band made it easy to sit and move in, and I could bend and jump around in these.
The additional seamline down the center front of these pants adds a more luxe look.
I am short, so I'll be getting mine hemmed (like $10 at my local tailor). I should've bought them online, because these trousers are available in petite. Live and learn!
I could've worn these in a 22, but the fabric shows, um, a lot. I sized up to a 22, and I was good to go.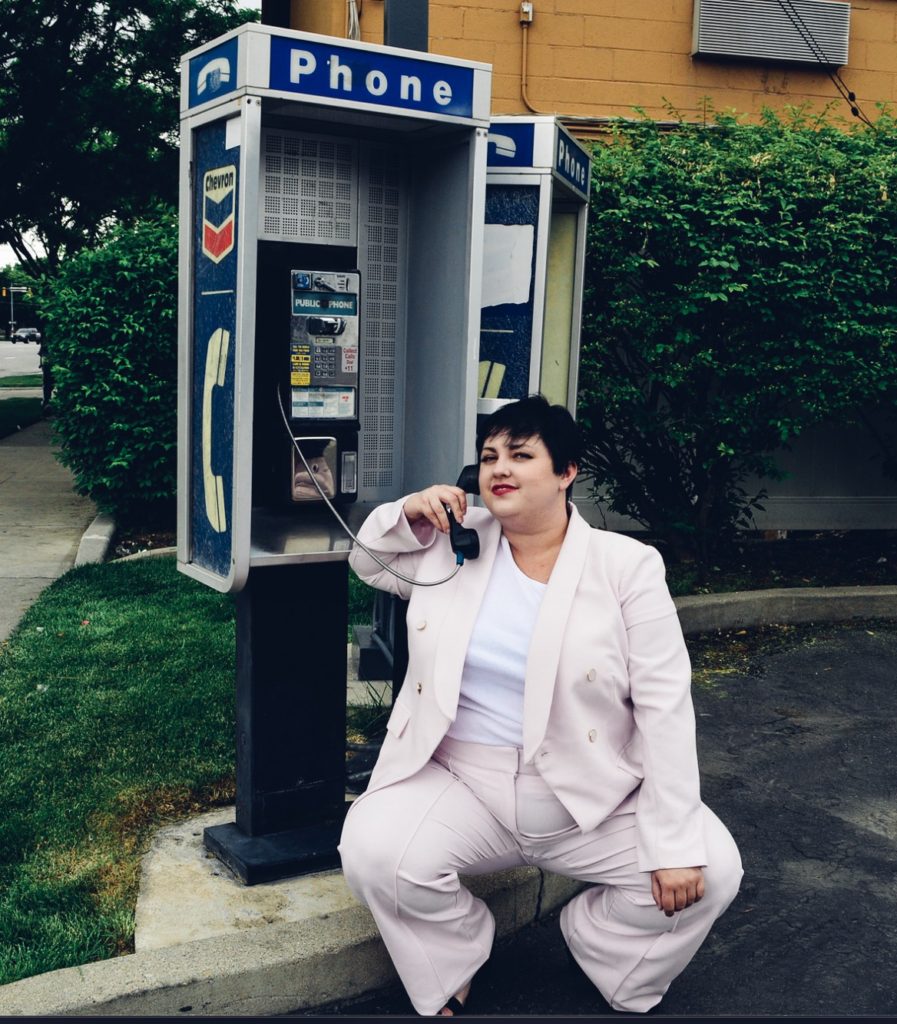 Okay, team. It can be hard to dress professionally in the summer months, especially with all those layers. It is HOT, but you can't run around wearing short shorts at the office.
A linen suit is a great hack for people who are traveling around a city, meeting with clients or going from place-to-place. You stay cool AND look cool. These can also be great for a wedding or more upscale dinner – or working an OOTD at a resort on vacation. You look put together, but still cool and relaxed.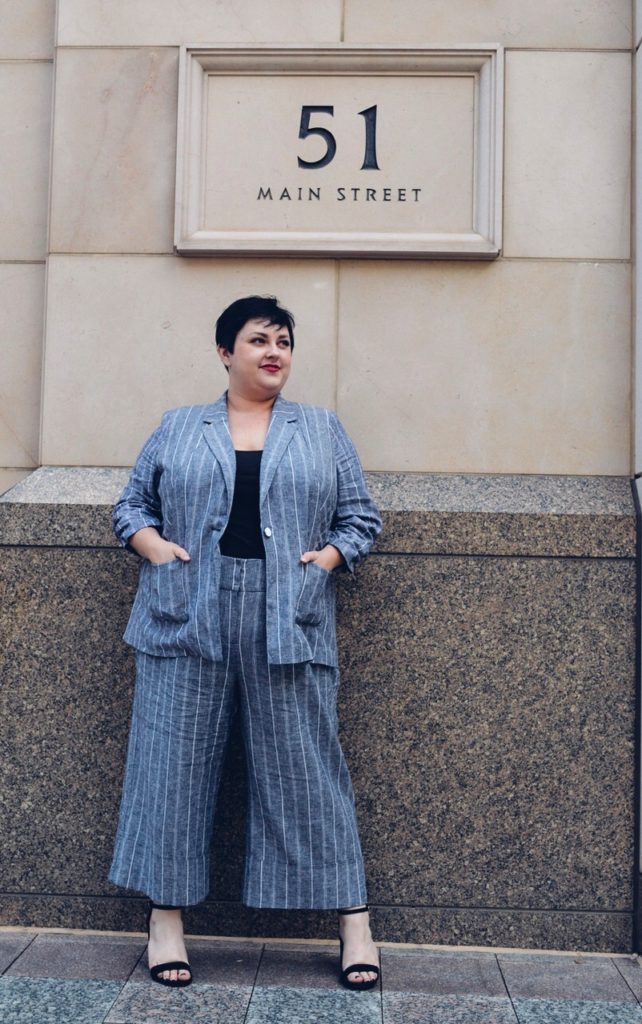 I had my eyes on this 2 piece set from Lane Bryant for quite a while before I decided to get it. Reason for my hesitation? I still have inner "Fashion Rules" that I feel the need to follow, and there's some rule some silly stylist came up with that goes, "Short people should not wear cropped or cuffed pants."
Once I realized that the only thing that kept me trying on this plus size ensemble was myself, I got into a dressing room ASAP.
And I LOVED this set. It is definitely a staple for my summer professional wardrobe.
The blazer has a single front button, and I just let it hang open. There's some pretty fab ruching at the elbows, which I appreciate – I'm constantly shoving sleeves up my arm.
Like the previous look, I paired this blazer with a white tee. You could also go with a cami if you're in a hotter climate.
Overall, this blazer is incredibly wearable.
I'm rocking a size 22 in the blazer, with a 54″ bust. I did size down from the chart. The blazer is supposed to fit more loose, but I liked a closer fit.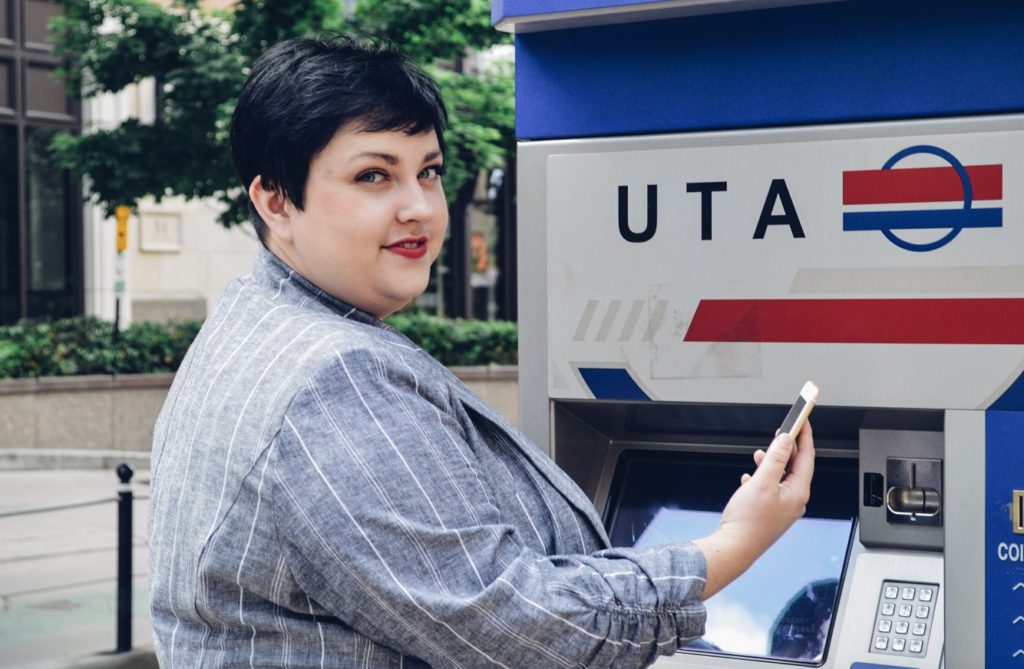 Y'ALL, I LOVE THESE PANTS. LOVE THEM. They sit on my hips, are high waisted and I can strut around in them. I'm a shorty, but I liked the length on them. (They're also available in petites.) Shop here.
This set is actually 53% linen and 45% rayon, meaning it's breathable and has stretch. I honestly thought it was mostly linen cotton when I picked it up. That extra stretch means that the fabric moves with you.
If you're not into pants and prefer linen shorts, you can also go down that route. I didn't like the shorts AT ALL, but no big deal. Loved the pants.
I'm rocking these pants in a size 20.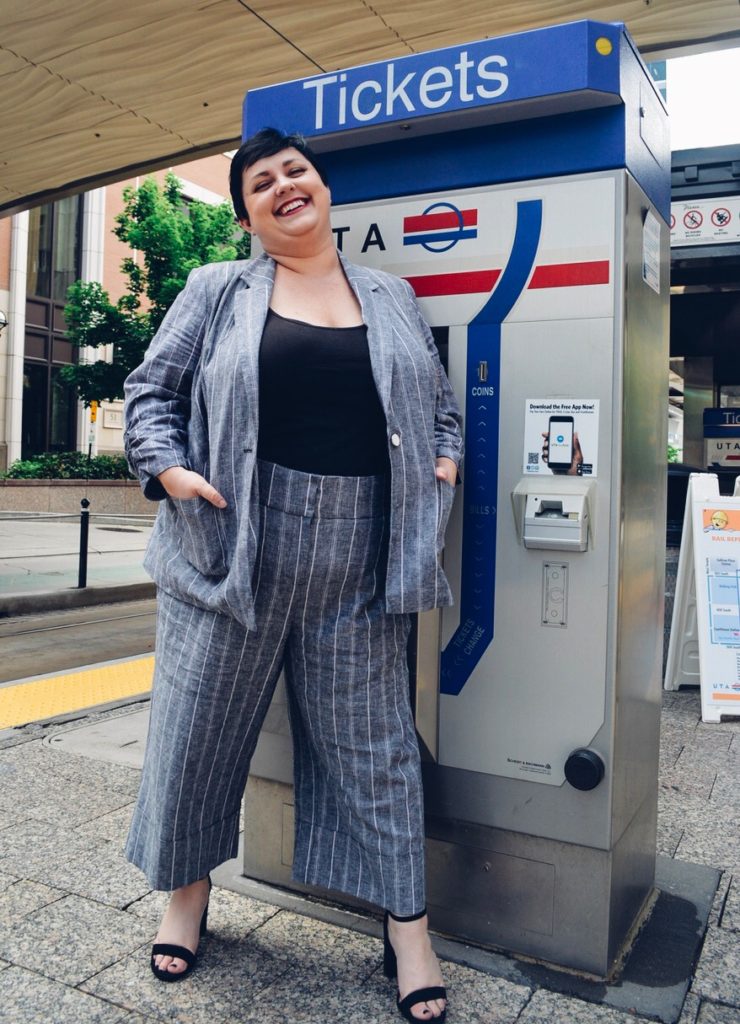 Wearing a Suit as Separates?
Okay, so real talk I don't typically pair a blazer with jeans. If I'm gonna whip out a blazer, y'all are going to get treated to an ENSEMBLE. That said, both of these blazers look super cute with black skinny jeans.
What SHOES to Wear with a Business Suit?
So I almost always shop Lane Bryant in-store, not online. Researching for this post, I realized that Lane Bryant has SHOES?! And like, a LOT of shoes?!
I have what I call "in-betweenie" feet, meaning I'm a size 9 wide or a size 10 regular. Finding wide-width shoes is such a freaking challenge, and Lane Bryant had them this whole time?!
From flip flops to chunky block heels to booties – LB has them.
Gotta shop online more often, I guess!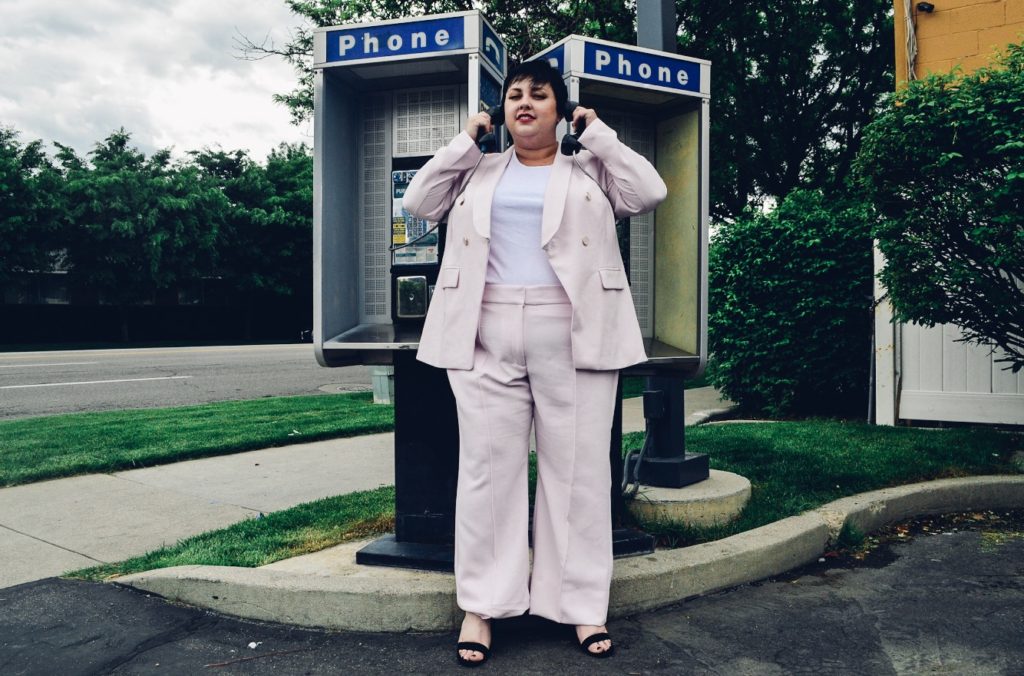 Wanna Wear Heels with Your Suit? Go with a Block Heel
Okay, I love stilettos. Truly, I do. But they're just not gonna work for a 12-hour day, ya know?
If you want to go with a heel, the secret is to select a block heel. The chunkier the heel, the more support. These faux leather block heels are perfect for either look, and are available in up to a 12W.
"Bri, I need FLATS for work!!"
Okay, yes I hear you! If you're commuting via the subway or by train (and you don't wanna pull a "Working Girl" with tennis shoes), you're going to want to wear flats.
To keep your suiting look elevated, I'd go with these wide width almond toe flats that have a strap (especially for the linen suit). Available in up to a 12W.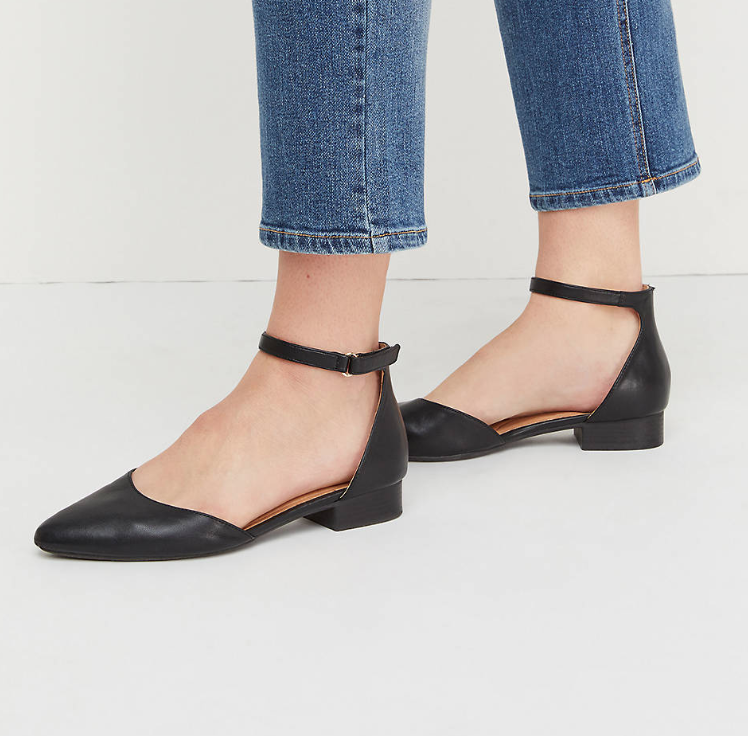 Tip on Shopping Lane Bryant In-Store
Always always always go to this page on Lane Bryant to see what coupons are available. I'm totally up for investing in high quality suiting (hellur), but if a coupon is available you should use it! I have this link saved in my phone and I pull it up before going to the register. Every dang time!
Want more plus size fashion + business content? Be sure to subscribe to The Huntswoman Newsletter.
[FTC Notice: This post contains affiliate links, meaning I earn a small commission if you purchase a product through my link. Affiliates help me write more great content, and I only endorse products I truly love.]