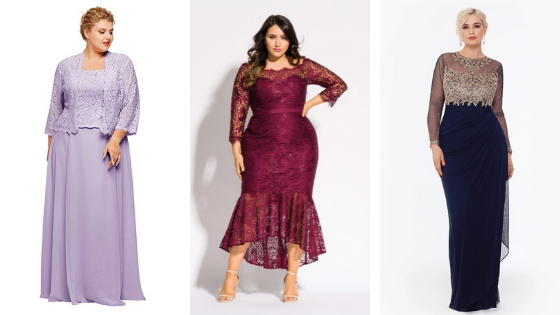 Hey there! This post contains affiliate links.  Using my links means I earn a commission, which helps me create more rad content.  More on affiliates here.
So, I've never been married (lol), but I love blogging about weddings. I've shared plus size unique wedding dresses, an editorial featuring black wedding gowns, where to find plus friendly wedding photographers, etc etc.
I've got resources!!
[Heads up! This post uses affiliate links, and you help me earn $$ when you use my links. More on affiliate links here!]
Recently, Kelly, a reader from Ohio wrote in and asked:
"Hey Brianne!
I love your blog and the resources you create. I'm looking for a more flattering plus size mother of the bride dress for my mom. I know "flattering" is relative, but that's what she has asked for. Where do you go to find mother of the bride dresses or two piece suits?"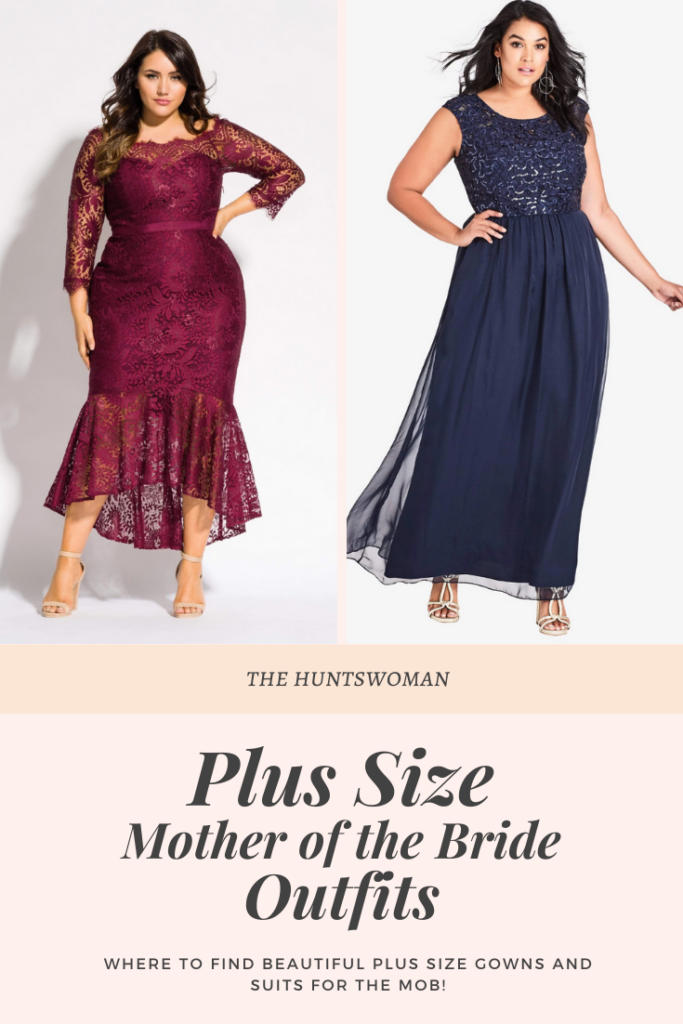 When Kelly asked this, I could only really think of 2-3 resources. Defining what a "mother of the bride" dress is tricky, and I didn't want to make any agist assumptions.
So, with that in mind, here are 5 stores to purchase plus size mother of the bride (or groom!) outfits:
Kiyonna creates lovely plus size gowns that are perfect for weddings, and there are a number of gowns that are a fresh take on "mother of the bride" fashion. Kiyonna's size chart goes up to a size 32, and their gowns come in multiple colors. There are a variety of floor length or maxi dresses, as well as short dresses to the knee.
Shop here.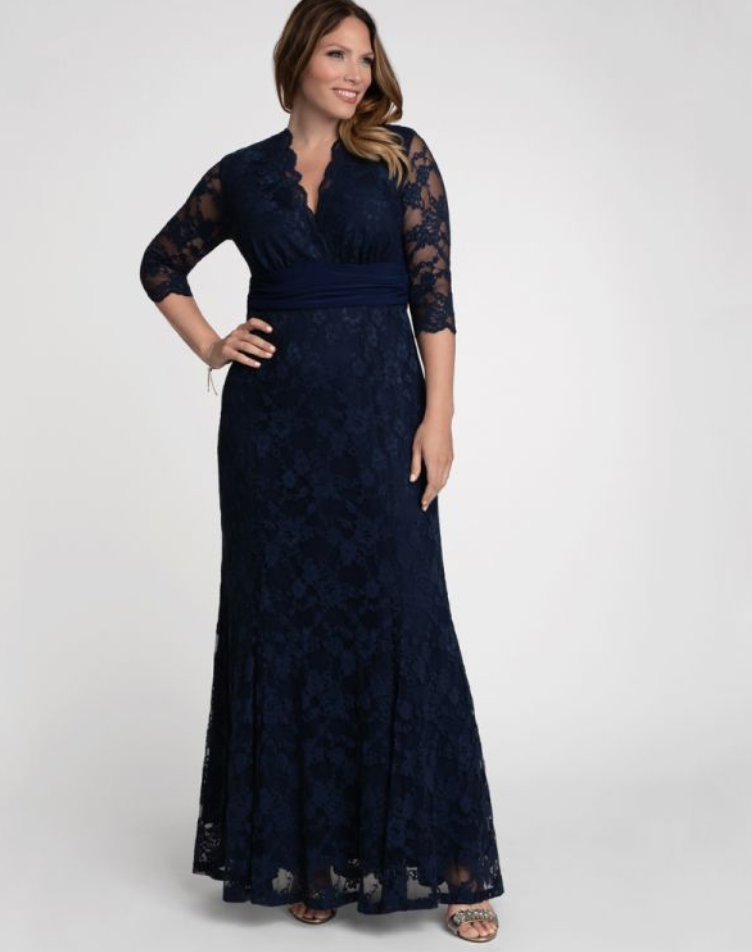 One of my favorite brands that offers plus size formalwear is Azazie! This company can make their dresses in over 80 (!!) colors, which is a relief when you're trying to match the wedding colors.
They have a whole page dedicated to dresses designed for the mother of the bride, including pantsuits, jumpsuits and gowns.
Now, unfortunately we can't see Azazi gowns on plus size models – but the brand does go up to a size 30!
Shop here.
Okay, so Amazon sizing can be a little wonky. There's no standard size chart for the company, so be sure to look at the size chart for each dress. Amazon has a lot of mother of the bride dresses that come with a shrug or jacket and LOTS of sparkles!
Shop here.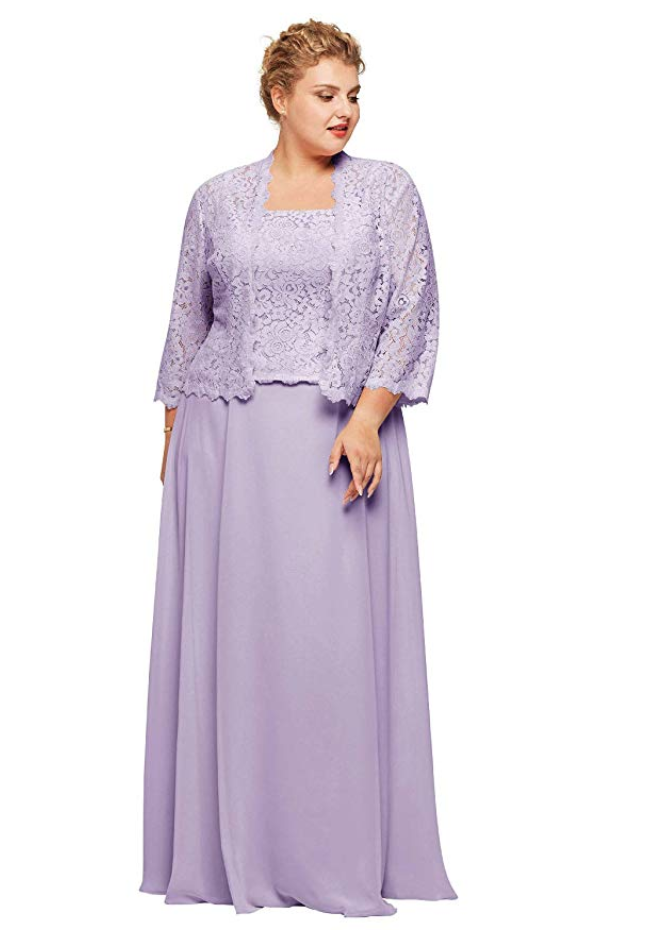 Brand #4: Pantsuits from Catherine's
Catherine's is a staple of plus size fashion, offering up to a size 34. They have an assortment of plus size pantsuits and dresses with fluttery sleeves.
Shop here.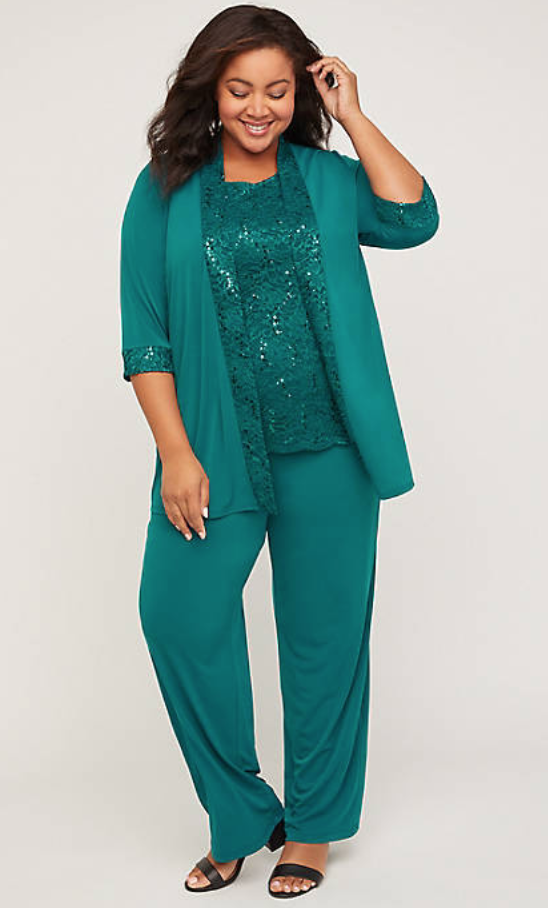 Brand #4: High End Dressess from CoEdition
CoEdition is one my favorite plus size fashion websites, as they carry over 90 plus size fashion brands! Now I don't have to remember all of the brands I want to check out, i can just go straight to them!
Their "Try Before You Buy" program means that you can order a few dresses to try, and send back the ones that don't work.
Shop here.
Brand #5: Statement Making Dresses from Eloquii
If you're looking to avoid a "typical" MOB dress, this is the brand for you.
Eloquii is THE brand to check out if you want to step outside the box a little bit. The have statement making pieces that are fun and flirty, while still being understated enough to get all eyes on the bride.
Shop here.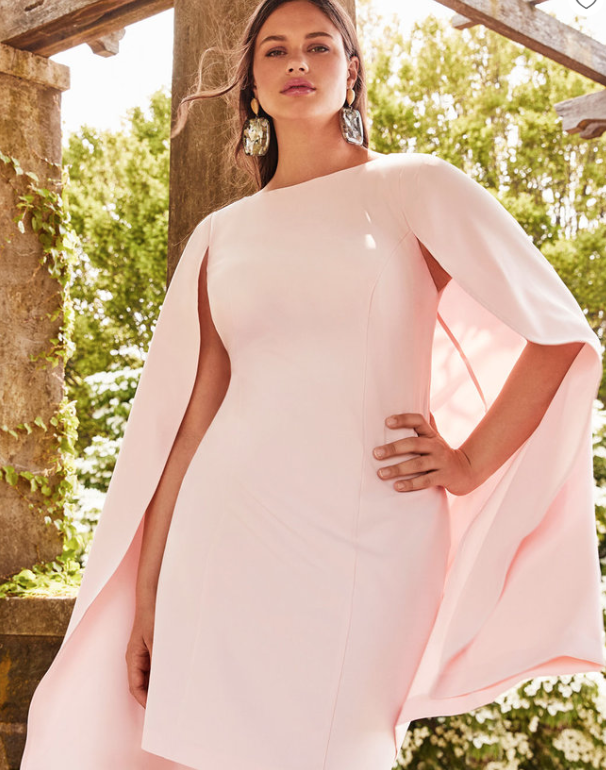 Brand #6: Plus Size Mother of the Bride Gowns from David's Bridal
David's Bridal is a staple in the wedding industry, and they have some lovelyy gowns for the mother of the bride (or groom)!
From simple pantsuits to gowns that sparkle, David's Bridal will have something mom will love!
Shop here!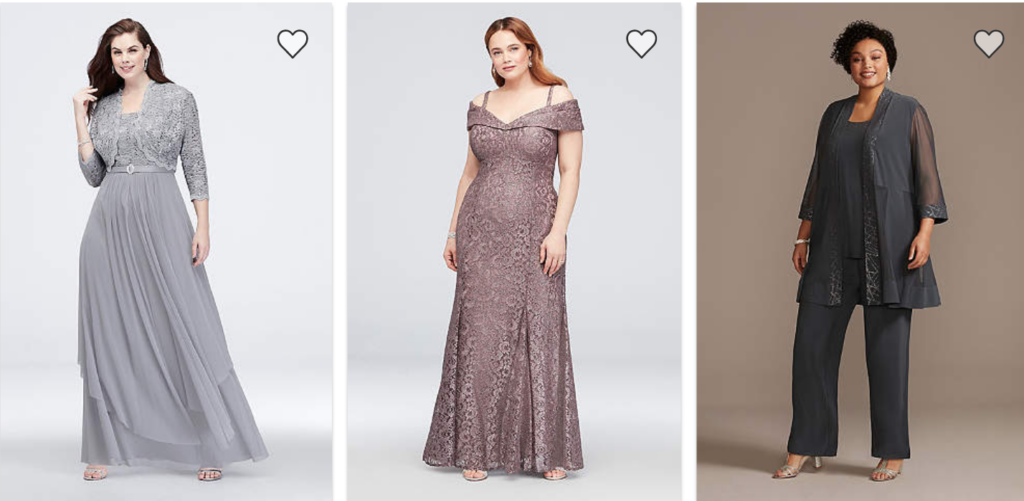 Flattering Plus Size Mother of the Bride Dresses
Alright, Kelly! There's the roundup. I hope you find a great dress for your mom.
If you're on the hunt for a specific item, feel free to drop me a message via my contact form or DM-ing me on my Instagram. I love putting together roundups like this!
[FTC Notice: This post contains affiliate links, meaning I earn a small commission if you purchase a product through my link. Affiliates help me write more great content, and I only endorse products I truly love.]