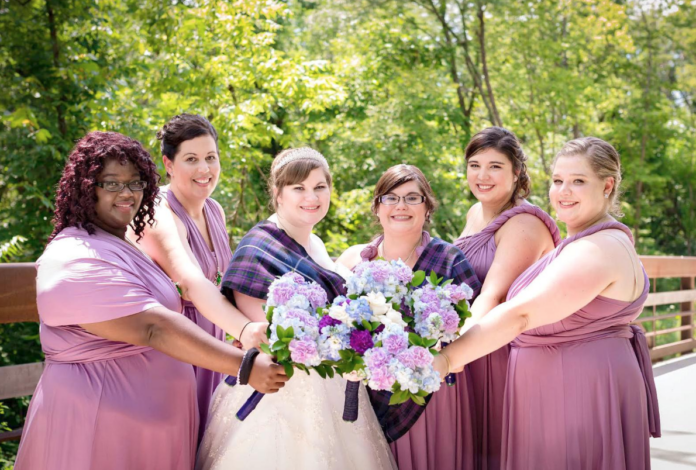 Hey there! This post contains affiliate links.  Using my links means I earn a commission, which helps me create more rad content.  More on affiliates here.
I haven't been married (lol), but I have starred in my fair share of wedding productions as a bridesmaid. I'm a pretty fabulous bridesmaid (if I do say so myself), showing up with a Bride Readiness Kit, an ability to get crappy family members to shut up and I take good photos!
And this week a reader wrote in and asked, "Bri! Where the heck are your recommendations on finding a plus size bridesmaid dress?!"
[Aside: Is there a blog post or advice you'd like to see from me? DM me on Instagram or send off a quick email! I love hearing from readers!!]
[Heads up! This post was first published on January 29, 2020. It was last updated July 26, 2021! ]
Well, I've written about finding a plus size wedding gown, aaaand I've written about brands that carry mother of the bride dresses.
And today we're talking BRIDESMAIDS DRESSES. I specifically said "flattering" plus size bridesmaid dresses, because there are a lot of ugly (in my opinion) dresses out there. Beauty is in the eye of the beholder, and today I am the beholder!!!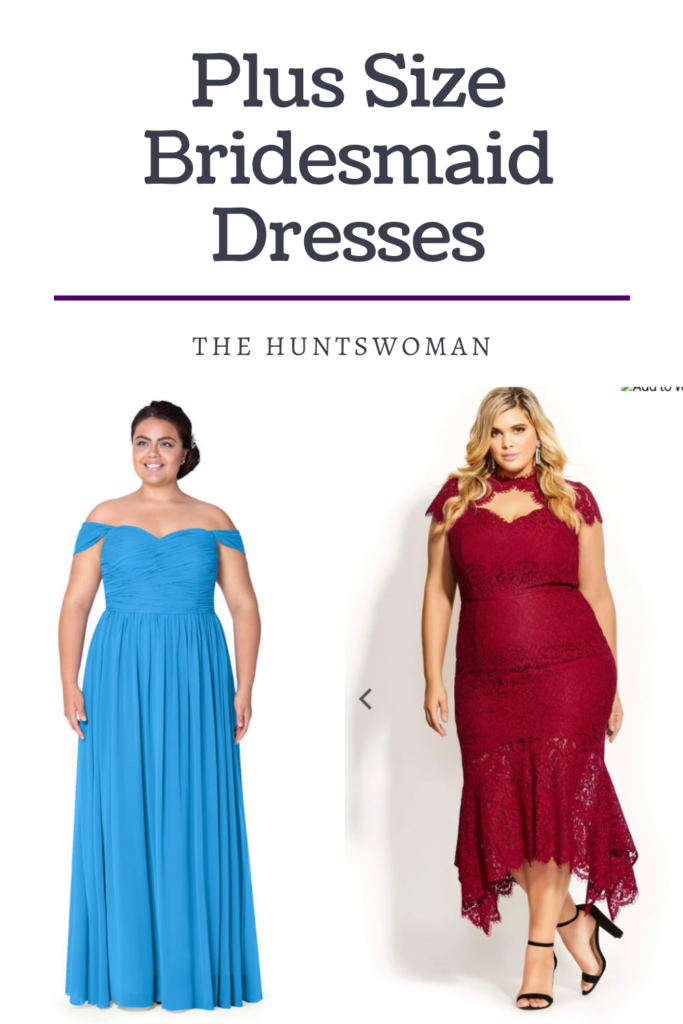 Recent Trends in Curvy Bridesmaid Dresses
Recently, the wedding gods decided to do all of us curvy bridesmaids a favor by making it trendy to have all bridesmaids in the same COLOR, but allowing for different sizes.
Hallelujah!
No longer are we forced to wear dresses that totally don't flatter us in awful colors. (Now we just get the bad colors – jokes! Just kidding… Not really.)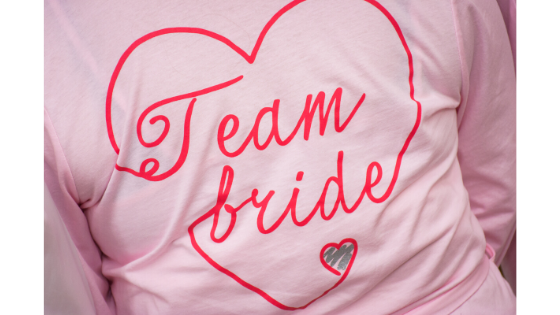 Brands to Check Out for Plus Size Bridesmaid Dresses
Below, I've shared brands that offer plus size bridesmaid dresses. I've noted which brands are my faves with the most flattering (ie what fits my taste), as well as which brands offer more modest options with sleeves.
If you're looking for a specific color, be sure to use search filters on these websites!!
Okay, let's get to shopping!!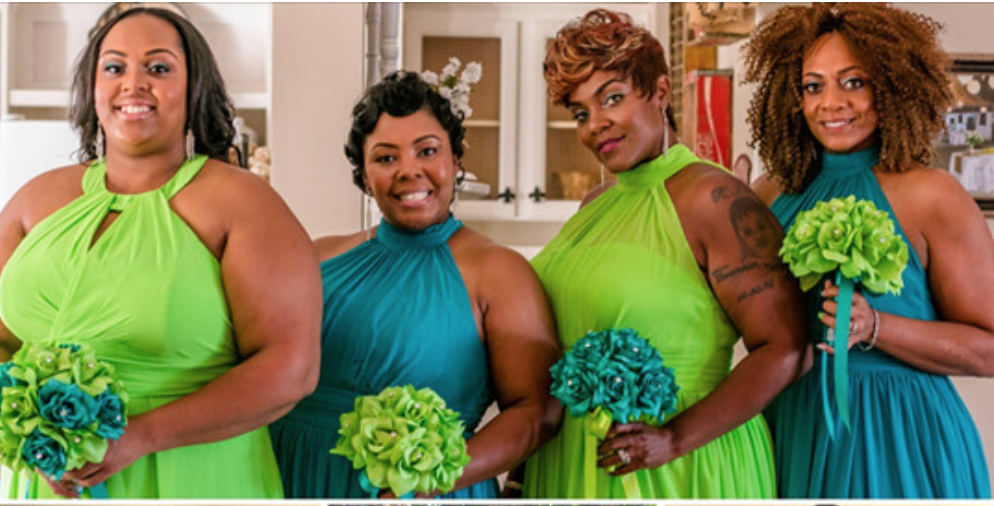 This plus size bridesmaid dress is super popular, as it fits a good amount of sizes (up to a 43″ waist), comes in almost 20 colors. The multi-way feature means you can wrap it in a variety of ways, avoiding the need to visit a tailor!
It's $79.99 on Amazon, shop for plus size bridesmaid dresses here!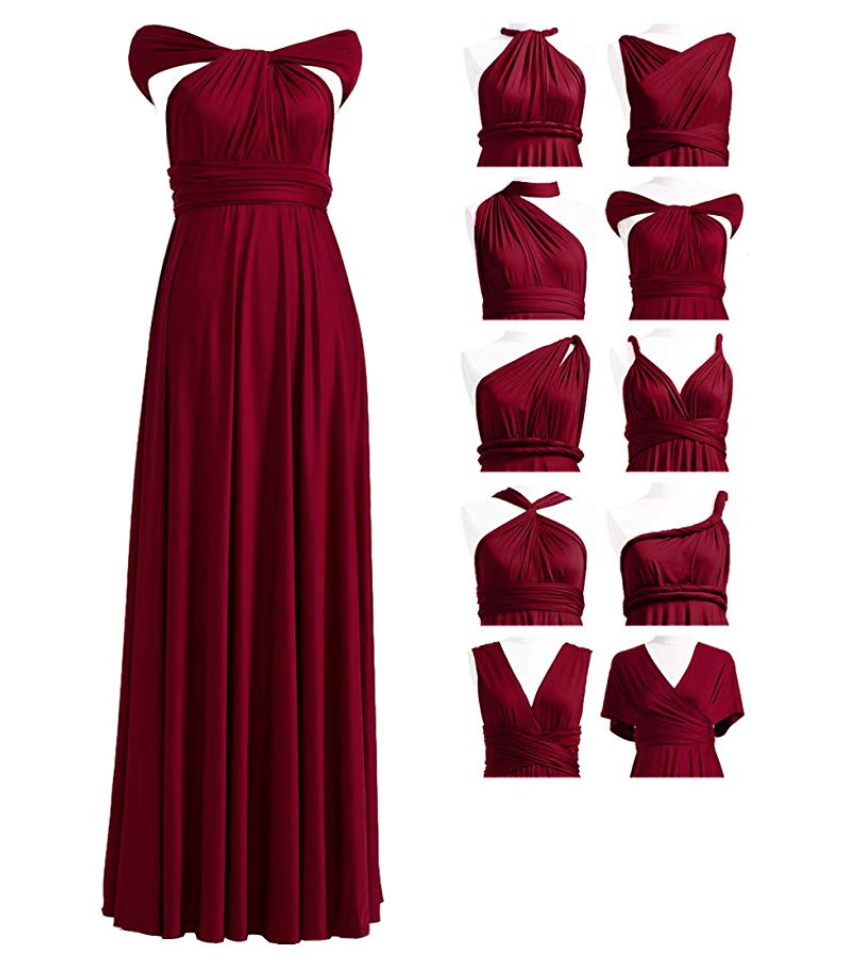 Okay, so this is the brand that I recently got a plus size bridesmaid dress for my cousin's wedding, and it was a bit of extra work!
First of all, the swatches that they send are not 100% accurate, so if your wedding is less than 3 months away – skip this brand.
That said, they have a ton of options for plus size bridesmaid dresses, and many styles go up to a size 30!
Shop JJ's House plus size bridesmaid dresses here.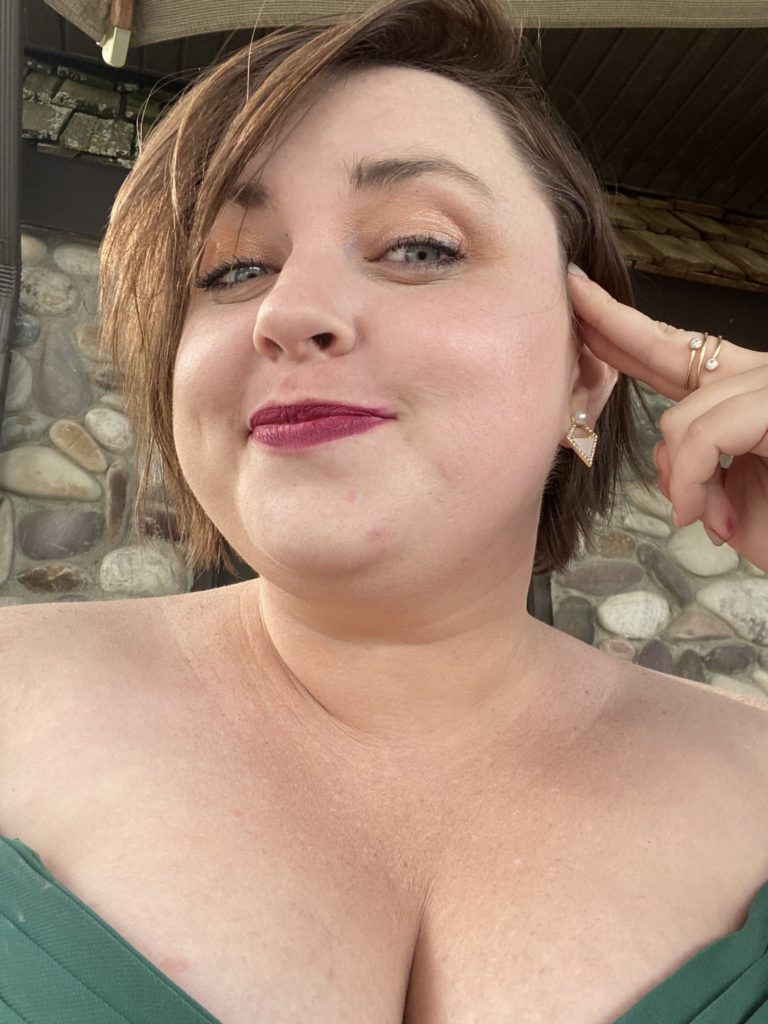 Ok, real talk, the selection *inside* of a David's Bridal store for plus size bridesmaid dresses is.. .not great. Ugh.
Buuuut there are a lot of color options, and the brand goes up to a size 30!
From the brand: "Your go-to gals are all unique, so honor everything that makes them beautiful with this collection of plus size bridesmaid dresses from David's Bridal. We designed this unique line to not only fit full-figured curves but to flaunt them in just the right ways. That means natural waist dresses that draw eyes to an hourglass shape and strategic draping that shows off feminine features. Every inch of these plus size bridal party gowns is given special attention to ensure your bridesmaids feel as beautiful as they look. And with luxe fabrics that move gracefully with every step you take, your maids will be comfortable and carefree in any of our cute looks, no matter their size."
BUT the brand does have super cute plus size bridesmaid dresses on their website, HERE!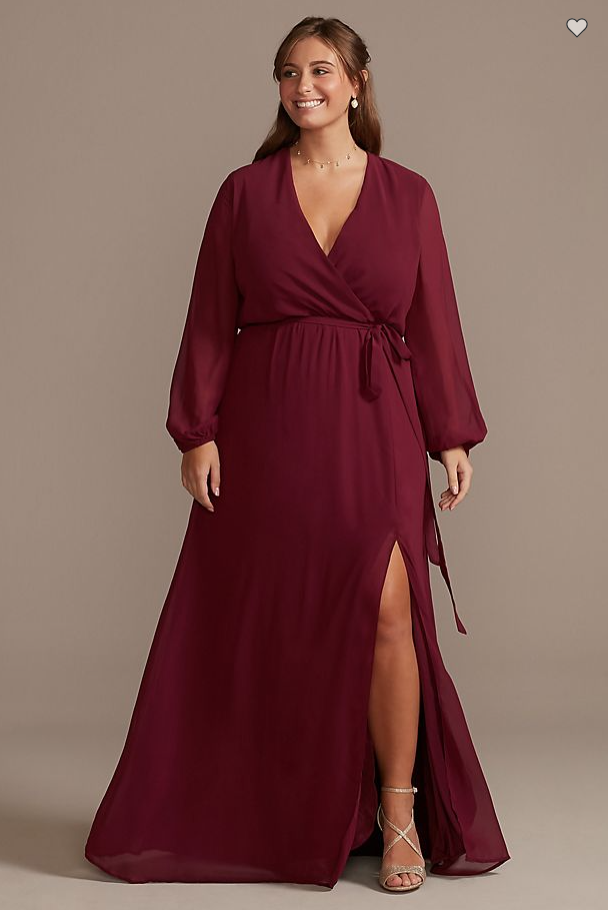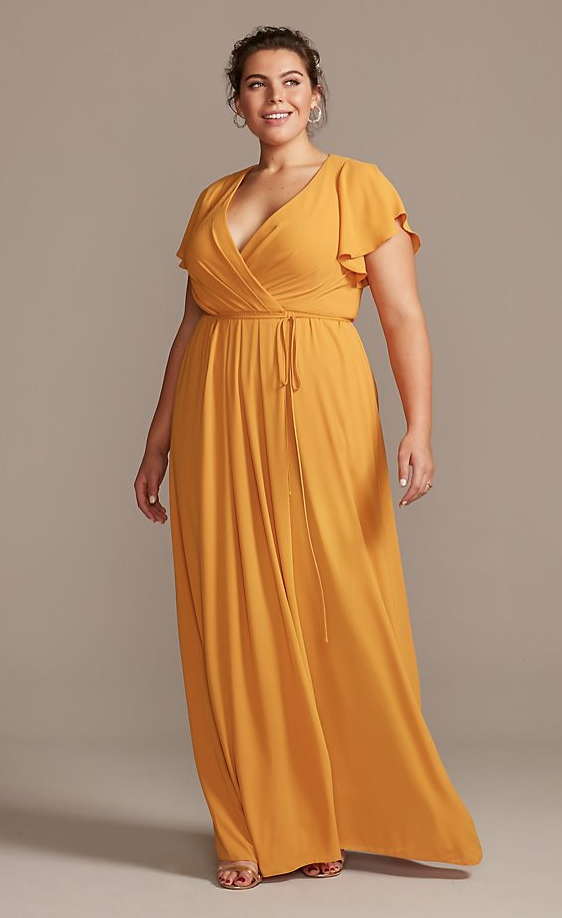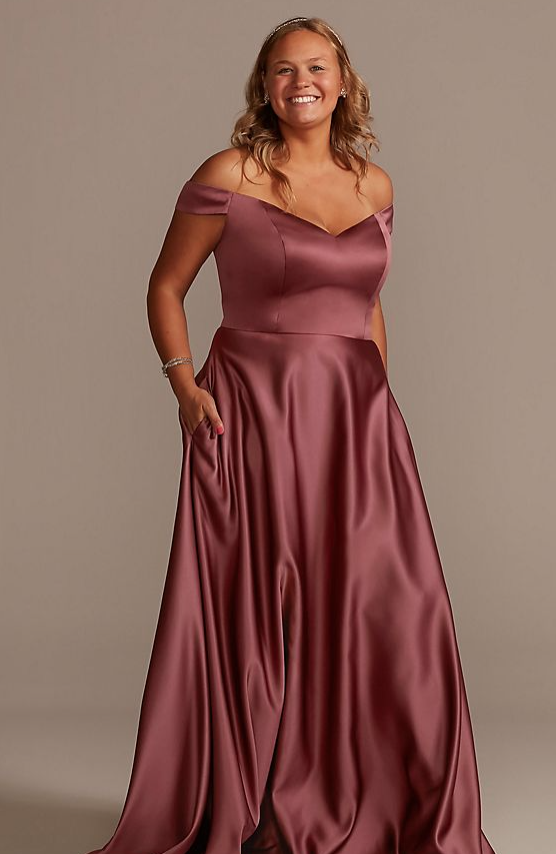 Y'all. AZAZIE is such a great brand, offering a whole slew of customization options and THEY HAVE OVER 43 COLORS! The whole bridal squad can choose the cut that they like best, and you can all make sure you're "matchy matchy" by picking the same color.
Aaaaaand you can do it all online, so no need to stress out the bridesmaids who are flying in for the wedding.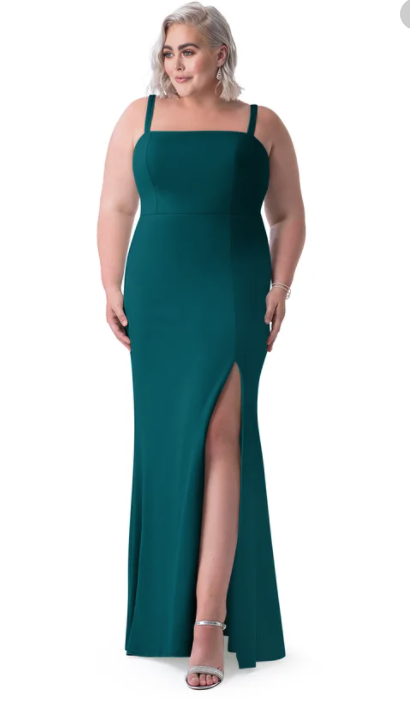 AZAZIE has so many dang options for plus size bridesmaid dresses, it blows my mind. They've got Grecian-inspired plus size floor length gowns, sweetheart necklines, v-neck necklines, draping, sleeves of all lengths, etc etc.
They don't have a plus model for the majority of their dresses, but they have been slowly increasing their offering.
AZAZIE offers up to a size 30, and if you can't find the cut and color you want on AZAZIE – it probably doesn't exist!
Shop plus size bridesmaid dresses HERE.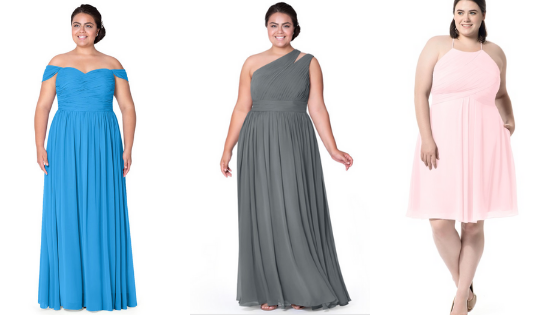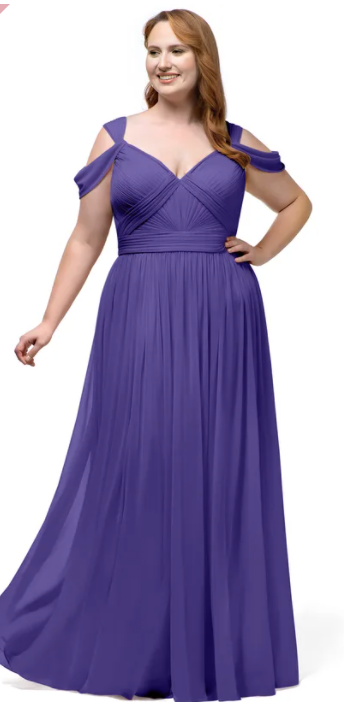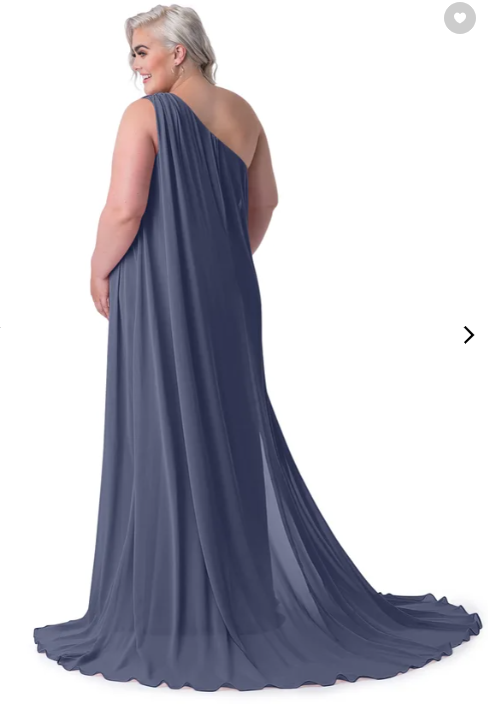 Kiyonna is one of those plus size brands that's been around for YEARS, but for some reason folks don't know they exist.
They offer a good number of plus size bridesmaid dresses with sleeves, floor length gowns and more modest dresses, etc. Their signature is their use of lace – it's very well done and classy!
Colors they offer: Beige, Black, Robins Egg Light Blue, Brown, Burgundy Red, Gold, Green, Grey, Navy and Plum purple. They offer up to a 5X, which is around a size 30.
Shop Kiyonna plus size bridesmaid dresses HERE!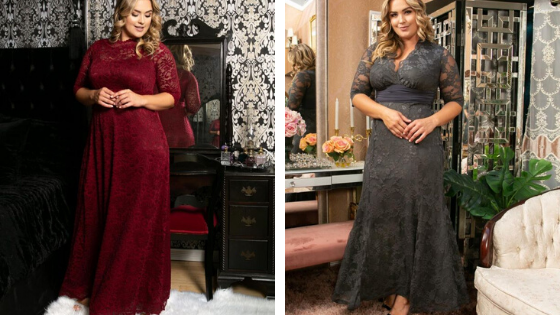 Y'all. WHERE would i be without City Chic? I recently rocked this holiday dress from them, an off-shoulder floor length gown – which was so fun!
They have a lot of floor length and midi options, as well as styles that I would call a "wrap dress," but aren't your typical wrap dress. Their plus size bridesmaid dresses are particularly great for bustier babes who don't want to be yanking up the top of their dress all day long.
I prefer to shop City Chic through CoEdition, a plus size fashion website, because I can test out pieces from multiple brands and only pay one shipping fee. Hashtag winning!
Shop City Chic plus size bridesmaid dresses HERE.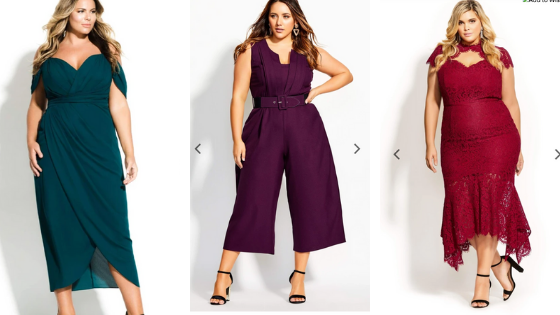 Oh, ModCloth, how we vintage-loving babes adore thee! ModCloth is known for its super fun dresses that could work as bridesmaid dresses for a more hipster-inspired wedding in the PNW.
BUT they also have plus size curvy bridesmaid dresses that are a bit more traditional!
They offer up to a 4X (size 24/26 ish), and their main colors are in navy blue, green, red, black, bronze and various prints!
Shop plus size bridesmaid dresses HERE.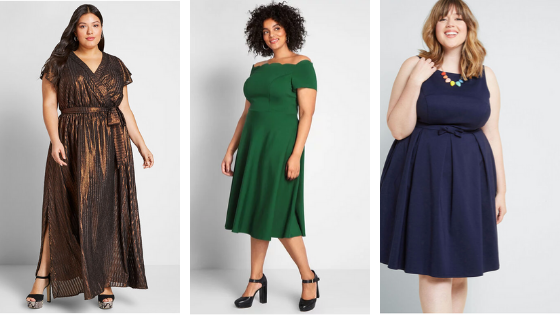 #9: Unique Vintage – Rockabilly & Vintage Looks
If you're going to be a bridesmaid at a rockabilly or vintage inspired wedding, you'll definitely want to check out Unique Vintage. The brand has both straight and plus sizes, meaning the whole troupe of bridesmaids can shop there!
Unique Vintage offers full figure bridesmaid dresses in up to a 6X from the following periods:
1920's
1930's
1940's
1950's
1960's
1970's
Shop here for your vintage plus size bridesmaid dress.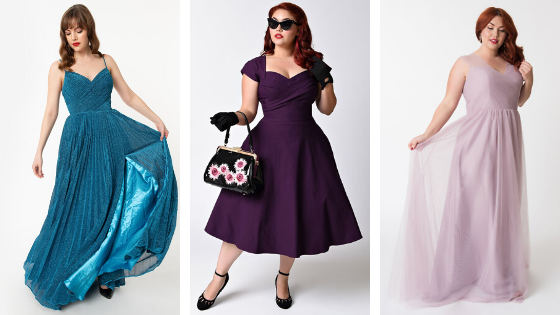 TBQH, I didn't know that ASOS offered wedding gowns until I *went* to a wedding where bride was wearing it!
ASOS offers dresses in up to a size 26, making them a candidate for a wedding where all of the bridesmaids match! With 40 options listed, from flowy maxi gowns to satin short dresses, you'll be good to go for the big day!
Shop ASOS plus size bridesmaid dresses HERE.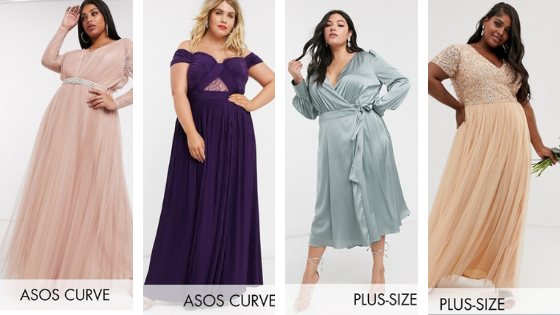 The infinity dress from Amazon stops at around a size 18, but this infinity dress from The Dainty Yard on Etsy goes up to a size 53″ waist!
They have more than 40 colors available (including a lovely metallic gold!) and can do the dress with or without lining (I'd recommend getting it lined)! The dress starts at $67 USD.
Shop this plus size bridesmaid dress here.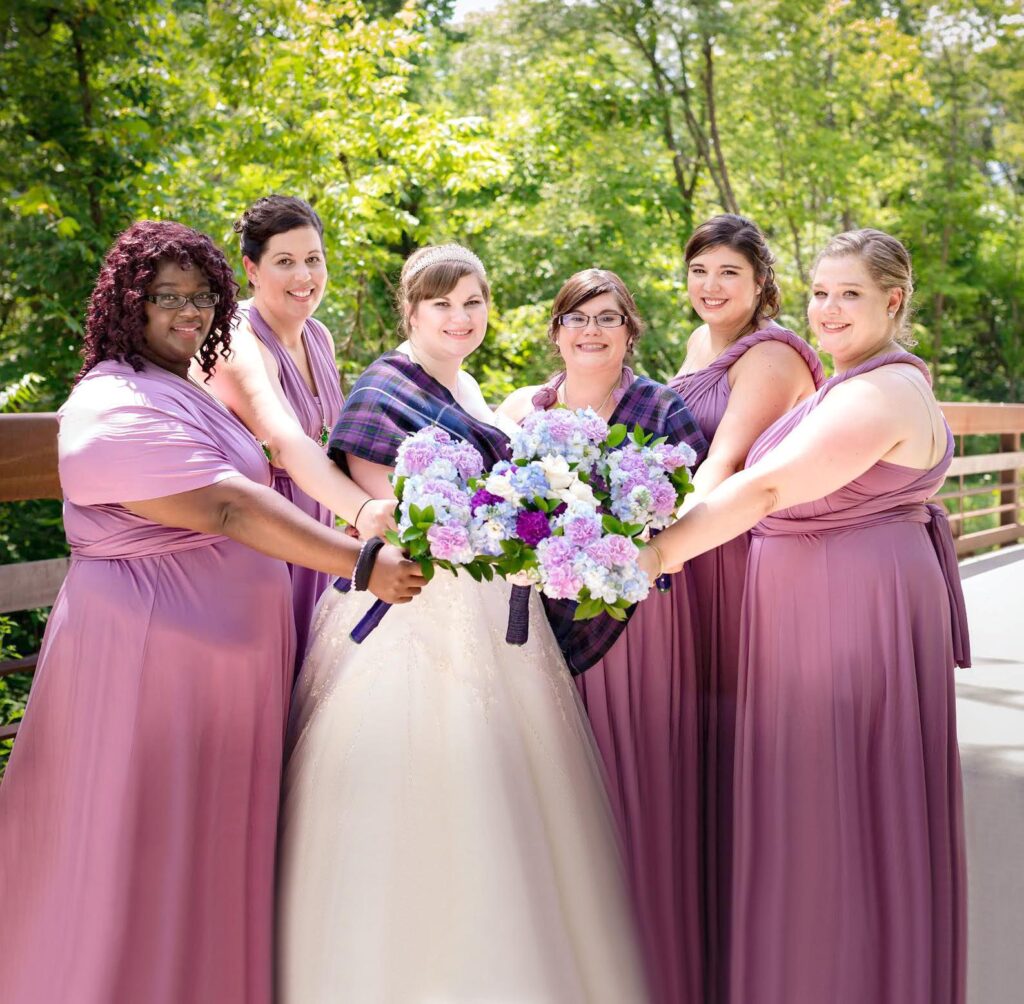 What to read next!
Below, I've shared a few blog posts I' think you'll love!
What style of bridesmaids dress are you looking for?
Need a second opinion on which curvy bridesmaid dress to get or keep? Share a few photos with me over Instagram DM or Twitter! I'd love to help.
Stay in Touch for More Plus Size Brand Reviews!
If you want to stay up-to-date on my reviews, I recommend joining me on your favorite social media platform (Facebook, Instagram or Twitter), where I regularly talk about fashion, home and career.
More of an email kind of person?  Subscribe here!
[FTC Notice: This post contains affiliate links, meaning I earn a small commission if you purchase a product through my link. Affiliates help me write more great content, and I only endorse products I truly love.]