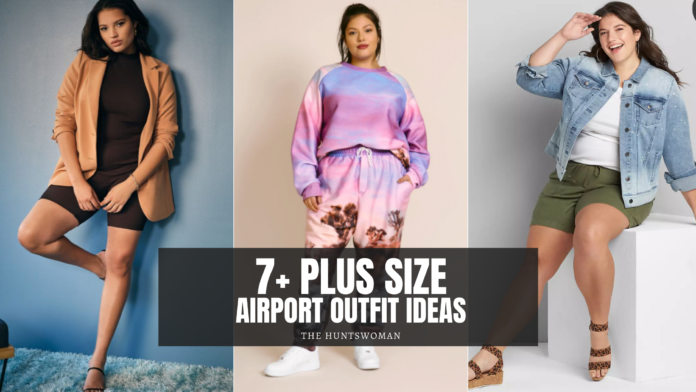 Hey there! This post contains affiliate links.  Using my links means I earn a commission, which helps me create more rad content.  More on affiliates here.
Is there anything better than travel? I travel almost every month for work, and I have spent a LOT of time in airports, lol. Today, I'm sharing 7 of my go-to plus size airport outfits – making it easy for you to travel in style.
If you're wondering, "What should I wear on a plane as a plus size traveler?" I got you! Keep on reading!!!
[Fun fact, i'm literally writing this blog post in an airport! Hello from St. Louis airport, lol!]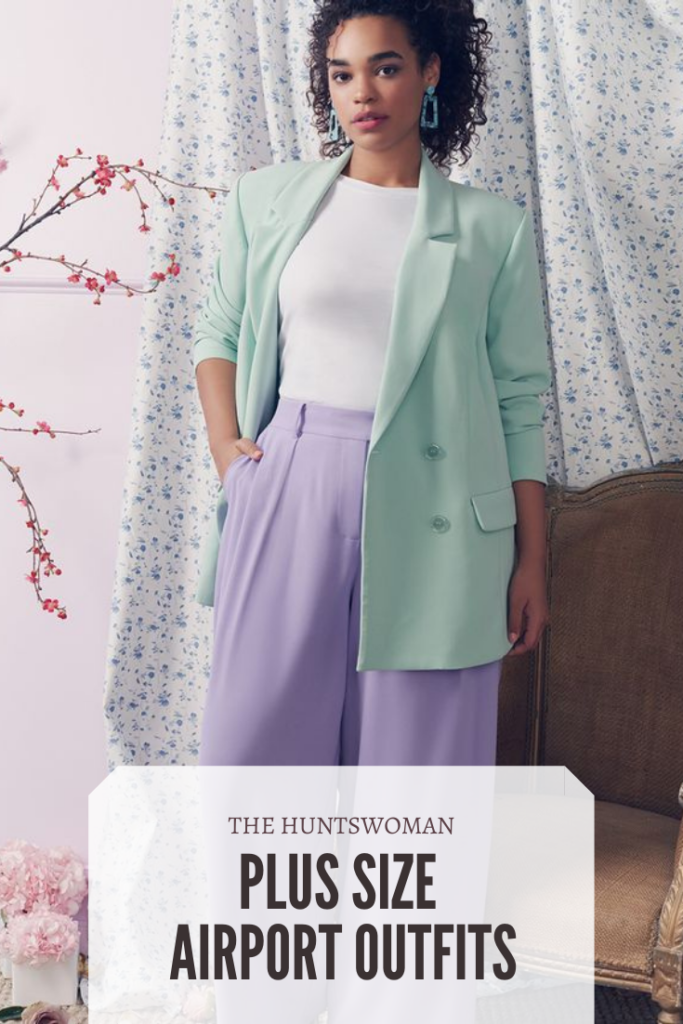 Plus Size Airport Outfits FTW!
I've put together a guide for plus size airport outfits below, and before we jump in I want to remind you to CHECK THE SIZE CHART before ordering. A size 18 in one brand is not the same in another! I recommend getting a cheap tape measurer from Amazon, so you can take your measurements before ordering (that's what I do)!
Not everyone has the same style, so I've organized the round up by personality and aesthetic! Enjoy!
#1 Plus Size Airport Outfit Idea from Eloquii – Corporate Travel
If you're traveling for work, it's probably not a good idea to show up at the airport in leggings and a hoodie you slept in (I mean, I've done it, but I don't recommend it, lol)!! I found this outfit on Eloquii, and I love the stretch jumpsuit paired with an oversized blazer.
This look can be dressed up when you throw on your blazer, but is comfy in a cramped airline seat! i'd add in hoop earrings and a clip to put your hair up, and you're ready to travel the skies!! Pair with some nice flats (these are super cute), and bam. Good to go!
Shop this look HERE!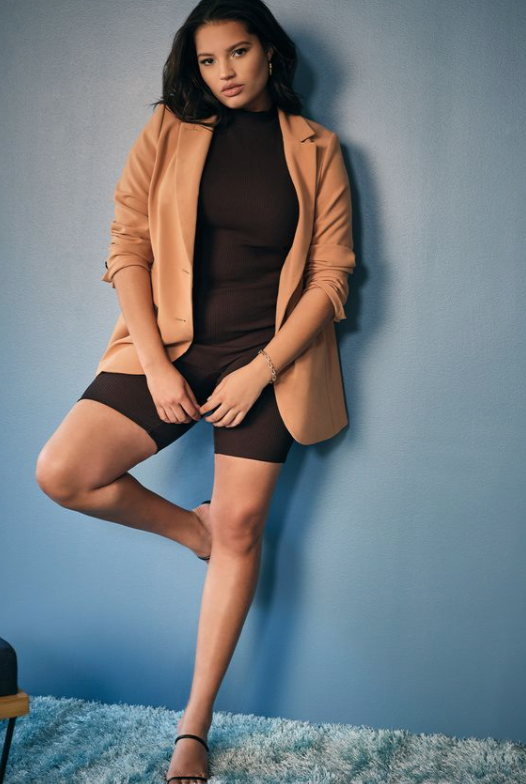 #2 Plus Size Airport Outfit Idea – High End Traveler
11 Honore is the premium destination for high end and luxury fashion, and I am literally obsessed with this set from Baja East on their website.
It's comfy and glamorous AF, am I right?!?!!? If you're hanging out in first class, this look is IT!!
Snag this set HERE.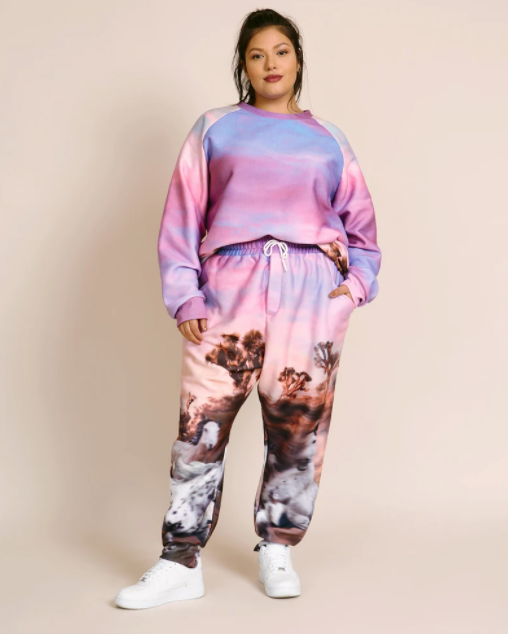 #3 Plus Size Airport Outfit Idea – Minimalist Street Fashion from ASOS
When it come to traveling, I want to be *comfy*, but I don't want to look like a slob! I've met some really rad people in airports (and dated people I've met in airports, lol), so it's important to me to look put together – but also be comfortable for a long flight.
For this reason, I freaking love plus size tracksuits for travel. If you want to be elevated, you can go with a creme plus size tracksuit from ASOS, or a more fitted option. Make sure to get a set that *looks* like a set (With matching logo or design) to have the best impact.
Shop plus size airport outfits at ASOS HERE!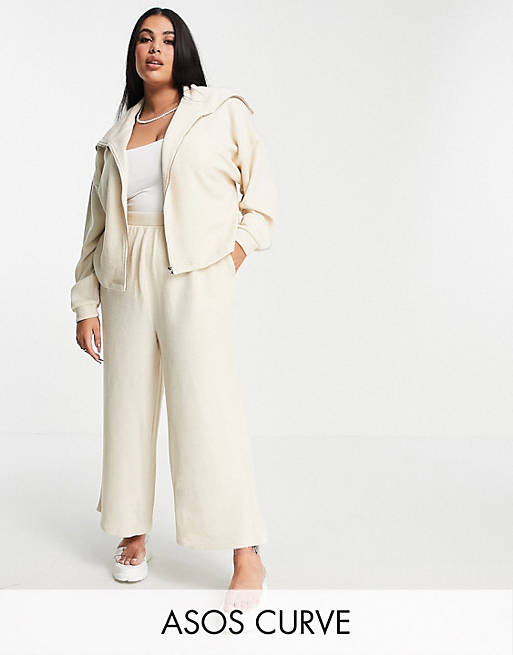 #4 Plus Size Airport Outfit Idea – Jersey Stretch Jumpsuit for People ho Want to Wear Pajamas 😉
When it comes to travel, jersey stretch is our BFF! This material is light, soft and usually doesn't wrinkle easily.
I like to wear a jumpsuit to the airport, because it's like wearing pajamas – but you look SO MUCH more put together. It's like a secret travel hack. 😉
I am loving this plus size jumpsuit from Lane Bryant, and it goes up to a size 28/30! If lavender isn't your thing, they also have a cute plus size red jumpsuit and one in black. Remember to look for *jersey* fabric here, folks!
Shop this look HERE!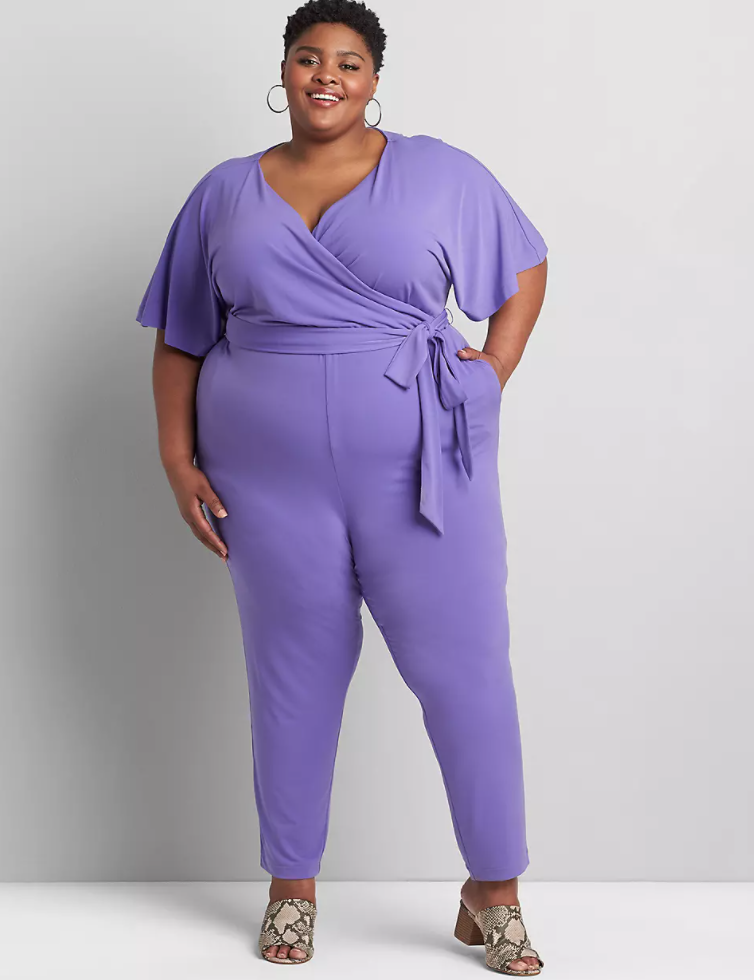 #5 Plus Size Airport Outfit Idea – Classic Beach Vibes
When I saw this photo on the Lane Bryant website, I knew I had to share it! This is a classic plus size airport outfit, feautring:
This outfit is also a great option for sightseeing! Some folks may replace the white t-shirt with a striped shirt or graphic tee. BOOM! Cute, comfy and put together.
Note: I recommend getting sandals with a back, like these. Flip flops can trip you up in an airport, and I've had more than one person "flat tire" me as I've deplaned. Ugh. Def get a sandal, folks!
Shop this denim jacket HERE!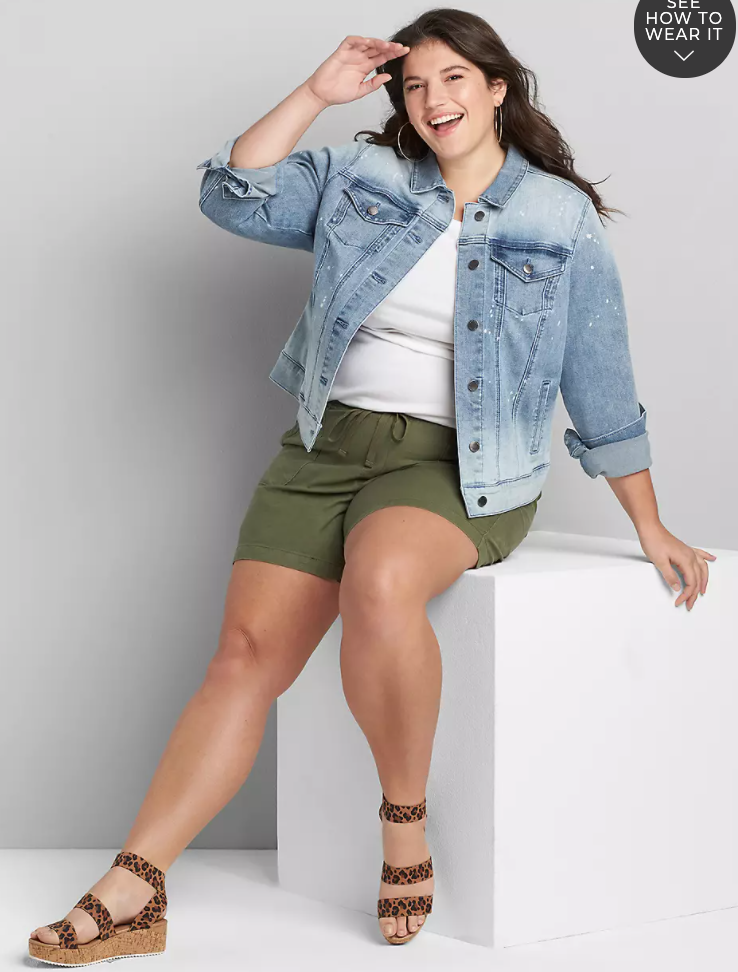 #6 Plus Size Airport Outfit Idea – Sophisticated Pastel
Circling back to the oversized blazer idea from #1 is this gorgeous and sumptuous outfit from Eloquii. Between the blazer and the trousers – I am LIVING!
This would be a great outfit to wear if you're headed to a beach vacation, but you're not quite ready to break out the gauzey dresses and plus size resort wear just yet!
Shop here.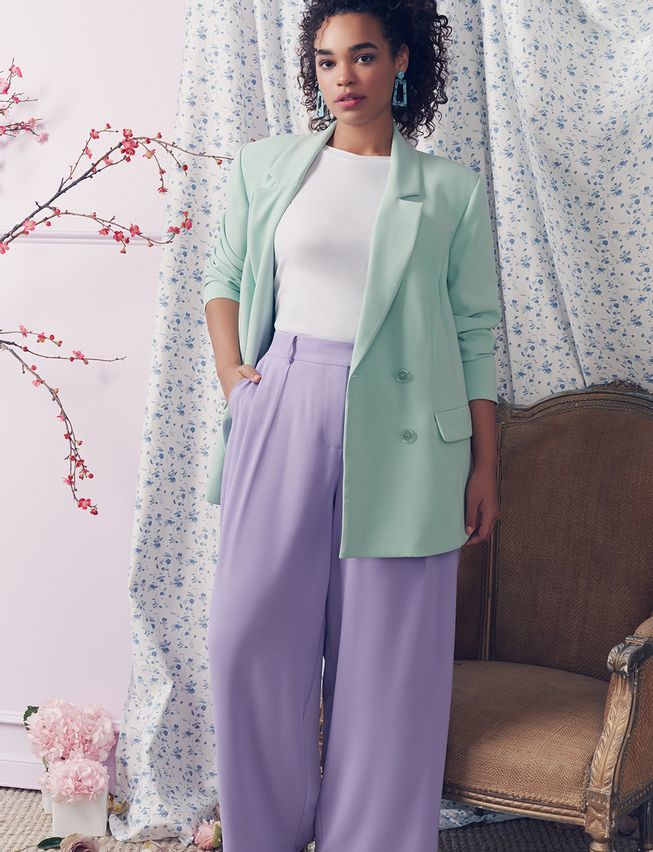 #7 Plus Size Airport Outfit Idea – Lantern Sleeve Top (What I'm wearing Right NOW!)
Y'all, I'm so obsessed with this plus size top that I own it in FOUR colors. This is super lightweight and breathable fabric that's easy to layer, and it looks classy. It's also super easy to wipe off spills (anyone else spill on themselves while traveling), and they're a great option for all sorts of trips.
I recommend pairing it with a pair of black jeggings (I wrote about my fave plus size jeggings HERE), and avoiding denim. We want stretch on the plane, babe!
Shop this top HERE.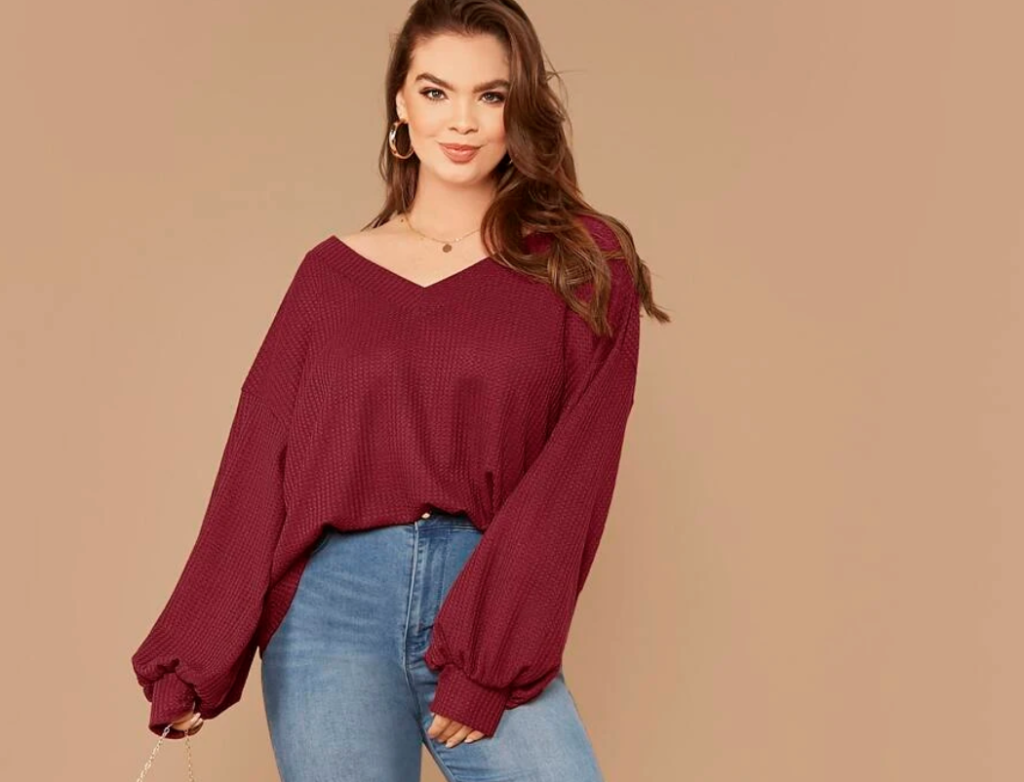 More Plus Size Travel Reviews?!
Okay, so there's my review of my fave plus size airport outfits. But, wait! I have more reviews to share: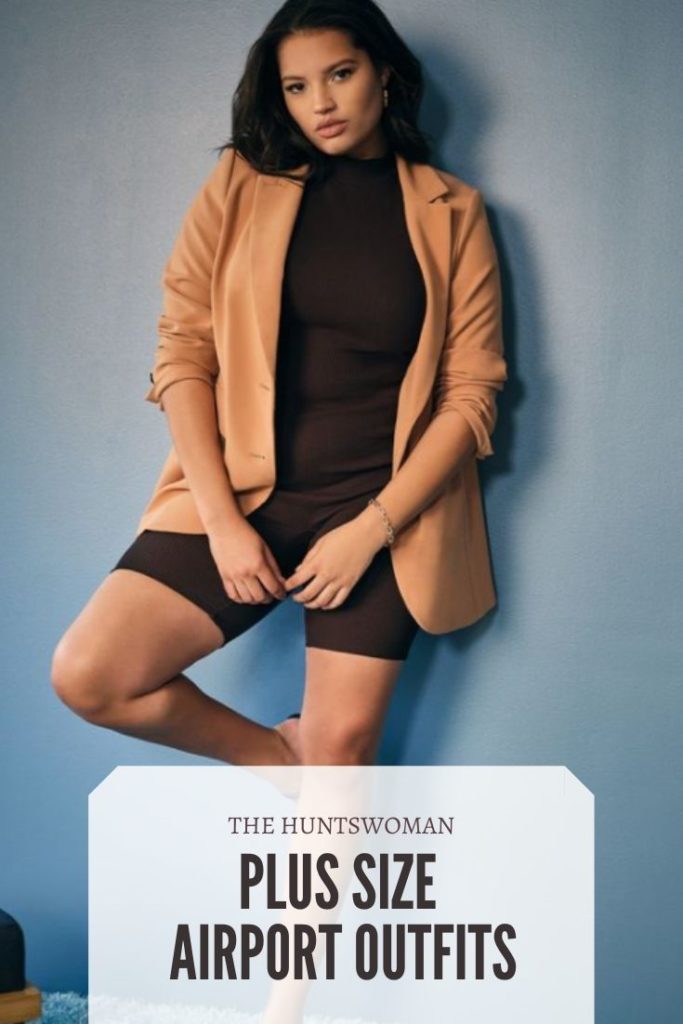 Reviews to your inbox!
Every week, i send out an email with the very best plus size fashion posts, along with helpful blog posts about growing your career! Subscribe here.