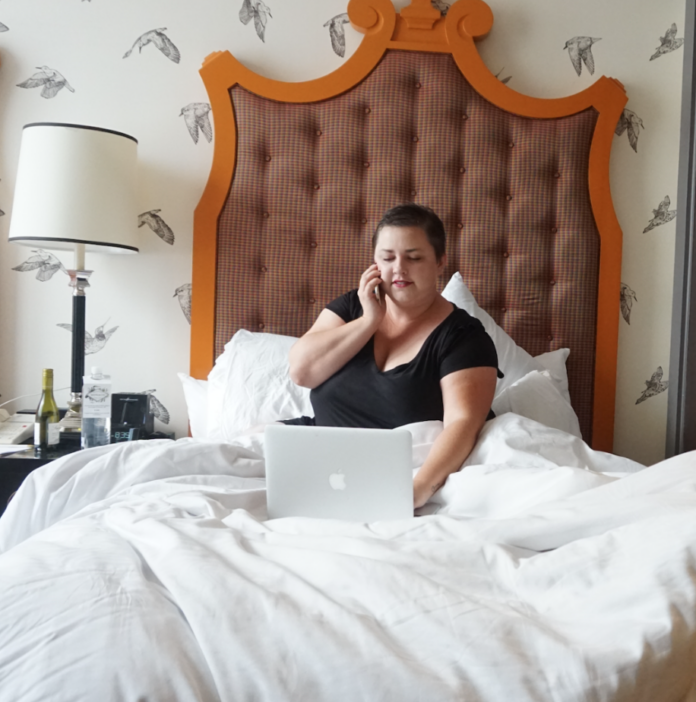 Hey there! This post contains affiliate links.  Using my links means I earn a commission, which helps me create more rad content.  More on affiliates here.
After a pretty disastrous Airbnb experience, I decided it was probably a good idea to stick to hotels.
But I'm one of those people that longs for an experience while traveling – I want the hotel or place I stay to be really unique and have something totally different that I can't get elsewhere.
After reviewing hotels in the Portland, Oregon, area for my trip – I was pretty overwhelmed. Portland has a lot of hotels to offer! So, I asked my Facebook friends for recommendations, and my best friend, Suma Jane Dark, recommended I check out Kimpton Hotels. Specifically, they recommended the Hotel Monaco in Portland.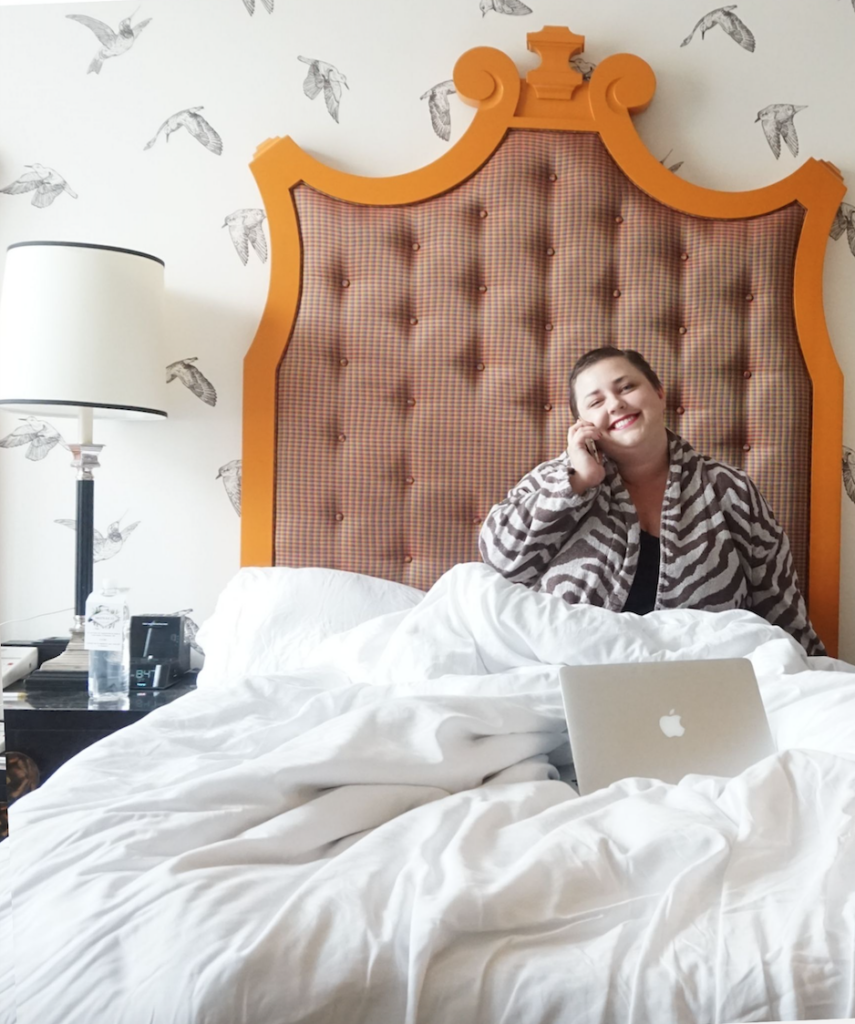 TL;DR: This is an in-depth review. If you're debating on whether to stay at the Hotel Monaco or somewhere else – STAY AT THE HOTEL MONACO PORTLAND!!!
I gush about this hotel in my review, but if you poke around my site you'll find I'm an honest reviewer who enjoys dry humor. When I say I love something, I LOVE IT.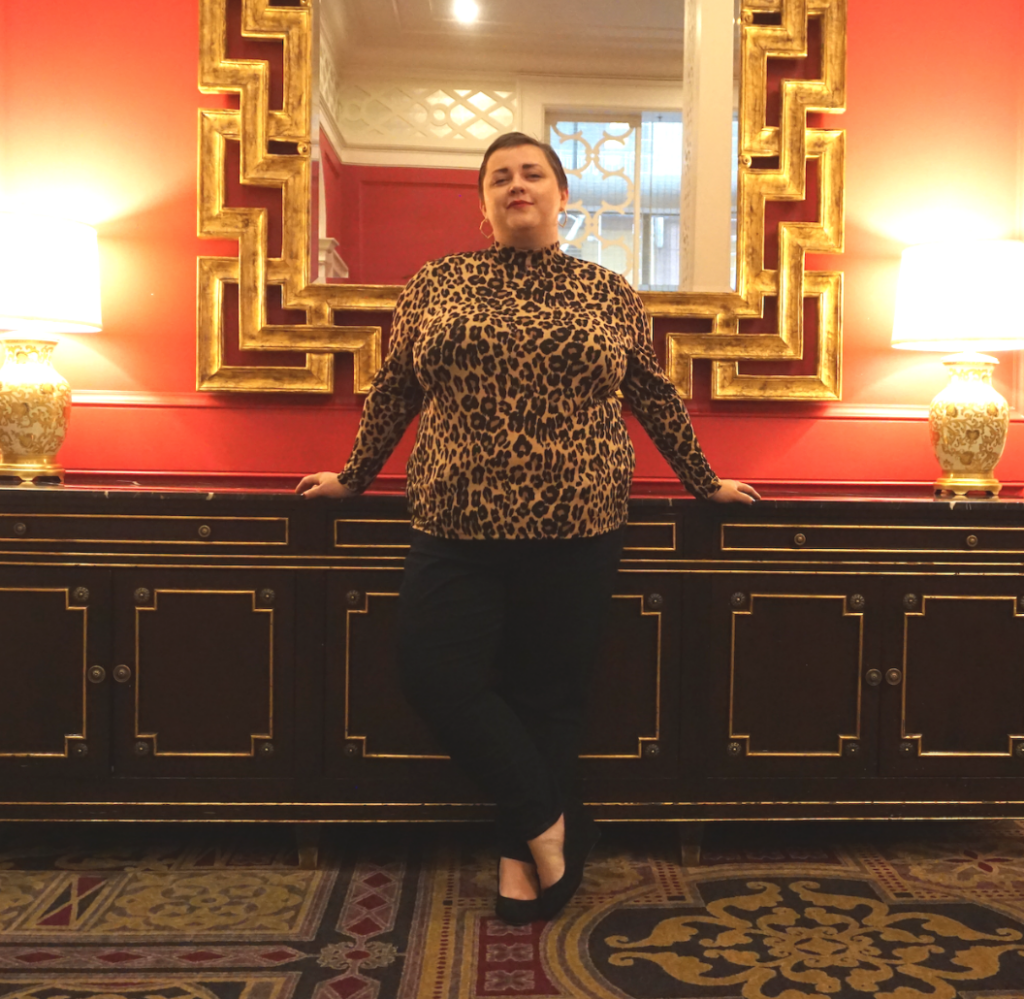 Luxury Travel & Unique Experiences
Suma is also a big believer in luxury travel experiences, so I knew they would have the 411 on where to stay in PDX.
I looked up Kimpton Hotels, and I was SO EXCITED to see they had 70 boutique hotels in 43 cities.
From their site:
You deserve a hotel as unique as you are. Every Kimpton takes your experience personally. Your wishes inspire us to delight you in unique ways making your stay the escape you didn't know you needed. Add our bold, playful design, award-winning dining and perk-y amenities and you have the ultimate boutique hotel stay.
I'm bold and playful! Sign me up!
But Wait – Is Kimpton LGBT Friendly?
As a queer person, it's important to me to stay at places that support the LGBTQ+ community. I googled "Kimpton Hotels LGBT," and I found blog posts going back years about Kimpton partnering with pride parades around the country. Kimpton ALSO supports The Trevor Project all year long.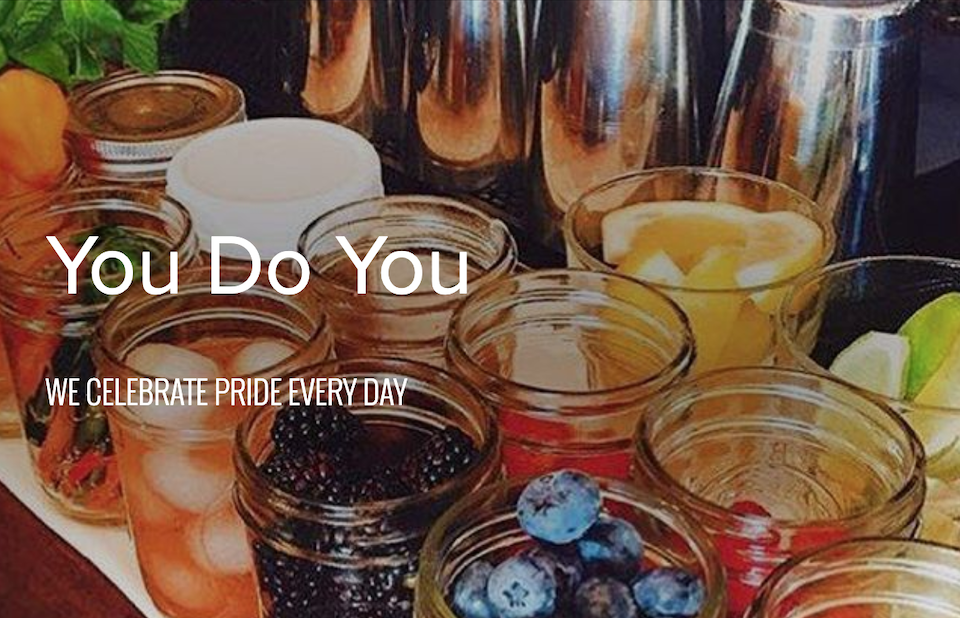 But wait – there's more. I went a step further, researching the company that owns Kimpton, IHG (Intercontinental Hotel Group.)
And the results were good! IHG has been named one of the top places for LGBT people to work. Heck yeah!
A unique boutique hotel that supports the LGBTQ community? DONE AND DONE!
Booking My Stay
As I booked my stay, I thought to myself, "If I have a great experience in Portland, I'll be able to book a Kimpton hotel for just about anywhere I travel!"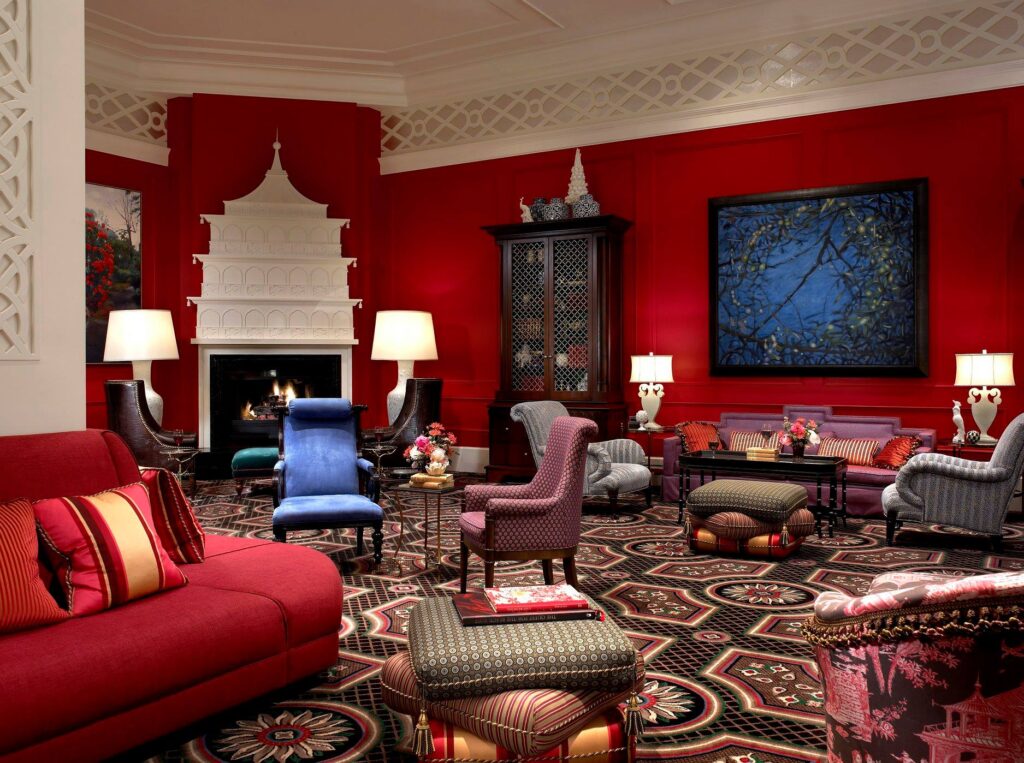 Checking In
The Kimpton Hotel Monaco is located in Downtown Portland, and is centrally located – you can easily access every site you want to visit. You're also in the midst of real Portland. Some cities have a "hotel district" where you're surrounded by tourists – not exactly a fun travel experience. This hotel combines the great experience of being downtown – while still connecting visitors to the city!
I checked in around midnight after coming from the airport, and the front desk staff was so professional. They explained the hotel amenities to me (listed below), and I could tell they genuinely liked helping guests.
Hospitality, FTW!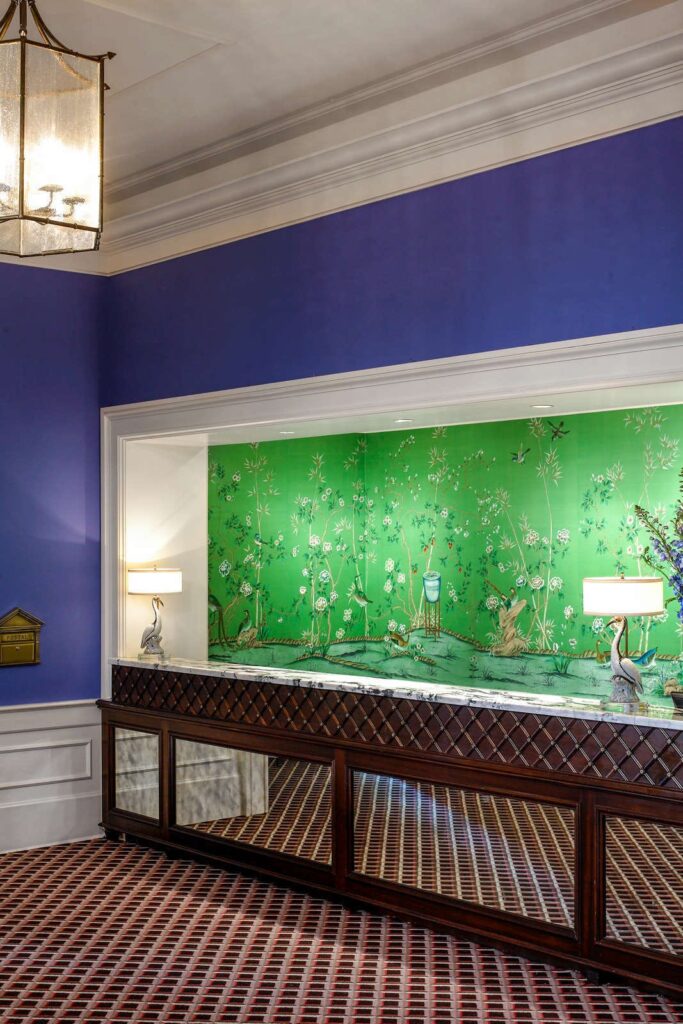 Additionally, I loved walking through the front doors – the entryway is tiled and really makes an impression. (Also loved having a doorman help me get my bags into the building!)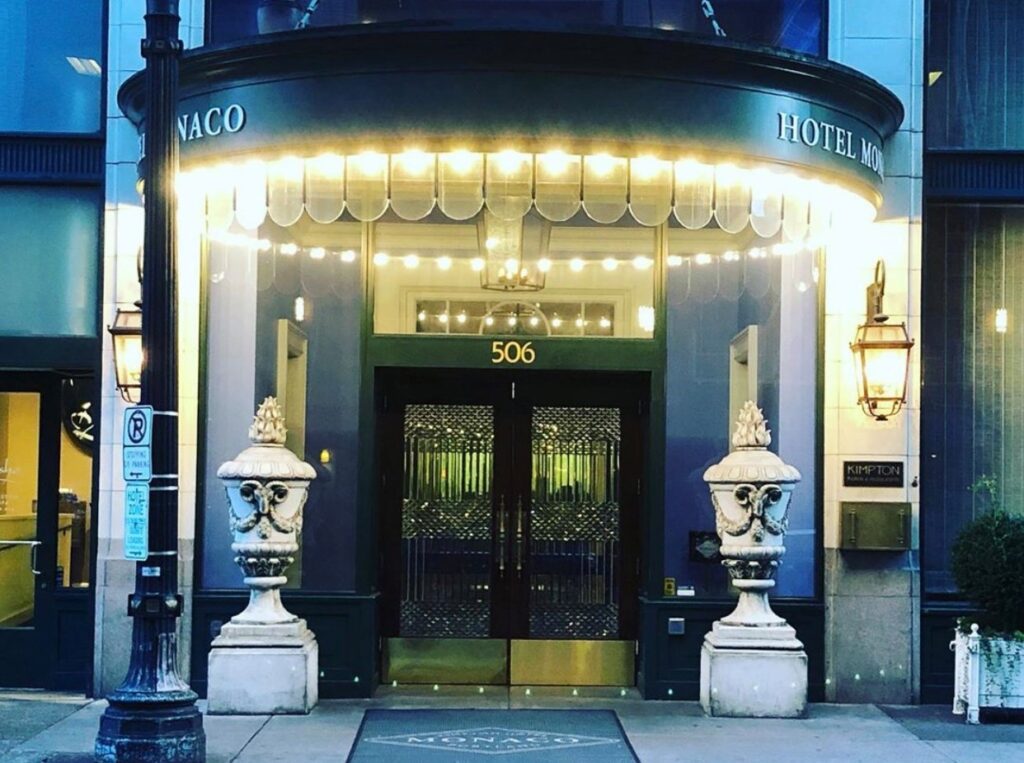 Amenities I loved:
Hosted daily Social Hour in our living room featuring live music, regional wine tastings, local spirits, and craft beers
Morning coffee and tea service, with organic coffee, daily in the lobby
Yoga mat in every room
PUBLIC bicycles available for exploring the city in true Portland style
Pets welcome!
24-hour in-room dining from on-site Red Star Tavern, where Portland comes to eat and drink
Luxury Atelier Bloem bath amenities (THESE WERE EXCELLENT!)
24 hour onsite Valet Parking with full in and out privileges
The Coolest Lobby Ever?
Y'all, I could do a whole blog post on how cool the furniture at this hotel is. I'm going to resist and share a few photos: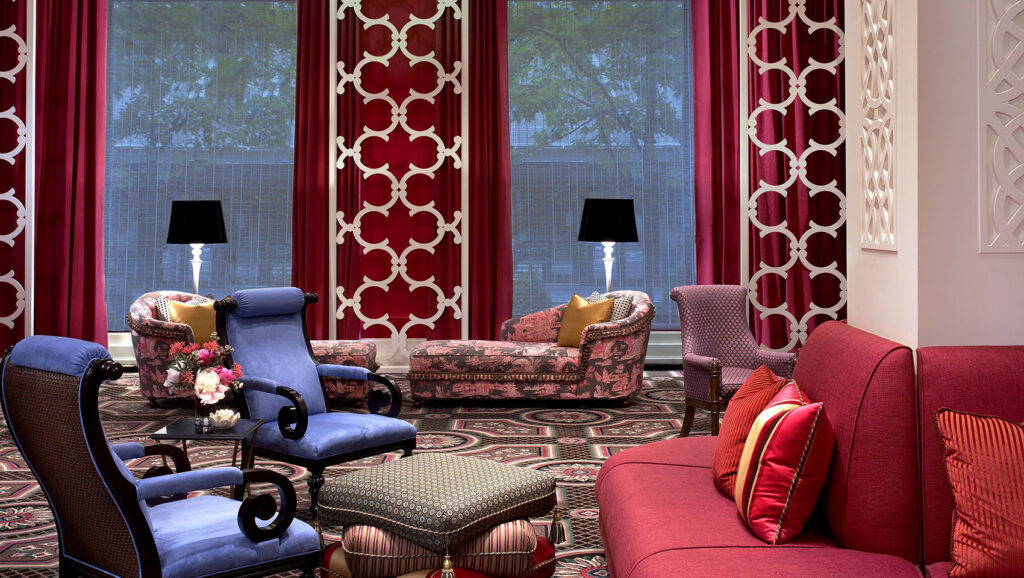 Images c/o the Kimpton Hotel Monaco
The hotel also had an onsite spa and gym, but I wasn't able to use either of these!
Red Star Tavern & Room Service
The hotel is connected to the Red Star Tavern, which also has a public facing entrance. The food was delicious, and the staff excellent. I had breakfast sent up my first morning, and I had a fun time sitting in the fun cheetah robe (supplied by the hotel!) while eating room service.
I did have a couple of issues with my Lyft drivers finding me (woo Google Maps issues) so be sure you drop your pin at the front of the hotel.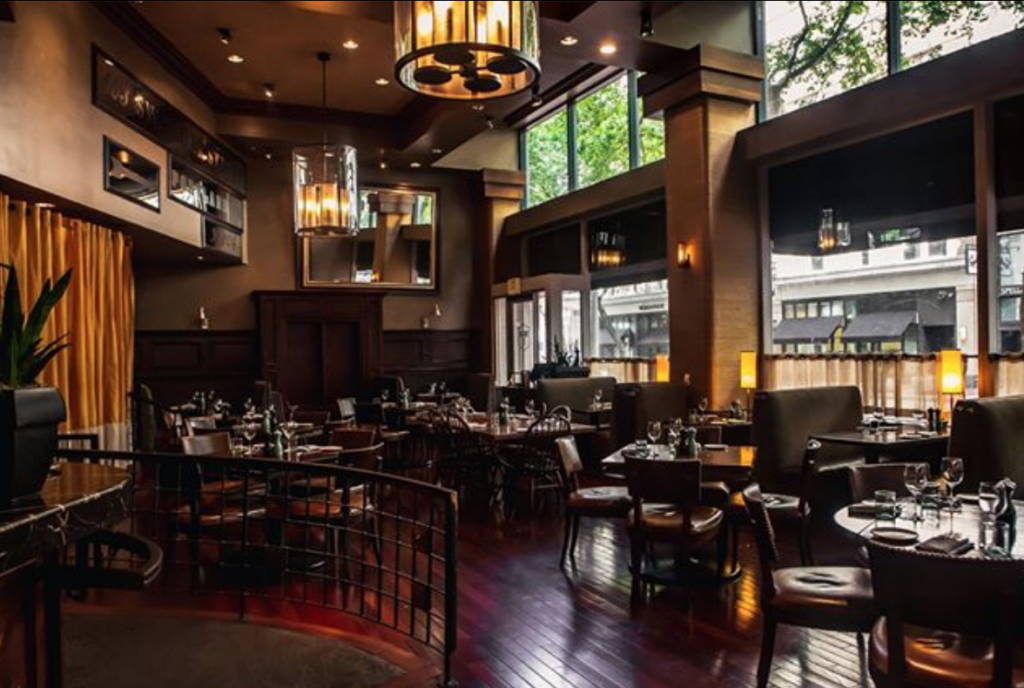 Review of the Queen Suite
I stayed in the Queen Suite, which has 2 Queen beds separated by a doors that slide shut. Next to the bedroom is a sitting room (with fold out couch) and the coolest mini bar I've ever seen!
I wasn't able to get great photos of the room (next time I'm bringing my ring light!!), so here are photos of the Queen Suite:
POMNG(L)-25.JPG

Images c/o the Kimpton Hotel Monaco
The Beds are COMFY
The beds are extremely comfy, and are a little more on the firm side. I appreciated having lots of pillows (wish I had thought to look at the tag for the brand name and model #!), and I definitely had fun raiding the snack bar.
I loved the sliding door between the bedroom and living room//sitting area. I was traveling solo, but this is a great feature for couples or groups of people using the suite.
Hotel Monaco Bathroom
Y'all, I am ALL ABOUT BATHTUBS. When I travel, I select my hotel based on how deep the tub is. I have even called a hotel to learn how deep the tub is (sorry not sorry for being weird).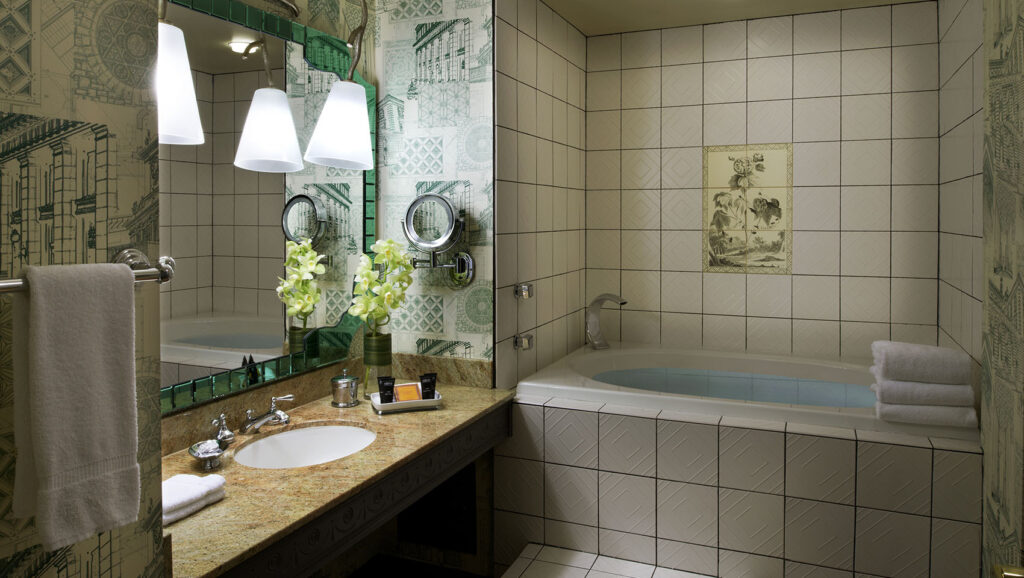 I mistakenly thought I'd get the bathtub below (it's actually only in the Grand Suite), but the bathroom was still quite fun!
I loved that the Hotel Monaco uses regular sized bottles of shampoo, conditioner, etc, cutting down on the waste those little plastic bottles make!
<< Want to see video of the Queen Suite? I'll be releasing a YouTube video review of the hotel next week on my YouTube channel! >>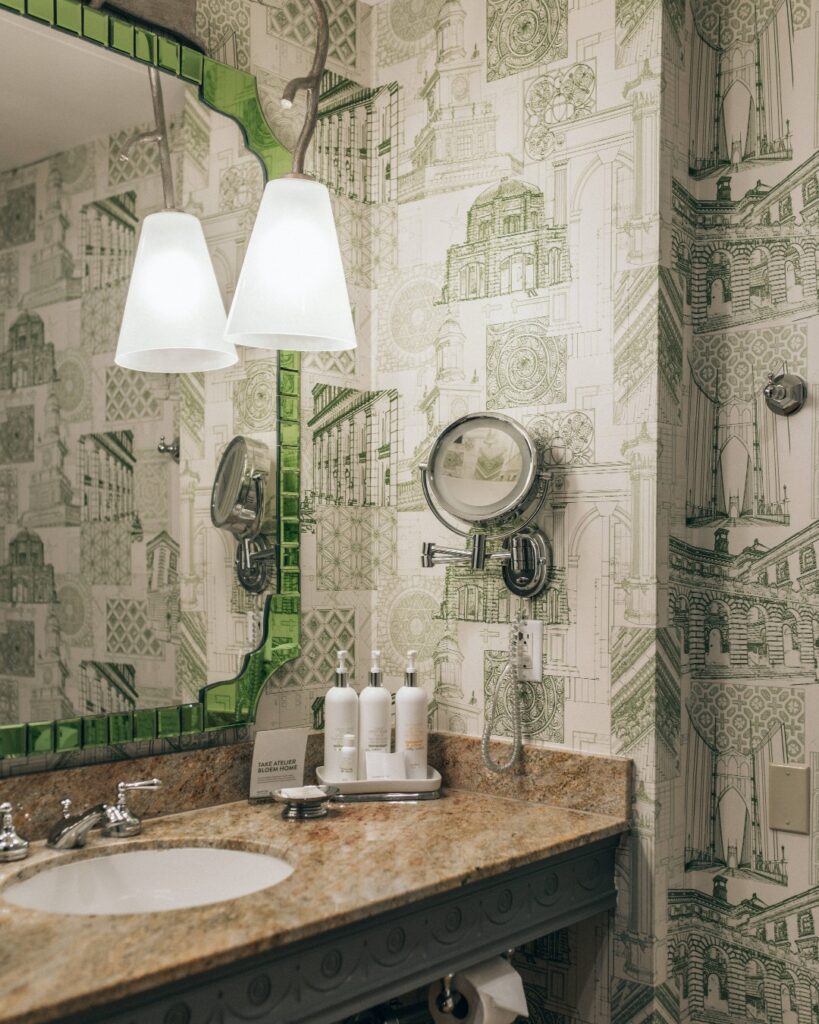 I was disappointed in the bathtub, but to be honest that disappointment lasted maybe five minutes. This hotel was so FUN to be in. The tub in my room still had "soaking" ability, and I loved the unique pattern of the wallpaper.
Unique Design Elements
My favorite thing about staying at the Kimpton Hotel Monaco Portland was knowing that it was a unique experience – and all of the design elements were so well thought out. From the frame around the bathroom mirror, to the plaid bed skirts, to the choice of handles on the minibar – I was really just delighted to be in the room!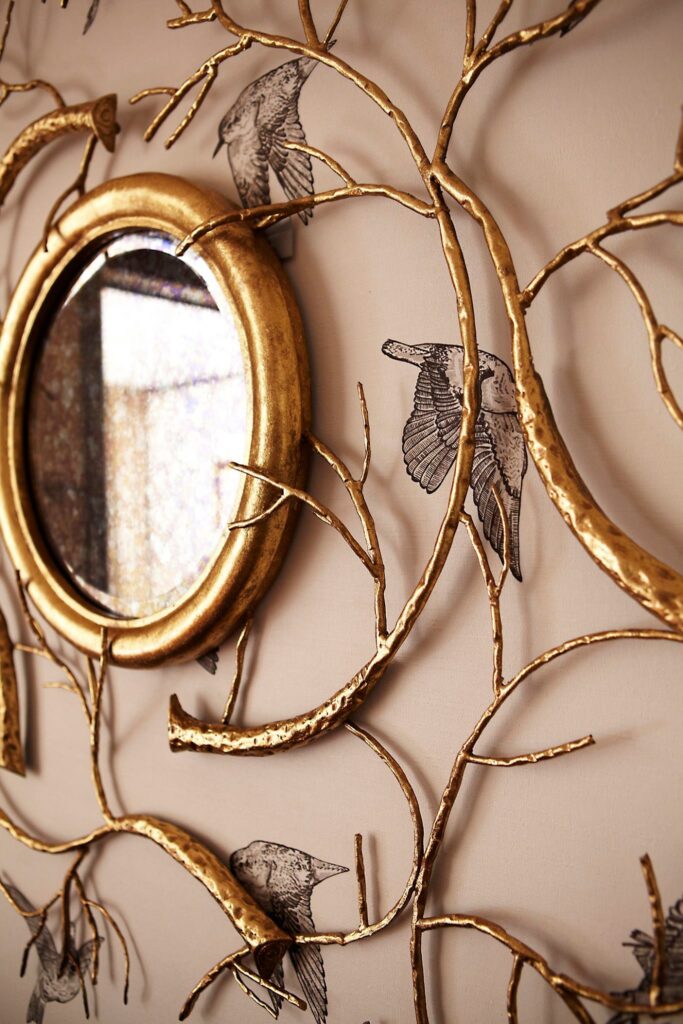 Should You Stay at the Kimpton Hotel Monaco?
If you enjoy design, unique experiences and love to be delighted – this is a great hotel. I can see this boutique hotel being great for bachelorette parties, weddings, business meetings and women traveling solo (like me!) who combine business and sightseeing.
Where to Book?
For the best booking experience, I recommend booking directly on the hotel website.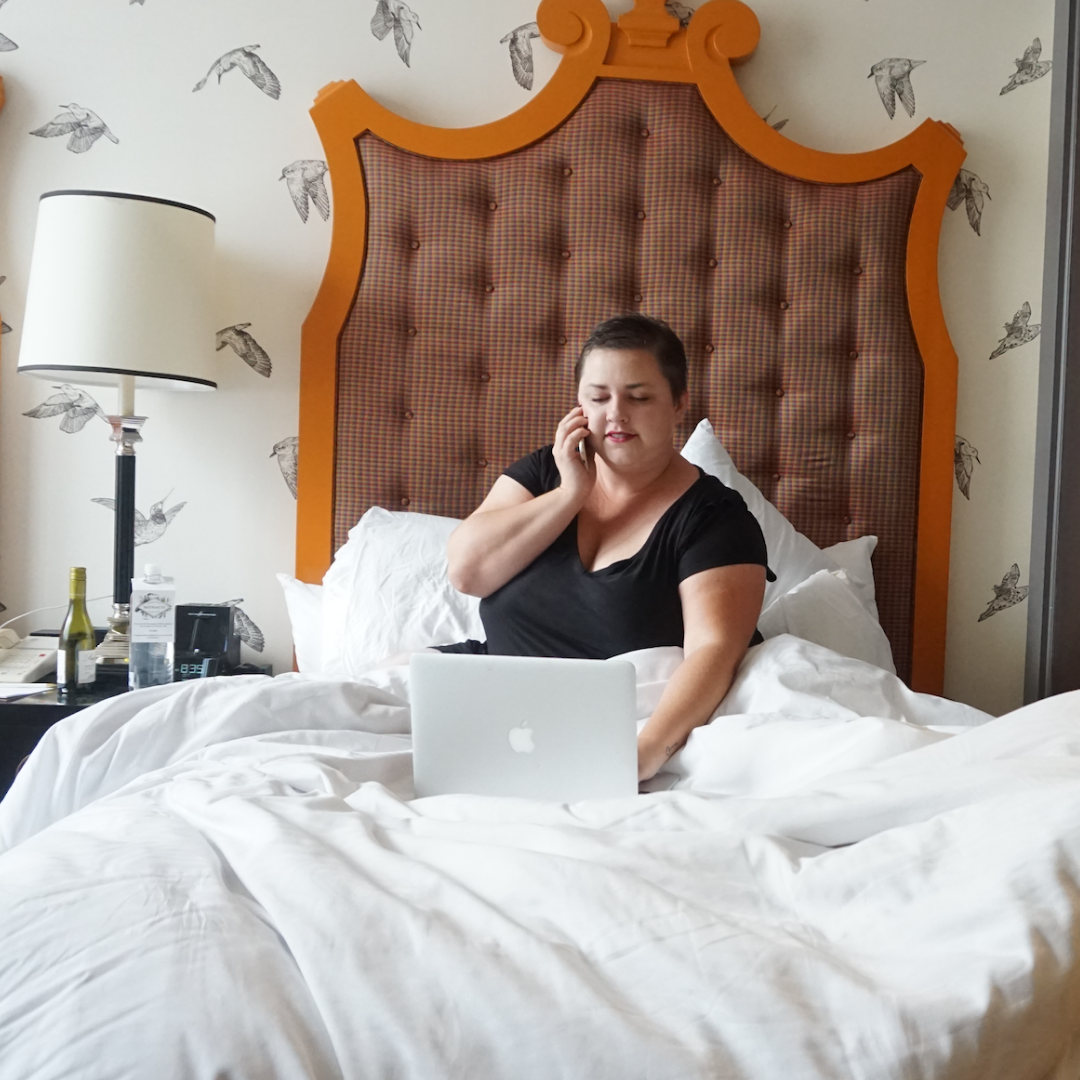 Special Thanks to the Kimpton Hotel Monaco Portland Staff
A special thanks to the hotel staff for providing such an excellent stay. Every person I interacted with seemed to be happy to be there and talking to me.
[Aside: We all have bad days at work (it happens), so I'm not expecting like the Stepford Wives version of hotel staff. It honestly felt like every staff person genuinely cared about me as an individual and my experience. 5/5 stars.]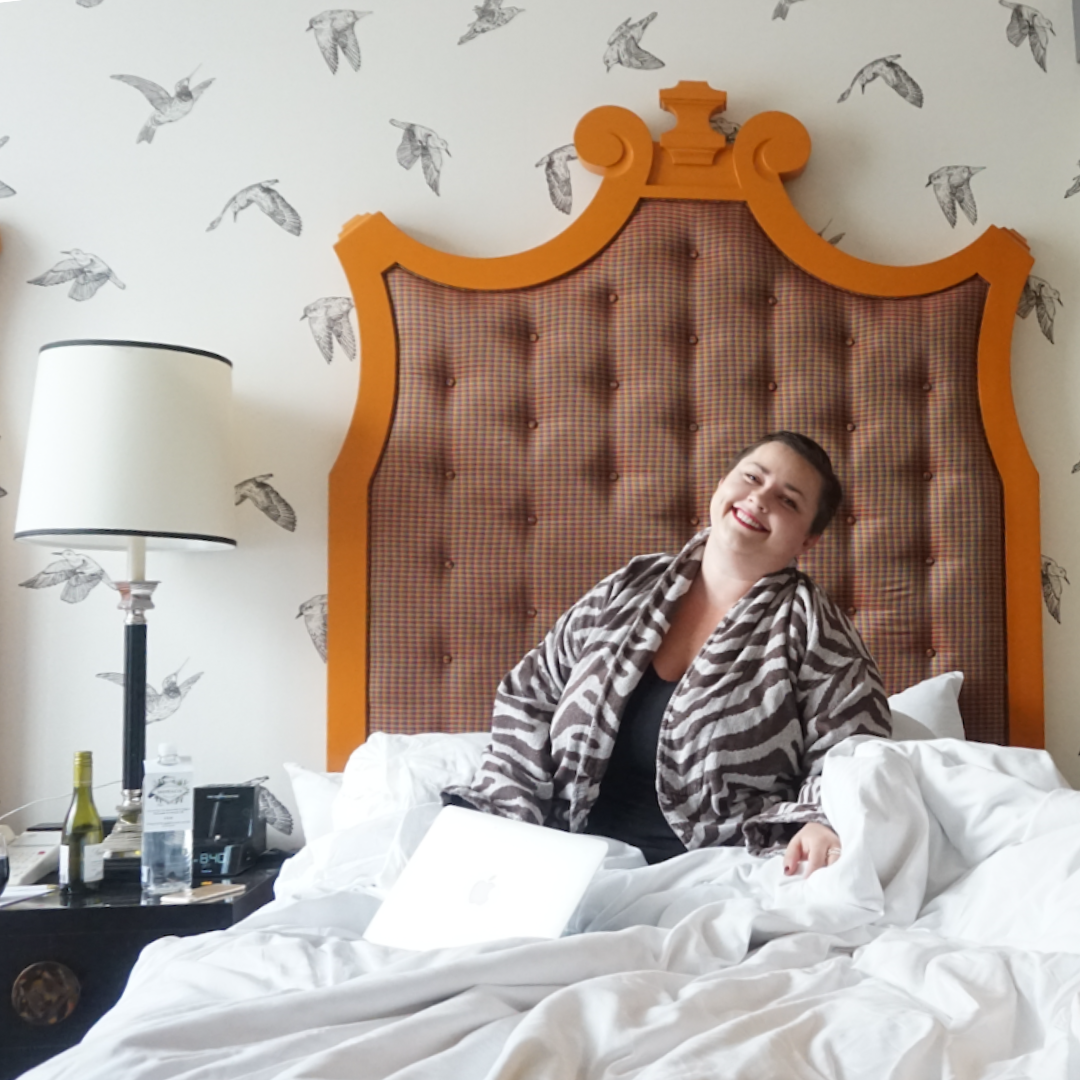 Join Me for More Travel Adventures
I'm planning a trip to Boston for my birthday this weekend, and I may stay at a Kimpton hotel – but I have to check out my options first! I'd love to review more hotels and vacation spots for LGBTQ travelers and our allies, and I'll be sharing my next travel adventure here and on Instagram!