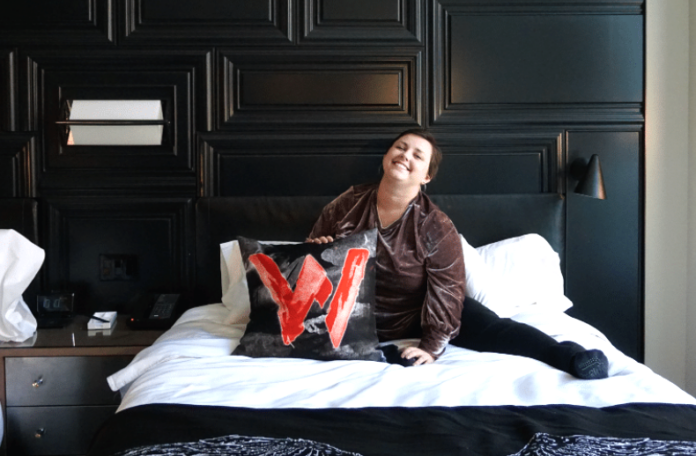 Hey there! This post contains affiliate links.  Using my links means I earn a commission, which helps me create more rad content.  More on affiliates here.
Last week, I went to Boston for my birthday. My BFF is going to grad school at Harvard, so I spend quiiiite a bit of time in B-Town.
For this trip, I decided I wanted to try out staying in a hotel in Boston. Usually, I just crash with Kate on her futon – but as my business has been growing, I get to do fun things like book hotel stays because I can! 😉
Below is a review of my stay at the W Boston Hotel. I'll be heading back to Boston in May for graduation festivities, so if you have a rec on what hotel to stay in drop me a line!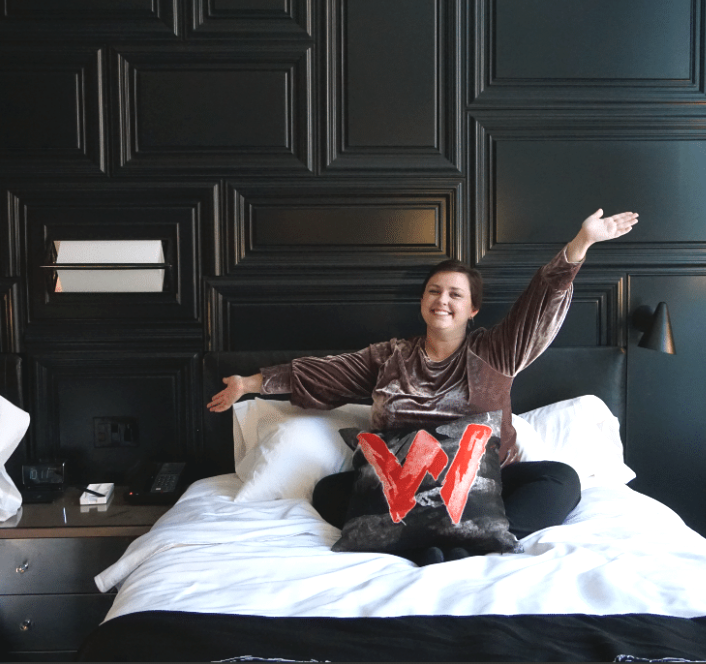 Location Location Location
The W Boston is located in downtown Boston, making it pretty dang easy to get anywhere you need to go!
Getting a Lyft from the W Boston
Kate and I Lyft everywhere, so if you're also planning on using a rideshare I would recommend going outside the hotel, and going to Tremonton Street to request your Lyft. DON'T request your Lyft to come get you on Stuart Street, right outside of the hotel. The Lyft will likely come from the east, making you have to cross the street and flag down your ride!
Ease of Check-In
The W Boston has a beautiful (and newly revamped) lobby, and Kate checked us in before I arrived. The staff at the door were very courteous, and they helped us get our bags to our room!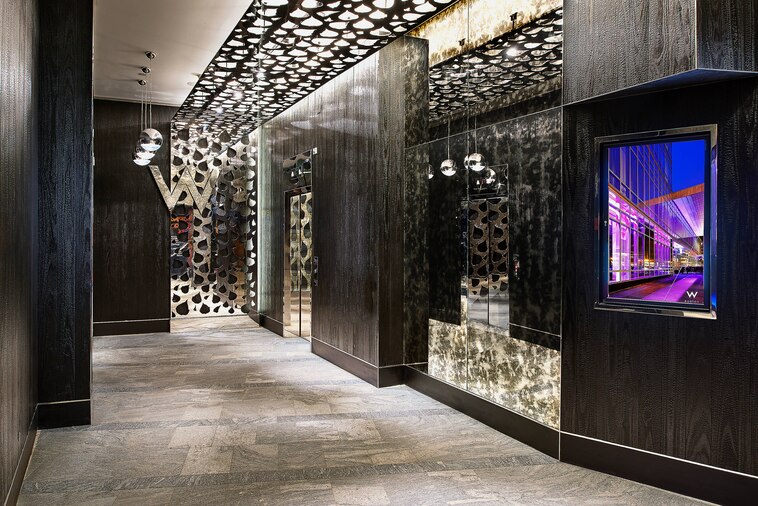 The lobby was all decked out for Christmas, and I loved this disco ball tree!
Review: Wonderful Room | 2 Queen Beds
I was pretty confused as to the difference between the rooms offering 2 queen beds. I called the front desk before booking, and I was told that the different names were to denote which floor you'd stay on.
The "Wonderful Room" was on the lower levels. We stayed on level 4! There's a lot of different room types listed on the website, so I recommend calling and telling them what you're looking for in a room – and they can explain your options!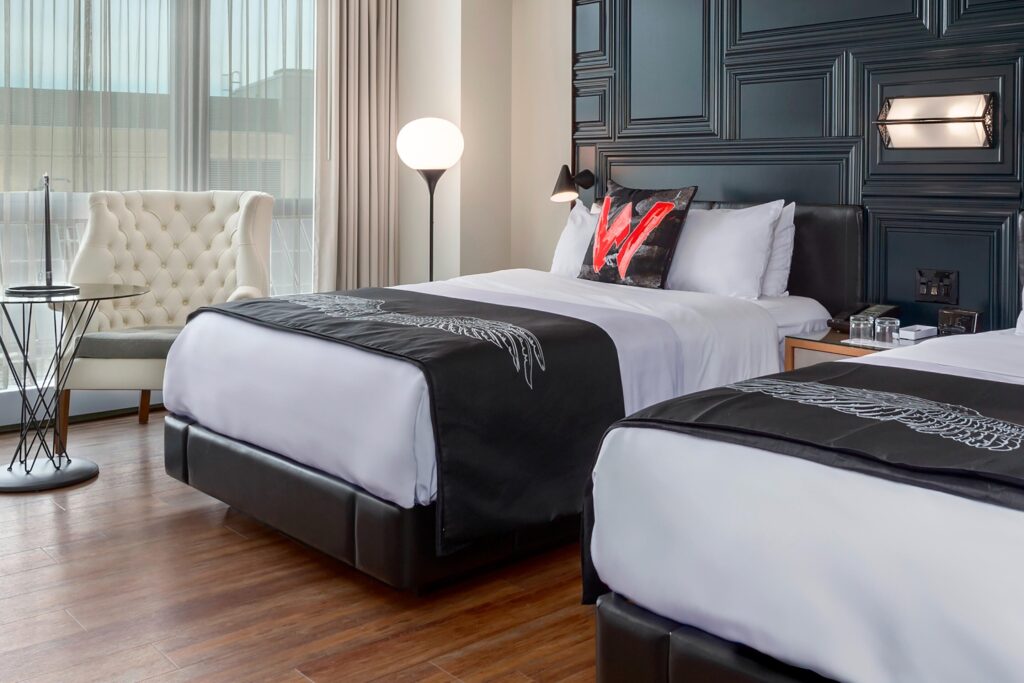 Bed & Pillow Review – 5 Stars
The beds were incredibly comfortable, and the hotel had a mix of firm and feather pillows. I especially loved the wall behind the beds – this wall REALLY sold me on staying in the hotel.
Hey, I'm a travel blogger – I need great photos!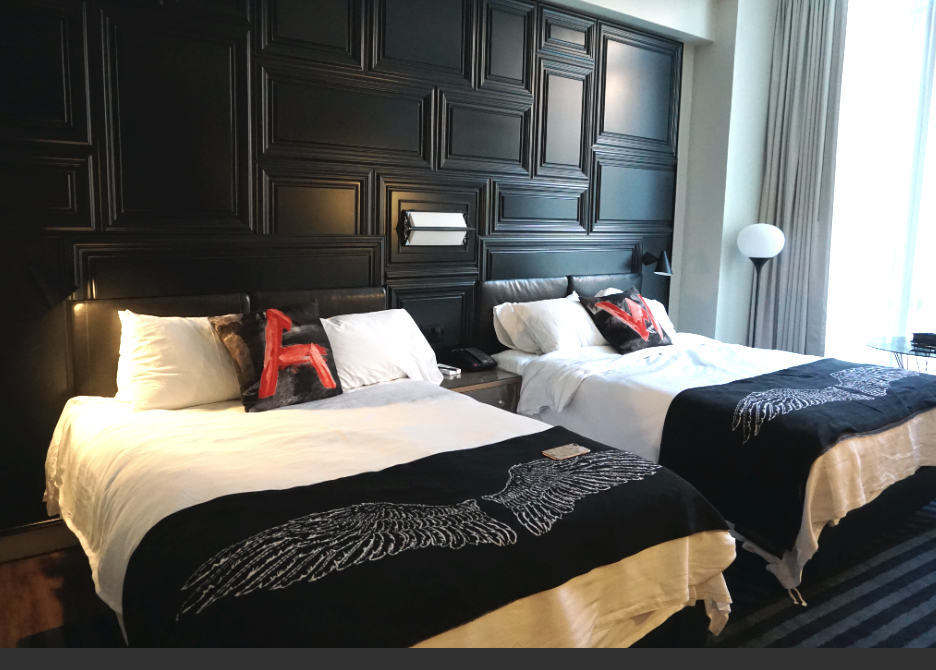 Fun Chair FTW
Y'all, I need this chair in my life! We filmed a few YouTube videos using this chair, and the lighting was great!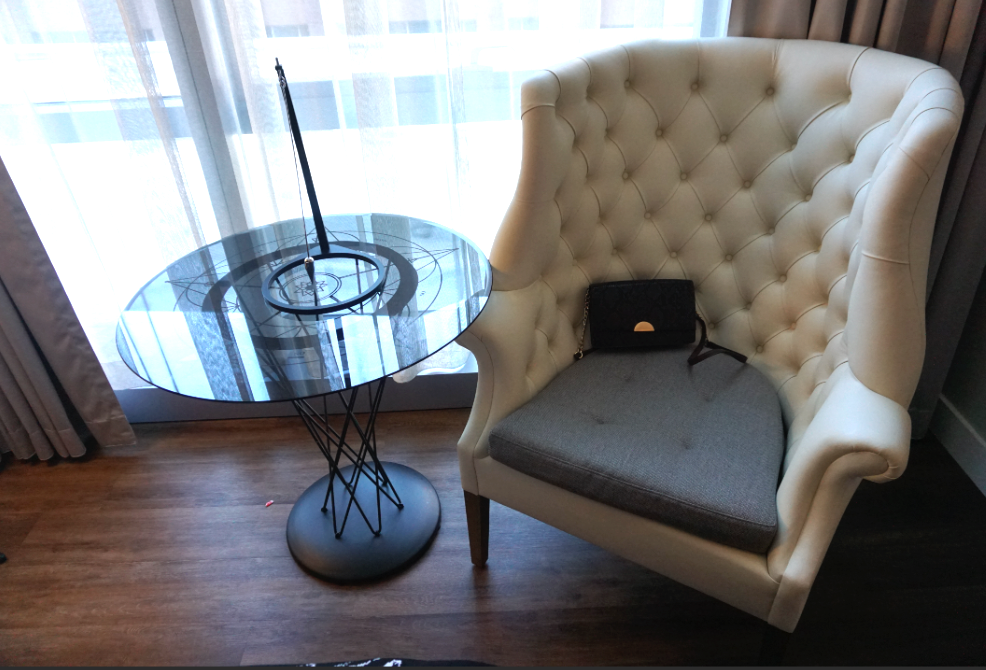 Mini Bar Selection
Kate and I went all over Boston, and it was really great to have a variety of snacks and drinks at the mini bar.
They had sweet and fun treats, as well as protein options.
We also LOVED that the hotel room had a Nespresso coffee maker, although it took us (read: Kate) a minute to figure it out. Be sure to fill the water and put the pods in horizontally (opposite of a Keurig).
I really loved that they stocked both light and dark roasts, as well as cream and sugar!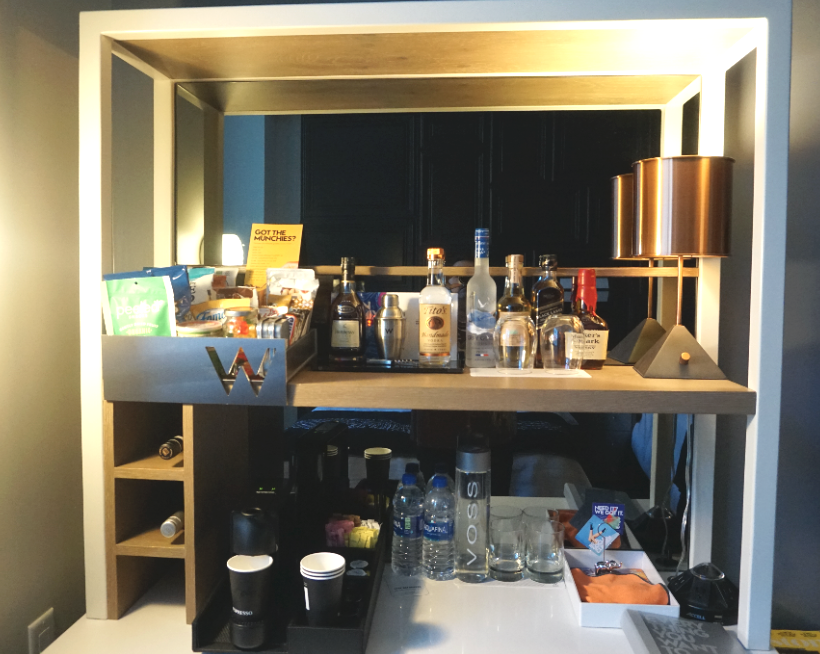 Workspace Review & WiFi Strength
There's a little desk under the TV, that I honestly didn't use as a workspace – but could be! This space was actually used as a spot to put all of our accessories and stuff that didn't fit in the closet.
WiFi Strength at W Boston
The WiFi at the hotel was strong, and it was $14.99 per day.
Bathroom Review & Bathtub Thoughts
So, I'm REALLY into soaking tubs. From looking at the rooms online, I could see that some had showers and others had tubs.
I called to figure out which type of room would get me a bathtub, and was told that all of the Double Queen rooms had bathtubs. SCORE!
Orrrr, so I thought.
You see, I should've asked if this room had a soaking bathtub. Turns out, this was a standard tub.
My b! Next time, I'll be sure to ask about depth (is that weird?)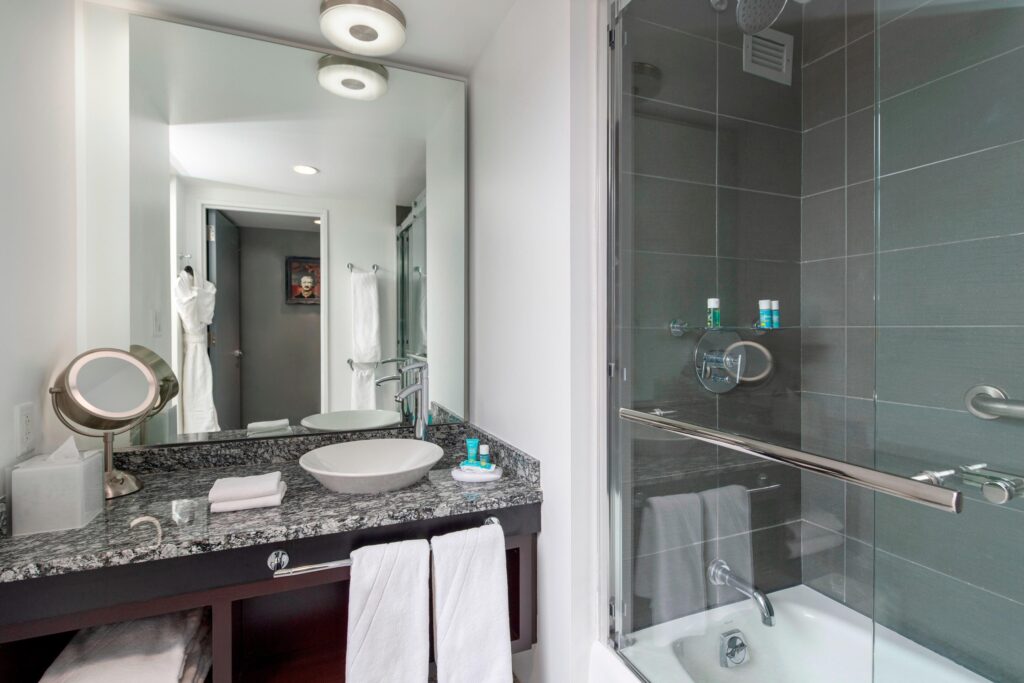 << Love bathtubs, too? Check out my review of the Hotel Monaco Portland's bathtub here!>>
Separate Room for Toilet
Something I loved about the bathroom was that the toilet had a separate room! This makes it much easier for two fashionistas to get ready to go out! I wish there had been a trashcan in this room (woo menstruation), but we got along just fine!
There was also a portrait of Edgar Allen Poe in the bathroom. Turns out, he was born in Boston.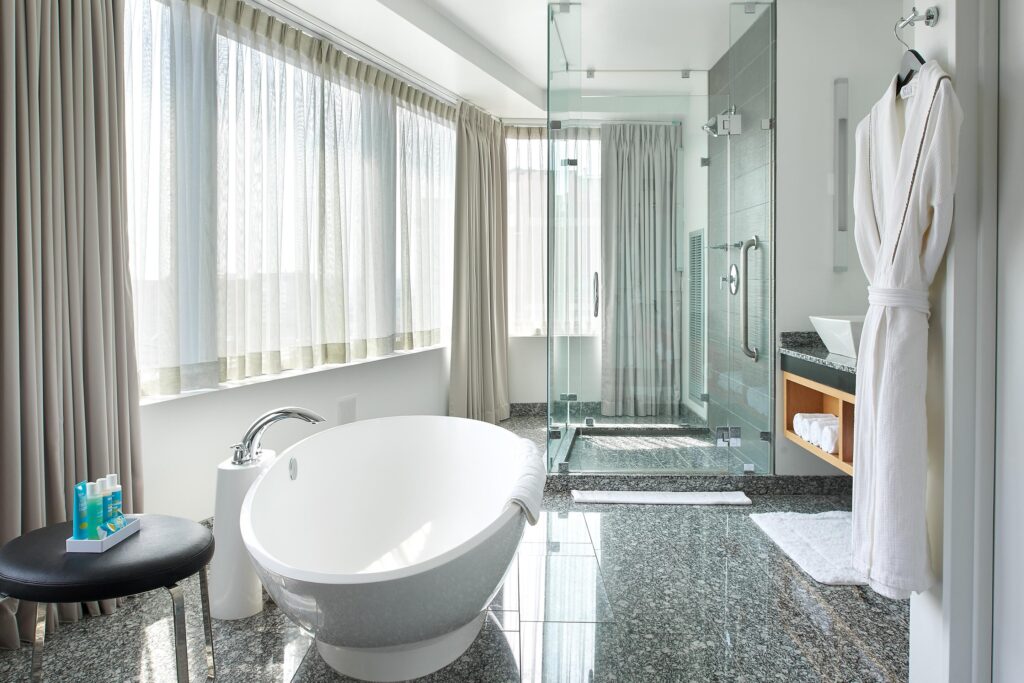 Yummy Toiletries
I totally spaced bringing shampoo! If I had brought it, I probably wouldn't have used it. The toiletries were divine!
Excellent Lighting
The lighting in the bathroom was A+, which is important for those of use trying to get a great contour!
Full Length Mirror
I loved that the W Boston had a full length mirror in our room! We made sure to utilize it for some fire selfies:
Room Service & Restaurant
We ate at both The Gallery restaurant and had room service. We missed out on the chance to check out the W Lounge, but it looked super fun and swanky.
Room Service Review
On our second night at the hotel, Kate and I ordered room service.
Love love room service.
We ordered a full sized 3 Meat Flatbread and 2 Boston Cream Pie Cakes. The Flatbread did the job, but I wasn't super in love. It was a bit dry.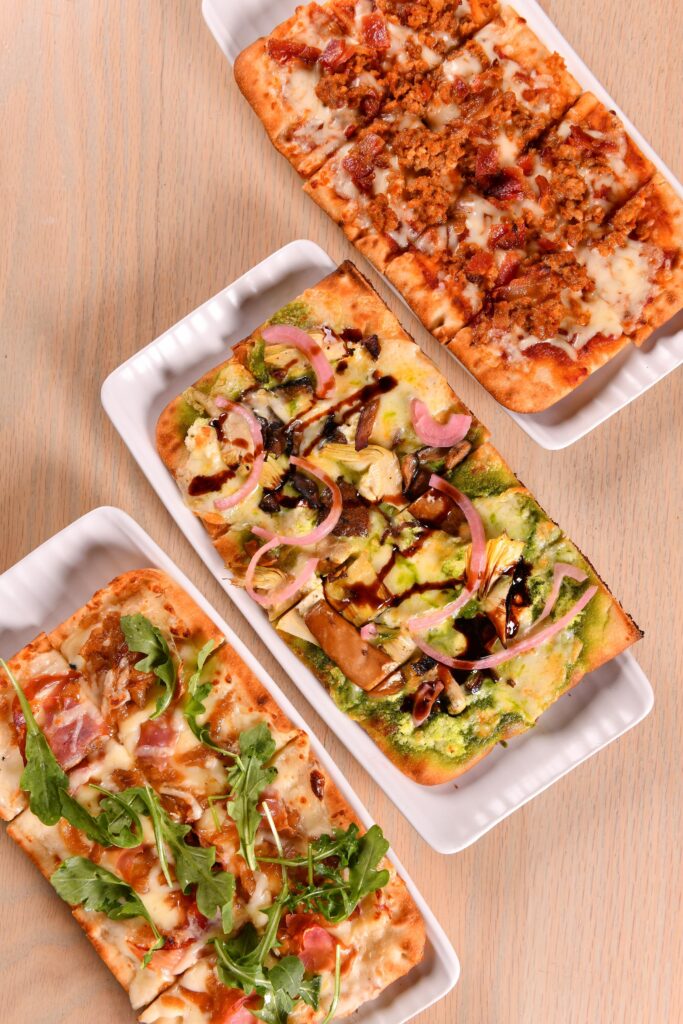 But the cakes?!!?! HOLY DELICIOUS, BATMAN!
They also sent up 2 ice waters with our meal, which I so appreciated. All in all, the room service bill was around $100 with tip.
The Gallery Restaurant
I was really impressed with the service at The Gallery restaurant. I wasn't feeling well after traveling all day, so I ordered the Umami Bowl. Kate had the Murray's Organic Chicken, and they were both excellent.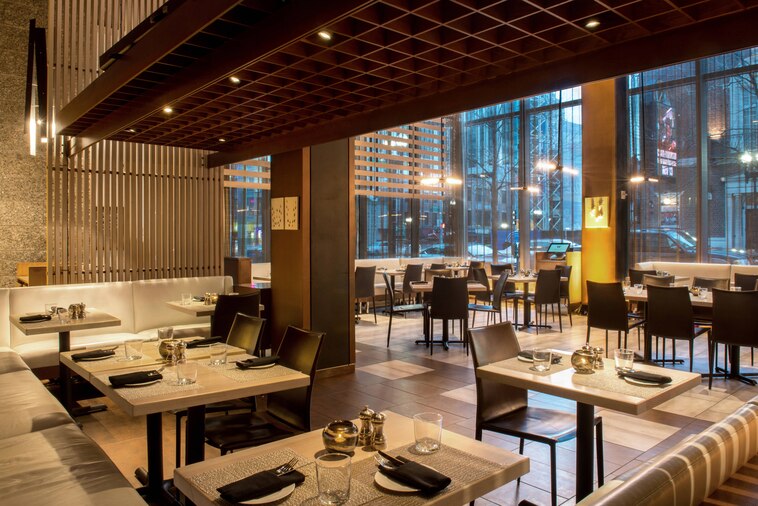 Will I Stay at the W Boston Again?
There are a lot of hotels that I want to try in Boston, so I'm not sure if I'll be staying here again! However, my stay definitely convinced me to check out W Hotels in other cities If you're looking to book a hotel for a business trip or a girls' weekend (they have a weekly dance party), I'd definitely suggest the W Boston.
If you're an urbanite or socialite who loves clean lines and a good cocktail, this is definitely the hotel for you!!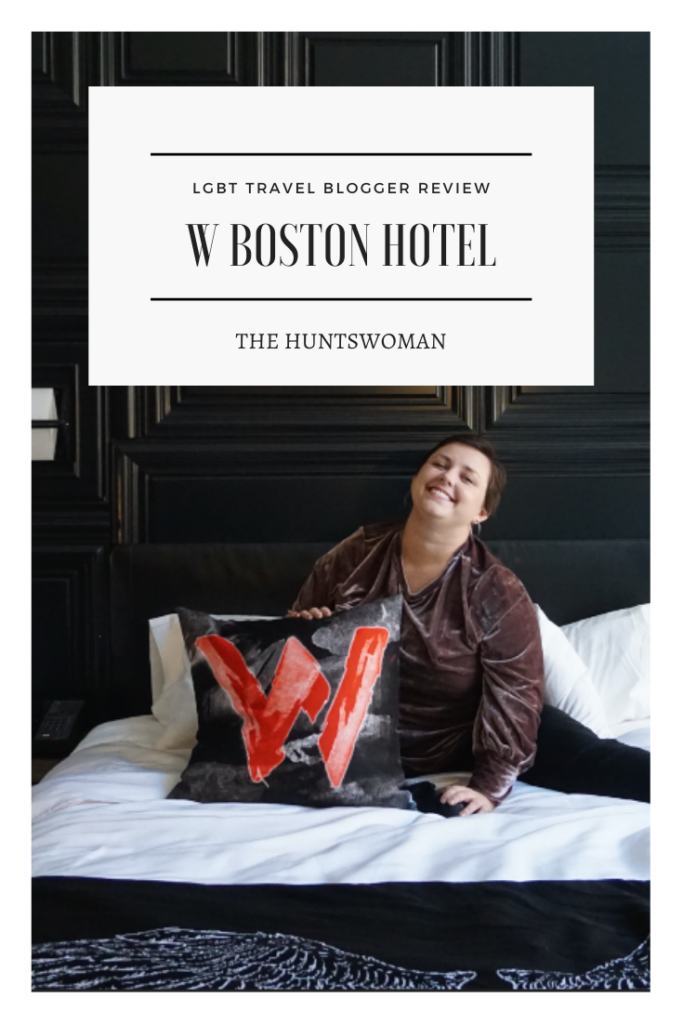 Join Me for More Travel Adventures
I love to review hotels and vacation spots for LGBTQ travelers and our allies, and I'll be sharing my next travel adventure here and on Instagram!