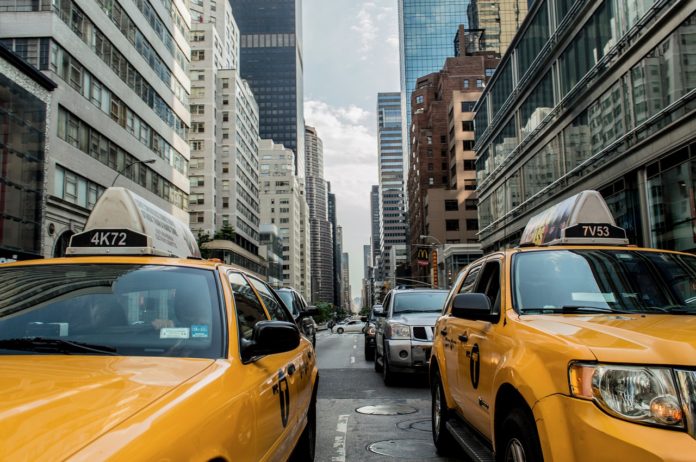 Hey there! This post contains affiliate links.  Using my links means I earn a commission, which helps me create more rad content.  More on affiliates here.
Are you looking for travel tips when going to New York City?  I love going to NYC, and I regularly write LGBT-focused travel tips and reviews!
So let's get to it!
Tips for Traveling to New York City
I travel a lot (woo being self-employed), and one of my favorite places to go is New York City.  I'm currently working on my luxury fashion collection (Look #5 is in the works), and I'll be moving to NYC soon.
Because I go to NYC *so* much, I figured that it was time to share some of my tips for visiting the city.  If there are tips that I miss, comment with yours!  I'll be sure to add the info and credit you.
[Heads up! This post uses affiliate links, and you help me earn $$ when you use my links. More on affiliate links here!]
#1 New York City Travel Tip:  "Should I fly into LGA, JFK or EWR?"
When flying to NYC, you have two choices:  LaGuardia or John F. Kennedy Airport.  I'm a big fan of flying Southwest (they let you change your flight with ZERO change fees), so I usually fly into LGA.
These airports are only 10 miles apart, but you'll want to save $$ by flying into the airport that's closest to where you're staying.  If you're staying in Manhattan, LaGuardia makes more sense.  If you're staying in Brooklyn, either could work!
LaGuardia is undergoing a LOT of construction (esp the Southwest terminal), so be prepared to feel a little bit like you're in a FEMA tent when you land.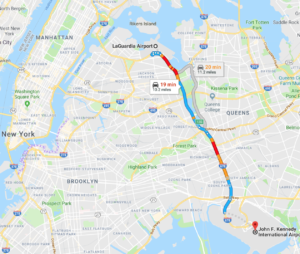 A third option is EWR (Newark Liberty Airport) in New Jersey.  I've never flown into this airport, but my friend Nicole Kramer, says she flies into it all of the time!
From my friend, Nicole Kramer:  "It's super convenient for those on the west side of Manhattan and downtown.  You can even take a New Jersey transit train to Penn Station in the city.  It's also our United hub!"
#2 NYC LGBT Travel Tip:  Where should I stay?
That is largely dependent on the things you want to do in NYC!  If you're about seeing as many Broadway shows as possible, staying in Manhattan (in Midtown, close to Times Square) may make sense.  If you're more about thrifting and that hipster lifestyle, Brooklyn is IT!
Keep in mind that there's no one PERFECT place to stay in NYC.  So pick an area that's close-ish to a majority of what you want to do.
#3 New York City Travel Tip: Broadway Shows – TKTS Booth
SPEAKING of Broadway, a great way to get cheap tickets to see a show is at the TKTS booth.  The TKTS booth is a red booth in Times Square, where you can same-day tickets for a Broadway show – at a fraction of the price.  I recommend going to TKTS in the morning, seeing Times Square and Midtown (that's where Mood Fabrics is!) and then going to your show in the evening.
#4 NYC LGBT Travel Tip:  Use the Subway (&& Avoid Google Maps!)
Okay, i have DEFINITELY been guilty of Lyfting everywhere in NYC.  However, the major lines go through major tourist areas.  You'll actually SAVE a significant amount of time using the subway, instead of waiting in traffic.
Google Maps isn't that accurate in Manhattan (weird, eh?).  Download CityMapper for updated and correct travel info.
However, sometimes the Subway doesn't go where you want to go! For budget purposes, check the Lyft fares to/from the airport, and between attractions.  Then you can decide what's worth taking the subway for, and plan your spending accordingly.
#5 New York City Travel Tip:  Visit Plus BKLYN (duh)
If you love fashion forward plus size looks, be sure to visit plus BKLYN.  If you're traveling with babes who aren't plus, they can still have a blast checking out the fun accessories.
#6 NYC LGBT Travel Tip:  Prioritize!
There's NO way to see everything in NYC.  Pick one thing a day you absolutely must do, and then plan activities around that attraction.  If you MUST go to The Met, add in your visit to Central Park.
Also, real talk, visiting the Statue of Liberty basically takes a WHOLE DAY.  If you're convinced you've gotta see it – go for it, but keep in mind it takes a long time to go to and from.
#7 New York City Travel Tip: Haggle for 
Souvenirs
If you're ready to load up on "I <3 NY" t-shirts, you may find that a lot of vendors don't put prices on anything.  Don't accept the first price they give you.  Knock a couple of bucks off.
#8 NYC LGBT Travel Tip:  Use Yelp! to Find Restaurants
It can be tempting to just go into a chain restaurant, because there are SO many places to eat.  Planning your restaurants beforehand is impossible, so pull out Yelp and sort by distance and rating to choose somewhere to eat.
Street food is delicious in NYC, but make sure to check for an "A" rating from the Health Department before handing over cash.
#9 New York City Travel Tip: Hotel or Airbnb?
You can save money by staying in an AirBnB with a kitchen.  However, most AirBnB hosts use a door code to get in and out of an apartment.  A door code that may or may not have been changed after another guest.  Avoid new hosts, and make sure to read the reviews (and cancellation policy!) before booking.
Hotel rooms in NYC are small, but with shuttles to the airport and continental breakfasts – they may actually be a better choice!
#10 NYC LGBT Travel Tip: Don't Buy Fake Designer Goods on the Street
Growing up in a small town, it was super trendy for people to come back and show off their fake LV or Chanel bag.  Sales of counterfeit luxury goods are used to fund sex trafficking, drugs, and a host of other terrible things.  Don't buy the bag!
What to Read Next —>
Love LGBT Travel Guides?  Here are a few more posts I've written for you:
Get on the VIP List!
If you want to stay up-to-date on fashion blog posts, I recommend joining me on your favorite social media platform (Instagram, TikTok & Twitter).
More of an email kind of person?  Subscribe to my fashion-focused email list here, and/or my business focused email list here!
What tips do you have for traveling to NYC?  Leave your must-know-info in the comments!