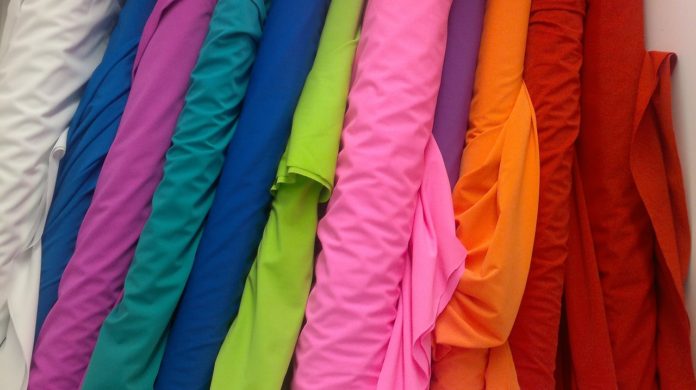 Hey there! This post contains affiliate links.  Using my links means I earn a commission, which helps me create more rad content.  More on affiliates here.
Are you thinking about going fabric shopping in Los Angeles?  Can't decide if it's worth it and you're looking for some hot takes?
Well friend, you are in the right place!!!
Tips for Fabric Shopping in the Los Angeles Garment District
As I've worked on my collection, I've learned a LOT about finding and purchasing fabrics.  As fabric stores close, people are being forced to take fabric shopping trips to cities like NYC or LA, or buy swatches online and then order.
It's a lot of work.
This last June, I went to Los Angeles for my uncle's wedding.  I stayed for an extra day to go shopping.
Michael Levine is an institution for Los Angeles.   However, I found that the fabrics there were REALLY overpriced.  A lot of the fabric vendors have the same fabric (buying from the same wholesalers), so if you find something you like (esp if it's a solid) be sure to check out the other shops
Mood Fabrics is one of my favorite places to buy swatches from, but avoid buying solid satin/poly/etc here.  For specialty fabrics or prints, they're worth the $$$ – but they do mark stuff up.  If you're a designer, it may be worth it to ask about setting up a business account (there is a minimum of yardage required).
LA Fabric District:  A lot of fabric shops are one after another in the LA Fabric District.  The proprietors expect to bargain, so don't accept the first price they share.  I usually walk around with a pen/paper, and mark down my fave fabrics and the price that's quoted.  If you come back to a shop, you've lost bargaining power, so make sure to get the lowest price before you leave to check out other shops!

On a related note, these shops are PACKED.  Don't be afraid to poke around and ask to move things.  Fabric shopping in LA is a workout!!
I stayed mostly in the LA Fabric District for my trip, so I wasn't able to drive to other cool locations.  Check out this post over on Cashmerette for a more complete list!
What to Read Next —->
Join VIP – Get More Reviews
If you want to stay up-to-date on what fashion and travel experiences I love, I recommend joining me on your favorite social media platform – here are links to my Instagram, TikTok & Twitter! Come hang out with me on your fave social media platform!
More of an email kind of person?  I have TWO email lists!