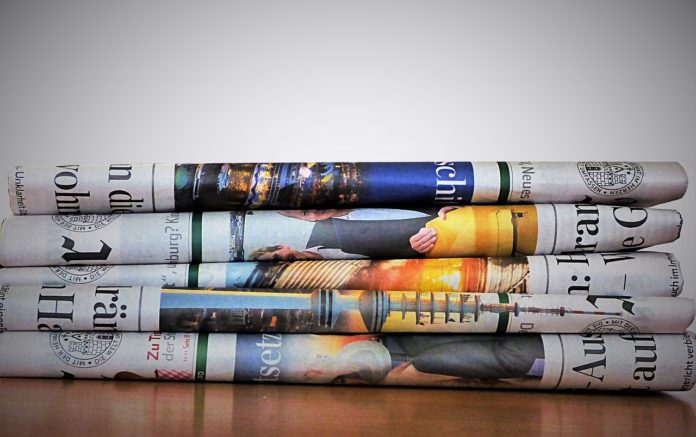 Hey there! This post contains affiliate links.  Using my links means I earn a commission, which helps me create more rad content.  More on affiliates here.
I've had a Vogue subscription for years, thinking it was the only go-to for fashion news/opinions/etc.
Boy, was I wrong!
As I've worked on my collection, and done my damndest to self-educate about the fashion industry, I've found some really helpful resources.  This tweet from Arlan really bring it home:
1/I've got something I HAVE to say:

If you want to attract money, and you don't have money, you have to BE money.

— Arlan ???????? (@ArlanWasHere) September 29, 2018
4/You never know when outside help is going to come along, so you have to stack the deck in your favor constantly and consistently.

So before you seek out a mentor or capital, study. DEVOUR information. Books/Youtube: know the archives. Podcasts/Mags: stay up on current events.

— Arlan ???????? (@ArlanWasHere) September 29, 2018
I make it a point to follow all of these people/publications across platforms, so that I gain knowledge as I bop around.  I also spend an hour everyday going through and reading as much as possible.  While I love an editorial or designer profile, the list below focuses on sharing resources that critique/analyze/etc.  For that reason, I've left traditional mags off.
So with that, let's get learning!
This has been an incredibly valuable website, in that the writers are willing to dig in and critique fashion/share their opinions in more op-ed style pieces.  The careers section has also been helpful for me, I've landed several internships from it.  Tyler McCall, one of their writers, is my fave writer.
They don't make clothes above a 10, but, sure ok. https://t.co/fN4V1WPX0P

— Tyler McCall (@eiffeltyler) October 13, 2018
Created to literally discuss the business of fashion (hence the name), I use this as a resource to peek behind the curtain at various houses.  They also have great exclusives.  The BoF podcast isn't that great, but I'm definitely considering becoming a premium member of the site!
Sales showrooms once existed solely to engage retail buyers. Now, they're serving as yet another touchpoint with consumers. https://t.co/zeEdLilPhL

— The Business of Fashion (@BoF) October 14, 2018
Besides having a great name, this website does a good job of looking at fashion through a more intersectional lens.
Have you ever bought something just because everybody else seemed to?

— Man Repeller (@ManRepeller) October 13, 2018
It's time to earn about copyright law, mergers, and a host of other legal issues/terms in fashion! I first heard of The Fashion Lawyer when I was working for an IP nonprofit.  I appreciate how the founder, Julie Zerbo, brings in critiques/analyses of the evolving role of fashion journalism.
Everything that happens in the world of plus size fashion (brand launches, modeling news, etc) hits the homepage of TCF incredibly fast.
Created in London in 2003, Hell Bunny is the home of modern retro fashion, filled with edgy gothic, rock and punk style and fusing it with the sophisticated style of the 1920s and 1950s. That's pretty unique! https://t.co/uvqtnjl2EN

— TheCurvyFashionista (@MarieDenee) September 27, 2018
Cora Harrington is the founder of the Lingerie Addict.  The website (TLA) has some great information on lingerie, and you should def buy her book, Intimate Detail: How to Choose, Wear, and Love Lingerie – I learned a TON of terms, design methodologies, etc, that I haven't found in my other readings.
Cora also goes IN on her twitter, critiquing various fashion trends and brands, size/race inclusivity, etc.
So tired of reductionist, wannabe fashion historians who reduce every aspect of women's fashion to "It was made to please men." This perspective is not only ahistorical, it denies women agency.

— Cora Harrington (@lingerie_addict) October 15, 2018
Half blog and half interviews, 11 Honoree talks luxury plus fashion with folks you need-to-know about.
On Today's #Page11 #PowerfulProfile @glemaud https://t.co/isujFOcyvj#victorglemaud

— 11 Honoré (@11Honore) October 9, 2018
#8 Fashion News Site:  Glossy Co
Calling all tech and startup nerds. Glossy is a publication that "covers how technology is modernizing the fashion and luxury industries."
Retail has been particularly important for cannabis beauty and wellness brands as they try
to grow their businesses. https://t.co/5WfCSTByE6

— Glossy (@glossyco) October 13, 2018
#9 Fashion News Site:  Coveuter
Coveuter offers a BTS look, without seeming artificial or packaged.  They publish such a variety of content, that I had to go to their about page to figure out how exactly what their mission is:
"Known for stunning photography, award-winning writing, and an intimate look at luxury lifestyles and global tastemakers, Coveteur was established in 2011 as a passion project to explore the homes and closets of global street style stars and influencers."
Bella hadid's stylist let us raid her closet: https://t.co/eN7BwpCOkh pic.twitter.com/EZohi9YHJ9

— COVETEUR (@Coveteur) October 13, 2018
#10 Fashion News Source: Sarah Conley
These three have some sharp insights and critiques that she shares on Twitter.  I love her insights!
Whenever I get sad, I revisit this 2014 retelling of the time some of fashion's most powerful were stuck together in an elevator after Oscar de la Renta https://t.co/dUIbvt36qk

— Sarah Conley | Rascal Honey (@imsarahconley) October 9, 2018
#11 Fashion News Site: M2M | Made to Measure
Okay, so I'm still not 100% clear how I landed on the M2M Facebook page, but I'm SO GLAD I did.  They have great short videos on current designers and analyses of fashion history.
What to Read Next —>
Looking for more fashion resources and tips?  Here's a few other posts I've written, and I think you'll find these useful!
Join VIP – More Hot Fashion Takes
If you looove a fashion hot take, then you're going to want to join me on your favorite social media platform (Instagram, TikTok & Twitter).  I love posting hot takes and reviews.
More of an email kind of person?  Subscribe to my fashion-focused email list here, and/or my business focused email list here!
What are your go-to places to read about fashion?  I'm always looking to add to my list.  Share your recs in the comments below!