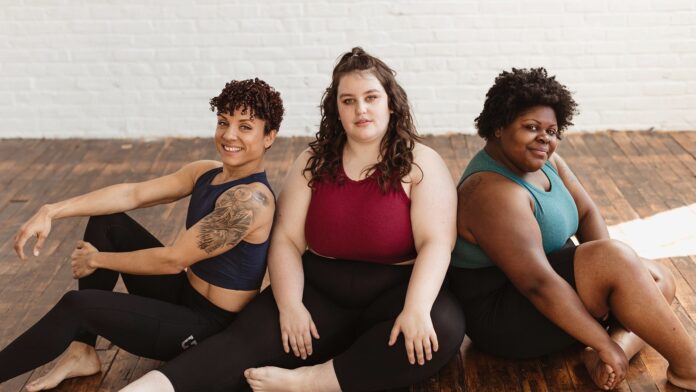 Hey there! This post contains affiliate links.  Using my links means I earn a commission, which helps me create more rad content.  More on affiliates here.
As I write this, January is just around the corner. Which means we are entering a time where diet industry BS is running rampant.
We all know that this industry profits IMMENSELY off of us hating ourselves. Billions of dollars are poured in every year, and we enter a vicious cycle of self-hatred and self-punishment.
[Heads up! This post uses affiliate links, and you help me earn $$ when you use my links. More on affiliate links here!]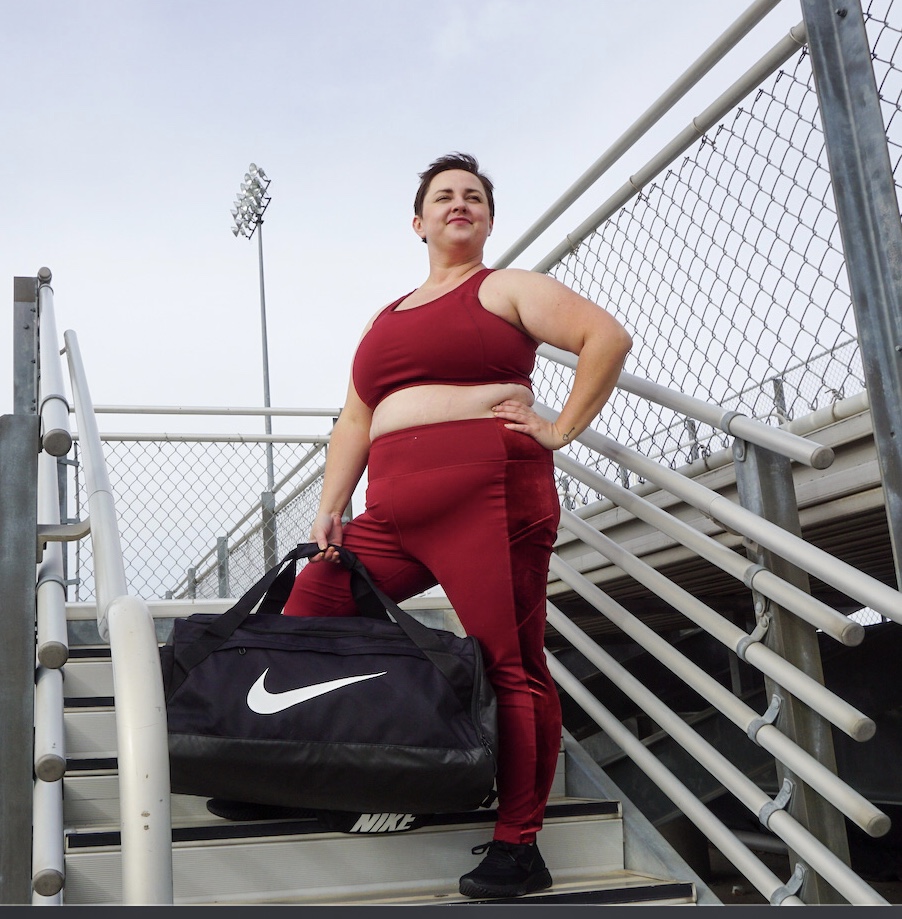 BUT, this isn't a rant about the diet industrial complex. Rather, this post is a roundup of different apps and websites that are trying something new in the fitness industry. Instead of focusing on negativity and profiting off of low self-esteem, these companies are trying to help people connect with the joy of moving one's body.
I haven't tried all of these people and companies, but this is a great place to look for politically body positive fitness options.
Body Positive Workout Option #1: Joyn
The Joyn app launched this year, and is an "Online joyful movement classes for every body." And they really mean EVERY BODY. The website even uses the term "FAT POSITIVE!" Many online body positive companies have plus size bodies with more flat stomaches and hourglass shapes!
But not Joyn! They have a variety of bodies represented on social media, and I love their retro branding!
Joyn has a variety of classes, from dance to meditation to chair exercises – and they have modified versions of the exercises for those who need it.
Access to Joyn is $9.99 a month after a 7-day trial.
Check out Joyn here.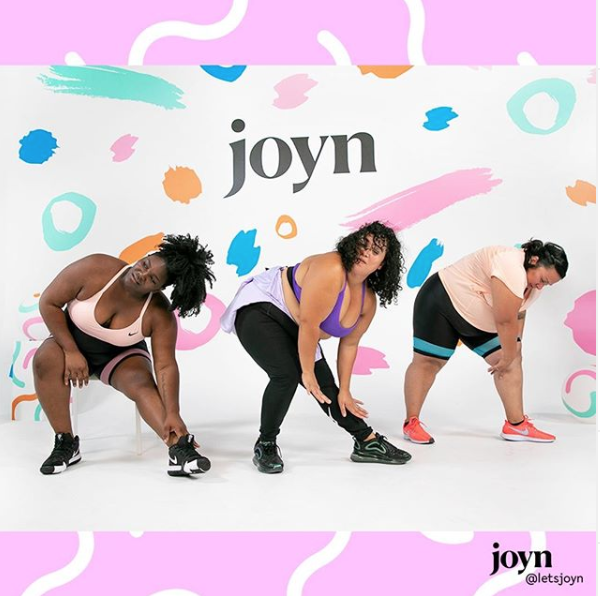 <<I'll be sharing more images of plus size workout wear on my Instagram this year, so be sure to join me there!>>
Body Positive Workout Option #2: the be.come project
Founded by queer activist, Bethany C. Meyers. the be.come project uses fluid movement to take you through the workout. It's not aerobic, but it definitely gets your heartrate going!
From the website: The "be.come project is a body-neutral, I-can-do-it, go-on-and-love-yourself approach to boutique fitness in an accessible 25-minute routine. All you have to do is show up – anywhere, anytime."
The exercise program changes weekly, and you do the same workout for 7 days.
The app is $34.99 a month, and you learn more about the program and politics behind it here.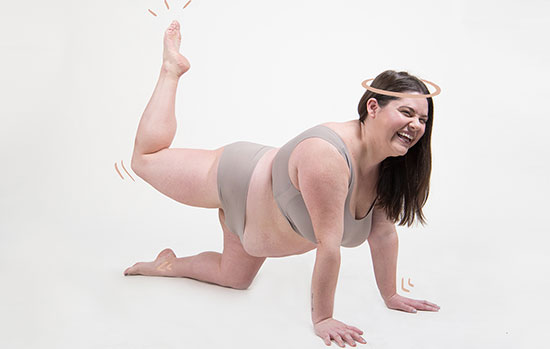 Body Positive Workout Option #3: Super Fit Hero
SuperFit Hero offers both workout clothing (XS to 5XL) AND a super helpful fitness platform, Body Positive Fitness Finder, to help you find body positive instructors and fitness classes.
I love how the SuperFit Hero has a variety of bodies and genders on their website. THE MODELS HAVE BELLIES, PEOPLE!! I AM SO INTO THIS!!!
SuperFit Hero bottoms start at around $58 and tops at $30. I haven't tried out their clothing, but I am intrigued.
Oh, and about those body positive fitness classes? The Body Positive Fitness Finder platform is free to use!
Check out SuperFit Hero here.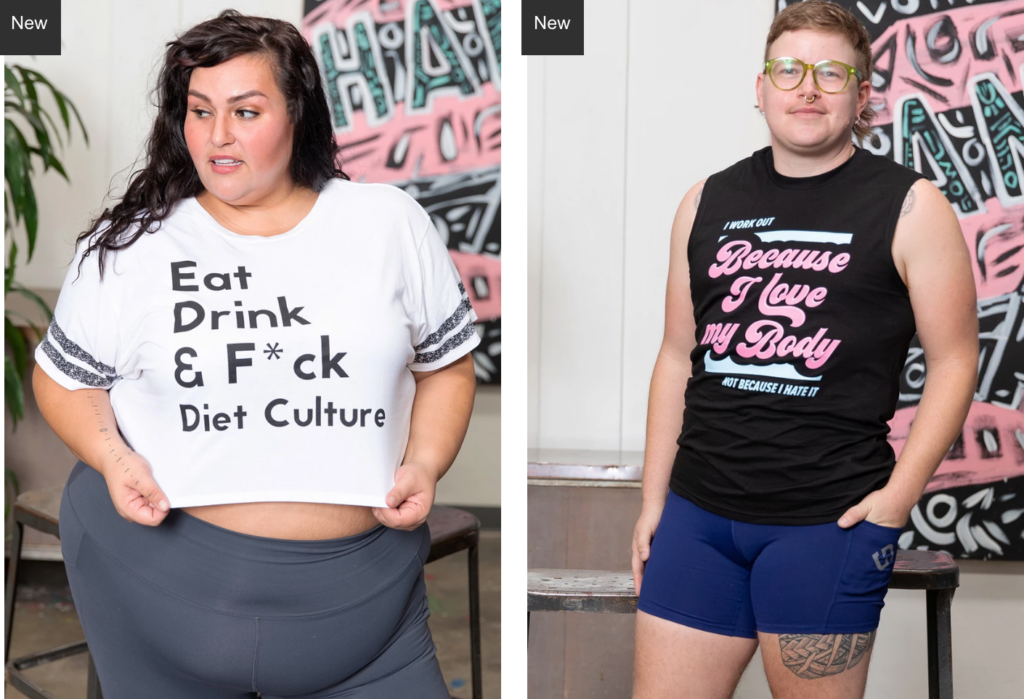 Embracing the Joy of Movement
I hope these resources help you connect to your body in 2020. Remember to listen to your body and be kind to yourself as you try new things – you're not going to be perfect right off of the bat!
RELATED POST: Looking for recs on where to buy plus size workout clothes? Check out my roundup here!
Let's Hang Out!
I love finding the best fashion and lifestyle products, and delivering the best tips to my readers! If you want to stay in-the-know, be sure to subscribe to The Huntswoman email list! No spam, pinky promise!