Hey there! This post contains affiliate links.  Using my links means I earn a commission, which helps me create more rad content.  More on affiliates here.
Are you tired of all of these boring headboards? SAME! This post is all about where to shop for unique headboards! If you've been following along on my Instagram Story, you know I'm on the hunt for a PERFECT headboard.
I've been looking at headboards local furniture stores, as well as Havenly, IKEA, WestElm, APT2b, Urban Outfitters, HomeGoods etc etc.
I haven't found THE ONE yet, but I've got a pretty good list of options going. If you're also an interior design nerd, here are 13+ unique headboards I love!
(You'll notice I'm a bit of a maximalist, so if you're looking for minimalist headboards, well, I'm not your gal!)
Note: This blog post was originally published on November 11, 2019. It was last updated on August 5, 2023.
This blog post is all about unique headboards.
Unique Headboard #1: Carved Whitewashed Headboard
Okay, this unique carved headboard (made out of reclaimed teak wood) is BEAUTIFUL and it comes in 4 different finishes. The white finishes really appeal to me, as does this whole bedroom setup, tbqh!
From the maker: "Make your bed the center of attention by adding our Mythaihome Carved Headboard. Our products created especially to decorate your home and make it unique. They are made from high quality reclaimed teak wood."
See more details for this unique headboard here!
Unique Headboard #2: Peacock Rattan Queen Headboard
Okay, so normally I'm not a huge fan of rattan, but this headboard is STUNNING. The handiwork and time that went into this is inspiring!
The photo shows the headboard with a daybed, but it will also fit a queen!
More details on this unique headboard here.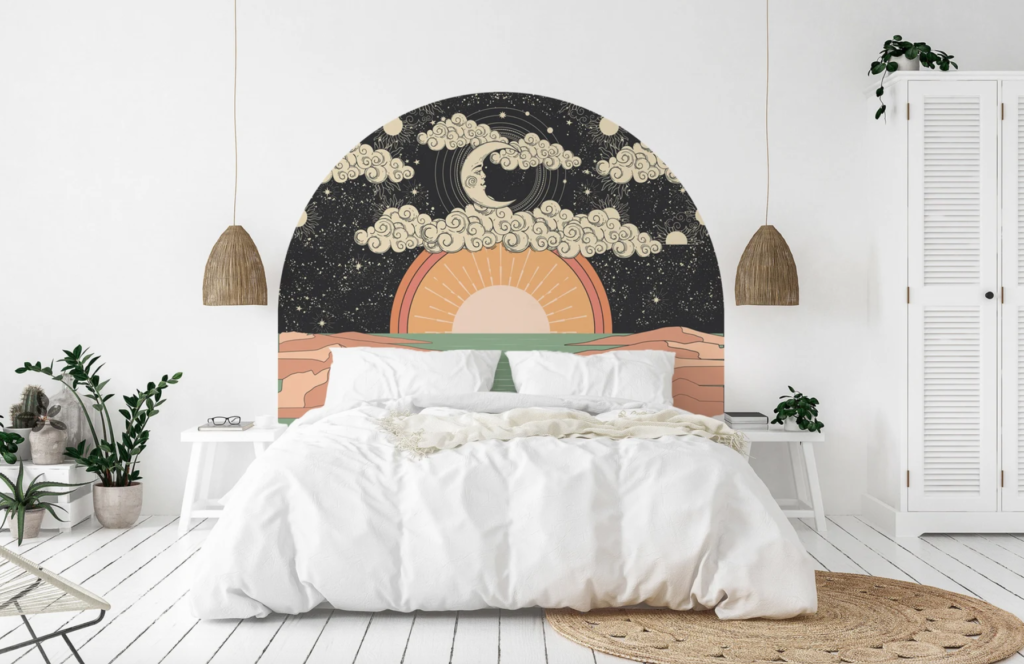 If you're in an apartment or aren't *quite* sure what kind of headboard you want, a wall decal can be a great option! These are less of an investment than a phyical headboard, and they come in unique patterns.
From the brand :"Love a painted textured arch, but don't want to commit to paint? Then a peel & stick arch is perfect for you! Just stick it to the wall to create that perfect block off colour."
Details on this unique headboard hack here!
Unique Headboard #4: Masculine Opulent Gold Wall Tiles – $17.21+
Next up, we have a unique headboard that is formed out of wall tiles!
This headboard is actually upholstered wall tiles that have been attached to the wall, and I think they're pretty dang snazzy!! If you have a loft apartment, these tiles would really help separate the bedroom area from the rest of the space. This unique headboard idea is also great for people who are decorating a bedroom with tall ceilings.
Details on this unique headboard here.
This headboard is perfect for the mid-century fan who appreciates color! I love the geometric lines. The fabric is chenille, and this bed can be ordered in other fabrics like faux leather, linen, velvet, crushed velvet, faux suede, microfiber, and chenille!
From the maker: "This beautiful bed, recently completed for another Etsy customer, screams custom with it's beautiful, geometric, panel tufted SOARING headboard and rich, emerald green chenille velvet fabric. This bed can be ordered in any size, frame, height, fabric and design."
Details on this unique custom headboard here.
Next up, we have another unique headboard hack – we have this PILLOW that looks like a headboard!?! how cool is that?!?! I think this is such a smart idea if you rent, and you don't want to pack up and unbox a big bedframe, this is is a great option!!!
Check out this unique headboard – that comes in multiple colors – here!
Unique Headboard #7: Inlaid Wood – Modern Headboard
Okay, to be honest I find most mid-century or Bauhaus-inspired pieces boring AF. I want color! Texture! Stuff everywhere!
But, that said, this more minimalist piece does speak to my heart. I love love the inlaid wood!
Details on this unique headboard here.
Okay, not technically a headboard, but I'm still wayyyy into this acrylic and gold canopy bed from CB2. "Clear acrylic posts up on brushed brass finished frame to add height and contrast to this dreamy queen canopy bed. Formed of solid poplar, low-profile platform base is open for storage. Oversized headboard stands extra chic while brass detailing spotlights clean lines from every angle."
Shop here.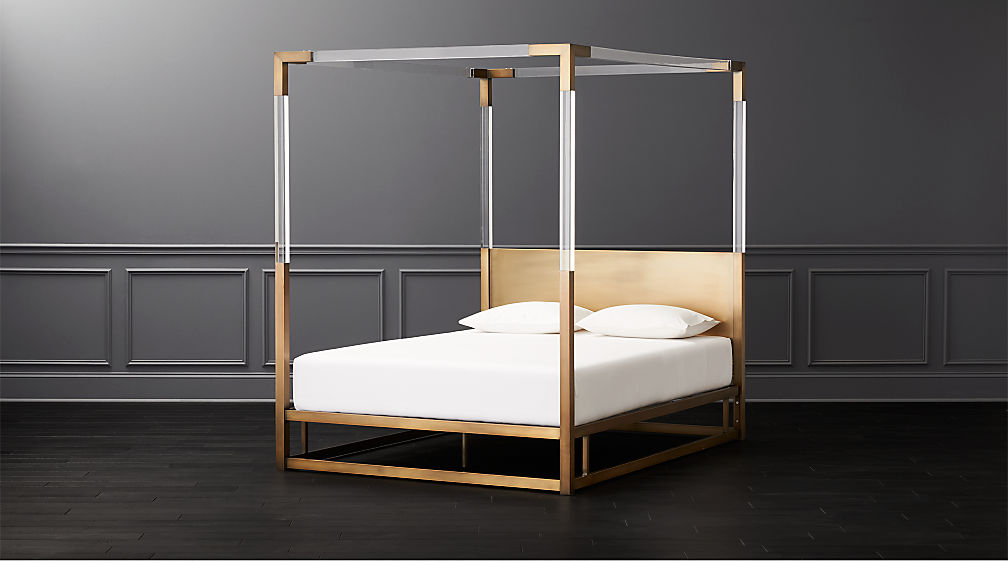 Unique Headboard #9: Marcella Velvet Bed from Urban Outfitters
Time for a unique headboard in blush pink!!
I've really been wanting a chair in this fabric/color, and I was definitely tempted by this bed!
"Featuring a headboard and frame covered in soft, dimensional velvet with tufted seaming and rounded edges. Finished with slim, shiny metal legs. Fits a queen-sized bed. Assembly required."
Shop this unique headboard here.
Okay, this headboard is BEAUTIFUL, and I could totally see doing an emerald green accent wall behind it.
Shop this unique headboard here.
Unique Headboard #11: Safavieh Home Collection Paloma Gold Metal Retro Headboard
This gold headboard makes a statement without being too loud, if you know what I mean! The gentle curves are lovely, bringing a restful feeling to the space.
Details on this unique headboard here.
Okay, so One King's Lane has over 700 headboards on their website, and I am SUCH a fan of the diverse colors, textures and materials! This is basically an online wonderland for people who like to be a bit overwhelmed with options (hi, it me!).
Shop all One King's Lane headboards here!
A few of my faves: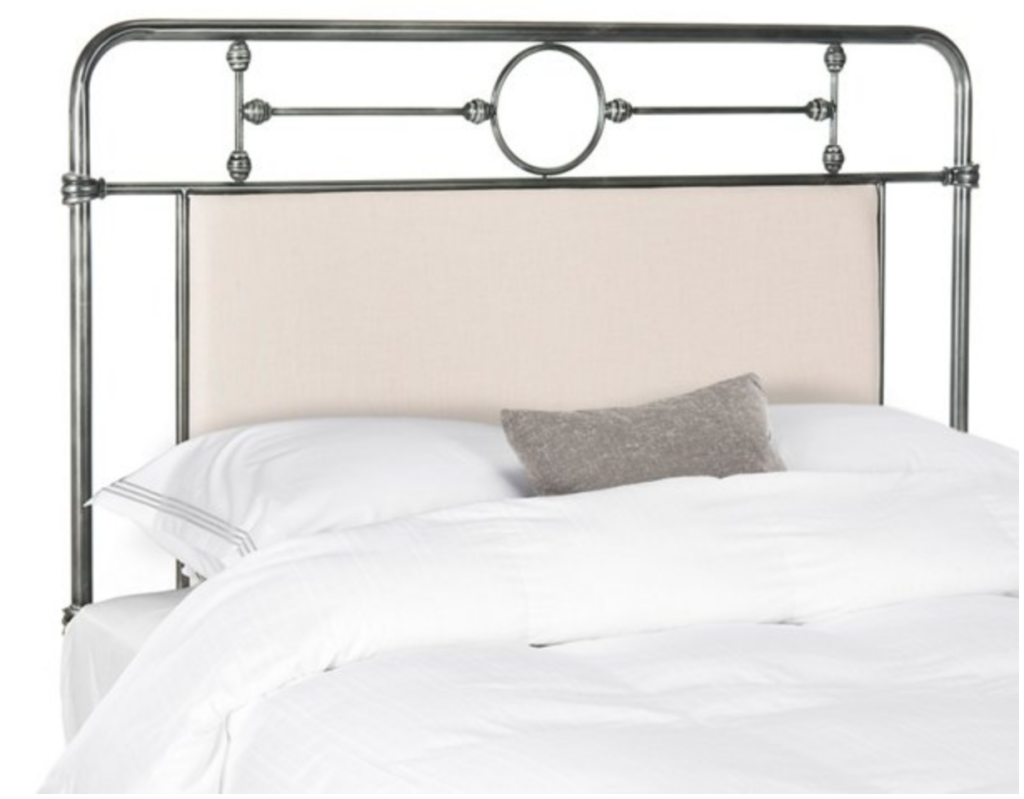 Move over, Star Trek! This LED-lit platform bed is SUPER rad and that unique headboard is very futuristic. If you're going for a techno wunderland look, then this is the bed for you!
Shop this unique headboard (and bed!) here!
Ok, how rad is this iridescent headboard? Recently I've really gotten into rainbow furniture, and this rainbow iridescent situation is SUCH a unique headboard!
Check out this unique headboard here!
My best friend, Elisabeth, LOOOOVES the "black wood and rattan aesthetic," so I KNEW I had to include this pretty rad headboard!
This is a great option for someone who loves MCM (midcentury modern) design, but also loves a sleek look, as well!
Shop this unique headboard here!
I live in an apartment, and DANG it was a pain to set up my whole bed. I think a floating headboard can be a great option if you're not sure how long you're going to stay in your space. This Aria headboard from Urban Outfitters is pretty cool!
Shop this unique headboard here!
For this unique headboard, you'd have to be careful not to knock it down! Securing this could be a challenge, so you'd need to consult someone a lot handier than me! That said, I've been seeing this trend gain traction. What a unique headboard idea!
Shop this unique headboard here!
Unique Headboards #18: Ordway Modern Velvet Upholstered Padded Headboard
I think this upholstered headboard is just gorgeous! So glamorous and unique
Snag this unique headboard here!
Unique Headboards #19: Padded Headboard with Metal Frame – Overstock
As you can probably tell, I love a tufted headboard, and I love metallics. This bed from Overstock.com hits all my maximalist needs!!
It's classy, but almost tacky. Love it.
Details on this gold metal bed and tufted headboard here.
I'm still looking for bedroom furniture!
Is there a furniture brand that I failed to include in this roundup? I'm still searching for the perfect headboard or bed, so send me a message with your recs!
This blog post was all about unique headboards.
What to Read Next —>
Are you looking for more home decor and interior design posts? I've written a bunch, and I've shared a few of my faves below!
Join VIP!
I tweet a lot about my furniture finds, here! While I do have an email list, it's mostly about plus size fashion. So, if you're into plus size fashion tips AND interior decorating, you'll def want to subscribe here!