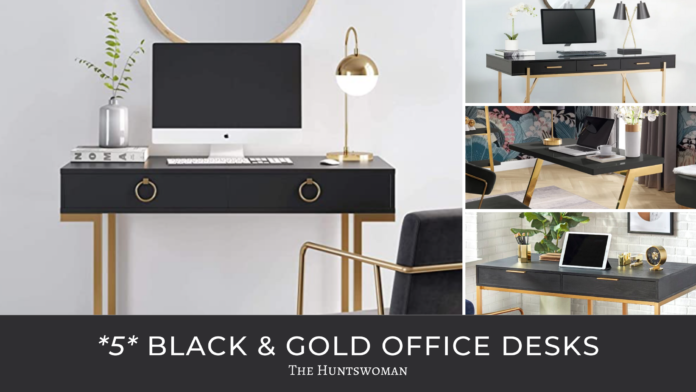 Hey there! This post contains affiliate links.  Using my links means I earn a commission, which helps me create more rad content.  More on affiliates here.
Are you looking for black and gold office desks?! Then this post is for you!!
Okay, we've all upped our "work from home" game in the last year, buuuut I've been holding off on snagging a black and gold office desk for my new apartment.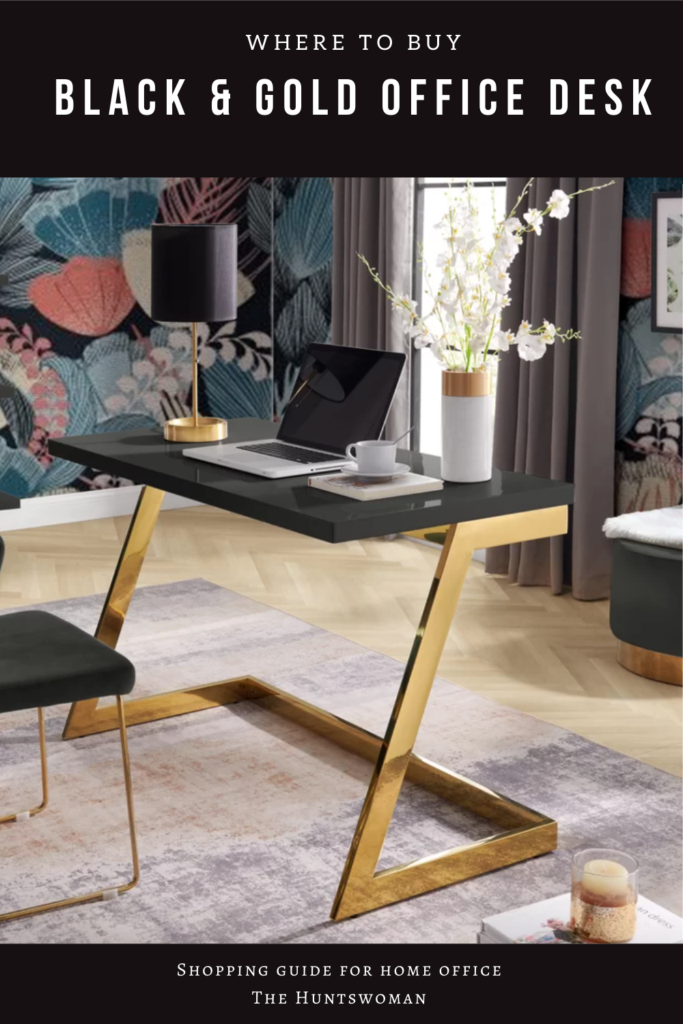 Black & Gold Office Desk
I've been doing a TON of research on different options for a black and gold desk for a #Bossbabe office (said with some snark and honestly, real talk!). I figure I've scraped the internet for options, so I may as well share with y'all!
Some of these desks are very minimalist, operating mostly as a computer desk for your laptop. Others have storage and extra space – it all depends on how big the room is your putting your new office desk in.
Alrighty! Here's a list of my top 5 options:
#1: Black and Gold Office Desk – Geri Desk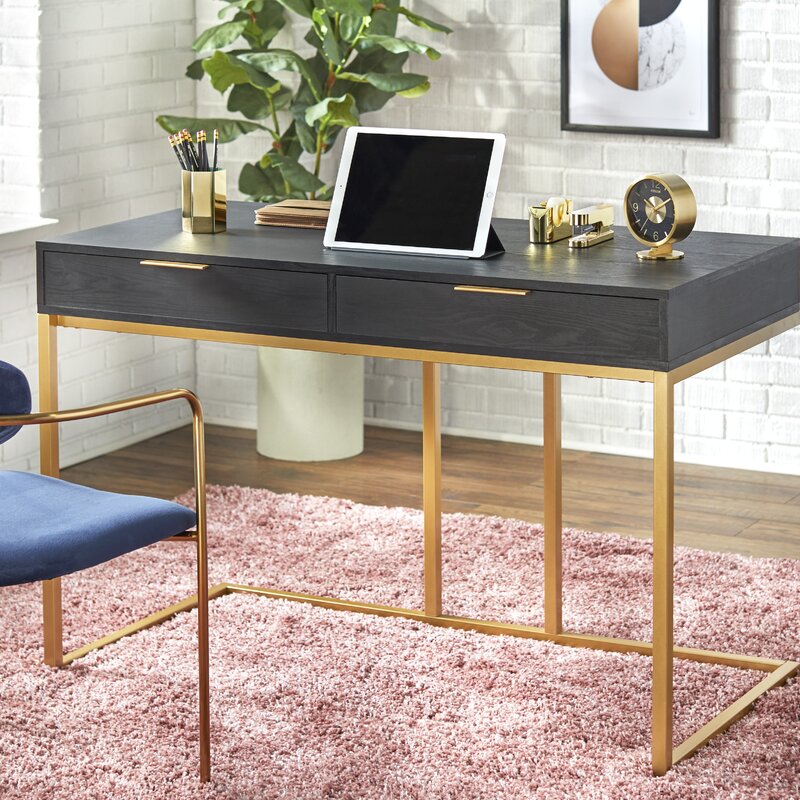 This is a simple and modern office desk, featuring 2 drawers and sleek lines. I love that there's a "U-shaped" supporting bar on the ground, as I have definitely accidentally moved my desk a few inches with a bump!
This is a really great computer desk, perfect for the sophisticated minimalist who wants everything in its place!
Shop this black and gold desk here.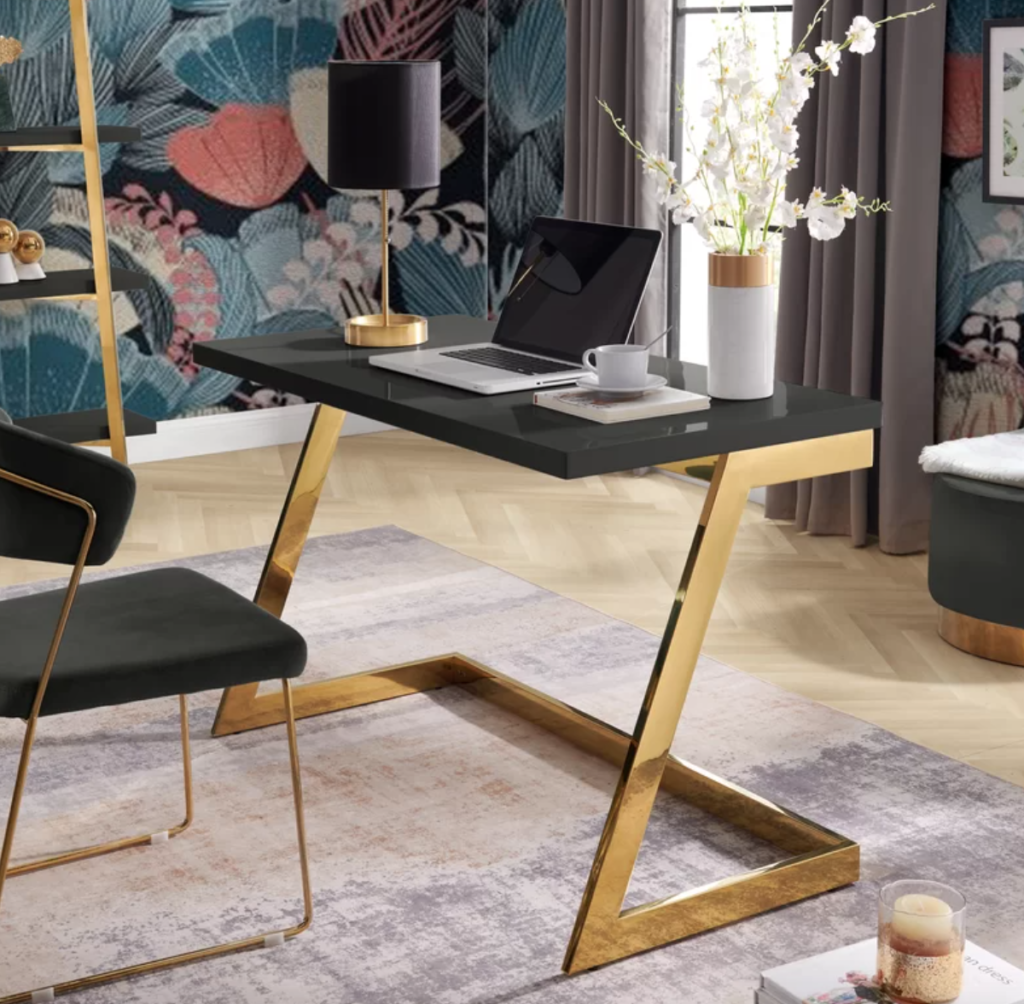 Okay, so THIS black and gold desk is a current front runner for me. It's I either want a desk with a crap ton of storage OR I want a home office desk that is super sleek and sexy – and I'll use the closet in the room for storing things like staplers and papers.
I'm not 100% into the small 1-2 drawer look, tbqh!
I just love this geometric desk with it's strong lines. Plus, the styling in the photo is pretty dang close to what I want my home office to look like!
Shop this black and gold home office desk here!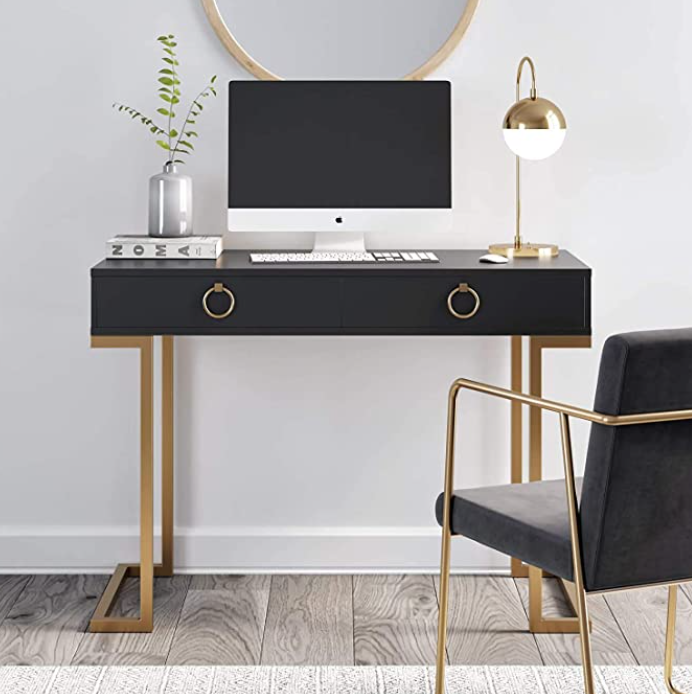 It can be hard to tell *what* will actually fit on top of your new home office desk, so I really appreciate that this brand included a photo of a desktop Mac!
This home office desk has the gorgeous legs we expect from a black and gold desk, and I love that there's round hardware for the drawer pulls. I think this would be a great desk for a bedroom or living room.
See more details HERE.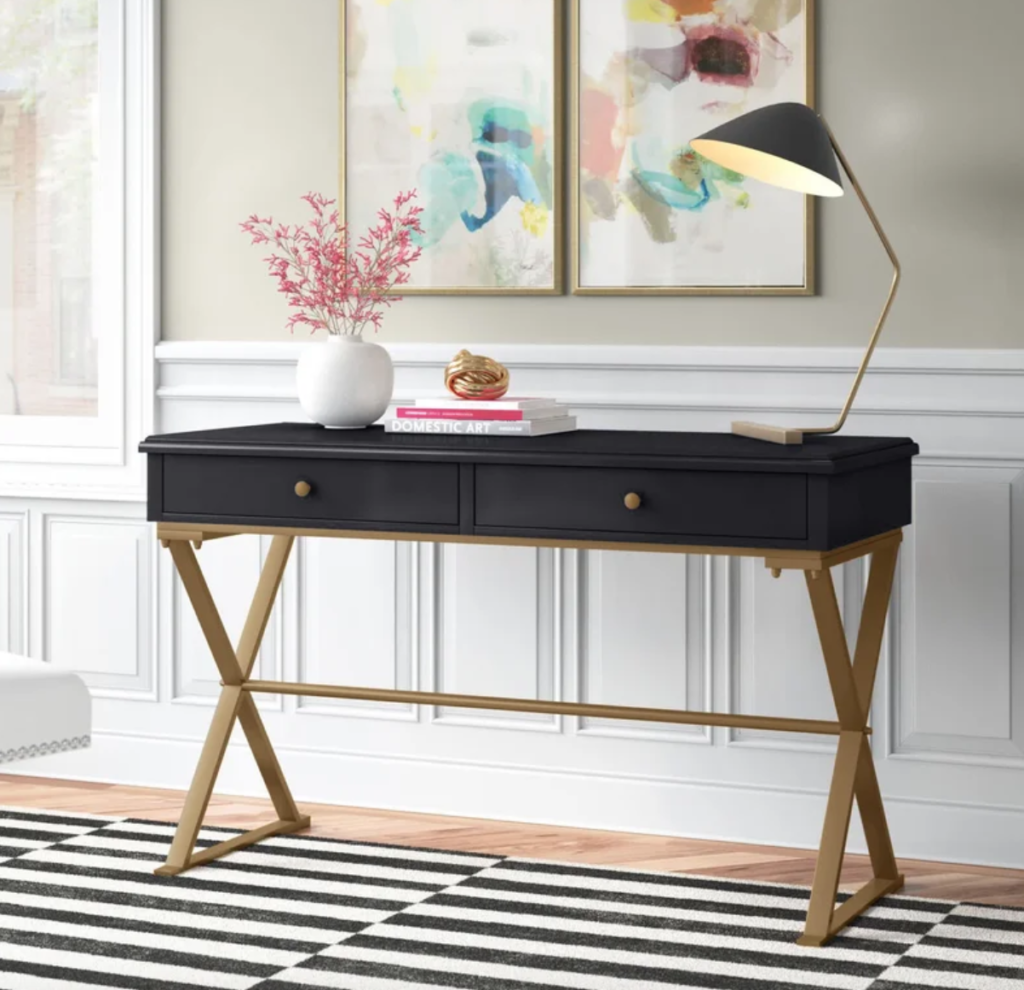 Next up, we have a bit more traditional black
From the brand: "It also comes with two soft-close drawers on roller glides that let you tuck away writing utensils and other office supplies. Plus, this desk features safety stops on the drawers to prevent little fingers (and big fingers!) from getting pinched."
Shop this black and gold home office desk here.
#5: Black and Gold L-Shaped Office Desk – Desktop Computer
Ok, SO, technically this desk doesn't have gold legs (duh), but I haven't been able to find any L-shaped office desks that are black and gold. I'm going to have a dedicated room for my home office in my new apartment, and I need SPACE. I am seriously considering snagging this L-shaped desk and painting the legs gold!
For a second, I thought about getting a white desk with gold legs, but then I realized I would be spray painting my work surface, and I don't want spray paint to rub off on my expensive computer equipment!! I think it's easier if the desk top is the right color.
I love the idea of having a corner desk, and it makes it easier to work from both a desktop computer and my MacBook.
Shop this black desk HERE.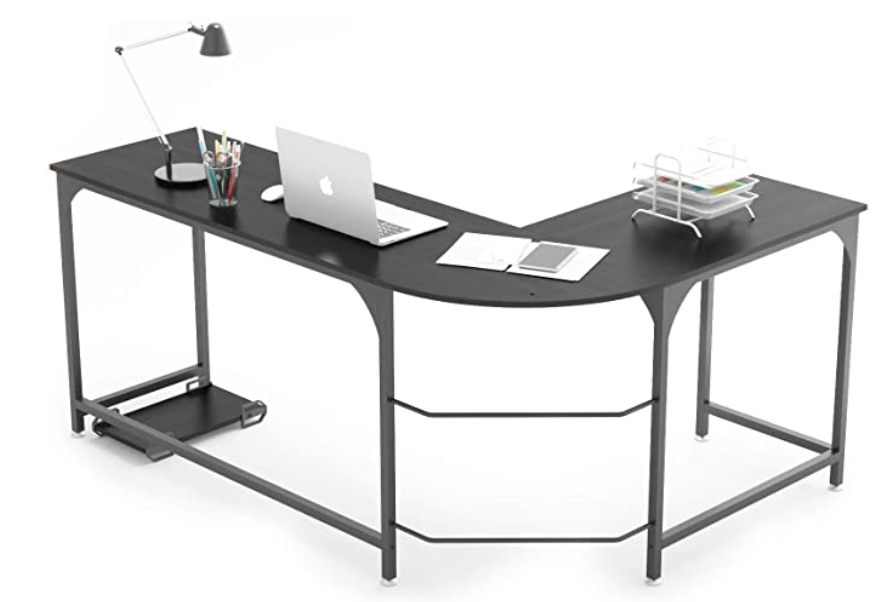 More Apartment Decorating Tidbits!
I am lowkey obsessed with gold home decor and apartment accessories, so if you're also into this look then be sure to follow me on Pinterest – where I'm planning my new 3 bedroom + 2 bath apartment! I'm really into the glam/floral wallpaper/NOLA look.
Here are a few more interior design posts I've written:
Join VIP!
I tweet a lot about my furniture finds, here! While I do have an email list, it's mostly about plus size fashion. So, if you're into plus size fashion tips AND interior decorating, you'll def want to subscribe here!
Xoxo,
BH