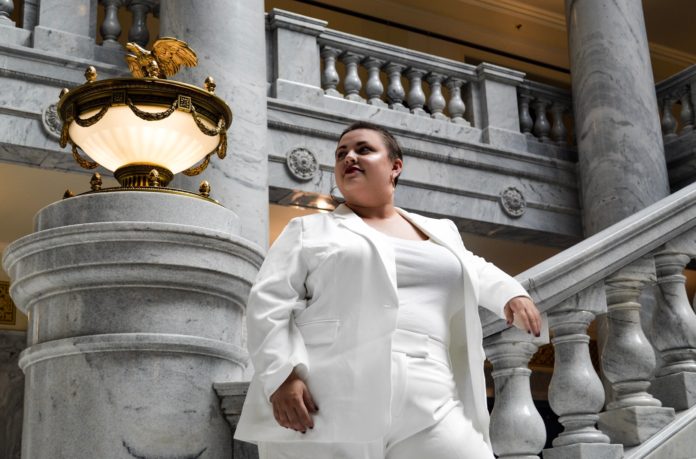 Hey there! This post contains affiliate links.  Using my links means I earn a commission, which helps me create more rad content.  More on affiliates here.
A few months ago, I reviewed the business plan and strategy of Part & Parcel. You can read that post here.
Today, I'm sharing a more editorial photoshoot featuring their plus size white Longline Blazer ($170) and white Cigarette Pants ($128).
The brand doesn't have product photos of the white blazer WITH the white pants, but after seeing them both on their site I knew I had to review and photograph both of them together!
I've loved white business suits for YEARS, and I've been saving inspiration on my Pinterest for alllll that time. I knew I wanted to see more plus size babes in white suits, so I volunteered as tribute!
Below, I've reviewed the fit, washing instructions and answered the question, "Won't you get dirty wearing all white?!" I've also included styling tips at the end, just for you!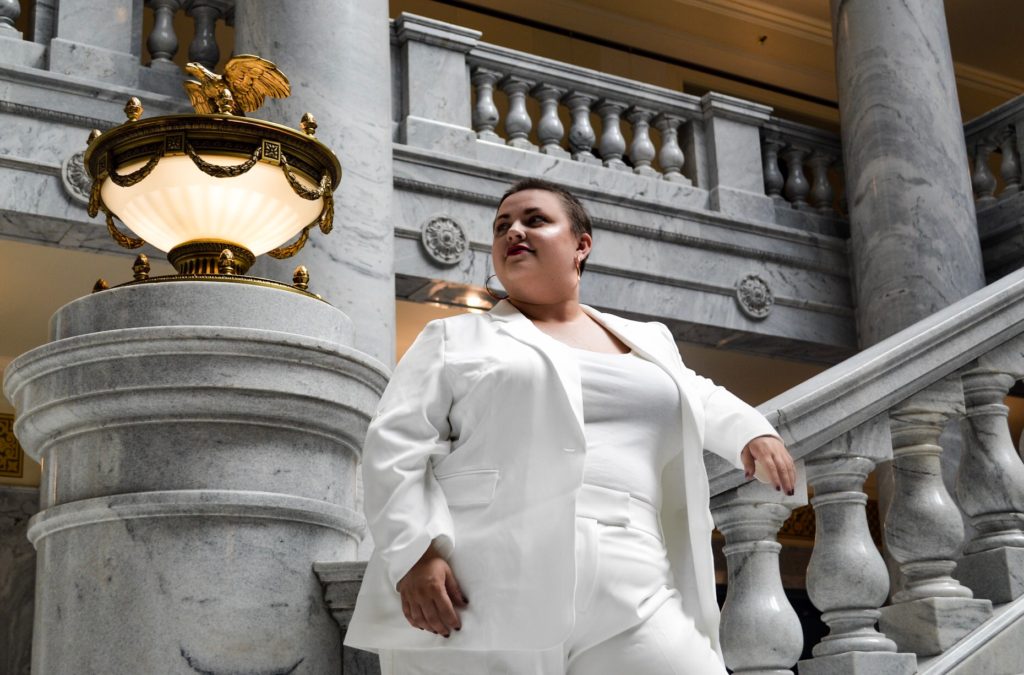 A Special Note about Business Wear
Your professional wardrobe should be comprised of investment pieces. You want to dress for the job you want (not have) so a well-fitting wardrobe can help your professional image and boost the trajectory of your career.
That said, as you build this wardrobe you need to know that A GOOD TAILOR IS YOUR BEST FRIEND. Nothing will fit perfectly off the rack, so get recs for a tailor in your area. Good tailoring is the difference between "professional" and "leadership material."
Tailors are a lot less than you think, and you can check Yelp! or ask people at the office for recommendations. Call and get pricing. You've got this!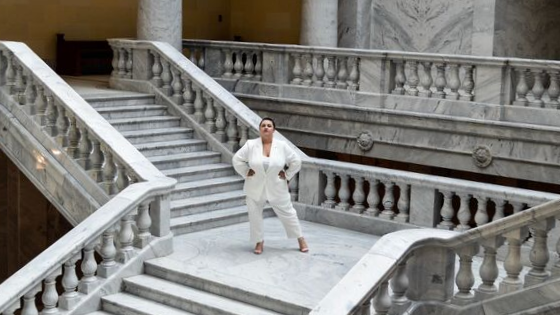 Will I Look Like I'm Wearing a Lab Coat?
WhenI shared an unboxing of these pieces on my Instagram Story, I got a STRONG response on wearing a full white business suit. Many people didn't know how to style or rock one (inspiring this here post), and the most common question I received was, "How do I avoid looking like I'm wearing a lab coat?"
The answer? FIT!!!! A lab coat is loose and not tailored to your body. The difference between looking like you're working with test tubes and making money moves is FIT.
And you know what that means! Getting a tailor.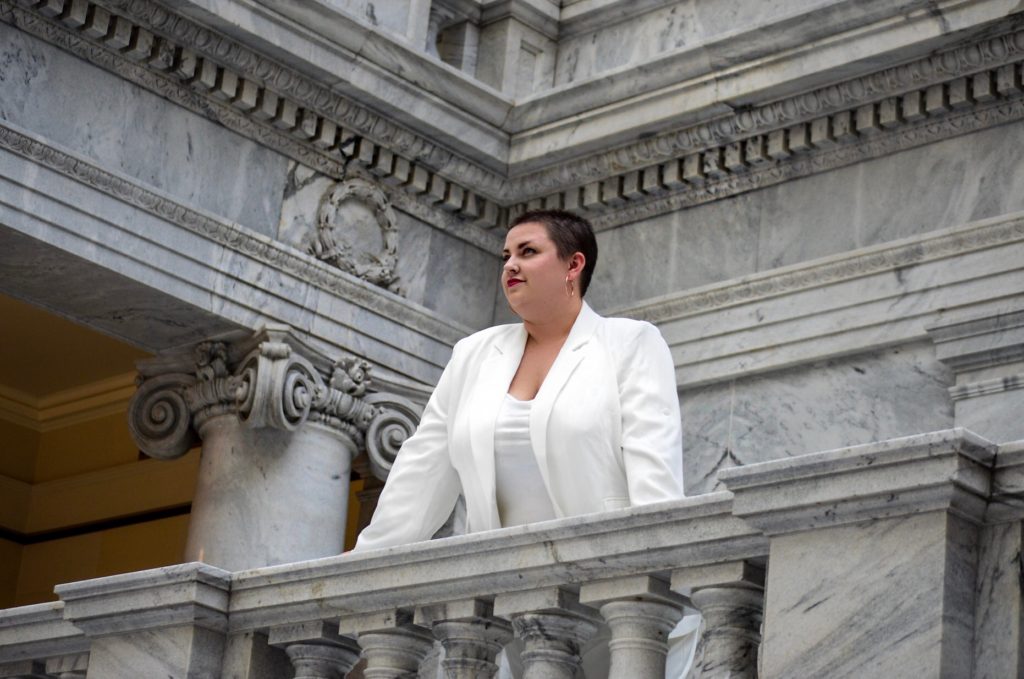 Fit of Part & Parcel Business Suit
Okay, with that disclaimer out of the way, let's dive into fit and materials of these two pieces! [Note: Photographs taken by my sister, Marissa Huntsman.]
Fit of Longline Blazer
I love blazers, and they either REALLY work for me or REALLY do not. I'm shorter with broad shoulders, and i'm an "apple shape." Blazers are often too tight in the shoulders or wayyyyy too long.
Below, i've shared what you should look for when purchasing a blazer:
Where does the sleeve hem hit? When buying a blazer, you ideally want the sleeve hem to hit an inch or so below your first thumb joint.
Shoulder Seam Lines: The shoulder seams should lie over your scapula, the pointy bone on the edge of your shoulder. This is a key fit!!
Blazer Hem: A regular blazer should hit 4 ish inches above your derriere, and a longline blazer should hit just below the fullest part of your hips. Any further and you'll look like you're wearing a lab coat or trench coat.
The Longline Blazer hit all of these requirements for me, and I was quite surprised TBH! I also like to swing my arms horizontally and reach around my waist as far as possible, to make sure the shoulders have maximum movement. (I know, sounds like fashion aerobics, but it works!)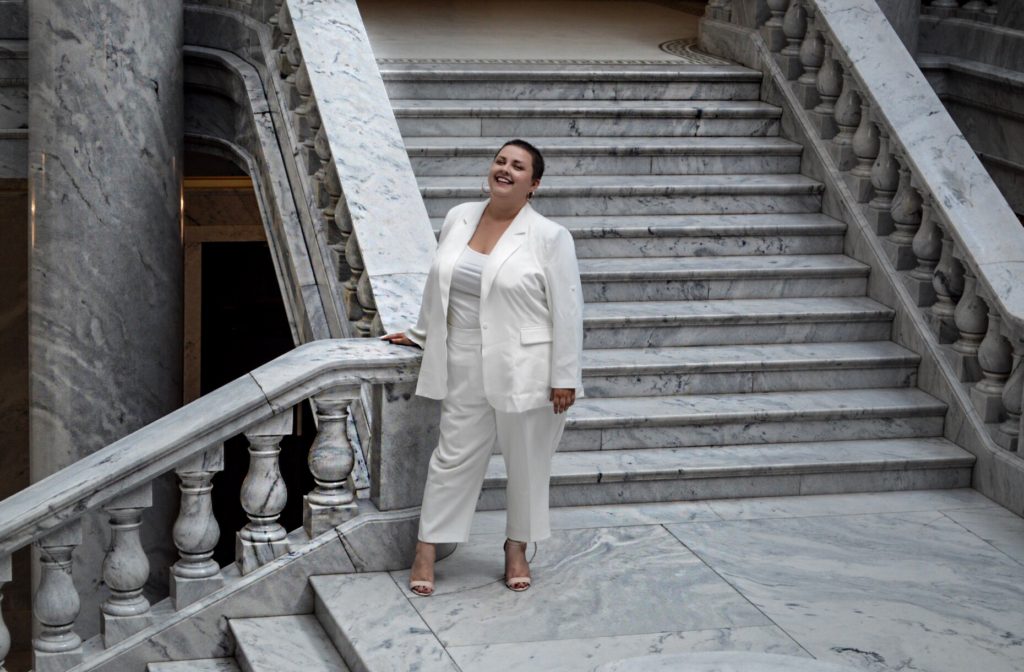 Fit of Cigarette Pants
Can I tell you a secret?? Cigarette pants are the best kept secret for looking chic and professional, especially if you're short!
Paired with a strappy heel or wedge, they show an attention to detail that makes an outfit stand out. Cigarette pants are longer than capris, and should hit about 2 inches above your ankle bone.
Here's what you want to look for when purchasing cigarette pants.
Cigarette Pants – Not High Waters: I like to see a good 3 inches of heel (like my actual heel) showing. Any less and one looks like one is wearing high waters!
Pulling or Rippling: If pants are too tight, they will pull or "ripple" across your bum or stomach! Noooo, thank you! Size up if that's the case.
Lining: Good trousers will have lining from the waist to somewhere around your knees. This helps you avoid sweat marks in awkward places.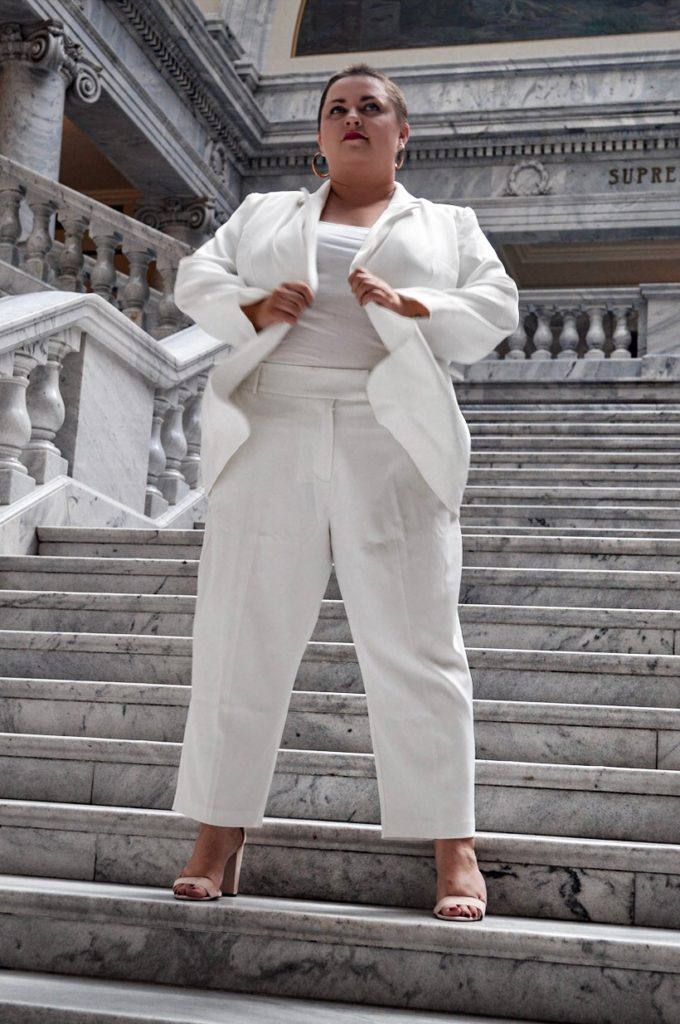 The Cigarette Pants fit me well, with the added bonus of being able to do a full squat in them (my test for the sturdiness in pants). I'm not interested in stiffly sitting or walking around in work pants – I want to know I can move and there won't be any seams ripping or buttons popping off.
Washing & Care Instructions
Both of these pieces are 95% Polyester and 5% Spandex, meaning they have stretch. You can wash these pieces in warm water with a cool rinse, and I would hang dry.
Because I drink lattes (a lot of lattes), I'll be taking these bad boys to the dry cleaner.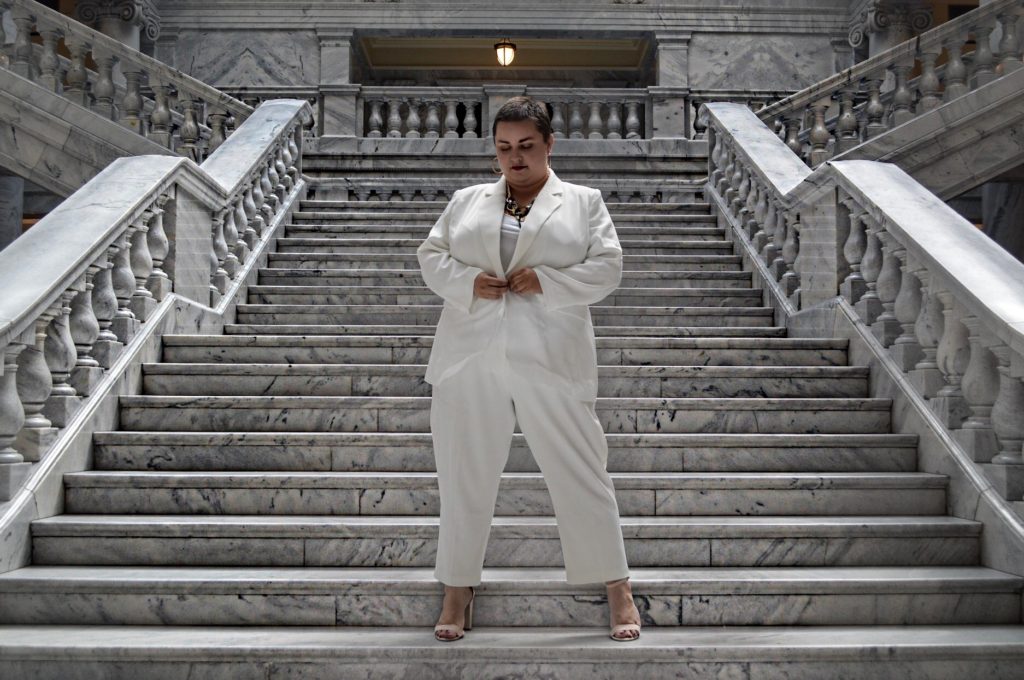 OVERALL, WHITE SUITS DON'T GET AS DIRTY AS PEOPLE THINK!
If you're riding public transit to work, I'd probably pass. But if you're driving and sitting in an office, you'll be fine.
I keep a change of clothes in my car no matter what I'm wearing, because you never know where life will take you! Wearing an all white pantsuit is a total bossbabe and power move, and I can't recommend it enough.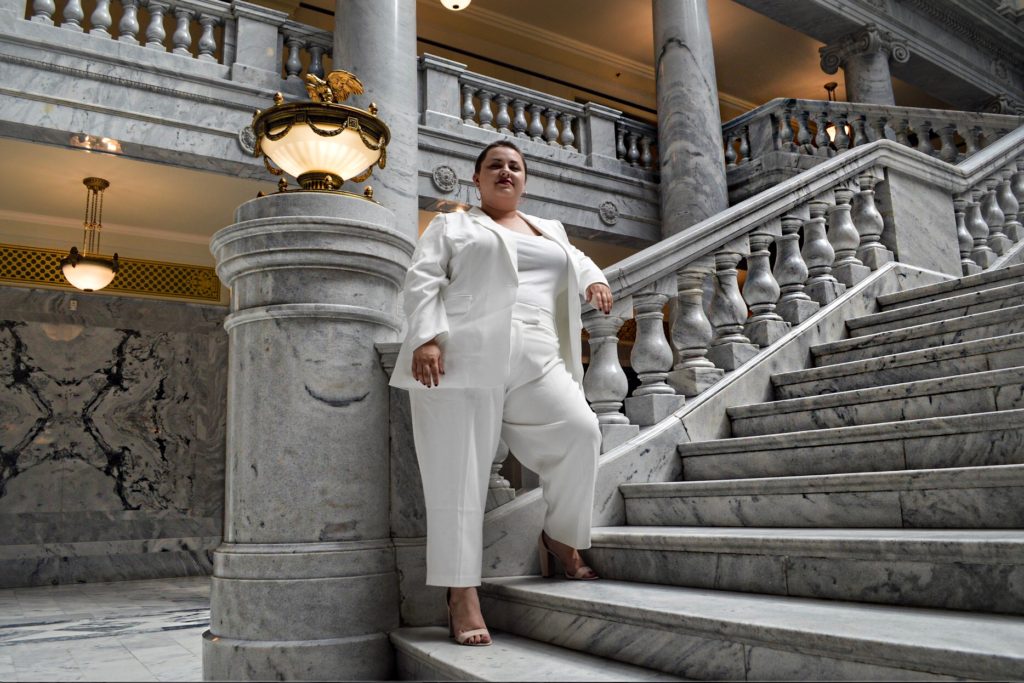 Styling a White Business Suit for Women
Curious as to how to style a white suit? Read on!
Option #1: White on White on White
This is my favorite move. You can wear a white camisole or button down blouse along with white trousers and your white blazer. It's chic and simple. Pair with heels and statement earrings.
The key to styling a white business suit as a woman is to BE INTENTIONAL. Choose a bold lip or statement earrings. Give yourself permission to command attention!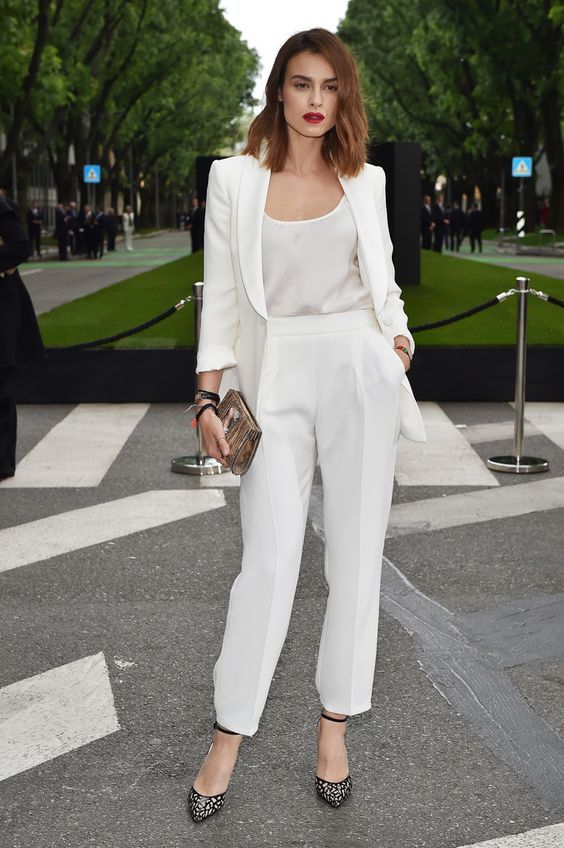 Option #2: Jewel Toned Blouse
Part & Parcel has this beautiful blouse ($98) in a jewel-tone blue, that would look perfect with a white business suit. The bow at the front adds interest and would make an eye catching ensemble.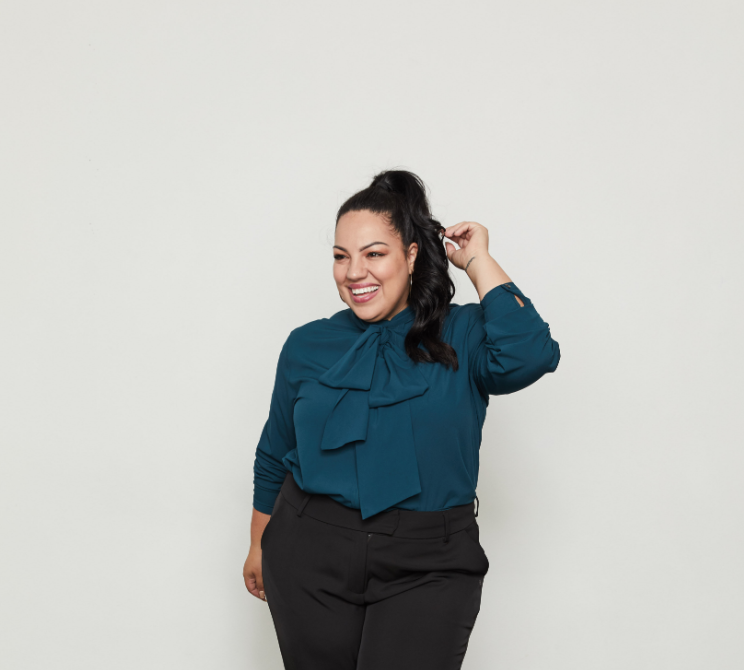 Option #3: Blazer with Boyfriend Jeans
Pair the white Longline Blazer with boyfriend jeans for a chic look. You can wear tennies or heels to complete it.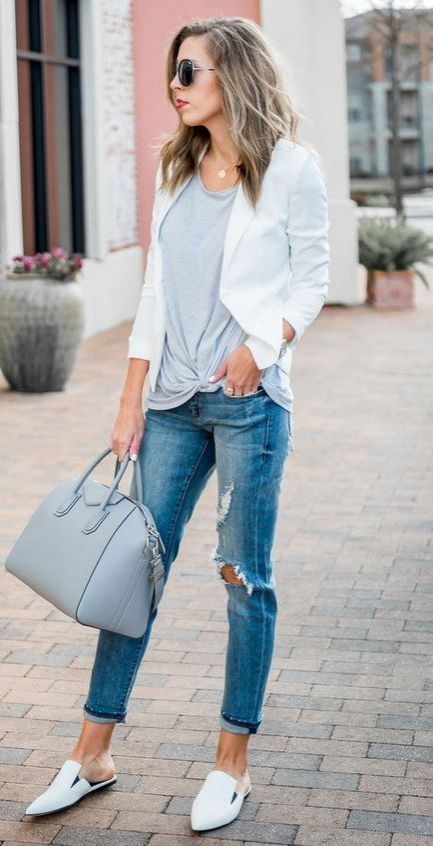 Option #4: Jean Jacket with Cigarette Pants
You can reverse #3, and put the denim on top!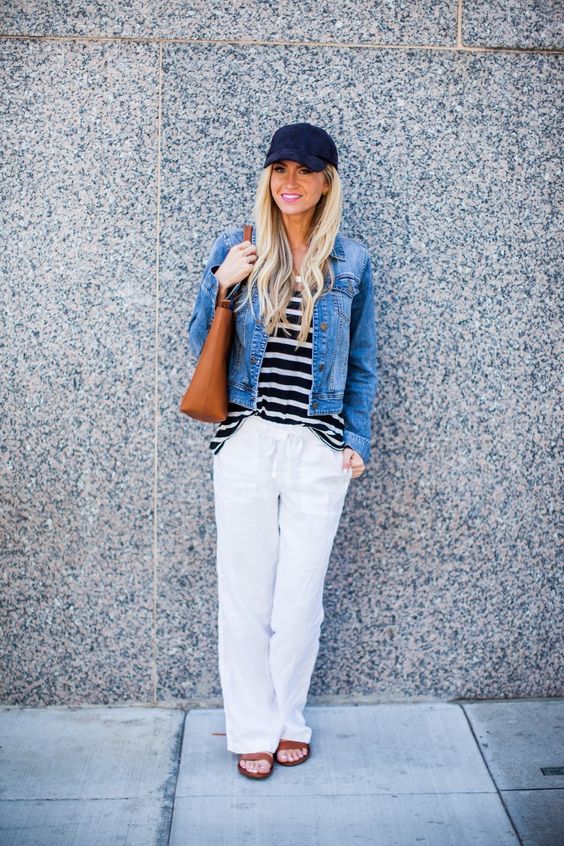 Option #5: Evening Wear with Lingerie
Add a bodysuit are lacey bralette (my recs for lingerie here) for a night out on the town. A true "day to night" outfit!
Key Takeaways
In this blog post, you learned how to check the fit of business suits, and my thoughts on two pieces from Part & Parcel. If you'd like more suiting reviews, be sure to check out this blog post review of Lane Bryant suits.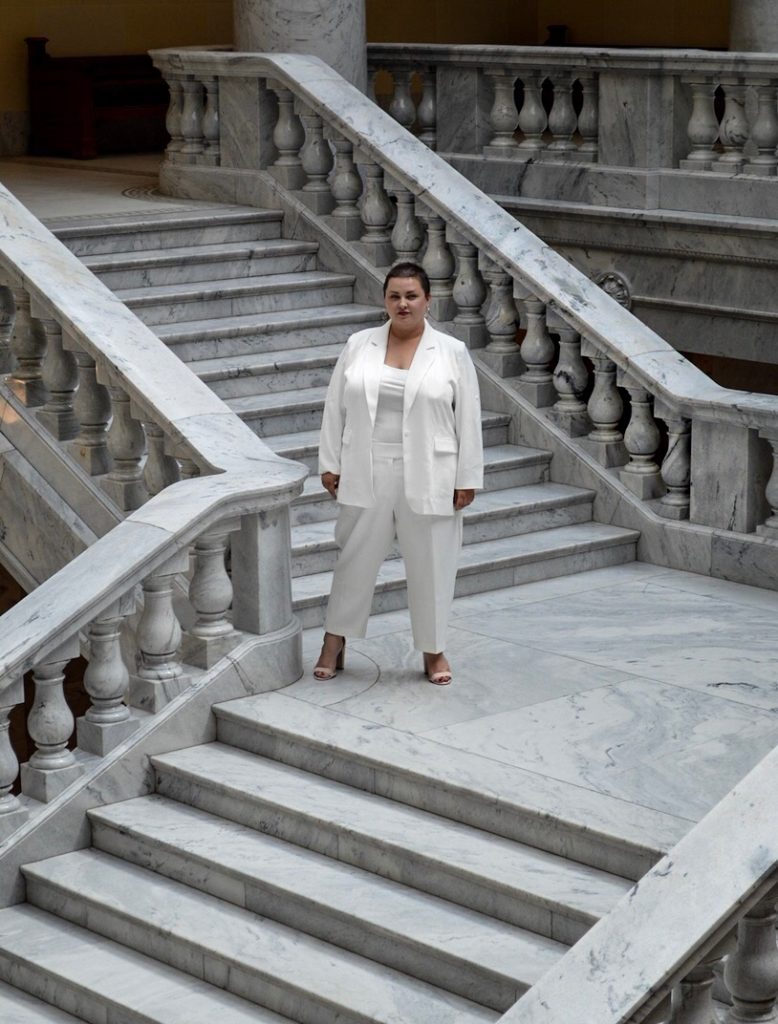 Will You Rock a White Suit?
Do you think you'll rock a white suit? Still have reservations? Let me know in the comments!
Loved this post? Be sure to subscribe to The Huntswoman Newsletter.