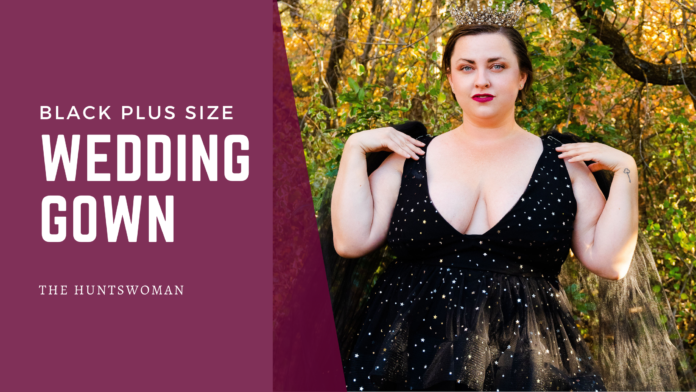 Hey there! This post contains affiliate links.  Using my links means I earn a commission, which helps me create more rad content.  More on affiliates here.
Last year, I did directed and modeled in a black plus size wedding gown, for a fashion editorial titled, "Dark Queen of the Forest."
I'm going to treat this blog post like a "Behind the Scenes" tour of this photoshoot, sharing how I scouted the location, styling, the team and, of course the photos!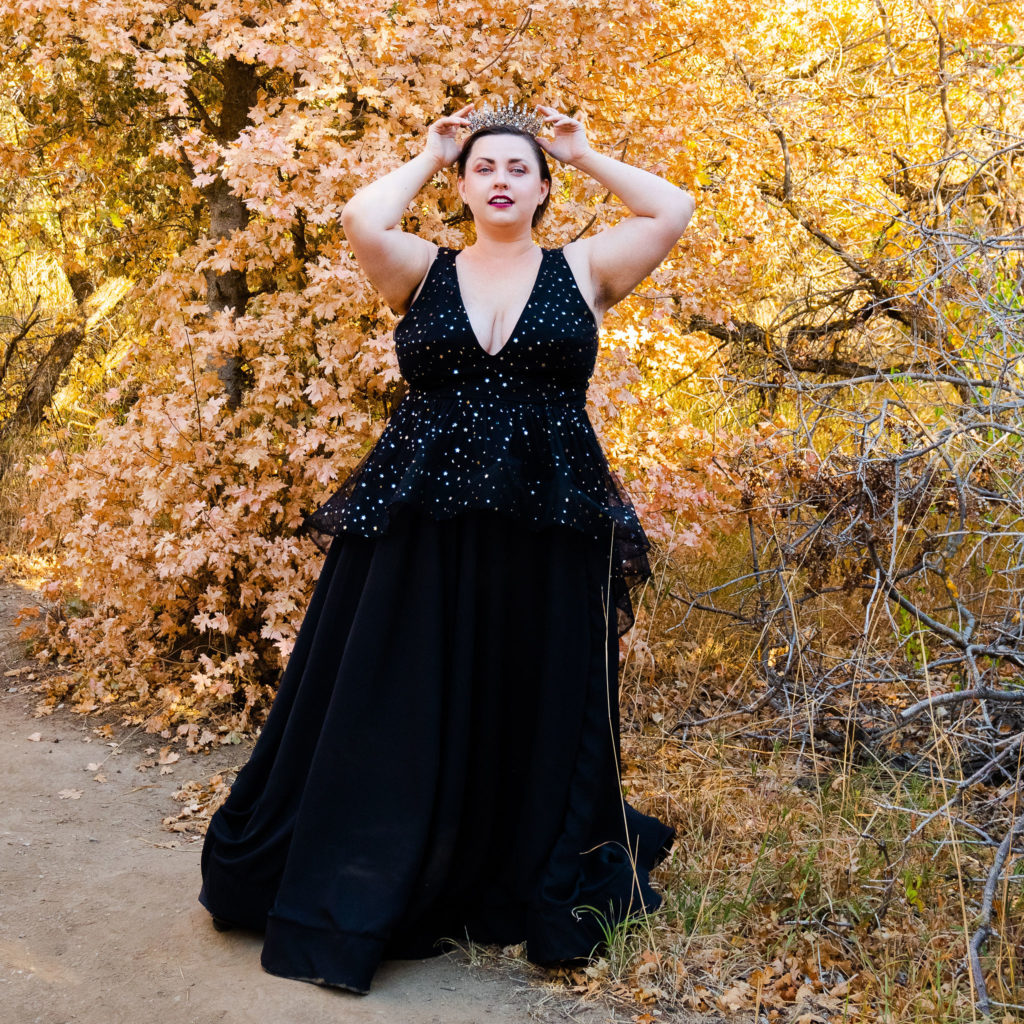 So, let's start with the LOOK – this black plus size wedding gown. This black plus size wedding gown is from Hannah Caroline Couture, an inclusive wedding gown designer – who is known for her plus size black wedding gowns and dresses!
The black plus size wedding gown features a tiered skirt, with a star-mesh overlay. We also added "Shoulder veils" for extra drama in some of the shots.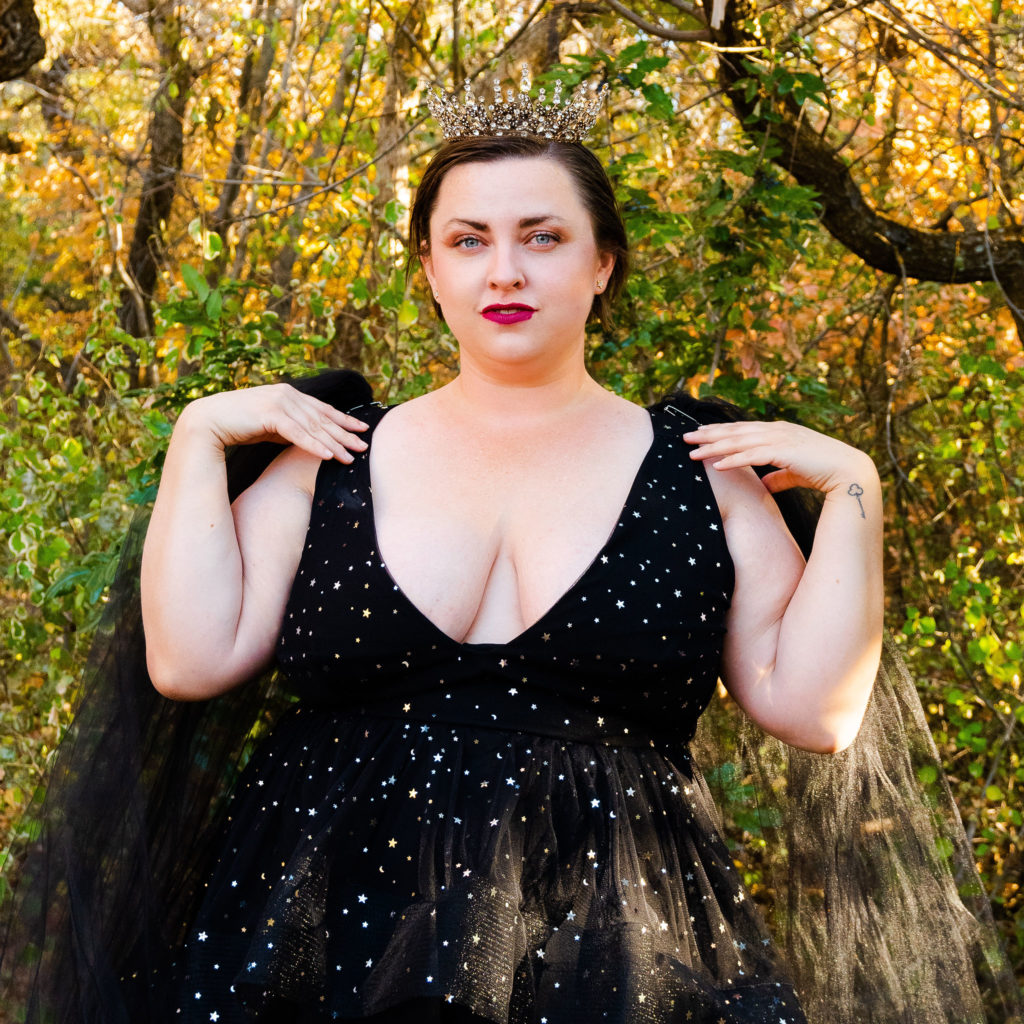 Photoshoot Planning – Creative Director
Below, I've shared how I planned this photoshoot:
Location Scouting – Editorial Photoshoot
I scouted the photoshoot location with the help of my bestie Logan Martin (who is also a childcare consultant – details here!). Logan is a hiker extraordinaire, and they went and explored different areas and reported back.
We found an area with lots of trails and footpaths (it's actually where horseback riders take their horses)! This meant that we'd have access to get shots that look like they're deep in the woods (ooo dark forest!), without having to like, backpack in!
Real talk, I know to always have outdoor shoots near bathrooms! So this train // horse park was perfect!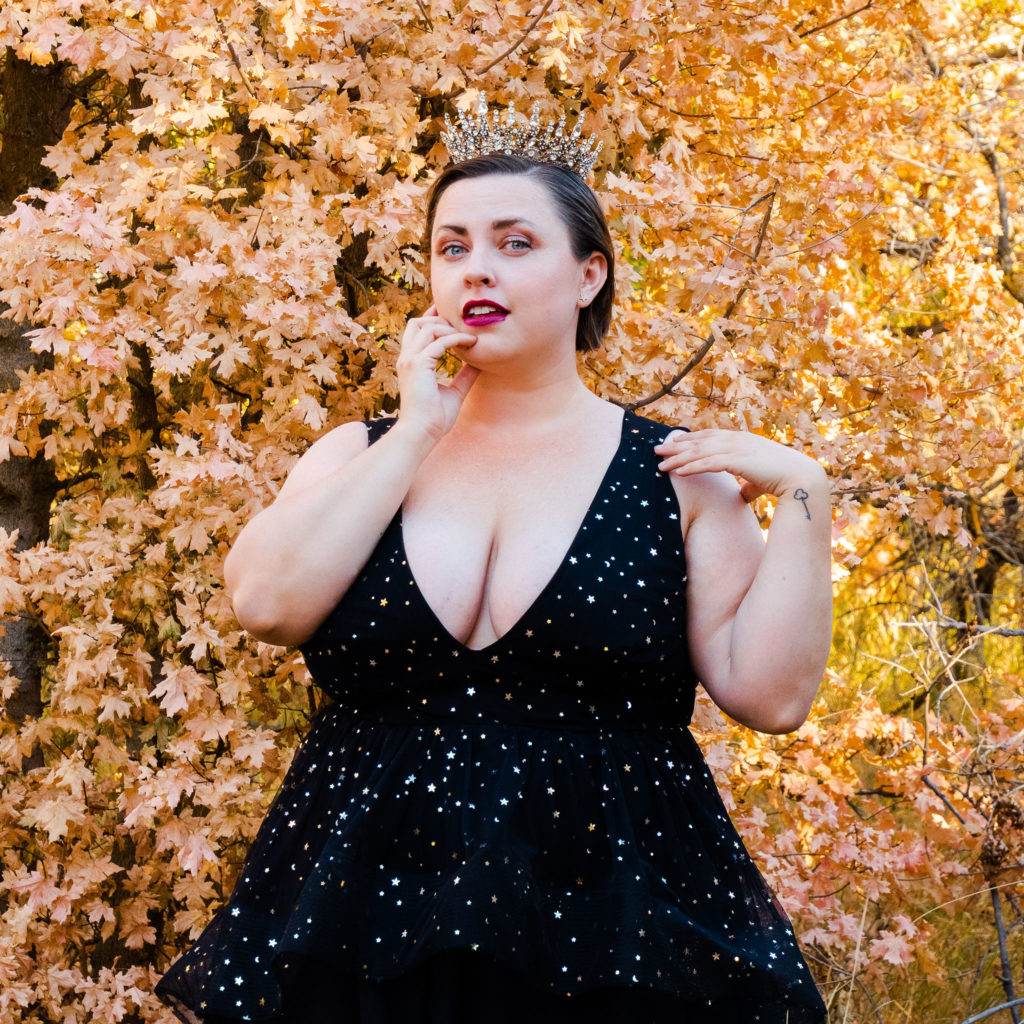 Day Of Planning
The day of the shoot, Elisabeth Dee assisted on set. They're a production and operations pro, and they kept things organized behind the scenes, took b-roll for social media, etc. Photoshoots like this involve a lot of STUFF (garment bags, makeup, shoes, accessories, tiaras, etc).
The photographer for the shoot was Angela Petersen, a creative professional in the Salt Lake City area!
Communicating with Team
Before the day of the shoot, I sent a timesheet with the schedule, list of shots I wanted and a packing list for me.
This meant that everyone was in the know!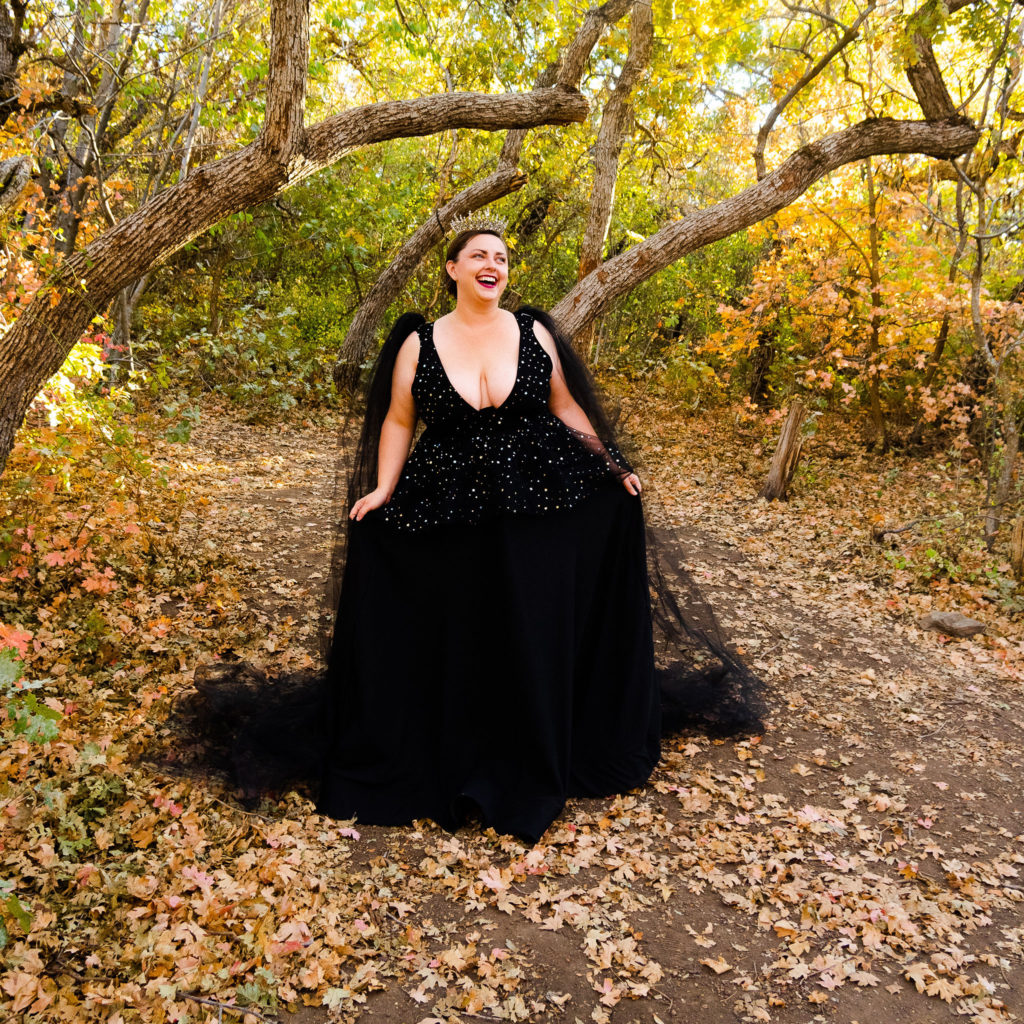 Black Plus Size Wedding Gown – with Tiara
I almost forgot the most important part! I paired this black plus size wedding gown with a TIARA, of course.
Real talk, this tiara did not stay on my head. I have fine hair, and the bobby pins didn't want to cooperate. So it's perched precariously on my head.
Photo Time!
Below, I've shared photos from the "Dark Forest Queen" shoot. I love collaborating with brands on shoots like this, so if you're a plus size fashion brand who would love editorial photos – drop me a line, here.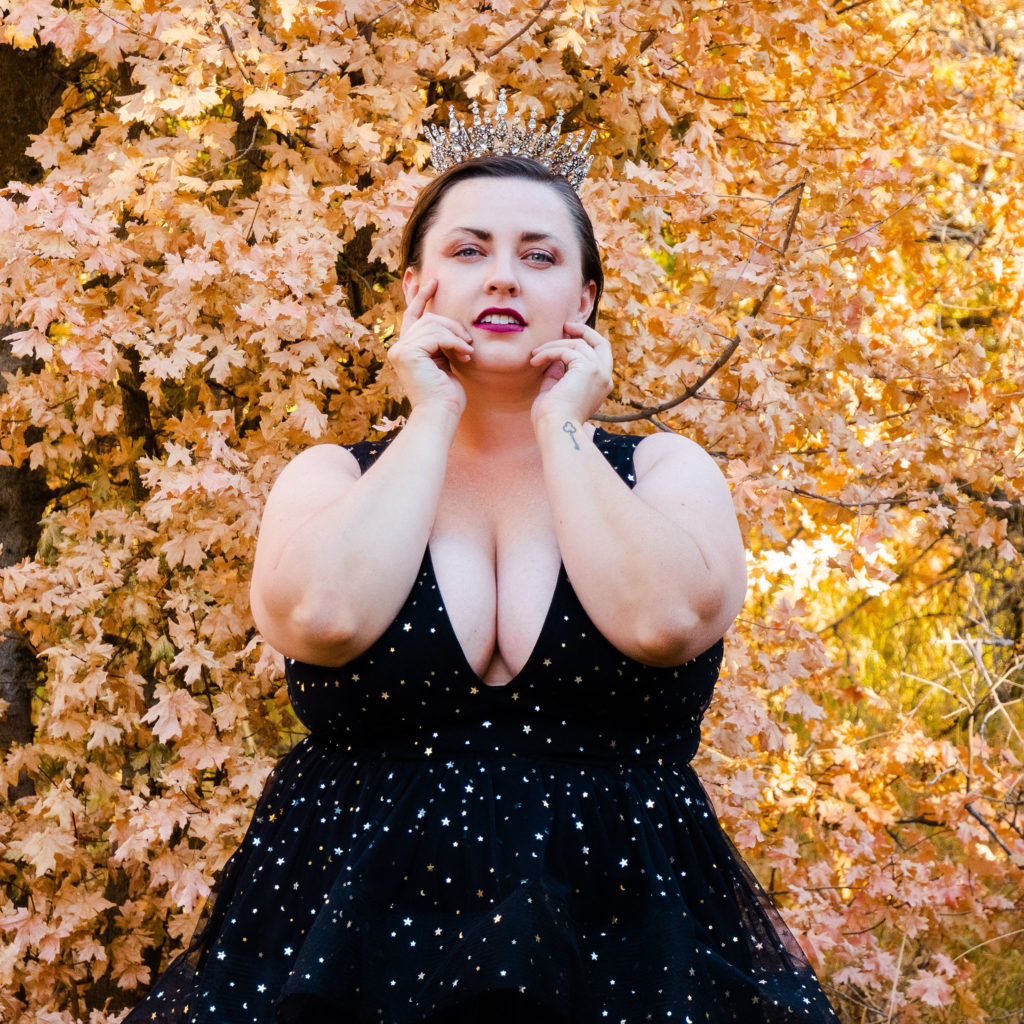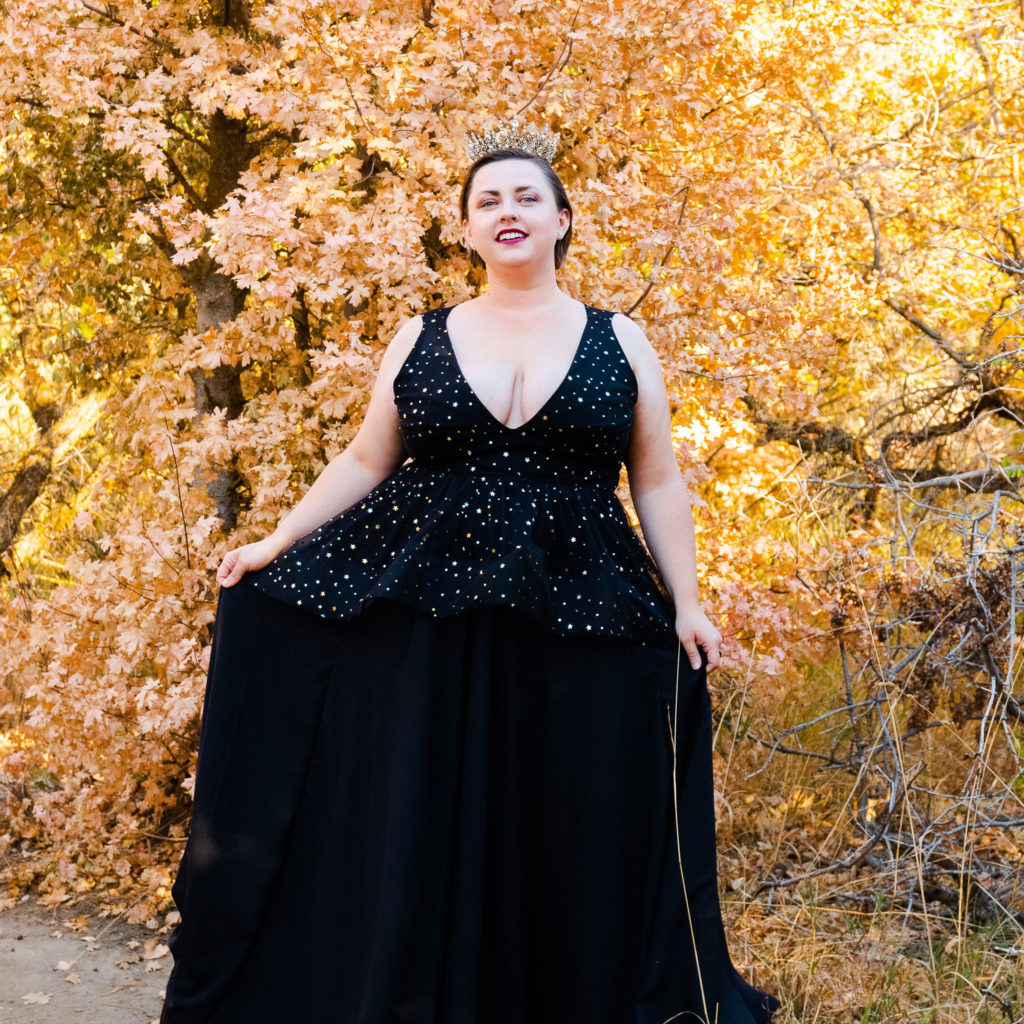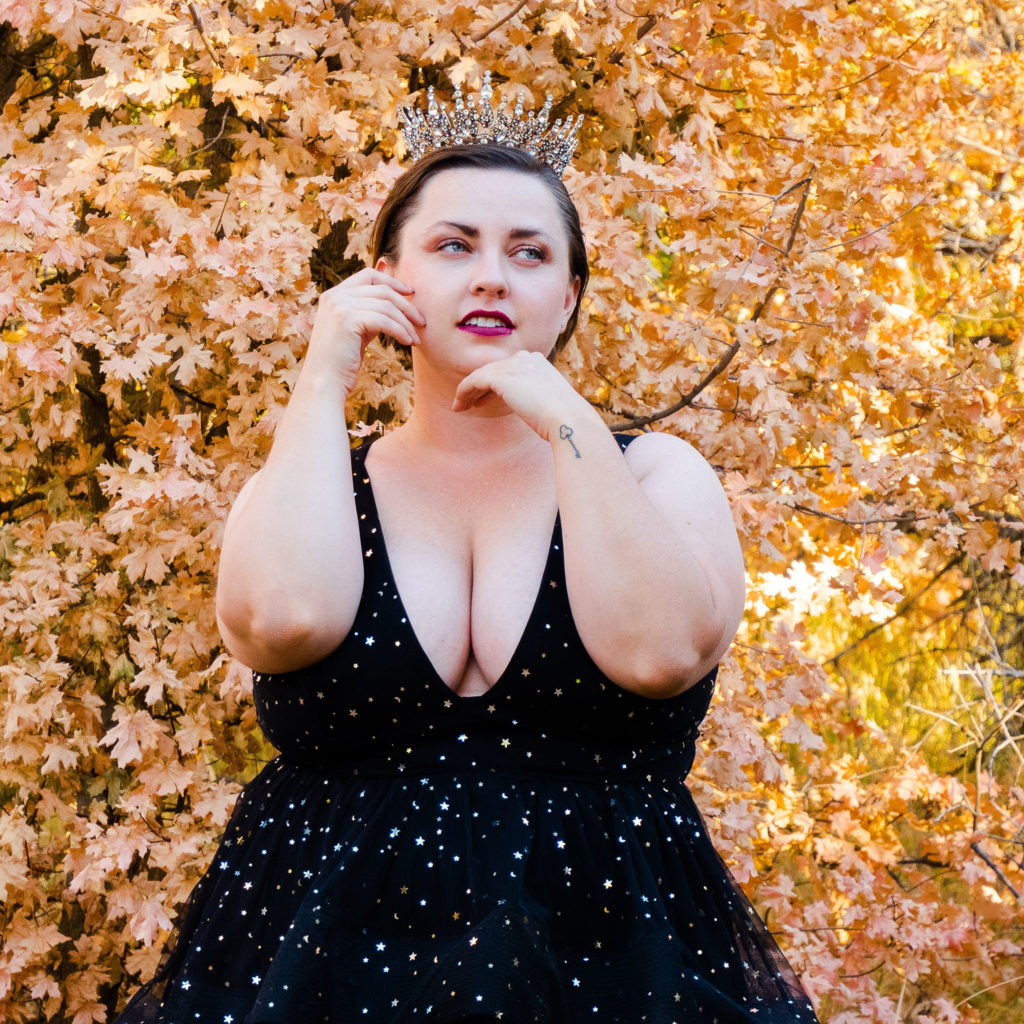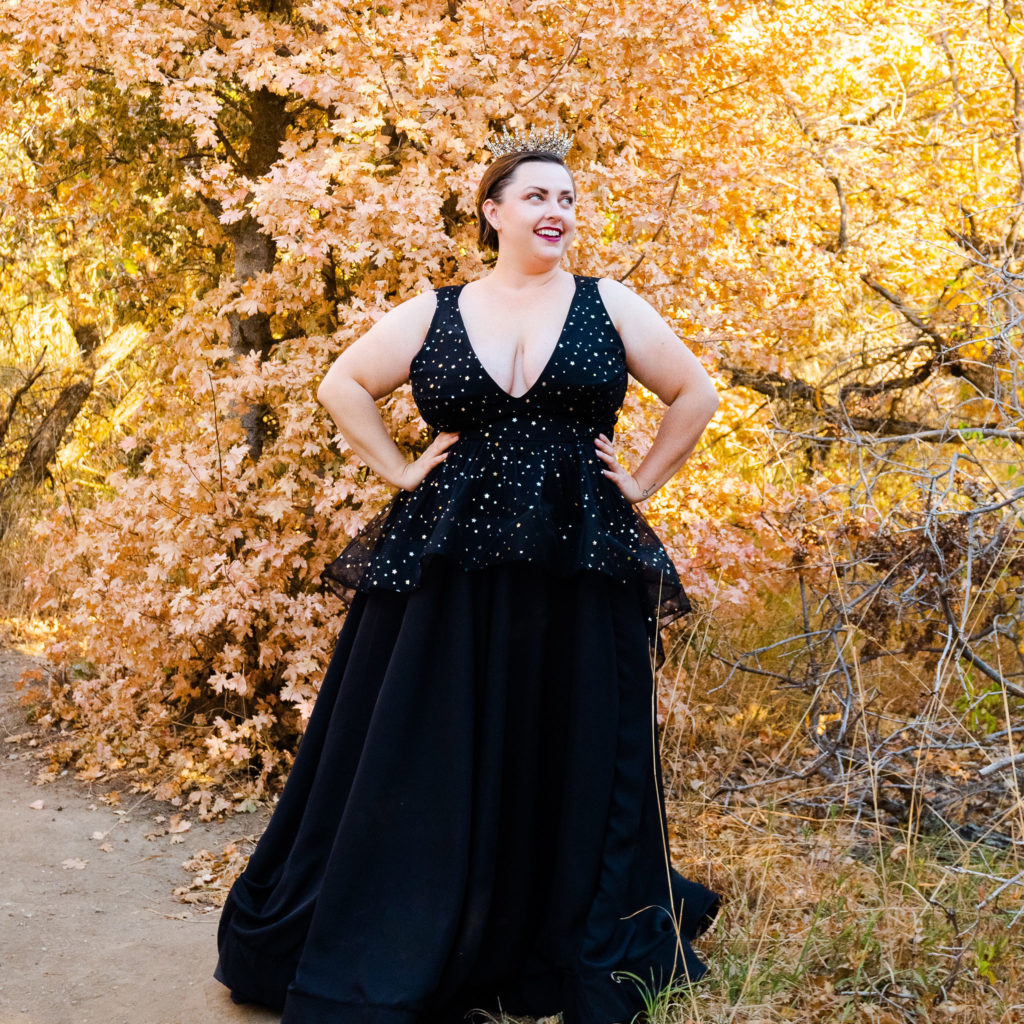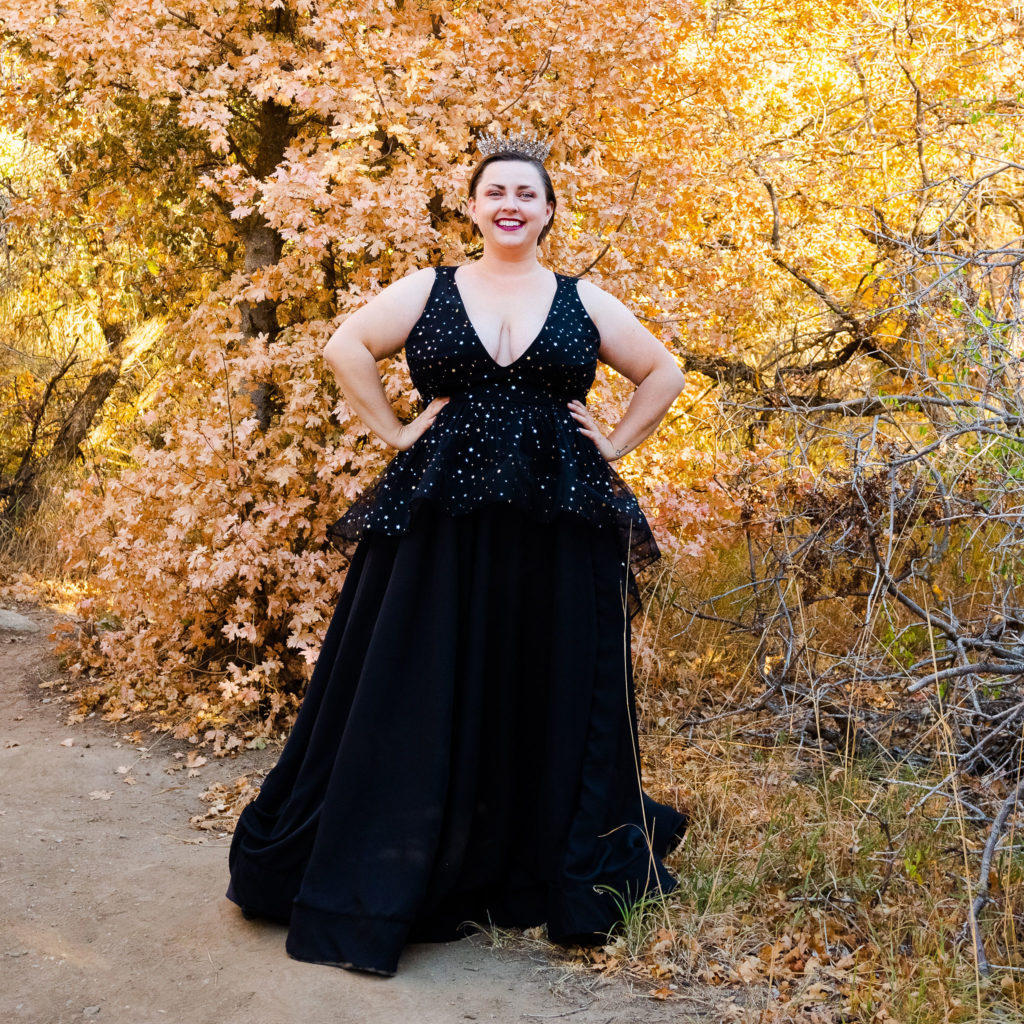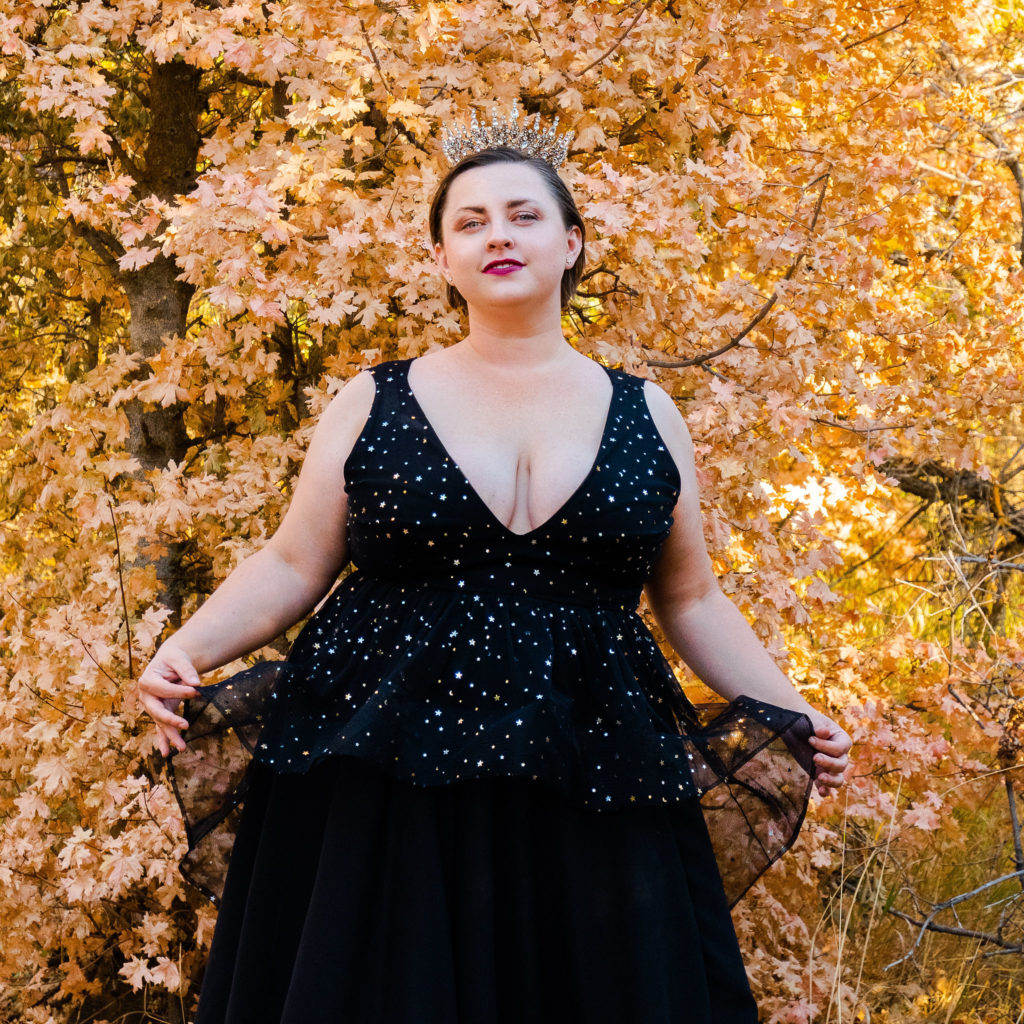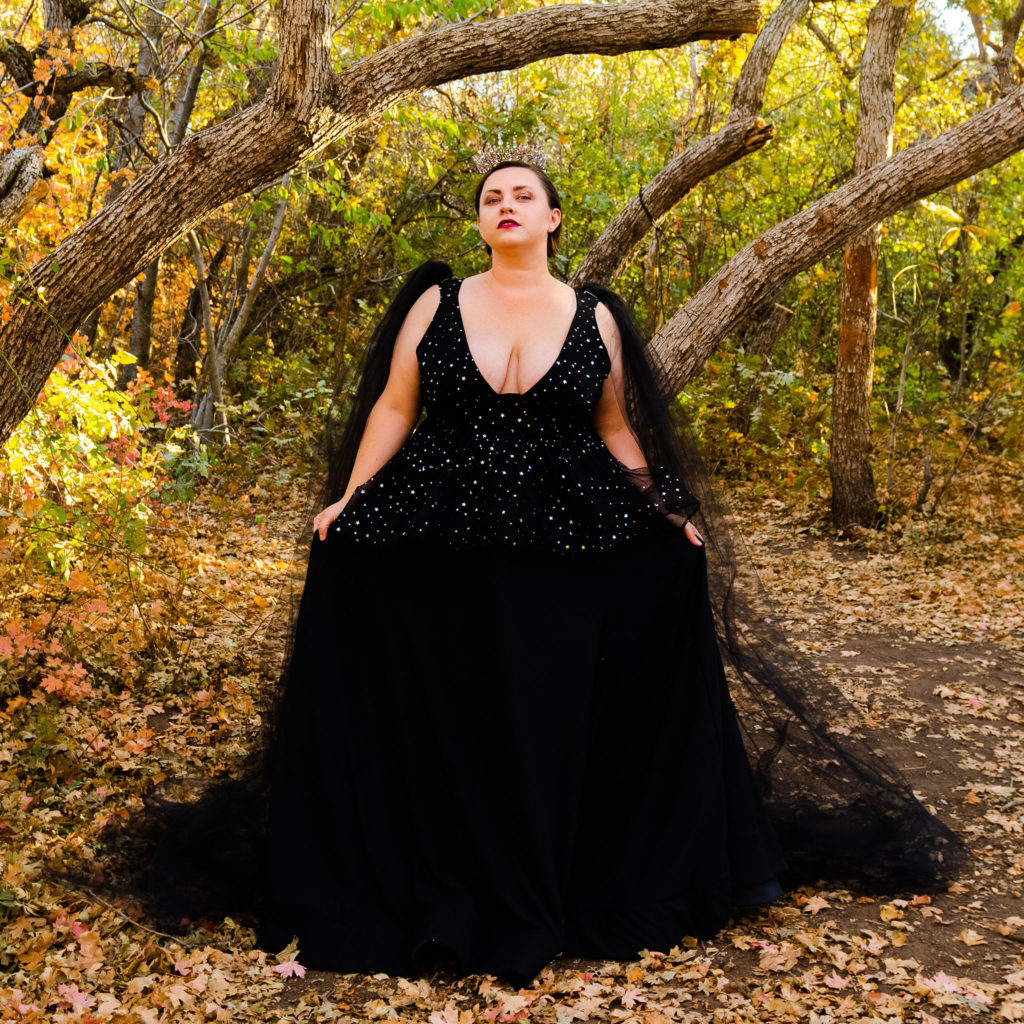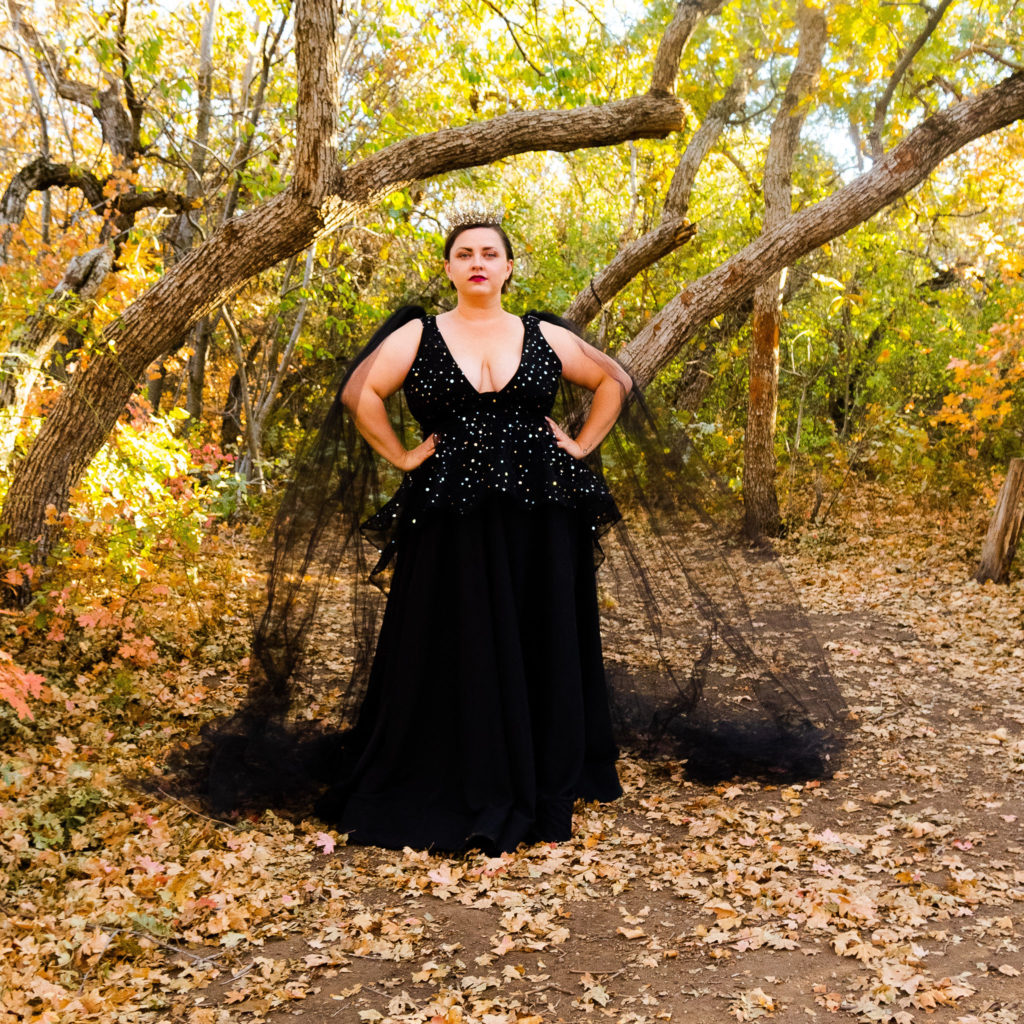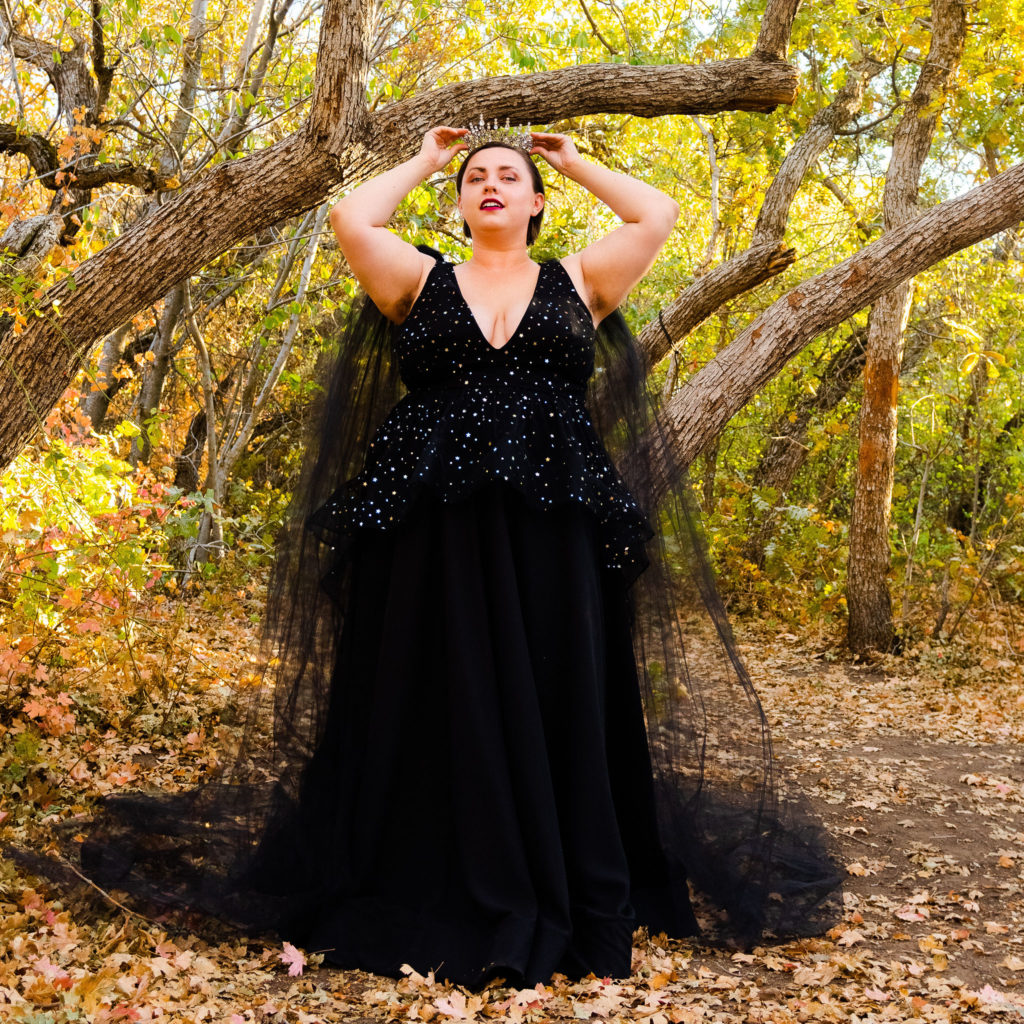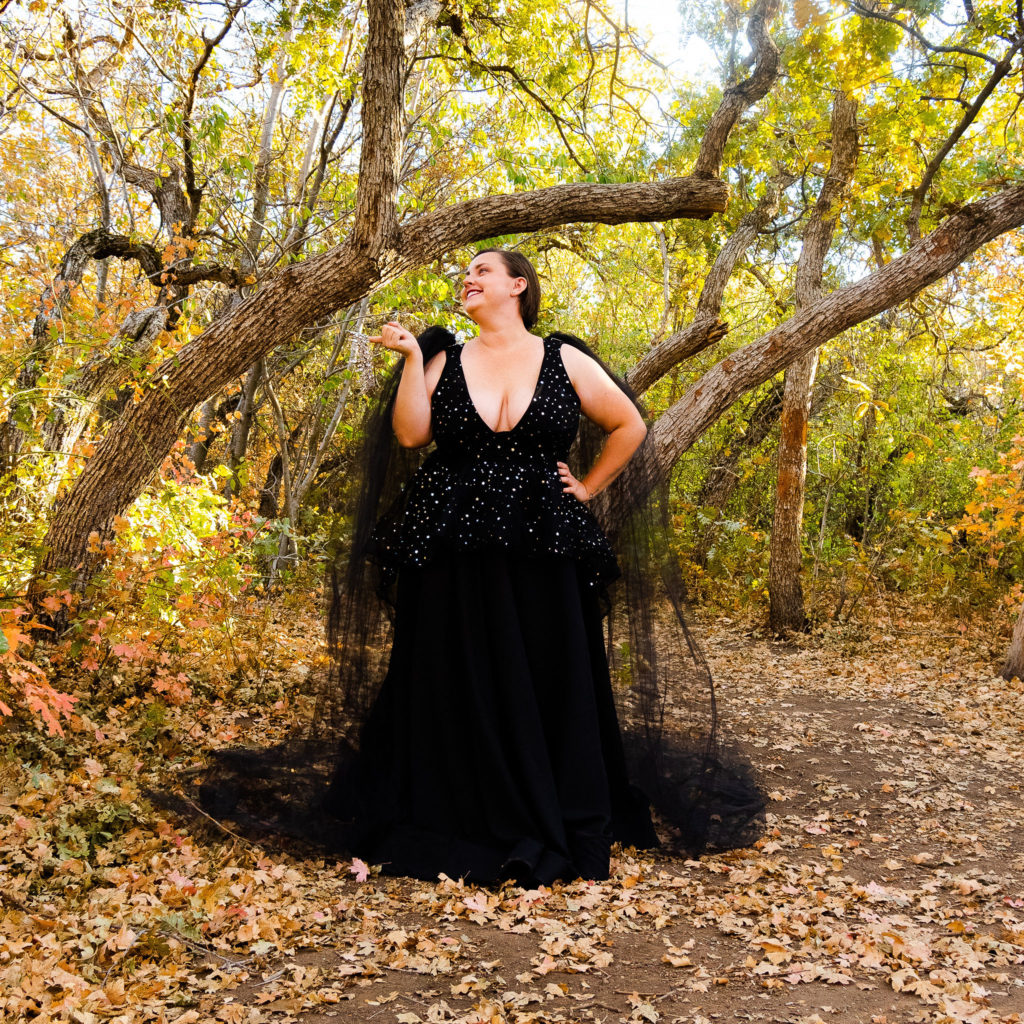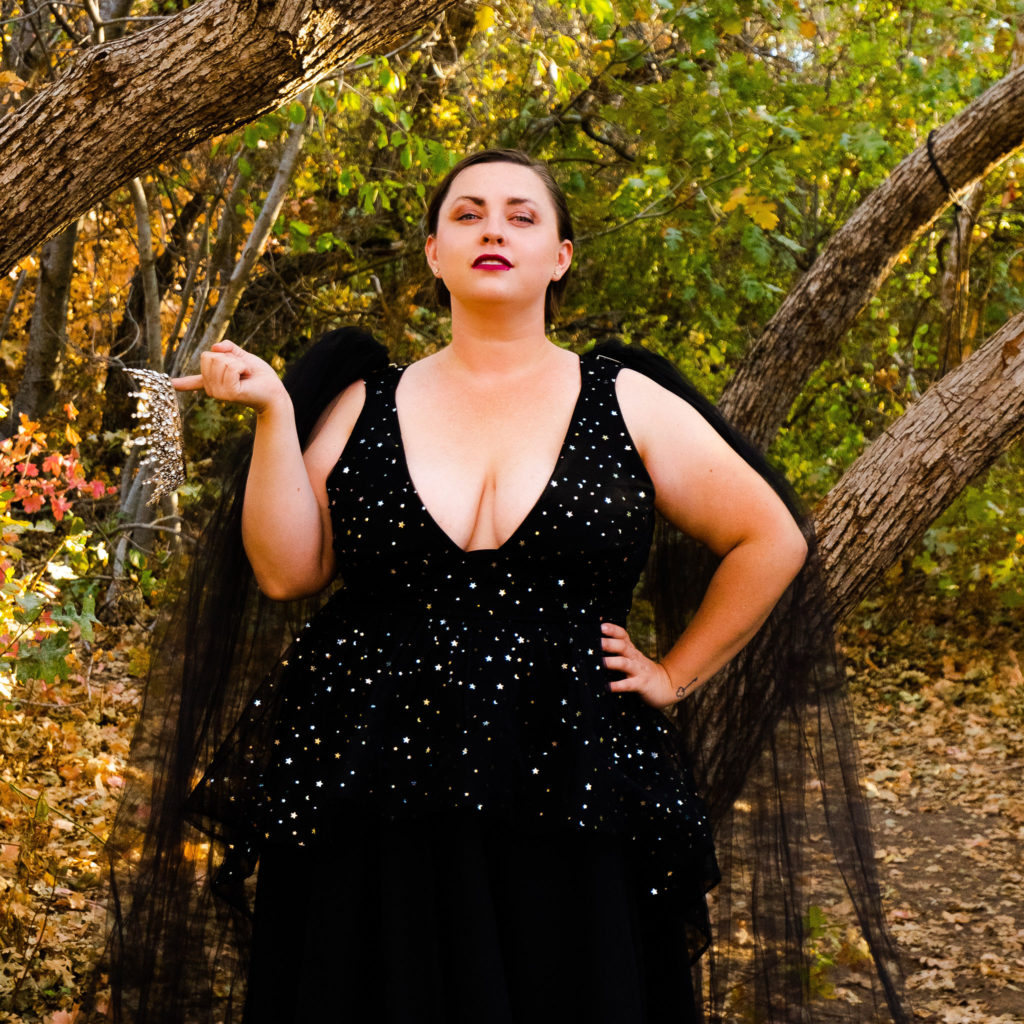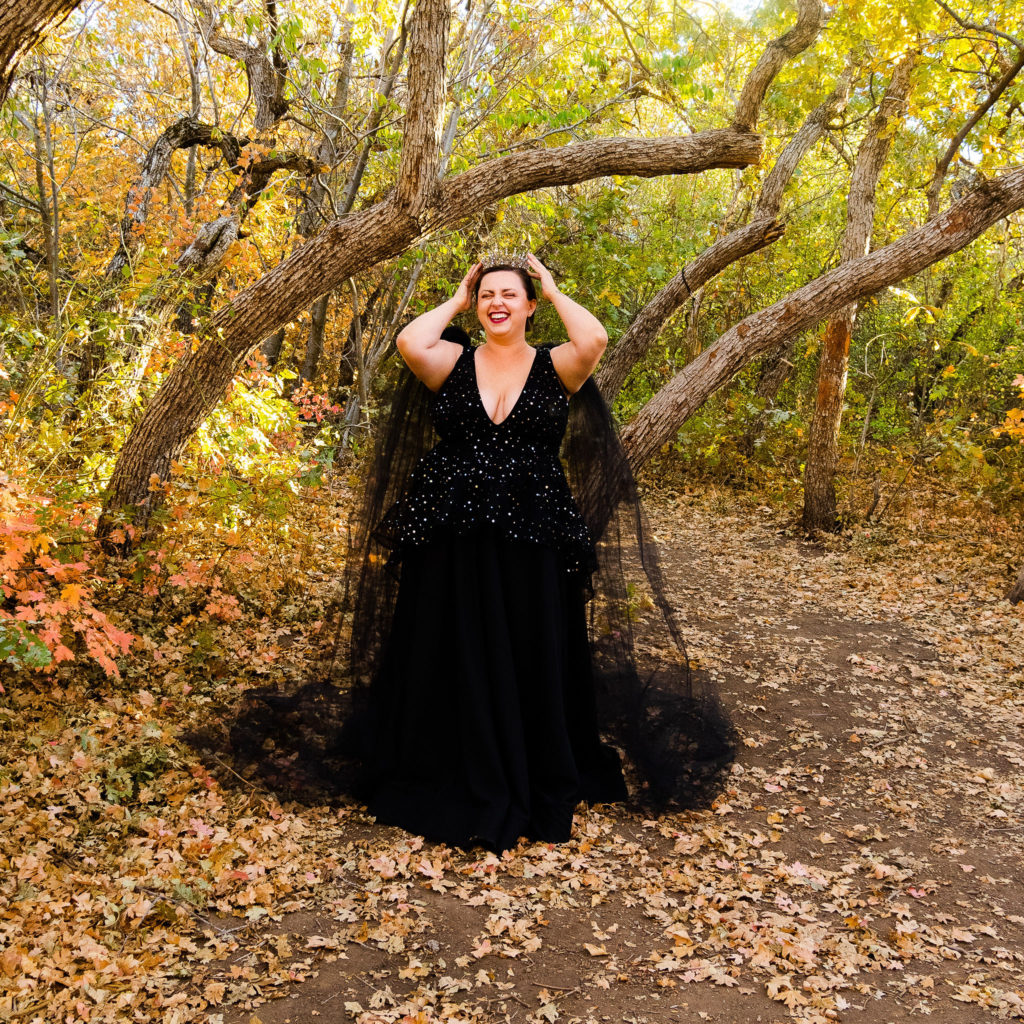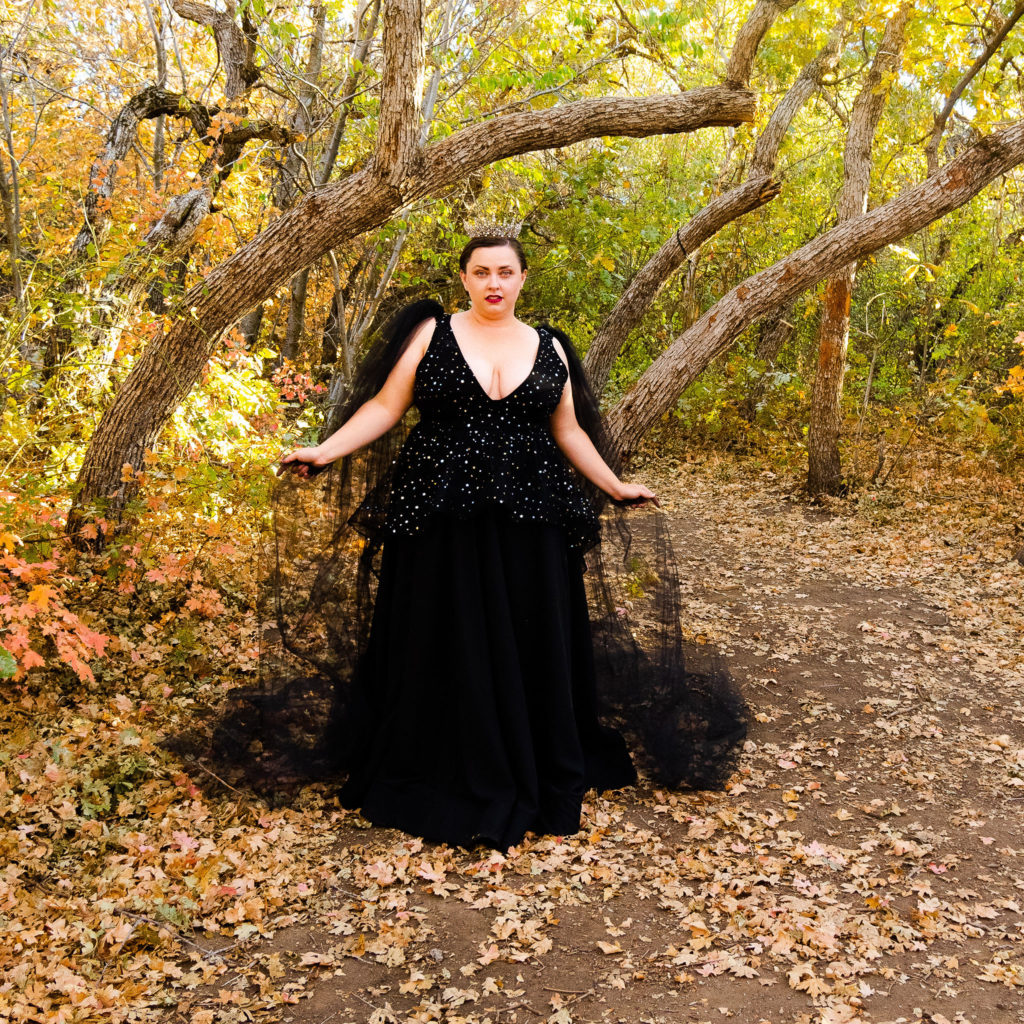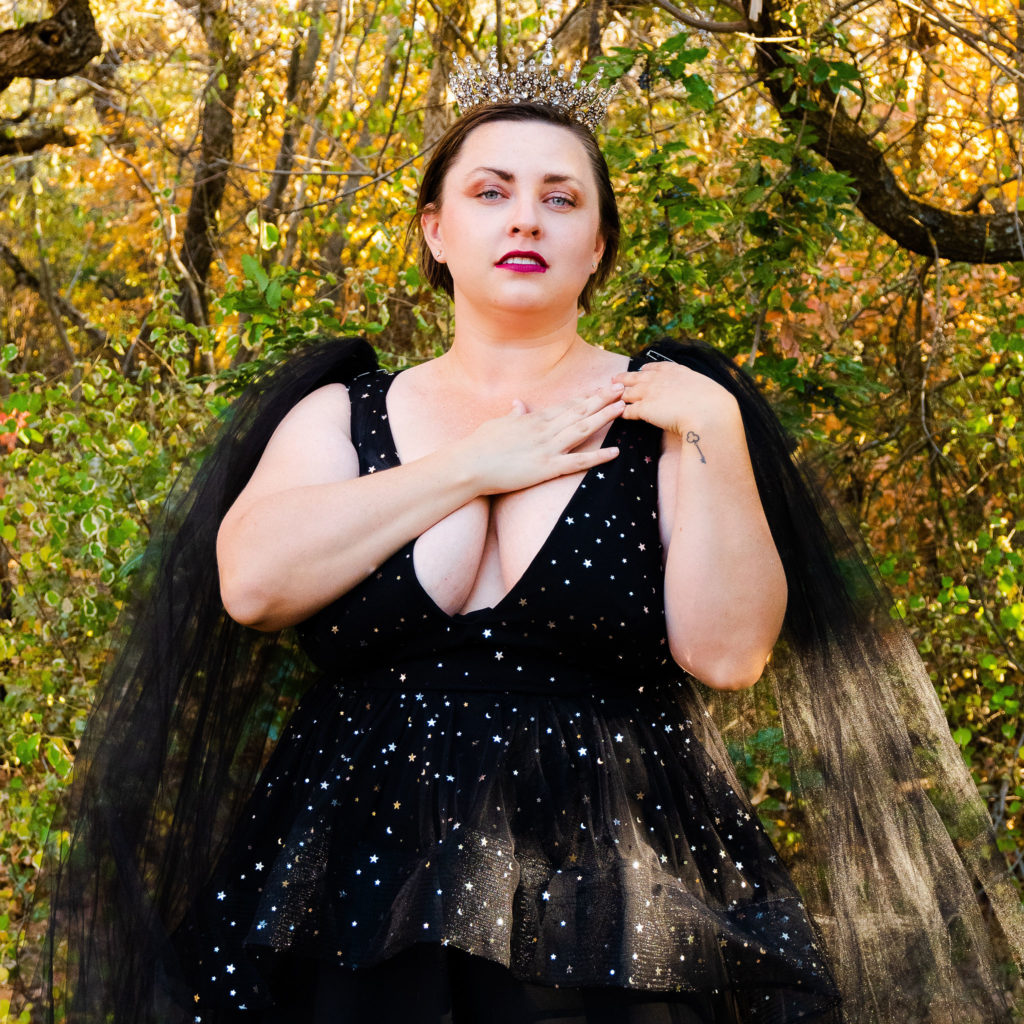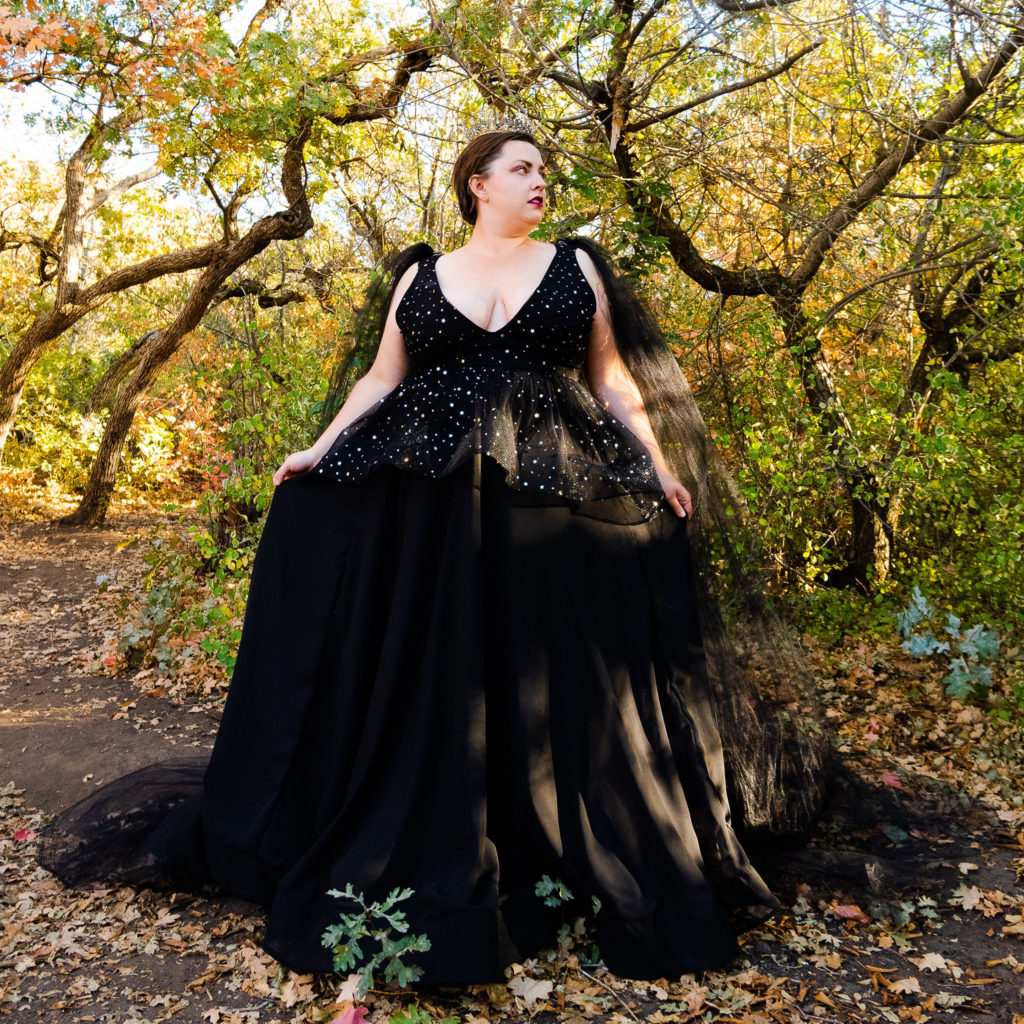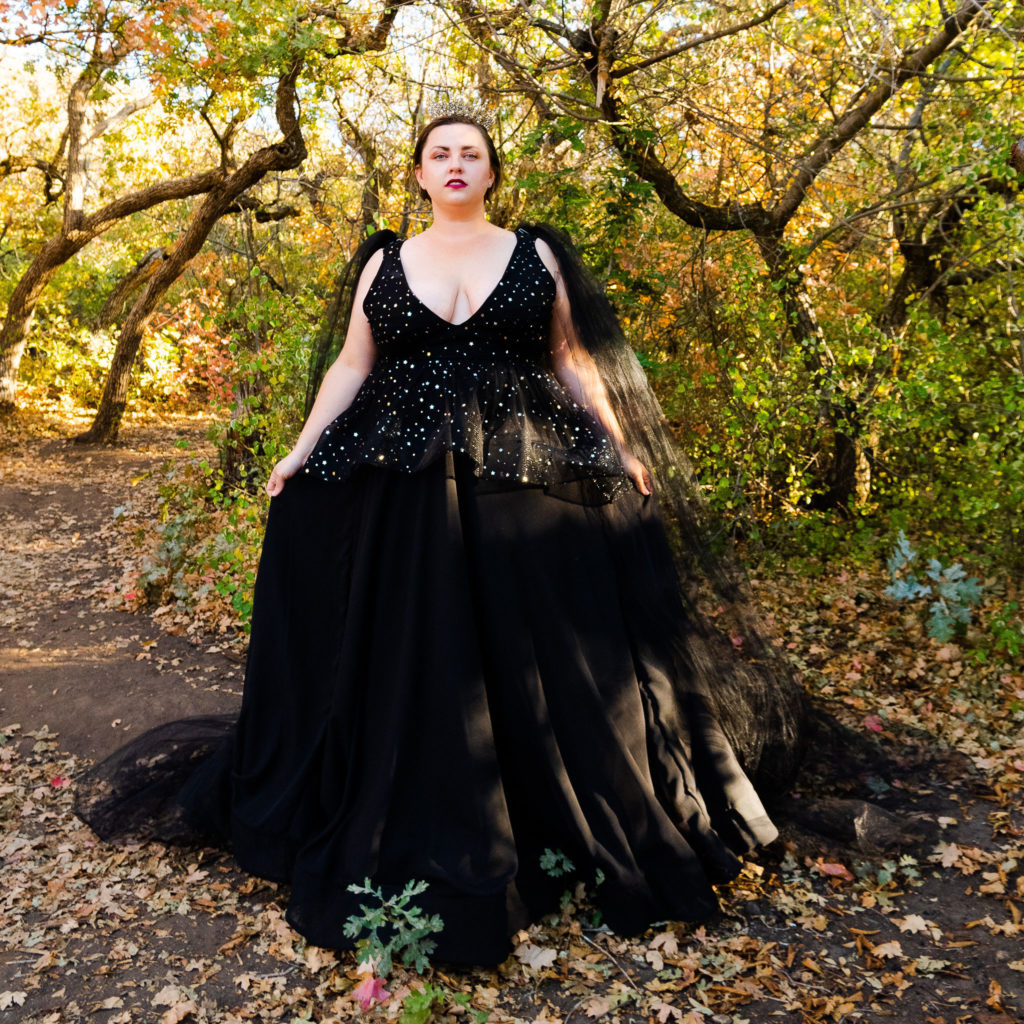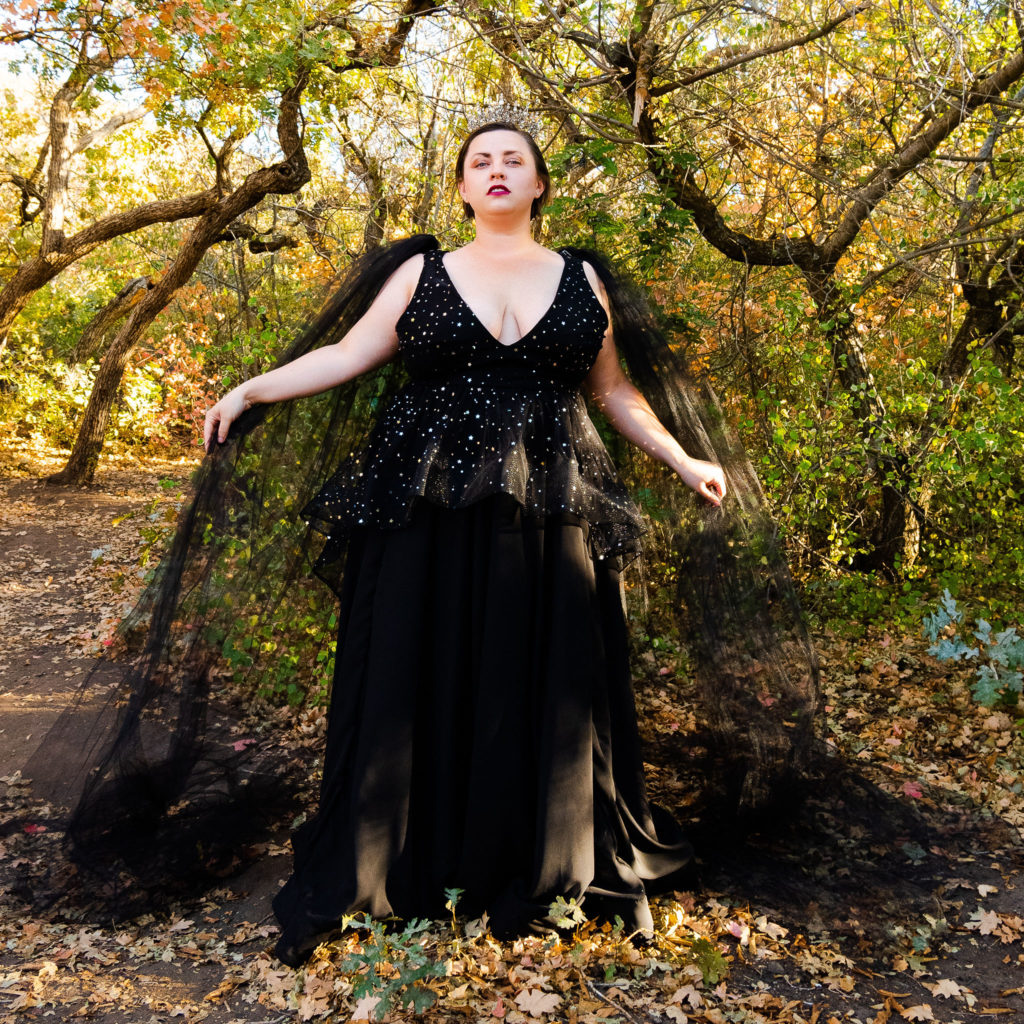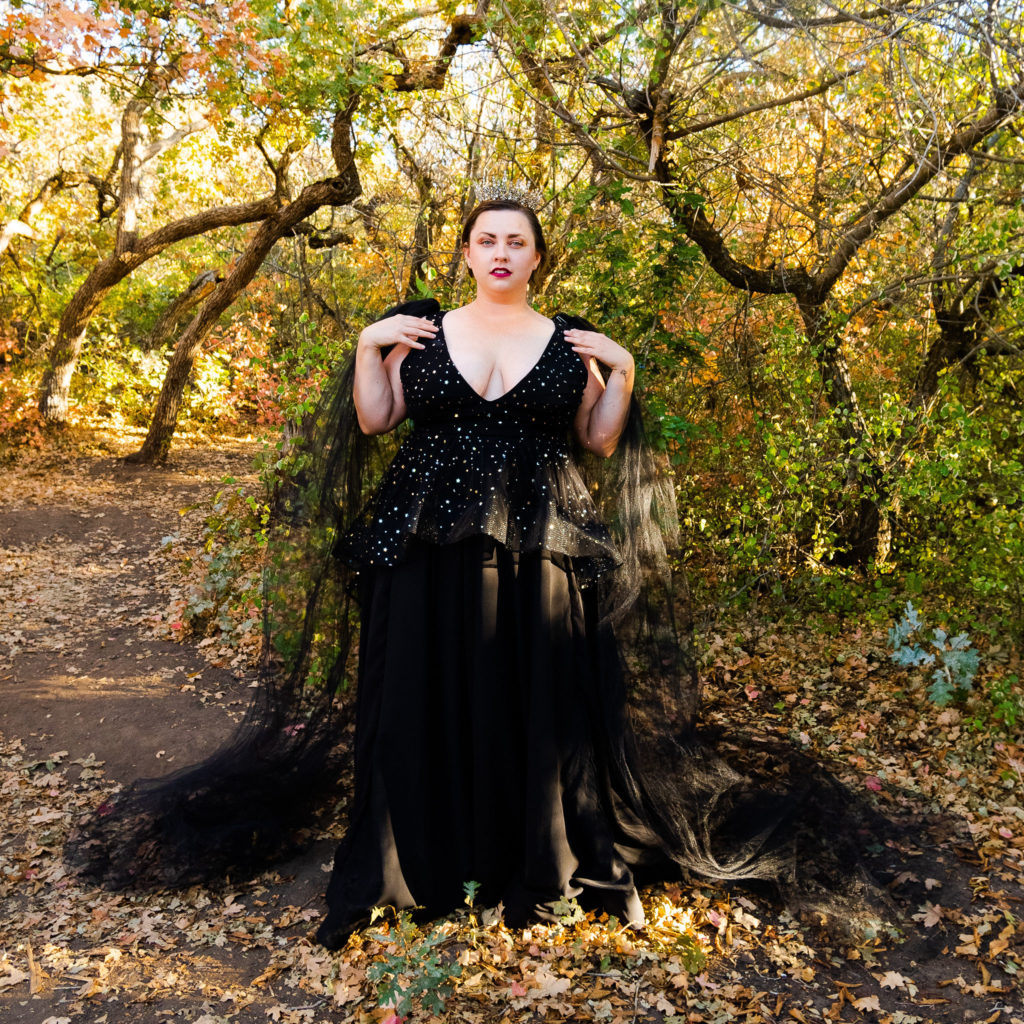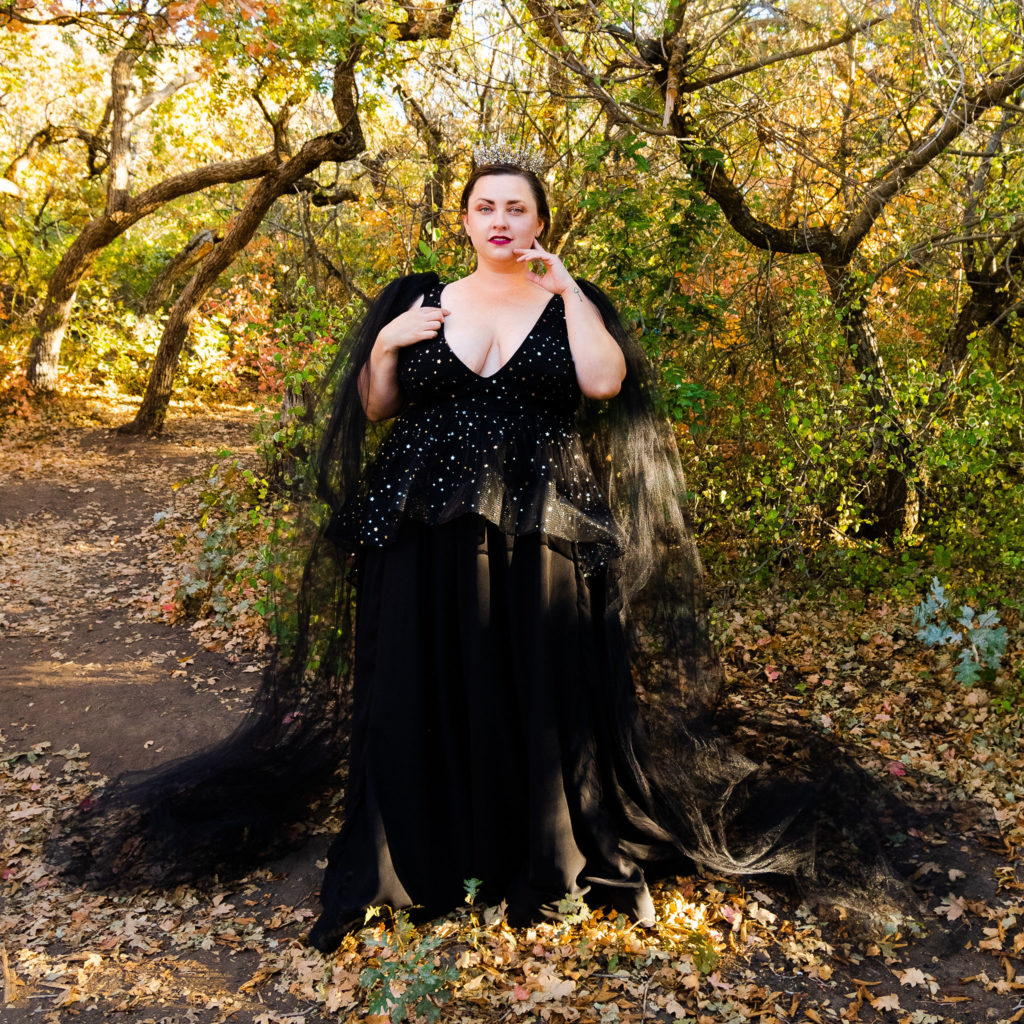 More Plus Size Fashion Editorials?!
Do you love seeing creative photoshoots like this? I'd love to share more of my work with you! Below, I've shared a few more photoshoots:
Love Fashion?
If you want to stay up-to-date on wonderful plus size imagery and new brands to try, I recommend joining me on your favorite social media platform (Facebook, Instagram or Twitter).
More of an email kind of person? Subscribe here!