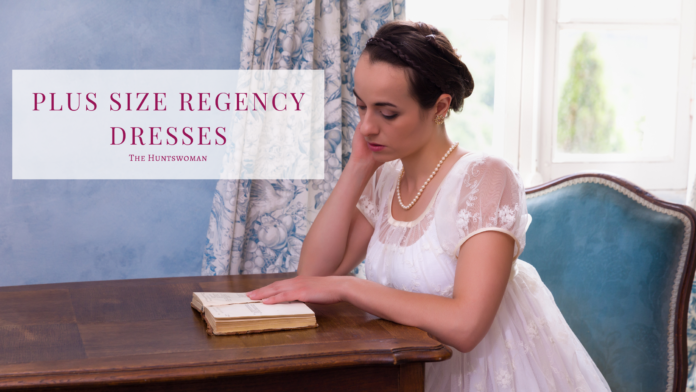 Hey there! This post contains affiliate links.  Using my links means I earn a commission, which helps me create more rad content.  More on affiliates here.
Today on the blog, I am sharing some of the best places to shop for a plus size regency dress!
I have been a regency-era nerd for years now, and Bridgerton has turned a lot of folks into fans! All across the world, people are hosting their own regency tea parties and balls, and there are a number of associations and organizations that host regency reenactments and events.
Plus Size Regency Dresses
I have years of plus size sewing experience as a plus size fashion designer, and a number of my "sewing besties" make regency costumes year round – so I have a lot of experience [secondhand] in this area!
This year, I hope to partner with a costumer or brand to wear their plus size regency outfit to a regency party – so stay tuned on that!
Let's get to the plus size regency dress options!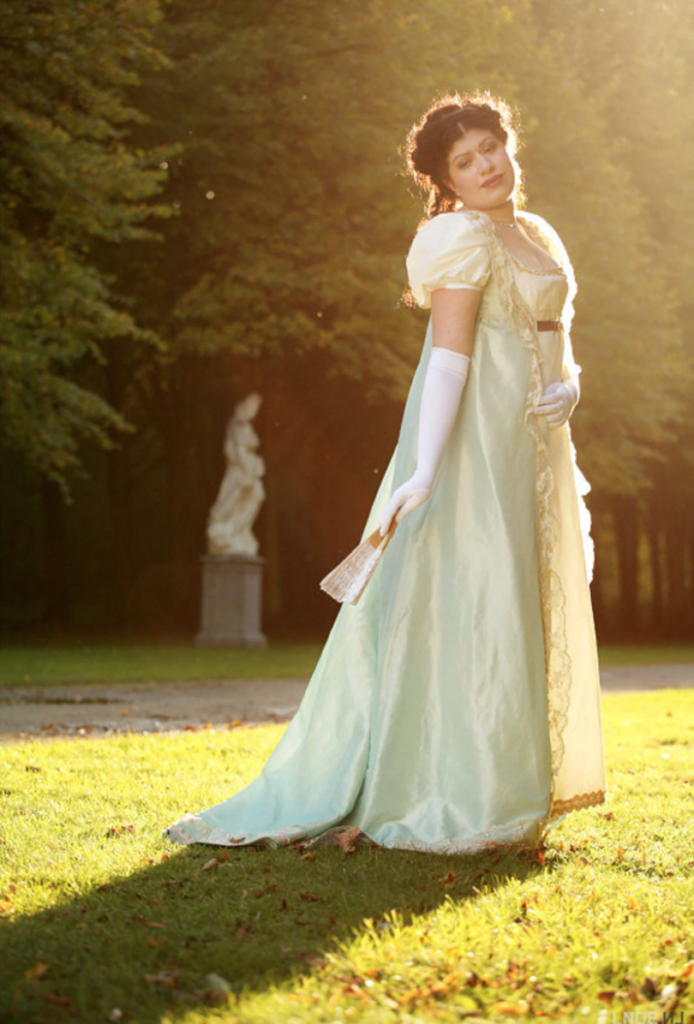 3 Tips – Ordering a Plus Size Regency Costume
Many of the plus ize regency costumes listed in this post come from small independent brands who make custom garments, using your mesurements.
Before ordering, here are a few tips:
Do not guess your measurements – get your exact measurements. I recommend having a skilled sewing friend do this or hiring a tailor to do it!`
Check timelines and shipping! Be sure to give ample time for your dress to arrive!
Be sure to read reviews!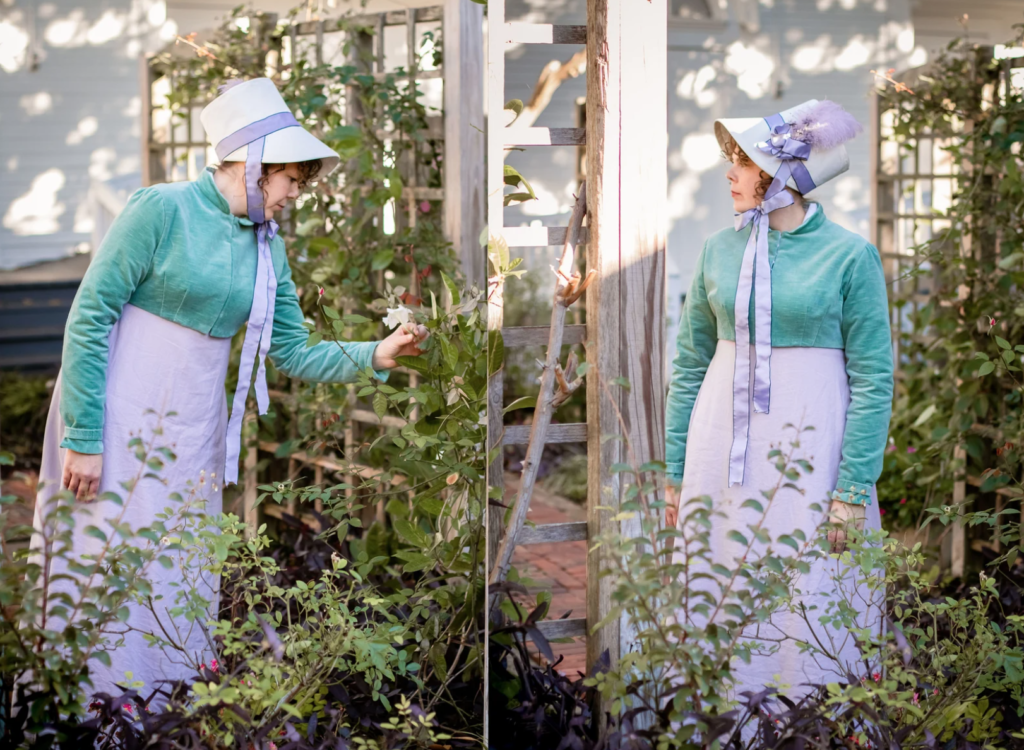 Next up on our options for plus size regency Jane Austen dresses, we have Stichn Addiction1 from etsy!
From the brand: "Welcome, fellow book lovers and kindred spirits! Now accepting commissions for July 2022. I ship on Wednesdays and Saturdays; ready-to-ship items will ship within 3-5 days of purchase."
Sizing: Up to a 5X, which corresponds to a bust measurement of 61 inches and a waist measurement of 57 inches [double check the size chart, please!]
Shop plus size Jane Austen dresses here!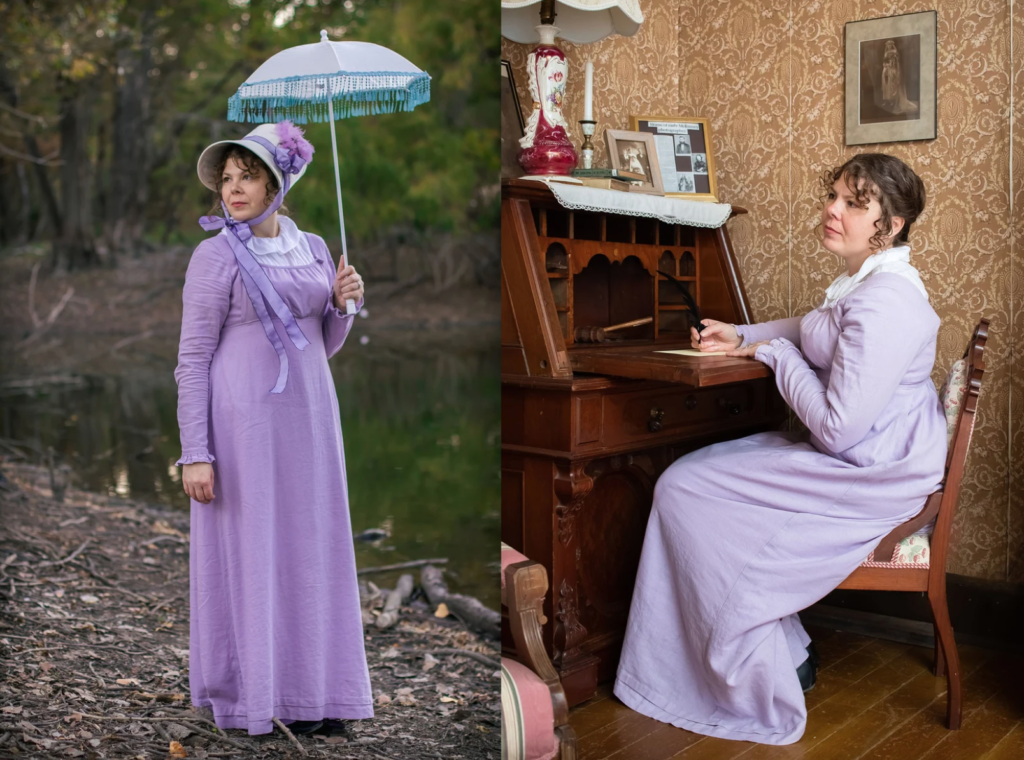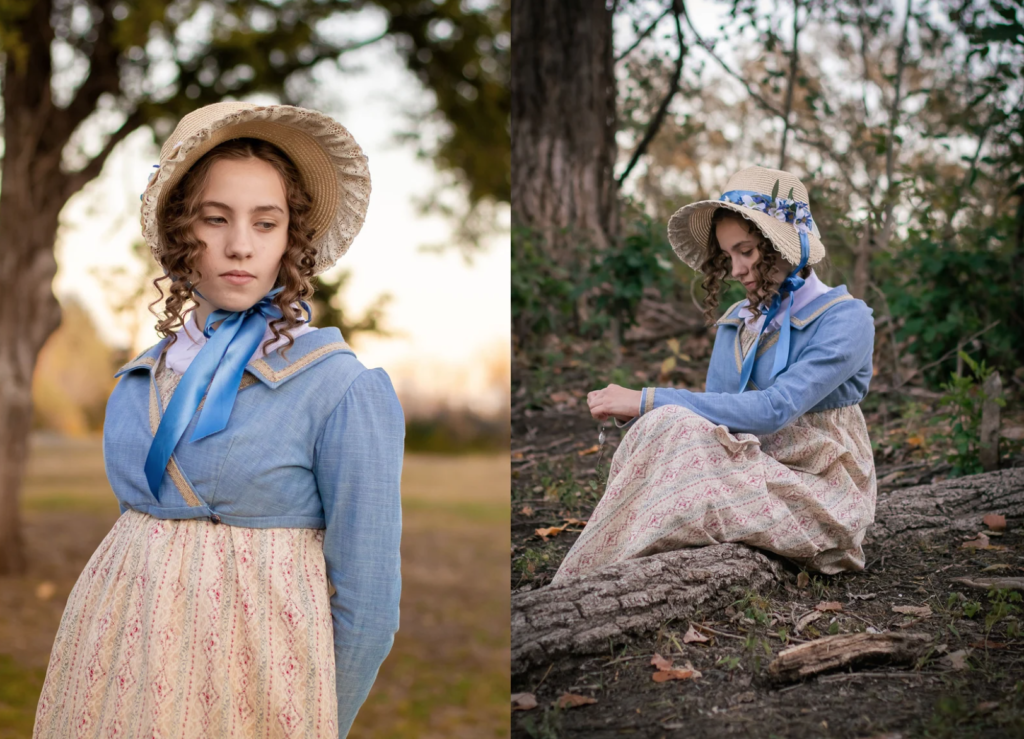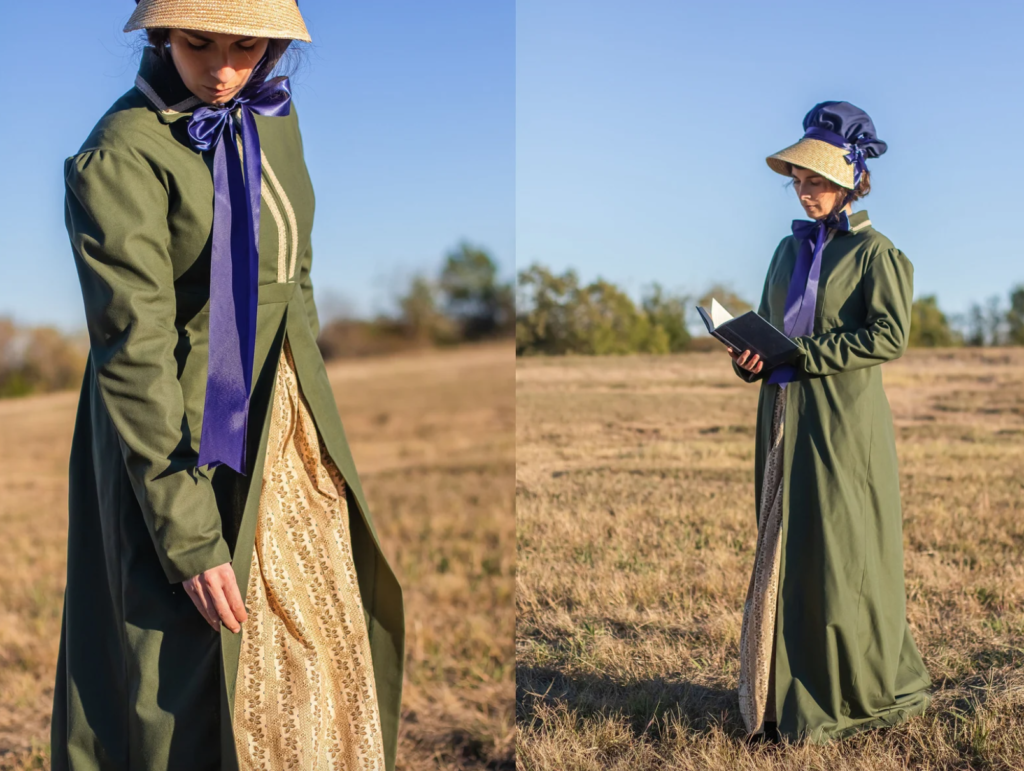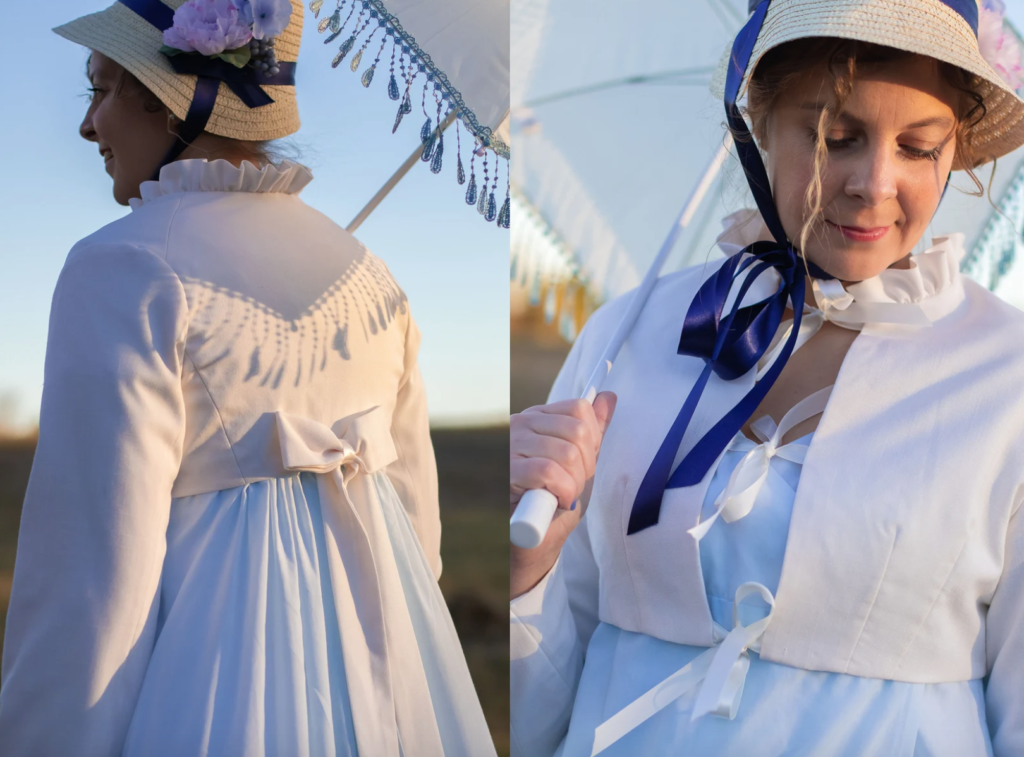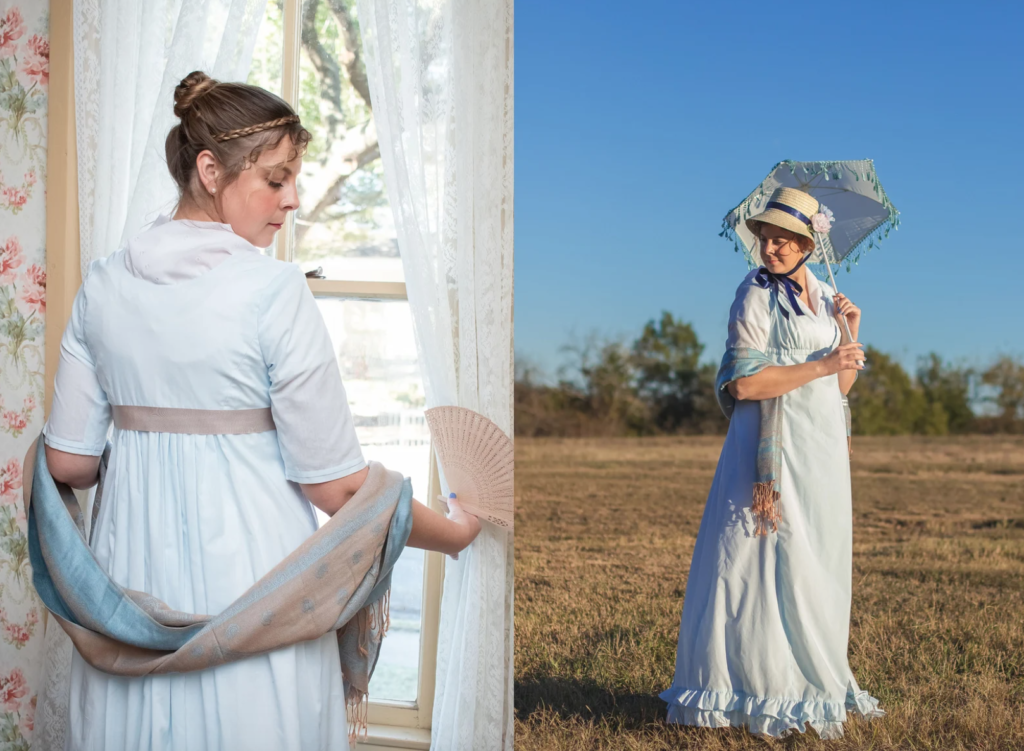 Following that gorgeous plus size regency ballgown, we have plus size regency options from Williamsburg Rose!
From the maker: "The ensemble is modeled after the well-known 1795 Open Robe in Janet Arnold's Patterns of Fashion. Taking details from this elegant fashion, this 2 piece outfit has an underdress made of classic white moiré fabric. The sleeves are 3/4 length, and the gown fastens in back with gold buttons. Just a touch of gold-embroidered lace frames the rounded, gathered neckline. The gown can be worn on its own, or with the fashionable overdress."
Sizing: At time of publishing, the maker has ready-made plus size regency dresses in her etsy shop, with measurements listed. I'm not sure if the maker creates custom dresses!
See all the plus size regency dresses here!
Plus Size Regency Era Dresses #3: Recollections Dresses
I first learned of Recollections Dresses thanks to an ad on Instagram of all places! From the about page: "Recollections is your connection to history-inspired fashions. What was once a dream on a kitchen table has grown into an e-tail company with a global presence. Recollections was founded in 1981 in southern Michigan."
Sizing: Up to a 4X or 56.5 inch bust measurement [double check the size chart, please!]
Unfortunately, Recollections Dresses doesn't have any plus size models in their regency gowns, which is a bummer for plus size customers like me and you! [If anyone from Recollections is reading this post, I'd love to do a few photoshoots in your pieces – so plus size customers know what your regency costumes look like on!]
Recollections Dresses make regency costumes in up to a 4x, but don't have any plus size models wearing their pieces – yet!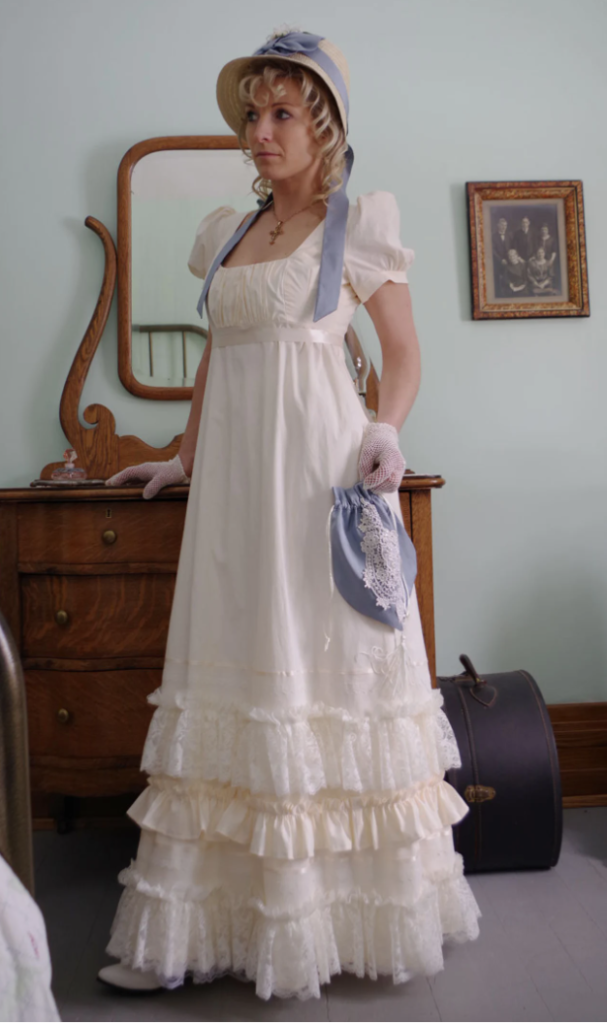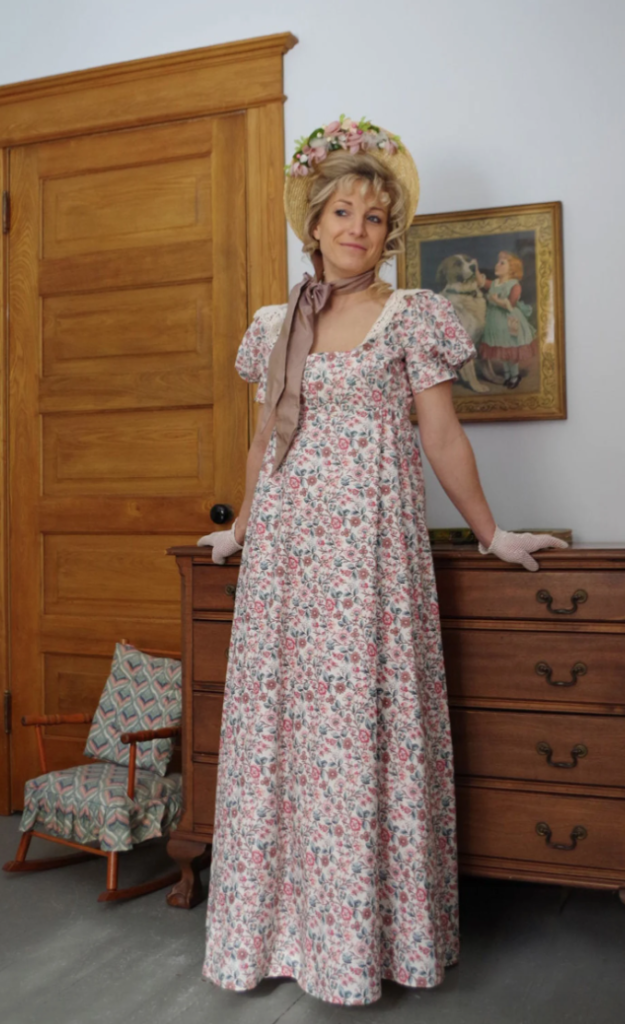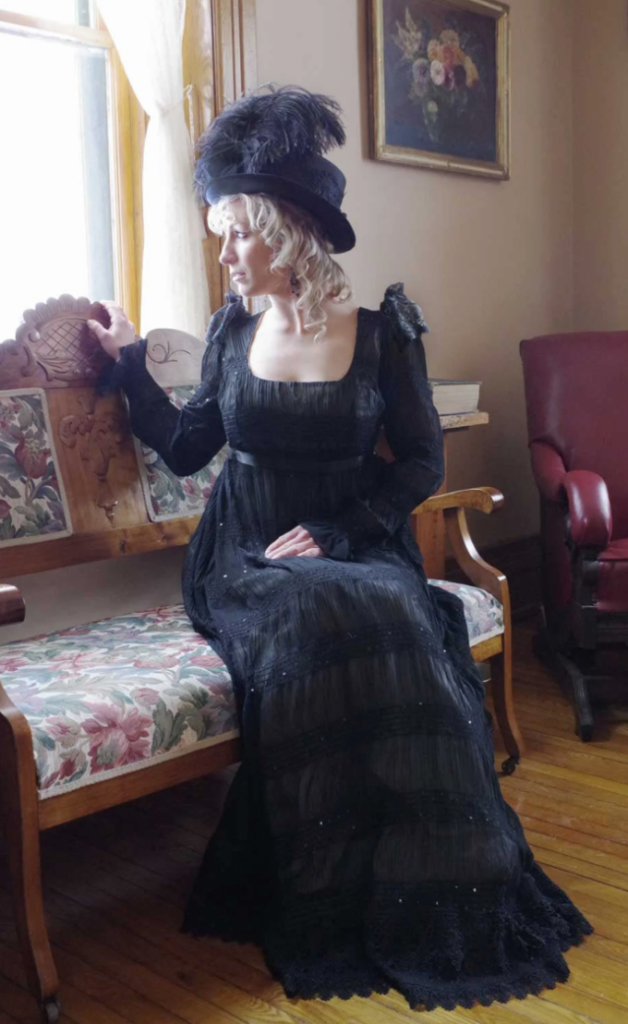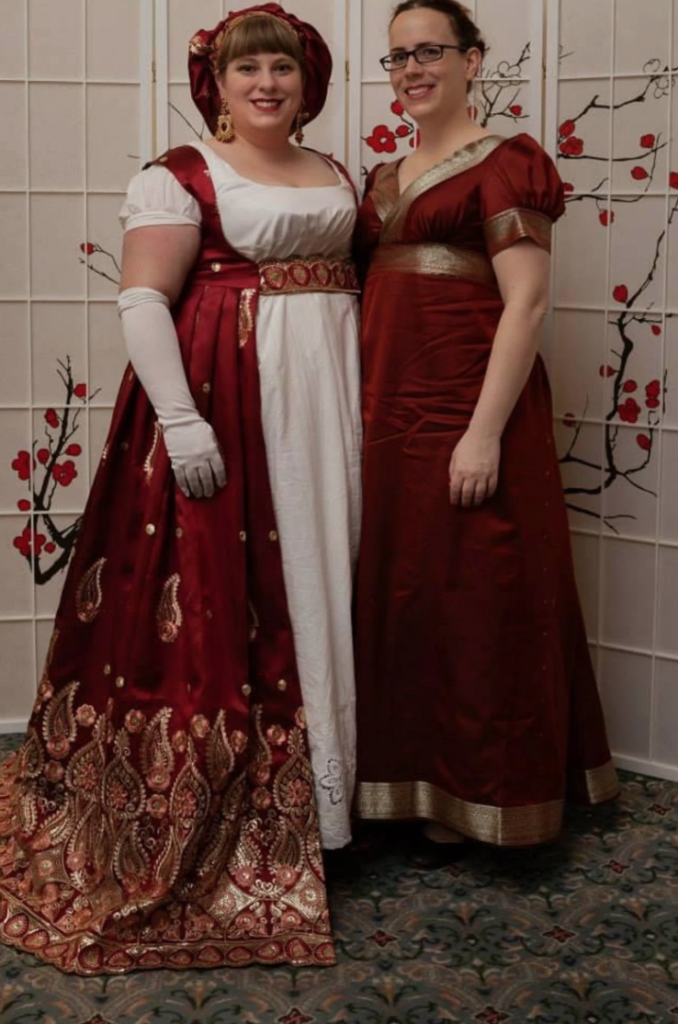 Sizing: Contact designer for info!
From the designer: "I have made dozens of these stunning dresses for Balls and Dances all over! Choose your Dreas! A lovely Cotton Dress is made of a high quality Cotton, simple and comfortable! Second is a fancy Fabric Dress with matching trims to stand out in a crowd. Third is a gown with an over robe. With over 10 yards of fabric with both."
Shop this plus size regency costume here!
Next up on our list of plus size regency costumes, we have this gorgeous light blue detailed plus size Jane Austen dress! This dress is giving me Bridgerton vibes with the applique detailing [the flowers]!
From the brand: "Regency dress inspired by Bridgerton cut from delicate floral color in creamy blue fabric features beautiful sweetheart neckline."
Sizing: Up to a 3X or 45 inch waist [double check the size chart, please!]
See more details on this plus size Jane Austen dress here!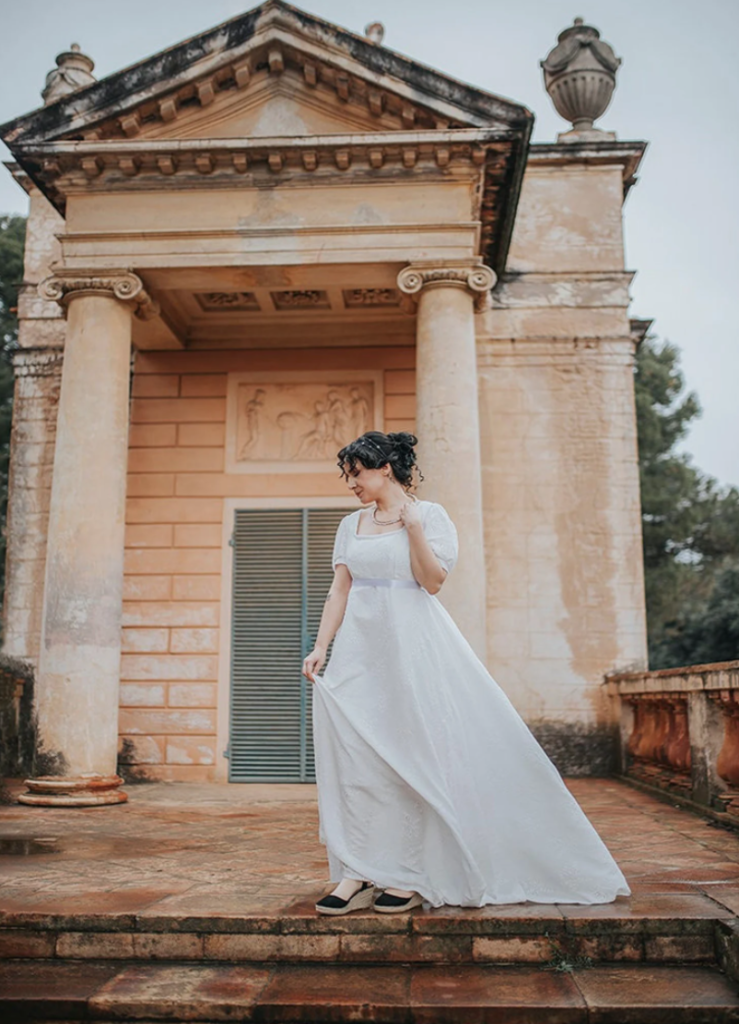 Next up on the list, we have this plus size regency wedding dress!
Sizing: Up to a 2X, which corresponds to a bust of 134 CM, or approx 52.5 inches
See all the details and gorgeous photos of this plus size regency wedding dress here!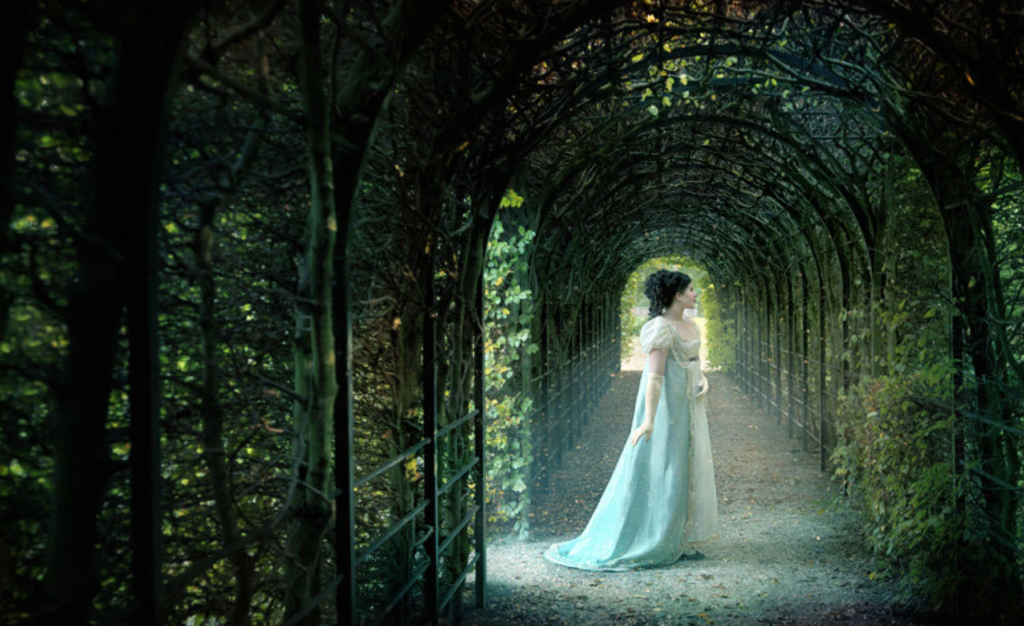 This is a newer plus size regency costume maker on etsy [10 sales at time of publishing], and I am in love with the gorgeous fabrics!
From the maker; "The sale you see listed her is for a fully custom made dress in the same fabrics and trimming (f availble) or similar. You can choose either synthetic taffeta or dupioni silk and can choose from an array of laces and trimmings. This Regency dress is based on the English cut and was worn on balls."
Sizing: Up to a 5X, measurements for that aren't listed [Contact the maker for those!]
Shop this plus size regency ballgown here!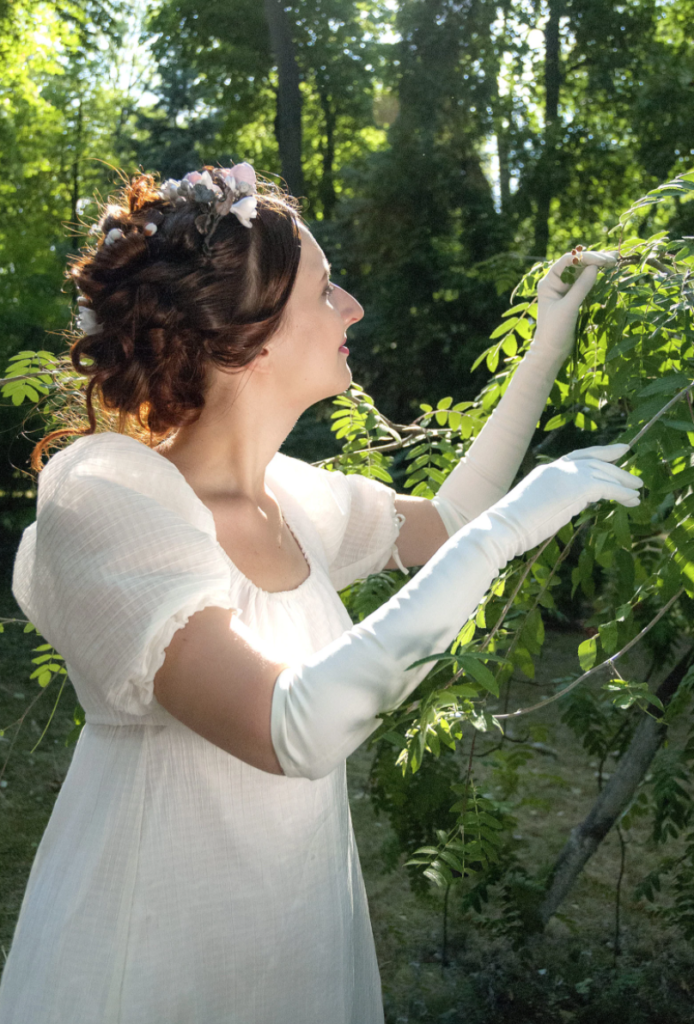 I feel more than a bit conflicted about including this brand, as they charge plus size customers more. But, I will leave the decision to purchase up to you, dear reader! I ultimately decided I wanted to include as many resources as possible!
From the maker: "A Regency gown inspired by characters from Jane Austen's books. Tailored according to the original historical patterns, the dress features a high empire waistline with short puffed sleeves. It expresses the exact style and fashion of the early XIX century."
Sizing: See info and pricing tiers on the shop's webpage
See all the lovely photos of this plus size white regency gown here!
Finally, I found a plus size regency costume on Amazon that is mass produced, for folks looking for a quick costume option!
Shop this plus size regency costume here!
What to read next —>
Looking for more plus size costume inspiration? Check out these posts below:
Reviews to your inbox!
Every week, i send out an email with the very best plus size fashion posts, along with helpful blog posts about growing your career! Subscribe here.