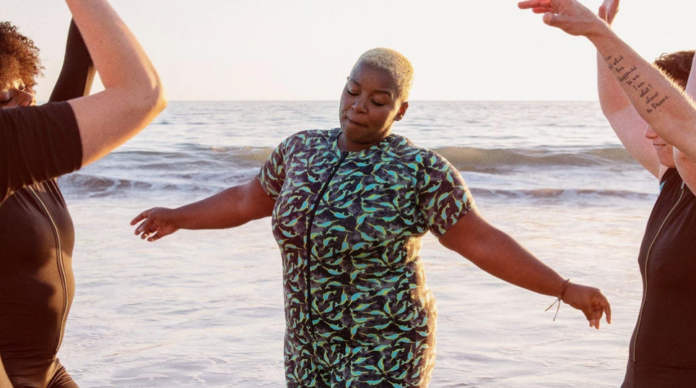 Hey there! This post contains affiliate links.  Using my links means I earn a commission, which helps me create more rad content.  More on affiliates here.
Talking about gender neutral fashion can be kind of weird, because, technically, anything can be gender neutral.
As people shopping, we ascribe gender to garments. But on their own (without society's programming), they can be worn by anyone. Really.
[Heads up! This post was originally published on April 29, 2020. It was updated July 1, 2021!]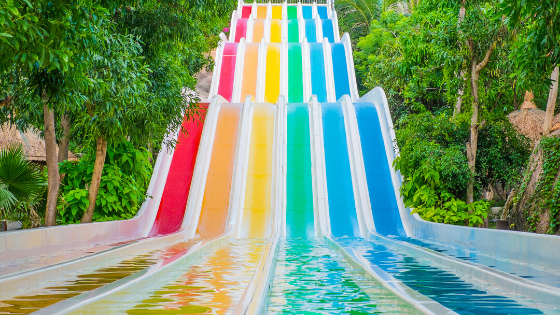 Plus Size Gender Neutral Bathing Suits
But, if you're searching "Plus Size Gender Neutral Bathing Suits" on Google, I'm betting that you're looking for a few things. Well, one thing, really.
Coverage.
You're looking for more coverage in your swimsuit, but you still want to feel snazzy. Wetsuits are cool, but that's not really the jam we're after.
Below, I've shared 8 plus size gender neutral swimsuit brands:
Brand #1: Gender Neutral Bathing Suits from DYINSF
My Twitter friend, Shilo Byrd, let me know about this brand – and I'm stoked! I love learning about small independent brands.
From the brand: "DYINSF began by selling handmade swimwear-for-all out of a San Francisco studio in 2012.  We moved our queer-owned operation to LA and soon expanded our line into activewear. Today, we make custom garments that help people find ways to express who they really are, with custom work at no additional cost."
The brand has really fun options, and I think you'll appreciate this singlet and this crop top!
The brand lists going up to a 4X on their site, AND you can email for a custom size – at no extra cost.
Shop here!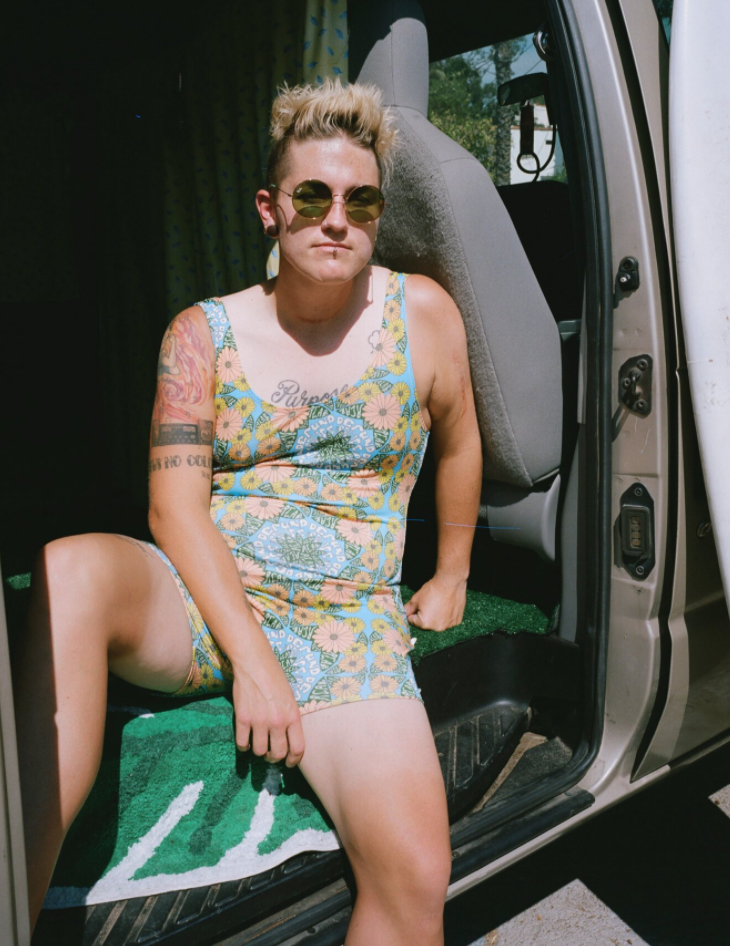 Brand #2: Gender Neutral Bathing Suits from Beefcake Swimwear
A longtime favorite of the LGBT community, Beefcake Swimwear offers 1920's inspired swimwear. The company was launched a few years ago with the help of Kickstarter, when the founder's roommate wss looking for masculine-of-center swimwear.
The company goes up to a 5X (a plus size 5X), which is around a size 30.
You can stick with a classic black and white look, or go for a more 1970's inspired print!
Shop here.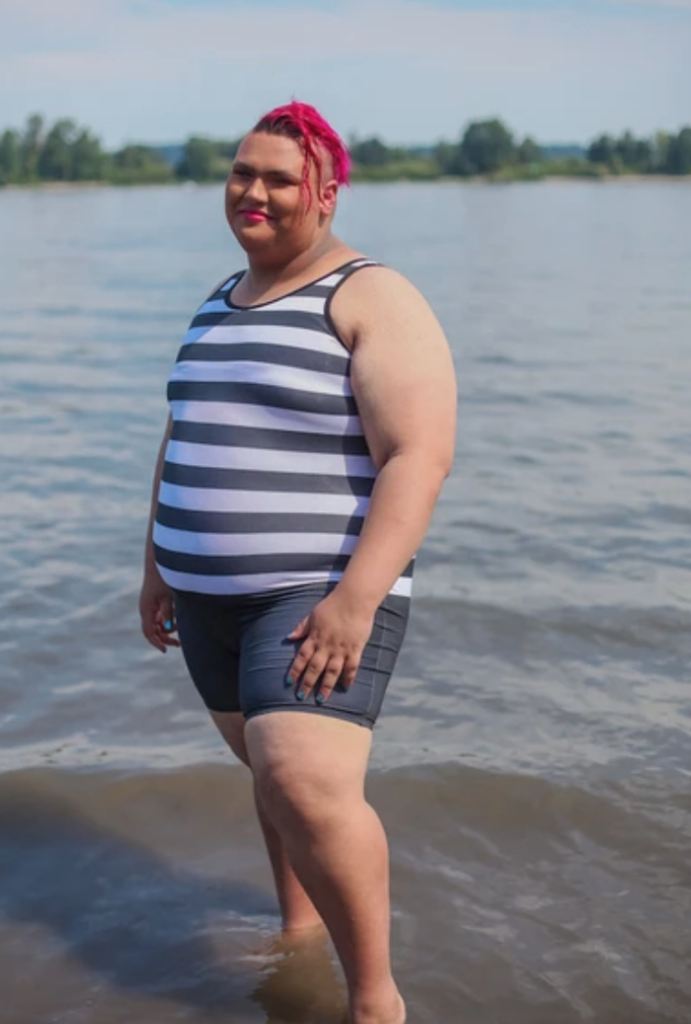 Brand #3: Gender Neutral Bathing Suits from TomboyX
Another LGBT-owned brand, TomboyX, offers gender neutral swimsuits!
The brand has two style options, their one piece "unisuit" and interchangeable shorts and tank tops. Swimsuits go up to a 4X!
In addition for being great for a day at the pool, the unisuit is also a go-to swimsuit for triathlons, surfing and other activities!
Shop here.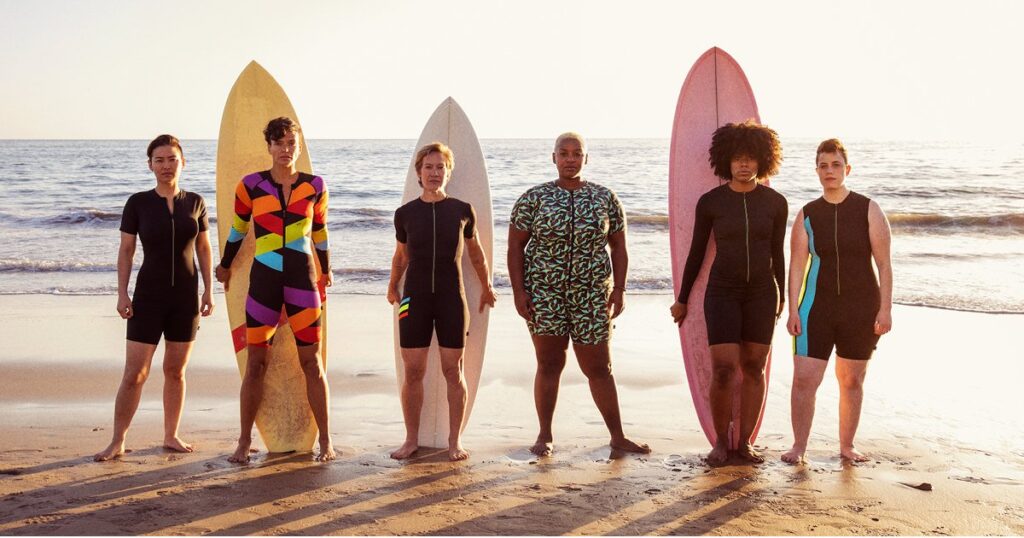 Brand #4: Rebirth Garments Gender Neutral Bathing Suits
Some members of the LGBTQ+ community don't go swimming, because their binder will be damaged by chlorine or salt.
Luckily, ReBirth Garments has swooped in with a solution! The brand has combined a binder with swimsuit fabric, making it easier for folks to just, you know, live their life and go the freakin' pool.
The brand does made-to-order pieces, so you share your measurements for the perfect fit!
Below, I've shared a few of the top styles from Rebirth Garments!
Shop this piece here!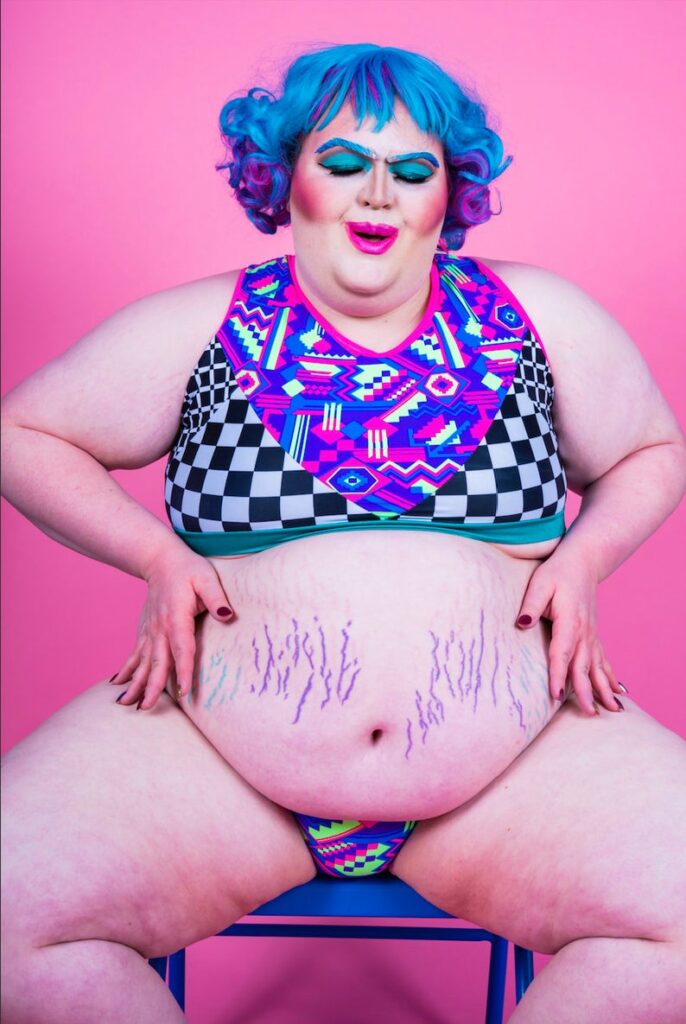 Shop here.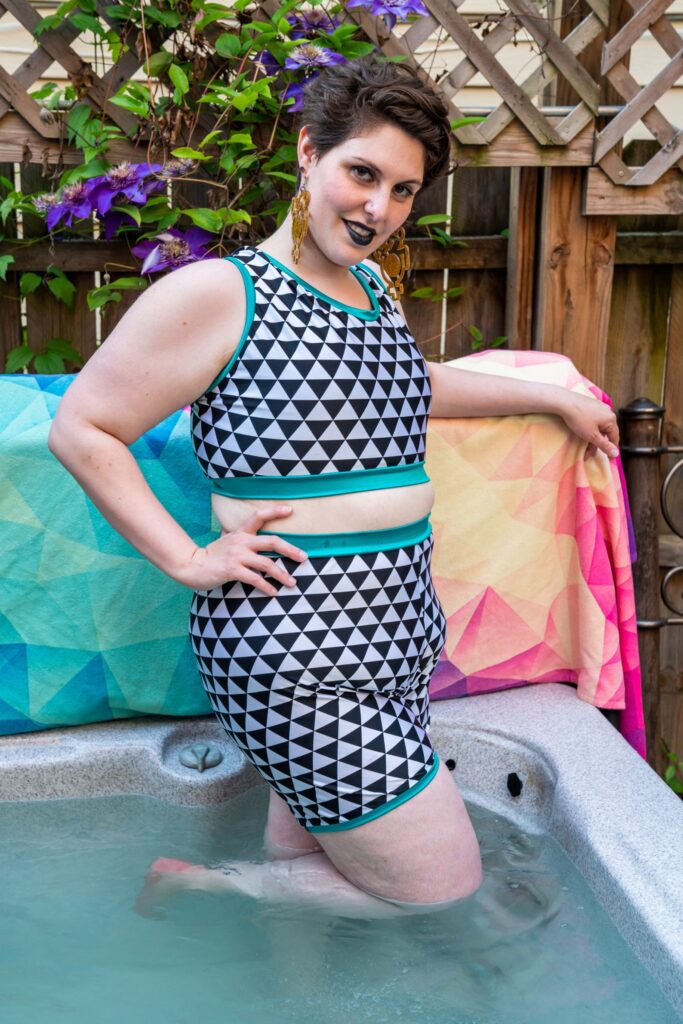 Shop this piece here!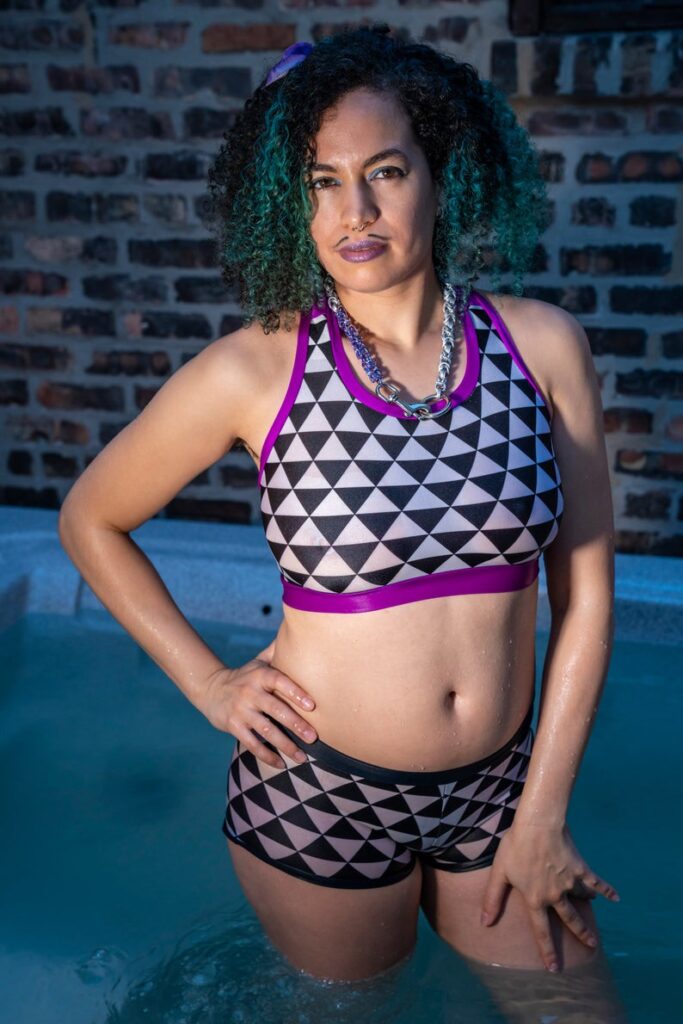 Brand #5: CHROMAT Gender Neutral Bathing Suits
One of my fave LGBT-owned brands is CHROMAT, a high end swimwear brand known for architectural pieces. Founder, Becca McHaren-Tran, was having inclusive runway shows before journalists started caring about inclusive fashion!
CHROMAT pieces go up to a 3X, sometimes a 4X.
Shop here.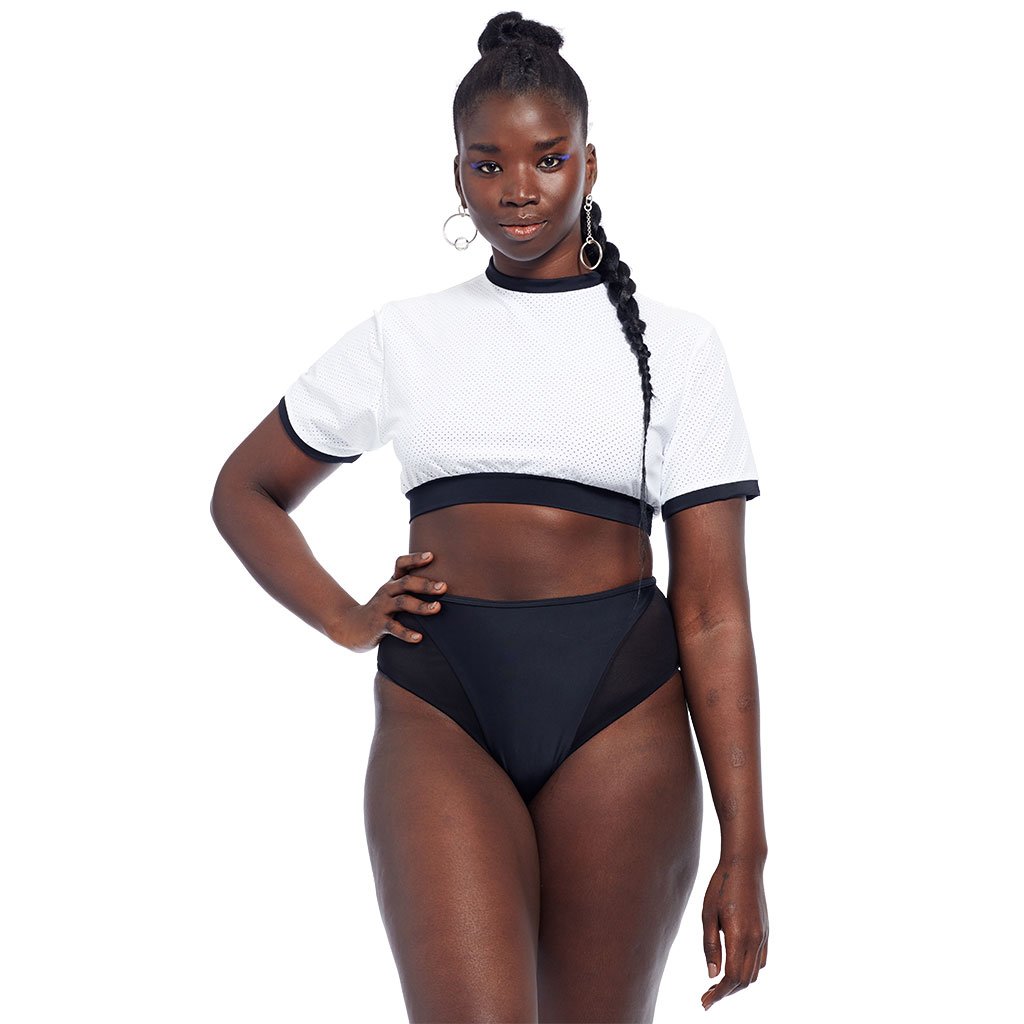 Brand #6: OUTPLAY Gender Neutral Swimsuits
I *just* learned of this brand, and I don't know where I've been! They specialize in gender neutral clothing, and have a TON of different swimsuit options.
From the brand: "Outplay is a company without gender but a lot of heart. We're a group of passionate humans who love clothes and we love having fun in them. We don't follow or conform to dictated fashion rules, just our gut and our comfort.
At Outplay we believe everyone should be able to feel and look great in what they wear. We don't think you should have to conform to only what has always been available even if its not really what you need or want. We are here to design and make that piece of clothing that fits just right, holds, hides, binds or shows exactly what you've always wanted to hold, hide, bind, or show."
Shop gender neutral swimsuits here!
Brand #7: Gender Neutral Swimsuits from Otherwild
Next up on our list is the Hirsuit from Othewild! This swimsuit is available in up to a size 4X.
From the brand: "Hirsuit Swim Simple is an androgynous swimsuit designed for a wide variety of bodies and gender expressions. Hirsuit fills the hole left by a limited and patriarchal notion of swimwear, made for people whose style choices fall outside of the fashion industry's antiquated assumptions regarding bodies, gender and identity. Inspired by early twentieth century swim costumes, wrestling uniforms and modern dance unitards, Hirsuit is here to change the game."
Shop here!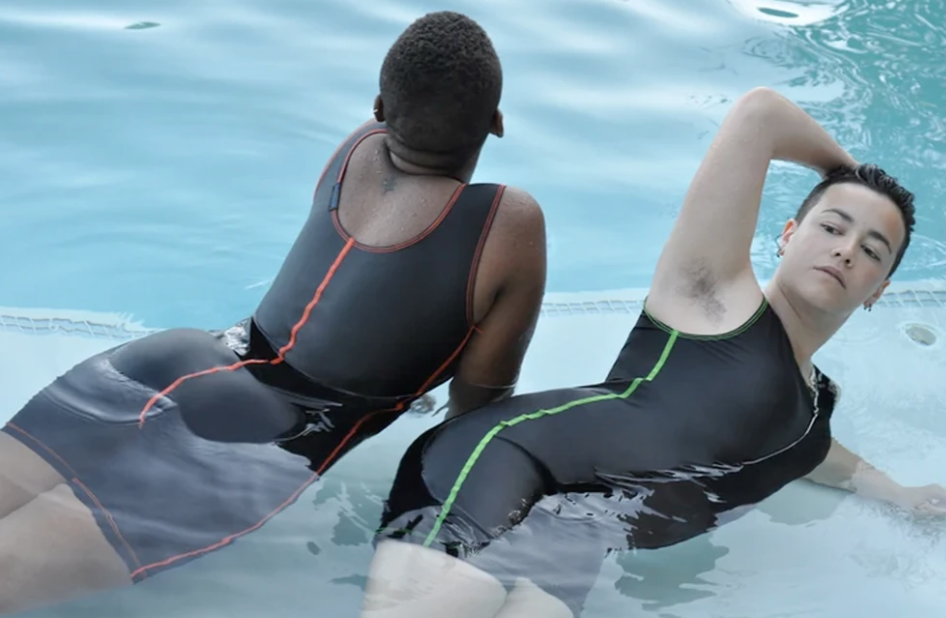 Brand #8: Origami Customs Gender Neutral Swimwear
Origami is a small and independent brand whose products can be worn in and out of the pool. Their size chart goes up to a 5X!
Shop here!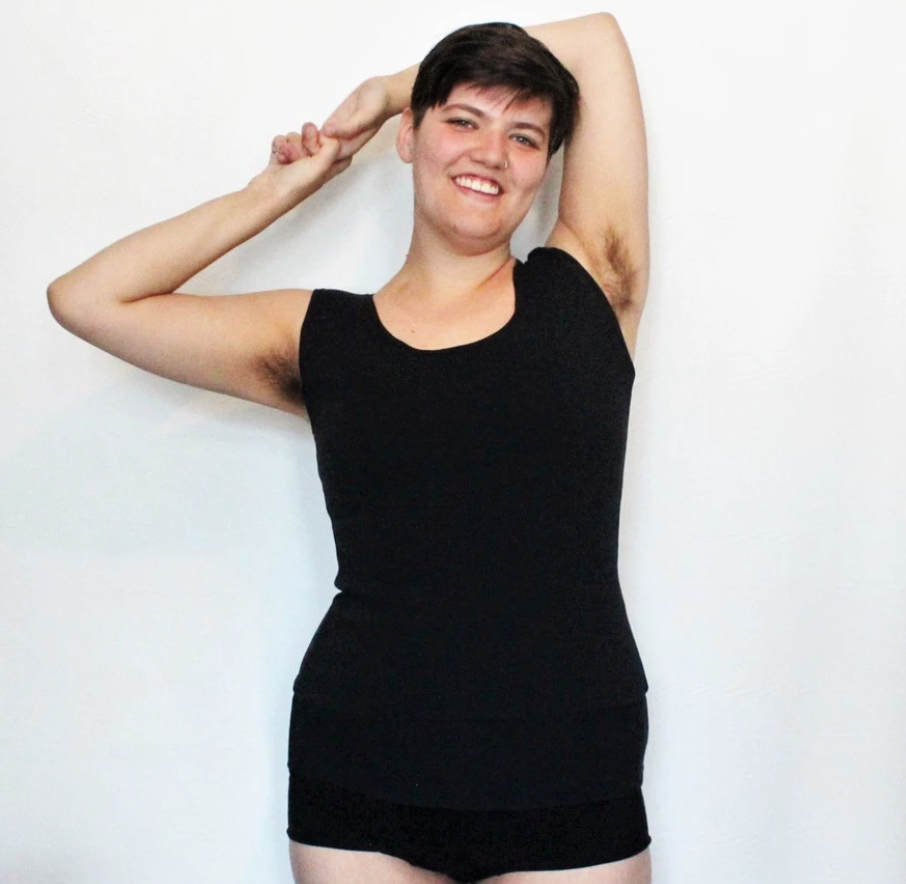 Want More LGBTQ+ Fashion Content?
Hey, I'm Brianne! I'm a queer femme blogger. You can hang with me here on the blog, on Instagram and on Twitter for feminist rants.
Here are some other blog posts that might be your jam:
Be sure to join me on social if you want more content like this! <3