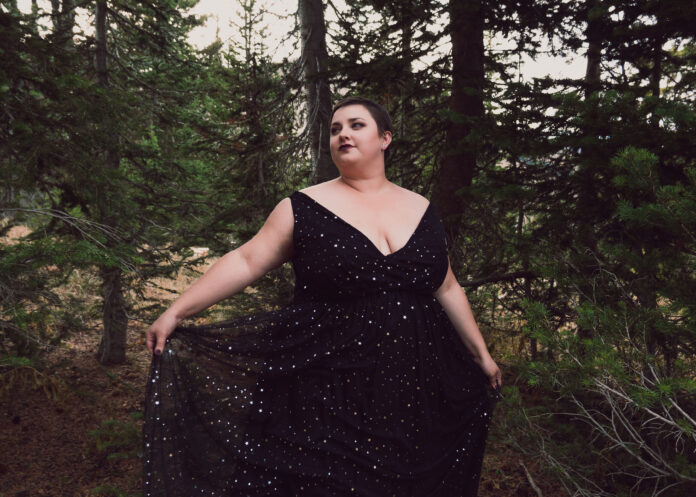 Hey there! This post contains affiliate links.  Using my links means I earn a commission, which helps me create more rad content.  More on affiliates here.
I first started fashion blogging as a way to 1) connect with other folks on this here planet and 2) gain needed skills for being a fashion professional. Learning about styling, modeling/posing, working with photographers and brands – it's been invaluable.
Little did you know, you've been hanging out with me as I build my own fashion curriculum!
I decided to "up my game," because I was feeling creatively stagnant. I used to pack 4-5 outfits, meet up with a photographer and shoot content. OOTD pics are fun (and I'll keep posting them), buuuuut I had gotten comfortable.
I realized it was time to involve makeup artists and other professionals, to begin really learning how to be a creative director AND pulling off more complicated photoshoots.
Enter: Hannah Caroline Couture
i have loved Hannah Caroline Couture (HCC) for a couple of years, and I really wanted to do a collaborative shoot with the brand. BUT, I also knew that businesses like HCC get a lot of inquiries from bloggers that go something like, "Love your work! Would you like to collab?"
-_-
This is pretty obnoxious, because the content creator just shows up expecting the brand to send $1,000+ pieces without an actual plan.
So, I made sure to have a plan!
Starting Off: Creative Brief FTW
I sent Hannah Nodskov (founder of Hannah Caroline Couture) a full on creative brief and proposal. I included the benefits the brand would get, mood boards, shot lists, etc etc. "There are a lot of straight size brides wearing black gowns all over Pinterest," I shared, "but no plus size brides! Let's takeover the internet!"
I sent off my proposal to HCC, and Hannah loved it! A photoshoot was born! I took the same creative brief to MUAs, photographers and florists
(Aside: If you'd like to learn how to work with brands as a content creator or blogger, be sure to check out my classes!)
Mood Board
I put together a few mood boards, and this is where we landed. (The third image is a collage of all inspiration images.)
Staying Focused – and Flexible
I really wanted to add a horse to the photoshoot (leveling UP!!), but I couldn't find a horse & handler to hire for the shoot. (But if you know of anyone in Utah that would be interested in doing this, call me beep me!!) I was bummed about this, but I knew that stalling the entire shoot for one element would be shortsighted.
I continued working closely with Hannah on imagery, and I also brought the following vendors to the project:
Sending proposals, times and tracking pickup/shipping dates was QUITE a task. There were SPREADSHEETS, people!!
Introducing: Hannah Caroline Couture
Now that I've shared some BTS, let's talk about the actual black plus size wedding gowns!!! In my brief, I sent Hannah some ideas for custom gowns to create, that included elements of her bridal collection.
We thought very carefully about fabrics, sleeve length, etc, to showcase designs we knew alternative brides would love! Hannah is so great to work with, and I can totally see how her brides are treated as VIPs.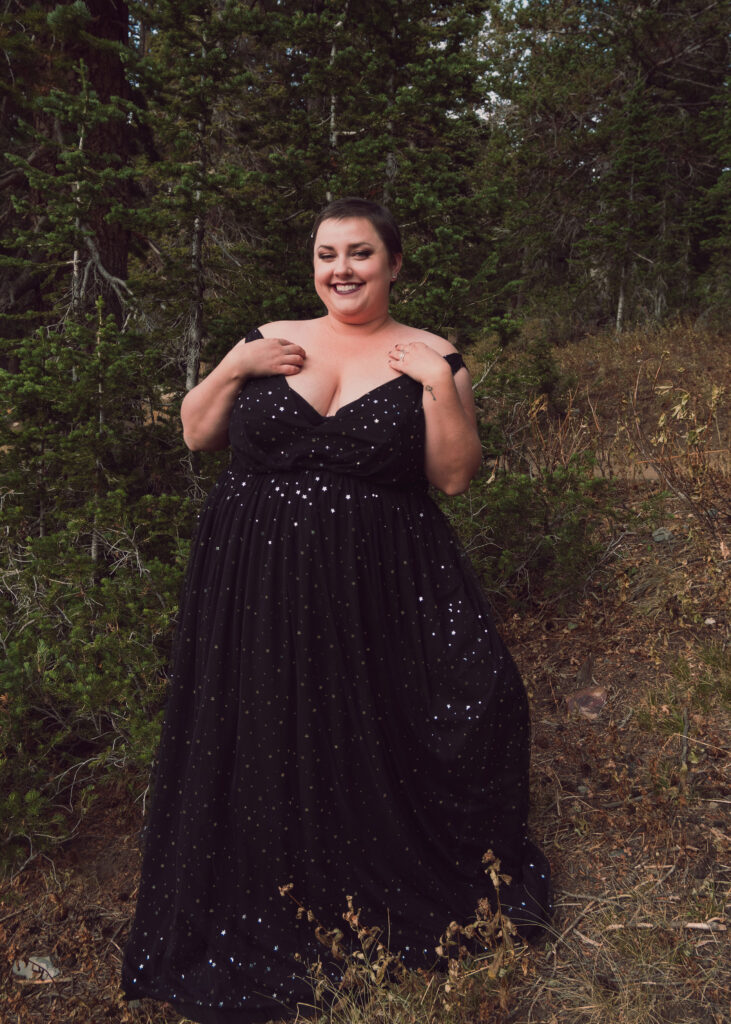 I've shared more about the brand below, as well as info on what it's like to design a custom gown with HCC:
About Hannah Caroline Couture
Hannah Caroline Couture designs custom bridal and formalwear for modern women of all sizes. They offer customizable designs and bespoke gowns to make sure that no woman should ever have to compromise on the garments she wears to life's most important events.
All gowns are MADE TO ORDER, so the fit perfectly. Many brides have found themselves spending more on alterations than the actual gown, but the cost of alterations is included in your HCC gown.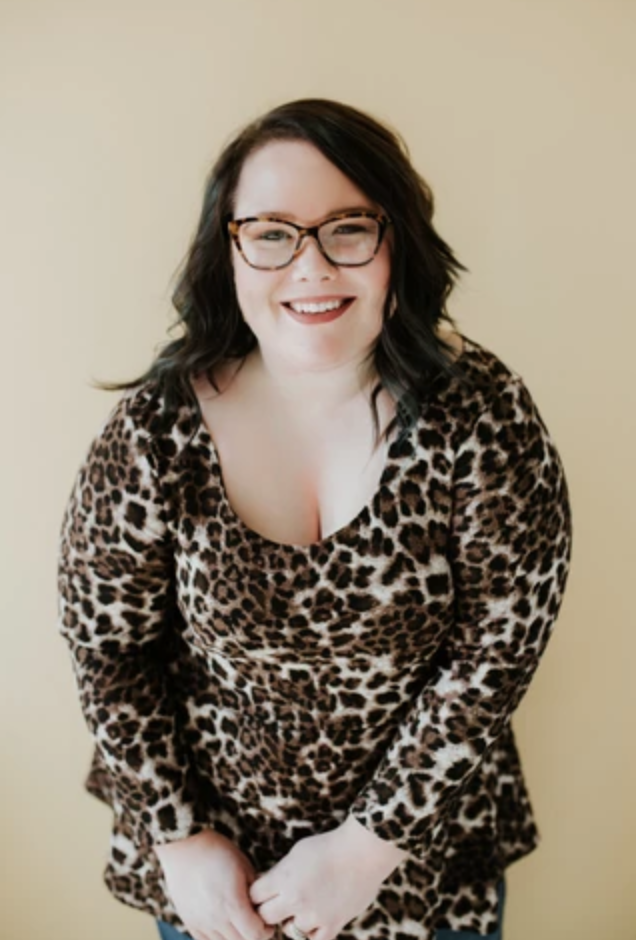 All wedding gowns are made ethically in the USA (woo Nebraska!), so you can feel great about supporting fair wages.
Learn more about the brand here.
Gown #1: Stargazer Gown
The Stargazer is a sleeveless A-line gown with a pleated bodice and slight train. See how it sparkles in the light? It's because its outler layer has made from celestial-inspired cutouts in foil on black mesh fabric, adding specks of light in the dress! (This would look beautiful during the day *AND* night. Brides will literally sparkle on the dance floor!)
It has a super soft peachskin lining, making it very easy to move around in. It's available in black, white and blush – with choices of gold, silver or combination foil stars!
But wait, there's more!!
I've included all the images of this photoshoot on my Pinterest board! Be sure to join me there to see all these gorgeous pictures!
Plus Size Custom Gown #2: Raven Gown
This plus size velvet gown was my FAVORITE. I felt like a beautiful queen or some other figure from a fantasy world in it!
The Raven is a long sleeve wrap-style gown with a high slit and intricate alencon lace trim around the hem and sleeve cuff. Made from comfortable and super soft stretch velvet, it's available in a wide variety of velvet colors and black, white or ivory lace trims.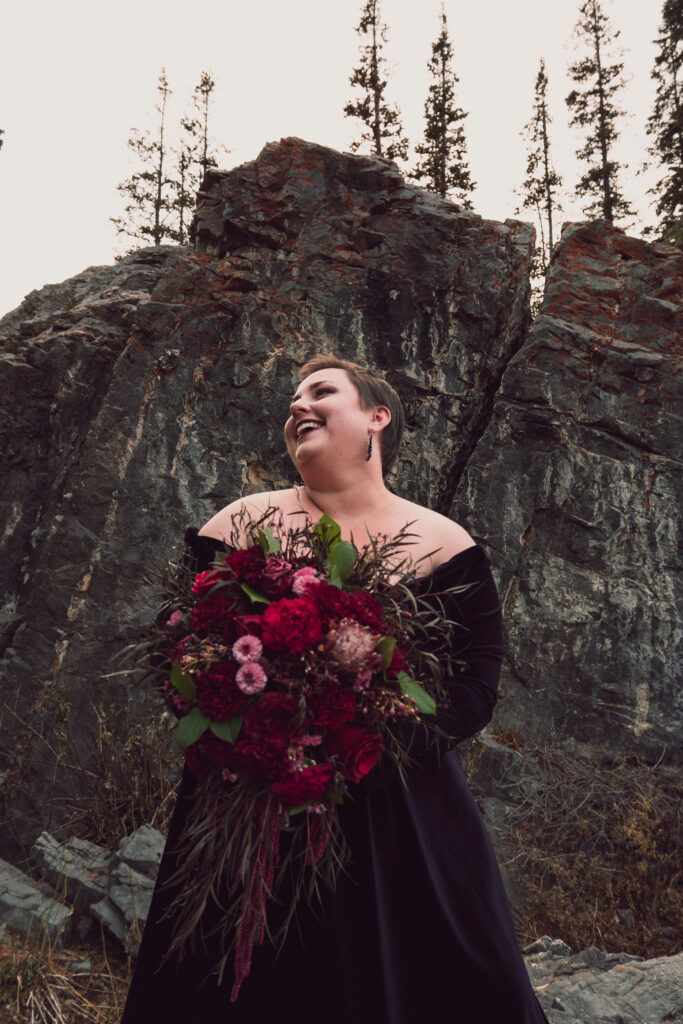 Detail Shots
On the left you can see how HCC has an opening in the sleeve to allow movement, and on the right you can see the lace on the train of the gown.
But wait, there's more!!
I've included all the images of this photoshoot on my Pinterest board! Be sure to join me there to see all these gorgeous pictures!
Audrey Rose Floral – Lehi, Utah
When I first reached out to Audrey, a florist in Lehi, Utah, I shared a few ideas. "I want this to be different – but still lovely – and I'd love for you to be able to do something you've wanted to do, but haven't been able to! Let's get a little out-of-the-box and weird on this one!"
Audrey immediately sent me ideas, and we ended up going with – wait for it – s FLORAL UMBRELLA.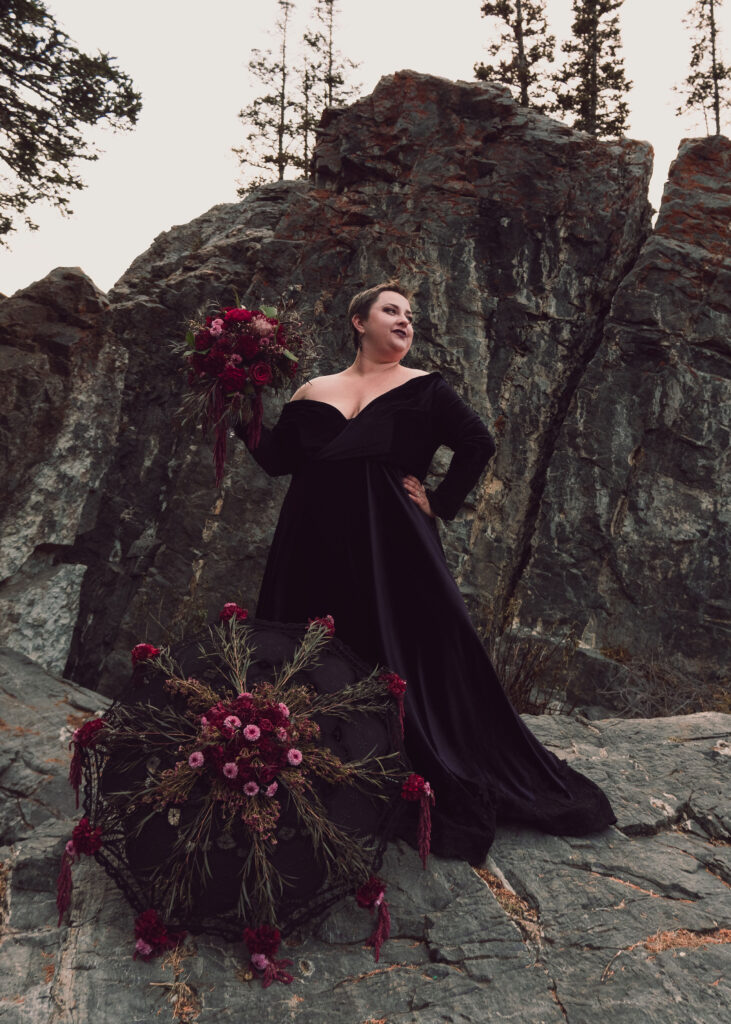 Audrey is a wonderful florist to work with! Check out more of her work here.
Spite & Sparrow Jewelry
If you're a long-time reader, you probably recognize this brand. Earlier this year, I interviewed Sparrow about her work as a thread witch, and the beautiful creations she makes!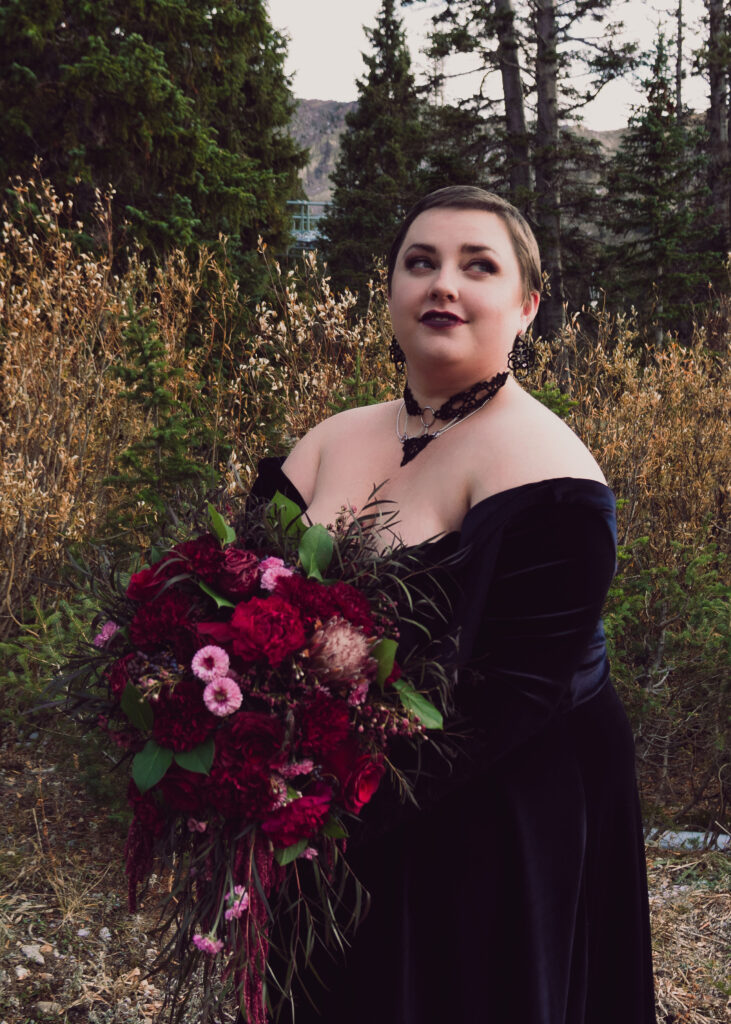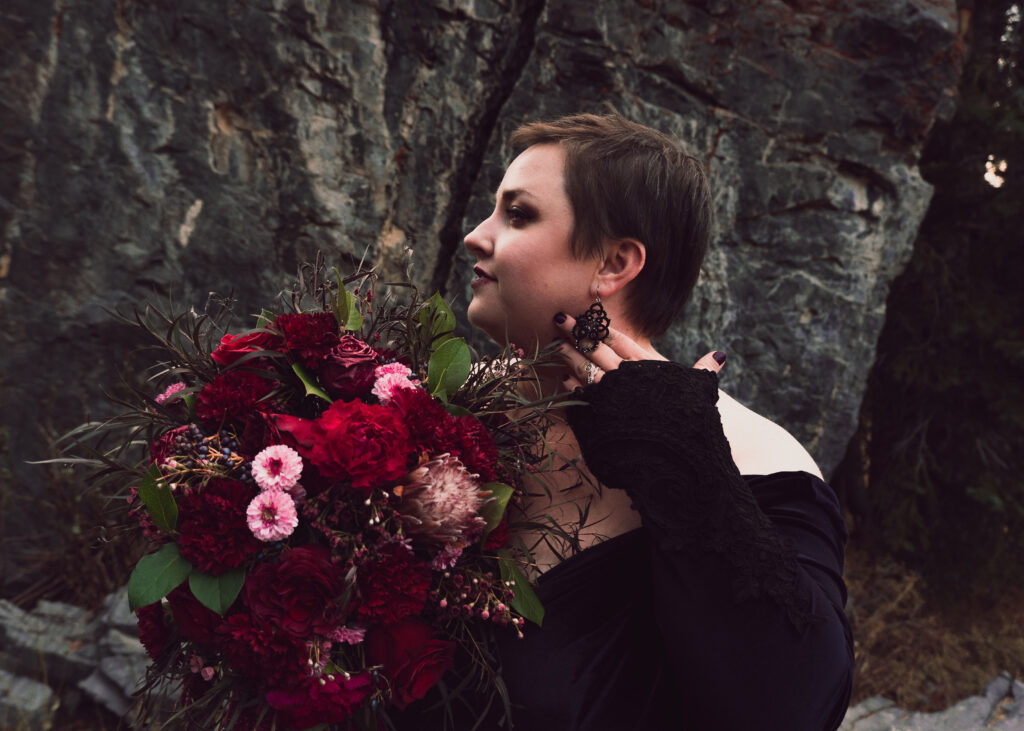 A Few More of My Favorite Shots!
All of the photos are on my Pinterest, but I just have to include these: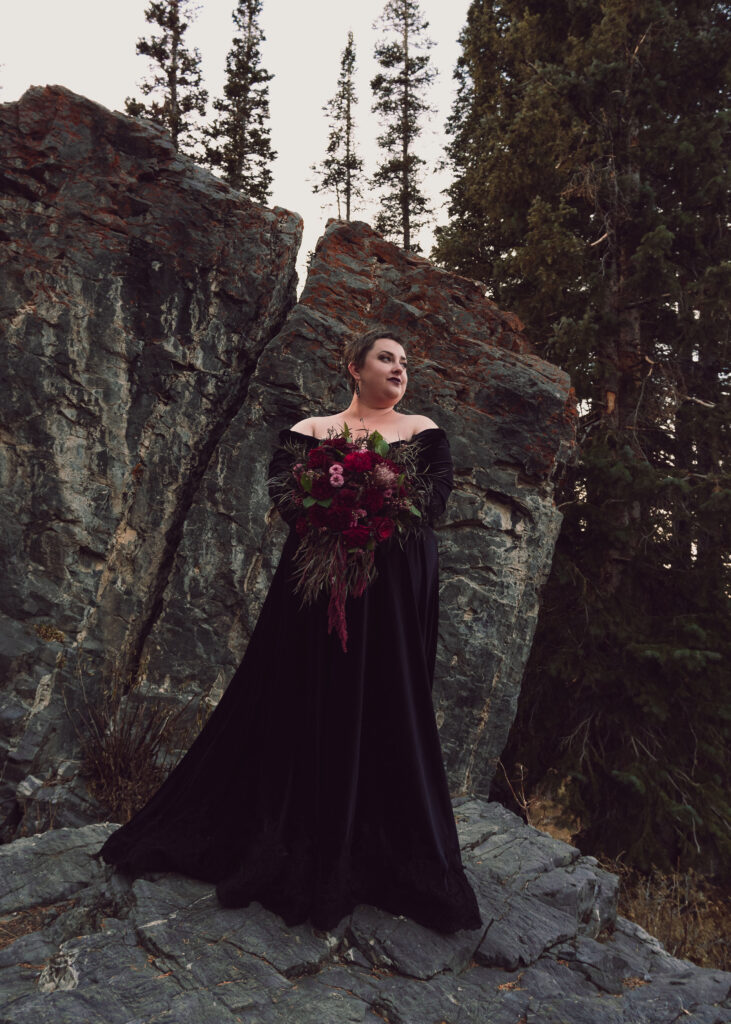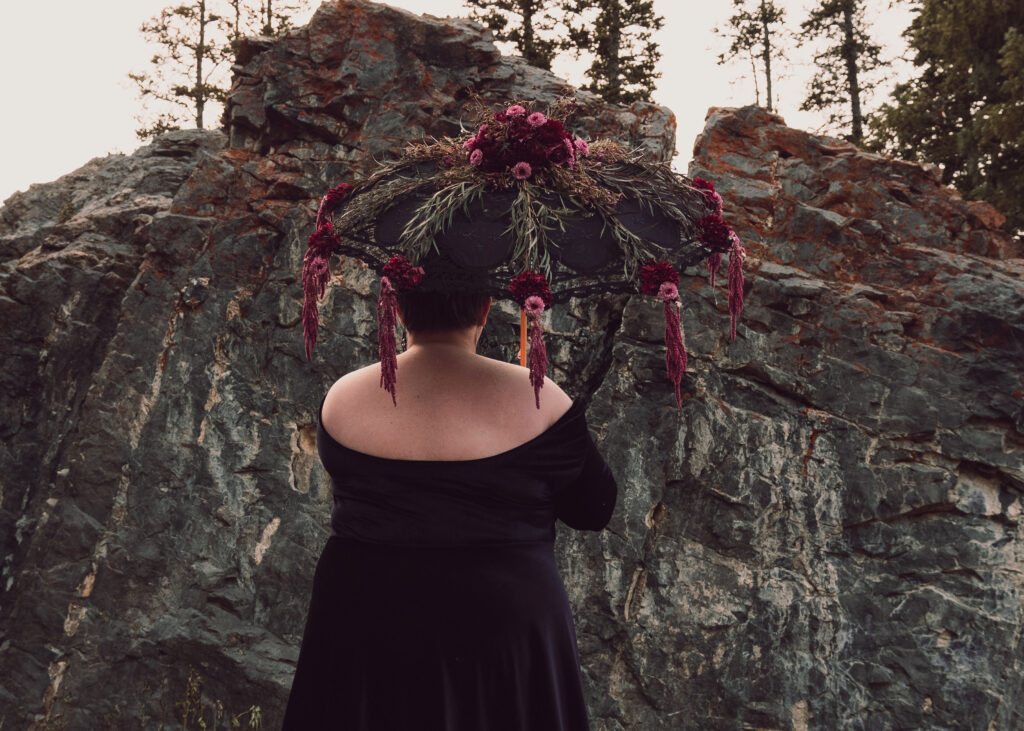 YouTube Video Coming Soon
Editorial images are lovely, but oftentimes brides need detailed shots on how the gown is constructed. Watch the YouTube video below to get an idea of fit and style for HCC!
Ready for a Custom Black Wedding Dress?
Hannah Caroline Couture is booking up quite quickly for 2020, so be sure to reach out and get your spot! Hannah Nodskov is very professional, and she doesn't use high pressure sales tactics (often found in bridal salons, cough). She also can create jumpsuits and pieces for other members of the wedding party!
Keep in Touch!
I share more editorial images on my Instagram, and you can stay in-the-know about up-and-coming brands by subscribing to my email list!