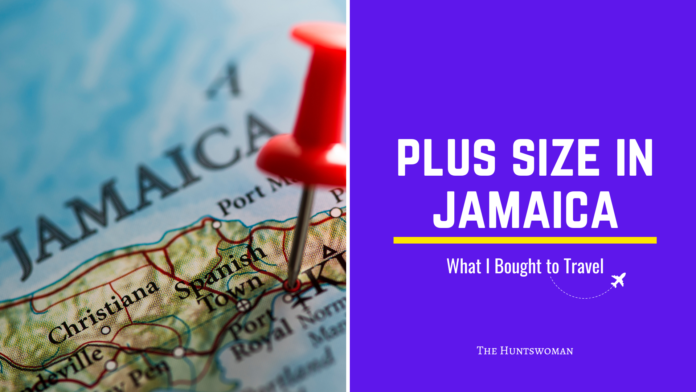 Hey there! This post contains affiliate links.  Using my links means I earn a commission, which helps me create more rad content.  More on affiliates here.
Hey friend! I just came in from getting a LOT of mail, as I did a whole BUNCH of online ordering for my trip to Jamaica next week.
Knowing what to pack can be pretty intimidating (I know I did a TON of research for this trip!), so I thought it would be helpful for me to share what I ordered for my trip to an all-inclusive resort in Jamaica!
This post is all about Plus Size Jamaica Packing List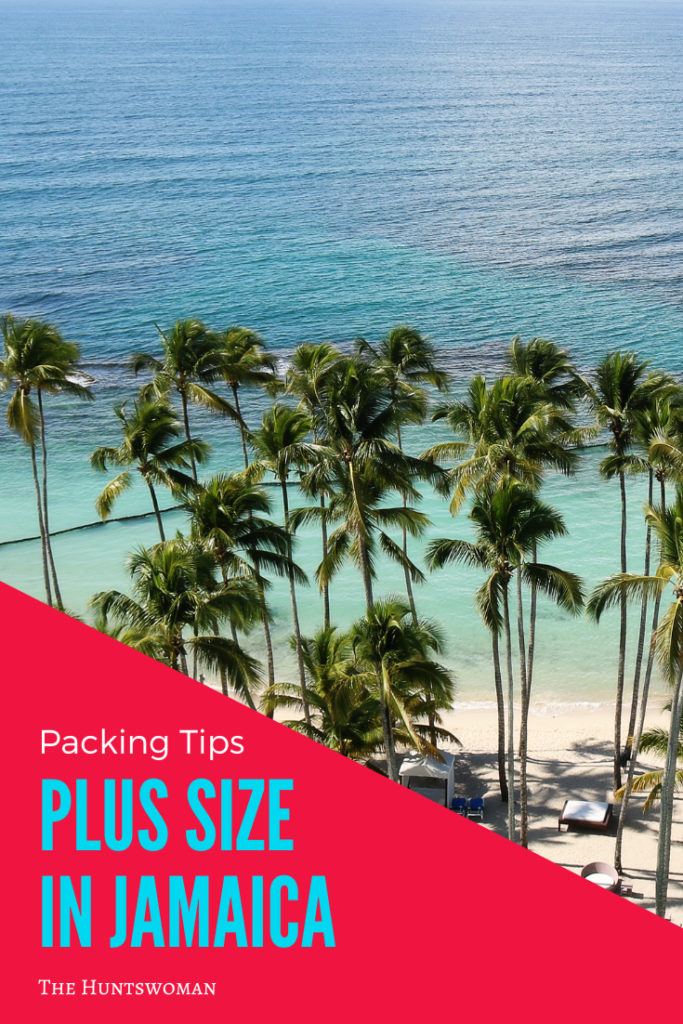 I'm going to an all-inclusive resort that's known for being super fun (rowdy, even), so not all of my items are going to make sense for YOUR trip! But, I did want to be super real with what I bought, lol.
When traveling, it's easy to get overwhelmed and BUY ALL THE THINGS or NONE OF THE THINGS, depending on how you respond to stress. My goal with this post is to help you better understand what I bought for my trip, whether or not I used it — and my advice for next time!
I've been wanting to do another photoshoot in a white swimsuit, so I looked over my own blog post on white one piece swimsuits and snagged this one. I literally have not opened it yet, so IDK if it will fit! Stay tuned for an update!
Check out this swimsuit for my Jamaica trip here!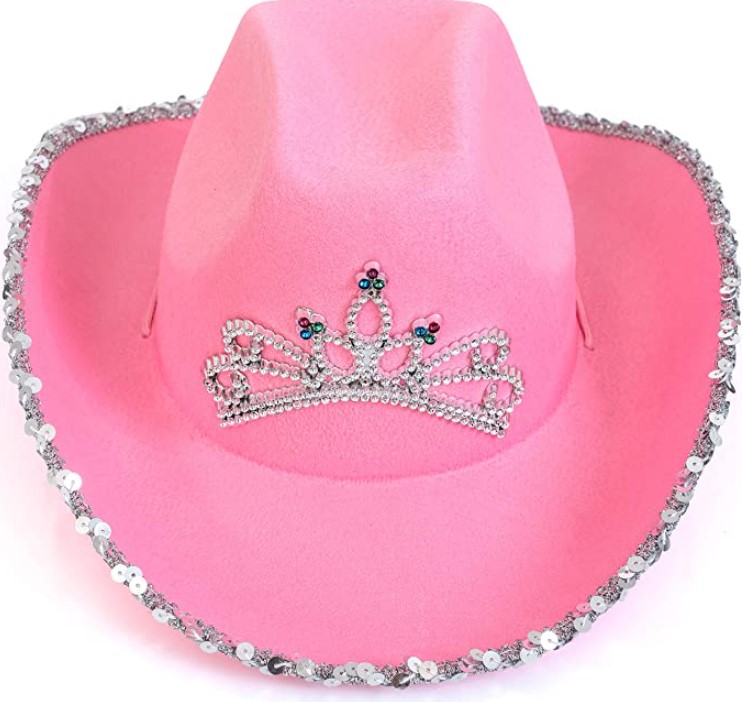 Listen, I've learned one of the BEST ways to have a blast is to bring the party with you! I got this pink light up cowgirl hat for my bestie, Elisabeth, for their birthday — and they use it all fo the time!
I knew I had to take it to Jamaica to use at the disco!! (AKA "dance club"!)
Update: This hat was SUPER fun and made a lot of new folks talk to me in the airport (I tied it to my bag), but it was WAYYYY too hot to wear in Jamaica! Def recommend a straw cowboy hat or something that lets the air in!
Snag this hat HERE!

Ok, bestie, while I DO love heels, I also learned from trip to Playa del Carmen in Mexico a few years ago NOT to wear heels in an all-inclusive resort, unless it's expected. It's easy to trip over a tree root, foliage, etc.
So, instead I decided to compromise and went with some sparkly sandals with a bit of a wedge. I was hoping for a faux leather wedge sandal, but shipping times were not on my side, lol. This works!
Update: These sandals were a GAME CHANGER for Jamaica! I loved wearing these around, especially to dinner for some extra bling. I went to a nice resort, but nothing that would require dressing in actual heels for dinner! 10/10 would recommend!
Shop these fun sparkly flip flop sandals here!
Ok, so I didn't know that this is a thing, until I started reading travel guides. Many all-inclusive resorts recommend bringing your own drink tumblr (basically, a mug with a lid and straw), to keep your drinks cold and covered. Plus, you can avoid breaking a glass!
I went with this bright pink color to make it easier to spot, and also, hopefully, make me a bit more memorable to people! 😉 In my blog post with tips on attending a business conference, I shared how I like to wear bright or bold accessories to be more rememberable — and now I'm doing a similar thing with my trip to Jamaica! 😀
Update: After a week of being used at the resort, my tumbler was all scratched up at the bottom! I recommend going for a tumbler that has a stainless steel bottom!
I went with this pink tumblr for my Jamaica trip!
I actually first saw this plus size dress on my blogger bestie's Amazon Store (Ready to Stare). Alysse went with the bright green dress, and I opted for a blue one! Jamaica is HOT, and my resort has a club/disco for dancing, so I think this will be really fun to wear!
Update: I had a blast wearing this at the resort, buuuuut it's probably a bit too see through on my size 24 self to wear IRL!
Shop this plus size Jamaica outfit here!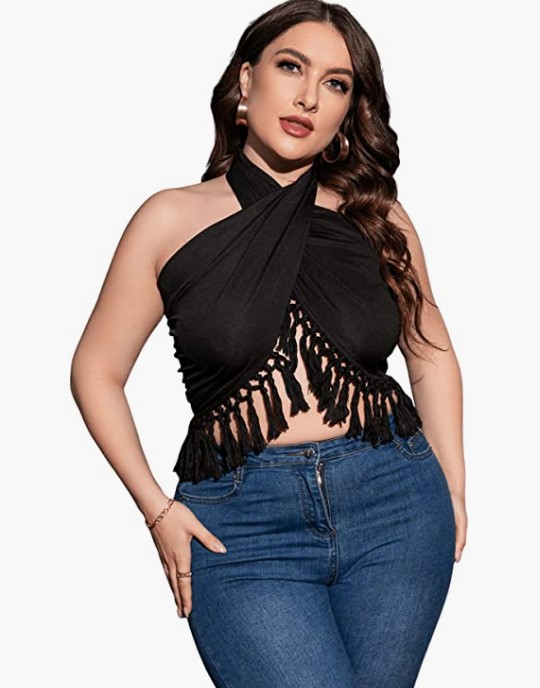 Ok, this is another item I snagged form Alysse's recs — I'm not sure if it will fit me (I'm an H cup), but I sure hope it will!! Jamaica is HOT and HUMID, and all the guides warned me against wearing a lot of layers.
Update: This top didn't fit my 54″ chest, but was super cute!
Shop this plus size top for Jamaica here!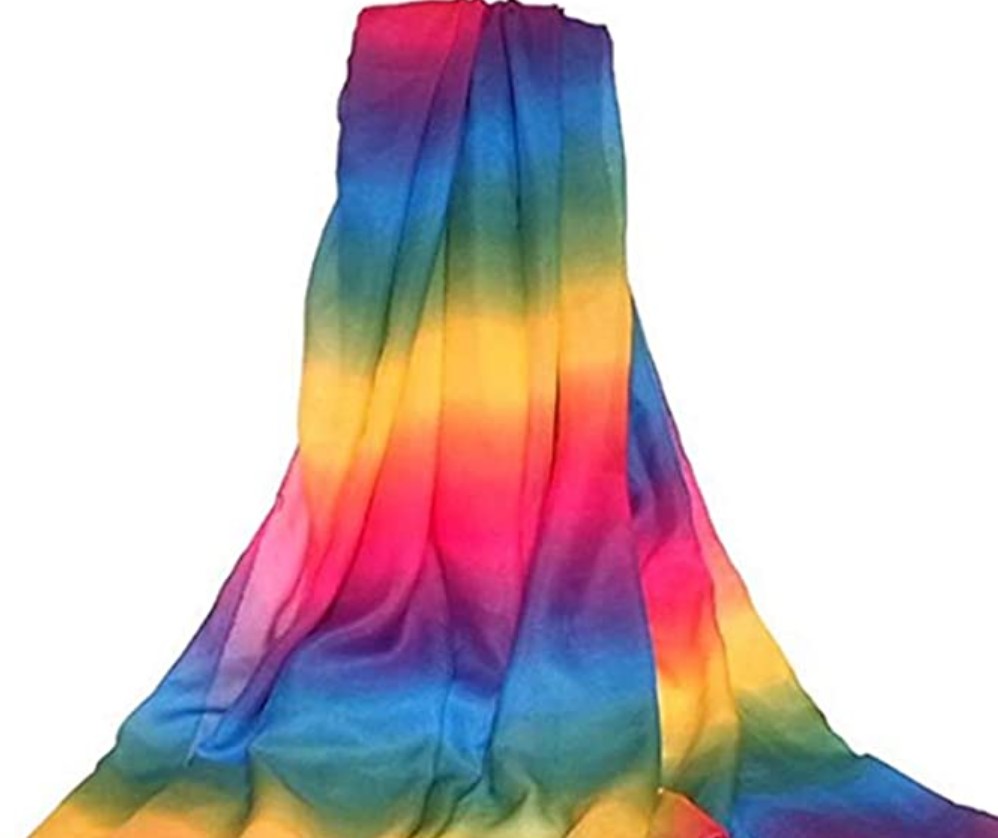 I wasn't sure about this rainbow sarong, but, again, I saw Alysse wearing it so I thought – why not?! I wanted a rainbow sarong, because I want folks to know I'm in the LGBT Mafia, lol. Who doesn't love a little vacation romance?!
ALSO! Looking at the measurements it's QUITE a lot of fabric, so stay tuned for a more in-depth review and photo!
Update: I FREAKING LOVED THIS SWIM COVER UP! 10/10 recommend. There's a TON of fabric, and I felt stoked to be able to tie it like a sarong! I was worried it wouldn't work out, but it totally did!
Snag this plus size sarong for Jamaica here!
#8 Item for Plus Size in Jamaica Packing List: Water Shoes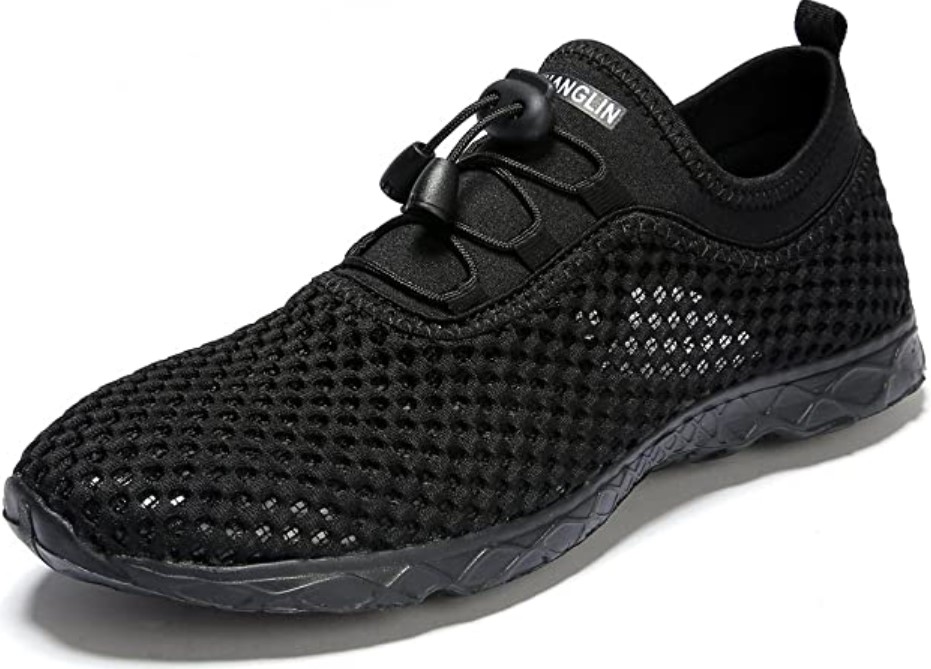 Water shoes are UGLY, and I am not a fan of the aesthetic. But, after wincing as I stepped over sharp rocks in Provincetown, Rhode Island, with my bestie, Kate, a few summers ago — they're a must!
I'm excited to be trying out these water shoes, because they look more like sneakers. I'm hoping I'll get a bit more wear out of them!
Update: I didn't go into the ocean enough times to really know how great these are, but they're lightweight! I'll probably end up returning these, as I just tried them on – didn't use them! (That said, I just didn't go into the ocean a lot! If you're going in the water in Jamaica, you NEED protection for your feet — sea urchins are in the water, as well as jellyfish!!)
Shop these water shoes here!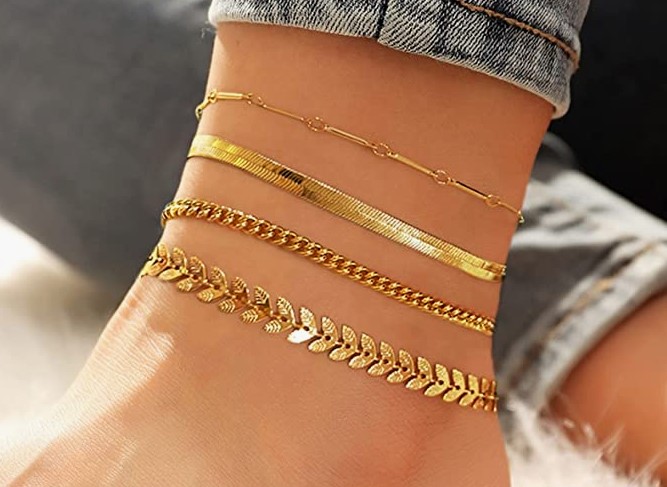 Ok, real talk, I haven't worn ankle bracelets since junior high — but I love how they look with a sarong or swimsuit cover up!
Update: These didn't come in time! Ugh! I'll be returning these.
Snag these ankle bracelets for Jamaica here!
From the resort website, I found that folks have a lot of fun with temporary tattoos, so I thought, "When in Rome — er Jamaica!" I snagged gold temporary tattoos because I think they'll look a bit better as they flake away due to the surf, sun and sand!
There are a TON of temporary tattoos in this set, which is great — sharing stuff like this is a great way to make new friends! <3
Update: Ended up not using these, as Jamaica is so hot and humid!
Check out these fun temporary tattoos here!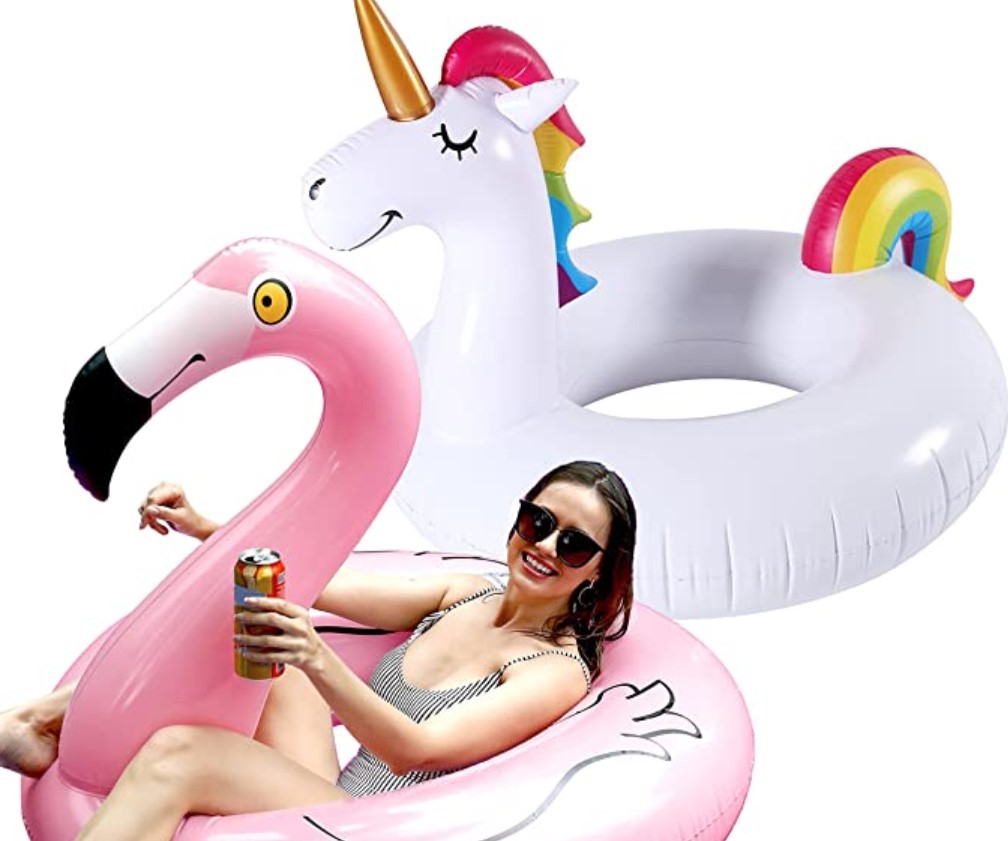 OKAY SO! Not all resorts in Jamaica (or anywhere, really) are okay with folks bringing pool floats. The resort I'm headed to encourages it! I snagged 2 pool floats instead of 1, because the price was similar. I figure I can make a friend by giving one away or have a backup!
Update: Ended up not using these! I thought way more people at the resort would have pool floats, but I was wrong! I'll be returning these.
Check out these pool floats here!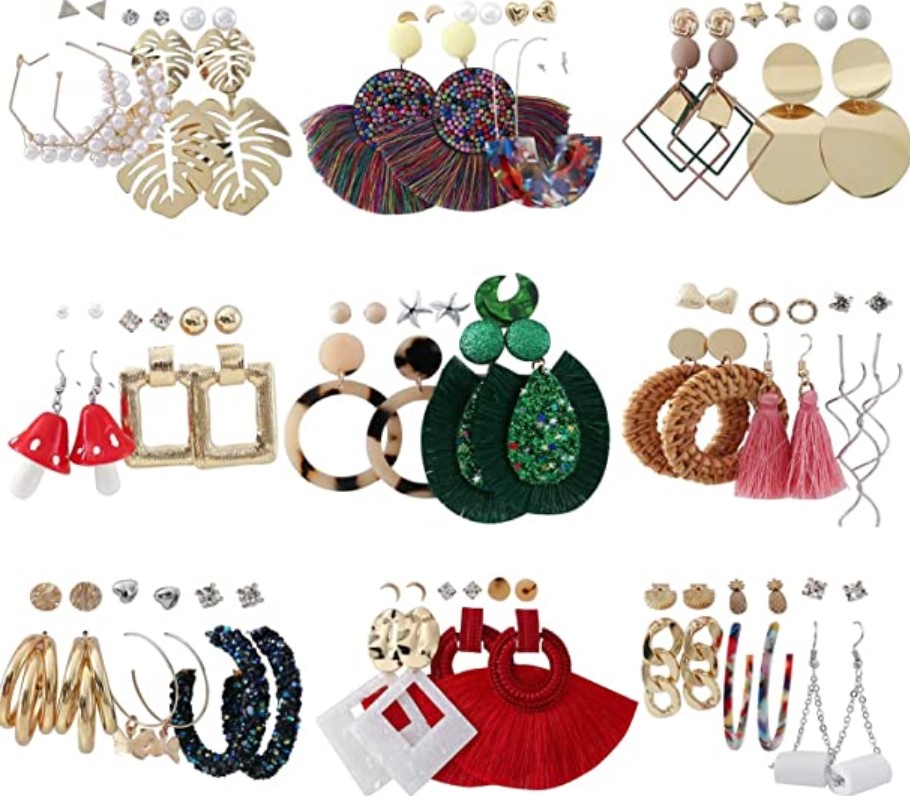 Hey, I'm a fashion designer and blogger – you know I need my accessories! Because I'll be hanging out in my swimsuit so much, I wanted to be sure to have EARRINGS that made a splash. (See what I did there?)
I love buying earring packs like this off of Amazon for my vacations and travel, because it's SO easy to misplace jewelry and earrings when you're having a blast. This way I get to have fun and not have a mini freak out when I realize I'm missing an earring, lol.
Update: These worked GREAT for a vacation! I had a blast picking out my earrings for daytime and night time, and I decided to leave a few packets of earrings for the housekeeping staff as a gift.
Shop this earring pack here!
What I Wish I Had Bought for Jamaica
Honestly, I wish I had bought more lightweight plus size rompers and swimsuit cover ups that were short dresses – not shrugs. I ended up wearing swimsuit cover ups to breakfast and lunch at the resort, and it would've been CLUTCH to have packed a romper or cover up dress for each day. I know that sounds like a lot of cover ups, but after you've sweated a lot in one outfit — you really don't want to wear it the next day, lololol.
This post was all about Plus Size Jamaica Packing List
What to Read Next
Did you have a blast reading about what I took to Jamaica, and what I ended up using? I'm so glad to help! Here are a few other travel posts I think you'll adore!
Join VIP!
Want more content like this? Then I recommend joining my fashion-focused email list is here! If you want to stay up-to-date on posts from The Huntswoman, I recommend joining me on your favorite social media platform (Facebook, Instagram or Twitter).
Finally, my business and career email list HERE!!
I have two email lists because folks have different interests! For lovers of this post, I recommend joining both lists and following me on Twitter, where I share a lot of blogger tips and info!