Hey there! This post contains affiliate links.  Using my links means I earn a commission, which helps me create more rad content.  More on affiliates here.
I travel to Portland, Oregon, at least a few times a year. Every time I go, my friend Suma tells me that we "REALLY NEED TO GO to Common Ground Bathhouse this time!!"
And on my most recent trip to Portland, Suma and I finally made it to Common Ground! If you've been curious about going to a bathhouse or visiting a bathhouse while being plus size // fat identified, this post is for you!
Because of the nature of the space, I didn't take pictures or selfies. Instead, I've pulled what photos I can find online, and I've shared my honest experience below! Heads up, I'm in no way affiliated with this organization, so be sure to check their website & rules before going! <3
This blog post is all about my review of Common Ground Bathhouse in Portland.
[Note: This blog post was originally published on December 8, 2019. It was last updated on August 8, 2023. Prices and rules may have been updated, so be sure to review the Common Grounds website for info, times and rates!]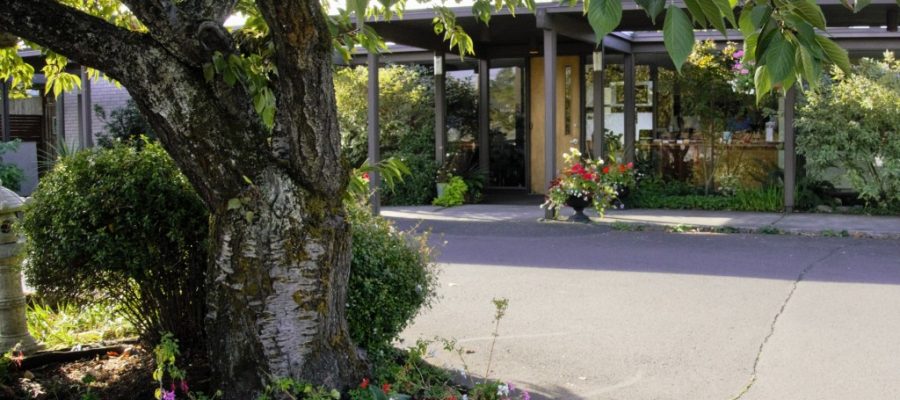 Common Ground Bathhouse in Portland
In this blog post, I hope to answer questions like:
Can I wear a swimming suit?
What etiquette do I need to be aware of for my first time?
What do I need to bring to the bathhouse?
Alright friend, let's get going!
What is Common Ground? (Common Ground Wellness Cooperative)
From their website: "The Common Ground Wellness Cooperative consists of hot tubs, sauna, massage therapists, and other practitioner services. It's a community-led space where people come together to focus on self-care."
The space has a rich history you can read about here, and I've shared some highlights from their website below:
Over twenty experienced healers with a longstanding commitment to the heart and soul of CGWC as a 30 year entity.
Great reputation- decades of visitors feeling comfortable, safe, relaxed, and respected- and telling us so in reviews.
Our Bathhouse Policies- Creating a culture of respect and consideration to model to our larger community.
Our eco-friendly space- Using the most natural cleaners, and pool maintenance systems that are good for people and the environment.
Supporting local businesses in our supplies and gift store.
Supporting fundraising causes of local organization.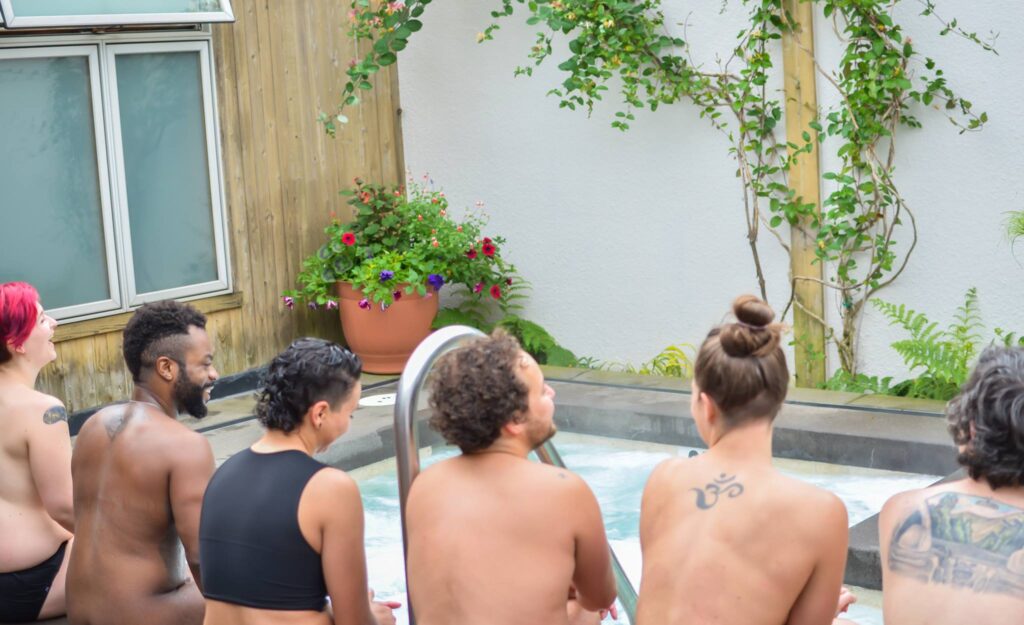 Quick Heads Up: Dedicated Session Times
Before I get into the review, I wanted to share that Common Ground has dedicated times for men, women, transgender and genderqueer people, and BIPoC.
To learn when these times are, click here.
Plus Size LGBT Bathhouse Experience
Okay, let's get to it!
Wait, no clothes on? Around Strangers?
Ok, I was pretty hesitant about going to the bathhouse, and honestlyyyy if my bestie Suma hadn't *raved* about it – I probably wouldn't have gone!
And what a missed opportunity!
The pools at Common Ground are communal, meaning people get them without clothes and enjoy the waters. It is not sexual, and the "staff at Common Ground set expectations and monitor to make sure everyone is comfortable."
I didn't get creepy vibes while there, and it was just a lovely experience. I think it helped that I went with a buddy, as I was almost never alone!If I had felt unsafe, I would've left and alerted a staff member. <3. I obviously can't vouch for the safeness of the space 24/7, and I hope my experience help you determine what you feel most comfortable and safe doing!
ALSO! You can also wear a swimsuit! I think there was 1-2 people [out of a few dozen] wearing swimsuits, so that's an option as well. It may be a good idea to bring a swimsuit just in case, and you can leave it in your locker if you feel comfortable!
Body Shaming at a Bathhouse?
Being plus size, I was pretty worried about going. But Suma assured me that it would be fine. They've been going to the bathhouse for years, and loved it.
And they were totally right! I didn't get side glances or sneers, which I was worried about.
Going to a Bathhouse for the First Time
So, if you're reading this it might be because you're going to Common Ground (or another LGBTQ+ friendly bathhouse) for the first time. I think a helpful play-by-play on what to expect would be helpful:
Checking In
Lockers
Showering Off
Bathhouse Pool
Sauna
What to Pack
#1: Check-In
We made our reservation online, parked onsite and checked in at the front desk. You can rent a towel for an additional fee.
Suma and I booked our session for "Silent Hour" where there is no talking. For an hour, the fee is $25 as non-members. (You can see soak prices here.)
I found the staff are very friendly and kind, so don't hesitate to ask questions!
#2: Lockers & Undress
From there, we went to the lockers where we undressed. We put our clothes/bags in a locker, which locked.
#3: Shower
We then showered off with the special soaps offered by Common Ground. Y'all, I was pretty nervous to be around nude people (woo conservative upbringing!!), but it was totally fine. People were walking around, and it was chill. No one raised their eyebrows at my body.
Honestly, people don't really engage in the space. Folks are were kind/self-aware, there's not a lot of interaction between people.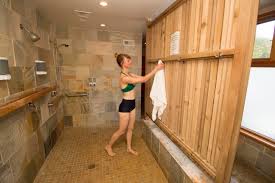 #4: Bathhouse Pool
From there, Suma and I went to the pool. Not a swimming pool, a spa pool. It was about the size of 5 backyard hot tubs. There are ledges to sit on, as well as jets.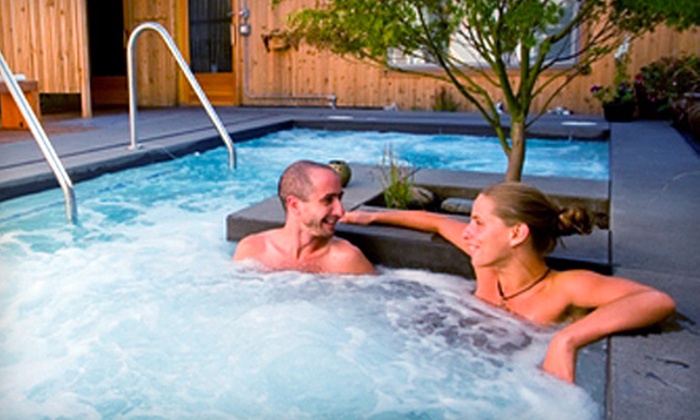 #5: Sauna at Common Grounds Bathhouse
I get pretty bad migraines that are triggered by heat, so I didn't go into the sauna. But other folks go in between the sauna and pool.
Folks went into the sauna for around 20+ minutes, then would come out to the cooler water.
At Common Grounds Bathhouse, there were water bottles all lined up outside the sauna, lol. It's important to stay hydrated!!
What to Pack for the Bathhouse
You don't need to bring a lot, but it's helpful to be prepared! Here's what I think you should bring:
Photo ID
Non-glass water bottle
Payment method
3-4 towels per person
Flip flops
Small tote bag to put everything in
Here's the page on their website about what to bring!
Bathhouse Tip: Towels
I say to bring multiple towels, because you're jumping in and out of various water sources, and it's nice to have a totally dry towel to use when you're all done. I'd bring 2 with you while you're taking the waters, and leave 2 in your locker.
Dresses FTW
Upon leaving, you're going to be relaxed – and wrestling with pants and clothes is kind of a pain. I'd recommend just wearing a dress // minimal clothing so you don't have to argue with your wardrobe. Steer clear of denim! <3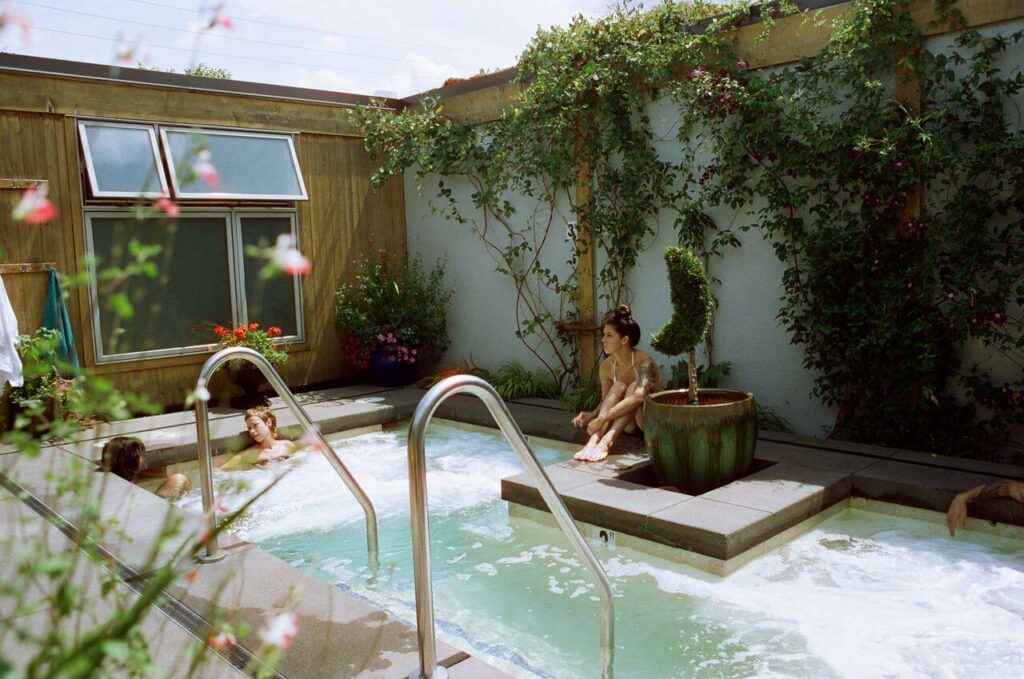 Still Unsure?
Common Ground has a really lovely energy (yes, I know how that sounds!), and I encourage you to go.
If you want more LGBTQ+ travel recs, be sure to subscribe to my email list  to keep in touch!
This blog post was all about my review of Common Ground Bathhouse in Portland.
What to read next —>
If you love travel recs, here's what to read next: