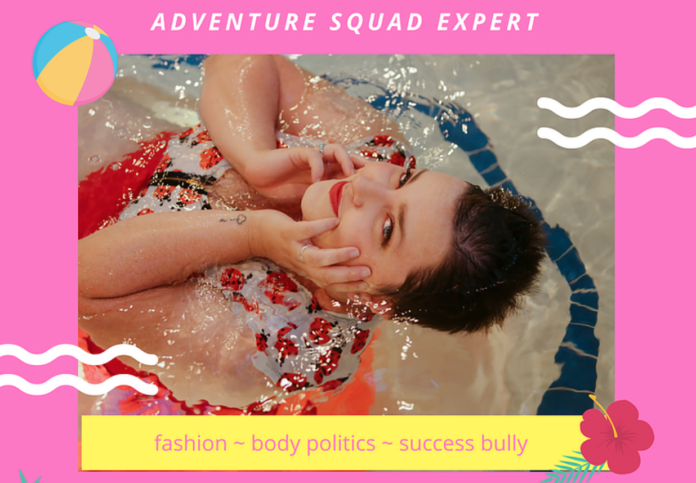 Hey there! This post contains affiliate links.  Using my links means I earn a commission, which helps me create more rad content.  More on affiliates here.
Hey babes!
Woah, May has been a BUSY month.  I was interviewed for 2 podcasts this month, and I'm also part of Kate Browns's "Show Up for Summer" Squad!
I'm stoked to have been invited by rad babes to contribute to their projects.  Below, I've shared a bit about each interview, with a link!!
Kate Browne is a body positive author, speaker and coach.  Her Show Up for Summer email series is designed to help people, "enjoy summer fun without the guilt, stress, and shame that comes with "bikini season."
The email series is FREE, and I'm a featured speaker for one of the weeks!  Kate and I talked about everything from getting out of your "fashion comfort zone" to how it's not your fault when clothes fit weird – it's the clothing design and manufacturing folks who messed up!  Sign up for the free email series here.
 << Are you a member of VIP?  I think you should be!  Join my fashion-focused email list here, and/or my business focused email list here! >>
This podcast was started by Ashontay Hubbard, founder and CEO of Christian Omeshun.  Ashontay started this podcast to help other Indie fashion designers and creators on their journey.  I spoke with Ashontay about influencer marketing (I'm a marketing consultant, which you can learn more about over here.)
On this episode, I talked about the power of influencer marketing – aaand the importance of paying influencers!  Listen to this episode by clicking here.
Founded by Shauna Armitage, The Making Moxie Podcast works to explore women entrepreneurs on the search for success, freedom, and passion in business.
Shauna interviewed me for episode 10, where I talked about sticking to your truth and being "gay all over the internet."  Listen in if you're looking for insights on developing YOUR personal brand.  Listen to the episode by clicking here.
Are you looking for badass babes to interview for your podcast or are you looking for a speaker to come talk about marketing, product design or being a badass boss babe?  Drop me a line here!
What to Read Next
If you're looking for more baddie business content and reviews from me, here are a few posts – in different topic areas – to check out!  If you see one post that you vibe with, be sure to scroll to the bottom to catch other posts on that topic!
TY for reading!
If you want to stay connected I recommend joining me on your favorite social media platform (Instagram, TikTok & Twitter).
More of an email kind of person?  Subscribe to my fashion-focused email list here, and/or my business focused email list here!