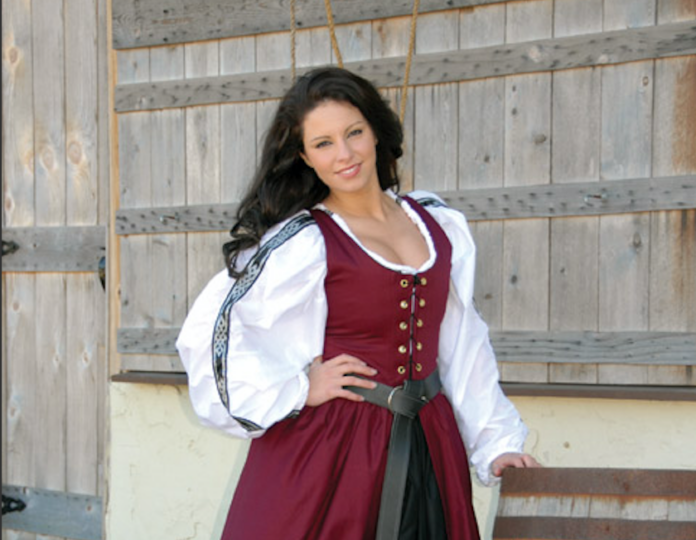 Hey there! This post contains affiliate links.  Using my links means I earn a commission, which helps me create more rad content.  More on affiliates here.
I get a lot of questions about where to find specific plus size clothing garments, from unique plus size wedding gowns to plus size cosplay costumes!
I love when readers ask for resources like this, which is why TODAY I'm sharing some of my favorite brands to get renaissance and period costumes from. I'm a huge Jane Austen nerd, and we all love a regency gown!!
[Heads up! This post uses affiliate links, and you help me earn $$ when you use my links. More on affiliate links here!]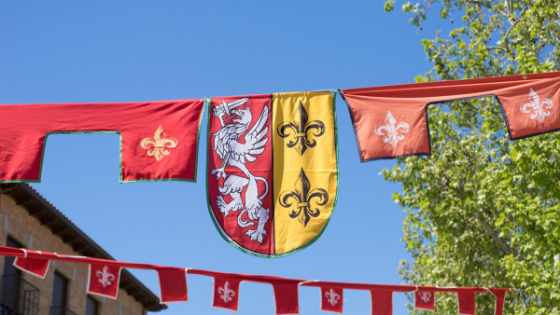 Where to Buy Plus Size Renaissance & Period Costumes
Note: When purchasing a renaissance gown (or any costume!), I recommend that you prioritize purchasing a higher quality and more expensive item. This item will last you longer, and generally a higher price reflects the time and effort a craftsperson puts into.
Put another way, put away the tacky Halloween costume that's $20! It's not going to fit well!!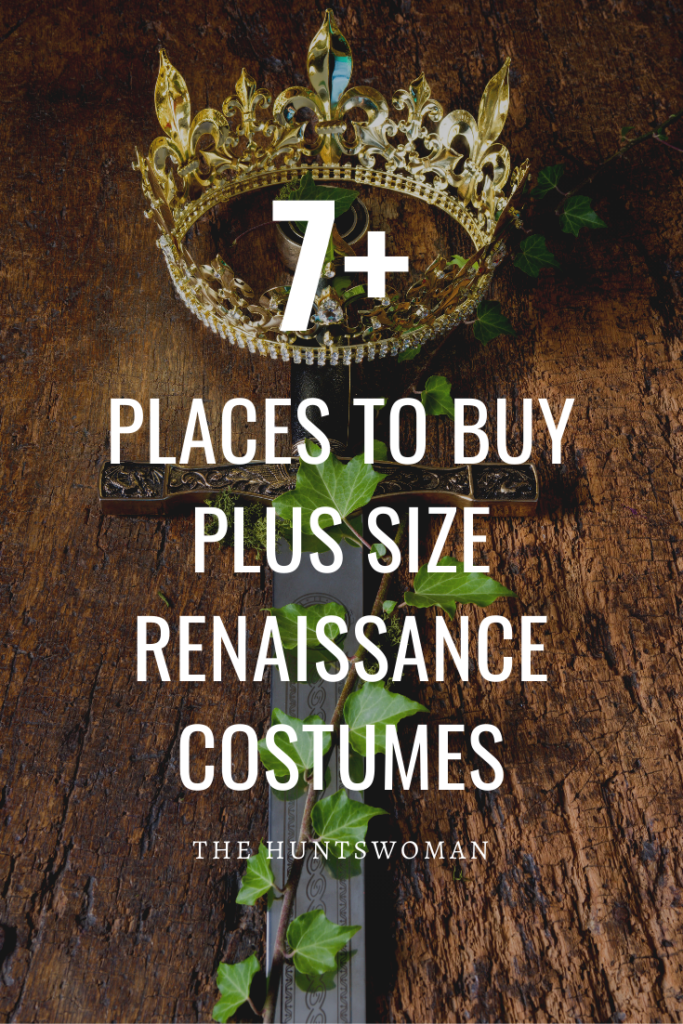 Brand #1: Plus Size Renaissance Costumes from Designs from Time – Renaissance Tudor Queen ($1,000+)
Looking for an intricate and high quality plus size renaissance costume? Costume-maker Designs From Time has a gorgeous tudor renaissance queen costume, available here!
Shop here!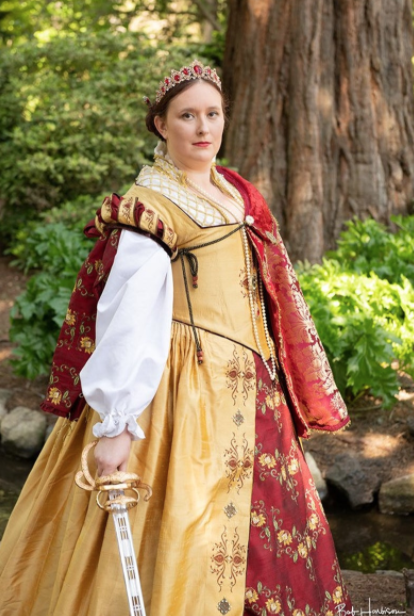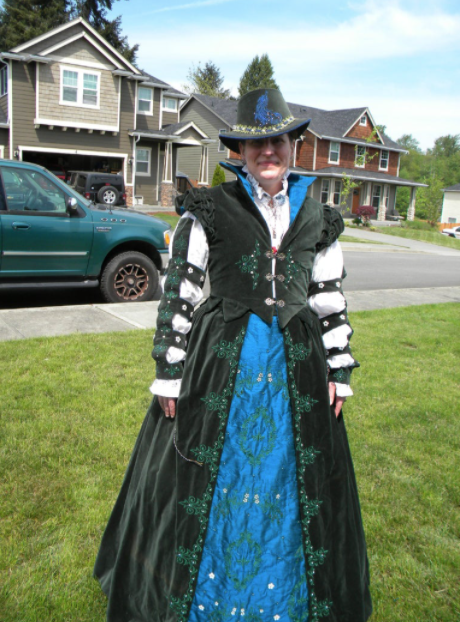 There are various characters one can be at a renaissance fair, and this renaissance peasant dress is a great piece for someone just starting to build their closet of costumes! It's a great piece to wear solo, and you can layer it up as you develop your character!
Available in up to a 5X, shop here.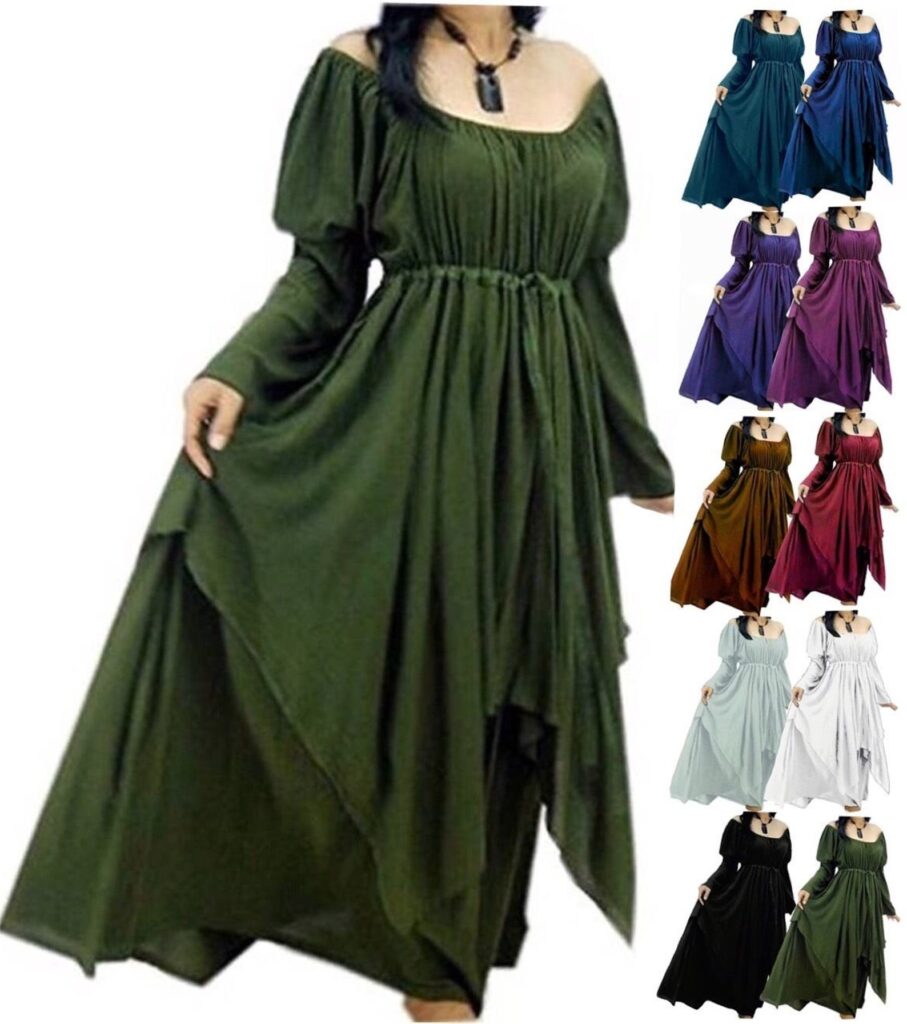 One of the most size inclusive costumers I've found is Artemisia Clothing! This gorgeous purple renaissance gown comes in up to a 5X!
From the brand: "ArtemisiaDesignsCo is your online source for luxurious specialty apparel and costumes.
Our shop grew out of a love for color, costuming, history, and dance. Here, you can browse our specialty apparel, the kind not often to be found at local department stores and neighborhood boutiques. From luxurious velvet gowns to whimsical men's historical costumes, we hope the pieces we sell in our shop evoke images of mysterious beauty, ages and legends past, and the magic of nature, love, luxury, and lore."
Shop plus size renaissance costumes here.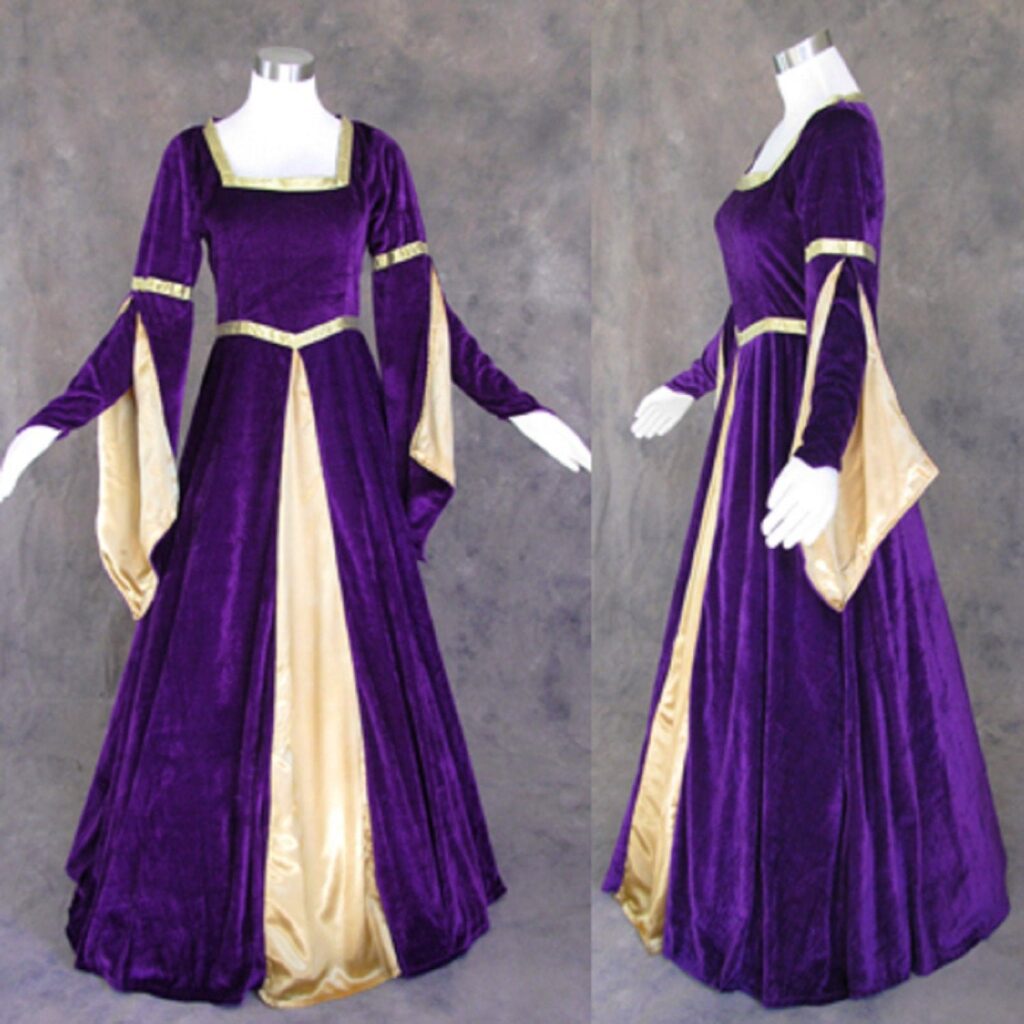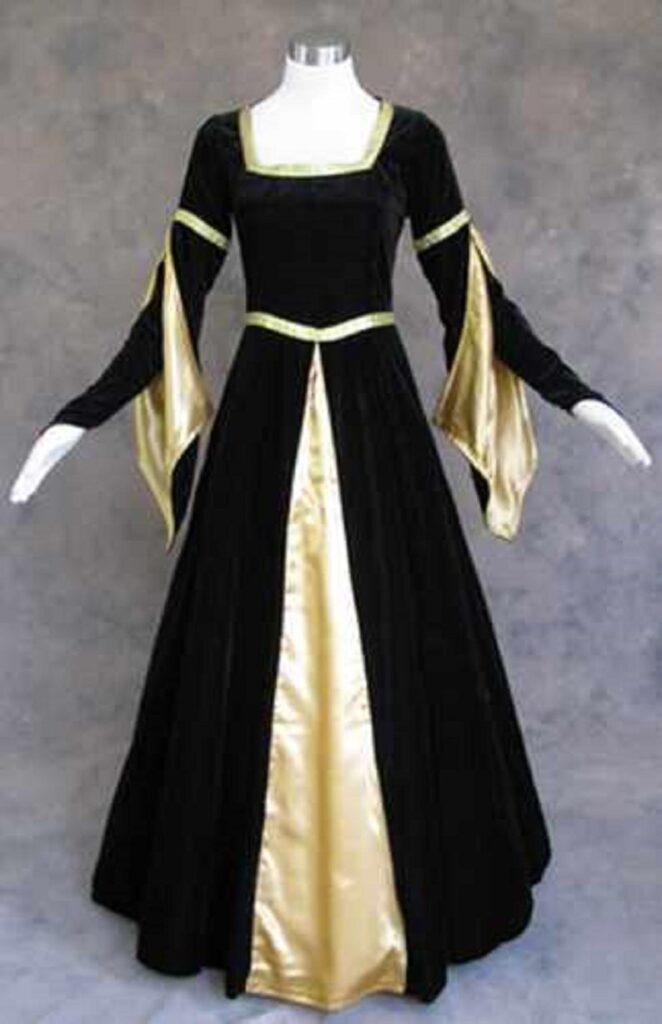 Looking for something more like what a peasant or adventurer would wear? This costume is available in up to a 4X!
From the brand: "Spice it up in this three piece bodice, skirt, and chemise outfit–perfect for the Renaissance wench, pirate lady, or simply the lovely peasant maiden. It comes with a very full, long BLACK bell skirt, a hip-length, puffy-sleeved white chemise, and an alternating Black with gold Fleur de Lis pattern and plain black paneled bodice with boning for support."
Shop here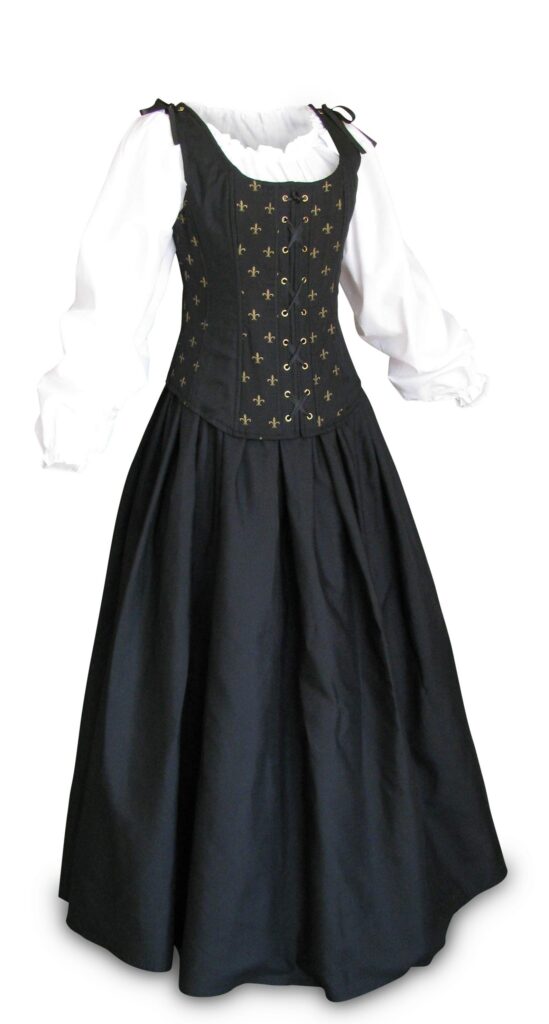 For the purists among us who want a costume that uses more natural fibers is History Inspirations!
This white skirt is layered over another skirt, giving it the period effect!
The shop lists going up to a 5X!
Shop this plus size renaissance costume here.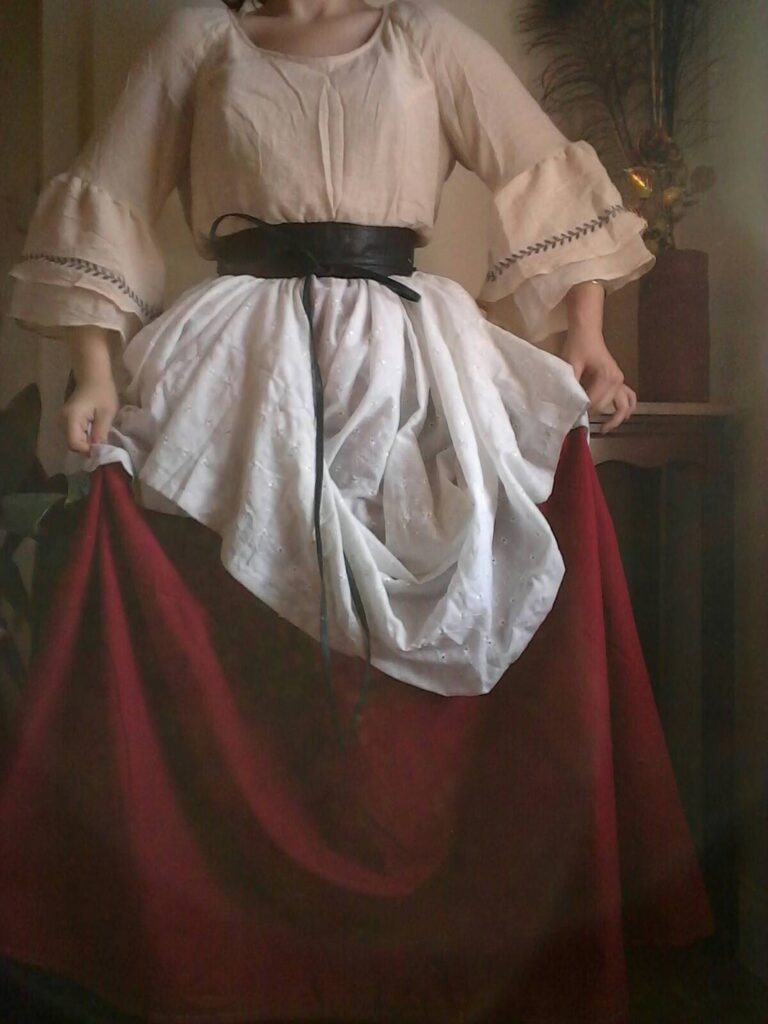 This plus size renaissance outfit has all the pieces pictured, including:
Peasant Chemise blouse top,
Corset Belt
Skirt
Choker
The skirt is available in green, purple, black, or teal! Costume fits up to a 48″ waist.
Shop here!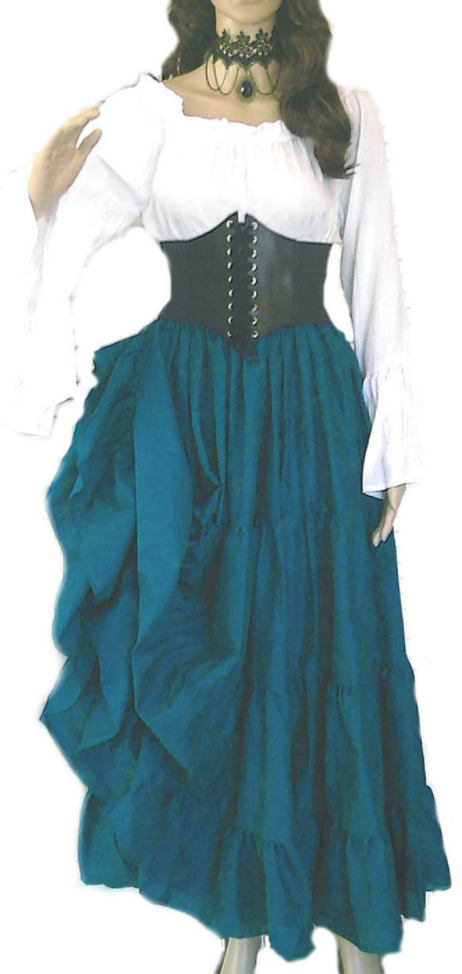 One of my favorite period costumes and plus size steampunk costumers on the internet is Silver Leaf Costumes! You'll be able to get a lot of wear out of one of their renaissance costumes, repurposing various pieces for other costume parties and Halloween!
Shop here!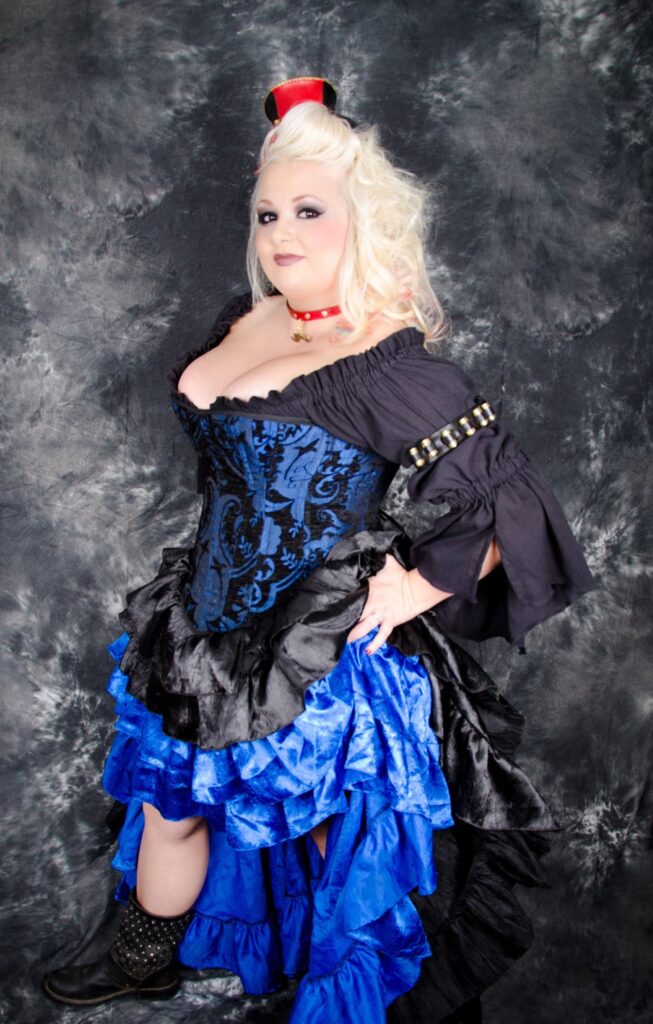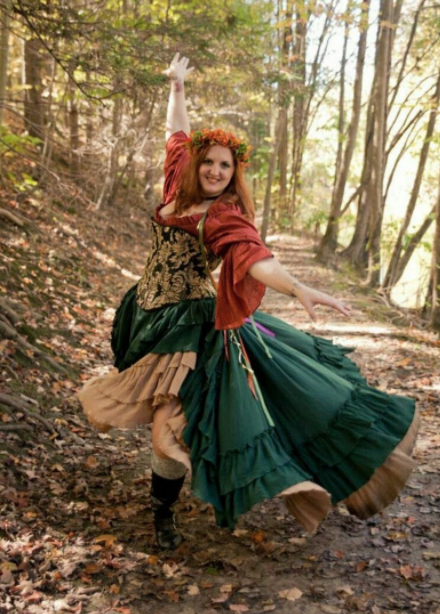 This shop is currently on break, but they have a lovely assortment of renaissance costumes and gowns!
Check if they're back here!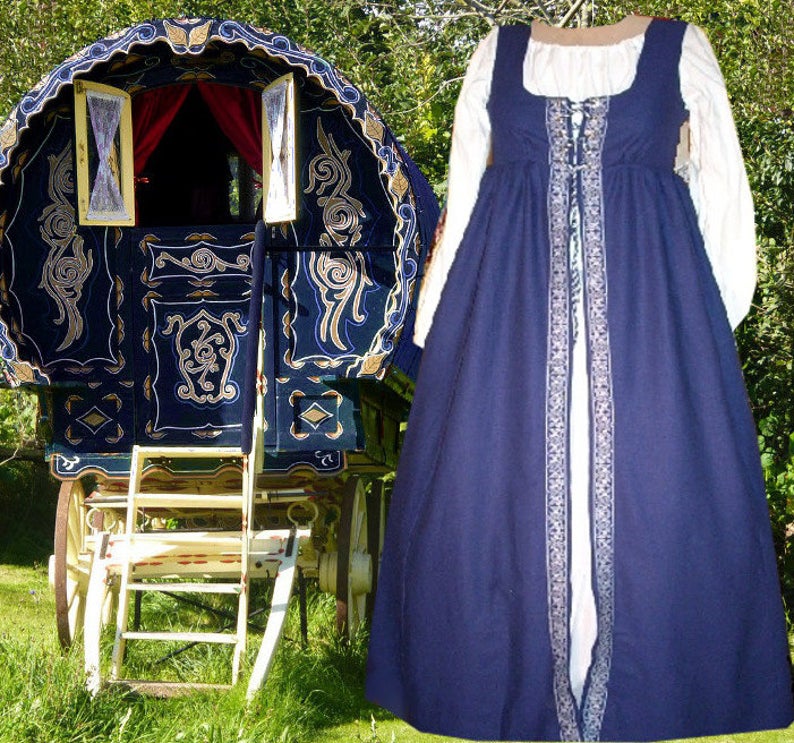 Brand #9: Renfaire Shoppe | Waist Sizes Noted!
It can be frustrating to sort through all of the renaissance fair options out there, but RenFaire has conviently listed the waist sizes on all their gowns!
(Need a measuring tape to figur out your size? This one is my fave!)
Plus Size Medieval Longdress – Up to 59 inch waist ($135 USD)
Shop here!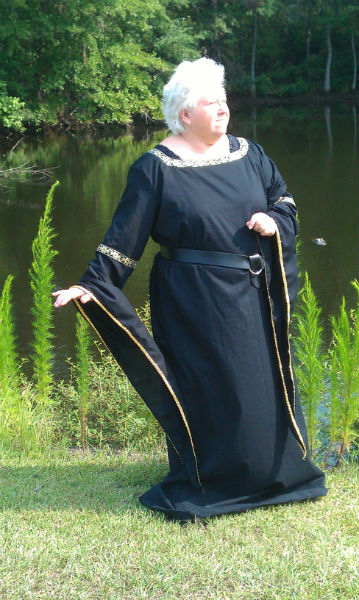 Plus Size Celtic Dress – Up to 55 inch waist ($210 USD)
Shop here!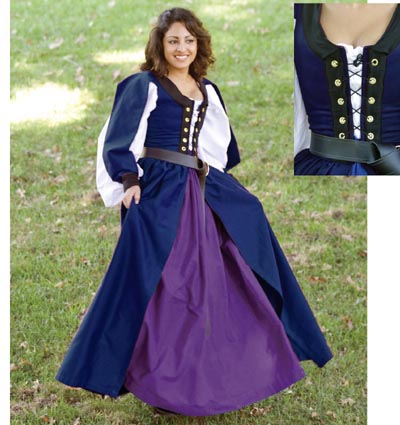 Plus Size Irish Renaissance Dress – Up to 55 inch waist ($165 USD)
Shop here!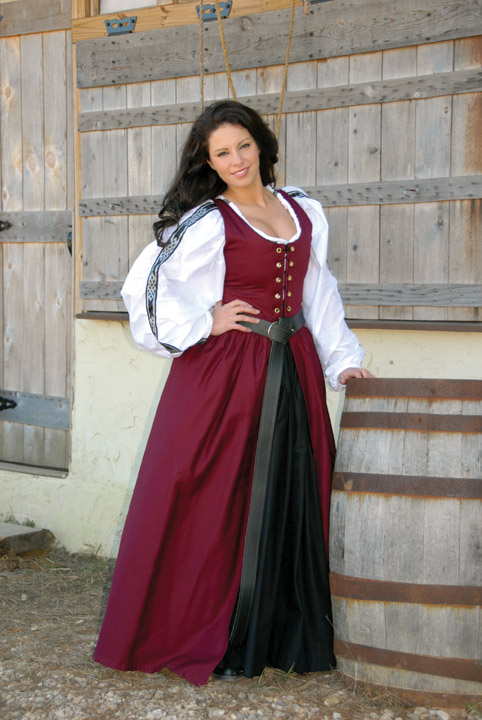 From Pearson's Renaissance Shoppe: "This Renaissance dress with trumpet sleeves is brilliantly noble. The impressive contrast between the keynote and the shimmering skirt panel made of damask will be the focus of attention in any ballroom or great hall. Made of the same golden damask, the bodice insert is decorated with rhinestones and shaped like a triangle to emphasize the vertical lines of the dress.
The rounded dagges at the waist are edged with silver trim. In combination with the trumpet sleeves, they break the severity of the dress. The upper sleeves are made of velvet and below the rich golden trim, the lower sleeves flare out in matching satin. This Renaissance dress also has a modest train and lacing at the back – including a modesty panel. A fine example of historical elegance."
Shop here!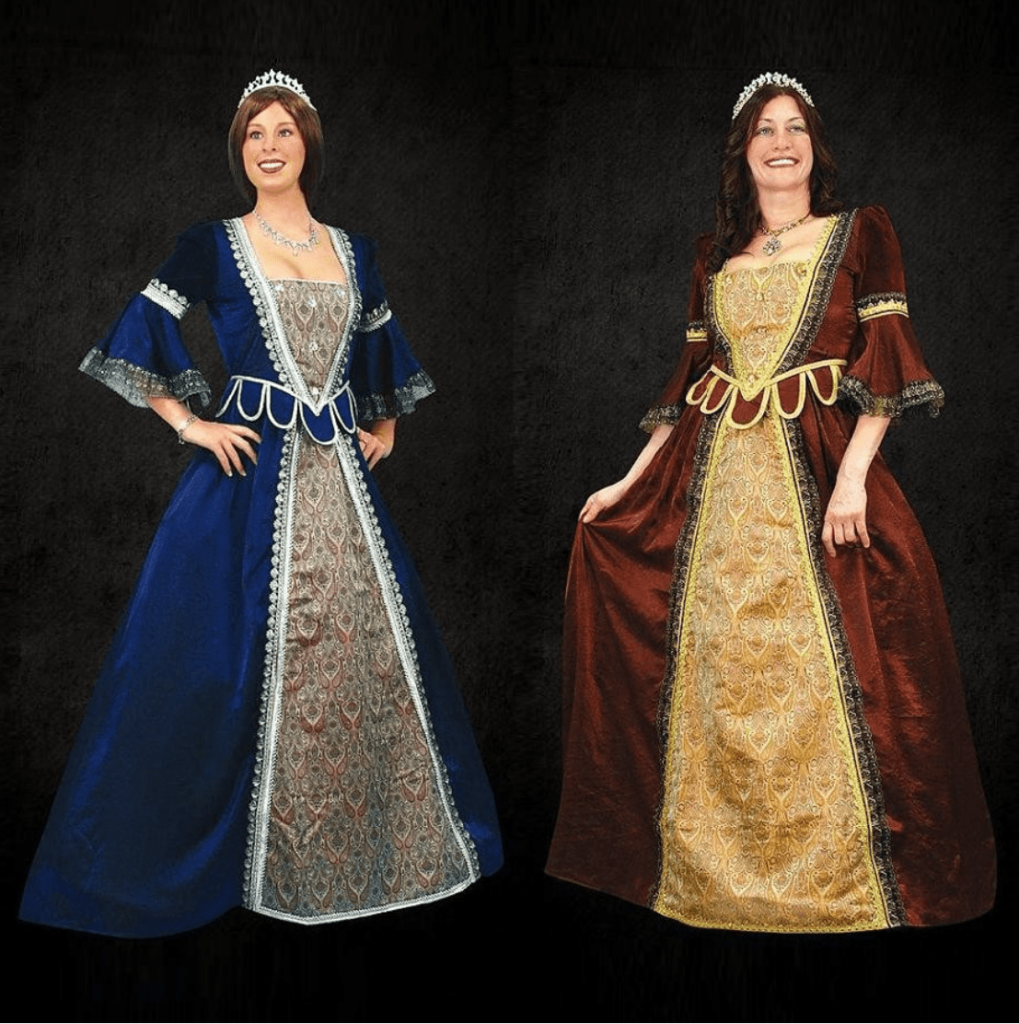 This is a classic "country maid" renaissance costume from Timeless Tailors! It goes up to an XXL or 48″ waist.
Shop here.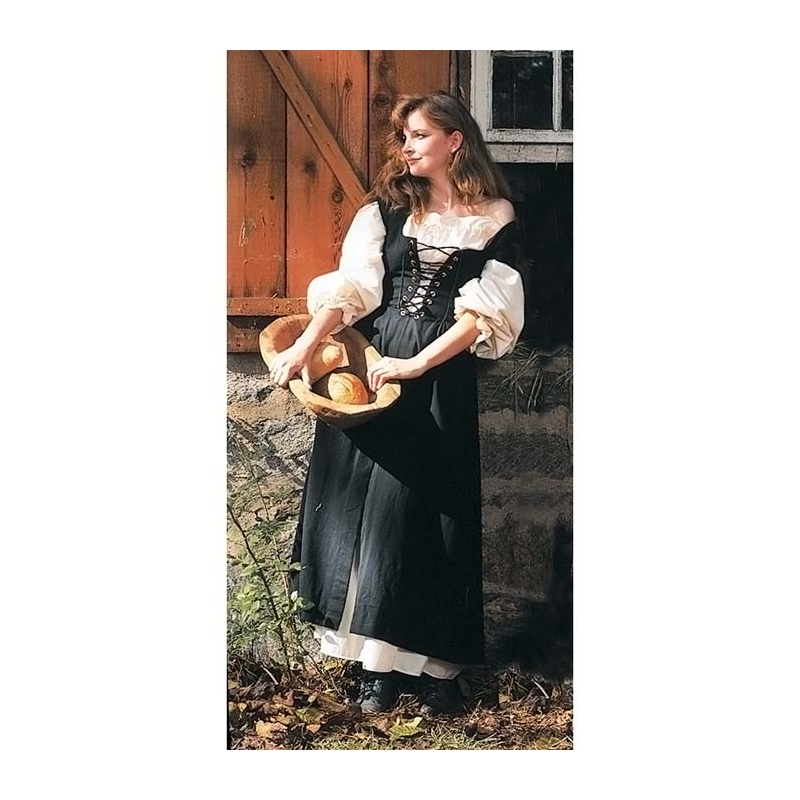 More Plus Size Costumes?!
Looking for more costume roundups? Check out these posts: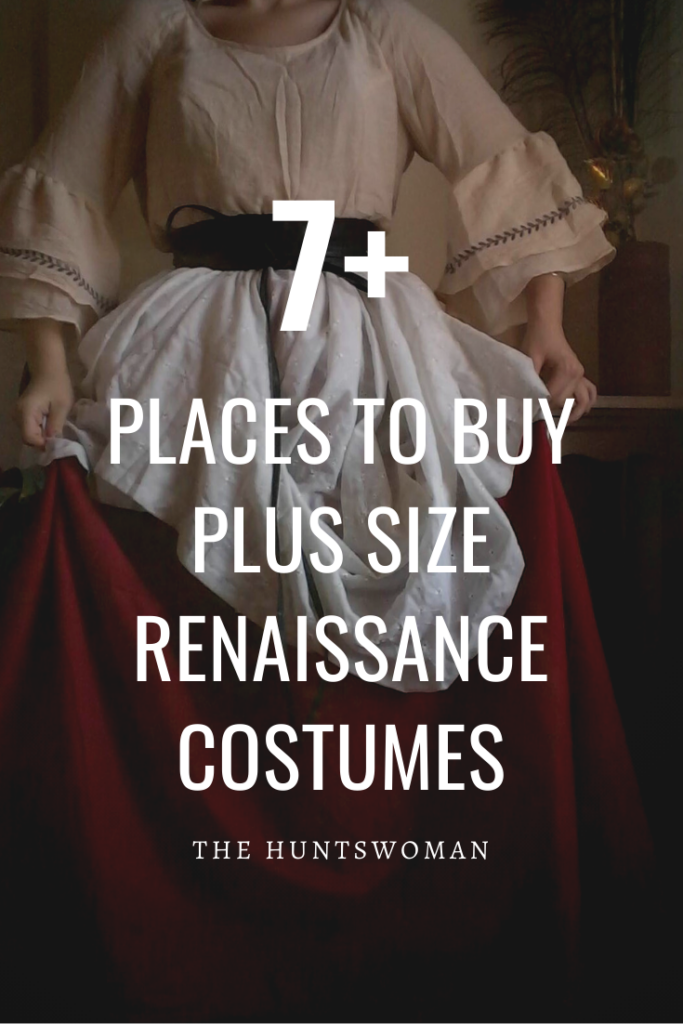 Love Inspiring Plus Size Fashion Editorials & Photography?
If you want to stay up-to-date on wonderful plus size imagery, I recommend joining me on your favorite social media platform (Facebook, Instagram or Twitter).
More of an email kind of person? Subscribe here!
[FTC Notice: This post contains affiliate links, meaning I earn a small commission if you purchase a product through my link. Affiliates help me write more great content, and I only endorse products I truly love.]Advertisement