Hey there! This post contains affiliate links.  Using my links means I earn a commission, which helps me create more rad content.  More on affiliates here.
In this blog post, I'm sharing my top info on where to buy plus size renaissance and period costumes! I get a lot of questions about where to find specific plus size clothing garments, from unique plus size wedding gowns to plus size cosplay costumes!
This post was inspired by questions from readers. I love when readers ask for resources, and soooo TODAY I'm sharing some of my favorite brands to get plus size renaissance and period costumes from. I'm a huge Jane Austen nerd, and we all love a regency gown!! (My guide to plus size regency gowns is here!)
[Heads up! This post was originally published on May 7, 2021. It was last updated April 20, 2022. I've done my best to include the most up-to-date information, but you'll want to be sure to double check all of the info on plus size renaissance and period costumes – especially size carts!]
Where to Buy Plus Size Renaissance & Period Costumes
Note: When purchasing a plus size renaissance gown (or any costume!), I recommend that you prioritize purchasing a higher quality and more expensive item. This item will last you longer, and generally a higher price reflects the time and effort a craftsperson puts into.
Put another way, put away the tacky Halloween costume that's $20! It's not going to fit well!!
Invest in higher quality plus size renaissance and period costumes!
First up on our list of plus size renaissance costumes is "Designs from Time." If you're looking for an intricate and high quality plus size renaissance costume, then this is the costume designer for you! In particular, costume-maker "Designs From Time" has a gorgeous Tudor plus size renaissance queen costume!
Sizing: Up to a size 28 or 3X
From the maker: "Each gown is a one-of-a-kind custom-made couture gown and cannot be duplicated exactly as shown. Your gown will be similar with individual customized embroidered embellishment."
Shop this plus size renaissance costume here!
There are various characters one can be at a renaissance fair, and this plus size renaissance peasant dress is a great piece for someone just starting to build their closet of costumes! It's a great piece to wear solo, and you can layer it up as you develop your character!
Sizing: Up to a 5x, measurements listed at time of publication are 52″ to 69″ bust when stretched, 25″ armhole, 27″ sleeves, 90″ hips
Shop this plus size renaissance peasant dress here.
Next up on our list of plus size renaissance costumes, we have this "Cranach-stye German Renaissance Gown."
From the maker: "This gown is based on those seen in the works of Lucas Cranach the Elder. This style was seen in Germany in the early part of the 16th century."
Sizing: Message designer for more information!
Check out all the details on this plus size renaissance costume here!
One of the most size inclusive costumers I've found is Artemisia Clothing!
Sizing: Up to a 4X, which the brand lists as corresponding to a 56 inch bust measurement [check the size chart before ordering!!]
From the brand: "ArtemisiaDesignsCo is your online source for luxurious specialty apparel and costumes.
Our shop grew out of a love for color, costuming, history, and dance. Here, you can browse our specialty apparel, the kind not often to be found at local department stores and neighborhood boutiques. From luxurious velvet gowns to whimsical men's historical costumes, we hope the pieces we sell in our shop evoke images of mysterious beauty, ages and legends past, and the magic of nature, love, luxury, and lore."
This costume designer and creator also has an assortment of renaissance capes!
Shop plus size renaissance costumes here.
I am in loooove with this Outlander-inspired plus size gown – and the photoshoot that the maker did for this plus size costume is STUNNING! This costume is def on my list of costumes I want to buy!
Sizing: Up to a 3X [message creator for specific measurements]
From the maker, Sass in Satin: "The skirt is in a classic double tie style that allows slits in the side you can use to reach under your skirt to reach a pocket or purse concealed underneath your skirt. It can be two toned or just one color. It is pleated in back and gathered in front for a really beautiful look."
Shop this plus size Renaissance inspired costume here!
Looking for something more like what a peasant or adventurer would wear?
Sizing: This costume is available in up to a 4X!
From the brand: "Spice it up in this three piece bodice, skirt, and chemise outfit–perfect for the Renaissance wench, pirate lady, or simply the lovely peasant maiden. It comes with a very full, long BLACK bell skirt, a hip-length, puffy-sleeved white chemise, and an alternating Black with gold Fleur de Lis pattern and plain black paneled bodice with boning for support."
Shop this plus size renaissance costume here!
Looking for a plus size renaissance costume fit for a queen? This gorgeous red Renaissance costume from Dress Art Mystery needs to be on your list!
From the maker: "Meet our charming Italian Renaissance Dress in terracotta red color. This costume consists of a corseted dress with a cotton lining. Steel spiral bones and tight lacings on both sides help to make the desirable renaissance silhouette."
Please note that this costumer does charge more for plus sizes [ugh]. I'm not a fan of this, and I'm including this costume as a resource for you.
Check out all the details on this plus size royalty renaissance gown here!
For the purists among us who want a costume that uses more natural fibers is History Inspirations!
This white skirt is layered over another skirt, giving it the period effect!
Sizing: The shop lists going up to a 5X! Contact seller for size chart.
Shop this plus size renaissance costume here.
I am in love with the gorgeous and sumptuous plus size renaissance gowns from Tudor Queen's Wardrobe!
From the maker: "Hi, I'm Lady Samantha of the Tudor Royalty Experience and Tudor Queen's Wardrobe. Thank you for visiting my Tudor shop, where you will find all things are Tudor related. All items are lovingly handmade personally by me in my Cotswolds workshop in England for re-enactment, theatre or just fun!"
Sizing: Contact costumer for details
Shop all Tudor Queen's Wardrobe royal plus size renaissance gowns here!
This plus size renaissance outfit is 3 pieces pictured, including:
Peasant Chemise blouse top,
Corset Belt
Skirt
The skirt is available in green, purple, black, or teal!
Sizing: The skirt fits up to a 51″ waist. Contact the seller for information on sizing for other pieces.
Shop this plus size peasant renaissance faire costume here!
One of my favorite period costumes and plus size steampunk costumers on the internet is Silver Leaf Costumes! You'll be able to get a lot of wear out of one of their renaissance costumes, repurposing various pieces for other costume parties and Halloween!
About the brand: "Silver Leaf Costumes are hand-made costumes featuring the highest quality fabrics, extra-strength boning, and strong sewing methods! As our items are hand-made when ordered, there is a crafting period between when your order is placed and when your order will be shipped."
Shop plus size period costumes here!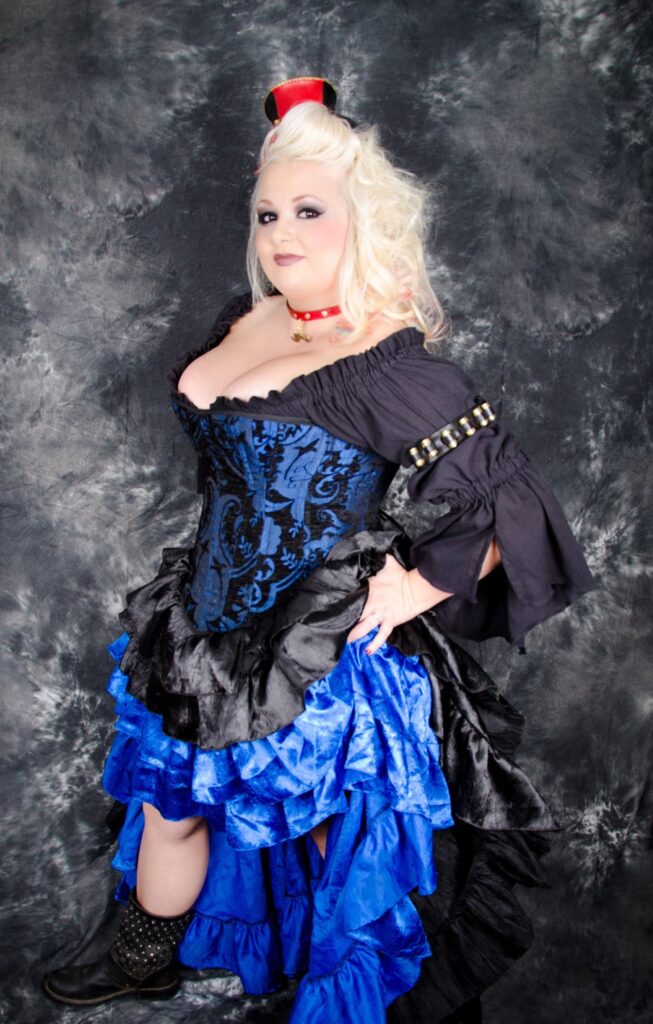 This shop is currently on break, but they have a lovely assortment of renaissance costumes and gowns!
Check if they're back here!
So this next brand that makes plus size renaissance costumes actually has 2 etsy shops, one for underthings and one for actual costumes. The brand shares that they "welcome all sizes and genders" which I love! The brand lists going up to a 6X on etsy.
If you're looking for a plus size fairy costume for a renaissance faire, then these are your peeps!
Shop all of their plus size renaissance costumes here!
Brand #14: Renfaire Shoppe | Waist Sizes Noted!
It can be frustrating to sort through all of the renaissance fair options out there, but RenFaire has conveniently listed the waist sizes on all their gowns!
[Need a measuring tape to figure out your size? Here's a link to one! I like to keep one in my purse as well – it's so handy!]
Plus Size Medieval Longdress – Up to 59 inch waist
Shop here!
Plus Size Celtic Dress – Up to 55 inch waist ($210 USD)
"100% cotton overdress has long, full sleeves, and hidden pockets to keep four pieces of spring steel boning in place for support, uplift, and reinforcing the front grommets. Wear with different chemises and different color skirts for many different looks"
Shop here!
Plus Size Irish Renaissance Dress – Up to 55 inch waist ($165 USD)
Shop here!
This is a classic "country maid" renaissance costume from Timeless Tailors! It goes up to an XXL or 48″ waist.
"This country dress is made of durable 100% cotton. The bodice is laced to fit with brass grommets, and the attached full skirt is split down the front to show a modest peek of underdress (available separately). Perfect Medieval Faire attire for the country lass."
Sizing: Up to a 40 inch waist or XXL
Shop plus size renaissance peasant costumes here.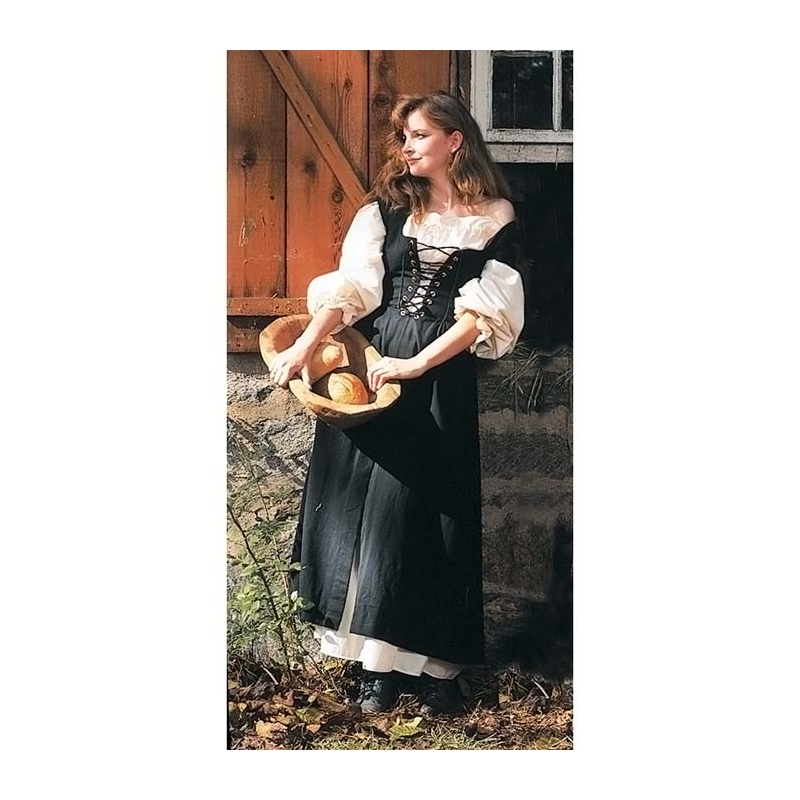 More Plus Size Costumes?!
Looking for more costume roundups? Check out these posts:
Love Inspiring Plus Size Fashion Editorials & Photography?
If you want to stay up-to-date on wonderful plus size imagery, I recommend joining me on your favorite social media platform (Facebook, Instagram or Twitter).
More of an email kind of person? Subscribe here!