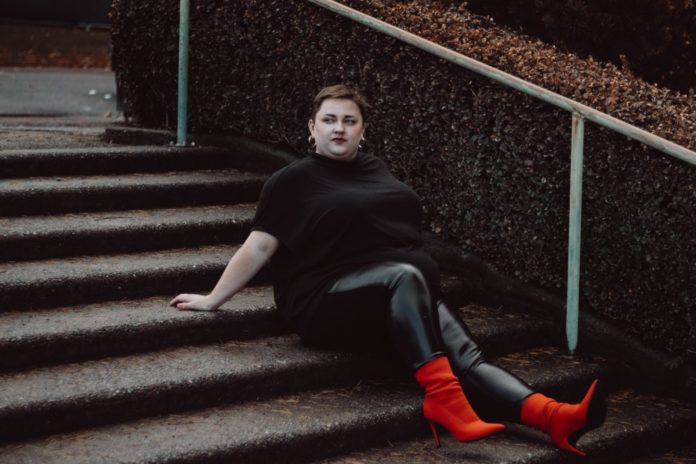 Hey there! This post contains affiliate links.  Using my links means I earn a commission, which helps me create more rad content.  More on affiliates here.
Thank you to my photographer, Kirsten Anderson, for taking such amazing photos!  If you're looking to work with a photographer in Seattle, WA, give Kirsten a shout.
In the world of blogging, there are often accessories or clothing bloggers buy "for the Fram," but dooooon't really wear IRL.
[Heads up! This post uses affiliate links, and you help me earn $$ when you use my links. More on affiliate links here!]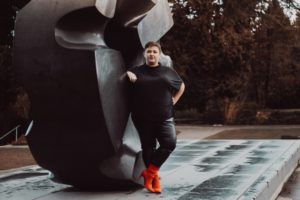 I've been lusting after red pointed toe boots, specifically "sock boots" but I haven't bought a pair – wanting to avoid filling my closet with things I won't actually wear.
Then, on a recent trip to the mall, I saw these red pointed boots in the window at PayLess.  I can't remember the last time I went into a PayLess!  Maybe 8th grade?  I've purchased a few Christian Siriano pairs online, but it's been a while since I've gone in-store!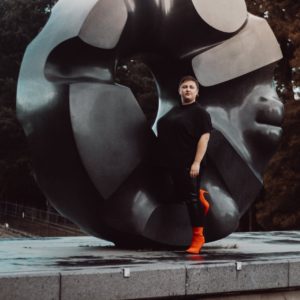 But the red boots were a siren's call, and I did not attempt to resist!
These red boots are basically a high heel shoe, with neoprene (stretchy fabric) attached so that the boot snugly fits around your calves.  And, for folks with bigger calves, this fabric is a godsend.  The boot literally fits like a sock, staying up while also, you know, making sure blood can circulate to your calves.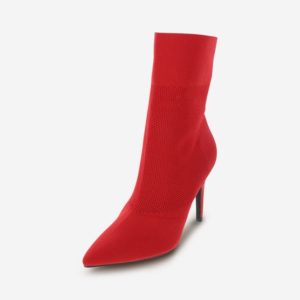 I put on the  left shoe, and had a legitimate Cinderella moment.  I sometimes need a wide width shoes, and other times I'm good if I just go up a size.  These boots do come in wide-width, and my ankles felt supported in them. For folks who don't like heels, these aren't for you!  They have a 4-inch heel, and I felt like I was living my best Cruella de Vil life walking around the store.
These red boots were MINE.  (Cue evil laughter)

What to Wear Them With?
As I was walking to my car, swinging my bag, I had a sudden thought:  What the heck do people WEAR with red boots?
These boots are a statement.  Either they neeeded to be the focal point of an outfit, or part of an ensemble, or tenue, you know what I mean?
An initial google and Pinterest search led me to WhoWhatWear, and this article showed pics of folks wearing them with all black ensembles (I went with this route), pairing my boots with these plus size faux leather pants ($98 USD) and this mock turtleneck ($20 USD).
But that article ALSO paired these boots with lavender pieces.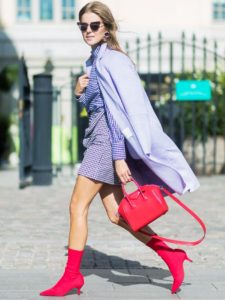 I'm so into that!  I'm definitely thinking about pairing mine with this lavender tunic from the Girl With Curves x Lane Bryant collection.  I love the tunic sleeves and the neckline, and this color!!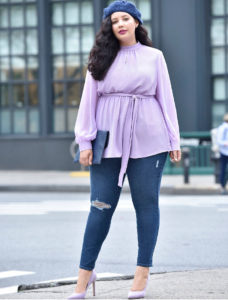 Other fashionistas pair them with red (a true #PowerBtch look) or jeans and a t-shirt.
There's the scoop on red pointed toe boots!  If you'd like to keep in touch, be sure to subscribe to weekly my newsletter, so you'll stay up-to-date on new reviews and fun plus size fashion content!
[Notice:  This post does contain affiliate links, which help me write more great content! I only endorse products I truly love.]