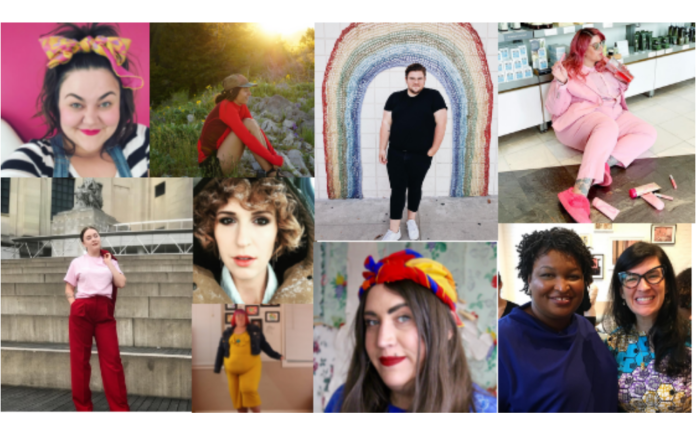 Hey there! This post contains affiliate links.  Using my links means I earn a commission, which helps me create more rad content.  More on affiliates here.
Soooooo, Utah is known for being a bit of a conservative state.  But if you're a bit of a weirdo like me, you're more interested in finding the weirdos and misfits – folks who aren't afraid to march to the beat of their own drummer.
THEREFORE!  Here's a list of folks in Salt Lake City (and other parts of Utah!) that I follow – and you should as well!
Oh hey, that's me!  I'm a queer plus size blogger and fashionista, who works as a marketing/design consultant.  I post about politics, fashion, the queer experience, etc.
Sage calls Southern Utah home, but she's always traveling.  (I loved watching her IG Story updates from Spain, on a recent trip!) A member of the LGBT community, Sage posts about the desert and wild lands of Utah, and has the CUTEST DOG EVER.
Reiko has this effortless style, that she conveys beautifully on her Instagram.  Also a member of the "I have a super cute dog!" club, I especially love seeing posts that include her wife.
Fashion blogging can skew young, but Shauna shows that life really begins after 50. Shauna has a beautiful & colorful Shauna feed, and she may have inspired my mom to start blogging!!
I love Jacqueline so much, I did an entire interview with her!!  Jacqueline is a badass and stylish biz babe, who owns Copperhive Vintage in Salt Lake.  I enjoy her posts with her family, as well as her styling vintage pieces (below) and her real talk on what it's like to own a vintage shop, etc.
A software developer by day, and a super fashionable plus babe ALL day, Danielle is a polyamorous and queer blogger in SLC.  I love her daily OOTD posts and "twirl" photos.
OKAY, so technically Elisabeth spends most of the year in Brooklyn, but she grew up in Salt Lake City – and has a sleeve tattoo dedicated to the Utah desert.  I love Elisabeth's takes on politics, and of course her fire queer femme aesthetic.
Honestly, she's the Kitsch Queen of Salt Lake City.  Lauren is a collector & reseller of fun vintage and thrift finds, and I love her aesthetic.  She also runs an etsy shop (+ IRL shopping/styling) through Shop Normie Things.
I first met Kelvin when I was looking for a photographer for a blogger photoshoot.   He has a great sense of humor, and I love how he challenges gender norms and expectations in his work.
I met Heggy when I was assigned as her fashion design assistant for Utah Fashion Week.  I am in AWE of Heggy's mane of hair (makes sense, as she's an Aveda instructor), and I love seeing photos from her hair and fashion photoshoots on Insta.
An incredible model (seriously, this girl can WORK – I've been BTS with her, and I'm just so impressed) and also a STEM aficionado, Cat posts about everything from fashion to science.
Kate Kelly is an activist and lawyer, organizing marches and building community across Utah (and the world, tbh).  I first found Kate when she was advocating for women in the Mormon church to receive the priesthood.  Kate was subsequently excommunicated, but she keeps fighting the good fight.
Pronounced "Gabby," I first met this climber/adventurer babe through Elisabeth (#7).  Gabe is an environmentalist and advocate, posting photos from her explorations of Utah's wild lands.
I love meeting new creatives in Utah, so if you'd like to throw your name into the ring, drop me a line!
More Utah Recommendations
Want to explore more of the Beehive State? I've written a bunch of guides below!
Want More Tips on Taking Photos in and Visiting Utah?
Join me on my Instagram, where I share frequent photos from all over the state! I love giving recs to tourist and collaborating with other bloggers!